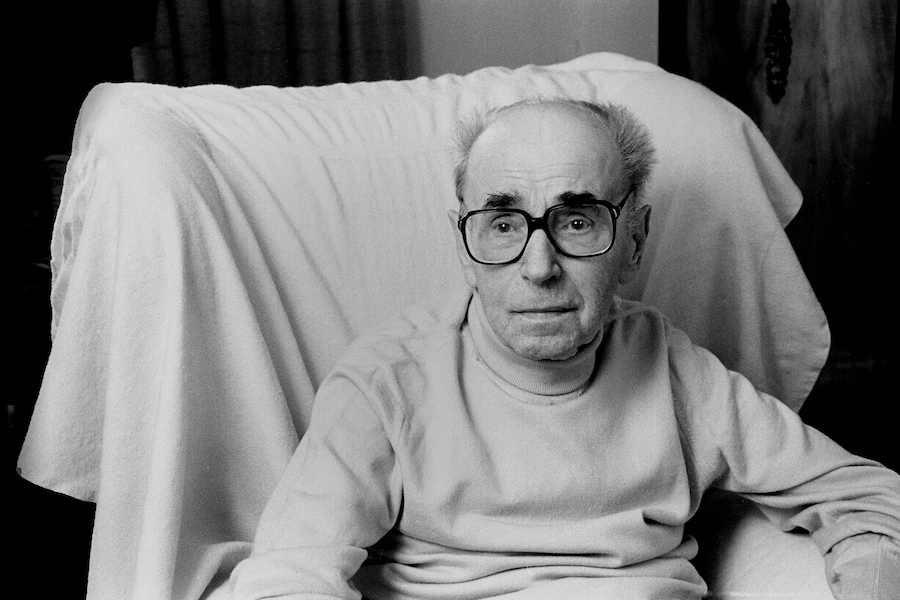 Jiří Kolář was a Czech painter (September 1914, – August 2002). He worked as carpenter and had a few other a manual jobs in his younger years but by the 1940's, he was already a leading figure in a Surrealist group. These days he is perhaps most remembered for his beautiful collages (check out the post we wrote on his collages and artworks here!).
He went from very simple and humble beginnings to sharing a table with Václav Černý at Cafe Slavia. His rich history is likely what made him into such a talented artist. But besides being a talented artist in the visual art world, he was also an amazing a poet, a writer, playwright, and a translator as well as one of the signers on Charter 77.
Kolář is known all over the world as a genius of words. Even in his collages he explored words and images creating an art form from clippings of words from books.
We recently found a collection of his poetry from his book Návod k upotřebení (1969) translated by Ryan Scott at Body Literature and we just had to share some of its contents.
DANCE
Dance
as though your whole life depended on it
Wait a moment for the applause
bow
smile
wait once more
thank them again
wait once more
bore your way through the crowd in disappointment
take a tray
offer food
drinks
cigarettes
speak in foreign languages
answer questions
show someone the way to the toilet
greet someone warmly
say farewell to someone else
butt into an discussion
Then take a shammy
or a sheet of newspaper
and put your back into the filthy windows
SONNET
Take a novel
which you don't know
slice off the spine
remove the page numbers
and jumble the pages as much as possible
In that disorder
read the book
and write its contents
in fourteen lines
NEVER AGAIN
Board a tram
or bus
and become acutely aware of
the vibration beneath your feet
the sounds inside and out
the life all around
the presence of those others
recall how many times you went somewhere
to and from and with whom
guess what everyone is thinking
what's his job how he has lived
what he reads what dream he had
somewhere in the memory
keep enough space for
what you would like to befall you
what distresses you
what you forget about
and meanwhile keep listening
to the voice in your head asking
what you would do
if you knew
you will never return home again
WHERE IS SHE
Wind a blank sheet of paper into a typewriter
and christen with a first name
everything around you
For example: Charles Table
Mary Book etc.
Provide a date of birth to some items
a place of birth to others
a biography or distinguishing feature to others still
in the middle of work
run in front of the house
carefully survey your surroundings
and ask the heavens
"Wasn't someone there?"
Wait for a response
Afterwards throw your arms up in disappointment
glance at your watch and say to yourself:
"It's a quarter to five,
where is she?"
His timeless collection of poetry all has a certain aesthetic feel that pushed boundaries in his time and remains iconic to this day.
If you have not already subscribed to get TresBohemes.com delivered to your inbox, please use the form below now so you never miss another post.
---
Remember, we rely solely on your donations to keep the project going.
Become a friend and get our lovely Czech postcard pack.