Klára Winlow-Vostrovská (aka Claire Winlow-Vostrovsky) was born on October 27, 1871, in West Point, Nebraska, within a thriving Czech community. Her parents, Jaroslav (Jerome) Vostrovský (1836-1901) and Anna Vostrovský (1839-1922) were Czech immigrants. Her father, originally from Selmice or Semin near Kladrub in eastern Bohemia, had migrated to the USA in 1863. During her childhood, the family relocated multiple times until they settled in San José, California in 1883. In San José, her father became a merchant and a respected figure among the local Czech expatriate community.
Klára Winlow-Vostrovská pursued her education and attended Stanford University in Stanford, California, in the early 1890s. Her academic pursuits were remarkable, and in 1895, she achieved the distinction of being recognized as the first Czech-American woman to attain a university education. During the same period, women in the Czech lands under Austria-Hungary were advocating for equal opportunities in regular university studies, which were eventually granted through a law enacted in 1900. Klára embarked on a teaching career at various universities in Northern California, becoming the first Czech woman to teach at the university level.
On November 13, 1901, Klára Winlow-Vostrovská married Albert E. Winlow, a merchant from San José. They raised several children together. Her sister, Anna, married Czech-American banker Tomáš Čapek, while another sister married Ladislav Čapek, who worked as a journalist for Czech-American periodicals.
In the early 20th century, Klára Winlow-Vostrovská relocated to southern California, assuming the role of head of the foreign language department at the Los Angeles Public Library. This position involved providing publications in various languages to the diverse immigrant communities in the region. She also embarked on a study tour of Europe between 1910 and 1912, primarily spending time in Ukraine. During this period, she married Albert E. Winlow, who shared her literary pursuits. Klára actively participated in several compatriot and literary societies in California.
Writing under the English pseudonym Claire Winlow-Vostrovsky, Klára Winlow-Vostrovská made significant contributions to children's literature in both English and Czech. Her involvement in the publication of the "Our Little Cousin" series, which featured heroes from various Slavic nationalities, demonstrated her vital role in promoting cultural understanding. Collaborating with talented artists, including Maria Fischerová-Kvěchová, she enhanced the visual appeal of her literary works.
Through the "Our Little Cousin" series, encompassing titles such as "Our Little Bohemian Cousin," "Our Little Serbian Cousin," "Our Little Bulgarian Cousin," "Our Little Jugoslav Cousin," "Our Little Ukrainian Cousin," and "Our Little Czechoslovak Cousin," among others. Klára Winlow-Vostrovská entertained young readers while fostering a cross-cultural appreciation for the rich heritage of Slavic nationalities. Her captivating stories celebrated the diverse cultures and traditions within these communities, inspiring readers to develop a deeper understanding and appreciation for cultural diversity.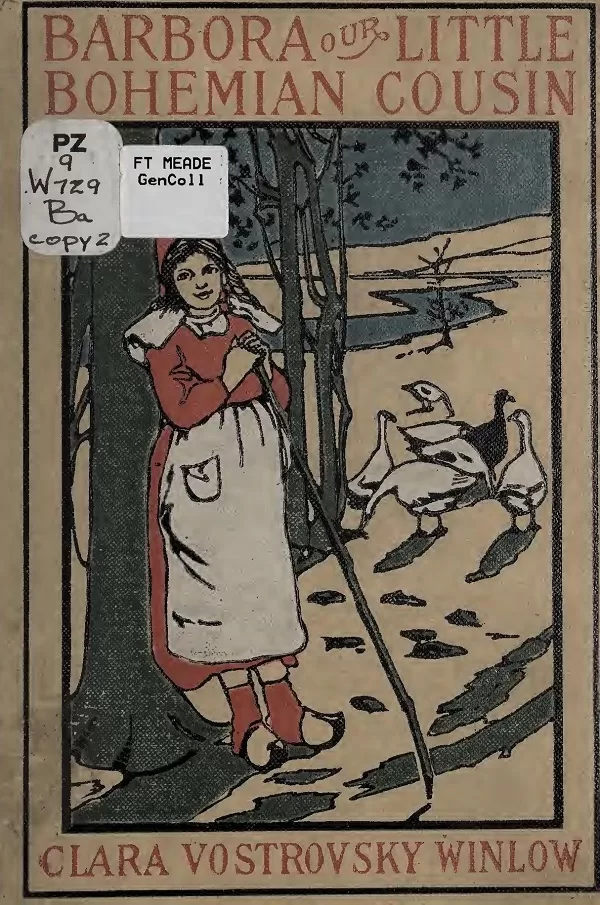 Apart from her literary endeavors, Klára Winlow-Vostrovská displayed exceptional skills as a translator, translating plays by renowned playwright Alexander Ostrovsky and works from Czech and other Slavic languages. These translations facilitated cultural exchange between different linguistic and artistic traditions, promoting interconnectedness and understanding.
Although the specific documentation of Klára Winlow-Vostrovská's impact on the Czechoslovak state is not explicitly recorded, her contributions as a Czech-American intellectual, writer, and cultural ambassador indirectly played a significant role in promoting cultural understanding and shaping the identity of Czechoslovakia. Through her writings and collaborations, she helped create connections between Czechoslovakia and the Czech-American diaspora, strengthening the bonds between the two communities.
In her later years, Klára Winlow-Vostrovská resided in Chico, California, where she lived with her daughter. Unfortunately, she experienced blindness towards the end of her life. On March 7, 1963, at the age of 91, Klára Winlow-Vostrovská passed away, leaving behind a legacy of academic excellence, literary contributions, and advocacy for cultural understanding.
Her work as a historian, philosopher of history, author of numerous books, and research professor remains influential, inspiring generations and shaping the understanding of Czech-American relations and cultural exchange. Klára Winlow-Vostrovská's dedication to promoting cross-cultural appreciation, fostering unity, and celebrating the rich heritage of Slavic nationalities continues to resonate, leaving an indelible mark on the literary and intellectual landscape.
This is an excerpt from the book Courageous Women: Stories of Czech Women in the Fight for Freedom by Kytka Hilmarova. The book includes 40 incredible Czech women. You can get the book at your favorite bookseller.
Amazon       Apple Books        Barnes & Noble       Kobo     Scribd     Smashwords     Vivlio      Thalia    
======================================
Below is a chapter from the following book by Clara Vostrovsky Winlow.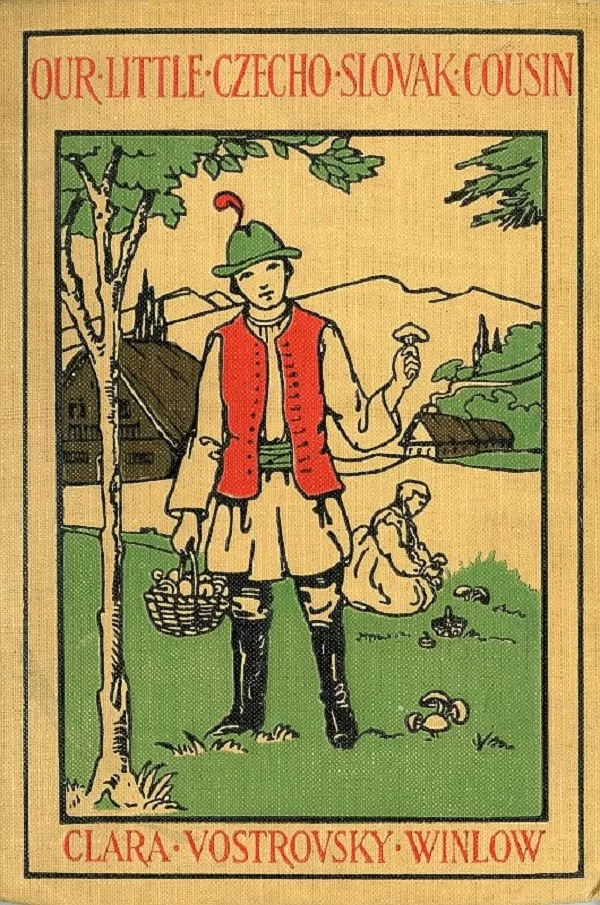 Chapter Two – Mushroom Gathering
Jozef's home was one of the high-roofed houses whose gable ends faced the broad, whitish main street. It was made of unburnt bricks, plastered outside, with hand-made shingles on the roof. Each window was outlined in pale green and the entrance porch was quite ornamental, having a pretty conventional design, also in green, painted around the door. This, as well as the lines around the window, was the work of Jozef's mother, who enjoyed a certain reputation in the village because she had once been asked to paint some borders around the walls of the rooms of a girls' school in the city of Brno, the capital of Moravia.
Behind the house were the stalls for the cattle and pigs, and, back of all, a small vegetable garden, edged with sweet-smelling herbs and brightly colored flowers. This garden ended in an alleyway by a brook, surrounded by green meadows in which geese usually pastured.
In the center of the main street was the Church, a small whitewashed building with a square tower. Next to it were a cross and a statue of the village saint.
Through the middle of the street were rows of underground cellars, one belonging to each family, in which it was possible to keep food and milk ice cold. Vehicles made their way on each side of these cellars.
Around the village were meadows dotted with red poppies and blue cornflowers. Some distance further were fields of potatoes, a few vineyards, and a large, privately owned wood.
It was Helena, Jozef's cousin, who planned the day in the wood for a mushroom hunt and secured the necessary permission from the forester in charge. She invited Jozef, his ten-year-old sister Ruzena, and two of Ruzena's girlfriends to go with her.
"Goody!" the little girls shouted and ran for permission which was readily granted on the one condition that they do not spend all the time in play but really bring home mushrooms, which are highly valued as food.
First, each little girl took her herd of geese to the meadow by the brook and left her flock in charge of an old woman who had nothing else to do but tend geese. Then they met Jozef, who had finished his chores of feeding the cattle and pigs, and Helena, who was older and helped her mother at home. All were dressed in old but brightly colored clothes, and all were barefoot and bareheaded, the girls' corn-colored hair hanging in long braids down their backs. All carried baskets in which now lay a little lunch. When they started, Jozef did not walk beside the others, but ran on ahead or lagged behind. He was afraid, since this was a girls' party, that some of his boy friends might call him a "sissy." He wouldn't have been left out, however, for the world.
It was still early in the morning, but there was already a heavy warmth in the air, so that the coolness they found underneath the tall trees when they reached them, was very welcome. The road had been dusty, but here the moss and grass were still wet with dew and gave forth a fragrant, pungent odor.
The owner did not live in the wood, the only buildings in it being the picturesque log cabin of the forester or caretaker and a beautiful hunting lodge.
Soon the fun began.
"Hurrah!" shouted Jozef, discovering two mushrooms, or champignons, showing a brown and a redhead above the moss.
Such a scampering as there was among the trees until every basket was filled to overflowing.
Here Etelka, the youngest of the party, found one that she thought the prize of all. It was red with white raised spots.
"Come here!" she cried. "I have found a new kind. Shall I taste it?"
Helena took two rapid leaps toward her.
"Drop it! Drop it!" she exclaimed. "That's a poison muchomurka. Never, never taste anything of which you are not certain if you don't wish to die."
"I thought it prettier than the red ones you found," said Etelka, somewhat abashed.
"It is entirely different," and then Helena showed her how it differed and again impressed on all to confine themselves to those they knew.
Then the baskets were put down in a circle and the children played hide-and-seek among brown-trunked firs with long gray mosses festooned from branch to branch, knotted larch trees, and pines dripping with balsam. At last, tired, they sank down on some netted roots and ate their lunch of thick slices of rye bread spread with goose fat.
"I found some sweet-root here once," Jozef volunteered when they had eaten every morsel.
"Where?" the girls asked eagerly.
Jozef had very vague notions as to where.
"Let's agree," suggested Helena, "each to give a nice mushroom to the one who finds some sweet-root first."
All were willing, and with shouting, laughter, and song the search began. Several times Jozef was quite certain that the prize was his, but it was little Etelka who actually found some underneath some blackberry leaves.
"I'm going exploring," Jozef now announced, somewhat nettled that a girl should have been the discoverer. Leaving the pathways, he made his way down a long incline. Not wishing to have the party separated, Helena led the others as best she could after him.
It was a merry chase Jozef gave them, now to the right, now to the left, then back in a crazy circle. So intent were they in making their way through some underbrush that they were unprepared when, at a sudden turn, they found themselves on the brink of the river that they knew flowed through an edge of the wood.
Out of breath, they seated themselves in a row on the bank and watched the waters glide past. Then they threw in twigs, which they called boats, and grew quite excited when some of these became entangled in water-washed grasses.
"Oh, Helena," at last Etelka begged, as she nibbled at her portion of the sweet root, "please tell us a story."
"A really truly Slovak fairy story," seconded Ruzena.
"Have it exciting," demanded Jozef.
"And true," put in quiet, blue-eyed Marouska.
Helena laughed. "Very well," she said, "it'll be truly Slovak, and exciting, and as true as any fairy tale can be."
=== end ===
Klara is just one of the amazing Czech women featured in the book. Others are: Hana Gregorová, Karolina Světlá, Božena Seidlová, Eliška Krásnohorská, Teréza Nováková, Božena Viková-Kunětická, Růžena Svobodová, Anna Tvrzická, Elena Maróthy Šoltésová, Terézia Vansová, Marie Kvíčalová, Ema Destinnová, Marie Steyskalová, Eliška Machová, Aurelie (Rela) Kotíková, Kleméňa Hanušová, Marie Čermáková, Karla Machová, Zdenka Wiedermannová-Motyčková, Drahotína Kardossová, Marie Aichelburgová, Marie Červená, Antonie Janalíková, Božena Němcová, Aloisie Linhartová, Karla Rašínová, Anna Chaloupková, Bozena Fričová, Marcelina Čapková, Ľudmila Podjavorinská, Charlotte Garrigue Masaryková, Alice G. Masaryková, Olga Masaryková, Hana Benešová, Šárka Hrbková, Villa Vosková, Milada Jarušková, Anna Čapková-Vostrovská, Klára Winlow-Vostrovská.
"Courageous Women" provides a rare glimpse into the lives of these remarkable individuals. Readers will be captivated by the personal sacrifices, acts of defiance, and unwavering dedication to the Czechoslovak cause that shaped their narratives.
Support us and get the book at your favorite bookseller today!
Amazon       Apple Books        Barnes & Noble       Kobo     Scribd     Smashwords     Vivlio      Thalia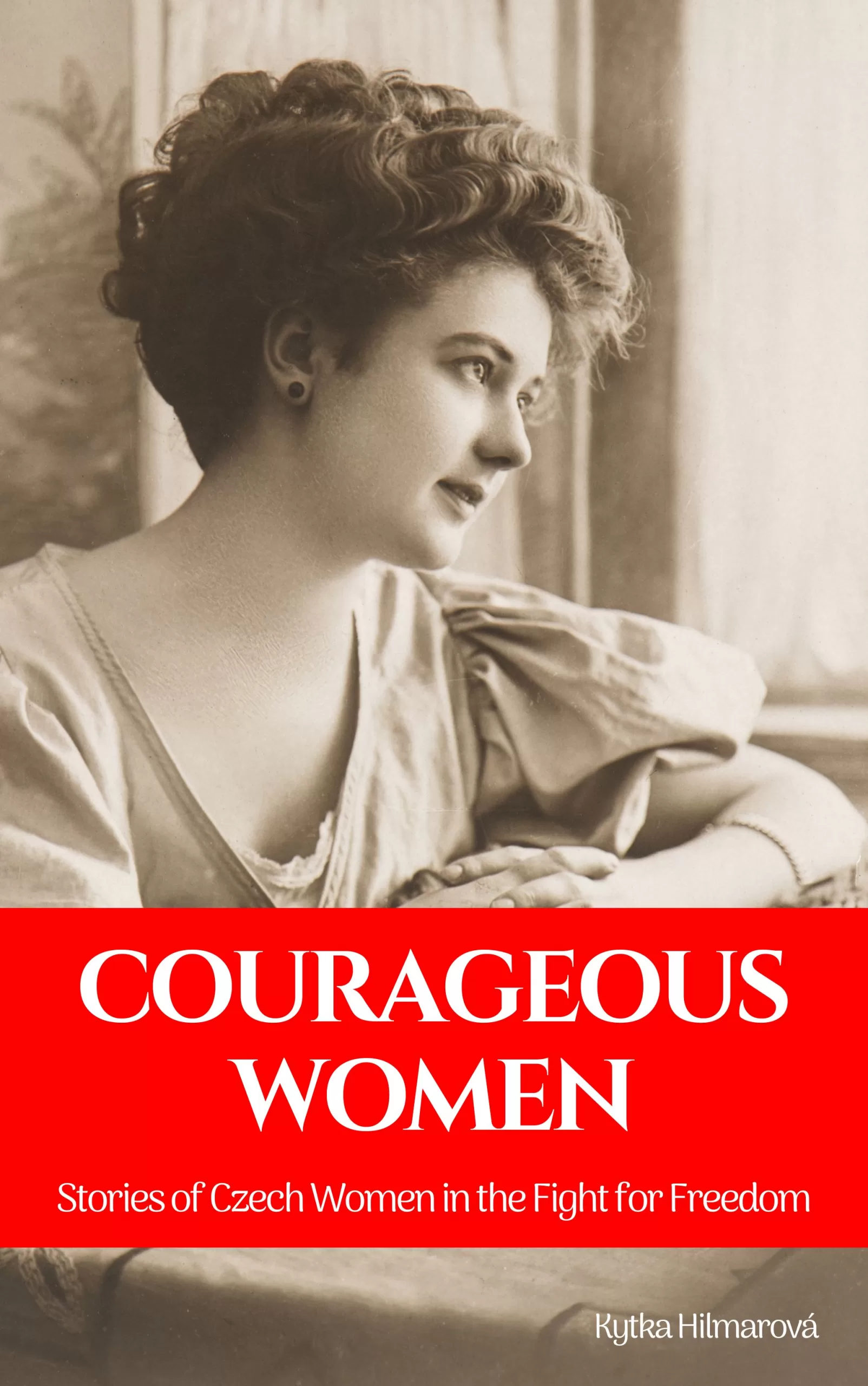 We tirelessly gather and curate valuable information that could take you hours, days, or even months to find elsewhere. Our mission is to simplify your access to the best of our heritage. If you appreciate our efforts, please consider making a donation to support the operational costs of this site.
You can also send cash, checks, money orders, or support by buying Kytka's books.
Your contribution sustains us and allows us to continue sharing our rich cultural heritage.
Remember, your donations are our lifeline.
If you haven't already, subscribe to TresBohemes.com below to receive our newsletter directly in your inbox and never miss out.