Zdeněk Toman was relatively unknown to most Czechs until recently, but his remarkable tale has gained widespread recognition thanks to a film bearing his name, which was released in 2018.
Zdenek Toman, often referred to as "the Czech Schindler," led a life filled with controversy and paradoxes. He is known for his role as both a dubious politician and an unlikely savior of hundreds of Eastern European Jews during one of the darkest periods in history, World War II.
One article about him is entitled, "Communist godfather Toman, played by Macháček: He saved 200,000 Jews!"
The article states that Zdeněk Toman played a pivotal role in facilitating the Communist Party's rise to power in February 1948. He was a shrewd entrepreneur and manipulator who was unafraid to delve into any endeavor. Nevertheless, he is regarded as a hero in Israel for his role in saving nearly 200,000 Jewish lives.
"From 1946 until the close of 1947, approximately 200,000 Jews passed through our region," notes director Ondřej Trojan, who has been captivated by this merchant of human destinies since 2012 due to his film, "Toman."
During that period, Toman struck a deal with the humanitarian organization known as The American Jewish Joint Distribution Committee, which agreed to provide compensation for each Jew who traversed Czechoslovakia. Initially, this involved a few hundred people per day, eventually swelling into thousands. They were fleeing anti-Jewish sentiments in Poland and the Soviet Union, making their way through Czechoslovakia into American-controlled zones and onward to Yugoslavia, Italy, and even Palestine. There, they played a crucial role in establishing and developing the Jewish state, which subsequently enriched Toman. He ventured into the arms trade to supply the weaponry required. This led to shipments of arms reaching Israel, which, as per the local president, might not have existed without Czechoslovak rifles.
Zdeněk Toman himself grappled with his Jewish identity. Originally named Asher Zelig Goldberger, he later adopted the moniker Zoltán and eventually became Zdeněk Goldberger. Yet, even the last name presented difficulties for him. He borrowed his mother's name, Thomma, and discarded it. "He studied in Prague and, along with his wife, a Polish Jew named Pesla Gutmanová, managed to escape the Holocaust to London. He had seven siblings, and three-quarters of his family perished in concentration camps," Trojan reveals. "He still harbored that internal turmoil, which is why he concealed his heritage."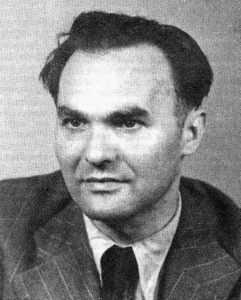 Toman's early life and political career were marked by opportunism and questionable ethics. He was involved in various business ventures, some of which raised suspicions of fraud and corruption. Despite his tarnished reputation, Toman managed to climb the political ladder in Czechoslovakia during the 1930s.
However, Toman's life took a dramatic turn during World War II. When the Nazis occupied Czechoslovakia, he found himself in a unique position to help persecuted Jews. Using his political connections and his own resources, Toman orchestrated an elaborate rescue operation.
Toman created a network of safe houses and forged documents, enabling him to shelter Jewish refugees and provide them with false identities. He also used his influence to secure protection for these individuals, often negotiating with high-ranking Nazi officials.
Official accounts state that Toman's actions saved the lives of hundreds, thousands, and hundreds of thousands of Jews – any number a remarkable feat considering the dire circumstances of the Holocaust. Despite his controversial past, he risked everything to protect those in need.
There is a book entitled, The Unlikely Hero of Sobrance, by William Leibner and Larry Price, which states that he saved 250,000 Jews.
Israel National News says the number is closer to 300,000.
After the war, Toman's story became more complex. He faced accusations of collaboration with the communist regime that came to power in Czechoslovakia. Some claimed that his wartime heroics were a cover for his political ambitions.
Toman's life remains a subject of debate and intrigue. While his actions during the war undoubtedly saved lives, his motivations and subsequent political choices continue to be scrutinized. He is a reminder of how individuals can embody both heroism and moral ambiguity, making his story a fascinating and complicated chapter in history.
There is a film about the controversial figure Zdenek Toman and his activities during a specific historical period in Czechoslovakia.
"A film drama by director and producer Ondřej Trojan about the rise and fall against the backdrop of an era that still influences our lives. The incredible and true story of the controversial figure Zdenek Toman, the head of our foreign intelligence, significantly shaped Czechoslovakia's post-war development. He was an unscrupulous businessman with immense power and a crucial mission: to secure the funds that would ensure the Communist Party's victory in the elections. And Toman knew how to raise money—for himself, his family, and the party. Smuggling, blackmail, profiting from war criminals and their victims—nothing was beneath him. The price he and his loved ones paid for his career was high. The film unveils the period of the so-called Third Republic, the dark years of 1945–48, and the story of a man who was never openly discussed. Director Ondřej Trojan brings to the screen a suspenseful thriller and the most faithful reconstruction of historical events, relying on irrefutable archival materials and eyewitness testimonies."
Here is the trailer:
The film is available on Amazon Prime (in Czech with English subtitles).
Zdeněk Toman is a controversial figure, and people's opinions about him tend to be polarized for several reasons:
Communist Activities: Toman was an active member of the Communist Party and engaged in various activities to further communist interests. Those who support communism or share his political ideology might view him positively for his contributions to the cause.
Humanitarian Efforts: Toman played a significant role in assisting Jewish refugees during and after World War II, helping many escape persecution and violence. Those who appreciate his humanitarian efforts on behalf of the Jewish community hold a favorable view of him.
Illegal Activities: Toman was involved in illegal activities, including currency smuggling and black-market operations. His unethical actions and corrupt practices have led many to view him negatively.
Espionage and Secrecy: Toman's involvement in intelligence operations, including espionage, secret funds, and arms smuggling, makes his life story intriguing but also divisive. Some admire his covert activities, while others condemn his role in these operations.
Escape and Exile: Toman's daring escape from prison and subsequent life in exile add an element of intrigue to his story. Some view him as a clever and resourceful individual for evades capture and thrives in foreign countries, while others see him as a criminal who avoids facing justice.
Political Views: Toman's political affiliations and actions during a turbulent period of Czechoslovak history significantly impact how he is perceived. People with similar political leanings may view him more positively, while those with opposing views may have a more negative opinion.
Complex Legacy: Toman's life and actions were complex, and his legacy is a mix of heroic efforts, dubious activities, and political involvement. People's opinions of him often depend on which aspects of his life and actions they prioritize.
A combination of political beliefs, humanitarian efforts, illegal activities, and espionage marks Toman's legacy. People's opinions of him are influenced by their own values, political leanings, and perspectives on his various actions and roles throughout his life. This complexity leads to strong, polarized views among those who either admire or condemn him.
For those who wish to delve into this subject a bit deeper…
"During the first years, the Czechoslovak foreign-political intelligence service underwent a relatively dramatic development. Even in this department, the Communists quickly rose to key positions, primarily Zdeněk Toman (originally Zoltán Goldberger, a native of Sobrance), who had previously worked at the Ministry of the Interior in London. However, the service was in the background of internal intelligence. The Communists, who had systematically worked on taking control of the security and intelligence agencies of the state since 1945, did not pay much attention to foreign intelligence. This is understandable in the context of their ambitions to establish a dictatorship, as they primarily needed agencies operating within the country. The change only came at the end of 1949."
The following, unfortunately, has no subtitles.
Comprehensive Biography:
Early Life and Education (1909-1934):
Zdeněk Toman, born with the name Asher Zelig Goldberger, came into the world on March 2, 1909, in the town of Sobrance, which was part of Hungary at the time, situated in Subcarpathian Rus. His parents were David Goldberger and Rosalie Goldberger (née Tomans). Asher Zelig Goldberger attended primary school in Sobrance and later completed his secondary education in Uzhhorod. His pursuit of higher education led him to Prague, where he enrolled in the Faculty of Law at Charles University during the 1927/1928 academic year. His academic journey culminated in 1933 when he obtained a Doctor of Laws degree.
While still a student at Charles University, he embraced communism and actively participated in the propaganda department of the Second Prague District of the Comintern under the pseudonym "Vasil" from 1926 to 1936.
Years 1935 to 1939:
Following the completion of his studies, Asher Zelig Goldberger, now known as Zdeněk Toman, practiced law in Slovakia. On January 26, 1935, he married Pesla Gutmanová in Lodz, Poland. In 1936, he officially changed his surname to Zoltan Thoman.
World War II:
With the German occupation of Czechoslovakia in March 1939, Zdeněk Toman and his wife fled to England in April 1939. They received assistance from the Czechoslovak refugee committee in Kraków. Toman worked for the "Messrs. Lyons Co." in England and maintained leftist political beliefs. He and his wife were registered with the Czech Refugee Trust, which provided them with financial support due to a physical disability.
In 1941, Toman and his wife were believed to be members of the Communist Party of Czechoslovakia in England, although Toman denied this, claiming support for the Social Democrats. Starting from 1941, Toman served as a repatriation officer at the Ministry of Social Welfare (Social Affairs) in exile.
Years 1945 to 1948:
After World War II ended, Toman and his wife returned to Czechoslovakia. In Košice, Toman headed the repatriation commission, which issued Czechoslovak documents to individuals from Subcarpathian Rus who declared themselves Slovak or Czech in the pre-war census. This commission also served Czechoslovak Republic army corps members, known as the Freedom Army.
Toman's involvement in document issuance led to corrupt practices, and the Soviet NKVD took notice of these irregularities. Toman later relocated from Košice to Prague, where he was appointed Deputy Chief of Foreign Intelligence (Department Z/VIII) in the Ministry of the Interior by Czechoslovak Minister of the Interior Václav Nosek. Around this time, he changed his name from Zoltán to Zdeněk.
Toman's duties included sending trusted individuals abroad and making business trips to the West. During his trips, he also engaged in various tasks, such as investigating Czech emigrants in London and reorganizing Czech informants in England.
Toman's subordinates were involved in smuggling jewelry, gold, and precious stones out of Czechoslovakia, exchanging them for currency in London. These transactions bypassed customs controls, with the shipments labeled as "jewelry." In addition to currency, these shipments included cigarettes, alcohol, and luxury goods, all transported to Czechoslovakia. These activities resulted in the creation of secret funds, which violated prevailing laws. The funds were used to finance the Communist Party and secret service activities and remained in private accounts held by those involved.
Jewish Refugees:
Toman played a role in facilitating the passage of Jewish refugees through Czechoslovakia after World War II. He received payments from the humanitarian organization "The American Jewish Joint Distribution Committee" (AJDC) for every Jewish refugee who passed through Czechoslovakia on their way to DP (Displaced Persons) refugee camps in Germany, Austria, and Italy. Toman's assistance aided the transportation of thousands of Jewish refugees from various Eastern European countries.
Arms for Palestine:
In 1947, Toman became involved in the supply of arms to the newly forming state of Israel. These arms deliveries, including surplus weapons from the domestic arms industry and captured German army weaponry, were made to Palestine despite objections from the British authorities. The arms shipments were officially labeled for Africa but were intended for Israel. David Ben Gurion, Israel's Prime Minister, acknowledged the significance of Czechoslovak weapons in the formation of the state of Israel. Toman later presented these arms deliveries as a matter of personal conviction, concealing the fact that they also contributed to his personal enrichment.
Additional Activities:
In addition to the activities mentioned above, Toman conducted illegal transactions involving Reichsmarks and gold in the American occupation zone. He also supported Marian Kargul, who engaged in similar activities, including exporting Czech goods to Brazil and being suspected of running a Jewish labor camp in Poland.
There were even claims that Toman revealed the names of some of his agents to his sister, Aurélie Roznicuk (Goldberger), who, in turn, shared this information with her husband, Zionist activist Dr. Imrich Rosenberg. Rosenberg then informed Western secret services about these agents.
Toman's Decline:
By mid-1947, some influential communist figures found Toman's activities unsuitable. Toman did not align with any specific party faction and was less willing to share his substantial profits from his activities. Soviet advisers informed Czechoslovak Minister of the Interior Václav Nosek that they were losing trust in Toman due to his long stay in London during World War II, raising suspicions that he might be an "agent of a foreign power."
Bedřich Reicin, head of military counter-intelligence OBZ, and his deputy Karl Vaš considered Toman a potential rival for high government positions. NKVD agent and OBZ intelligence officer Karel Vaš prepared a letter detailing Toman's activities in London and sent it to Rudolf Slánský, the general secretary of the Central Committee of the Communist Party of the Czech Republic.
Toman's Arrest and Escape:
On January 12, 1948, an arrest warrant was issued for Toman. However, before his official arrest, he was placed on a forced "health leave" by Václav Nosek at the end of February 1948. Toman spent some time under a form of house arrest, cut off from family and friends.
Toman's wife, Pesla, inquired about Toman's situation from Minister of the Interior Václav Noseka but was told not to worry. Tragically, Pesla committed suicide on May 8, 1948, by jumping from the fourth floor of their Prague residence. She left a farewell letter addressed to the commanding officer of the StB, expressing her wishes for the upbringing of their child, Ivan, and indicating her enduring support for her husband.
While in custody awaiting trial, Toman received news of his wife's death and planned his escape. He successfully fled from prison on June 22, 1948, by climbing out of a toilet window. He managed to evade recapture and make his way to West Germany.
Toman in the West:
In the West, Toman collaborated with the US military counter-espionage CIC. He also benefited from multiple properties registered in his name abroad, which his agents used. Some reports suggest that Toman disclosed his intelligence network in Bavaria to the Americans, resulting in its dismantling.
His charitable activities marked Toman's life in exile. He contributed financially to cultural and educational institutions in Israel and received numerous awards and honors. Toman also remarried in Venezuela to Maria Marinadi and continued his successful business ventures.
Rediscovery of Son and Rehabilitation:
In the early 1990s, Toman learned about the fate of his son, Ivan, thanks to the Office for Documentation and Investigation of the StB. After the Velvet Revolution in Czechoslovakia, Toman was officially rehabilitated.
Death and Legacy:
Zdeněk Toman passed away on December 20, 1997, in Cabo San Lucas, Mexico. His remains were eventually transported and buried in Caracas, Venezuela. Toman's legacy includes his contributions to cultural and educational institutions in Israel and the United States and his remarkable life story of espionage, escape, and exile.
Further reading (in English): Zdeněk Toman: Intelligence chief and black market kingpin instrumental in saving thousands of Jewish refugees.
Further reading (in Czech): Opravdový Toman: lakomec, hochštapler a sběratel nevkusu. Za každého židovského uprchlíka si nechal zaplatit.
---
We tirelessly gather and curate valuable information that could take you hours, days, or even months to find elsewhere. Our mission is to simplify your access to the best of our heritage. If you appreciate our efforts, please consider donating to support this site's operational costs.
See My Exclusive Content and Follow Me on Patreon
You can also send cash, checks, money orders, or support by buying Kytka's books.
Your contribution sustains us and allows us to continue sharing our rich cultural heritage.
Remember, your donations are our lifeline.
If you haven't already, subscribe to TresBohemes.com below to receive our newsletter directly in your inbox and never miss out.