As someone who thoroughly enjoys diving into the pages of a good book, today, I am delving into the intriguing narrative of  The Nonconformists: American and Czech Writers across the Iron Curtain penned by Brian K. Goodman.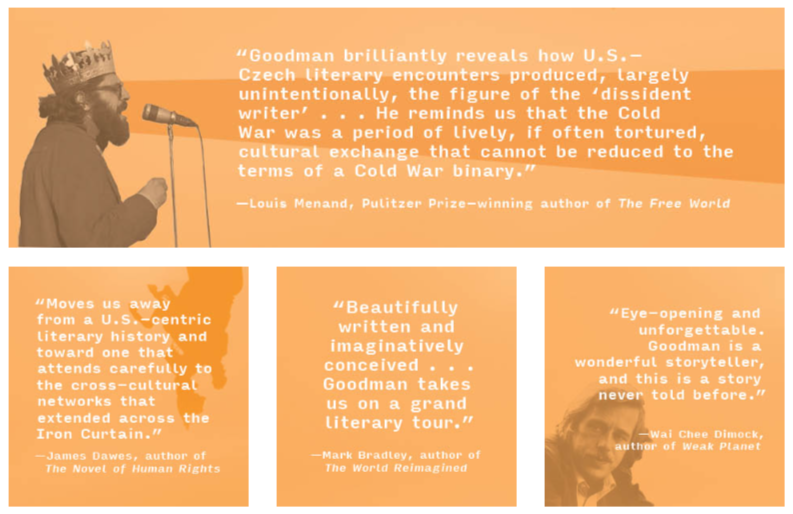 The Cold War era was a tumultuous period in history marked by ideological clashes, political tensions, and the pervasive threat of nuclear conflict. Amidst this backdrop of global uncertainty, a unique and unexpected alliance emerged between American and Czech writers. Their risky encounters behind the Iron Curtain not only shaped the art and politics of the Cold War but also helped define an era of dissent. In his lengthy exploration, Goodman delves into the intriguing connections between American and Czech literary cultures during this pivotal period.
The Shock of Solidarity
Born in Czechoslovakia with parents who made their courageous escape in 1968, the resonance of Arthur Miller's poignant words, "In some indescribable way, we are each other's continuation," holds a deeply personal significance for me. The Soviet-led invasion that brutally crushed the Prague Spring not only left an indelible mark on the world but also ignited an unexpected spark of solidarity within me. As a writer myself, I find myself drawn to the profound connections that emerged between US-based writers and their Czech counterparts, as they shared a shock of empathy and a resolute spirit of resistance in the face of adversity.
Prague: A Literary Beacon
Prague, often associated with the enigmatic figure of Franz Kafka, held a magnetic allure for American writers seeking more than just literary inspiration—it beckoned them as a gateway to profound cultural exchange. This is where our journey embarks on an enthralling exploration of the transatlantic literary landscape. Here, we step into the Czech journeys of luminaries such as Allen Ginsberg, Philip Roth, and John Updike, as they crossed oceans and borders to delve into a world defined by defiance and nonconformity. In the cobbled streets of Prague, under the shadow of historic spires, these writers found themselves immersed in a unique cultural milieu, one brimming with unconventional ideas and profound literary expression.
Yet, their sojourn in Prague was not merely an exploration of the city's rich literary history. It was also an opportunity for these American luminaries to forge lasting friendships with Czech nonconformists who embodied the very essence of resistance in the face of oppressive regimes. Among these remarkable figures were Václav Havel, whose powerful plays and essays challenged the status quo, Josef Škvorecký, whose works dared to defy censorship, Ivan Klíma, whose novels delved deep into the human psyche, and Milan Kundera, whose intricate narratives pushed the boundaries of storytelling. These friendships were not merely alliances of convenience but resonated deeply with shared values of intellectual freedom and the indomitable spirit of nonconformity.
Czechoslovakia's Literary Counterculture
On the other side of the formidable Iron Curtain, the heart of Czechoslovakia pulsed with a vibrant literary counterculture that defied the constraints of the era. This was a place where years of engagement with American sources had cultivated a fertile ground for dissent, a cultural resistance movement deeply imbued with the essence of American literature, music, and culture. It was a crucible of creativity where the influence of the United States could not be denied, seeping into every corner of Czech society.
In this underground haven, Czechs reveled in the works of literary giants like Herman Melville's "Moby-Dick," which captivated their imagination with its seafaring adventures and symbolic complexities. The Beats, with their poetic rebellion and fervent search for authenticity, found a resonance among Czech readers yearning for freedom of expression. But the influence was not confined to literature alone; it transcended into the realm of music, where the pulsating rhythms of Dixieland jazz and the rebellious chords of rock 'n' roll ignited a cultural revolution.
What sets this cultural phenomenon apart is the fervor with which Czechs embraced and creatively appropriated American creations, often at great personal risk. The works of Langston Hughes, with their poignant exploration of African-American culture and struggle, found a dedicated readership among Czechs who admired his commitment to social justice. Ernest Hemingway's terse prose and exploration of the human condition resonated deeply in a society yearning for authentic self-expression. These literary connections went beyond mere admiration; they were acts of defiance against a regime that sought to control the narrative and silence dissenting voices.
In this crucible of creativity and resistance, Czechs not only consumed American culture but also transformed it, infusing it with their unique perspectives and narratives. It was a testament to the enduring power of literature and art to transcend borders and ignite the flames of rebellion, even in the most challenging of circumstances.
Transnational Literary Exchange
The Nonconformists tells a tale of writers who transcended linguistic and political boundaries, rearranging them in the process. The transnational circulation of literature played a pivotal role in shaping new subcultures and reading publics, reshaping political imaginations, and turning Prague into a global hub of dissent. From the idealistic dreams of a "Czechoslovak road to socialism" in the postwar period to the neoconservative embrace of Eastern bloc dissidence on the eve of the Velvet Revolution, history was irrevocably changed by the collision of these literary cultures.
The Birth of the Dissident Writer
Within the pages of this captivating narrative, we witness the emergence of a remarkable archetype—the 'dissident writer.' These literary figures, once merely bound by ink and paper, transformed into living symbols of the human rights movement that would ultimately dismantle the Iron Curtain. The Cold War era was marked by the rise of these brave voices, individuals who dared to wield their pens as weapons against oppressive regimes.
These dissident writers, both in the United States and Czechoslovakia, found themselves at the forefront of a literary and ideological battleground. Their works, often born of personal experiences and a deep-rooted commitment to justice, became rallying cries for those yearning for freedom and dignity. What began as a mere exchange of ideas and literature across borders took on a life of its own, evolving into a potent force that challenged the very foundations of authoritarian rule.
In the United States, luminaries like Allen Ginsberg, Philip Roth, and John Updike, deeply influenced by their Czech counterparts and the struggles they witnessed, started to infuse their own works with themes of dissent and nonconformity. They recognized the power of the written word to expose the injustices of the world and provoke change.
Conversely, in Czechoslovakia, writers like Václav Havel and Milan Kundera, inspired by their American friends, became leading figures in the fight for human rights. Their plays, essays, and novels not only exposed the dark underbelly of totalitarian regimes but also served as beacons of hope for those trapped behind the Iron Curtain.
The unintended consequence of these literary exchanges was the birth of a global movement—a movement that transcended borders and ideologies, uniting dissidents from all walks of life in their pursuit of liberty and human rights. The 'dissident writer' was no longer a solitary figure but part of a collective struggle that would ultimately lead to the fall of oppressive regimes and the opening of a new chapter in history.
In hindsight, it becomes clear that literature, once seen as a mere form of entertainment, became a catalyst for social and political change. It was through the written word that the world began to see the plight of those living under repressive regimes, and it was the courage of dissident writers that gave voice to the voiceless. The Cold War era, with all its tensions and ideological battles, was also a testament to the enduring power of literature and the indomitable spirit of those who wielded it as a tool of liberation.
Expert Endorsements
As Louis Menand, the Pulitzer Prize-winning author of The Free World, astutely observes, the Cold War era was far more than a simple struggle of opposing ideologies; it was a period characterized by dynamic cultural exchange that defied simplistic binary categorizations. It was a time when the borders of literature, art, and ideology blurred, and a vibrant cross-pollination of ideas flourished. Within this complex tapestry of history, Brian Goodman's meticulous research emerges as a guiding light, brilliantly uncovering the intricate web of connections that reshaped our world.
Menand's assertion is a poignant reminder that beneath the political posturing and military standoffs, there existed a profound undercurrent of shared humanity. It was a time when writers, artists, and thinkers on both sides of the Iron Curtain recognized the universality of certain values—freedom, justice, and the power of the written word to effect change. These shared ideals transcended borders and ideologies, creating bridges where there were once insurmountable divides.
Brian Goodman's research serves as a testament to the enduring power of scholarship and its ability to unearth the hidden threads that bind our history. His meticulous exploration of the connections between American and Czech writers during the Cold War illuminates a hitherto underappreciated facet of our shared past. Through his work, he not only reveals the depth of these literary exchanges but also underscores their profound impact on the course of history.
In a world often characterized by oversimplified narratives, Goodman's research offers a nuanced perspective, reminding us that the Cold War was not a black-and-white struggle but a complex interplay of ideas, friendships, and shared aspirations. It is a testament to the power of intellectual curiosity and the unearthing of untold stories that have the potential to reshape our understanding of the past.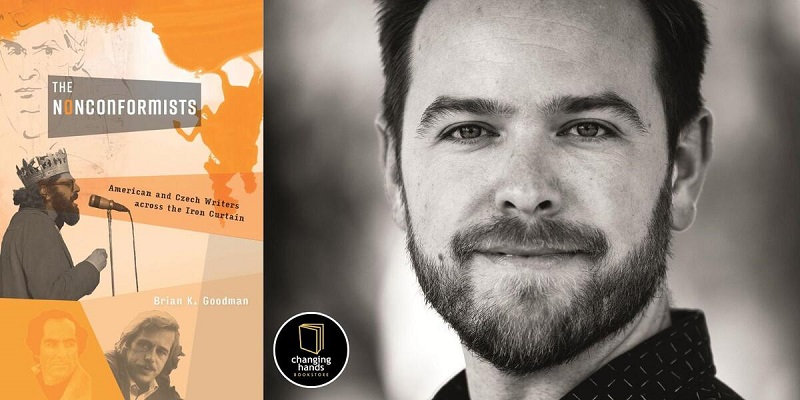 In closing, The Nonconformists: American Writers Against the Grain is an eye-opening and unforgettable journey into the intersection of American and Czech literary cultures during the Cold War. Through meticulous research, Brian Goodman reveals how these connections transformed art, politics, and history. This groundbreaking exploration serves as a reminder that literature has the power to transcend borders, challenge oppression, and foster understanding. It is a testament to the enduring legacy of those who dared to be nonconformists and redefine the course of history.
Pick up your copy today – I highly recommend it!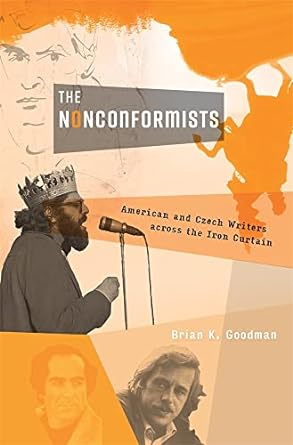 Click here to learn more at Amazon.
* * * * *
Agree with me – during these crazy times, "I'd Rather Be In Prague!"
We tirelessly gather and curate valuable information that could take you hours, days, or even months to find elsewhere. Our mission is to simplify your access to the best of our heritage. If you appreciate our efforts, please consider making a donation to support the operational costs of this site.
You can also send cash, checks, money orders, or support by buying Kytka's books.
Your contribution sustains us and allows us to continue sharing our rich cultural heritage.
Remember, your donations are our lifeline.
If you haven't already, subscribe to TresBohemes.com below to receive our newsletter directly in your inbox and never miss out.