It's amazing to be able to watch a rare film of Tomas G. Masaryk, the Father of Czechoslovakia, speaking English for "Fox Movietone News" on November 29, 1929.
But perhaps more amazing is what he actually SAYS in the clip.
"If I observe the inventiveness of our modern scientists, I sometimes fancy a much greater invention, to see and hear in the distance without any wire. Just imagine. You could observe from your place, say in the sitting room, the jungles of Africa, what the wild beasts are doing there. And more, you could see in distances, to the jungles of our human society. Every man, then, would be forced to be honest. And there would be no secret plotting anymore of all the wickedness. Wonderful, no?"
Is he really talking about wireless technology and another level of Google Earth, one where we can watch in real-time – live – the goings-on of wherever we wish to see on the planet?
Yes. That is what he is talking about. And remember, this is 1929.
Listen for yourself…
What is he speaking of?
Television? Wireless Communications? Google Earth?
He continues…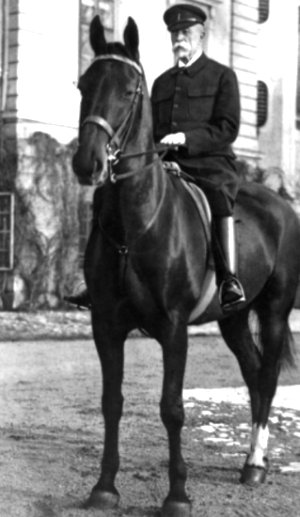 "And then, now you have at the home a lot of your own prophets, analyzing, criticizing, your life in America. The development of your country and I read a good deal of the books dealing with your problems. The Europeans can learn a bit of you Americans; I myself learned something in Washington that a good horseman told me, that riding you get twice as much pressure in your than walking, so I am going to have my morning ride."
"Goodbye and Thank you…"
Alice Masaryková, the President´s daughter, appears as well.
"… and remember our watchword, cooperation, not competition."
Tomáš Garrigue Masaryk (sometimes called Thomas Masaryk in English) was born on March 7, 1850 and died on September 14, 1937.
He was a Czechoslovak politician, sociologist, and philosopher who, as an eager advocate of Czechoslovak independence during World War I, became Czechoslovakia's founder and first President. He originally wished to reform the Austro-Hungarian monarchy into a democratic federal state, but during the First World War, he began to favor the abolition of the monarchy and, with the help of the Allied Powers, eventually succeeded.
Masaryk's life motto was "Do not fear and do not steal" (Czech: Nebát se a nekrást). He was a philosopher and an outspoken rationalist and humanist; he emphasized practical ethics, reflecting the influence of Anglo-Saxon philosophers, French philosophy, and especially the work of 18th-century German philosopher Johann Gottfried Herder, who is considered the founder of nationalism. He was critical of German idealistic philosophy and Marxism.
After the death of Tomas. G. Masaryk´s wife, Charlotta Garrigue-Masaryková (who was born in Brooklyn, New York), Alice Masaryk, continued with the role of the First Lady.
His daughter Alice was the founder of the Czech Red Cross.
Here is his favorite song… Ach synku, synku.
We love to share and feature unique and amazing things, especially concerning Bohemia, so if you have a tip for us, please tell us about it. We also love reading your comments…
We tirelessly gather and curate valuable information that could take you hours, days, or even months to find elsewhere. Our mission is to simplify your access to the best of our heritage. If you appreciate our efforts, please consider donating to support this site's operational costs.
See My Exclusive Content and Follow Me on Patreon
You can also send cash, checks, money orders, or support by buying Kytka's books.
Your contribution sustains us and allows us to continue sharing our rich cultural heritage.
Remember, your donations are our lifeline.
If you haven't already, subscribe to TresBohemes.com below to receive our newsletter directly in your inbox and never miss out.