The café – whether called caffe, Kaffeehaus, kavarna, or coffeehouse – has been central to urban cultural and artistic life. In Prague and elsewhere throughout Europe, it is a place to start and end the day, to read, compose, gossip, debate or mull over the intricacies of a chess move. We never miss any opportunity to visit the bourgeois Art Nouveau cafés of Prague and the ones we are sharing today are our personal favorites which include, Café Myšák, Café Slavia, Café Savoy, Café Louvre, Café Grand Orient, Café Imperial, Café Obecní dům, Café Mozart, and Café Montmartre.
Café Myšák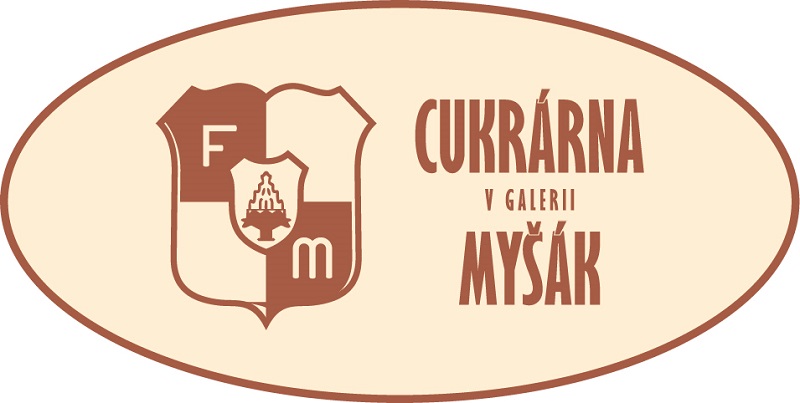 Established in 1904, this café is world known for their cakes. In fact, they made the birthday cake of the first president of then called Czechoslovakia, Thomas G. Masaryk as well as president Beneš and Klement Gottwald.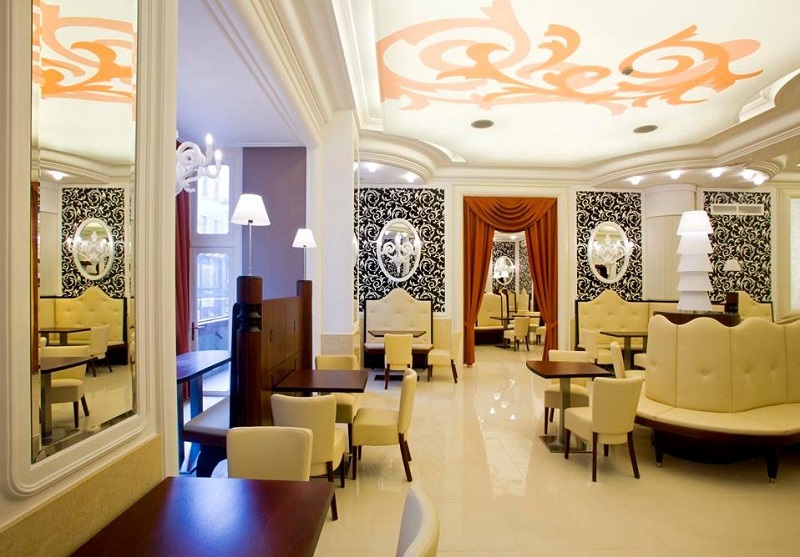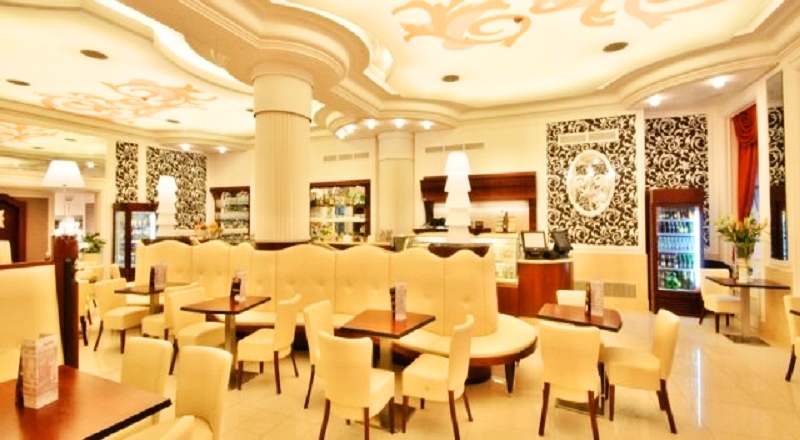 You'll see evidence of Prague Cubist architecture in some of the details due to the design of the building by famous architects Josef Gočár and Pavel Janák.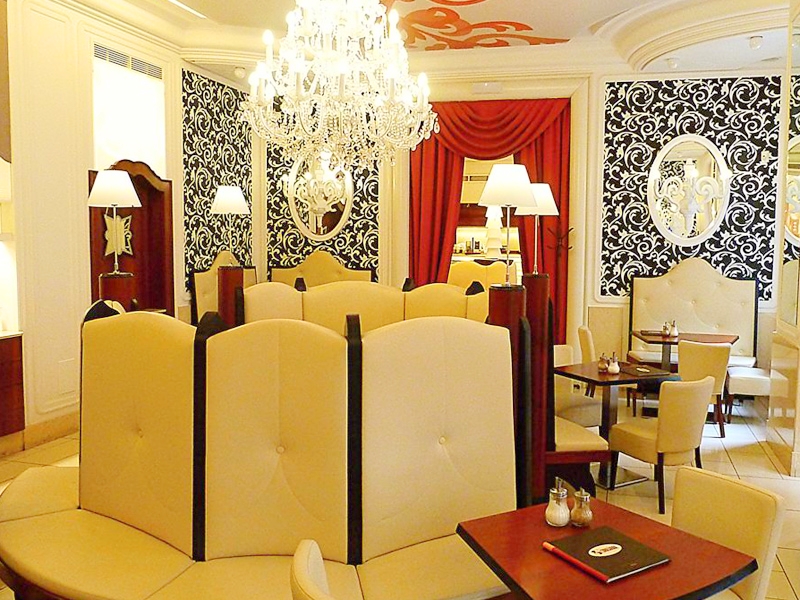 The building has a very typical rondo-cubist facade of red bush-hammered bricks and is known to the general public as "Myšák".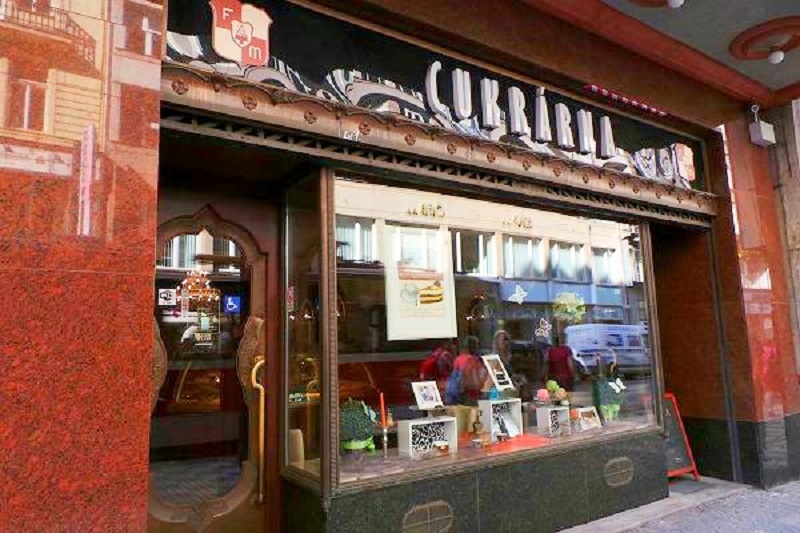 It has been reconstructed in the original style that it was back then with rich decor in the neo-renaissance building redecorated by architect Josef Čapek.
But the real star here are the wonderful sweet confections in the form of cakes and tortes.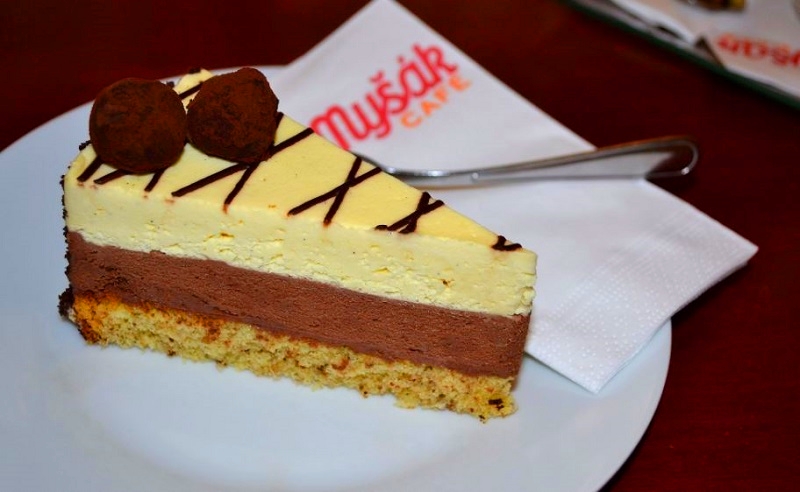 Here are the Tres Bohemes enjoying some!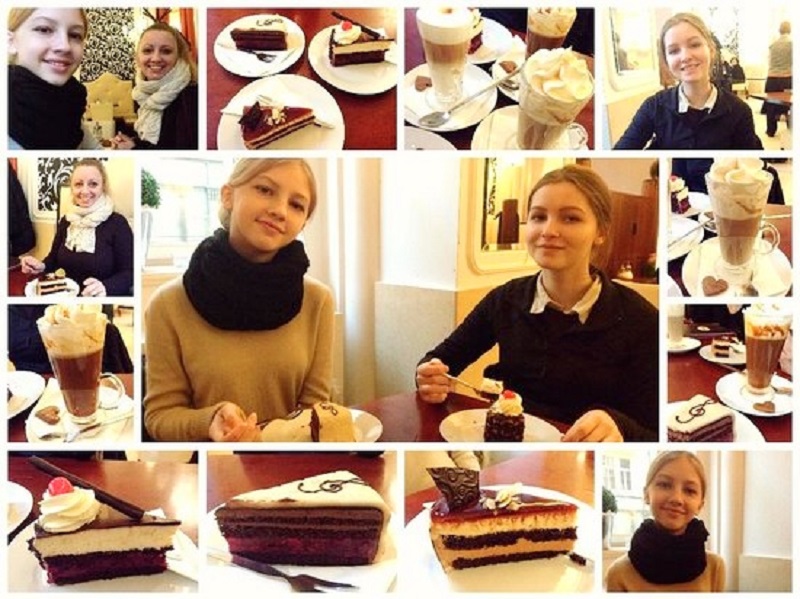 Café Slavia
Established in 1884, this is perhaps Prague's best known café. Located along the Vltava river and across from the National Theater, this is where President Vaclav Havel used to hang out with all sorts of other artists, filmmakers, writers and actors.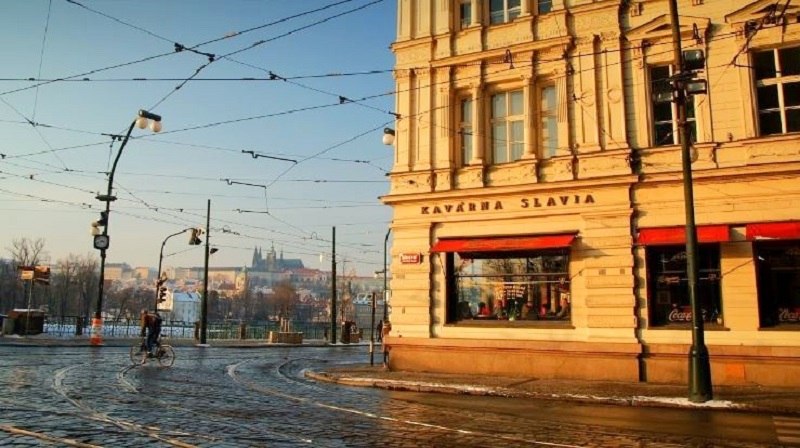 This café is a symbol of the city as a whole, of its turbulent history, its very rich intellectual life, its way of life, of thought, and of expression.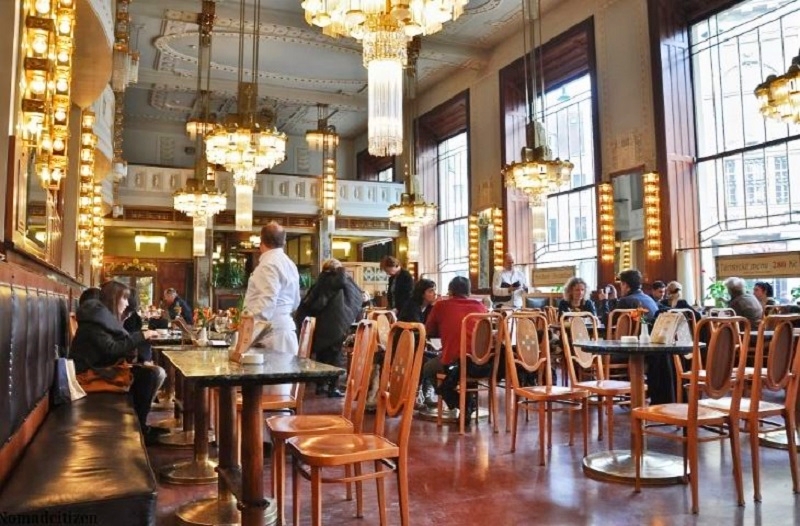 Café Slavia is a traditional cafe in the historical centre of Prague that offers Czech and international cuisine as well as delicious desserts.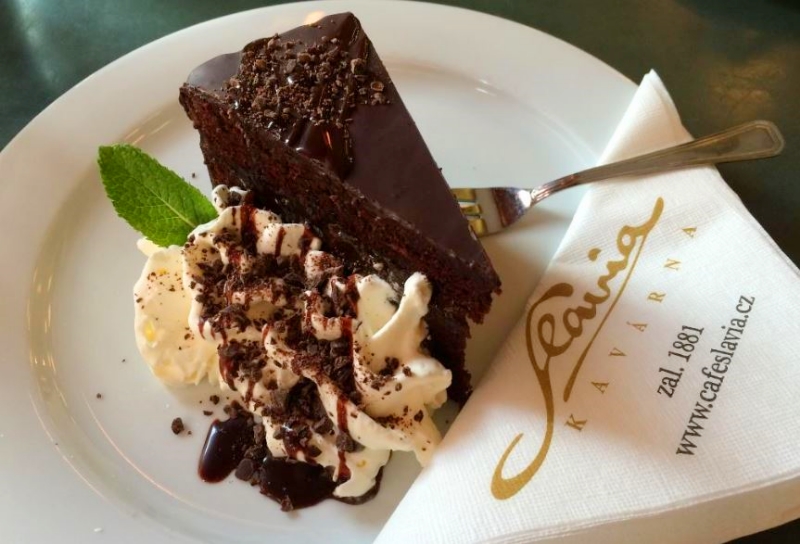 Sitting at your table, you have an excellent view of the National Theater, Charles Bridge and the Prague Castle.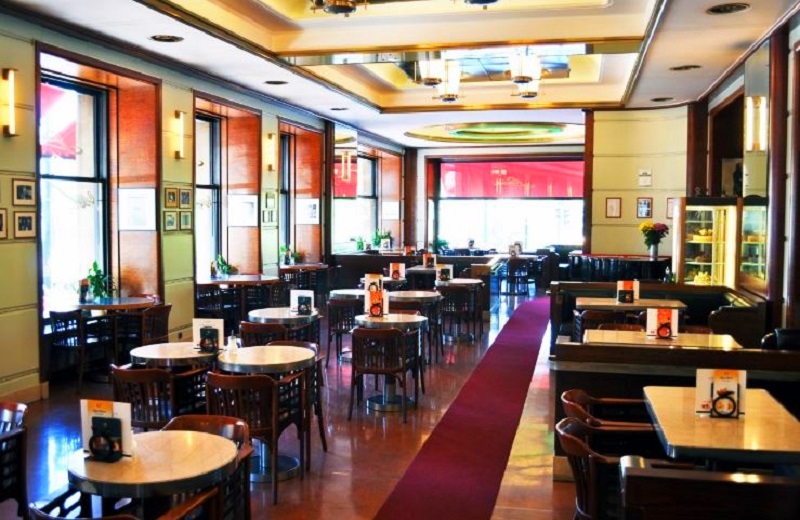 Intellectuals and artists never left its inspired premises, even at the darkest hour of the communist normalization period; the poets Jiři Kolář and Jaroslav Seifert, the Symbolist painter Jan Zrzavý, theater actors and authors such as Václav Havel were among some of its most renowned regulars.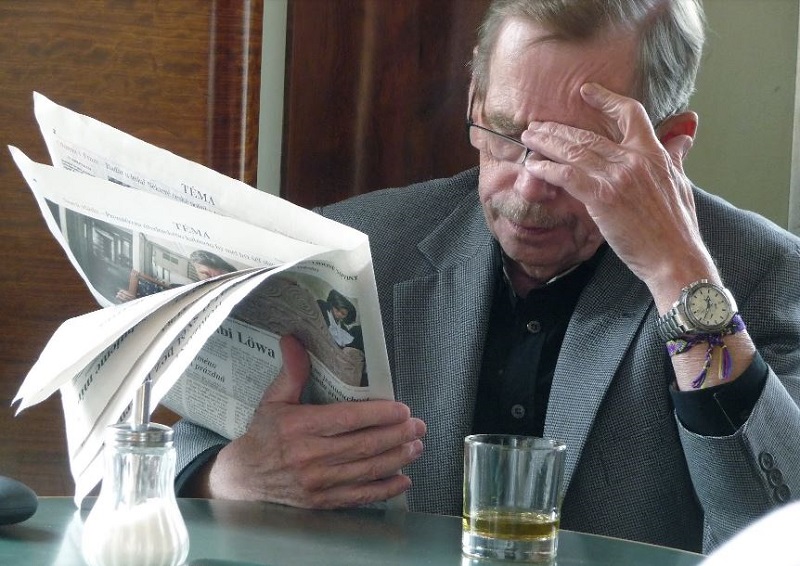 A rare moment of rest for Václav Havel, drinking coffee and reading newspapers in his favorite coffee house, Slavia.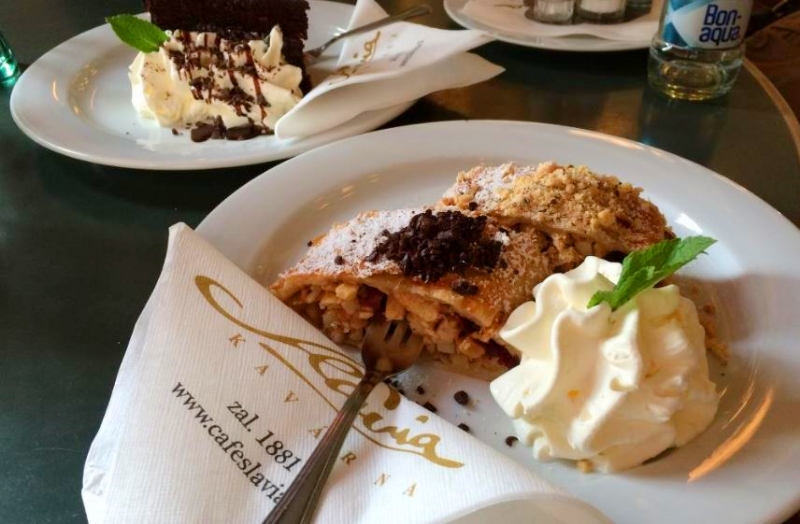 To this day it attracts those in search of inspiration, and delicious coffee and dessert.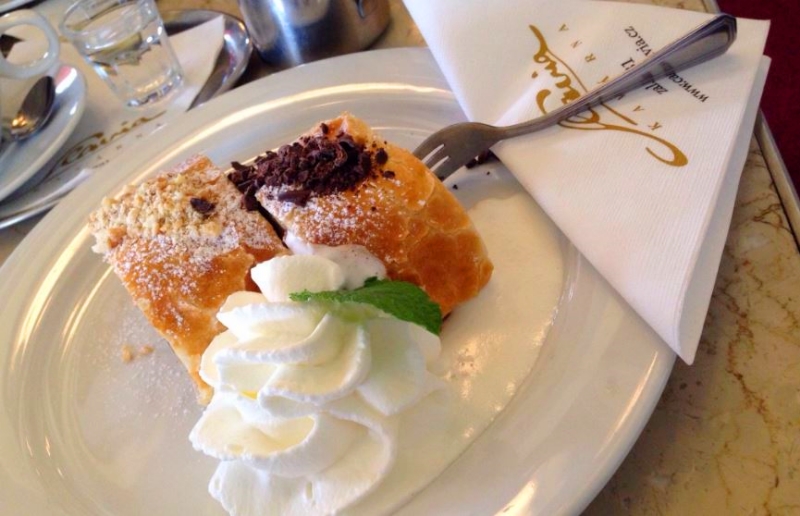 Café Louvre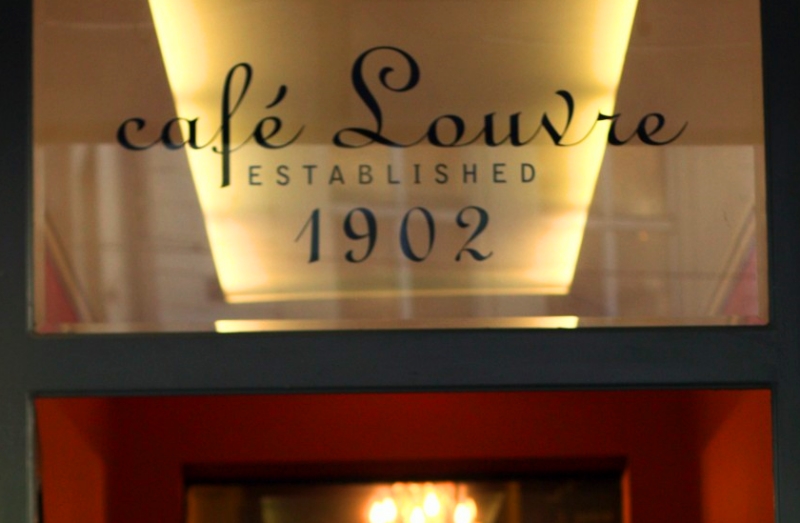 Established in 1902, this is your quintessential Viennese café, located in Prague. The communists closed this popular cafe for many years because it was believed to only attract the most bourgeois clientele.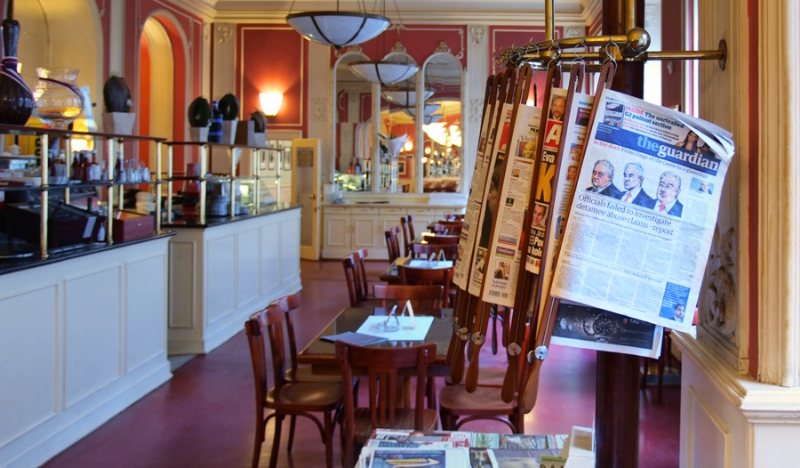 People like Albert Einstein, Franz Kafka and President Thomas G. Masaryk would frequent often.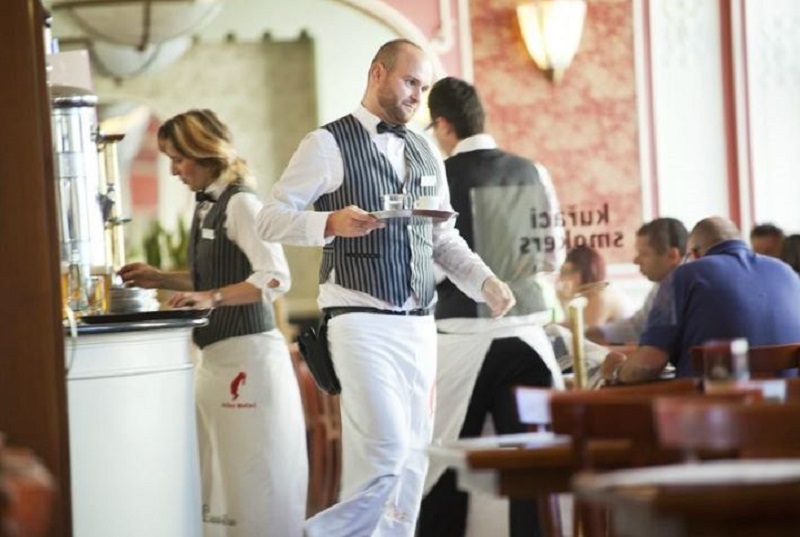 It's the kind of place and artist or writer will sit with his coffee and brew over ideas.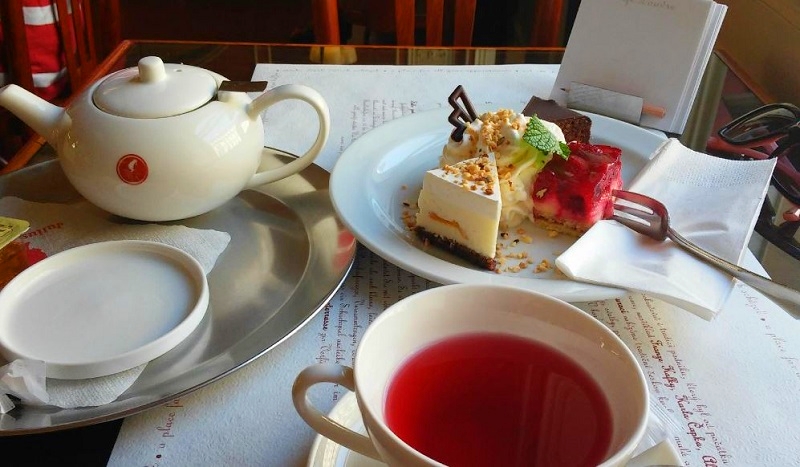 For us, it's the kind of place to enjoy some of the sweetest treats Prague has to offer.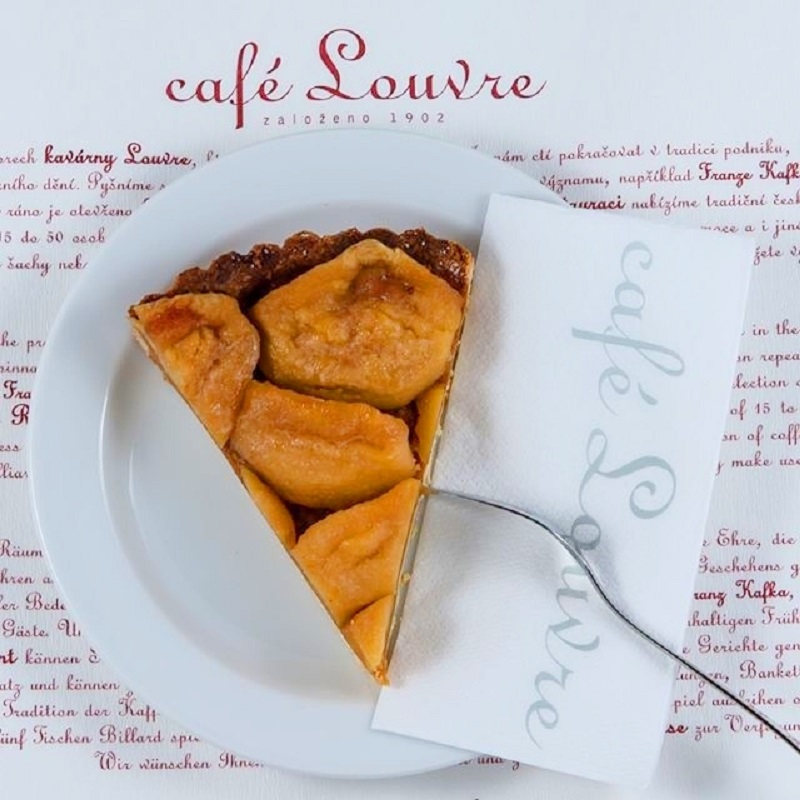 Delicious classics as well as pure heavenly delights.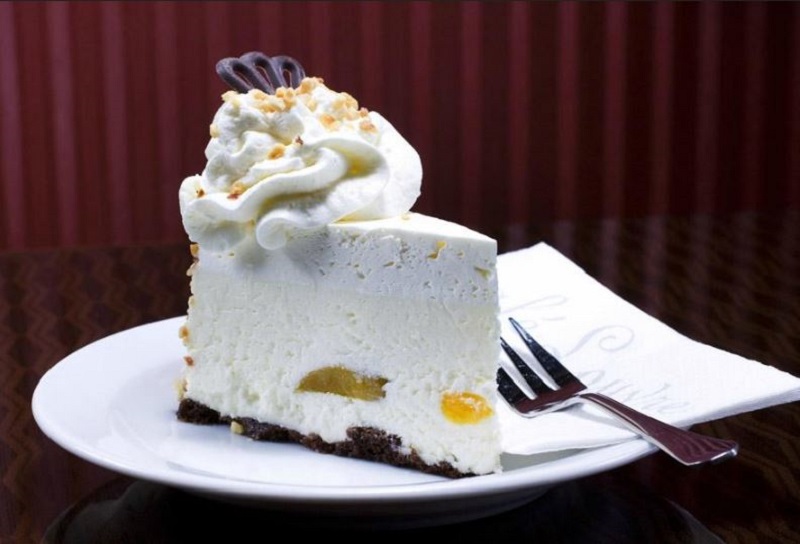 Their strudel is one of the best in all of Prague.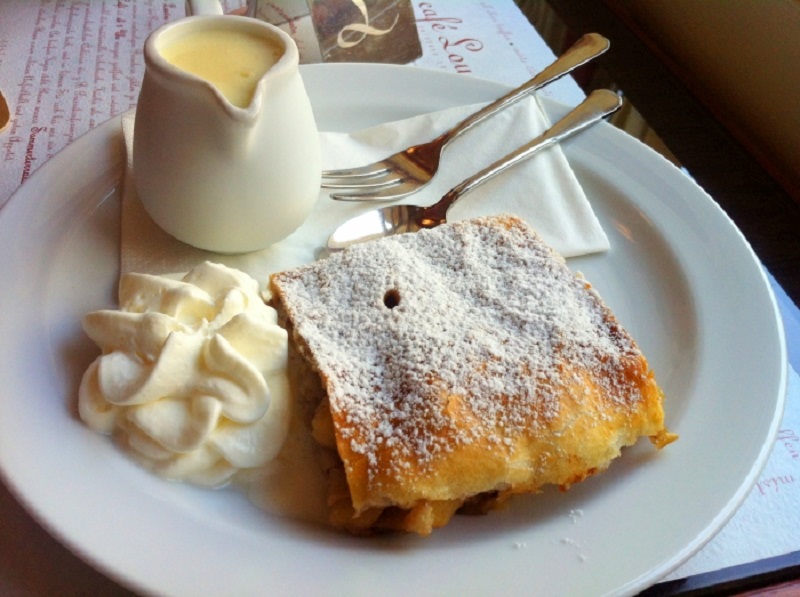 To have a behind the scenes look at what goes into a typical day in a place such as this, please spend 15 minutes watching this glimpse into Café Louvre.
Café Grand Orient
Established in 1911, this lovely café is located in on the first floor of the House of the Black Madonna.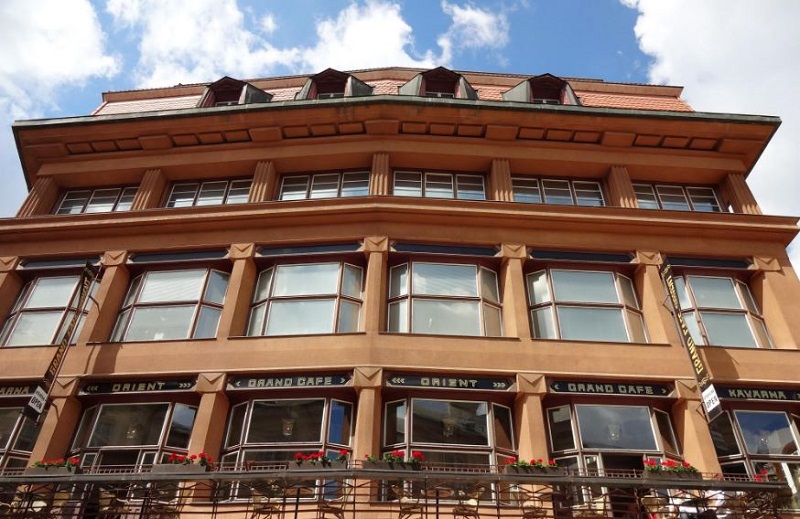 This building symbolizes the unique Czech contribution to the cubist movement not only in architecture but in furniture, pottery and glass.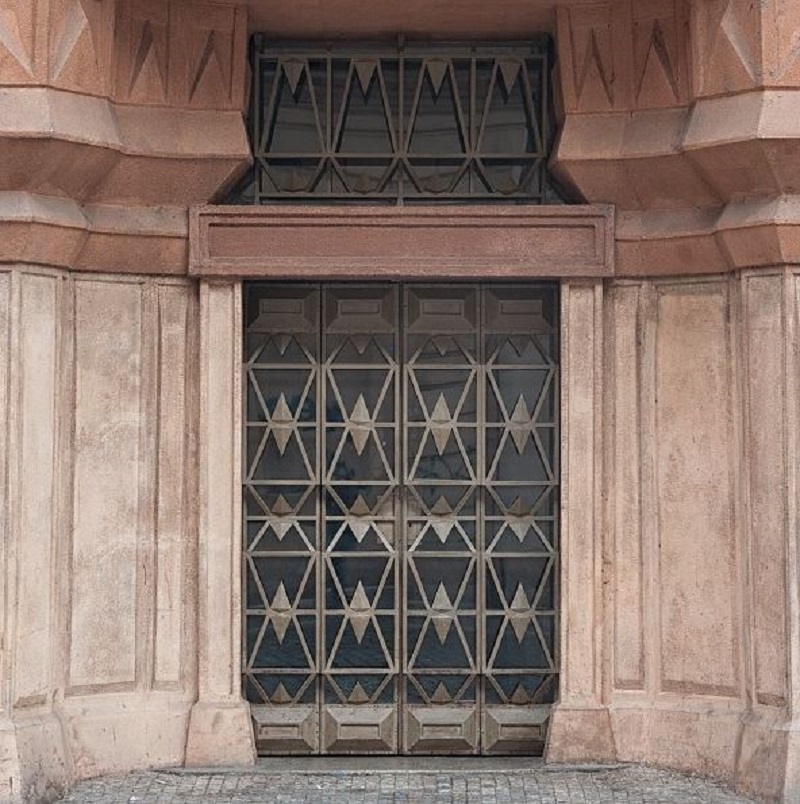 The House of the Black Madonna was created by the renowned architect Josef Gočár when he was only 31 years old.
The café within the house remained open for a mere ten years or so but closed in the 1920's when cubism fell out of fashion. You may recognize the iconic lightbulb staircase…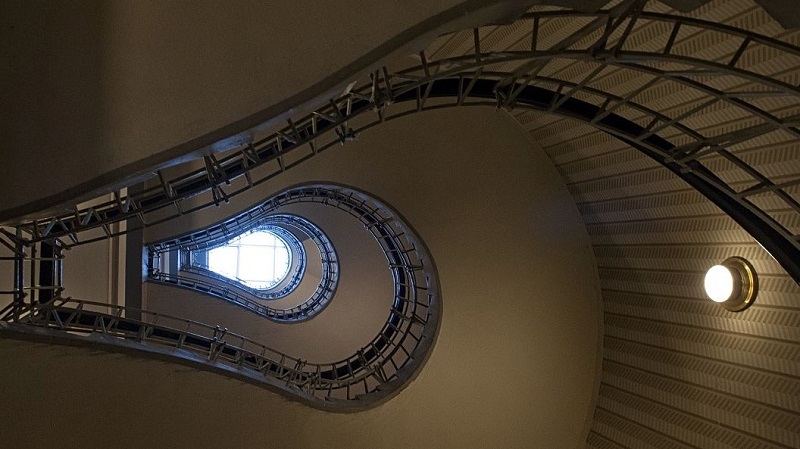 Happily this state of affairs has changed and one finds cafés in Secession, Art Deco and Art Nouveau style all over the world.
The Grand Café Orient, the ancestor of all of them, remains the most significant and elegant.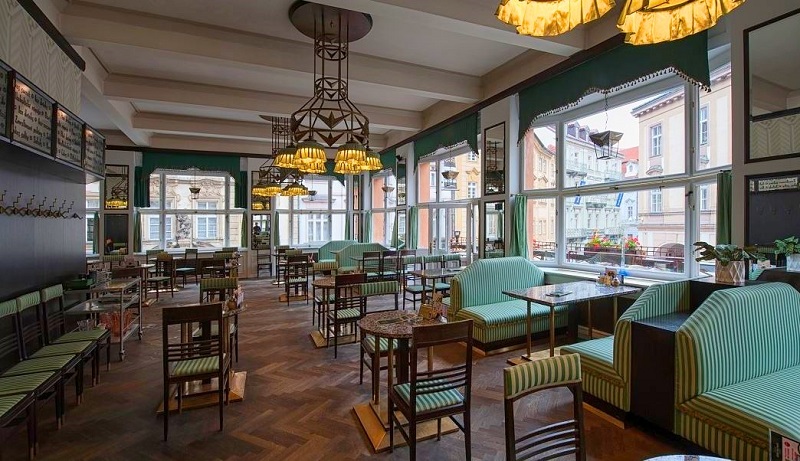 The cubist aspects of the house are displayed not only by its frontage and floorplan but in the internal furnishings in the café as well. These include a beautiful cubist buffet-bar and other furnishings and elegant lights and lanterns all designed by Josef Gočár.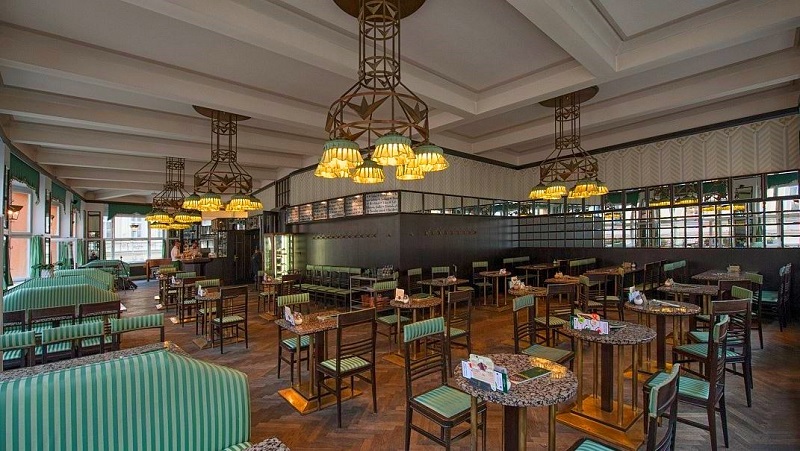 It's nice to visit and enjoy the atmosphere, beauty and elegance of this café, but we just love their desserts!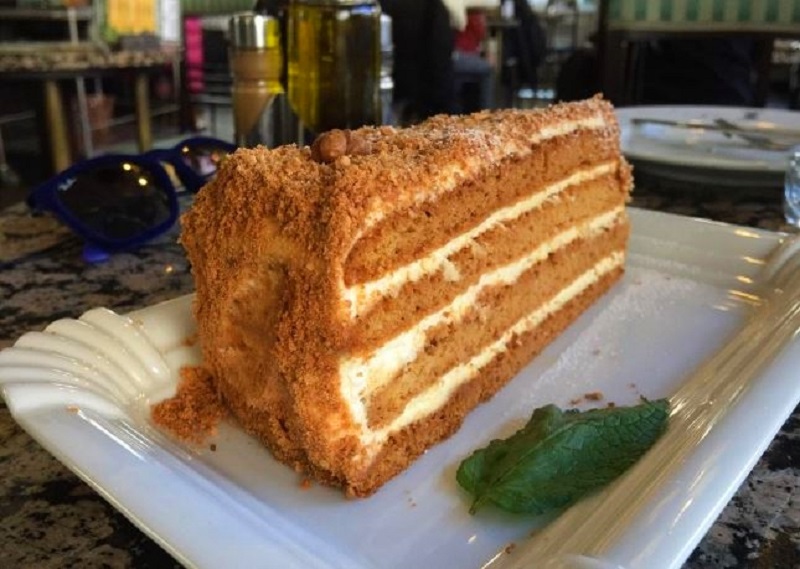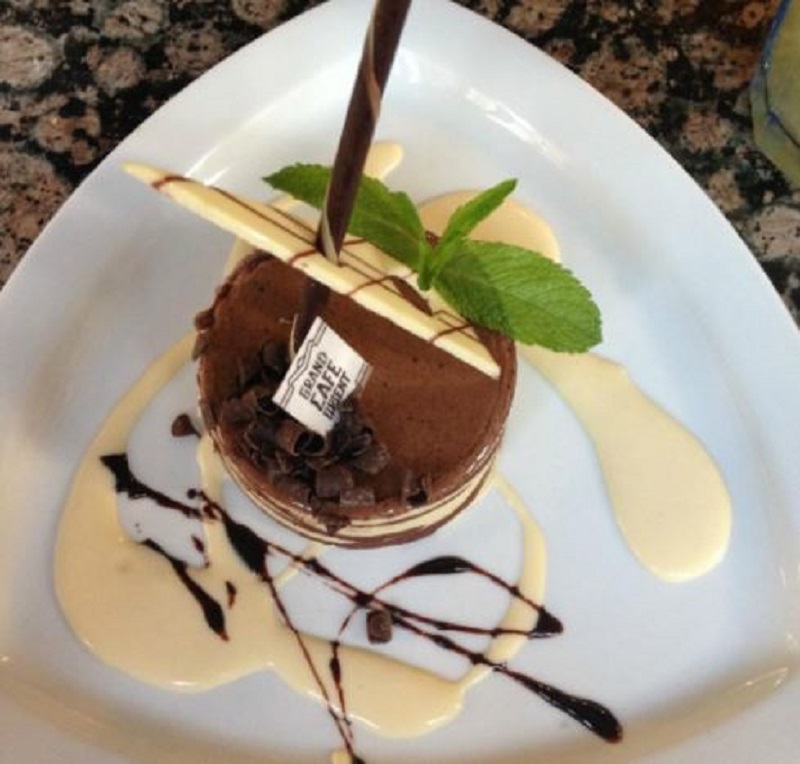 Café Imperial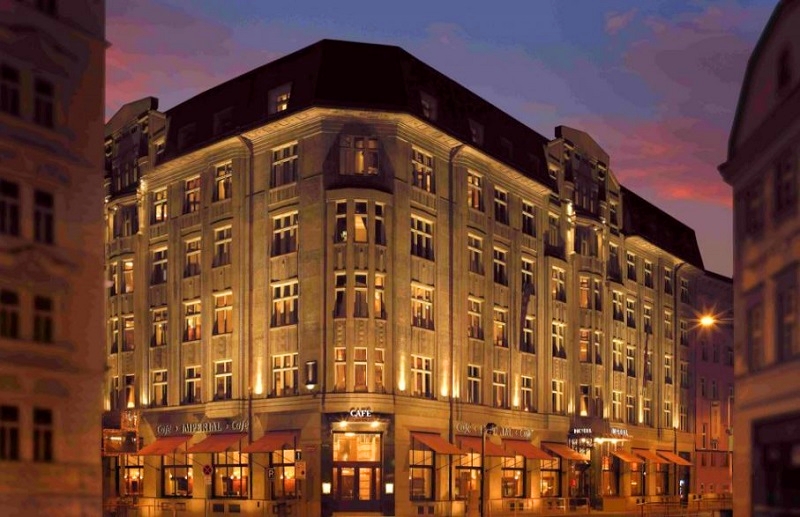 The oldest record of anything at this site dates back to 1383, when there existed a malt house on the property. This was completely destroyed in the Thirty Years War and not significantly built upon again until 1840 when it opened as Hotel U Černého orla, (Hotel at Black eagle).
Café Imperial was established in 1914, this café is another intelligentsia hangout for Prague's more artistic types.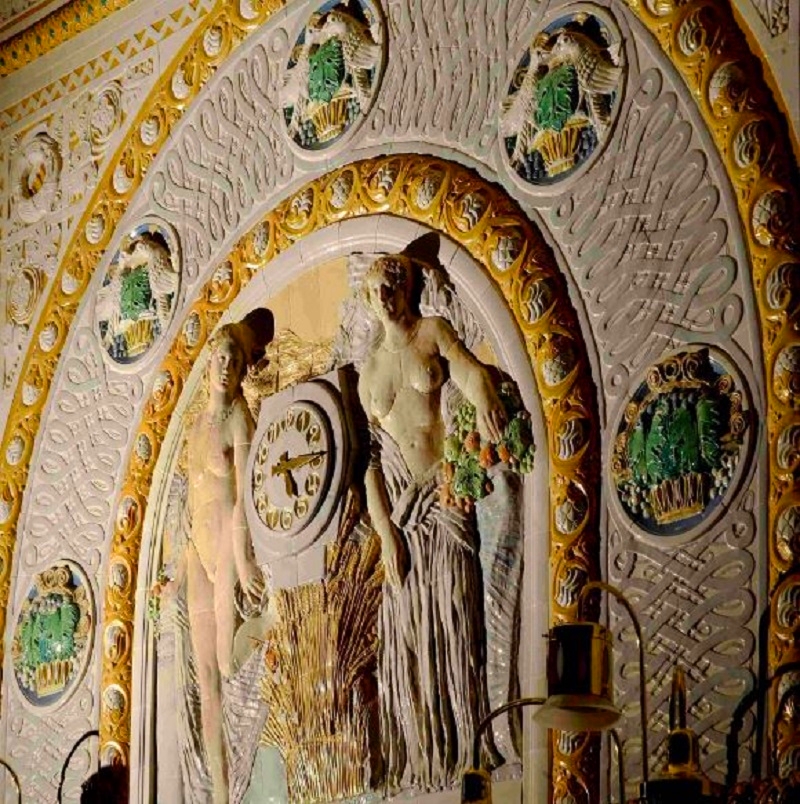 Café Imperial has been one of the most famous and most popular cafés in Prague for the past 100 years.  A favorite of Zdenek Jirotka, composer Leos Janacek, and Kafka (Kafka loved coffeehouses!) and many other eminent guests. Today, it is associated with  chef Zdeněk Pohlreich, a television star on a Czech food channel type program called Ano, šéfe! (Yes, chef!).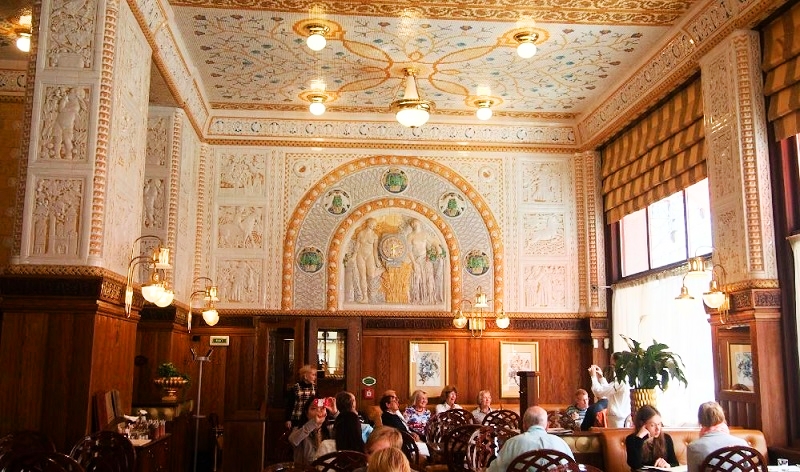 This gorgeous care features original Art Nouveau ceramic wall tiling and mosaic ceilings which are breathtaking, crowned by large street windows. The interior appeared in the Czech film Kristián in 1939 and watching the movie today, you'll see the interior has not changed.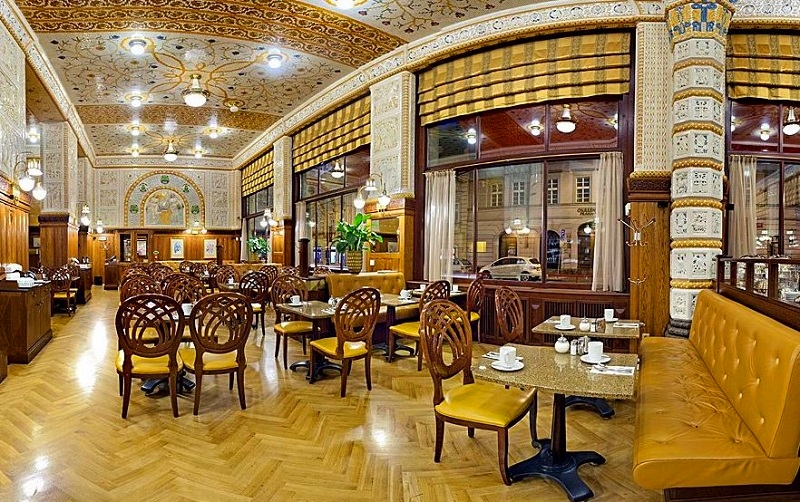 A truly unforgettable atmosphere with a touch of the early 20th century, their desserts are award winning and beautiful.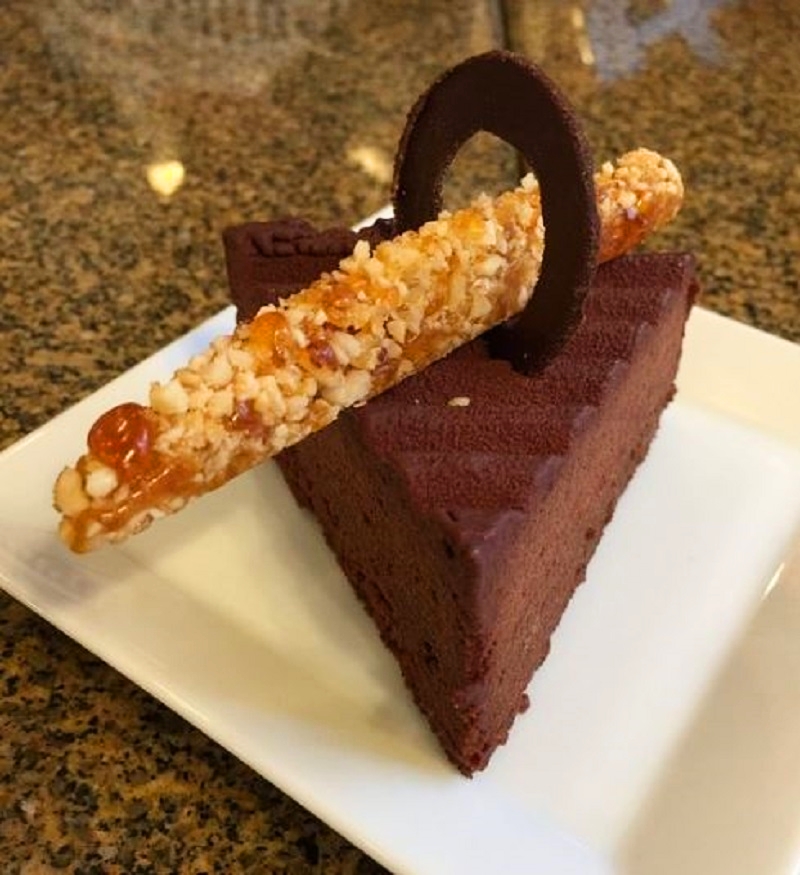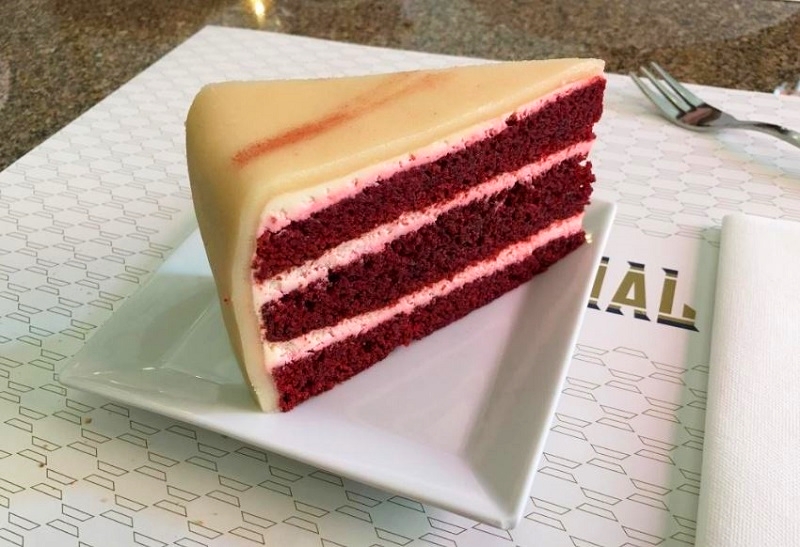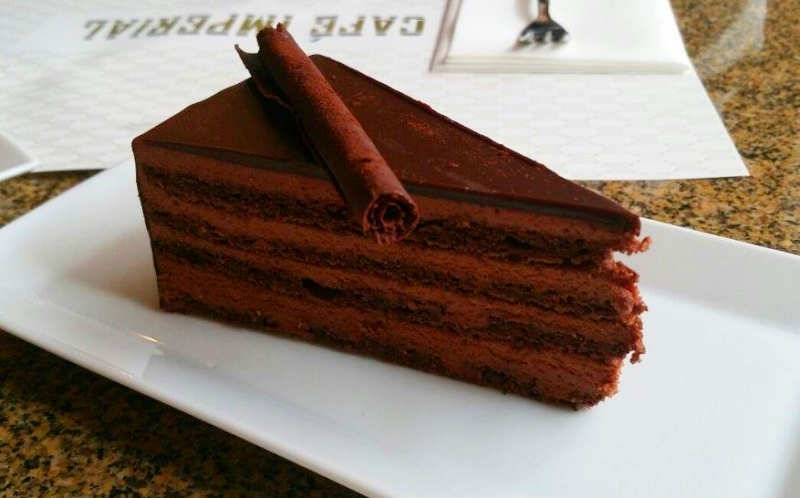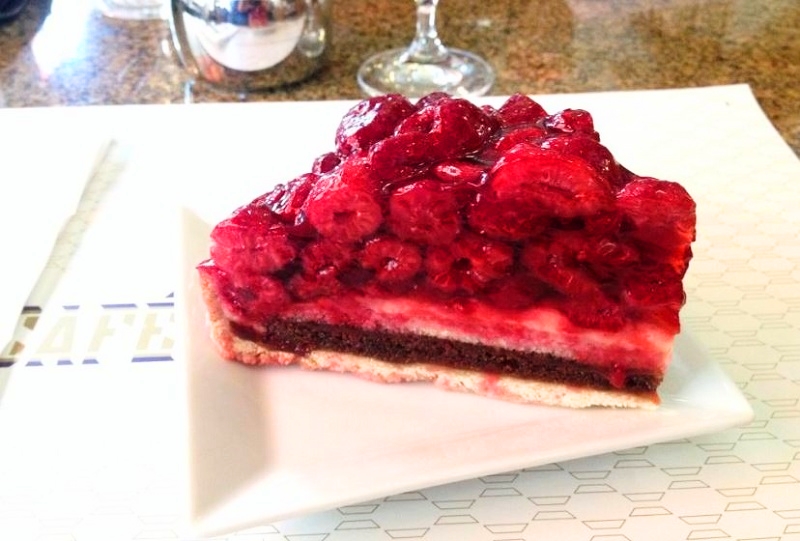 Café Obecní dům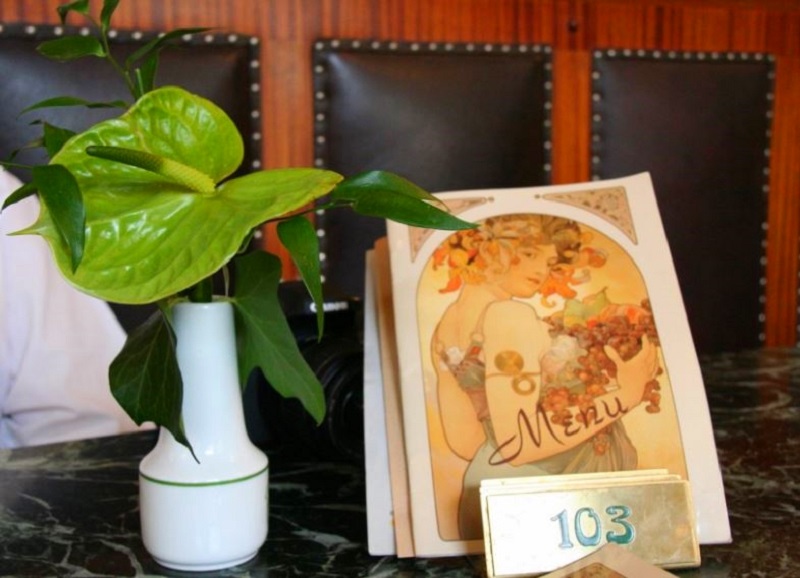 The Secession-era Kavárna Obecní dům is deservedly considered among the most beautiful cafes in Prague.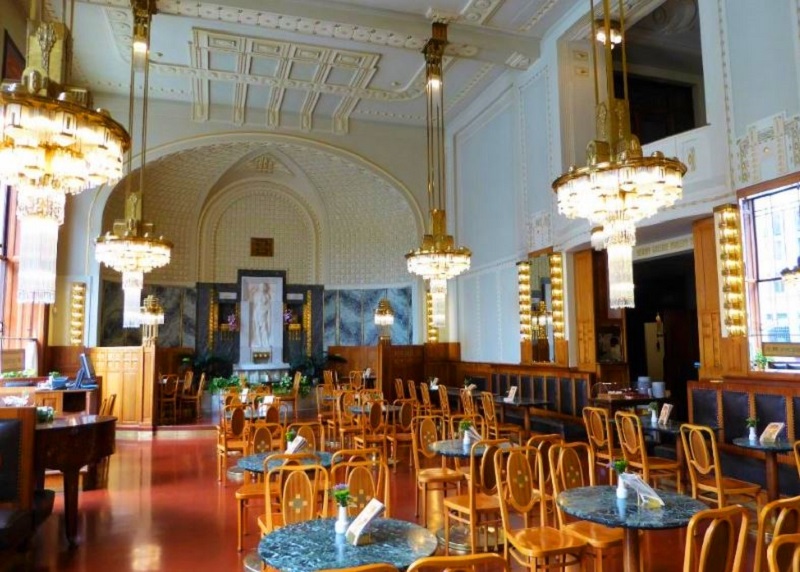 It is located on the ground floor of the Municipal House and its interior is an unforgettable experience for every visitor.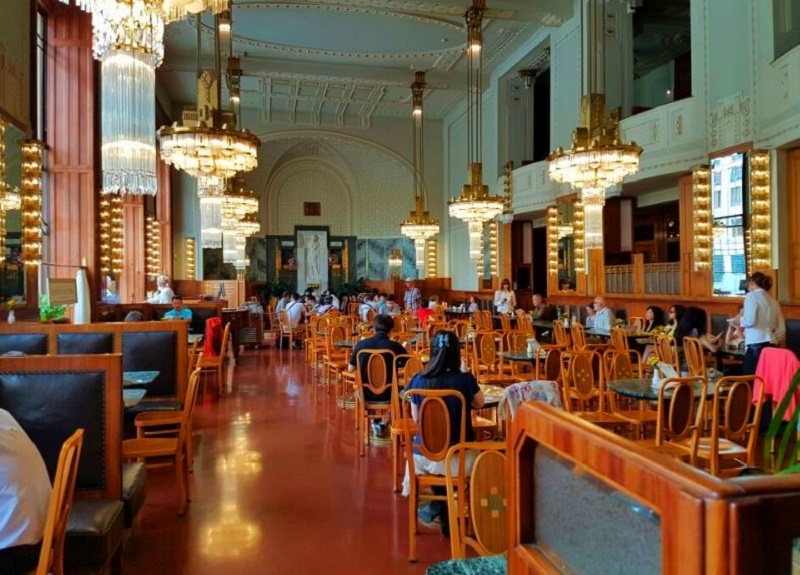 Kavárna Obecní dům is, without a doubt, one of the best examples of a European café.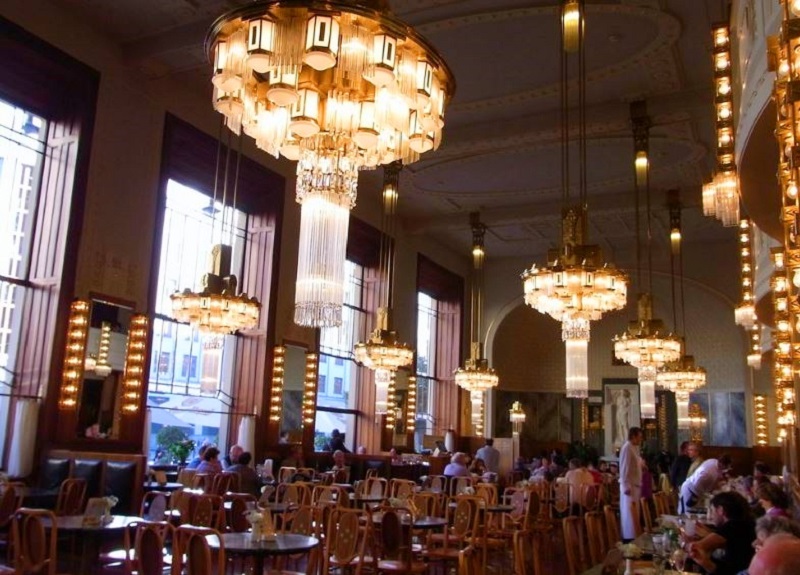 Although the peak period of the artists' avant-garde and the Prague elite belongs to history already, the spirit of the 20th century is clearly very much alive here.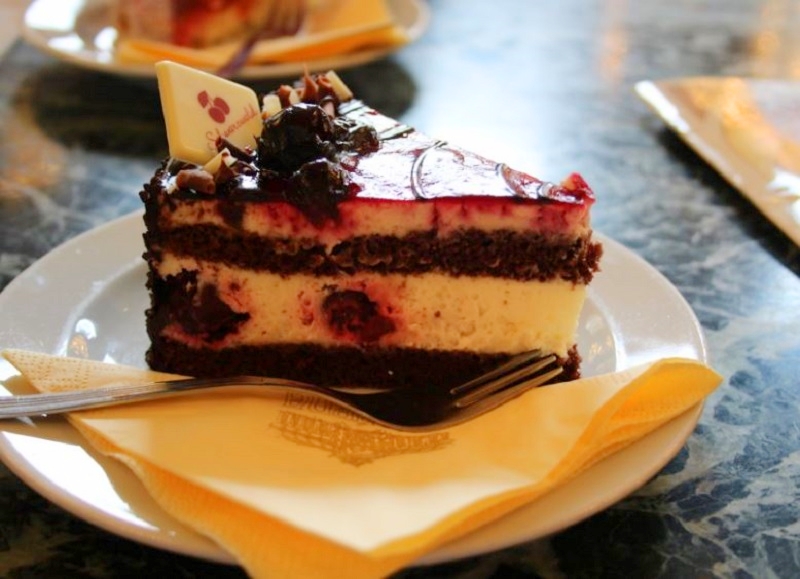 Kavárna Obecní dům offers the possibility to relax and enjoy a cup of delicious coffee and one of the famous desserts in beautiful Secession-era premises.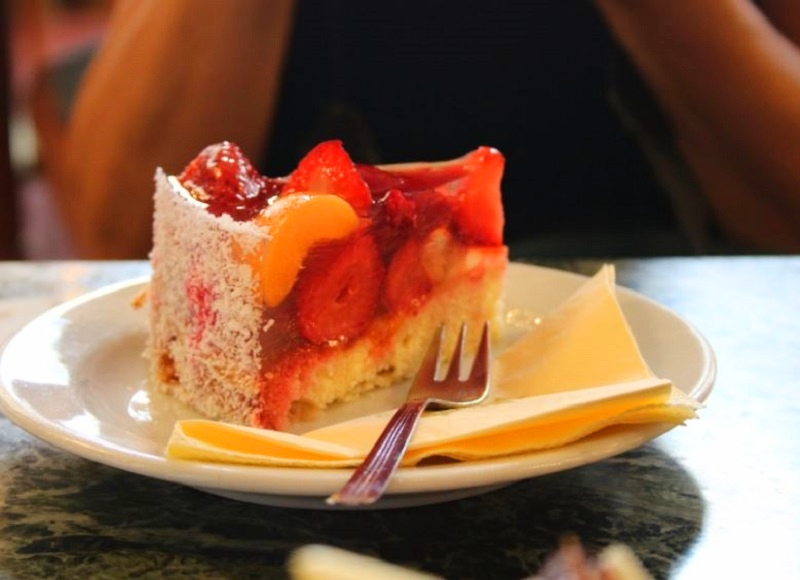 Their cakes are absolutely delightful!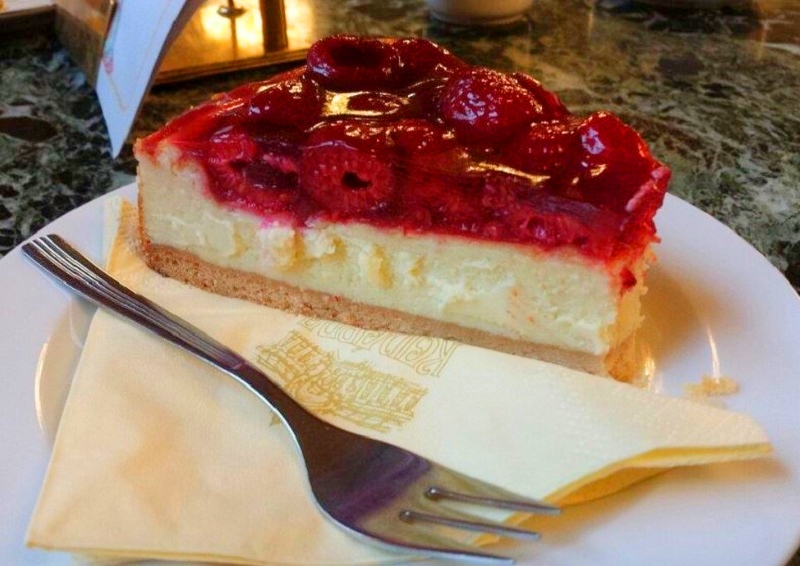 … and this rivals any cheesecake we've ever tasted.
If you enjoy hot chocolate, theirs is incredible.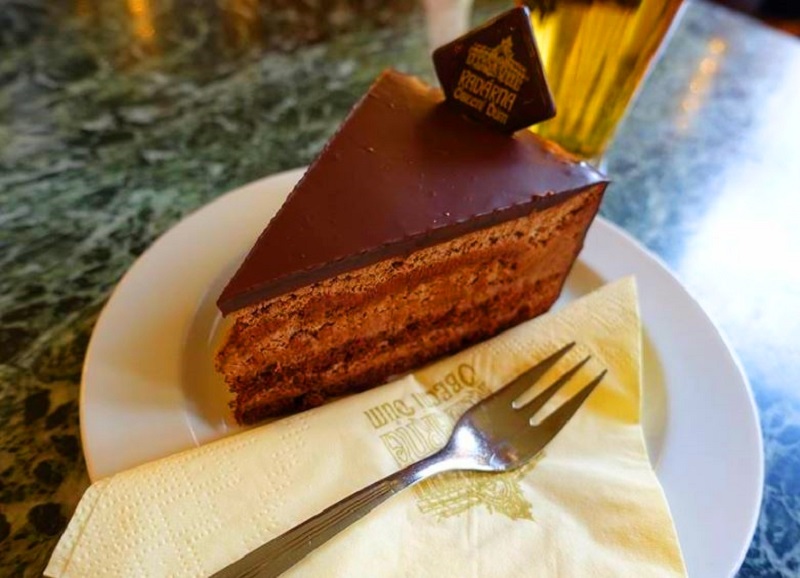 Café Montmartre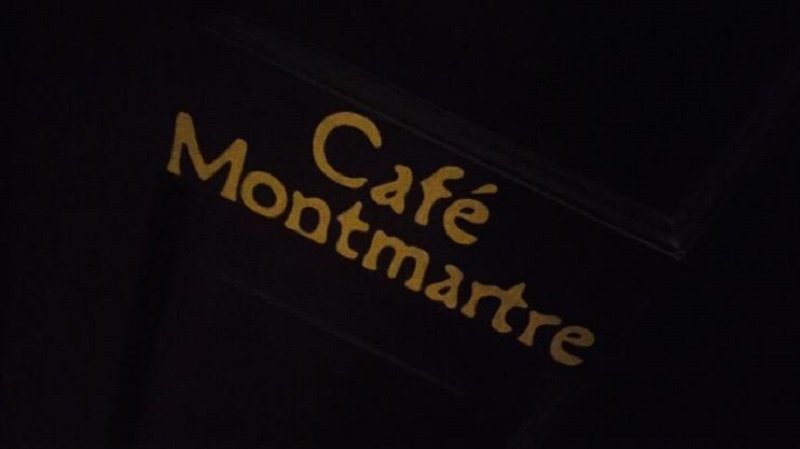 This is one of the 15 most famous cafes in the literary world. Founded in 1911, the café Montmartre in Prague, better known among locals by the name "cabaret Montmartre", still welcomes guests day and night in a building called U třech divých (House at the Three Savages).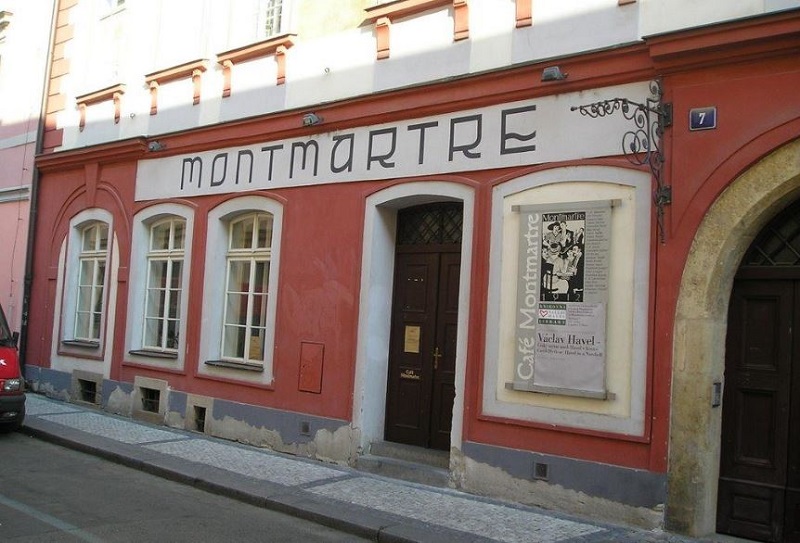 Shortly after the café was founded, the Prague bohemian crowd, which was fond of nicknames and diminutives, promptly changed its name to "Montík", which can be interpreted as the "Monty".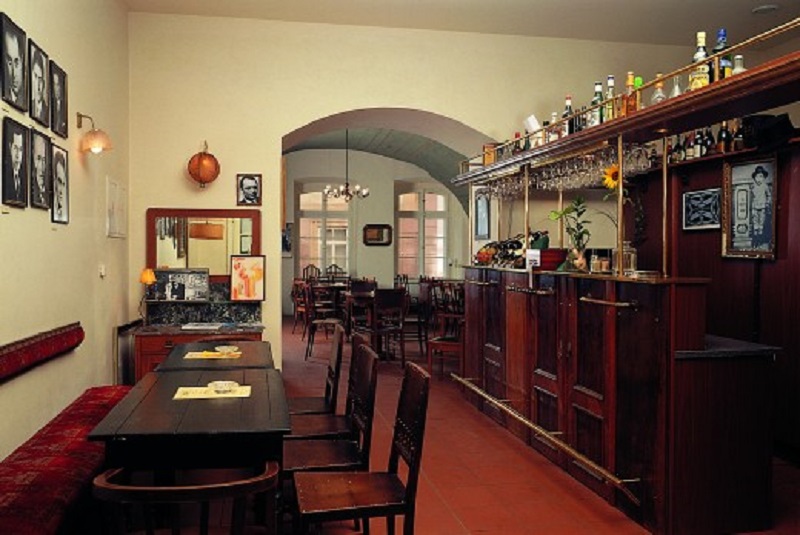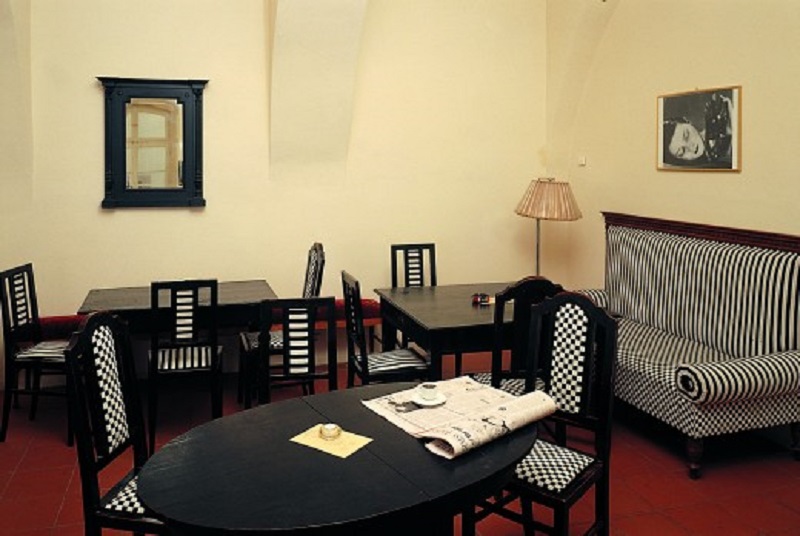 Some of the most important writers from Germany and Czechoslovakia — like Jaroslav Hašek, František Langer, Eduard Bass, Franz Kafka, Franz Werfel, Max Brod, Johannes Urzidil and even Gustav Meyrink — all came here.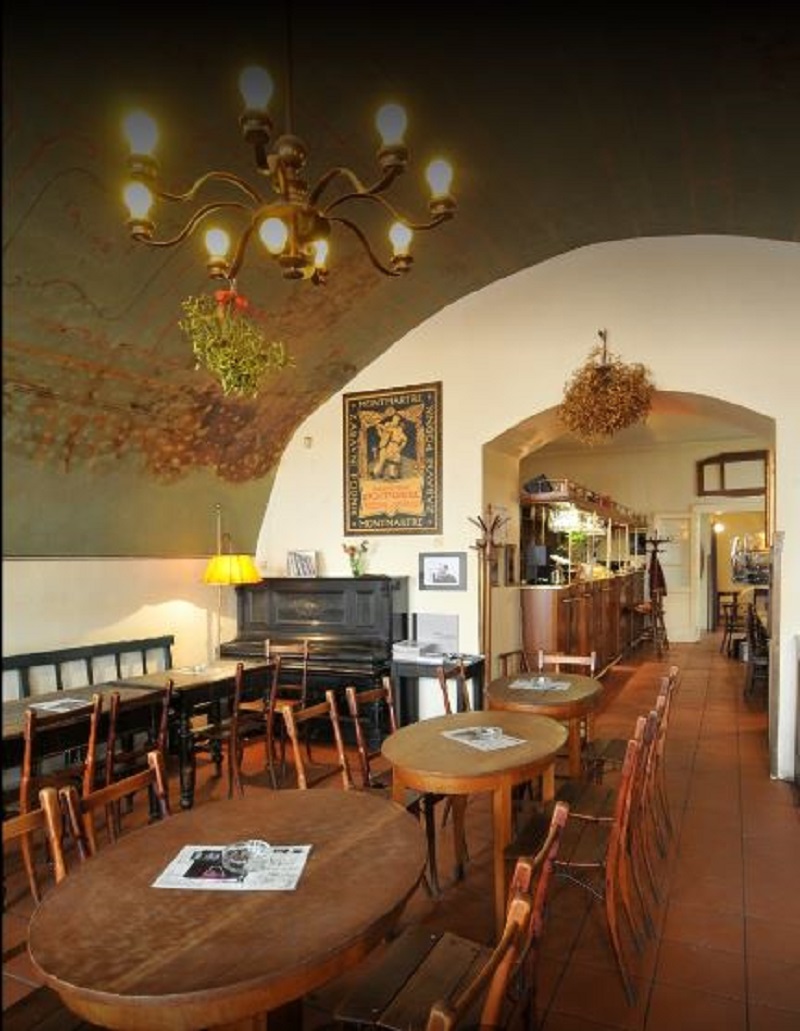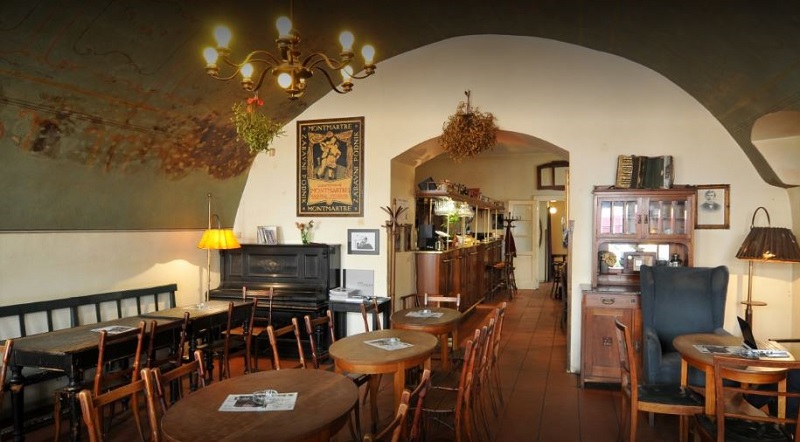 The entertainment program held turns in Czech, German and Yiddish, and reflected the cultural diversity of the city and its fondness for debates. You almost get the feel that the tables and chairs have not changed in all this time and in this dark corner of the world, bibliophiles find paradise.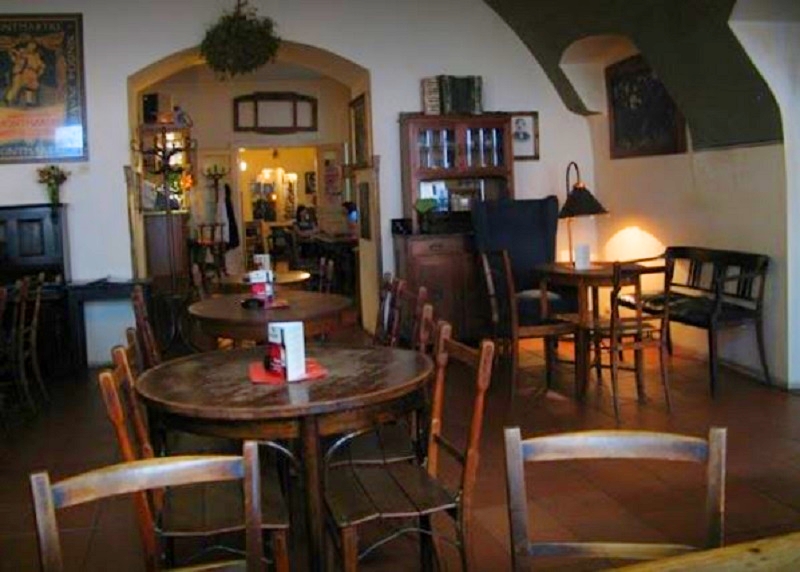 These days, the scruffiness is part of its appeal, and although the corner piano usually remains silent these days, Montmartre is still popular most evenings, when an eclectic assortment of customers gathering over coffee and wine.
For us, it's still an awesome place to get a pastry.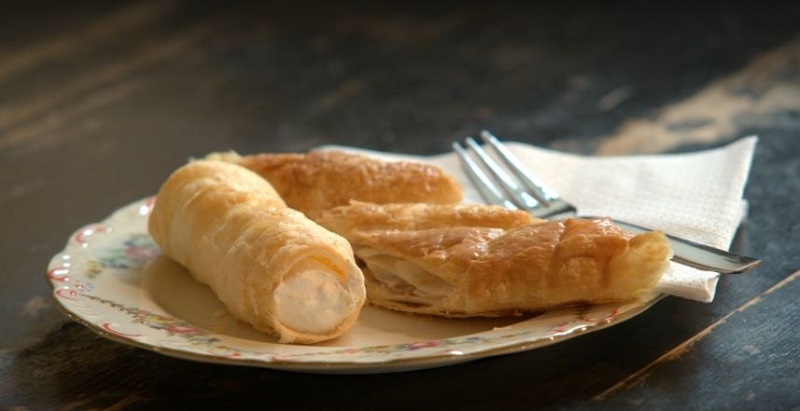 Café Mozart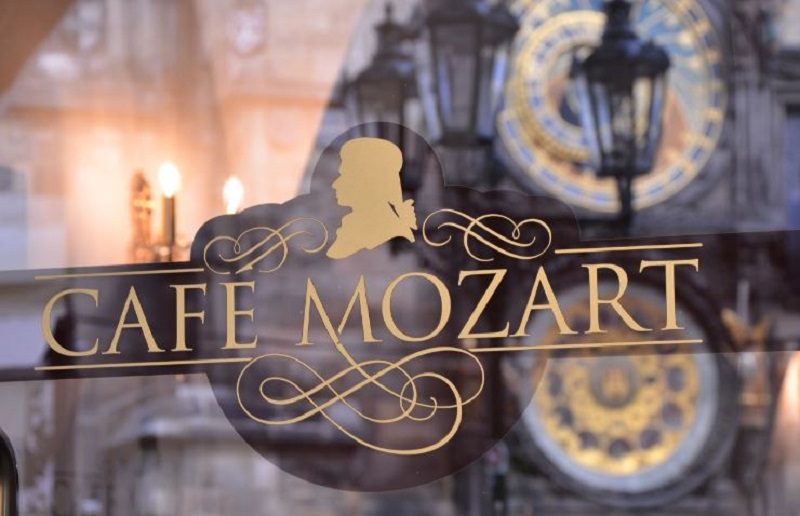 What makes this café and patisserie most special is its view of the Orloj, or as most people know it, the Astronomical Clock.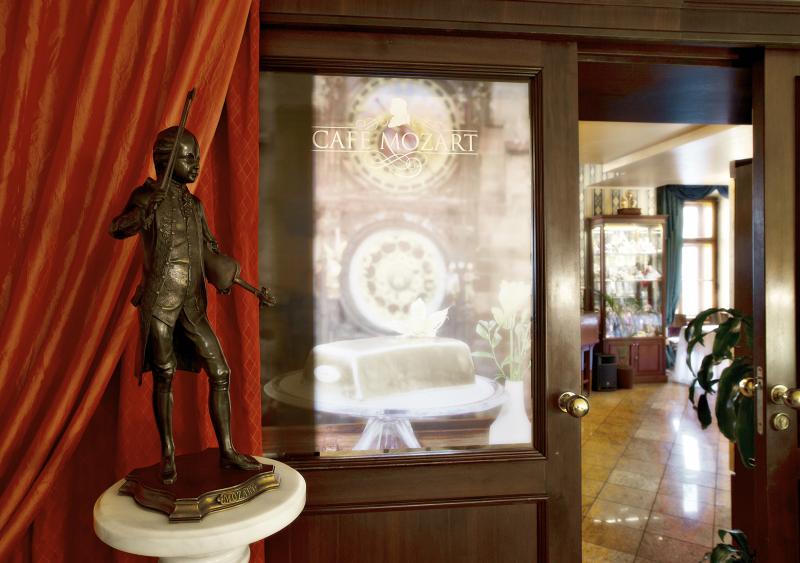 It also has an exhibition of Meissen porcelain throughout.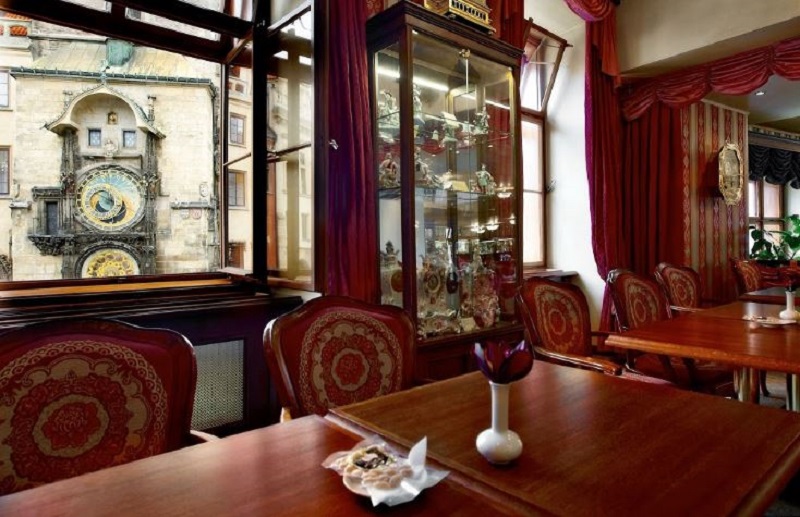 Café Mozart offers a romantic environment for a coffee and a cake when visiting Old Towne Square and has the loveliest views.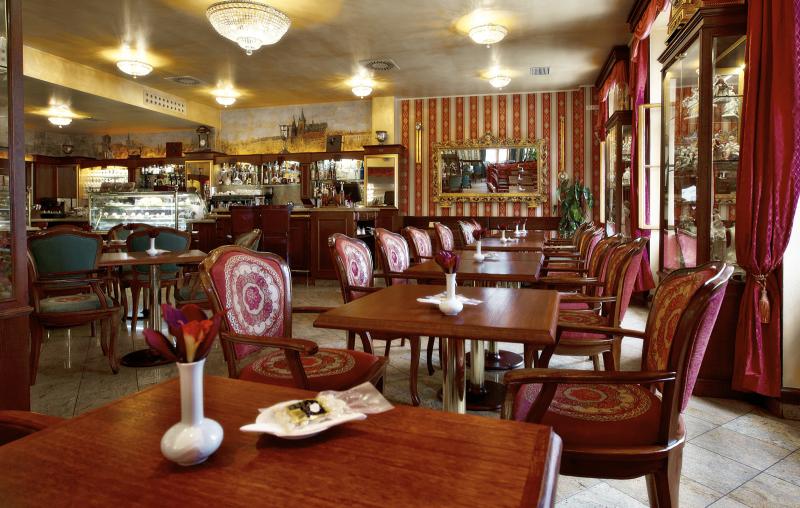 It's a beautiful place to stop and enjoy a delicious cake and coffee.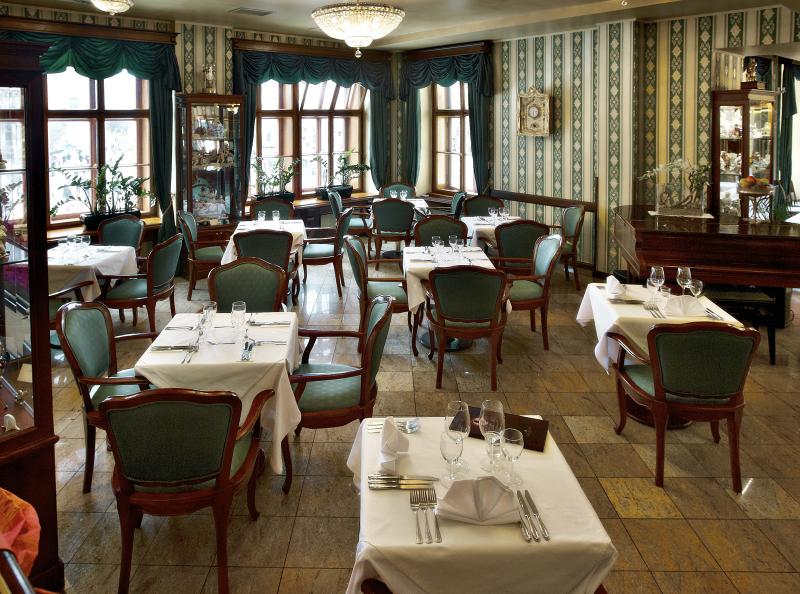 They also create complete cakes to purchase.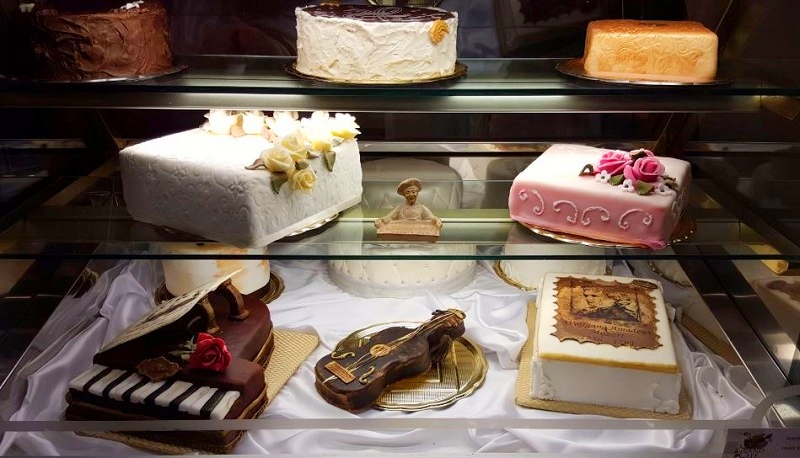 Each time we go… it's difficult to decide.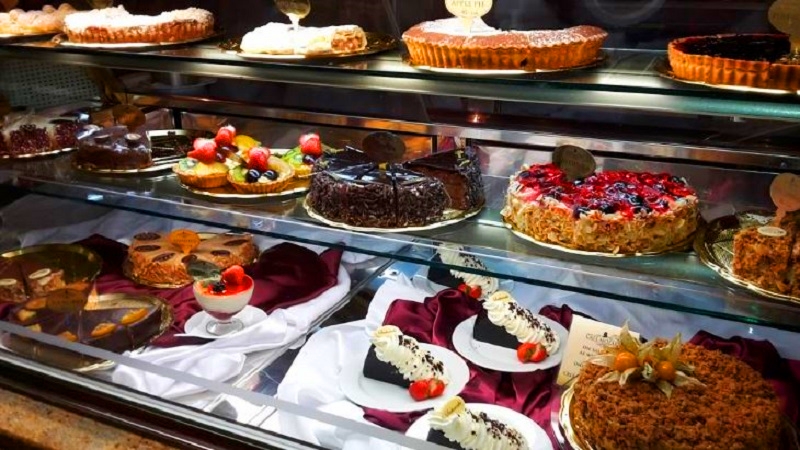 I guess we'll just have to keep coming back to sample them all!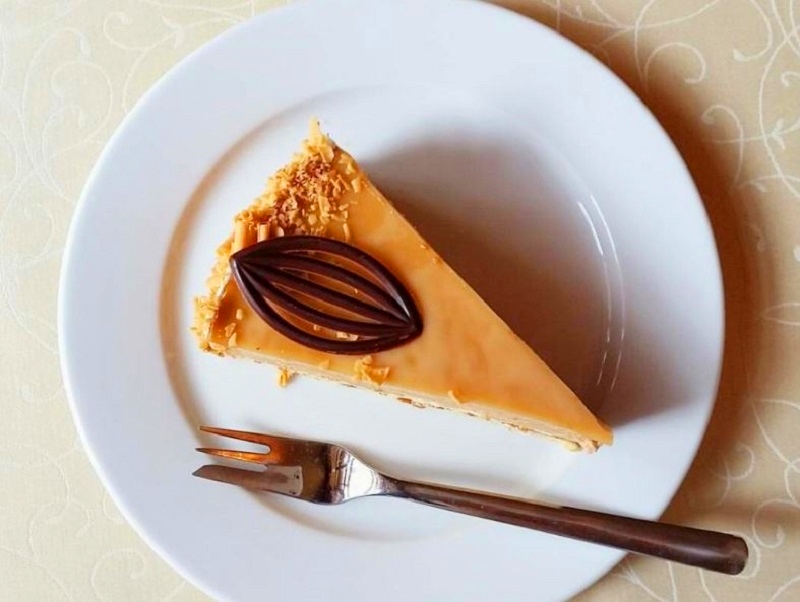 We believe that the cafés are an integral part of Prague's history, charm and culture and we always make sure to include them on every Ten Days in Prague tour that we offer. We do this because as you walk through the town, you immediately feel a connection to a much longer history. How can you not?
Walking on ancient cobblestone streets, over bridges built 700 years ago and past buildings even older. To sit in the afternoon and have a nice cup of coffee and a delicious sweet provides just enough caffeine and sugar to re-charge you for more walking, wandering, exploring and adventures.
We'd love to show you these beautiful cafés personally, and we make sure to include them on all of our tours to Prague, so make sure to check out Ten Days In Prague and maybe you'll be there with us on our next visit!
Update to answer a comment from Eric:
Kavárna Velryba, click here
Demínka, click here
Kavarna Meduza – CLOSED
Kavárna Evropská – CLOSED
Thank you for your support – We appreciate you more than you know!
We know that you could spend hours, days, weeks and months finding some of this information yourselves – but at this website, we curate the best of what we find for you and place it easily and conveniently into one place. Please take a moment today to recognize our efforts and make a donation towards the operational costs of this site – your support keeps the site alive and keeps us searching for the best of our heritage to bring to you.


Remember, we rely solely on your donations to keep the project going.
Thank you in advance!
If you have not already subscribed to get TresBohemes.com delivered to your inbox, please use the form below now so you never miss another post.