Today we are looking at Czech bronze plaques from the first half of the 20th Century featuring Bohemian, Moravian and Slovak (now known as Czech) people. They are all quite rare, coming from the late 1800s and early 1900s. Searching far and wide, I could not locate any others, making them one-of-a-kind treasures, many created by very famous sculptors and artists. Each piece, as of this posting, is available for purchase. The link is below each piece or you will be taken there by clicking each respective photo.
While I love to seek and find such treasures, another part of my has a broken heart that these are being sold off privately by people who likely have no idea of their history or importance. Had I been born to wealth or a philanthropic family, it would be my mission to seek out such cultural and national treasures and make sure they end up in the hands of those who would properly care for them…
But alas, c'est la vie, that is not who I was born in this life. The best I can do is capture and catch them as they pass and memorialize them somehow through this site. (Which can only exist with your ongoing support!)
Libuše the Pagan Queen
This lovely Art Nouveau bronze plaque depicts Libuše, the Bohemian Queen, and it is dated around 1890. It's first because it's our absolute favorite and at the top of our wish list. I just hope that whomever purchases her will treasure her and keep her safely.
Libuše is a legendary ancestor of the Přemyslid dynasty and the Czech people as a whole. According to legend, she was the youngest but wisest of three sisters, who became queen after their father died; she married a ploughman, Přemysl, with whom she founded the Přemyslid dynasty, and prophesied and founded the city of Prague in the 8th century.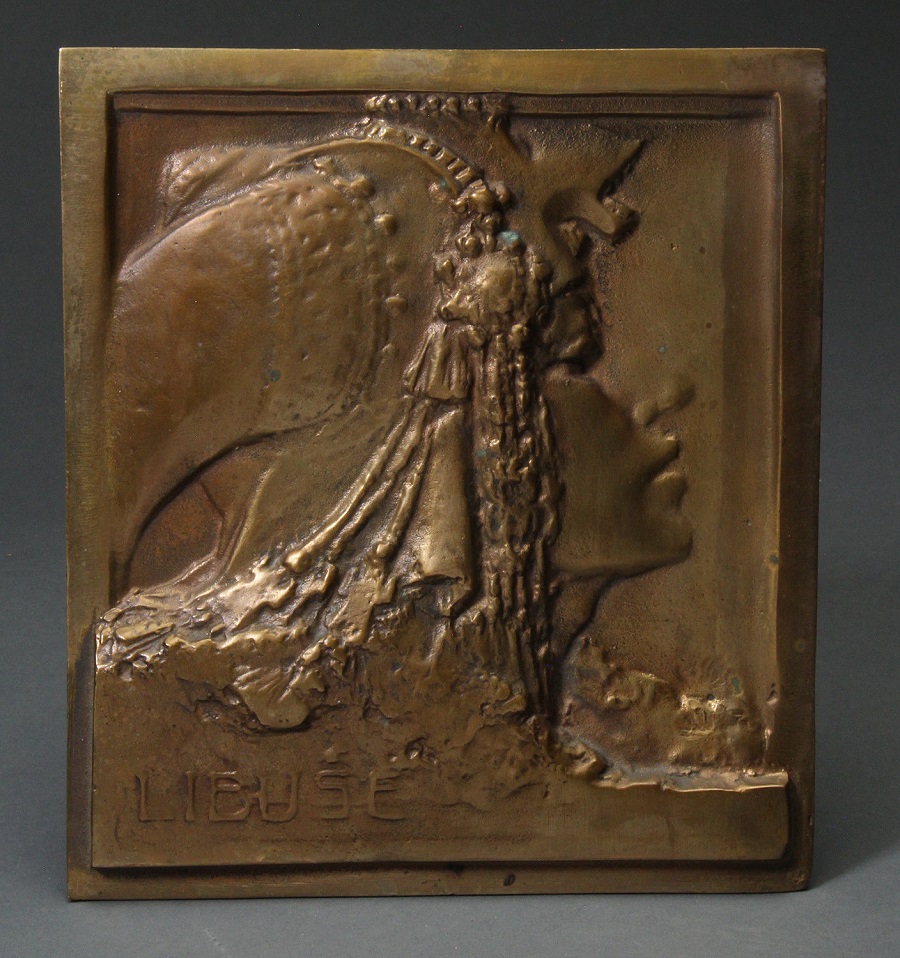 Libuše is said to have been the youngest daughter of the equally mythical Czech ruler Krok. The legend goes that she was the wisest of the three sisters, and while her sister Kazi was a healer and Teta was a magician, she had the gift of seeing the future, and was chosen by her father as his successor, to judge over the people. According to legends she prophesied from her castle at Libušín, though later legends say it was Vyšehrad.
Legend says that Libuše came out on a rocky cliff high above the Vltava and prophesied: "I see a great city whose glory will touch the stars." On the site she ordered to build a castle and a town called Prague.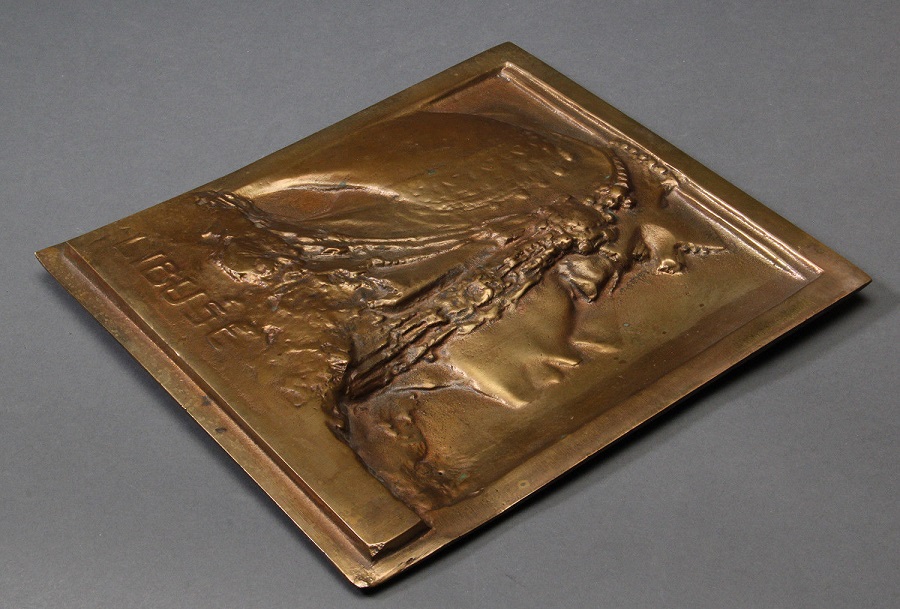 I sure do wish we had her at home to display proudly!
Truly a one-of-a-kind treasure, you can buy her by clicking here.
John Amos Comenius
John Amos Comenius (March 28, 1592 – November 15, 1670) was a Czech teacher, scientist, educator, and writer. He was a Unity of the Brethren/Moravian Protestant bishop, a religious refugee, and one of the earliest champions of universal education, a concept eventually set forth in his book Didactica Magna. Comenius became known as the teacher of nations. He is often considered the father of modern education. We wrote a post about him at this link.
During the 19th century Czech National Revival, Comenius became idealized as a symbol of the Czech nation. This image persists to the present day.
The Comenius Medal, one of UNESCO's most prestigious awards honoring outstanding achievements in the fields of education research and innovation, is named after him.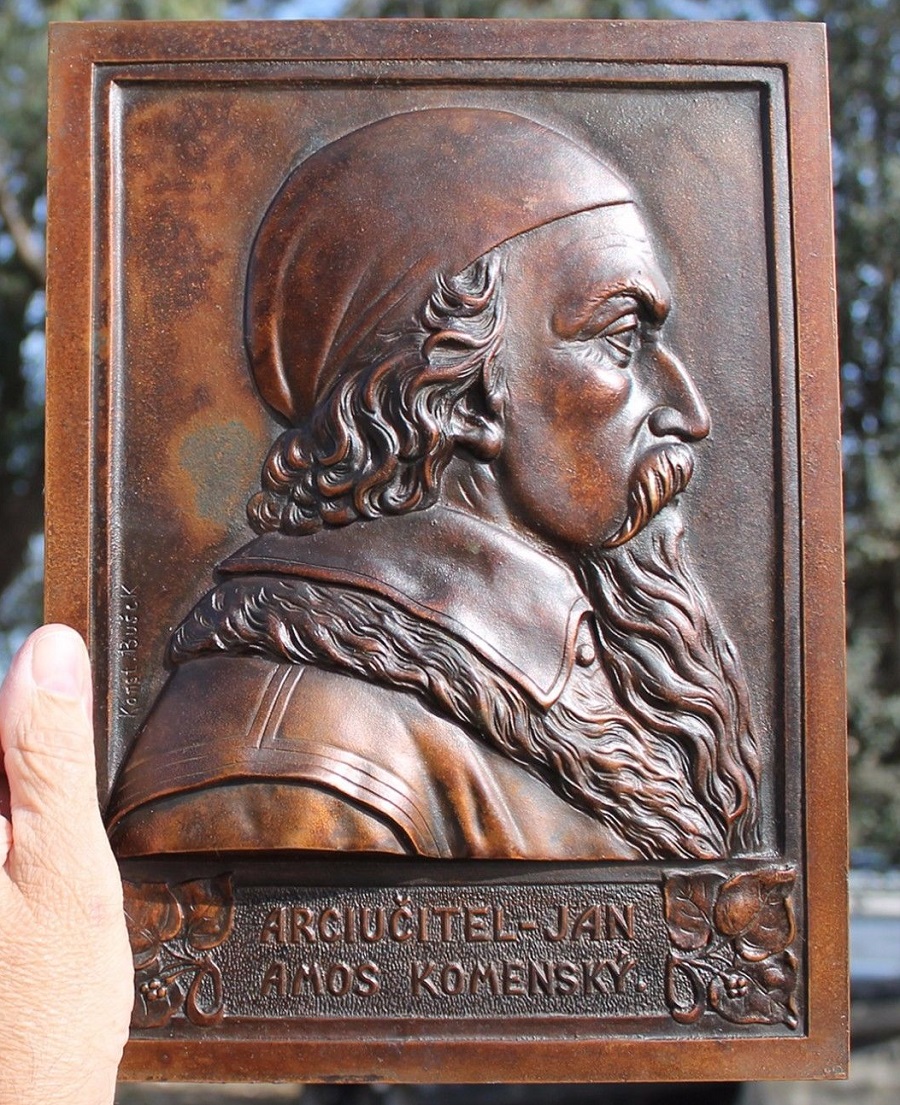 This lovely bronze plaque (287 mm x 215 mm) has been cast in ex-Czechoslovakia to commemorate John Amos Comenius. It was designed by Czech artist, Konstantin Bušek (1861-1938) making it an especially valuable piece.
You can purchase by clicking this link.
Antonin Dvorak
Antonín Leopold Dvořák (8 September 1841 – 1 May 1904) was a Czech composer. After Bedřich Smetana, he was the second Czech composer to achieve worldwide recognition. Following Smetana's nationalist example, Dvořák frequently employed aspects, specifically rhythms, of the folk music of Moravia and his native Bohemia. Dvořák's own style has been described as "the fullest recreation of a national idiom with that of the symphonic tradition, absorbing folk influences and finding effective ways of using them." He is said to have been influenced by my ancestor, František Hilmar.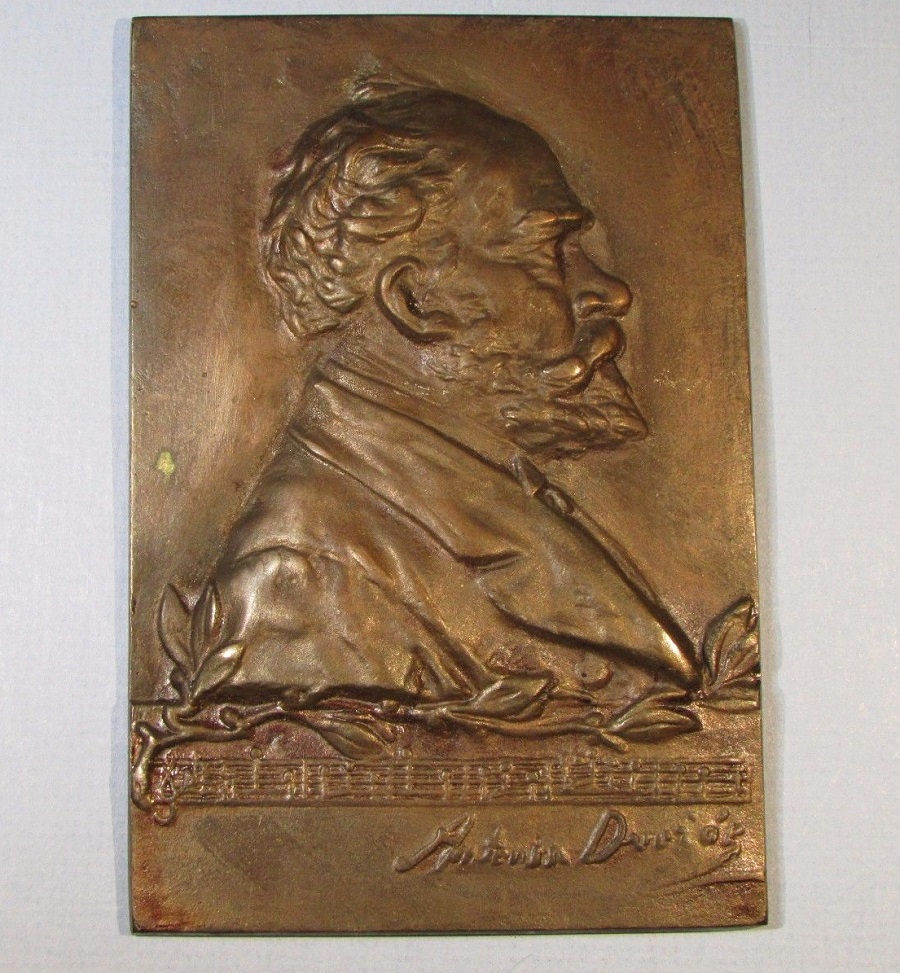 The plaque is vintage and in nice condition and measures 5 1/2 x 3 3/4 inches. On the back it has the initials B.D.S.
You can see more photos or purchase this plaque by clicking this link.
Prague, Mother of Cities
This lovely plaque depicts Prague's Charles Bridge, the Prague Castle, the Saint Vitus Cathedral, Lesser Quarter and Bohemia's Coats of Arms. It is titled: Praha Matka Mest (which translates to Prague Mother of Cities). It is in beautiful condition by well known artist, Karel Babka (24 October 1880 – 26 March 1953).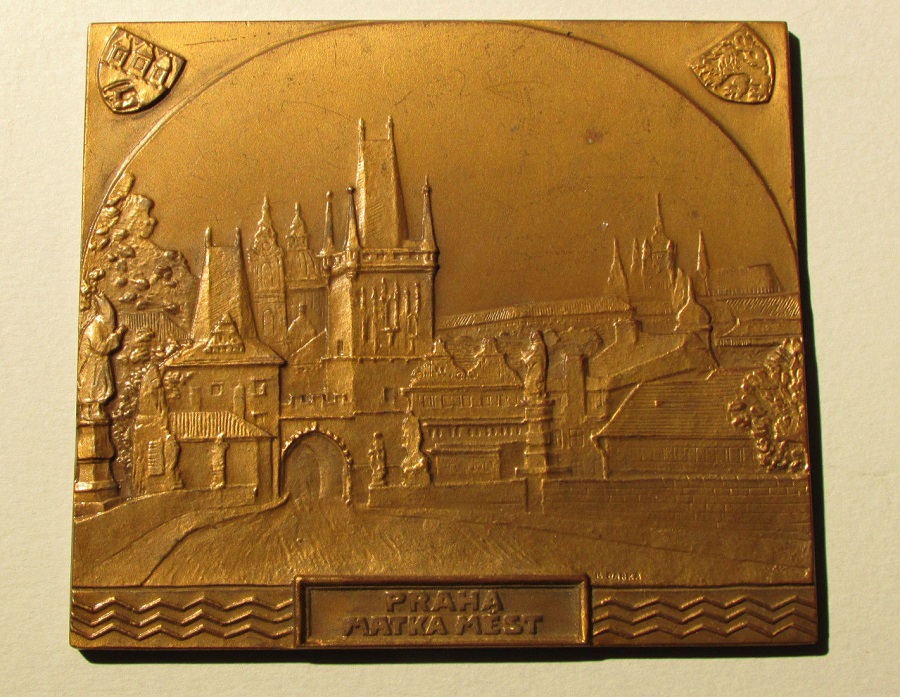 Karel Babka first trained in metal modeling and then worked mainly in the field of decorative sculpture. He graduated from UMPRUM with prof. Suchardy. In 1912 he went to Russia, where he was interested in so-called Russian Art Nouveau. In September 1914 he joined the Czech team, which formed the basis of later Czechoslovakian Legions in Russia. From 1917 to 1918 he worked on memorials of Czechoslovaks fallen in Russia. Since 1919, he was commander of the so-called "western" legionary sculpture workshop, whose task was primarily to build memorials for the legionaries fallen here. In the legions, he reached the rank of captain. After returning to the Republic, he acted as an academic sculptor and medalist until the late 1930s. At the beginning of the 1940s, he was chairman of the Local Unity of the Czechoslovak Legionnaire Municipality and after the war, he worked in the National Liberation Memorial. His statues are all over Prague.
What a treasure to town this lovely piece from a famous sculptor. You can purchase it by clicking here.
Josef Mánes
Josef Mánes (12 May 1820 – 9 December 1871) was a Czech painter. He came from a family of painters, which included his father Antonín, his uncle and Director of the Prague Art Academy Václav, his brother Quido and his sister Amalie. He produced many paintings in every genre from landscapes and portraits to ethnographic and botanical studies. He even did paintings of the twelve months (Calendar plate) in face of the Prague Astronomical Clock. Although his work was little understood or appreciated in his lifetime, he is now considered to be among greatest Czech painters.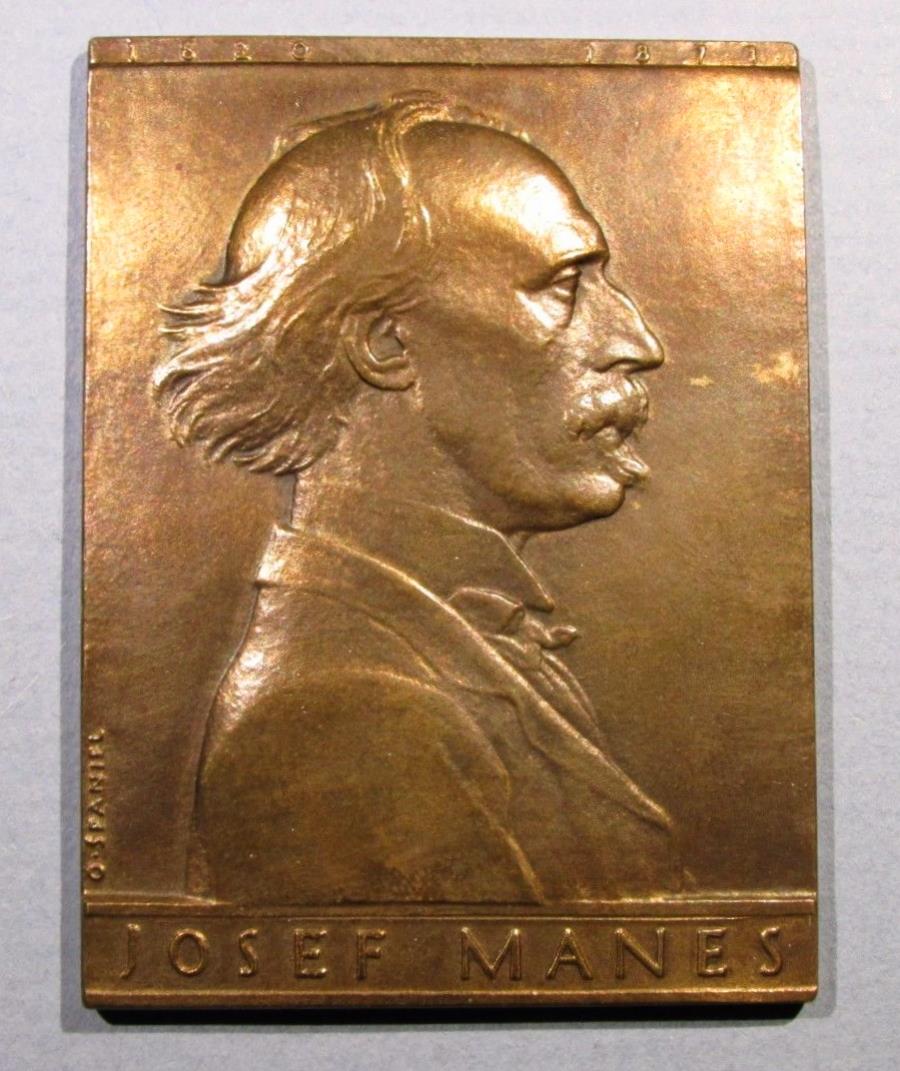 This lovely piece was made by Otakar Španiel (13 June 1881 – 15 February 1955), a Czech sculptor, carver, medalist, professor at UMPRUM and AVU.
You can purchase by clicking here.
Bedřich Smetana
Bedřich Smetana (2 March, 1824 – 12 May, 1884) was a Bohemian composer of operas and symphonic poems, founder of the Czech national school of music. He was the first truly important Bohemian nationalist composer.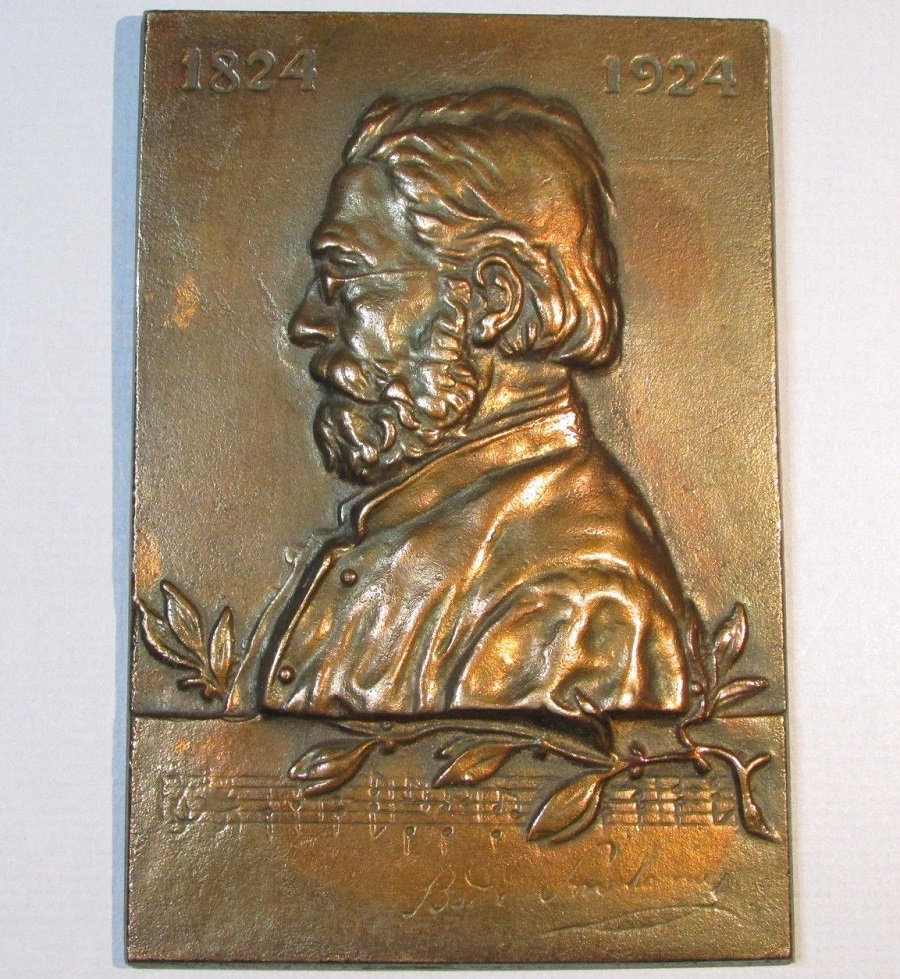 Smetana's first opera, Braniboři v Čechách (The Brandenburgers in Bohemia), was produced in Prague in 1866. This was followed by the production on May 30, 1866, of his second opera, Prodaná nevěsta (The Bartered Bride), which later established Smetana's reputation as a distinctively Czech composer. He became totally deaf in late 1874, but between that year and 1879 he wrote the cycle of six symphonic poems bearing the collective title Má vlast (My Country), which includes Vltava (The Moldau), Z českých luhů a hájů (From Bohemia's Meadows and Forests), and Vyšehrad (the name of a fortress in Prague). From this period also came the string quartet to which he gave the title Z mého života (From My Life), considered among his finest works; Hubička (The Kiss), successfully produced in 1876; Čertova stěna (The Devil's Wall), performed in 1882; and a number of piano solos, including many polkas.
The plaque is vintage and in nice condition and measures 5 1/2 x 3 3/4 inches, it's dated from 1924 and has the initials B. D. S. on the back
You can purchase this piece by clicking here.
Jan Hus
Jan Hus (c. 1369 – 6 July 1415), sometimes Anglicized as John Hus or John Huss, was a Czech priest, philosopher, Master, dean and rector at Charles University in Prague, church reformer, inspirator of Hussitism, a seminal figure in the Bohemian Reformation and a key predecessor to Protestantism.
After John Wycliffe, the theorist of ecclesiastical Reformation, Hus is considered the first Church reformer, as he lived before Luther, Calvin, and Zwingli. His teachings had a strong influence on the states of Western Europe, most immediately in the approval of a reformist Bohemian religious denomination, and, more than a century later, on Martin Luther himself. He was burned at the stake for heresy against the doctrines of the Roman Catholic Church, including those on ecclesiology, the Eucharist, and other theological topics.
After Hus was executed in 1415, the followers of his religious teachings (known as Hussites) rebelled against their Roman Catholic rulers and defeated five consecutive papal crusades between 1420 and 1431, in what became known as the Hussite Wars. A century later, as many as 90% of inhabitants of the Czech lands were Hussites. Although Bohemia was the site of one of the most significant pre-reformation movements, there are only few Protestant adherents remaining in modern times; mainly due to historical reasons such as persecution of Protestants by the Catholic Habsburgs, particularly after the Battle of White Mountain in 1620; restrictions during the Communist rule; and also the ongoing secularization.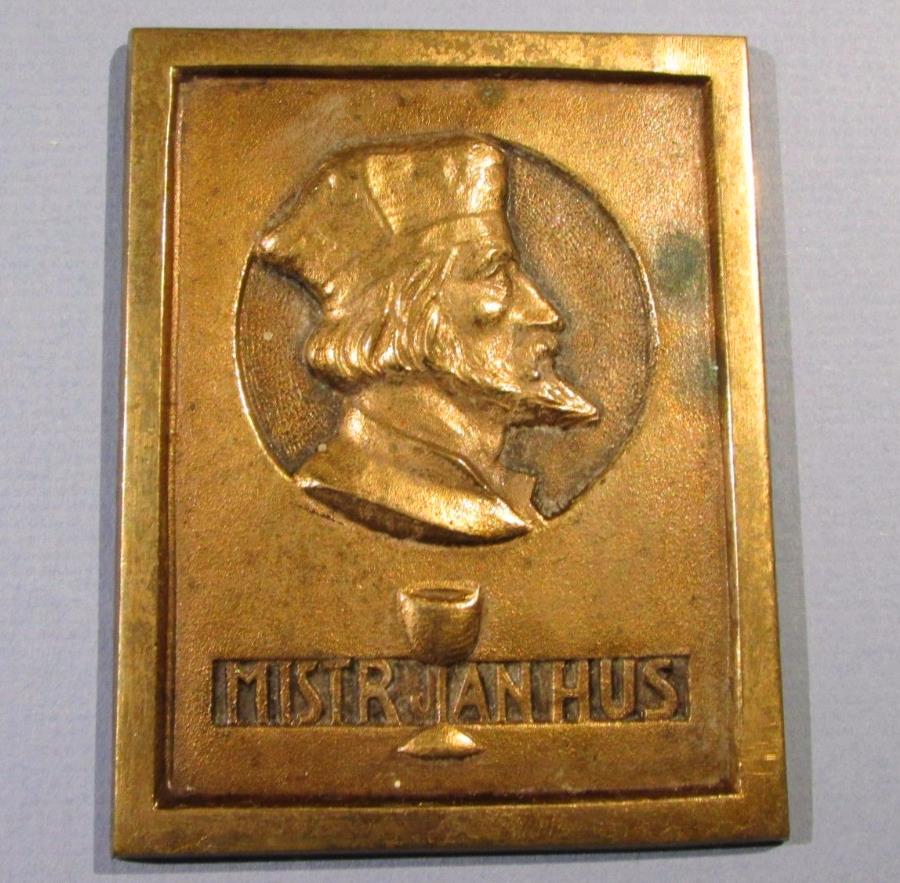 This old bronze plaque is available for purchase by clicking here.
Founding of Czech Lands
This Plaque from 1918 commemorates the Creation of Czechoslovakia from the old lands of Bohemia (Lion) – Moravia (Checkered Eagle) – Silesia (Black Eagle) & Slovakia (Cross on the Hill).
Those familiar with the history of the Kingdom of Bohemia, will note the key date of 1620, when the Kingdom of Bohemia lost its independence to Austria, after losing the Battle of White Mountain, near Prague. This unusual and rare plaque is signed in two places.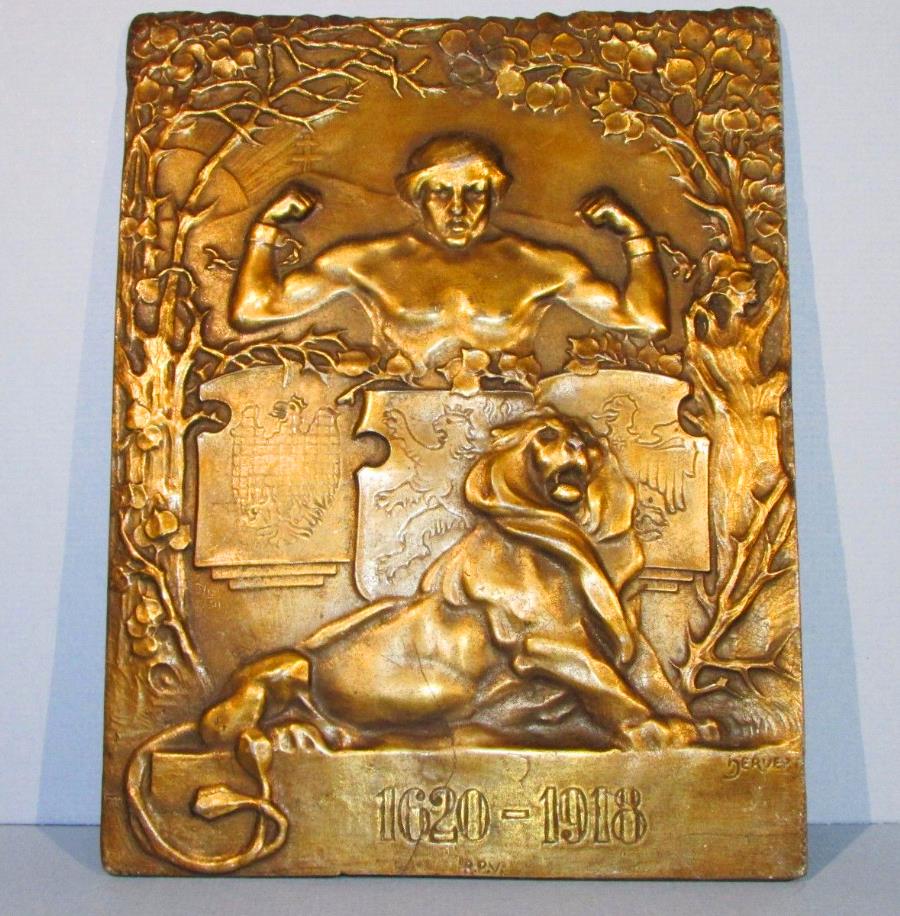 Absolutely gorgeous, it's available for purchase by clicking here.
Jan Žižka
Jan Žižka z Trocnova a Kalicha (German: Johann Ziska; English: John Zizka of Trocnov and the Chalice) was a Czech general, Hussite leader, and follower of Jan Hus. He was born in the small village of Trocnov (now part of Borovany) in the Kingdom of Bohemia into an aristocratic family. He was nicknamed "One-eyed Žižka." From his youth, he was attached to the royal court and held the office of Chamberlain to Queen Sophia.
He fought in the Battle of Grunwald (July 15, 1410), where he defended Radzyń against the Teutonic Order. Later he played a prominent role in the civil wars in Bohemia during the reign of Wenceslas IV. Žižka's tactics were unorthodox and innovative. In addition to training and equipping his army according to their abilities, he used armored wagons armed with small cannons and muskets, presaging the tank of five hundred years later. He was also a master at using geography to full advantage as well as managing the discipline of his troops.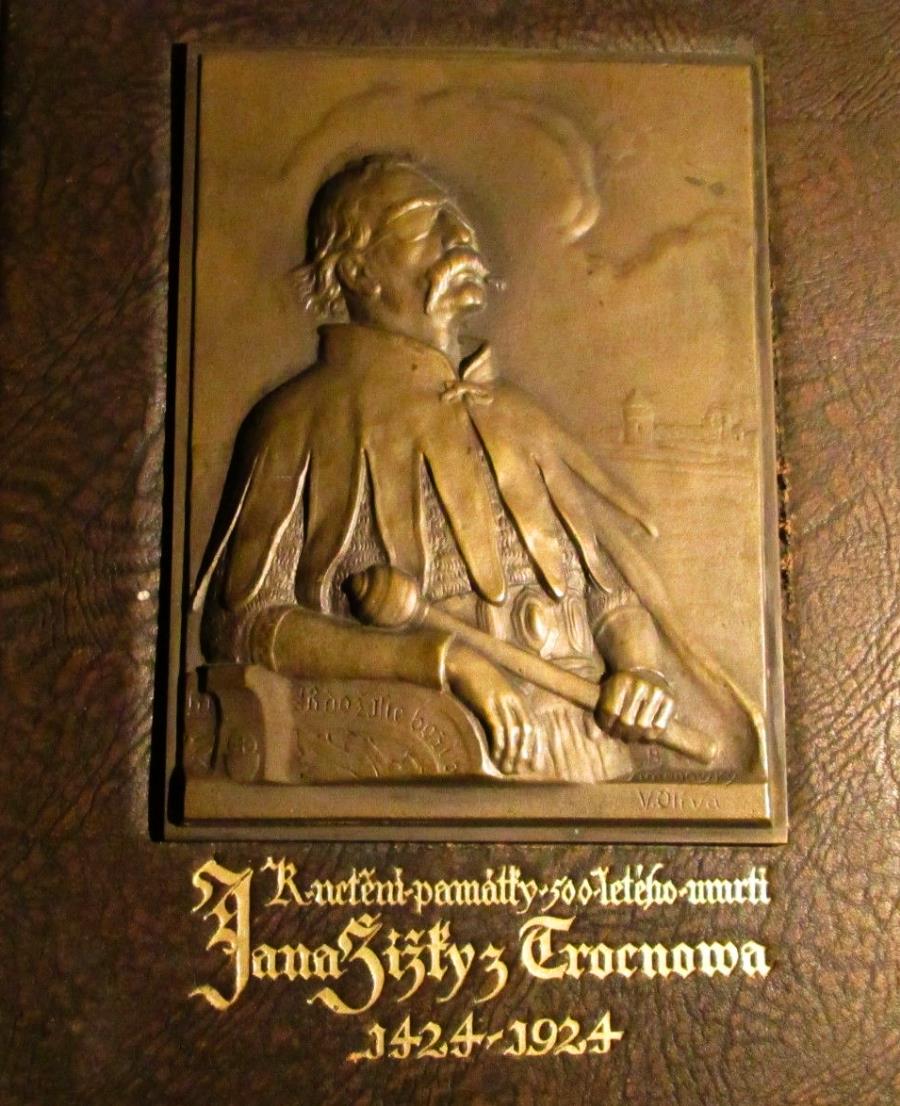 In the Battle of Kutná Hora (1421) he defeated the army of the Holy Roman Empire and Hungary. The battle was the first case of recorded use of field artillery (previously, artillery was used only during sieges of towns). Originally employed as a measure of last resort, its effectiveness against the royal cavalry turned field artillery into a firm part of Hussite armies.
Žižka is considered to be among the greatest military leaders and innovators of all time and is one of several commanders in history who never lost a battle (alongside Alexander the Great, Scipio Africanus, Khalid ibn al-Walid, Subutai, the Duke of Marlborough, Bai Qi, Alexander Suvorov, Fyodor Ushakov, Yi Sun-Shin, and Paul von Lettow-Vorbeck). His accomplishments in this regard are especially unique and noteworthy as he had to quickly train peasants to repeatedly face highly trained and armored opponents who usually severely outnumbered his own troops, and for this, some have considered him to be the greatest general in history.
This bronze plaque is mounted and is accompanied by the original note on reverse, which reads: this plaque was commissioned to raise funds for the maintenance of his memorial in Pribyslav, in 1924.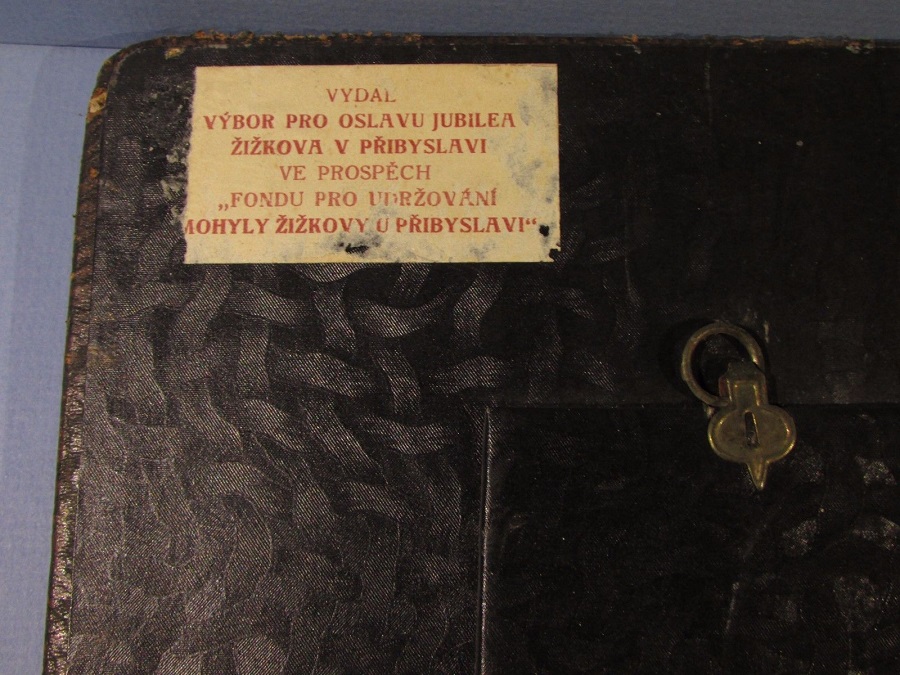 It is signed by V. Oliva & B. Simonovsky.  The leather board below the plaque reads: "In Honor of the Memorial – 500 Anniversary of his Death – Jan Zizka from Trocnov – 1424 – 1924".
You can purchase this collectors piece by clicking here.
Tomáš Garrigue Masaryk
Tomáš Garrigue Masaryk, sometimes anglicised to Thomas Masaryk (7 March 1850 – 14 September 1937), was a Czech politician, statesman, sociologist and philosopher. After trying to reform the Austro-Hungarian monarchy into a federal state, with the help of the Allied Powers, he eventually succeeded in gaining Czechoslovak independence as a republic after World War I.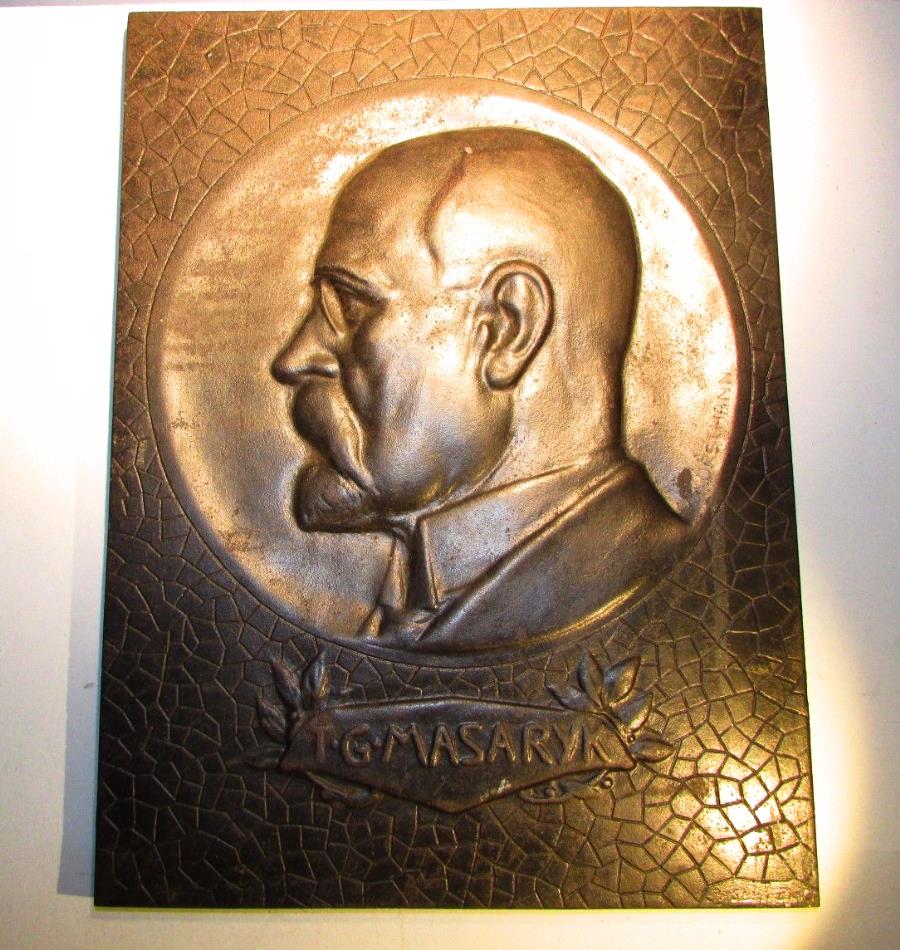 He founded Czechoslovak democracy and believed in individual responsibility. He asserted that small nations had a vital role to play in Europe and was convinced they could contribute to the world as a whole. This philosopher, scholar and politician stressed practical ethics and exposed Czechs and Slovaks to what were then the most contemporary advancements in science, humanities and world literature. He promoted religion as a source of morality. And he was the first president of Czechoslovakia. He both founded and was the first President of Czechoslovakia and so is called the "President Liberator".
This lovely plaque can be purchased by clicking here.
Milan Rastislav Štefánik
Milan Rastislav Štefánik (21 July, 1880 – 4 May, 1919) was a Slovak politician, diplomat and astronomer. During World War I, he served at the same time as a general in the French Army and as Minister of War for Czechoslovakia. As one of the leading members of the Czechoslovak National Council (the resistance government), he contributed decisively to the cause of Czechoslovakian sovereignty, since the status of Czech- and Slovak-populated territories was one of those in question until shortly before the disintegration of the Austro-Hungarian Empire, in 1918.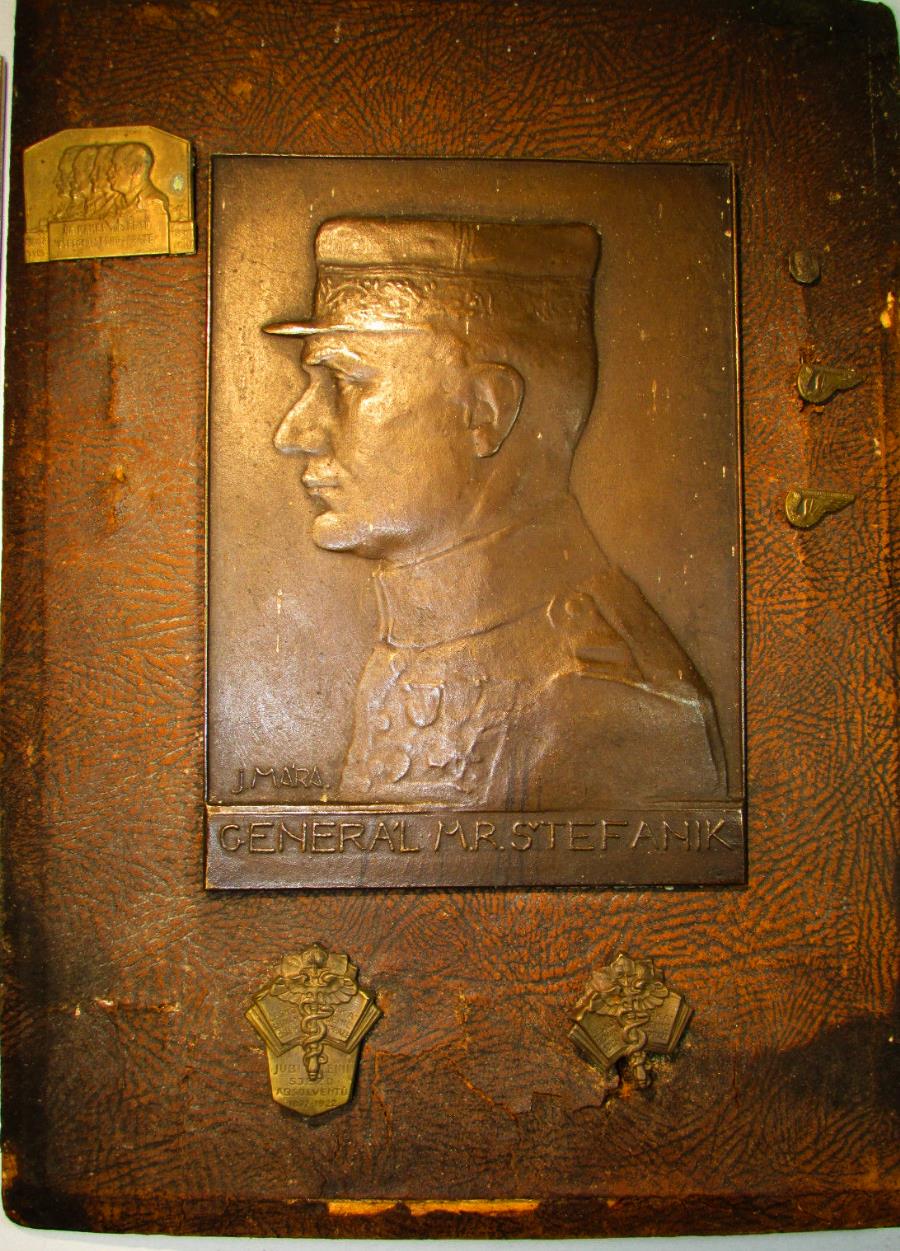 This is a nice metal plaque on a leather backing that is showing its age. Includes a few interesting pins and badges. One of the badges shows important personages of the Sokol Movement – Fugner – Tyrs – Scheiner & Vanicek.
You can see more photos and purchase by clicking here.
If you have not already subscribed to get TresBohemes.com delivered to your inbox, please use the form below now so you never miss another post.
---
Remember, we rely solely on your donations to keep the project going.
Become a friend and get our lovely Czech postcard pack.