For many Czechs, Štědrý den (December 24th) is the most enjoyable day of the Christmas holidays. Today we wanted to share our Bohemian Christmas foods & Czech traditions. It is more significant than the 25th of December which is when most Americans celebrate. The Czech name literally means "Generous Day", and this is most likely for the wealth of food that has traditionally been served for Christmas dinner and fed to household and farm animals. Even the poorest of families would make sure that everyone's plates were full on this one day of the year.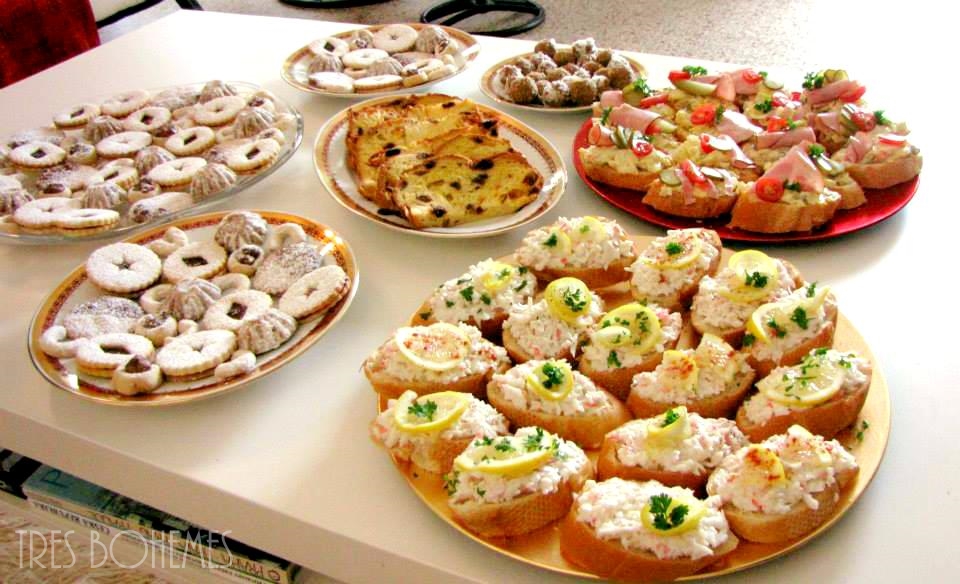 We love this holiday and spend days in advance preparing.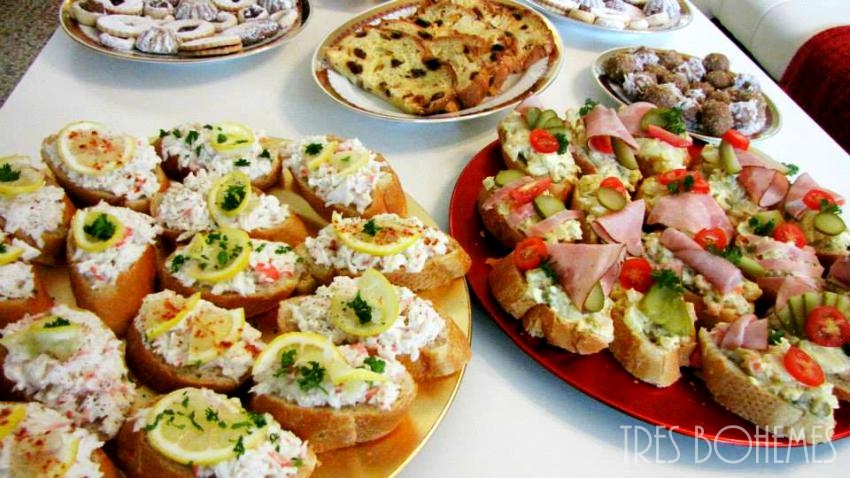 Starting on the morning of the 24th, we put out plate after plate of Czech cookies, Vanocka, Rum Balls and different kinds of Czech Obložené Chlebíčky which are little open-faced deli style sandwiches served on thin slices of baguette and covered with various spreads and toppings.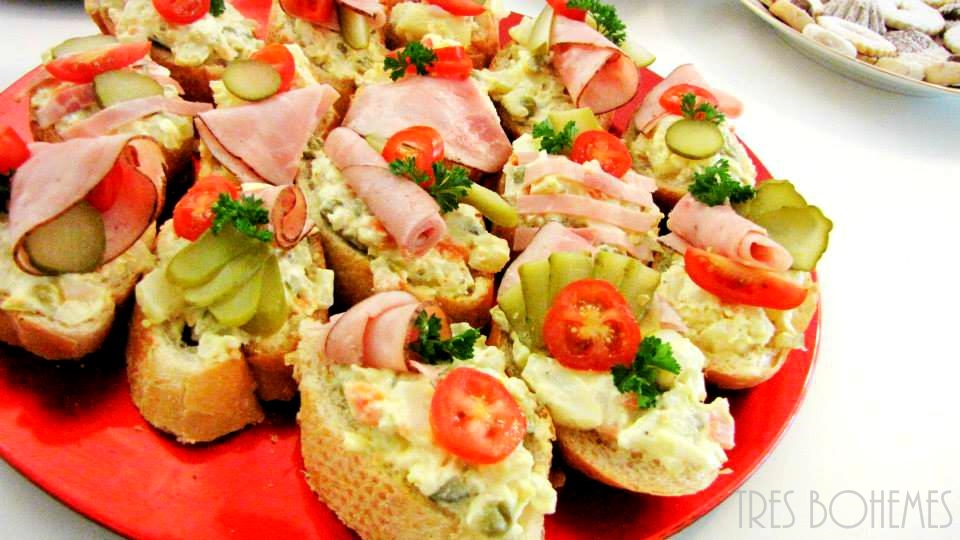 Obložené Chlebíčky can be topped with a multitude of different topping combinations. We even make some with crab meat. Some say that obložené chlebíčky were invented near the beginning of the 20th century by Jan Paukert, and introduced at the Paukert Deli that opened in Prague in 1916. (Read this.) Of course anyone's grandmother or great-grandmother will disagree…
We love, love, love them and so do any friends we've introduced them to.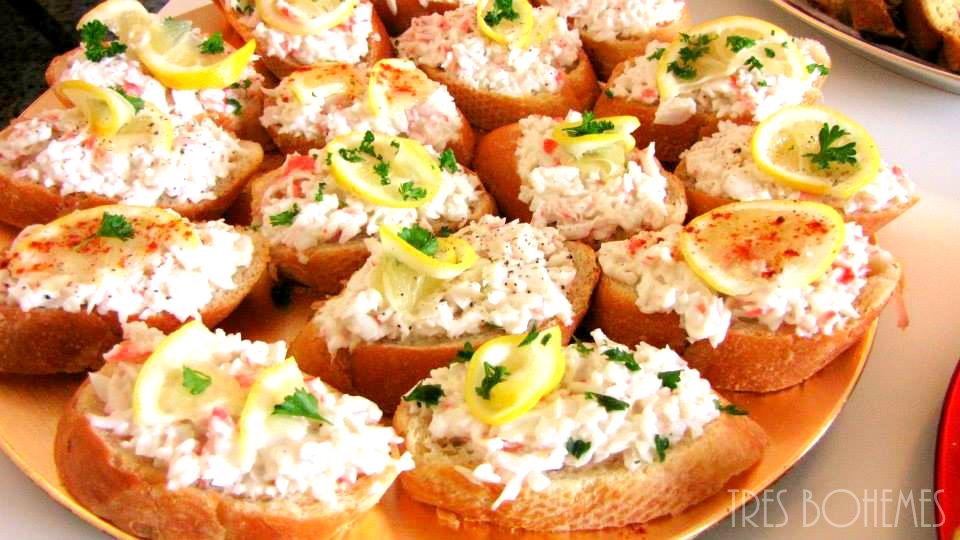 The original Chlebíček consisted of Prague Ham, eighth of a hard-boiled egg, a slice of good Emmental cheese, Hungarian salami, slice of tomato on a bed of piquant potato salad made with homemade mayonnaise, the recipe for which went with Jan Paukert into his grave.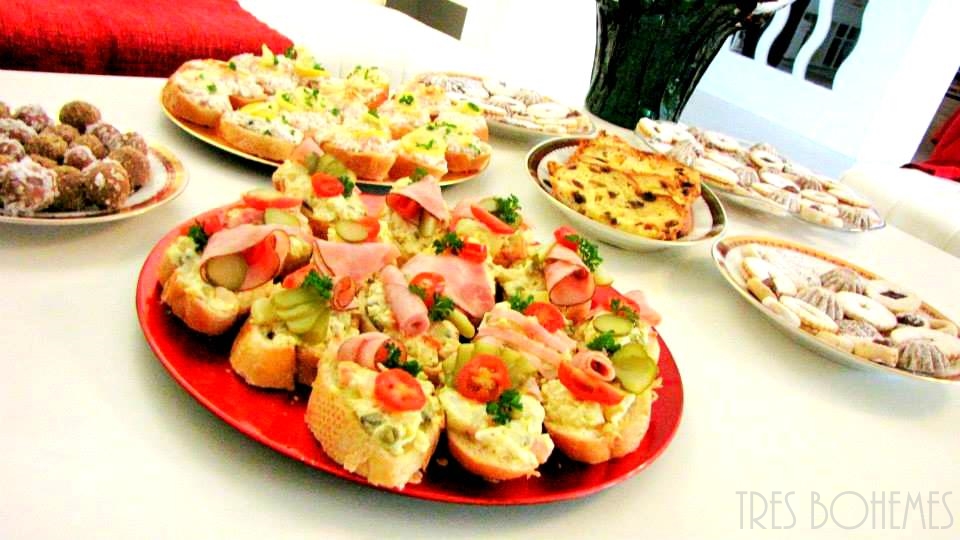 Vánoční cukroví (Czech Christmas cookies) are a big part of the holiday.  Czech's make them in large batches and give them as gifts at Christmas.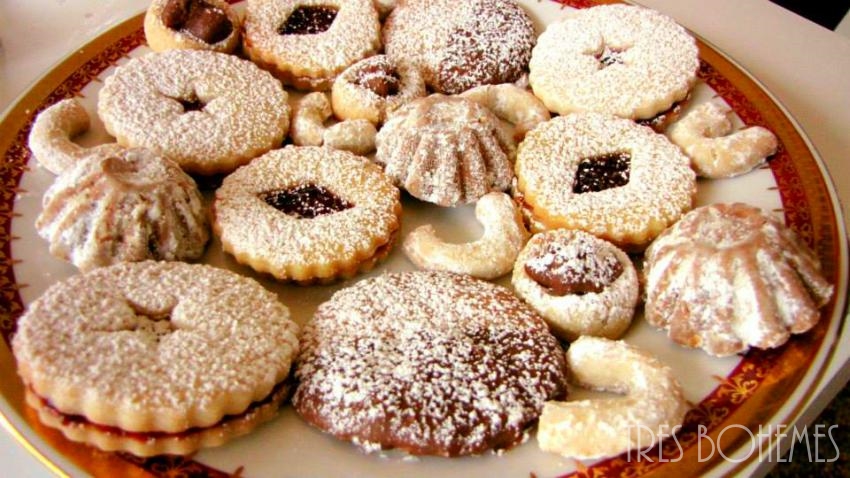 Many families work days, even weeks in advance baking all kinds of cookies. There are literally hundreds of different recipes for Vanocni Cukrovi with a multitude of variations. Each family have their assortment that they make every year. The recipes are then passed from mother to daughter through the generations.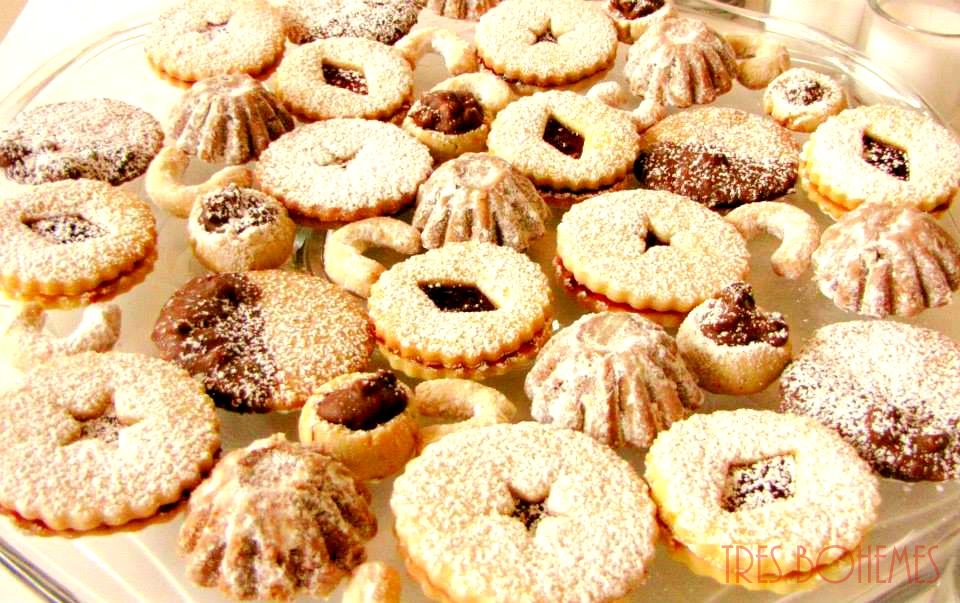 Potato Salad (Bramborový Salát)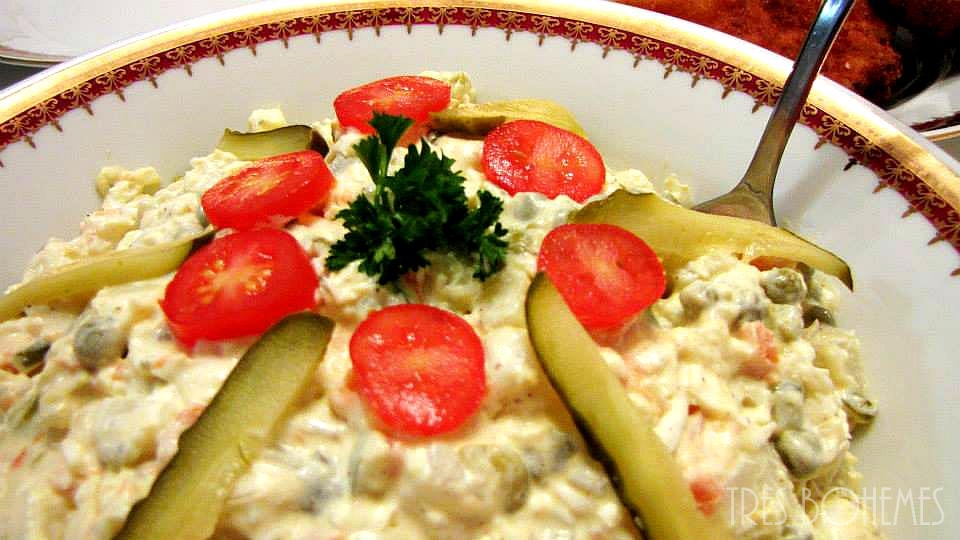 Here is our favorite potato salad recipe.
Ingredients
1 5 (five) pound bag of potatoes
6 eggs (hard boiled)
1 large can Veg-All (mixed vegetables)
8 oz. European ham or salami
6 large polish pickles
1 onion
juice of 1 lemon
10 oz. (0,3L) mayonnaise (homemade or store bought)
2 ox. Dijon mustard
Salt and pepper
Directions
Boil potatoes with the skins on.
Hard-boil the eggs  for approx. 10 minutes and then place eggs in cool water to cool before peeling.
Allow the potatoes, eggs, and vegetables to cool completely.
Peel the potatoes and eggs. Dice the potatoes and finely chop onion and pickles.
Chop the ham or salami into pieces.
Gently mix all ingredients together and gradually add the mayonnaise, mustard, lemon juice salt and pepper.
Refrigerate for a minimum of 3 hours. We recommend making the potato salad one day in advance to allow the flavors to settle. You may wish to double up the recipe so that you have plenty left over for topping your Chlebíčky.
Traditional serving for Christmas dinner is with fried fish. Dinner is served after sunset (traditionally, it should not be served until after the first star has come out) and consists of carp and potato salad, sometimes preceded by mushroom, sauerkraut or fish soup.
Czechs love their carp fish. Many buy them fresh a day or two before and allow it to love n their bathtub until the pre-dinner preparations. Carp is a dark fillet, fishy-scented and flavored fish. We prefer a Florida Grouper, Alaskan Halibut or Cod. The fish is first placed into flour, then an egg wash and finally into bread crumbs before frying.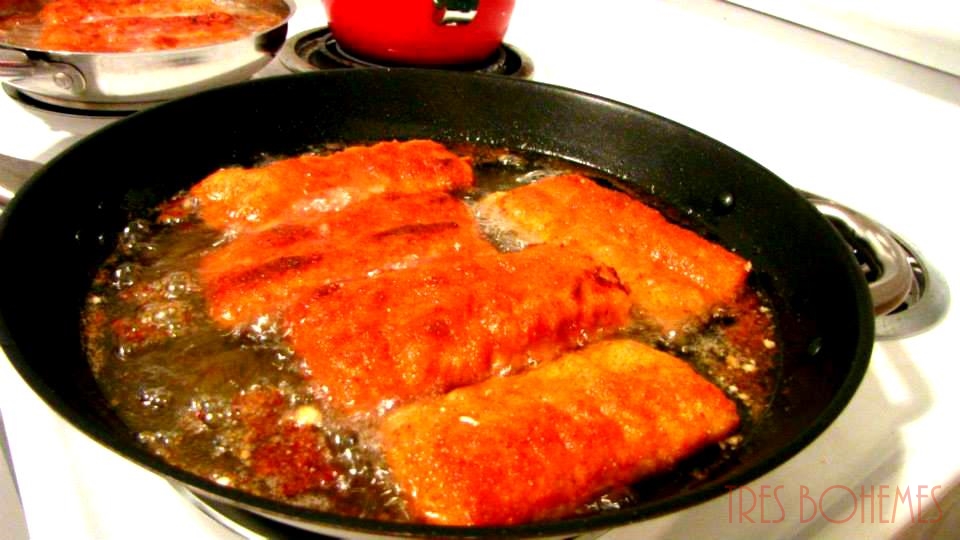 Once the fish is complete, dinner is served.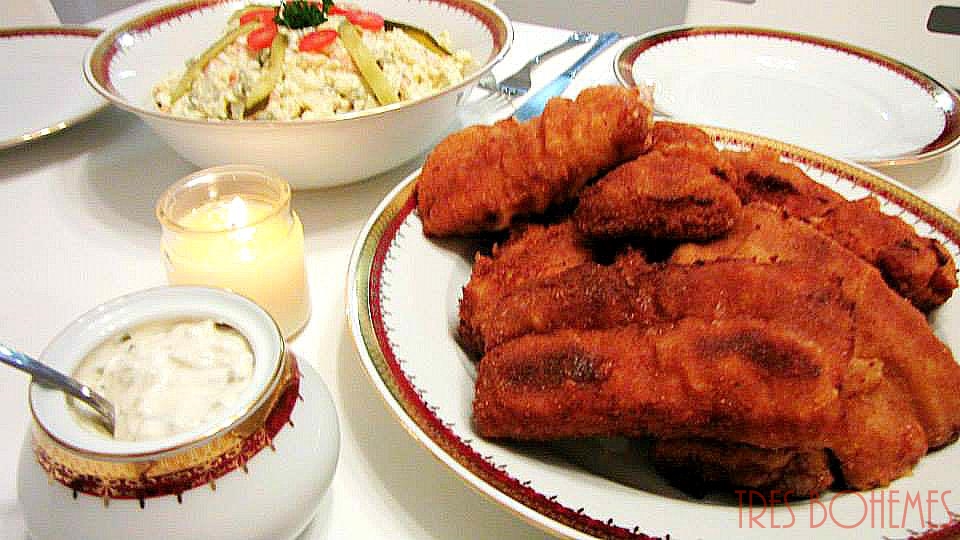 Here is what a typical Czech Christmas dinner plate looks like.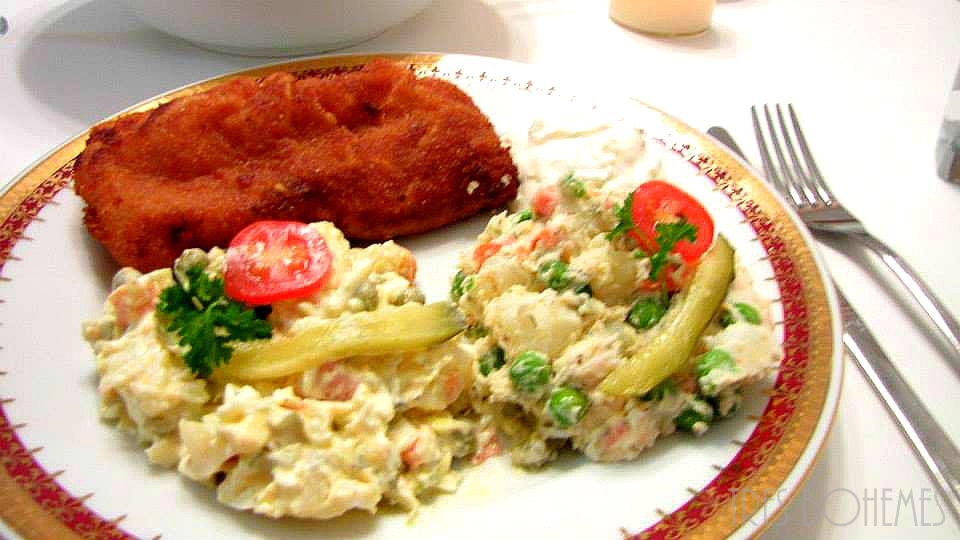 Czech Christmas dinner (December 24) is connected with a great number of different customs, rules and superstitions. Very few of them are still observed today, and for good reason. It must have been quite a challenge to put the dinner together and go through with it without a mistake if all the customs were to be followed!
Here are some of them:
No lights should be lit in the house before the first star comes out. After it does, dinner is served.
The table should be set for an even number of guests. An odd number brings bad luck or death.
An extra plate can be used to even out the number of guests. An extra plate should also be prepared in case an unexpected guest or a person in need comes by the house at dinner time.
The legs of the table can be tied with a rope to protect the house from thieves and burglars in the coming year.
No one should sit with their back to the door.
Christmas dinner should consist of nine courses including soup, bread with honey, carp, potato salad, fruit (dried, fresh or canned), dessert (apple strudel or vánočka – Christmas bread), and other foods.
No alcohol should be served on Christmas Eve.
No one should ever get up from the Christmas table before dinner is finished. Doing so brings bad luck and death in the family.
Everyone should finish their dinner and leave nothing on the plate.
The first person to leave the table after dinner will be the first one to die in the coming year – that is why everyone should get up from the table at the same time.
Any leftovers from dinner (crumbs, fishbones, etc.) should be buried around the trees to ensure they will bear lots of fruit.
All household animals should be fed after dinner so that no one goes hungry on Christmas Eve.
Some of them are pretty morbid, but I remember abiding by most of them growing up.
Of course, after dinner you can go back to the sweets and little open sandwiches at the table.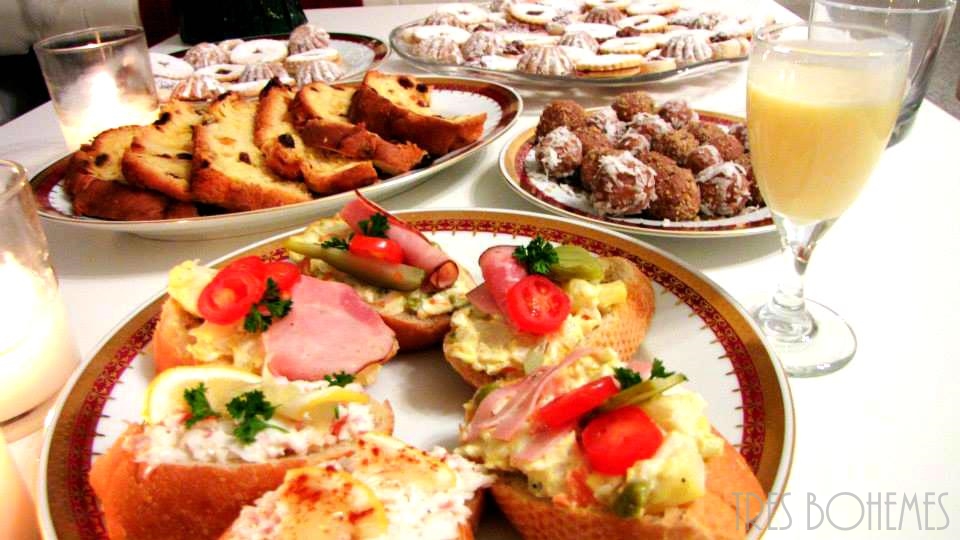 Czechs also eat Vánočka (Christmas braided bread) and even more Vánoční cukroví (Czech Christmas cookies). Apple strudel and gingerbread are also common Christmas sweets. We also made rum balls which you can see in the image above.
And make sure not to forget the eggnog!
After dinner, a walk is in order searching for the zlaté prasátko (golden pig). All Czechs know about this custom. Those who were able to fast all day and was able to hold off on all of the goodies until Christmas Eve will see a golden pig in the evening.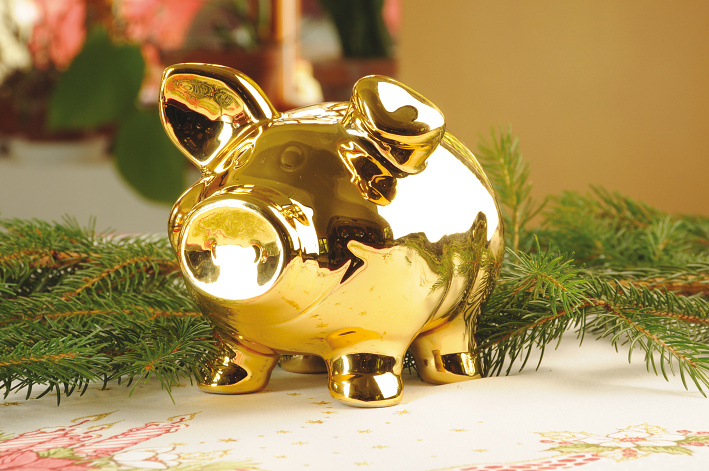 Veselé Vánoce!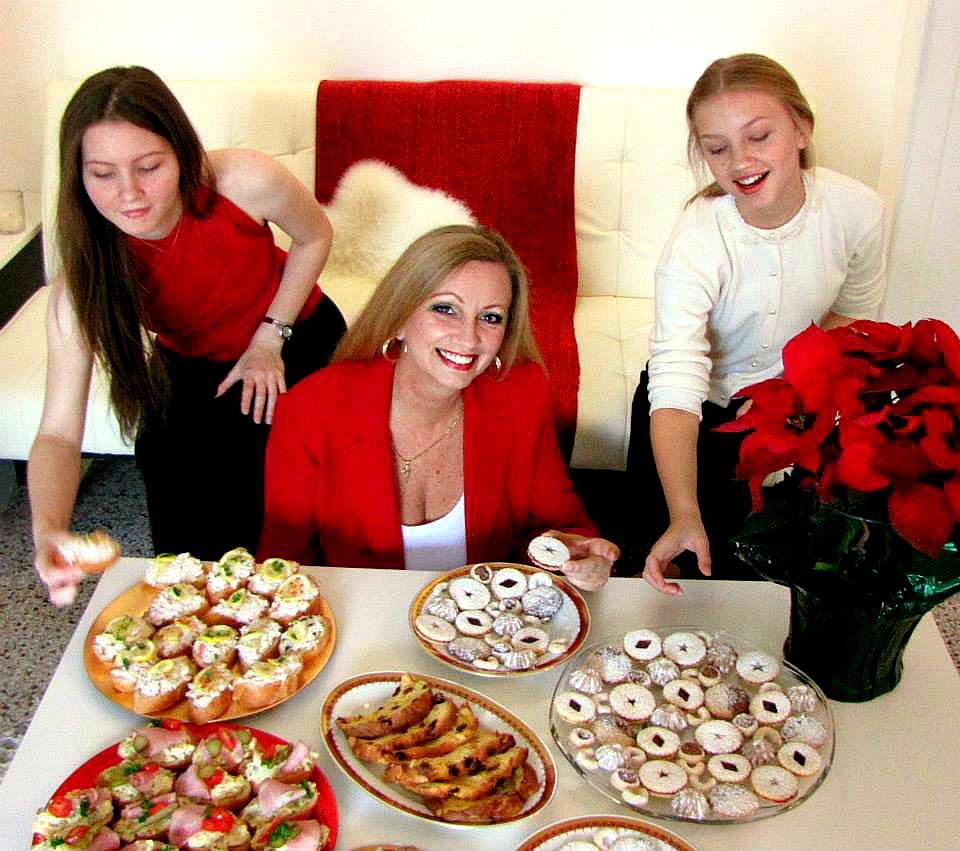 Merry Christmas!
Sources: My Czech Republic Customs, My Czech Republic Vanoce, Kolarsky
If you have not already subscribed to get TresBohemes.com delivered to your inbox, please use the form below now so you never miss another post.
---
Remember, we rely solely on your donations to keep the project going.