Reach Your Target Audience & Spread the Word
We have decided to offer partner posts and advertising on the TresBohemes.com | EverythingCzech.com website.
Let us tell YOUR story.
We will present your service to thousands of readers through the
TresBohemes.com Network with an article about your business or service.
You will reach Czech Audiences in the United States and Canada
Promote your business through a trusted Czech-American voice since 2014
Engage your customers in a natural and organic way
Get better results than traditional advertising
Raise the profile of your business to bring more customers and higher awareness of your product or service.
A powerful article with exclusive content written by our team at TresBohemes.com will cover the unique aspects of your business or service that make the story interesting for our readership. It will appear on our homepage for a month and remain in our popular archives forever.
We also provide high visibility and engagement through our web/social media channels to ensure maximum exposure for both small & large brands.
The Eyes Are on Us
Did you know that TresBohemes.com is read by hundreds of thousands of people each year who are living in the United States?
TresBohemes.com Website has approx. 80,000 Monthly Visits
TresBohemes.com Pinterest has approx. 63,000 Monthly Viewers
TresBohemes.com Facebook Group has 25,350 Members
TresBohemes.com Facebook Page has 2,650 Followers
TresBohemes.com Twitter has 660 Followers
TresBohemes.com Instagram has 700 followers
TresBohemes on Kytka's LinkedIn has 6,200 Followers
TresBohemes.com Mail List has 3,900 Subscribers
In the last 28 days* we have had 129,600 posts, comments and reactions in our Facebook group. (*As of 01/28/2020, see screenshots below.) We also have an average of 18,000 weekly post reach on our Facebook page.
Our audience is mainly at our site, on Facebook, and on Pinterest.
The Numbers Don't Lie
We have a Huge Audience + Massive Active Engagement
The other day we had a long discussion with someone who called us "very strong influencers in our community" and suggested that we utilize our very popular platform for some advertising revenue. When we shared we did not want to start to look like a rest stop highway with 100 billboards, he suggested we offer partner content articles.
What is a Partner Content Article?
An article written by a TresBohemes.com Writer
75,000 article views guaranteed in 1st Month
3 External links included (to your website/social/event)
Article published to TresBohemes.com | EverythingCzech.com Homepage
Article shown in relevant categories at TresBohemes.com | EverythingCzech.com
Will also be published to TresBohemes.com | EverythingCzech.com Facebook & Groups
Will also be published to TresBohemes.com | EverythingCzech.com Pinterest, Twitter & Instagram
Is highly optimized with your keywords for Google and SEO rankings
Photography service is available (if you send us your product)
All of our Partner Content Articles are Optimized for SEO for Google and other Search Engines.
So what does this all mean?
It means that you can now benefit from the numbers of eyes on our site which we shared with you above. Our readers are mostly Czech-Americans who are 2nd, 3rd, 4th or 5th generation who long to get in touch with their Czech roots, traditions and heritage. They are interested in 'Everything Czech' and visit our website or group regularly.
We can write about your business, service, product or event in such a way that it appears as a regular one of our posts. This is much better than traditional advertising because it engages people's emotions better than standard advertising on other websites or even television commercials.
We also share all our posts across all our social media channels and especially in our Facebook group where thousands of members are actively engaged daily. In our Facebook groups our participants share a common interest. This means you reach a highly-targeted audience without spending additional money on intricate marketing plans or extensive advertising campaigns.
In short, we have the exact audience you are looking for!
And the best part is that they are hungry for your Czech-themed or inspired product, service, business or event. These have been hard to find or come by in the USA in the past, but not any more…
Now you can leverage our powerful platform and influence to get seen!
Would you like us to tell your story? Then please email your details and a member of our team will be in touch to discuss how to present your business through our network. Partner Content requests start at $1,050 USD or 24,500 Kč per partner contact posting. Contracts for 3-6-12 months do receive a discount and extra bonuses. Email your Partner Post request to: sayhi@tresbohemes.com
Visitor Statistics
Our reader and visitor statistics are as follow:
Average Monthly Website Views: 80,000 – 100,000
We also have a have a combined +25,000 of Followers and Subscribers
Average Monthly Pinterest Views: 63,300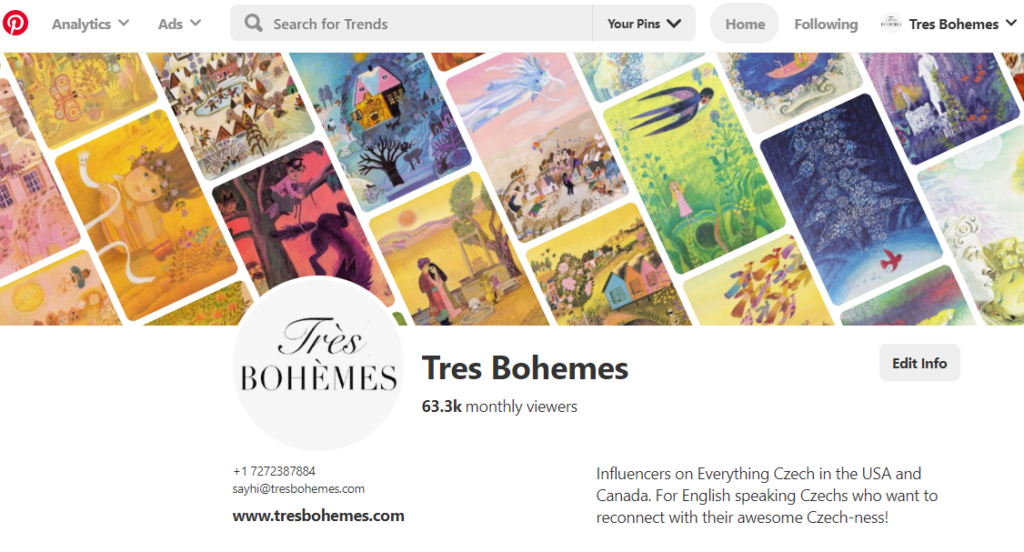 The only way you will appear on our Pinterest is if you purchase a partner post, as this is included in the service.
Advertising in our Facebook Group
Advertising in the Everything Czech Facebook Group is strictly prohibited. The only promotions which appear are those which support this website via partner posts, sponsored posts or product placements.
Our average monthly Facebook group engagement is 119,600 posts, comments and reactions.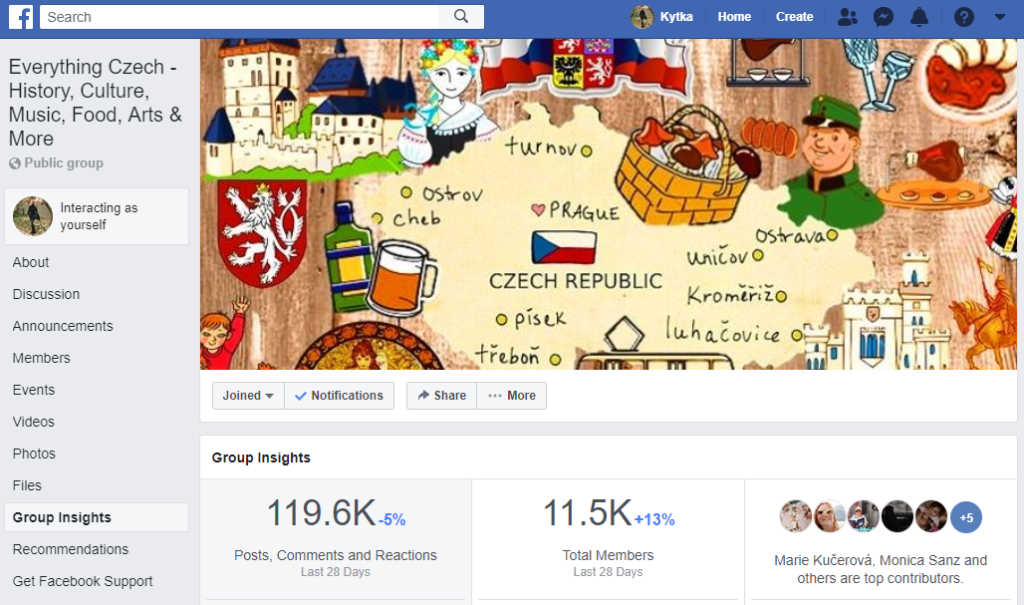 You may have a specific idea to share a promotion on Facebook only and we may consider and allow the posting, but before we do, we require you to at least become a friend of this site and then email us your proposal or idea.
Authors & Filmmakers
It is possible that we will do an honest review of your book or film. We would like you to send a copy of your work to us at the following:
Review Request for Tres Bohemes
6822 22nd Avenue N., suite 345
Saint Petersburg, FL 33710-3918
Please include an author bio and any links to your web page, author page or social media. Your book or dvd will not be returned. It will become a part of our personal library. For a review, you must first become a friend.
Product Placement
We do offer product placement and will create a complete custom blog about your product if it is something we can use and recommend. Please send the product to:
Product Placement for Tres Bohemes
6822 22nd Avenue N., suite 345
Saint Petersburg, FL 33710-3918
We cannot guarantee product placement. For consideration of product placement, you must first become a friend.
Special Event Promotion
Sometimes we will write about specific events, organizations or classes. Even if you are a non-profit, we do recommend you become a friend before we initiate any agreements to promote your organization.
A Link on Our Links Page
Yes, we do offer a links page with numerous resources. We ask that you become a friend before we include your link. You can see our link page here.
US Distribution for Your Czech Product
It is possible that we may act as a distributor for your Czech product. Please contact us to discuss your project.
Banner Link on All Blog Posts
That is over 1,000 pages! The only way to have a banner appear on all of our site pages is to be a full time partner or sponsor at our site. Please contact us in writing at sayhi@tresbohemes.com with the subject line "TresBohemes Partner Request". Full time partners commit to ONE YEAR and will pre-pay at least 3 months in advance. Prepaying 6 months offers a 15% discount. Prepaying 12 months offers a 25% discount.
Custom Requests
We are also happy to build a custom package according to your requirements and budget.
Banner campaigns
Press Release Articles
News Reporting
Newsletter campaigns
Business or Company listings
Social Media Marketing & Campaigns
Event Promotion and/or Partnership
Video Promotion (planning, production, commercial, profile video or sponsorship
Specific Post Promotion (planning, production)
Custom research / articles / posts (for a fee)
Get in touch, tell us your ideas and let us design a campaign for you that works! Contact us with your request.
While compensation is received in exchange some of our coverage, all opinions, thoughts and writing is always our own. In addition, we are known to refuse sponsors if they do not align with what we use or believe in.
We will not allow posts which lead to, or which promote gambling, pornography, political or hate groups or sites.
Thank you for supporting our site and our partners.
Contact us with any questions.