I'm thrilled to bring you a selection of 5 mouthwatering Czech recipes sourced from one of my favorite cookbooks, 'Czech Cuisine' by Joza Břízová and Maryna Klimentová. My deep admiration for Czech culture and my love for the art of cooking prompted me to acquire this delightful cookbook upon its release in 1986 and I have been actively using it ever since. Within the pages of this lovely cookbook, you'll uncover an array of culinary treasures, including an abundance of soups, appetizers, and delectable side dishes.
Now there is one thing to mention – you should be an experienced cook to use this cookbook as the measurements are often vague and the recipes are not in a step-by-step fashion which you can see from the recipes I have copied from the book below. However, this cookbook does offer numerous Czech classics which are not seen in other cookbooks and that is why I love it and recommend it.
Let's delve right in…
Sour Cream Soup from the Giant Mountains
Krkonošské Kyselo is a traditional Bohemian sour soup that boasts the earthy charm of mushrooms and the tang of sourdough. This culinary gem finds its roots in the Krkonoše mountain region of northern Bohemia. With its rich nutritional profile, Kyselo proudly takes center stage as a hearty main course, while its versatile nature also allows it to grace tables in smaller portions as a delightful soup course.
Ingredients
5 cups water
salt
handful of dried mushrooms
caraway seeds
1 oz risen yeast (1 bag proofed in 1/4 cup warm water)
2 1/2 oz. butter
1 onion
4 eggs
potatoes
1 cup sour cream
Directions
Boil the mushrooms with caraway seeds in salted water for 30 minutes. Mix yeast in the lukewarm water and add to the soup. Add chopped onion fried in butter. Put chopped hardboiled eggs in a soup bowl and pour hot soup and put sour cream over them. Serve with boiled potatoes.
Note: Traditionally this is made in the Czech Republic with a sourdough starter, ideally made with rye flour. I use dried porcini mushrooms, they taste the most 'Czech'. Also, my measurements are 2 tsp. caraway seeds, 3 potatoes. I place the potatoes and sour cream in a bowl and then I pour the hot soup over them to serve.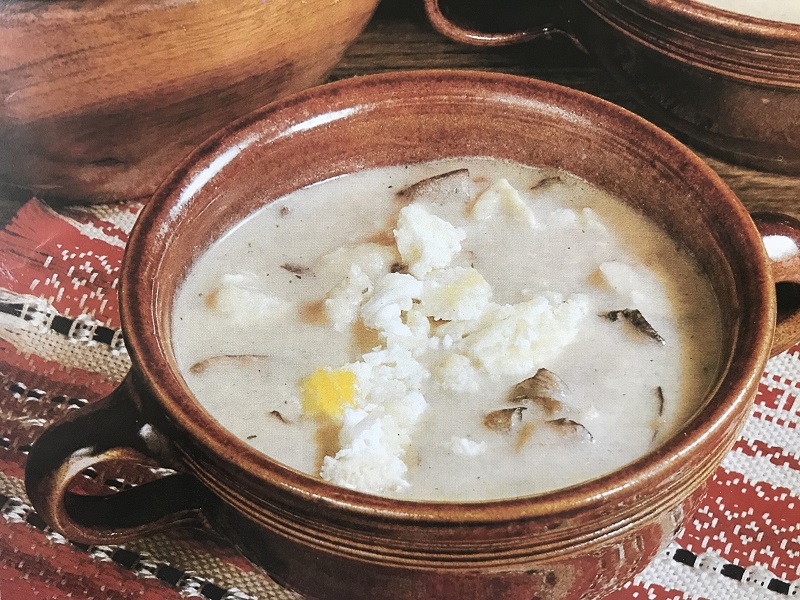 Old Fashioned Meat Loaf
"Domácí pečená sekaná z mletého masa" is a Czech dish that translates to "Homemade Baked Meatloaf from Ground Meat." It's a traditional Czech meatloaf made from ground meat, often a mixture of pork and beef, that's seasoned, mixed with other ingredients, shaped into a loaf, and then baked. The specific recipe and ingredients can vary, but it generally involves a combination of ground meat, breadcrumbs, eggs, milk, onions, and various seasonings. The meatloaf is typically shaped into a loaf or oval, then baked until cooked through.
This dish is a beloved part of Czech cuisine and can be served as a main course, often accompanied by side dishes like mashed potatoes, vegetables, and gravy. It's a comfort food that's enjoyed by many in the Czech Republic and beyond.
Ingredients
2 1/4 pounds minced meat (half beef, half pork)
2 bread rolls
1 cup milk
1/2 cup onion
1 clove garlic
salt
pinch of pepper
3 Tbsp. bacon
2 eggs
1/3 cup breadcrumbs
1 egg white to brush meat
3/4 cup lard
1 1/2 cup stock prepared from bones or 1 bouillon cube
2 Tbsp. flour
Directions
Mince the meat and add rolls soaked in milk, finely chopped onion, garlic crushed with salt, some pepper, diced bacon, eggs, and some breadcrumbs. Mix well and make two oblong loaves; place these in a pan with melted fat and brush the surface with beaten egg white. Roast the meat, adding stock or hot water occasionally. When the meat is tender, dust the gravy with flour, allow it to brown, and dilute it with stock. Simmer and strain over meat. Serve hot with potatoes or cold with potato salad.
Note: As you can see, the flaws are apparent. What kind of pan, what temperature, how long? If you are an experienced cook, you'd be right to guess a low-rimmed baking pan, side by side at 350 degrees for approx. and an hour and ten minutes. But there is no mention of that in the cookbook.
Mushrooms with Pearl Barley
"Houby s kroupami" is a Czech dish that translates to "Mushrooms with Barley." It's a traditional Czech meal that typically combines mushrooms with cooked barley (kroupy or kroupy vařené). The dish showcases the use of mushrooms, which are often foraged from the forests in the Czech Republic, and pairs them with barley, creating a hearty and flavorful meal. "Houby s kroupami" is an example of how Czech cuisine often emphasizes locally sourced ingredients, simple preparation methods, and hearty flavors. It's a dish that reflects the Czech tradition of using what the land provides and turning it into a delicious and comforting meal.
Ingredients
1/4 cup dried mushrooms
12 oz. pearl barley
4 cups water
1 clove garlic
1/4 cup pork or goose fat, or lard
1/2 small onion
pinch of marjoram
1 cup beef stock
Directions
This is a traditional dish served in some rural areas on Christman Day. Soak dried mushrooms overnight, boil them the next day until tender, and then chop them finely. Boil barley in salted water, add a clove of garlic, some lard chopped onion, and a pinch of marjoram. Grease baking tin with remaining lard. Place a layer of cooked barley in the tin, then the mushrooms and another layer of barley. Sprinkle the surface with lard, add some stock, and bake slowly in the oven for approx. 30 minutes.
Note: I bake at 325. I cook the barley according to package instructions. This makes for a simple and easy dish which is sometimes also known as Kuba. (I make mine with loads of mushrooms and cook it on the stovetop. Click to see my recipe: Kuba Is A Czech Mushroom Barley Risotto.
Stuffed Peppers in Tomato Sauce
"Plněné papriky v rajčatové omáčce" is a classic Czech dish that translates to "Stuffed Peppers in Tomato Sauce." It's beloved comfort food in Czech cuisine, known for its hearty and flavorful combination of ingredients. This dish is a staple in Czech cuisine and reflects the tradition of using simple, hearty ingredients to create flavorful and satisfying meals. It's a dish that has found a special place on Czech tables for generations.
Ingredients
8 large peppers
3 Tbsp. butter
1/2 cup onion
1 pound minced pork and beef
salt
pepper
2 cloves of garlic
1 egg
some breadcrumbs
Sauce:
1/2 cup butter
3 Tbsp. onion
1/3 cup flour
4 Tbsp. tomato puree
sa
Directions
Cut off tops of peppers and remove seeds. Fry finely chopped onion in butter, Add minced meat with salt and spices, crushed garlic, and braise, Add egg and some bread crumbs. Remove from heat and when cold, divide into 8 equal parts and stuff the Peppers. Sauce. Prepare light rue from butter, flour and onion, and dilute gradually with water. And tomato puree to a thick sauce. Add spices, simmer, strain, Add salt, some lemon juice, and, if desired, some sugar. Place stuffed Peppers in sauce, Cover and simmer for approximately 30 minutes. Part of the meat can be replaced by rice or braised mushrooms.
Note: I  use 5-6 peppers as 1 pound of meat is not that much. I use approx. 1/3 to 1/2 cup breadcrumbs. They do not say how much water to make the sauce, but I use two cups. I also cook this in my dutch oven and I cook it for an hour to ensure the meat is cooked all the way through.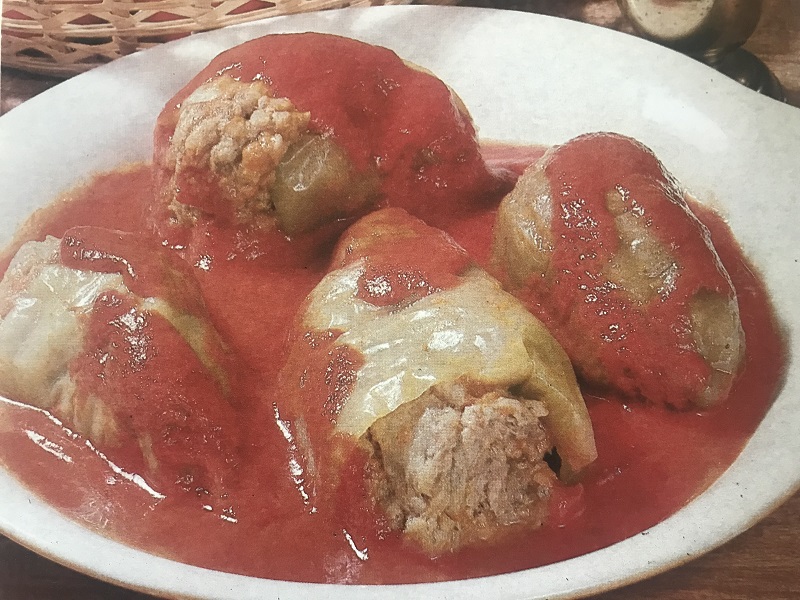 Dumplings
"Houskový knedlík" is a classic Czech dish that translates to "Bread Dumplings." It is a beloved and staple side dish in Czech cuisine, often served alongside meat dishes, stews, and sauces. These dumplings are a comfort food that adds substance and texture to meals.
Houskový knedlík is a staple that's deeply ingrained in Czech culinary culture. It embodies the tradition of using simple, readily available ingredients to create wholesome and satisfying meals. The dumplings are a testament to Czech comfort food, often enjoyed in the company of family and friends. A traditional way to enjoy houskový knedlík is to slice it and serve it with a generous ladle of rich gravy or sauce. The dumplings soak up the flavors and add a delightful contrast to the dish.
Ingredients
10 ounces flour
10 ounces farina
1/2 tsp. salt
1-2 egg yolks
1 cup milk
5 bread rolls
Directions
Sift the flour with Ferina into a mixing bowl, add salt, and gradually mix in the milk and yolks. Mix well with a wooden spoon. Finally, Add the diced rolls. Better results are achieved using one-day-old roles. Shape the dough into three oblong dumplings. Place the dumplings into boiling salted water and cover with a lid to keep the water on boil. Use a wooden spoon to ease the dumplings from the pan. Boil for 20 to 30 minutes. Test one dumpling by cutting it in half. When cooked, remove the dumplings and cut them in half-inch slices with a sharp knife. Keep hot in steamer to prevent drying.
Note:  Farina is known as Cream of Wheat. It is a type of milled wheat product that is commonly used in cooking and baking. It is made from the endosperm of the wheat kernel, which is the starchy part of the grain. Farina is often ground into a fine powder, creating a texture that resembles semolina flour.
This has to be the only recipe I have not made from this cookbook. In fact, I have never made dumplings without the yeast/rise method. So – if you make this I would LOVE it if you sent me your review and a photo of your dumpling and dish!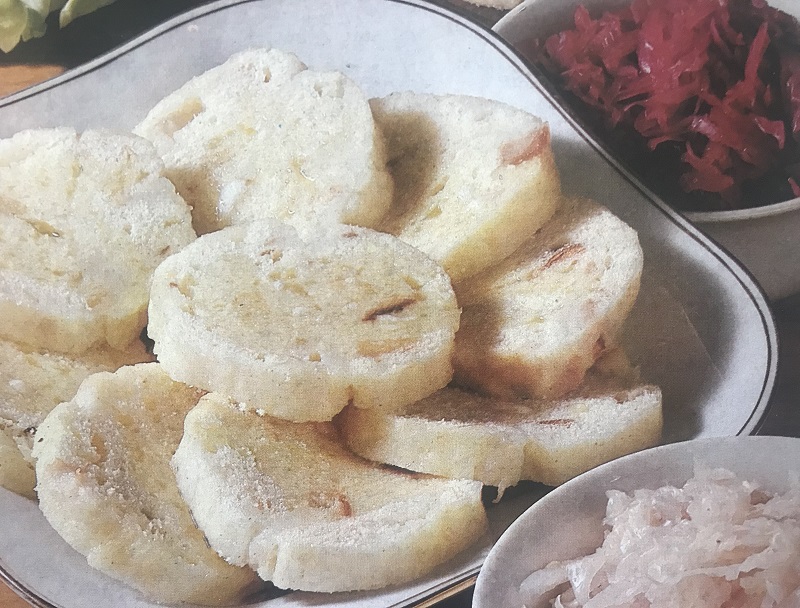 Below is the cookbook, Czech Cuisine, from which these recipes came. If you click on the book cover image it will take you to the Amazon page where used copies are available as this book has been out of print for many years. When I just checked, there were over over 25 copies available, beginning at around $7.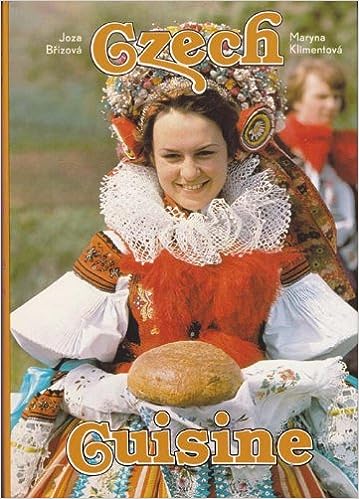 We tirelessly gather and curate valuable information that could take you hours, days, or even months to find elsewhere. Our mission is to simplify your access to the best of our heritage. If you appreciate our efforts, please consider making a donation to support the operational costs of this site.
You can also send cash, checks, money orders, or support by buying Kytka's books.
Your contribution sustains us and allows us to continue sharing our rich cultural heritage.
Remember, your donations are our lifeline.
If you haven't already, subscribe to TresBohemes.com below to receive our newsletter directly in your inbox and never miss out.