Czech meat patties are known as karbanátky or karbanátky placky, are popular meat patties in Czech cuisine. While there may not be specific historical records or facts about the origin of karbanátky, they have been a traditional dish in Czech households for many years.
Czech Karbanátky are typically made by combining minced meat (such as pork, beef, or a mixture of both) with eggs, breadcrumbs, and various herbs and spices like garlic, marjoram, and parsley. The mixture is shaped into flat, round patties and then pan-fried until golden brown.
It's worth noting that karbanátky have similarities to other meat patty dishes found in different culinary traditions. They are similar to German frikadelle, Danish frikadeller, Polish kotlet schabowy, and even American hamburger patties in terms of being shaped meatballs or patties that are fried or pan-seared.
However, Czech karbanátky have their own distinct flavor and are often served with traditional Czech sides like mashed potatoes or Czech potato salad.
While the exact origins of karbanátky are unclear, they have become an integral part of Czech cuisine, enjoyed in both homes and restaurants throughout the country. The dish's popularity and long-standing presence in Czech culinary traditions attest to its significance in Czech gastronomy.
I hope you enjoy today's recipes…
Smažené Karbanátky (Fried Patties)
Smažené karbanátky are a traditional Czech dish that consists of pan-fried meat patties.
Ingredients
1/2 pound ground beef
1/2 pound minced pork
1/4 cup whole milk (cold)
1 egg
1 roll or bun (2-3 days old), cubed and soaked in the milk
1/2 onion, finely chopped
2 cloves of garlic, minced or pressed
1 teaspoon salt
1 teaspoon dried marjoram
1/2 teaspoon ground black pepper
breadcrumbs for coating
Fat for frying or cooking oil (I use sunflower oil)
Preparation
In a large mixing bowl, combine the ground beef and minced pork.
Add the soaked roll or bun, finely chopped onion, minced garlic, salt, dried marjoram, and ground black pepper to the meat mixture. (NOTE: I usually fry the onion first and add it to the meat mixture.)
Break the egg into the mixture and mix all the ingredients together until well combined. The mixture should be moist and cohesive.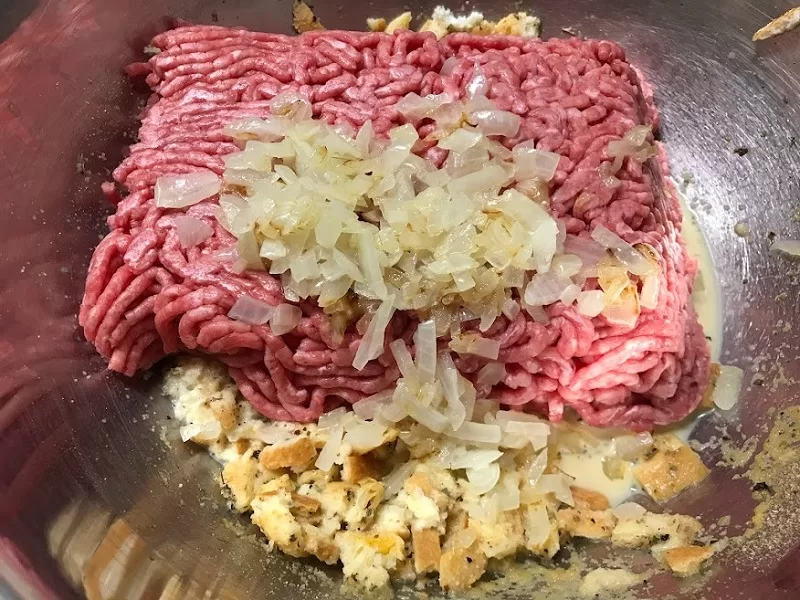 Take a handful of the meat mixture and shape it into a round, flat patty.
Repeat with the remaining mixture.
Coat each patty in breadcrumbs, pressing gently to ensure they adhere well.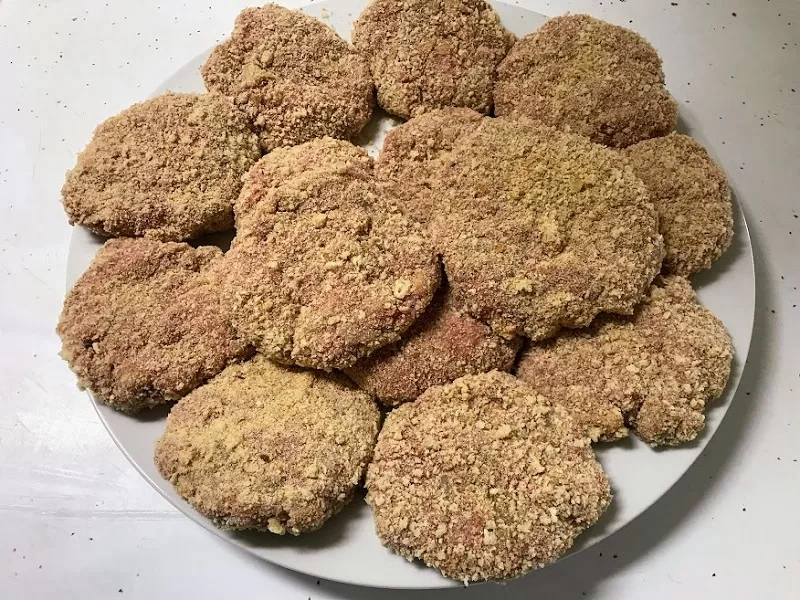 Heat the fat or oil in a frying pan over medium heat. Once hot, add the karbanátky to the pan, leaving enough space between them to cook evenly.
Fry the karbanátky for about 4-5 minutes on each side, or until they are cooked through and golden brown on the outside. Cook them in batches if needed.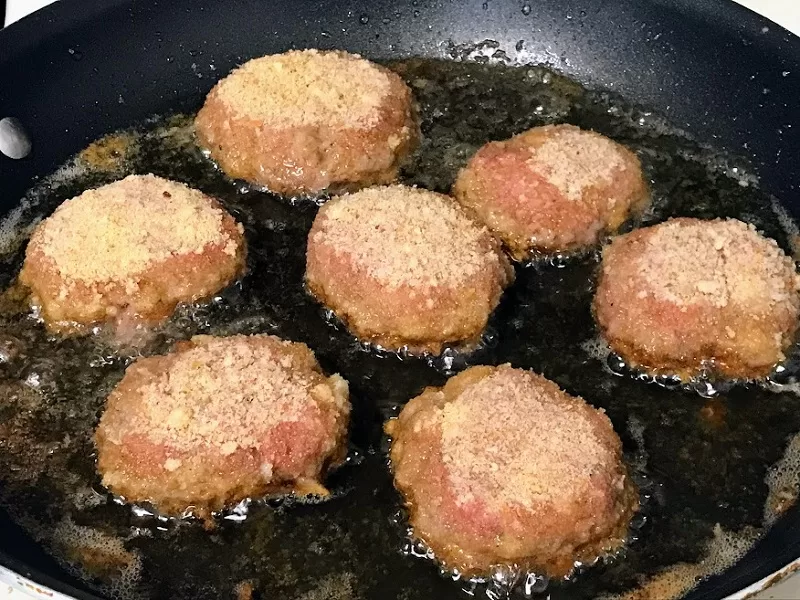 Once cooked, transfer the karbanátky to a paper towel-lined plate to drain any excess oil.
Serve the karbanátky hot as a main dish, accompanied by mashed potatoes.
Enjoy your homemade karbanátky!
Silky Mashed Potatoes
Few dishes are as satisfying as mashed potatoes with a generous amount of butter and cream. It may not be the healthiest option, especially if you're on a diet, but it is insanely delicious!
Ingredients
2 pounds potatoes
1/2 cup milk
1/2 cup heavy cream
1/2 cup butter
salt to taste
Preparation
Peel the potatoes and soak them in water for at least an hour to remove excess starch.
Then drain them, rinse with fresh water, and cook them until tender.
Drain the potatoes and shake them in the pot to remove any remaining water.
Heat the milk and cream.
Mash the potatoes and begin whipping them with an electric mixer.
Gradually add the warm milk and cream until you achieve the desired consistency.
Stir in the diced butter and season the mashed potatoes with salt.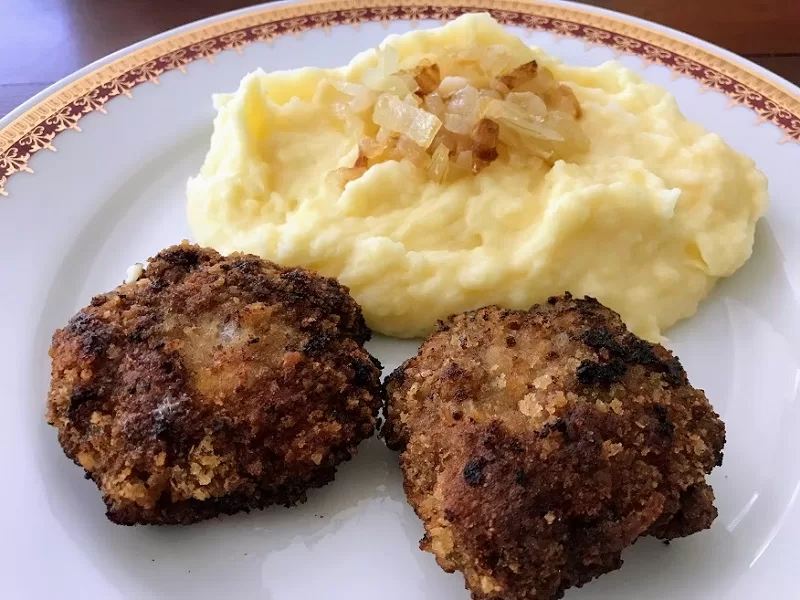 Fried Onion Topper
Ingredients
2 large onions, thinly sliced
2 tablespoons butter
Salt, to taste
Pepper, to taste
Preparation
Heat a skillet or frying pan over medium heat.
Add the butter and allow it to melt and coat the pan.
Add the thinly sliced onions to the pan and spread them out in an even layer.
Cook the onions slowly over medium-low heat, stirring occasionally, for about 15-20 minutes, or until they become golden brown and caramelized.
As the onions cook, season them with salt and pepper to taste.
Once the onions are caramelized to your liking, remove them from the heat.
Serve the fried onions as a topping for your mashed potatoes, placing a generous amount on top of each serving.
The rich and savory flavor of the fried onions adds a delicious touch to the creamy mashed potatoes.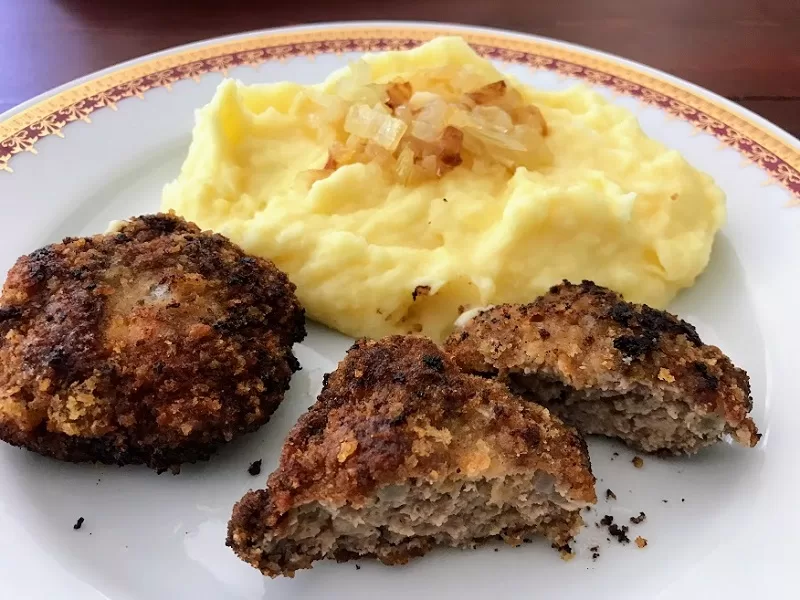 I hope you enjoyed this classic Czech recipe.
Dobrou chut'!

We tirelessly gather and curate valuable information that could take you hours, days, or even months to find elsewhere. Our mission is to simplify your access to the best of our heritage. If you appreciate our efforts, please consider making a donation to support the operational costs of this site.
You can also send cash, checks, money orders, or support by buying Kytka's books.
Your contribution sustains us and allows us to continue sharing our rich cultural heritage.
Remember, your donations are our lifeline.
If you haven't already, subscribe to TresBohemes.com below to receive our newsletter directly in your inbox and never miss out.