Kuba is a Czech mushroom barley risotto, kind of.
It's barley, or sometimes called groats cooked super soft and then baked with mushrooms.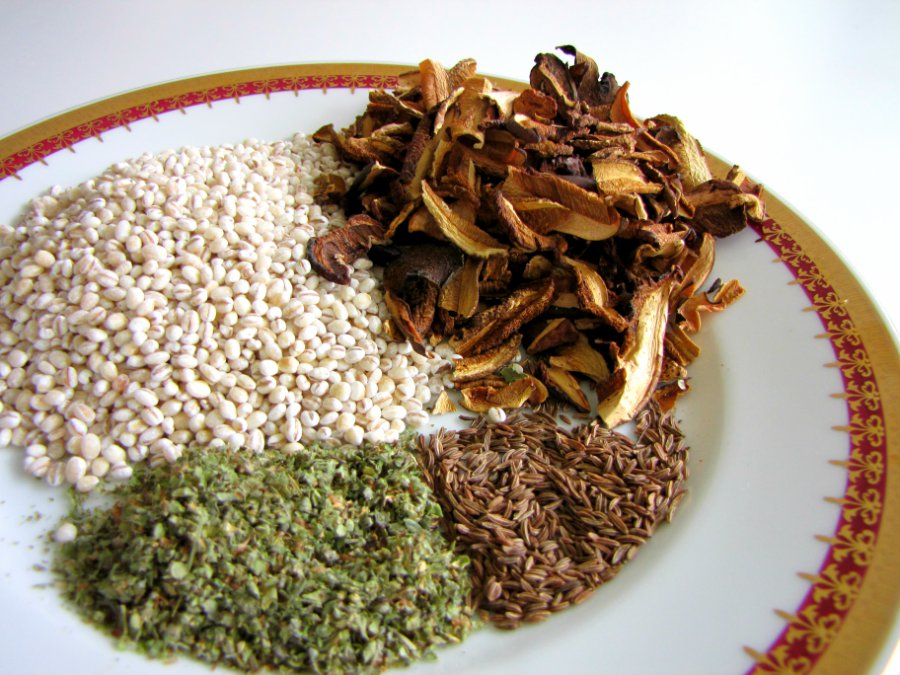 It's the forest grown (dried) mushrooms that bring the taste of pure nature to your table.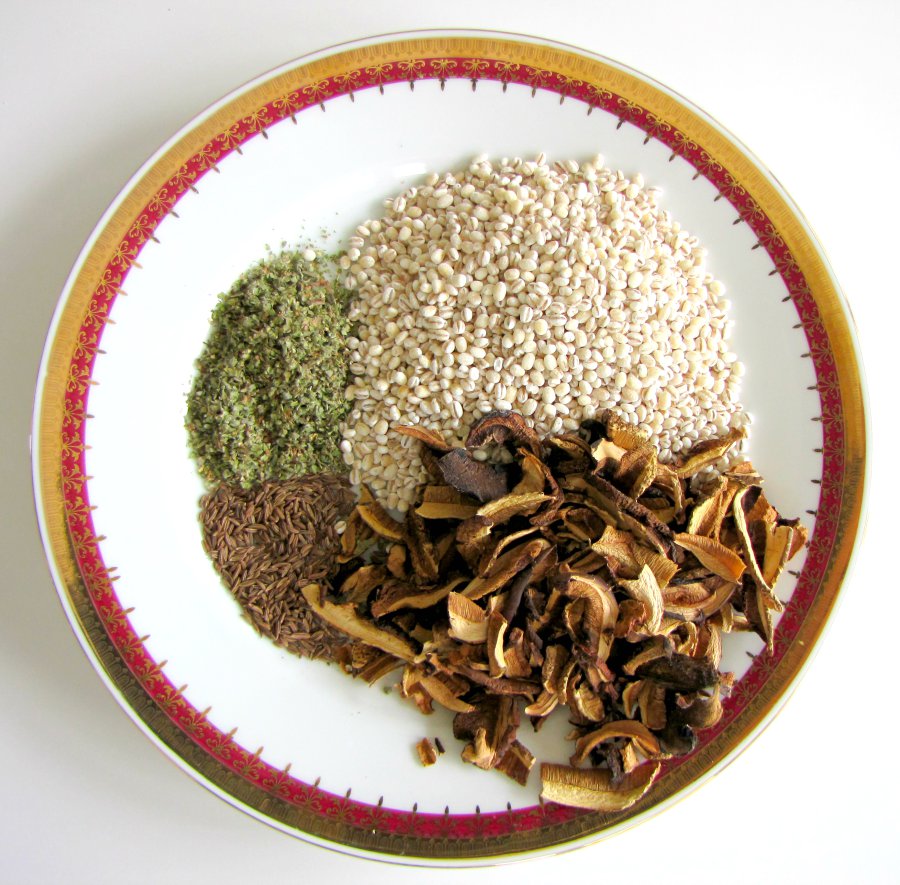 It's something that tastes oh so gourmet, made at a time when families had little money. Barley (grouts) have always been a cheap peasant food in all of Europe.
And they are healthy.
And good. They taste like things grandma used to make.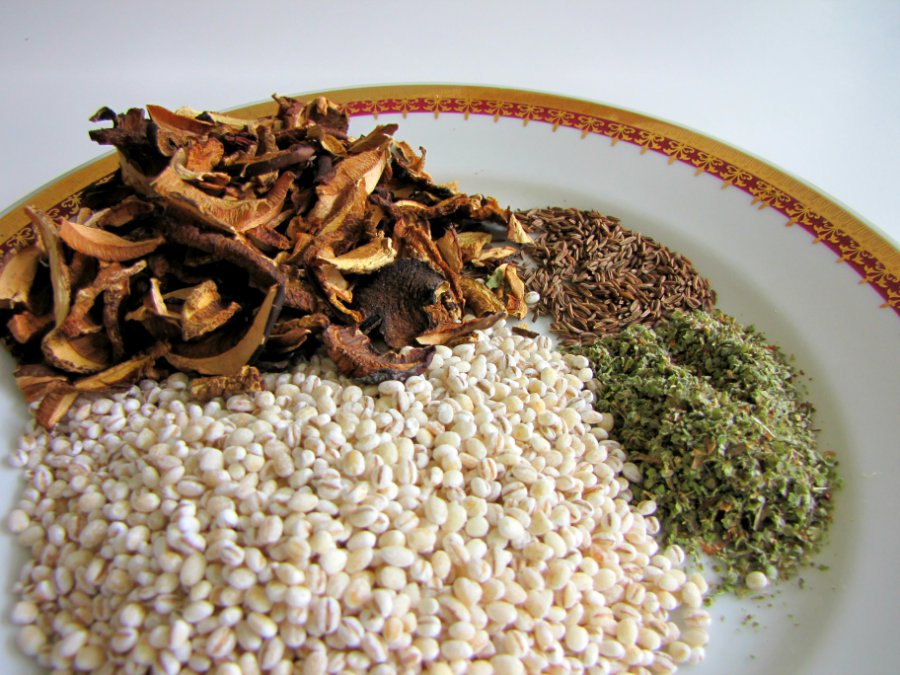 Mushrooms were found in the forests and in Bohemia, were plentiful.
In the US, we use the mini portobellos with a mix of Czech dried that my father brings each time he comes to visit.
And mixed with even a tablespoon of dried, the foresty taste comes through.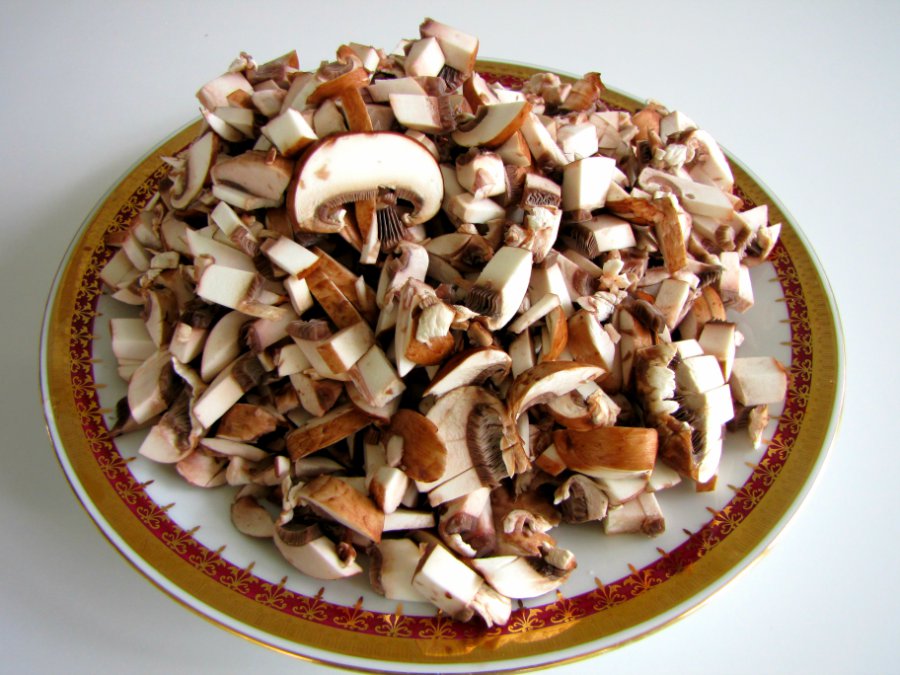 I look at my picture of the Charles bridge and pretend I am in Prague.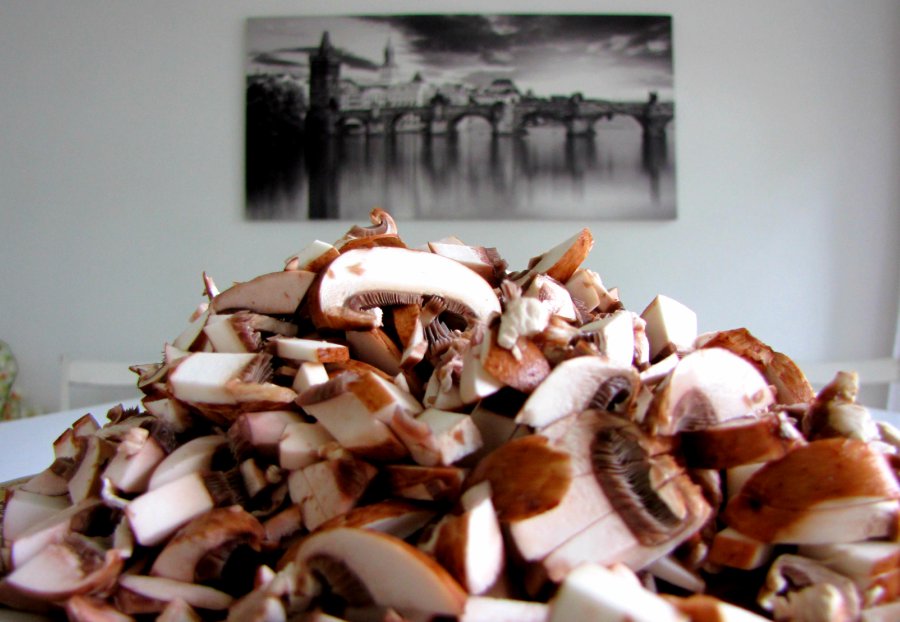 (Okay, okay… I confess, a prerequisite for anyone to visit me from the Czech Republic is that they bring dried mushrooms and Czech rum).
The butter could be substituted with any fat (oil or lard – homemade lard is traditional) and the onions and spices are a staple in every Czech kitchen.
This is what's referred to as staročeský jidlo, or tradiční české jídlo (old Bohemian or traditional Bohemian food).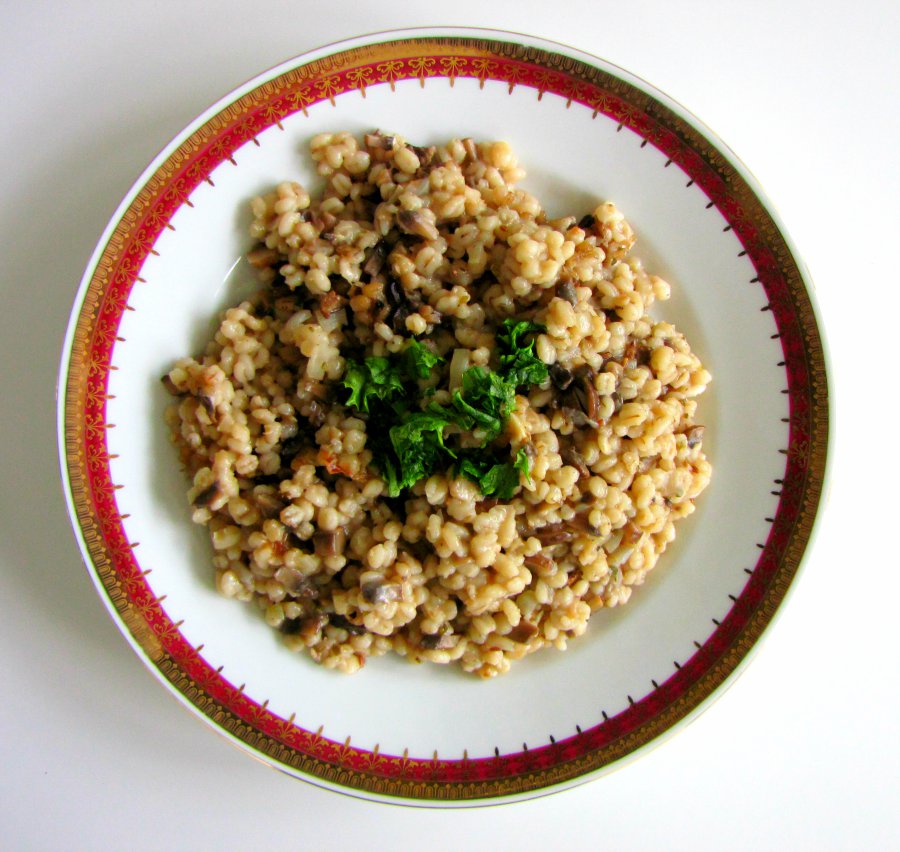 It has been made throughout the history of Bohemian cuisine, especially by peasants. Also, for those Czechs who fast at Christmas, it can be eaten as a Christmas dinner.
Of course, many people still make it today because…
It's… well… delicious.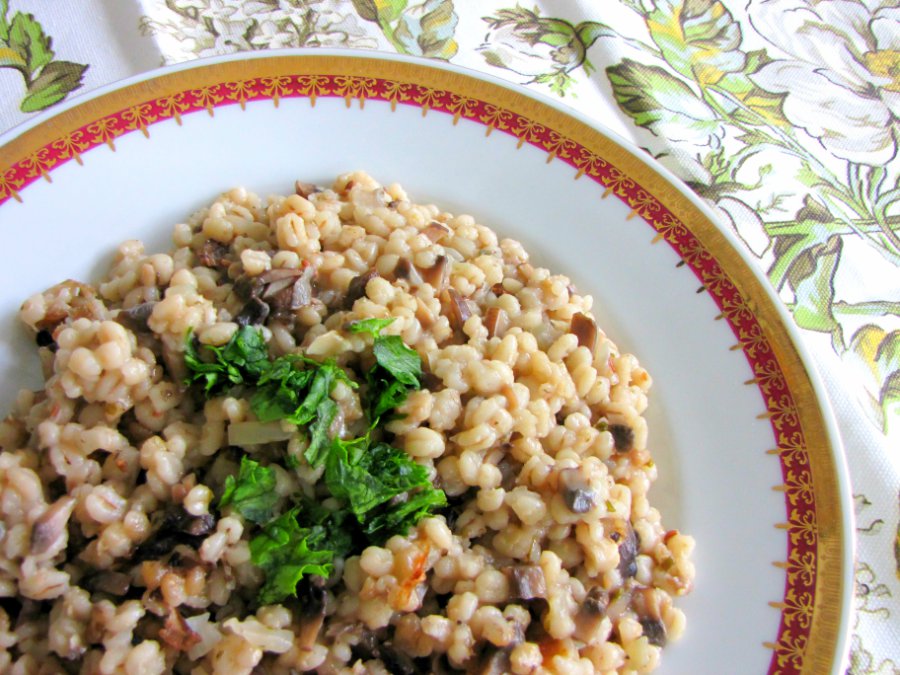 But the secret is to have really good mushrooms. I'll even go so far as to say Czech mushrooms, the woodsy kind that grow in the deep dark Bohemian forests. But I know that is impossible in the US, so a good substitute is a dark mushroom, like porchini, portobello or shitake. (See addition below for purchasing source.)
You will love this woodsy, homey, old-country tasting and easy to make Bohemian classic.
Gooey goodness!
Ingredients
1/2 cup  dried mushrooms or 2 baskets fresh, darker is better. If you use dried, place them into 1 cup water to soak for 30 minutes prior to use.
1 cup pearl barley
2 Tbsp melted butter
1 1/2 cups stock, broth or water
2 onions
6 garlic cloves
1 tsp caraway seeds
1 tsp dried marjoram
salt and pepper to taste
Directions
Wash the mushrooms and either soak them or set them aside.
Put the 1/2 of the butter butter into a deep stainless steel pot and add the rinsed/washed barley. You want to toast or brown the barley a bit but not burn it.
Once the barley turns golden, add the mushrooms, stock, salt and pepper.
Cook for 45 minutes, stirring frequently and making sure not to let the bottom burn. You may have to add some stock or water during the process.
When the barley-mushroom mixture has 15 more minutes to cook, finely chop the onions and garlic and saute them on the other half of the butter. You want them to be soft, so for 10-15 minutes.
Meanwhile, preheat oven to 350.
Once the barley-mushroom mixture is done, add the onion mixture and the marjoram and caraway seeds. Stir to incorporate the ingredients thoroughly.
Butter a large baking dish and pour in the mix.
Bake at 350 for 15-25 minutes, depending on how you like it.
This is good served alone or with nice pickles or cucumber salad as an accompaniment.
Garnish with parsley or other greens…
This is one of the easiest recipes, ever.
And again, it's so easy!
Dobrou Chut!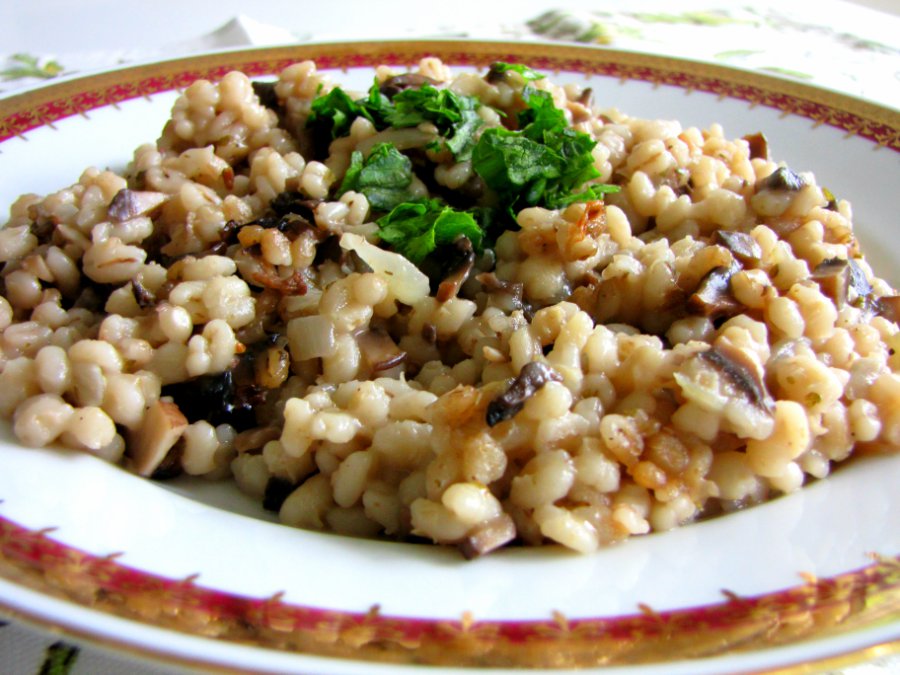 Did you try to make this?
Leave us a comment and let us know!
Addition:
Who was asking me about the "Czech mushrooms" in recipes? I cannot recall – but for those of you who want that "Czech mushroom" flavor here in the US and you do not live anywhere where you can harvest your own, I recommend Italian dried porchini mushrooms.
CLICK HERE TO SEE THE ONES WE BUY AND USE
Funghi porcini mushrooms are a particular type of wild mushroom found beneath pine or other evergreen trees. Known for their woodsy and aromatic scent they are a wonderful addition to risotto, pasta, meats, chicken or wild game dishes. Their nut like taste and unique texture adds unparalleled succulence to many dishes.
Dried porcini mushrooms are a good substitute for fresh porcini and may come with a little dirt in the bags. That's somewhat normal – but I've made the mistake of trying to save in the past and have bought some that I later discovered had living insects, and were not even European!
Yes, that means you should BEWARE when shopping for these – many being sold for less are actually "made in China" and I've seen some in Chinese markets that say "prochini" on the package and then when you read the ingredients, it's something else entirely!
So after a lot of trial and error, I can best recommend these.
Click here to see the ones we use.
The best part is that because they are quite pungent and can attract molds and insects in the pantry… I like that this offer is a 72 pack or 1/2 ounce packages. So once a year or so, we buy this package which comes out to about $2.60 an ounce which is a good price and you get good quality.
We have been buying these for about 5 years and have never had a bad experience. It's a trusted manufacturer, the expiration date is always far in advance and the price is very fair at ounce cost.
So there it is… my "Czech tasting mushrooms" which can be bought in the US for cooking those yummy Czech dishes.
CLICK HERE TO BUY THE MUSHROOMS
Dobrou Chut!
Note: If you are an avid mushroom picker (or know anyone who is) have we got the gift for you!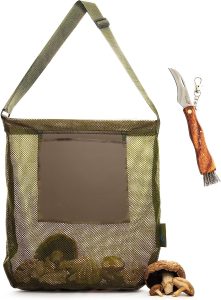 The Foraging Bag from VylerSky is an absolute game-changer for mushroom enthusiasts like myself! This kit includes a well-designed foraging bag and a top-notch mushroom knife, making it an essential companion for any outdoor adventure. The bag is spacious, durable, and perfect for storing your freshly foraged treasures, while the knife is sharp and precise, ideal for cleanly harvesting mushrooms. Whether you're a seasoned forager or just getting started, this kit will elevate your mushroom hunting experience. Plus, it's not only practical but also a stylish accessory for nature lovers. VylerSky has truly nailed it with this fantastic foraging kit! Click here to learn more.
* * * * *
* * * * *
Thank you in advance for your support…
You could spend hours, days, weeks, and months finding some of this information. On this website, we curate the best of what we find for you and place it easily and conveniently into one place. Please take a moment today to recognize our efforts and make a donation towards the operational costs of this site – your support keeps the site alive and keeps us searching for the best of our heritage to bring to you.


Remember, we rely solely on your donations to keep the project going.
We appreciate you more than you know!
If you have not already subscribed to get TresBohemes.com delivered to your inbox, please use the form below now so you never miss another post.