This Czech bread recipe has a back story… In 1968, my grandparents, Gus Hodza, a renowned Czech baker, and Marie, made the life-altering decision to emigrate to America, along with my parents, Milan and Anička, Aunt Helen, and Uncle Vlasta. Their bold move from their Czech homeland to the land of opportunities was driven by a thirst for new beginnings, promising a brighter future for themselves and their families. Leaving behind familiar surroundings and loved ones, they set their sights on the vast expanse of possibilities awaiting them across the Atlantic Ocean.
Arriving on American soil, we were quickly whisked away to Mount Airy Lodge, where we began our first chapter in the United States.
The memories and experiences we shared during that time hold a special place in our hearts, shaping our understanding of the resilience and determination it takes to forge a new path in a foreign land. It was a time of adjustment, as we familiarized ourselves with a new language, culture, and way of life. (You can read more here.)
Soon after our stay at Mount Airy Lodge, Gus and Marie found themselves in the bustling city of Cambridge, Massachusetts. It was a time of great change and upheaval, both within their personal lives and in the broader socio-political landscape. As they navigated the challenges of adapting to a new culture and language, their unwavering determination and entrepreneurial spirit propelled them forward. Little did they know that their leap of faith would set in motion a chain of events that would shape their lives and leave a lasting legacy for generations to come.
Gus Hodza, my grandfather, was a renowned Czech bread baker known for his extraordinary baking skills.
Together, Gus and Marie embarked on a culinary journey that would captivate the taste buds of many. It didn't take long for their bread-making prowess to capture the attention of locals, and they quickly garnered a loyal following.
Recognizing the potential for expansion, Gus seized an opportunity with the help of an investor who believed in his talent. With their support, Gus and Marie opened their own bakery, becoming a beloved fixture in the community. The aroma of freshly baked Czech bread wafted through the streets, drawing customers from far and wide. Local restaurants soon caught wind of Gus's delectable creations, and he began supplying them with his exceptional bread.
However, fate had more in store for Gus and Marie. An exciting proposition arose from a new investor in Southern California, who saw immense potential in their Czech bread-making expertise. With dreams of new horizons and a longing for fresh opportunities, they made the life-changing decision to relocate to the sunny shores of Hermosa Beach.
The move to Southern California brought with it a sense of anticipation and excitement. Settling into their new surroundings, they wasted no time in establishing their bakery and once again captivating the hearts and taste buds of locals. The demand for their Czech bread soared as more and more restaurants clamored for a taste of their artisanal creations.
In due course, my parents and I joined Gus and Marie, making the leap to neighboring Redondo Beach. Our lives became intertwined with the enchanting coastal community, embracing the laid-back beach culture and basking in the warmth of the California sun. The move proved to be a pivotal moment for our family, marking the beginning of an unforgettable chapter filled with cherished memories and the aroma of freshly baked bread lingering in the air.
Today, as I bite into a slice of that exact Czech bread, I am transported back to the moments of warmth and togetherness that Gus and Marie's bakery created. Their legacy lives on not only in the delicious bread they baked but also in the values they instilled in us—the importance of hard work, the pursuit of excellence, and the love and dedication we have for our family and our craft.
More on Mount Airy Lodge and the Czech Connection.
Good Rye Flour
Rye flour serves as the essential foundation for Czech bread, with a long history of cultivation in the region dating back to ancient times. It is believed that rye arrived with the Slavs at the end of the Bronze Age, and its preference for higher elevations explains its presence not only in central and northern Europe but also in Asia and North America. In the Czech Republic, rye is primarily grown in the foothills of southern, eastern, and western Bohemia, as well as in the Highlands. The old Bohemian name for rye, "rej," is why alcohol made from rye grain is referred to as "režná" or rye.
Rye flour differs from wheat flour in terms of its properties, primarily due to its minimal gluten content. This lower gluten content makes rye bread denser and heavier compared to wheat bread. The reduced gluten content also makes it more challenging for the dough to rise. While rye flour is often combined with wheat flour in baked goods, rye bread stands out with its longer shelf life and moist texture.
Rye whole grain flour is particularly rich in fiber and can be used in various recipes, such as cookies and bread. In addition to its fiber content, rye contains essential minerals like calcium, potassium, phosphorus, iron, and magnesium, which support various bodily functions.
Rye Bread Flour: This type of rye flour is commonly used for making traditional rye bread. It contains a moderate amount of the rye kernel, including the endosperm, bran, and germ. It provides a balanced flavor and texture, making it suitable for a variety of rye-based baked goods.
Rye Whole Grain Flour: Rye whole grain flour is made by grinding the entire rye kernel, including the bran, germ, and endosperm. It retains all the natural nutrients and fiber present in the rye grain, making it a healthier option. This flour has a darker color, robust flavor, and a denser texture, which adds a distinct character to baked goods.
Rye Wheat Bran Flour: Rye wheat bran flour is a blend of rye flour and wheat bran. It combines the benefits of both grains, providing a balance of flavor and texture. This flour has a lighter color compared to whole grain rye flour but still offers a rich rye taste. It is often used in recipes that call for a lighter rye flavor or when a softer texture is desired.
The lightest variety, known as "Vejrazka," has the least amount of bran, while darker flours contain higher amounts of bran.
Rye bread flour is known as "chlebovka" in Czech. It is ideal for a range of traditional breads. If you are fortunate enough to live next to a European market you may find it there. Rye bread flour is referred to as "mąka żytnia" at your Polish market, "žitno brašno" at your Croatian market, "житнaя мука" (zhitnaya muka) at your Russian market, and "житняковая мука" (zhitnyakovaya muka) at your Serbian market.
I've also gone to my local natural foods store and purchased King Arthur Flour Organic Medium Rye Flour, and Bob's Red Mill Organic Dark Rye Flour which were very good. My personal favorite for baking bread is Unpretentious Baker White Rye Flour.
While you may be tempted to buy in bulk and larger quantities – don't. Unless you have a humid-free area, your rye flour will mold. Proper storage is crucial to prevent the flour from spoiling or developing mold. It should be stored in a dry, dark, and airtight container, with humidity being the key factor to maintain its freshness. It is recommended to store flour in the least humid room of the apartment, typically not the kitchen. With proper storage in a dry place, flour can retain its quality for up to a year.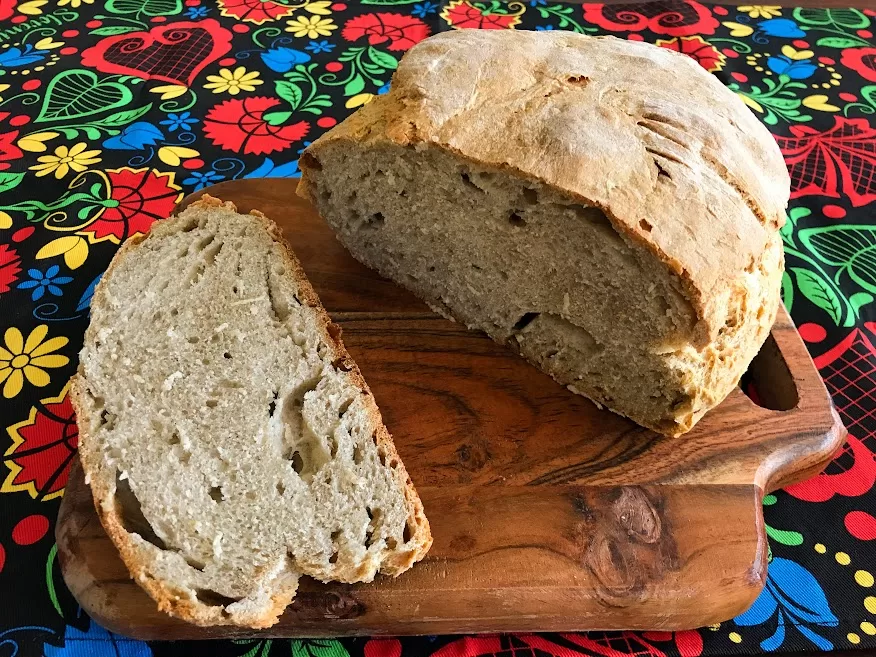 Czech Bread Recipe
Ingredients:
3 and 1/2 to 3/4 cups flour
1/4 cup whole wheat flour
1/2 cup rye flour
2 cups warm water
1 tablespoon yeast
Salt
Caraway
Note: Both Gus and my Babička used Kvas. I have substituted yeast for the simplicity of this recipe and when I do not have kvas, I use this and it works just fine. The photos of the bread I share here are made from yeast and not kvas, and you can see how nice it is inside.
Kvas is a traditional Czech yeast used in baking and brewing. It is a type of liquid starter or fermenting agent that is made by fermenting grains or bread with yeast and water. Kvas has a long history in Czech cuisine and is commonly used in the preparation of various breads, pastries, and beverages.
To make kvas, the process begins by soaking a mixture of bread or grains in water and allowing it to ferment. This fermentation process is typically facilitated by wild yeast naturally present in the environment or by adding commercial yeast. The yeast consumes the sugars in the mixture and produces carbon dioxide, which helps the dough rise and develop a light, fluffy texture. The resulting kvas is a tangy, slightly effervescent liquid that adds a distinct flavor and aroma to baked goods. It contributes to the development of a rich, complex taste profile and enhances the overall texture of the finished products.
Kvas holds a special place in Czech culinary traditions, adding depth and character to a variety of recipes. Its unique flavor and versatility make it a beloved ingredient in Czech cuisine, cherished for its ability to elevate the taste and quality of baked goods and beverages.
Instructions:
Baking Czech bread holds a special place in my heart as it brings back a flood of cherished memories. I make it a point to bake a loaf at least three times a month, and each time I embark on this culinary journey, it's a nostalgic and fulfilling experience.
In a mixing bowl, combine the flour, whole flour, and rye flour. From the moment I begin mixing the flour, whole flour, and rye flour, the familiar scent starts to fill the kitchen, transporting me back to my childhood. Adding warm water and yeast, I watch as the dough comes together, knowing that it's the foundation of something truly special.
Add the warm water and yeast to the bowl.
Sprinkle in a pinch of salt and a dash of caraway.
Mix the ingredients gently until a shaggy dough forms.
Transfer the dough onto a lightly floured surface and knead for about 5 minutes*. Use the heel of your hand to push the dough away from you, then fold it back over itself and repeat the process. It's sticky, so at times, I prefer to do this with a wooden spoon in a large bowl.
Kneading the dough is a rhythmic and therapeutic process for me. I feel a deep connection to my roots as I work the dough, remembering the stories of my grandmother and her renowned bread-making skills. With each gentle push and fold, the texture transforms, and I can feel the gluten developing, ensuring a light and airy crumb. * Pay extra attention to kneading as it is a crucial step in bread-making to develop gluten and achieve the desired texture.
Shape the dough into a ball and place it back into the mixing bowl.
Sprinkle some flour on top of the dough, cover the bowl with a towel, and let it rise for approximately 3 hours or until doubled in size. During the rising time, gently punch down the dough once or twice to release any air bubbles and redistribute the yeast.
As the dough rests and rises, the anticipation builds. My kitchen becomes a sanctuary of warmth and anticipation, as the aroma of the rising bread fills the air.
Preheat the oven to 450°F (230°C).
Once the dough has risen, transfer it onto a baking sheet lined with parchment paper.
Shape the dough into a loaf by folding the edges towards the center and tucking them underneath. You can also shape it into a round or oval shape if desired.
Place the shaped loaf on the prepared baking sheet and let it rest for a few minutes.
Bake the bread in the preheated oven for 10 minutes.
Reduce the oven temperature to 375°F (190°C) and continue baking for an additional 35-40 minutes or until the bread is golden brown and sounds hollow when tapped on the bottom.
As the bread bakes, the tantalizing aroma permeates every corner of the house. It's a scent that instantly transports me to my Babička and to family gatherings, where we would eagerly await the first slice of freshly baked bread.
The anticipation is almost palpable as I eagerly wait for the timer to signal that it's time to pull the golden-brown loaf out of the oven. Many times, I listen to her singing as I wait for the bread…
Remove the bread from the oven and let it cool on a wire rack before slicing and serving.
The moment I slice into the freshly baked bread, the crust crackles under the knife, revealing a soft, pillowy interior. The taste is simply divine, reminiscent of my grandparents' lovingly crafted loaves.
Baking Czech bread has become more than just a culinary endeavor for me; it's a way to reconnect with my roots, honor my family's history, and create new memories. With every loaf I bake, I feel a sense of pride and fulfillment, knowing that I'm carrying forward a tradition that holds such deep meaning for me so I hope you appreciate me sharing this special recipe and story with you today…
Dobrou Chut!
Here is my slice with a nice healthy spreading of sádlo (pork fat or lard).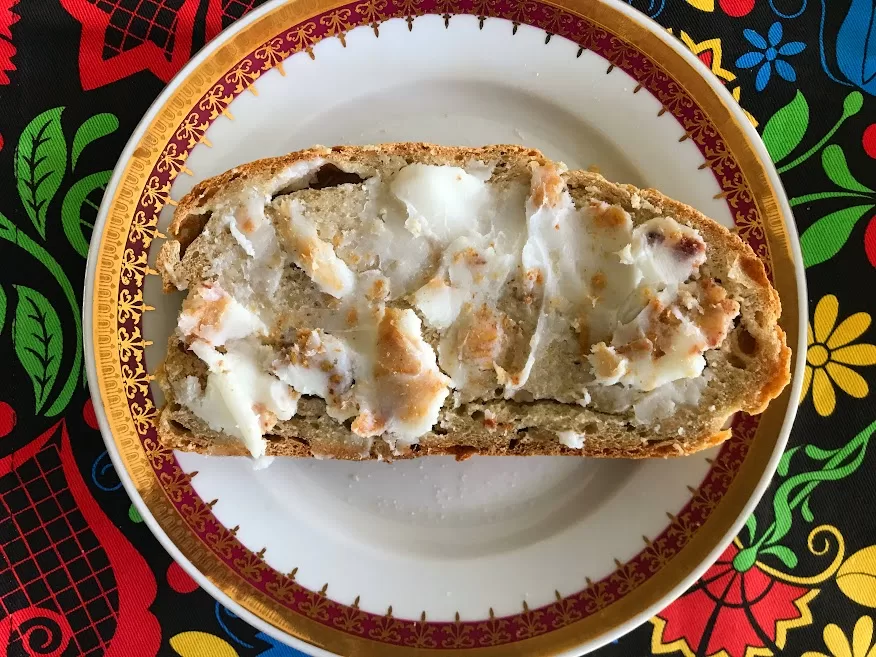 Yum!
Read why Czechs love their fat at Czechs and the Healthiest Fat Sandwiches.
By the way – do you know we have a FREE COOKBOOK on Amazon…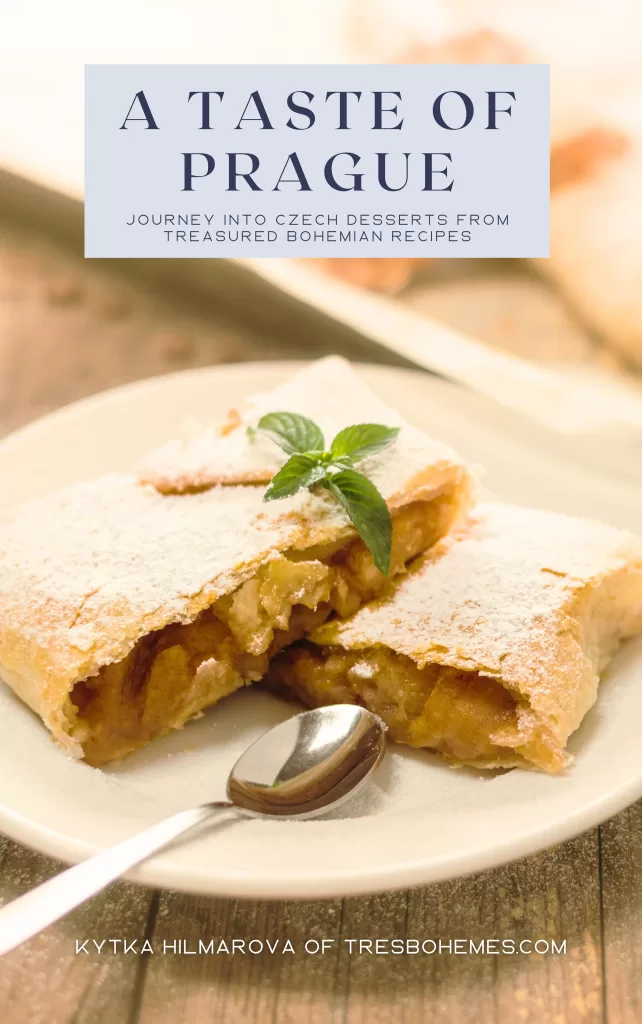 Click Here to Get Your Free Book
We tirelessly gather and curate valuable information that could take you hours, days, or even months to find elsewhere. Our mission is to simplify your access to the best of our heritage. If you appreciate our efforts, please consider making a donation to support the operational costs of this site.
You can also send cash, checks, money orders, or support by buying Kytka's books.
Your contribution sustains us and allows us to continue sharing our rich cultural heritage.
Remember, your donations are our lifeline.
If you haven't already, subscribe to TresBohemes.com below to receive our newsletter directly in your inbox and never miss out.