Today I am sharing the engrossing memoir of a spirited and glamorous Czech fashion designer who survived World War II. It is entitled, Franci's War, A Woman's Story of Survival by Franci Rabinek Epstein. I received this book anonymously as a gift from our TresBohemes Amazon Wishlist where we ask our subscribers to send material they'd like us to write about or review. Thank you, by the way, to whomever sent this powerful book.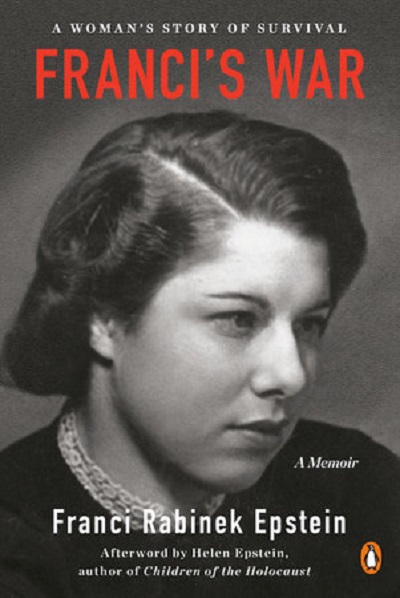 Even though it is a narrative of a dark time in human history, I find it important to engage with these sorts of texts. I highly recommended to others interested in reading about the Czech Jewish perspective of the Holocaust. I am so grateful to Helen Epstein for sharing her mother's story. It is a powerful testimony to a strong young woman who survived the Holocaust, retaining both her spirit and compassion in the darkest moments of human history.
Second-generation trauma expert Helen Epstein published late mother Franci Rabinek Epstein's manuscript after her mother passed away, because it was initially rejected when Franci wanted to have it published in the mid-1970s for being ahead of its time.
Ahead of its time? Why?
Because Franci's War is a truthful sexually explicit memoir of mass women's abuse in Nazi camps.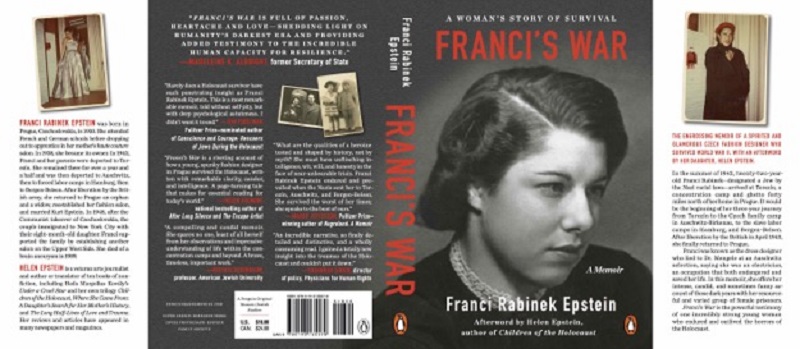 The book is a story of survival at any cost. I learned of women in the camps engaging in sexual barter to help themselves and their mothers survive. I read about rape and murder, aside from the crimes we associate with the Holocaust. I read about the author's witness to the unfortunate pregnancies she witnessed in the camps, and the infanticide necessary to give postpartum women a chance to survive. Some prisoners engaged in same-sex relationships.
Frank, female-centric memoirs like Franci's — especially ones recalling systematic sexual violence perpetrated against women under Nazi occupation — weren't given attention in the first decades after the war, when readers didn't want to hear this kind of testimony or couldn't conceive of the extent of the atrocities that had been committed. – Renee Ghert-Zand
Franci tells the story in first person, and then switches to speaking about prisoner A4116. Many people who have experienced trauma have experienced this state that's called disassociation, or splitting. He daughter says of that part of the book, "She doesn't go back to narrating in the first person until she wakes up after surviving typhus after being liberated by the British Army at Bergen-Belsen – and only then does she return to herself."
Helen Epstein told The Times of Israel that she found her mother's manuscript, typed in English on onionskin paper, while sorting through her mother's papers after her death from a brain aneurysm at age 69 in 1989. Epstein later used selections from Franci's recollections for her 1997 family memoir, Where She Came From: A Daughter's Search for Her Mother's History, on the Rabinek family women and the social history of Jews in the Czech lands. Then she filed it away and didn't look at it again for 20 years. Read her interview here.
Franci's War is a very powerful first hand account which offers a young woman's experience during WWII, whereas most holocaust accounts have been from a male point of view. Franci Rabinek Epstein brings an intense honesty in how she tells her story. She is open about how she lied or had to steal food to survive. She shares how she made herself indispensable by mending clothes and by learning how to be an electrician.
The bulk of Franci's War is captivating and harrowing and the portions about the living conditions, malnutrition, disease, torture and mistreatment in the concentration camps really shed light on how women were treated during this time.  This is also the first book I have read that goes beyond the liberation of camps and how they had to continue to fight for survival and prejudice after the war.
I'm grateful this powerful work finally sees light.
From the front inside flap: In the summer of 1942, twenty-two-year old Franci Rabinek – designated a Jew by the Nazi racial laws – arrived at Terezín, a concentration camp and ghetto forty miles north of her home in Prague. It would be the beginning of her three-year journey from Terezín to the Czech Family Camp in Auschwitz-Birkenau, to the slave labor camps in Hamburg and Bergen-Belsen. After liberation by the British in April 1945, she finally returned to Prague.
Franci was known as the dress designer who lied to Dr. Mengele at an Auschwitz selection, saying she was an electrician, an occupation that both endangered and saved her life. In this memoir, she offers her intense, candid, and sometimes funny account of those dark years with her resourceful and varied group of female prisoners.
Franci Rabinek Epstein was born into a privileged family in Prague, Czechoslovakia in 1920 and educated at the Ecole Francaise, Lycee de Prague, and the Deutsches Staatsreal gymnasium before dropping out to apprentice in her mother's haute-couture Salon. At 18, Franci became the owner of the Salon.
Franci's War is the powerful testimony of one incredibly strong young woman who endured and outlived the horrors of the Holocaust.
You can hear Franci's account in this video from the Holocaust Living History program.
What made Franci's War so compelling is that Franci always tried to focus on the good, like memories of her family, music and poetry. She never once gave up even though she had so many reasons to do so. One of the most powerful stories in the book is about Franci's separation from her parents in Terezín.
The parts about readjusting to life after WW2 and what it was like going back to homelands and leaving Germany are also quite fascinating and I feel the writer at her most vulnerable, admitting that she no longer felt comfortable in her home town and was struggling to readjust to life after this heinous war and the obscenities and trauma she had been subject to.
Even though Franci's War is an emotional and harrowing account, it also shows love and strength and even positivity in one of the darkest times of our humanity. Franci's bravery, her will to live, and taking one day at a time carried her through.
I particularly liked the way the story continued to tell Franci's story after liberation, and gave a real insight into how she rebuilt her life.
From the back inside flap: Franci Rabinek Epstein was born in Prague, Czechoslovakia, in 1920. She attended French and German schools before dropping out to apprentice in her mother's haute couture salon. In 1938, she became its owner. In 1942, Franci and her parents were deported to Terezín. She remained there for over a year and a half and was then deported to Auschwitz, then to forced labor camps in Hamburg, then to Bergen-Belsen. After liberation by the British army, she returned to Prague an orphan and a widow, reestablished her fashion salon, and married Kurt Epstein. In 1948, after the communist takeover of Czechoslovakia, the couple immigrated to New York City with their eight-month-old daughter. Franci supported the family by establishing another salon on the Upper West Side. She died of a brain aneurysm in 1989.
Helen Epstein is a veteran arts journalist and author or translator of ten books of non-fiction, including Heda Margolius Kovaly's Under a Cruel Star, and her own trilogy Children of the Holocaust, Where She Came From: A Daughter's Search for Her Mother's History, and The Long Half-Lives of Love and Trauma.
In the following video, the Leo Baeck Institute held a panel discussion with authors Helen Epstein and Ariana Neumann, both children of Holocaust survivors, who have written about their families during the Holocaust, and both with connection to the Theresienstadt Ghetto. In the discussion, moderated by author Ruth Franklin, they  discussed what sparked them to write about their parents and grandparents, approaches they took in this writing, resources they used, and what they discovered about their families on their journeys.
If you are interested in the Holocaust, how it is remembered, the genre of memoir, and/or if you are interested in writing your own family memoir about the Holocaust, we hope you will invest the time in watching this video.
I admit, Franci's War was a hard read. It is very raw and emotional so I could not read it all in one sitting, but I will say that it is a must read, especially for women.
I have read numerous books on the Holocaust, both fiction and memoir, but this one really stands out. As a woman, it was interesting to have a gut-wrenching and brutally honest woman's account of the atrocities of the Holocaust.
I would like to thank her daughter for publishing her story so she and her story will not be forgotten. Here is the link to her website. You can purchase Franci's War through the link below.
Thank you in advance for your support…
We know that you could spend hours, days, weeks and months finding some of this information yourselves – but at this website, we curate the best of what we find for you and place it easily and conveniently into one place. Please take a moment today to recognize our efforts and make a donation towards the operational costs of this site – your support keeps the site alive and keeps us searching for the best of our heritage to bring to you.


Remember, we rely solely on your donations to keep the project going.
We appreciate you more than you know!
If you have not already subscribed to get TresBohemes.com delivered to your inbox, please use the form below now so you never miss another post.