Zikmund and Hanzelka both had a strong interest in travel and discovery. The Czech travel enthusiasts made the decision to go off on a global expedition. In their plans, they intended to investigate many cultures and document the richness and beauty of the world. Through Asia, Africa, and South America, they completed their adventure that began in 1950.
They documented their journeys in a series of books and films. These captured the adventures and challenges they faced. Traveling in a Czech Tatra vehicle, they became famous worldwide.
Miroslav Hanzelka and Jan Antonin Zikmund, two Czech travelers and journalists, set out on a journey that took them through Africa, South America, and Asia. Their journey, which began in the 1950s and lasted several years, was documented in a series of books, photographs, and films that captured the thrills and challenges of exploring uncharted territory.
The Czech globetrotters known as "Hanzelka and Zikmund" are regarded as some of the most famous travelers of the twentieth century in the Czech Republic.
Jiří Hanzelka (December 24, 1920 – February 15, 2003) was a Czech photographer, journalist, and traveler. He was born in Hroznatín, Czech Republic, and studied at Charles University in Prague.
Miroslav Zikmund (February 14, 1919 – December 1, 2021) was a Czech journalist, photographer, and traveler. He was born in the Czech Republic and studied at Charles University in Prague.
Sometimes, you can find copies of their books on Amazon.com.
In Africa, they explored countries such as Ethiopia, Sudan, and Kenya. African Expedition is their book documenting this journey. They are the first Czechs to travel to this part of the world. This book was a bestseller in the Czech Republic and is considered a classic of travel writing. The book documented their journey through the African continent and the unique and interesting people they met along the way.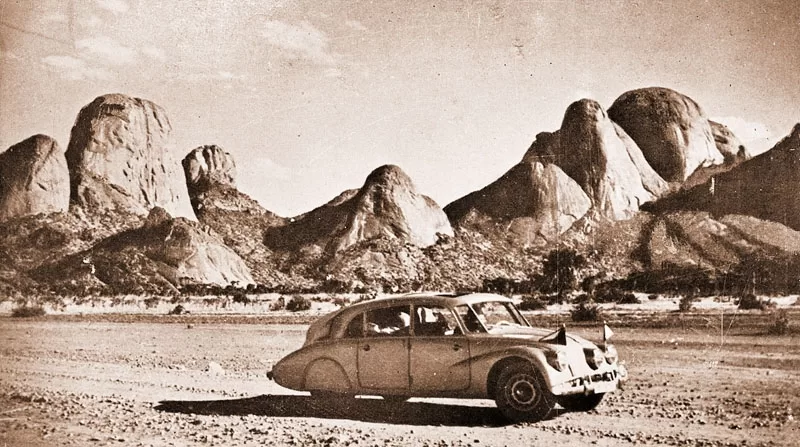 They then traveled to South America. There they explored countries such as Argentina, Chile, and Peru. Their journey through South America appeared in the book, South American Expedition.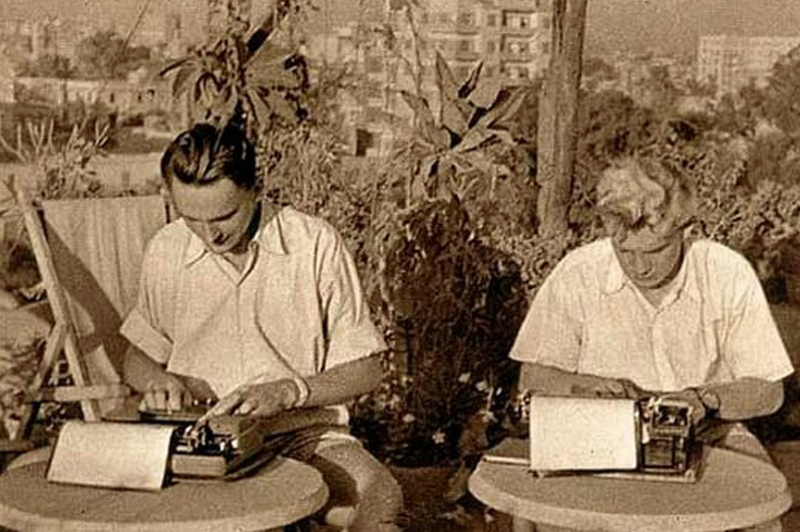 This book was also a bestseller in the Czech Republic. It captured the diversity and beauty of South America, including its people, culture, and glorious landscapes.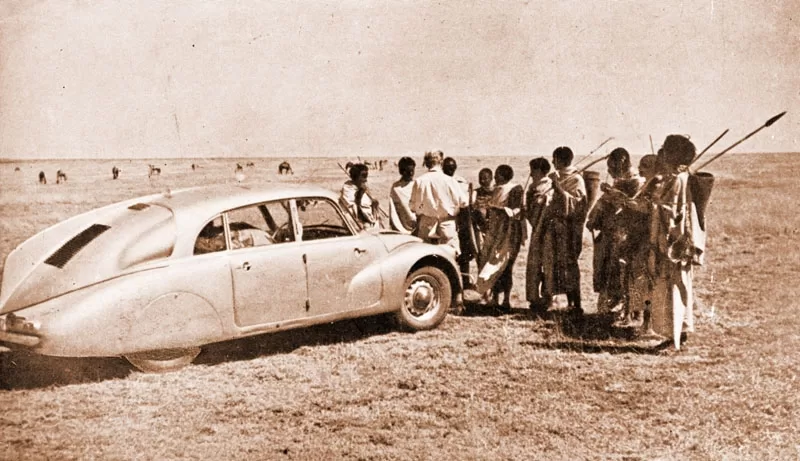 Finally, they went to Asia. There they explored countries such as Thailand, Laos, and Cambodia. Their journey through Asia appears in the book, Asian Expedition.
Asian Expedition captured the rich history and culture of Asia. It focused on including its people, landscapes, and traditions.
Hanzelka and Zikmund captured many photographs and filmed various materials on their journey. They planned to use these in documentaries and movies in the future. While in Libya, they had an accident with their car. They used this time to take a break and relax atop the Great Pyramid of Giza in Egypt. Their adventures provided great stories. They climbed the towering Kilimanjaro mountain. They encountered Pygmies in the lush Congo rainforest, and many more such experiences.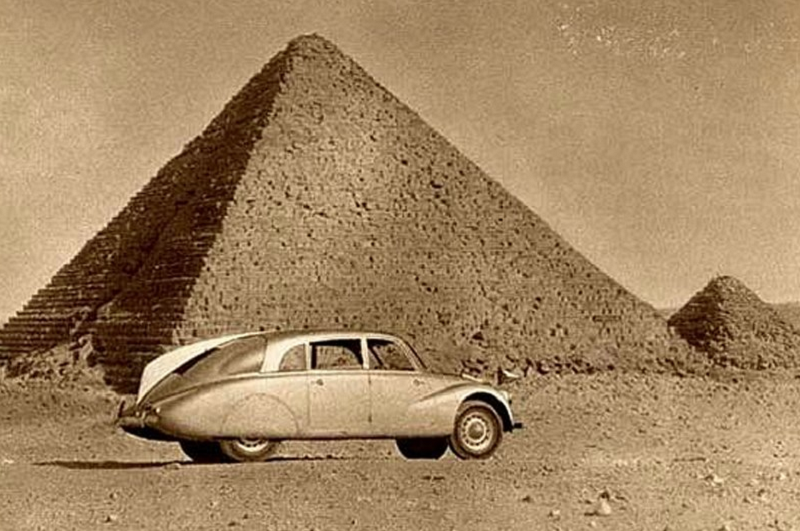 On their journey from Cape Town, Hanzelka and Zikmund boarded a ship to Buenos Aires. While in Rio de Janeiro, Zikmund had a close call while swimming in the ocean on Copacabana beach. In Ecuador, they entertained the thought of leaving Czechoslovakia and settling there.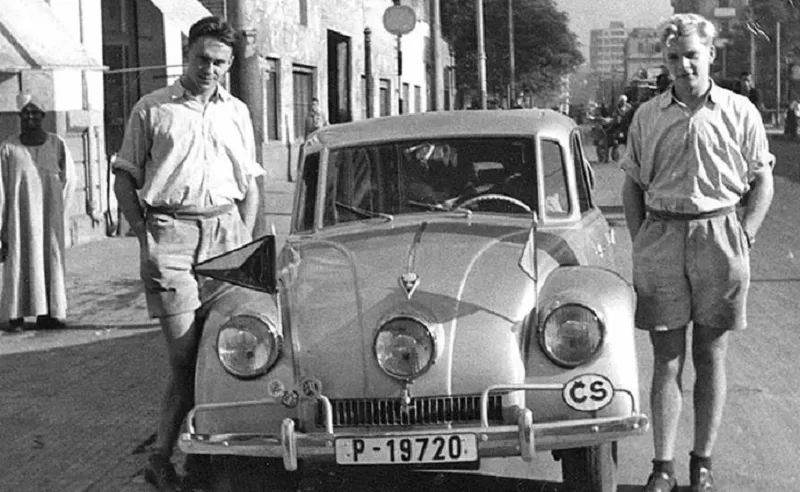 Hanzelka and Zikmund planned to travel the entire world. Unfortunately, their trip was interrupted by Soviet Premier Leonid Brezhnev in 1965. In 1963 and 1964, they delivered a report criticizing the poverty and political corruption they saw in the Soviet Union.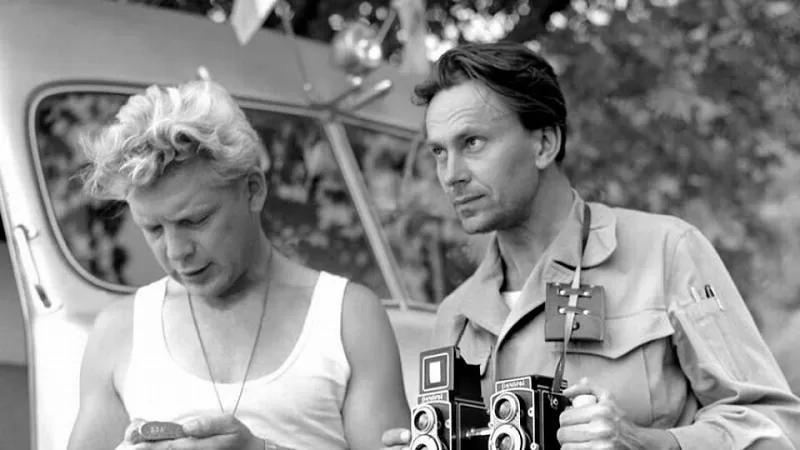 The Czechoslovak government blacklisted them and banned them from publishing. Yet, they continued writing. They were canceled for their anti-Communist activities during the Prague Spring in 1968. Their last book was banned even though it received 120,000 pre-orders.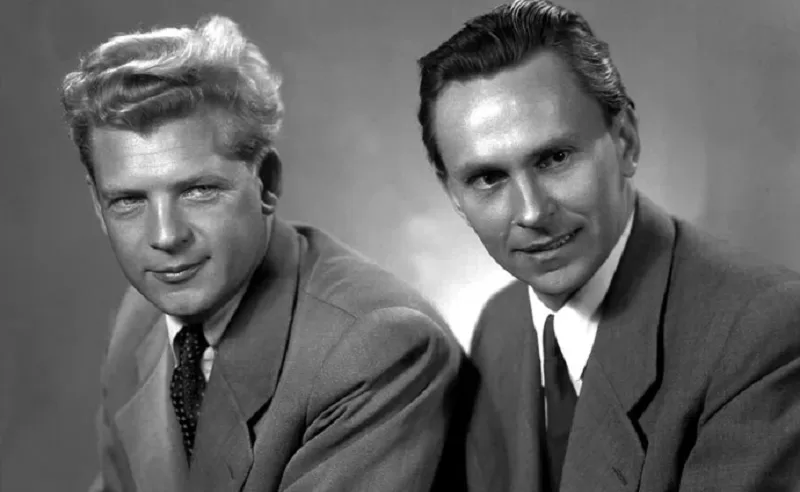 After the Velvet Revolution in 1989, Hanzelka and Zikmund were finally recognized as national heroes. Their book, Life of Dreams and Reality, was published in 1997 on the 50th anniversary of their first trip.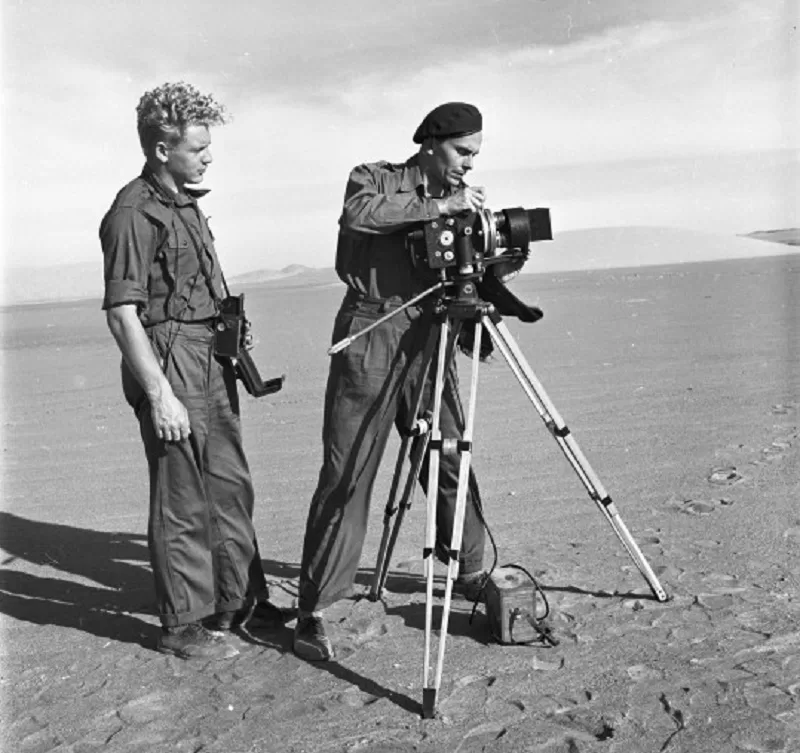 Hanzelka and Zikmund's journey was not only physical but also a cultural one. They were fascinated by the different cultures they encountered. They sought to capture the essence of each culture in their writings and photographs. They respected different cultures. They had the ability to understand and appreciate the people they met along the way.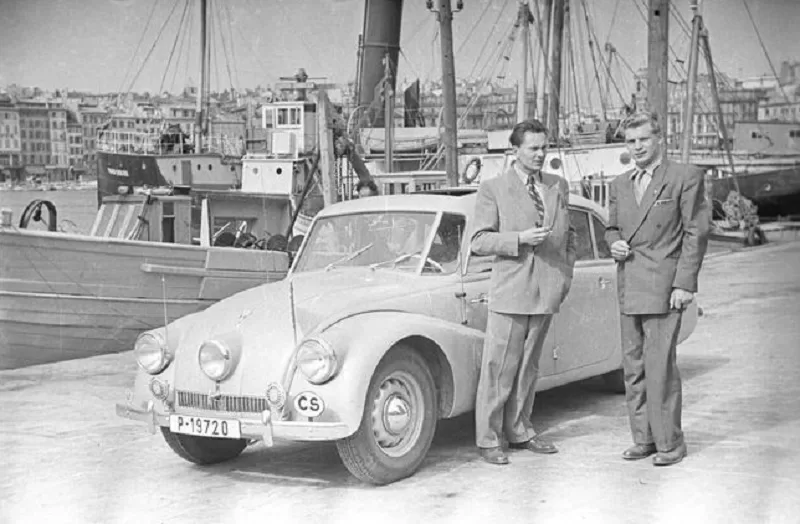 Hanzelka and Zikmund's adventures lasted for 1,290 days. It took them away from home for a total of 9.5 years. They visited 114 countries in total. They traveled approximately 111,000 kilometers. 60,000 of these were in their Tatra 87. On average, they traveled 80 kilometers each day, 50 of those being by vehicle.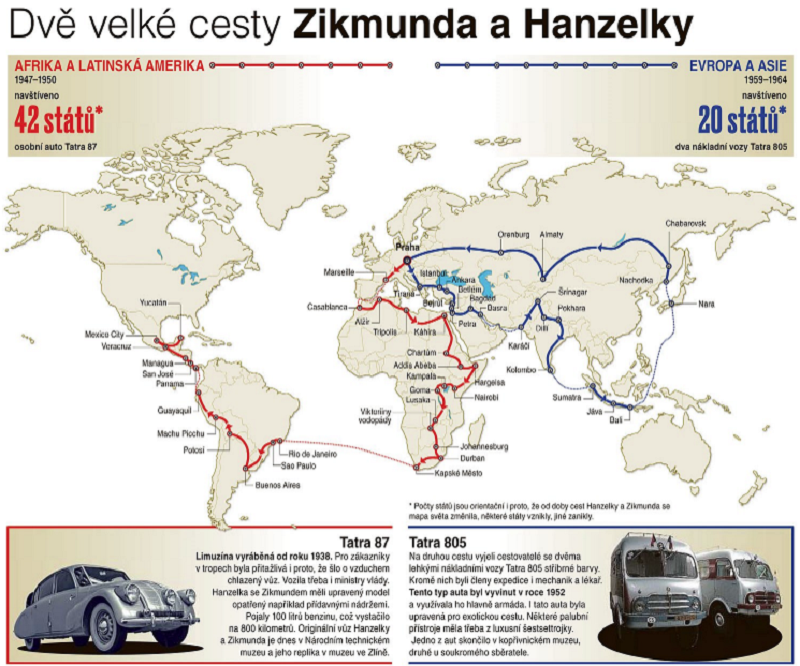 Their Tatra 87 took them to the highest point they reached, the top of Kilimanjaro mountain at 4,860 meters. They climbed the mountain itself on foot. At 6,000 meters, they hoisted the Czechoslovakian flag. The northernmost destination was Bohmholm Island in the Baltic Sea. They were also part of the first crew to complete crossing the Nubian Desert.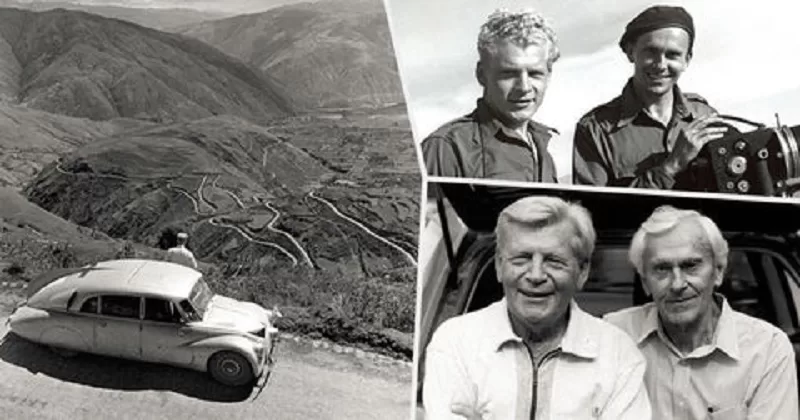 Zikmund and Hanzelka were well-known and respected travel writers in the Czech Republic. Zikmund finally fulfilled their goal of traveling around the world. He was able to visit Australia in 1992. Hanzelka was too ill to join. Hanzelka continued to write. He critiqued government corruption in the new free-market capitalism of the Czech Republic and Slovakia. Hanzelka passed away in 2003 and Zikmund passed away in 2021 at the age of 102.
A museum in Zlín is dedicated to the Czech globetrotters' travels. It includes their journals, articles, photographs, and other memorabilia. Their original car, the Tatra 87, is on display at the National Technical Museum in Prague. Zikmund received the Order of Tomáš Garrigue Masaryk from President Miloš Zeman in 2014. The 10173 Hanzelkazikmund asteroid (suggested by astronomer Jiří Grygar in 1995) is named after them.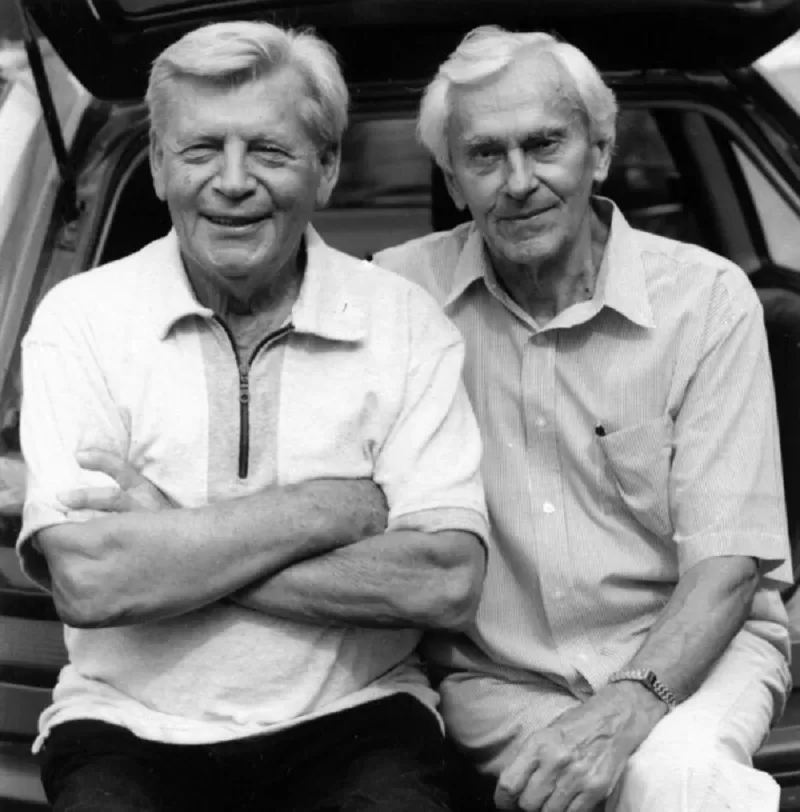 Their legacy continues to inspire and influence travelers today. Their books, photographs, and films remain popular. They are pioneers in travel writing and ethnographic photography. The duo brought the beauty and diversity of different cultures to life. They're remembered as two Czech globetrotters who captured the essence of the world.
The following are some older films that captured their globetrotting adventures.
Africa 1st part. From Morocco to Kilimanjaro
The first part of the travel trilogy – a feature film by globetrotters J. Hanzelka and M. Zikmund shows how the two travelers prepared for their first trip around the world and, in documentary footage, describe their experiences from the first half of the trip through Africa. You will see for yourself what obstacles they had to overcome on the ravaged roads of Abyssinia and in what danger the expedition's fate was during the daring passage through the Nubian desert. The film culminates with a climb to the highest mountain in Africa, the extinct volcano Kilimanjaro, whose peak is covered in ice all year round.
[I.] Zikmund – Hanzelka: Africa I – From Morocco to Kilimanjaro, Czechoslovakia, 1952
The second part of the travel trilogy begins with a journey in the equatorial region, where the travelers captured the most typical images of original Africa. The journey continues to the forests of the Belgian Congo, where they filmed the smallest people in the world. From Central Africa, they head south through Victoria Falls and the mysterious ruins of a medieval settlement in Zimbabwe. In Johannesburg, they witness a celebration of gold diggers. Their journey ends at the southernmost tip of Africa under Table Mountain in Cape Town. The film's end depicts the birth of a volcano shot from close range.
[II.] Zikmund – Hanselka: Africa – From the Equator to Table Mountain, Czechoslovakia, 1952
The third part of the travel trilogy features travelers Hanzelka and Zikmund arriving from Africa in South America. On their journey to film, they capture clouds of locusts on the plains of Argentina's Chaco, a snake farm in Butantan, skyscrapers in Buenos Aires and Rio de Janeiro, a visit lepers in Paraguay, waterfalls in Iguazú, a daring expedition to the jungles of the Marañon River basin in pursuit of the legendary skull hunters, an Indian settlement in Panama, and the journey ends prematurely in Mexico amid the ruins of ancient Indian temples and pyramids.
[III.] Zikmund – Hanzelka: From Argentina to Mexico, Czechoslovakia, 1953
Bibliography
Afrika snů a skutečnosti, 1952 – First English edition published in 1955 by Artia, Prague under the title "Africa: The Dream and the Reality".
Tam za řekou je Argentina, 1956
Přes Kordillery, 1957
Velké vody Iguazú, 1957, select chapters from Tam za řekou je Argentina
Za lovci lebek, 1958 – First English edition published in 1963 by Artia, Prague under the title "Amazon Headhunters".
Mezi dvěma oceány, 1959
Obrácený půlměsíc, 1961
Turkey, 1962, photo album
Kurdistan, 1962, photo album
Kashmir, 1962, photo album
Syria, 1963, photo album
Tisíc a dvě noci, 1967
Světadíl pod Himalájem, 1969
Zvláštní zpráva č. 4, written in 1964 not published until 1990
Cejlon, ráj bez andělů, 1991
Sumatra, naděje bez obrysů, 1991
Život snů a skutečnosti, 1997
Afrika kolem Tatry, 2000
Přemožení pouště, 2002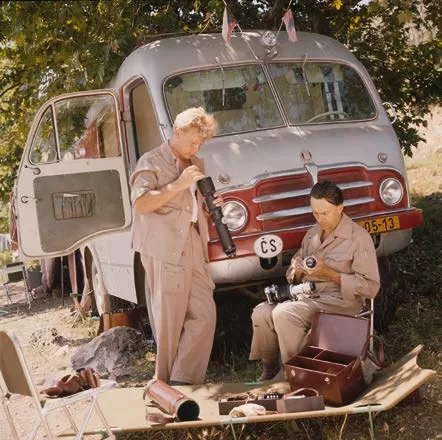 My grandfather (on my mother's side) was a friend of theirs, and my mother recalls numerous visits when the adventurers visited her in her childhood home. She'd sit on their laps and listen to stories of their travels, and they always told her they'd take her on their travels and she'd be the new 'African princess', 'Indian princess', 'Turkish princess', and so on. (It depended on which country they were discussing that particular evening.)
I highly recommend the following DVD about their lives available from my friends at CzechMovie.com. Make sure to tell them Kytka from TresBohemes sent you!
Learn more about the Hanzelka and Zikmund film here.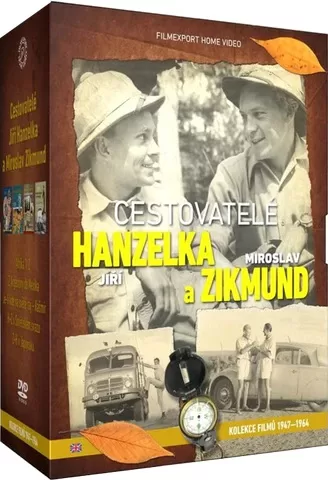 For my Czech-speaking friends, there is a short documentary about the Czech globetrotters that you can watch at this link. The program is called 100 years of Miroslav Zikmund and the summary is as follows:
"Legendary Czech traveler Miroslav Zikmund celebrates his incredible hundredth birthday today. He was born on February 14, 1919 in Pilsen and took his first big trip to Subcarpathian Russia at the age of 16. But the most famous are his expeditions with Jiří Hanzelka, whom he met in 1938 at the University of Business in Prague. Both did not finish this until 1946, because the universities were closed during the war. The very next year, they set off on their first and most famous journey. It led to Africa and South America, and both men took it with a Tatra 87."
In conclusion, Hanzelka and Zikmund's journey was a remarkable and pioneering effort that captured the beauty and diversity of the world. Both globetrotters were granted tens of awards for their work, of which two were state decorations – Order of the Republic (1953) and a Medal of Merit of II. Degree (1999).
Together they visited more than 100 countries located on four continents and wrote 18 travel books, which in 143 editions totaled 6, 524,796 copies translated into 11 languages and were also published in shorthand or Braille. They wrote more than 1,500 newspaper and radio reports and made 4 full-length films and 147 short films.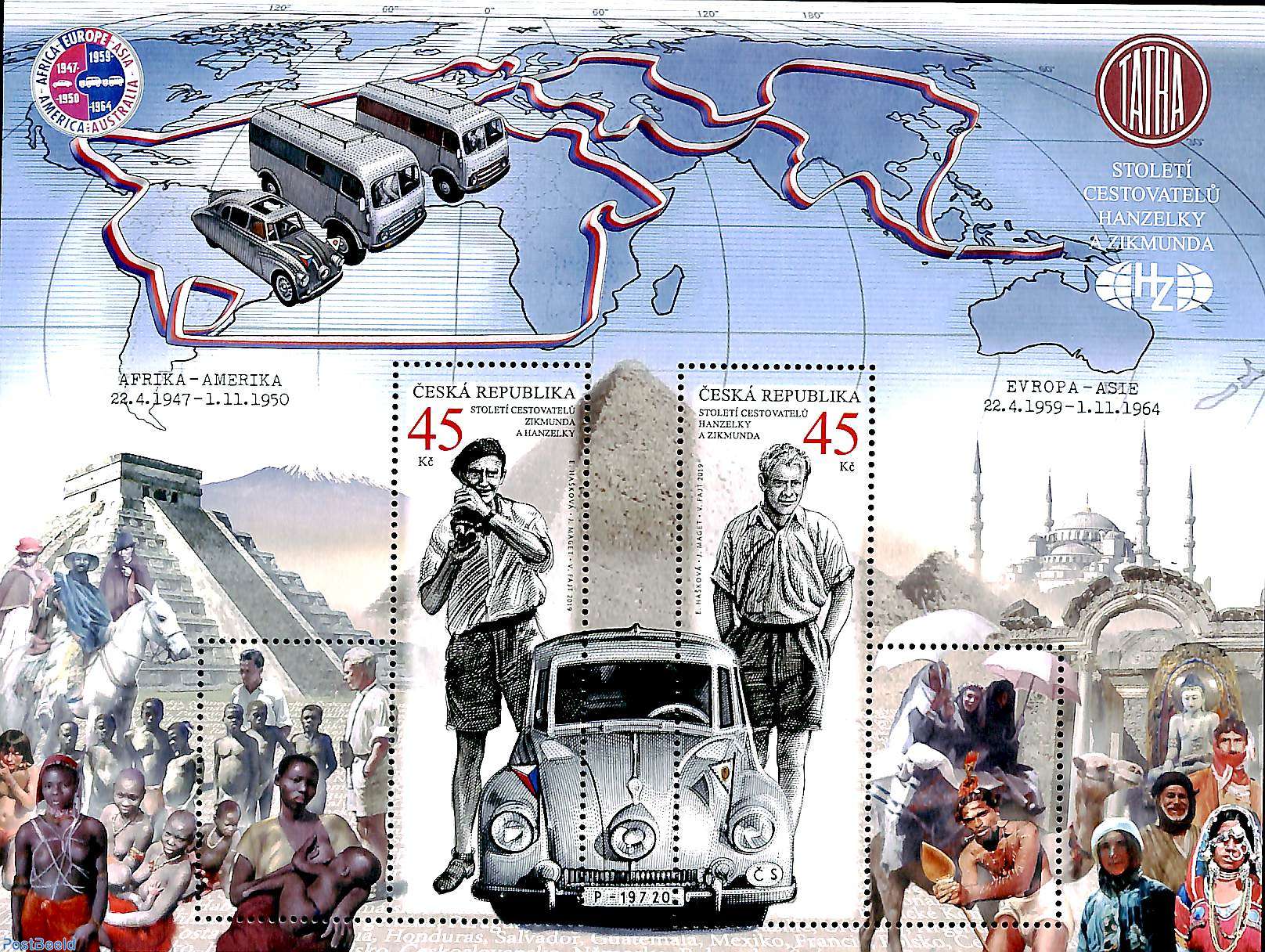 Their legacy continues to inspire and influence travelers today, and their books, photographs, and films remain popular and relevant. They are remembered as two Czech globetrotters who explored the world and captured its essence in a way that has captured the imagination of people for generations.
Thank you in advance for your support…
You could spend hours, days, weeks, and months finding some of this information. On this website, we curate the best of what we find for you and place it easily and conveniently into one place. Please take a moment today to recognize our efforts and make a donation towards the operational costs of this site – your support keeps the site alive and keeps us searching for the best of our heritage to bring to you.


Remember, we rely solely on your donations to keep the project going.
We appreciate you more than you know!
If you have not already subscribed to get TresBohemes.com delivered to your inbox, please use the form below now so you never miss another post.