Today I wanted to share some illustrations by Jessie Mothersole from her book, Czechoslovakia The Land of An Unconquerable Ideal. This work of hers was inspired by a trip she took to the Czech Republic (then called First Czechoslovak Republic) in 1923 for a book she was asked to write by her London publishers. She could have picked any country of her choosing, but writes in the preface, "for the country of Hus had always attracted me, and Professor Masaryk's lectures in London during the war had stimulated my interest in this part of Central Europe."
"I made my choice accordingly, and proposed that I should spend some months in the towns and villages of Bohemia, Moravia, and Slovakia, painting the people and their surroundings. The publishers did not receive my choice as enthusiastically as I had expected. They said it would be impossible for me to stay in the villages, especially in Slovakia, s the people there were very uncivilized. "And besides," they added, "no one in England wants to hear about the Slavs." Every word they said helped me to confirm my impression that there was plenty of room for such a book as I proposed to write, and so the interview ended. Five minutes later, I was having an interview with another publisher, and this book is the result.
As mentioned, that book came to be called Czechoslovakia The Land of An Unconquerable Ideal and it was published in 1926. She was so inspired by our country, she also created sixty illustrations for the book.
Today, I am sharing a few of these below…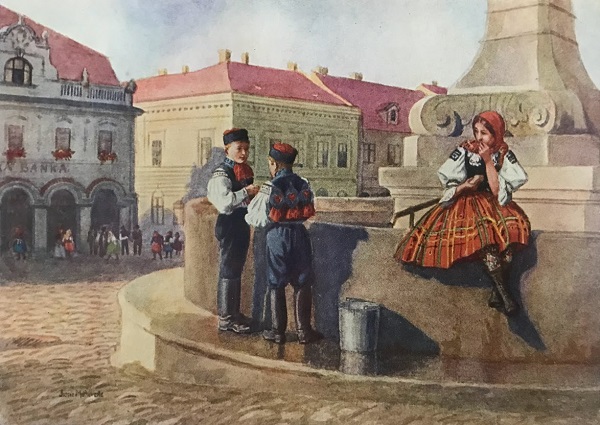 The Fountain, Uhersky Brod, Moravia. Illustration for Czechoslovakia by Jessie Mothersole.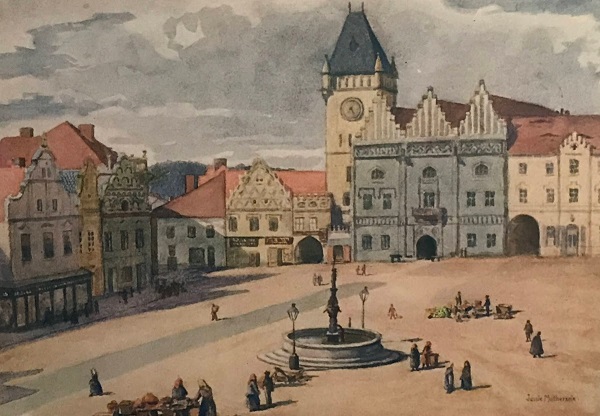 The Square at Tabor, Bohemia. Illustration for Czechoslovakia by Jessie Mothersole.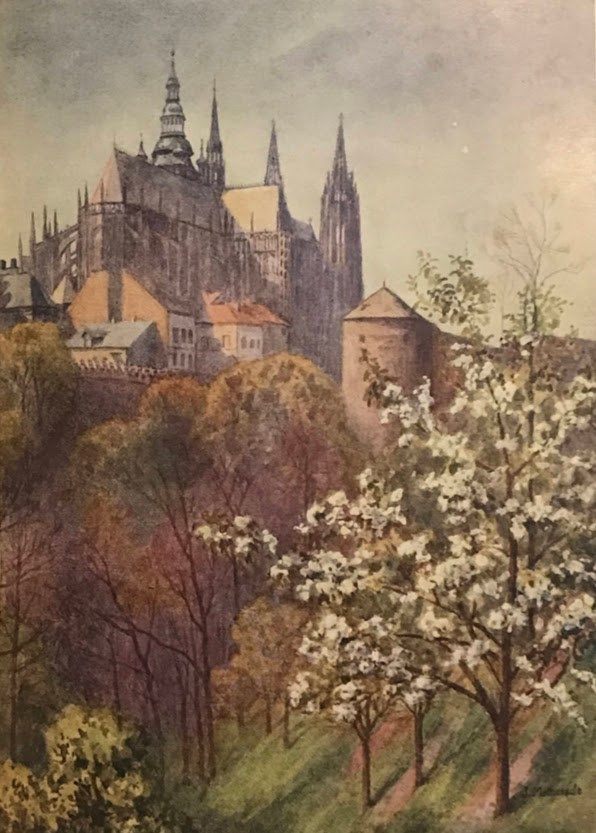 The Cathedral, Prague. Illustration for Czechoslovakia by Jessie Mothersole.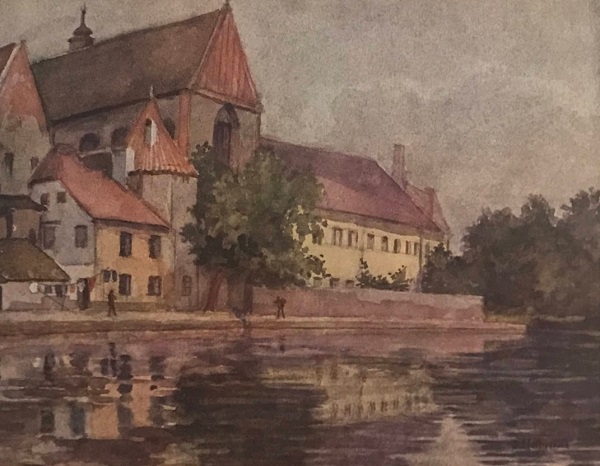 Ceske Budejovice, Bohemia. Illustration for Czechoslovakia by Jessie Mothersole.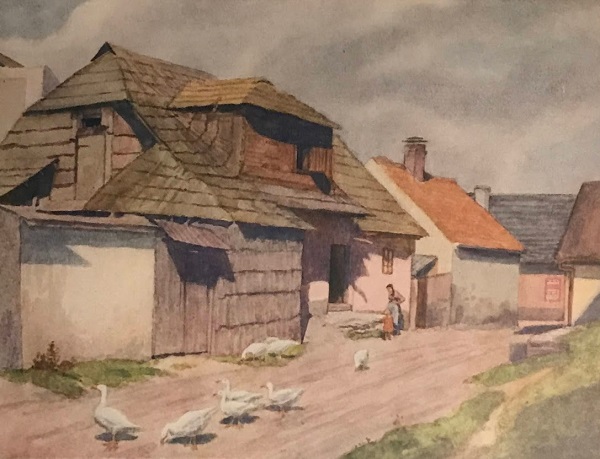 Old Wooden Cottage, Domazlice, Bohemia. Illustration for Czechoslovakia by Jessie Mothersole.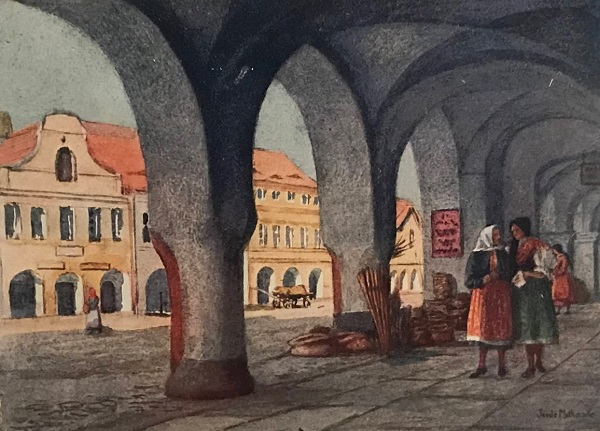 Arcaded Square, Domazlice, Bohemia. Illustration for Czechoslovakia by Jessie Mothersole
The book is a wonderful addition to any private library. It is almost 300 pages (+60 illustrations) and you can feel her admiration for the country in her writing. In conclusion, she ends the book with the following:
"The unconquerable ideal toward which mankind is striving could not be more clearly expressed than in the following words (from the Times of May 23rd, 1925), which throw light on the pathway long-sought and followed by all the greatest leaders of the Czechoslovak nation: All true government must rest on spiritual sanctions. Law, commerce, wealth, military power cannot secure any nation's true well-being. We are slowly learning that, just as man cannot live by bread alone, so neither can any nation live by its material resources … Cooperation ultimately depends on spiritual affinities … Different races do not maintain harmony amongst themselves merely under the impulse of a common policy secured by their hope of gain. True unity in a nation, or fellowship between different peoples, depends on the recognition of those eternal verities of righteousness, brotherhood, and mutual service; in obedience to which men attain freedom to be their best, and count nothing higher than to share their liberty with others."
The book was very well-received and educated those who had previously been in the dark about our country.
Jessie Mothersole (1874–1958) was a British archaeologist, artist, and author. It is believed was the first 'modern' woman to walk the length of Hadrian's Wall. In fact, 2022 marks a century since her travelogue Hadrian's Wall was published – documenting her journey along the 73-mile monument which she undertook in 1920. She was an active campaigner for Women's suffrage and was never afraid to travel solo or veer off the beaten path.
An interesting and very talented woman indeed!
Thank you in advance for your support…
We know that you could spend hours, days, weeks and months finding some of this information yourselves – but at this website, we curate the best of what we find for you and place it easily and conveniently into one place. Please take a moment today to recognize our efforts and make a donation towards the operational costs of this site – your support keeps the site alive and keeps us searching for the best of our heritage to bring to you.


Remember, we rely solely on your donations to keep the project going.
We appreciate you more than you know!
If you have not already subscribed to get TresBohemes.com delivered to your inbox, please use the form below now so you never miss another post.