Today's post is about Czech illustrator Marie Fischerová-Kvěchová. The images below are from an old book of songs from 1925. The book is entitled, Folk Songs of Bohemia, published in 1925. A delightfully-produced collection of ten Czech love songs set to music with lyrics in English, including "Much Love"; "I Love You"; "Mariana"; "Frank"; "Johnny Dear" and "The Kiss".
The world she illustrated was so different from the world of today.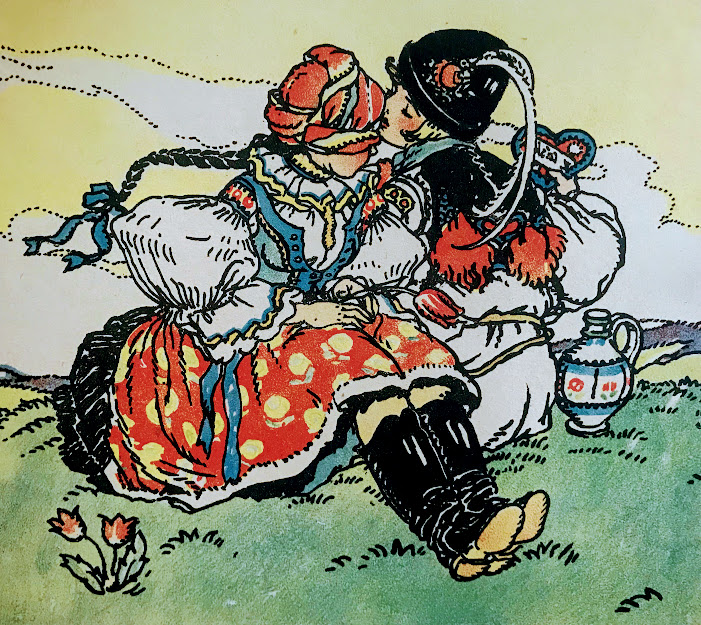 Marie Fischerová , née Kvěchová ( March 24, 1892 , Kutná Hora – June 2, 1984 , Černošice, was a Czech painter and illustrator .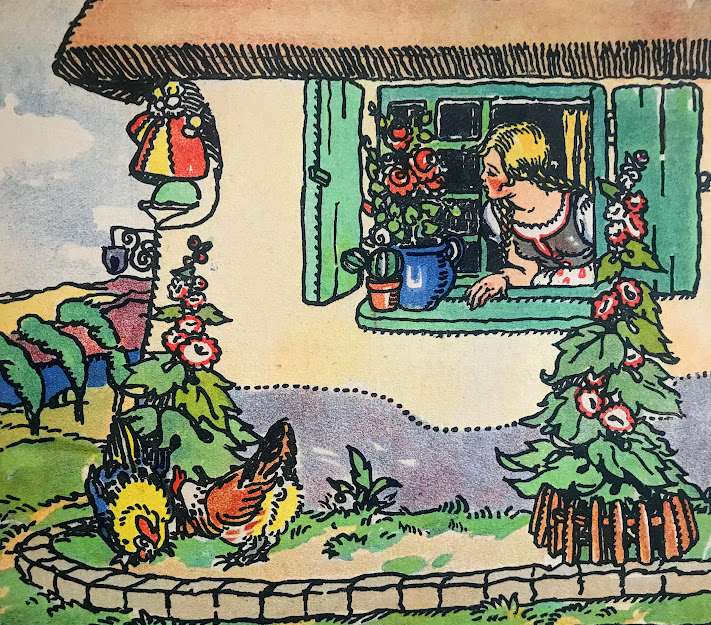 She was born in Kutná Hora, in the family of the Czech inspector Otomar Kvěch and his wife Marie, née Zavačová. She studied at the School of Applied Arts in Prague, where her professors were, for example, Jakub Schikaneder and Jan Preisler, and then completed a one-year study stay in Paris with Professor Nandin at the Colarossi Academy.
With the outbreak of the First World War, she returned to Prague where she married doctor Jan Fischer on November 16, 1915. Thanks to her husband's profession, she got into the hospital environment, where her first drawings of newborns were created. In 1933, the couple moved permanently to Villa Sacrabonie in Černošice. They had three children together, Maria, Jelena (ethnographer Jelena Látalová ) and Jana.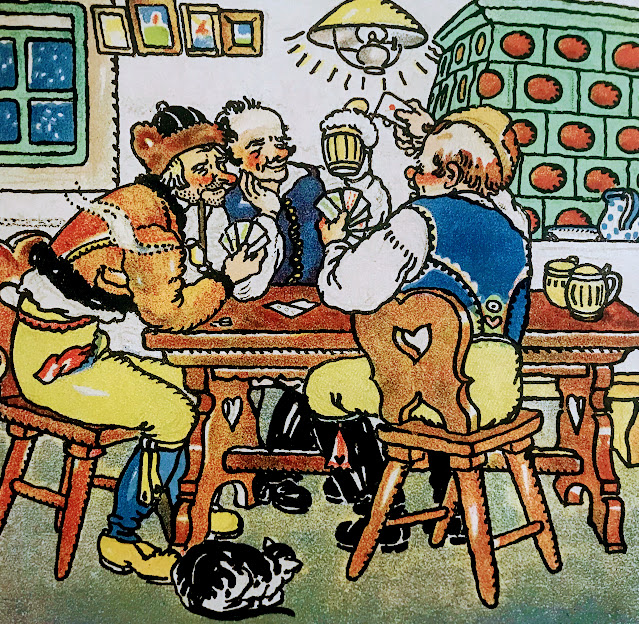 In the interwar years she was a sought-after author of children's books, after the communist coup of 1948 she was forbidden to publish, also due to her inclination towards the traditional values ​​of Christian society and the natural religiosity of many of her works. She therefore resorted to portraying family members, friends and acquaintances. In addition to the world of children, the painter's inspiration was nature, she captured her garden and the surroundings of the family villa many times in drawings and watercolors.
The painter loved to travel, she mainly visited the ethnographic areas of Bohemia and Moravia, from where she brought many sketches of folk costumes. The Fischers also went abroad to ethnographic realities, to Slovakia , Subcarpathian Russia and Bulgaria .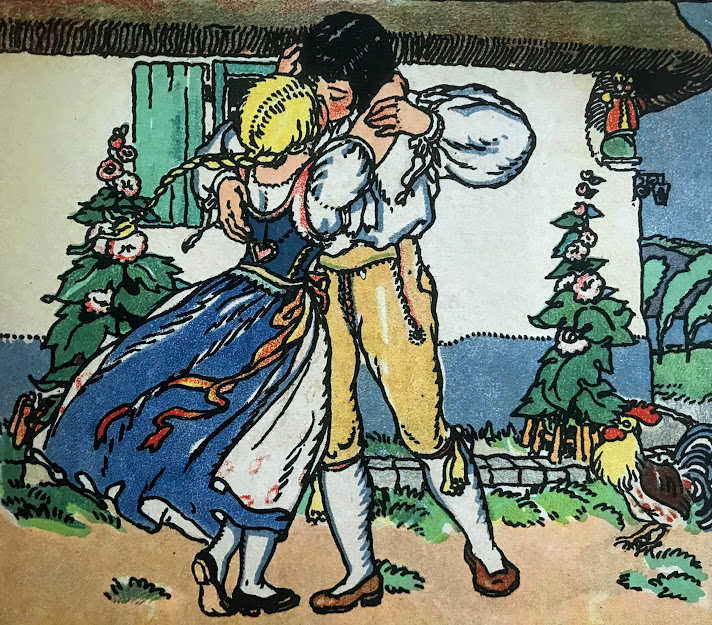 She is best known as the author and illustrator of children's books (especially in the publishing houses of B. Kočí, K. Kožíšek or E. Fastr) or as the illustrator of books by other authors (Božena Němcová 's grandmother, Jan Karafiát 's Beetle). a number of landscape paintings, sgraffito for the children's care center in Dvůr Králové, wall paintings for schools, her drawings have also found application in the fields of applied art, they appear on postcards, promotional printed matter, calendars or children's dice.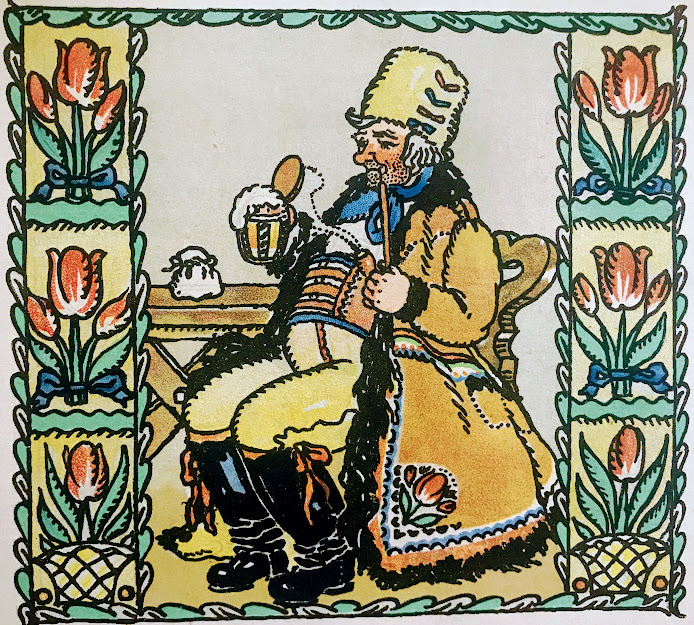 The painter created designs for children's clothing and dining services, cut-out children's dolls and a cut-out folk nativity scene. She used inspiration from folk art in dozens of studies of folk costumes and illustrations of folk songs. The painter herself actively participated in the activities of Zádruhy, a handicraft art cooperative, for which she designed mainly for children's distinctive clothing designs. For her work she was awarded the Gold Medal at the Exhibition of Decorative Arts in Paris in 1925, which is a valuable collector's item.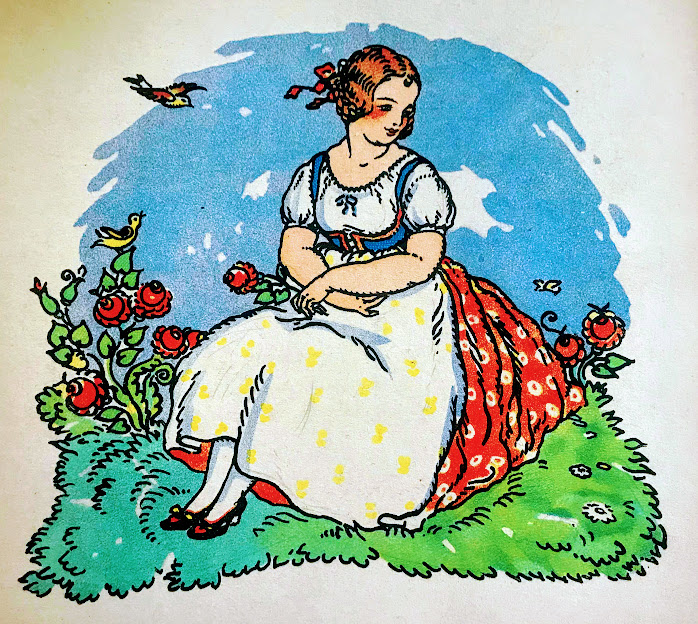 I hope you enjoyed this little piece with beautiful illustrations from a much simpler time.
Thank you in advance for your support…
We know that you could spend hours, days, weeks and months finding some of this information yourselves – but at this website, we curate the best of what we find for you and place it easily and conveniently into one place. Please take a moment today to recognize our efforts and make a donation towards the operational costs of this site – your support keeps the site alive and keeps us searching for the best of our heritage to bring to you.


Remember, we rely solely on your donations to keep the project going.
We appreciate you more than you know!
If you have not already subscribed to get TresBohemes.com delivered to your inbox, please use the form below now so you never miss another post.