Near the city of Kolín lies a small village known as Býchory (only 7 km northeast). In this village, sits a unique a Neo-Gothic castle chateau estate. Today we are going to call the Býchory chateau, the castle of the Stradivarius violin because it was once owned by world famous Bohemian violinist and composer, Jan Evangelista Kubelík.
I suggest that you allow this video to play in the background as you read our post today…
Jan Kubelík was born in Michle (now a part of Prague) where his father, a gardener by occupation, was an amateur violinist.
He taught his two sons the violin and after discovering the talent of Jan, who was aged five at the time, arranged for him to study with Karel Weber and Karel Ondříček.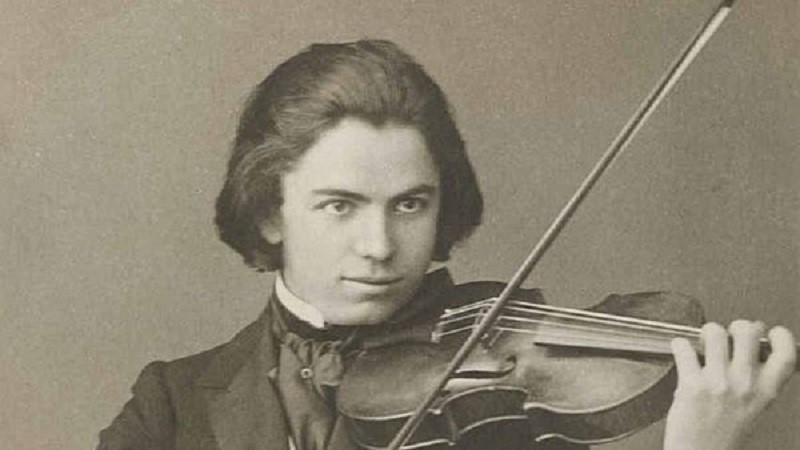 He was rumored to be a wunderkind from early childhood. The eight year old Jan was not afraid to perform in public and he easily gave some variations on Paganini.
By the age of twelve, his career began escalating and as a result he got into the Prague Conservatory. An exception was made for this talented boy, because normally, one would have to be at least fourteen years old to attend. At the Conservatory, Jan studied with Otakar Ševčík.
In Russia, his concerts would sell out within the first few hours.
As a sign of respect to his homeland he received an honor from Tsar – the Order of St. Anna.
Upon completing his concert in Paris, he received the Chevalier Legion of Honour.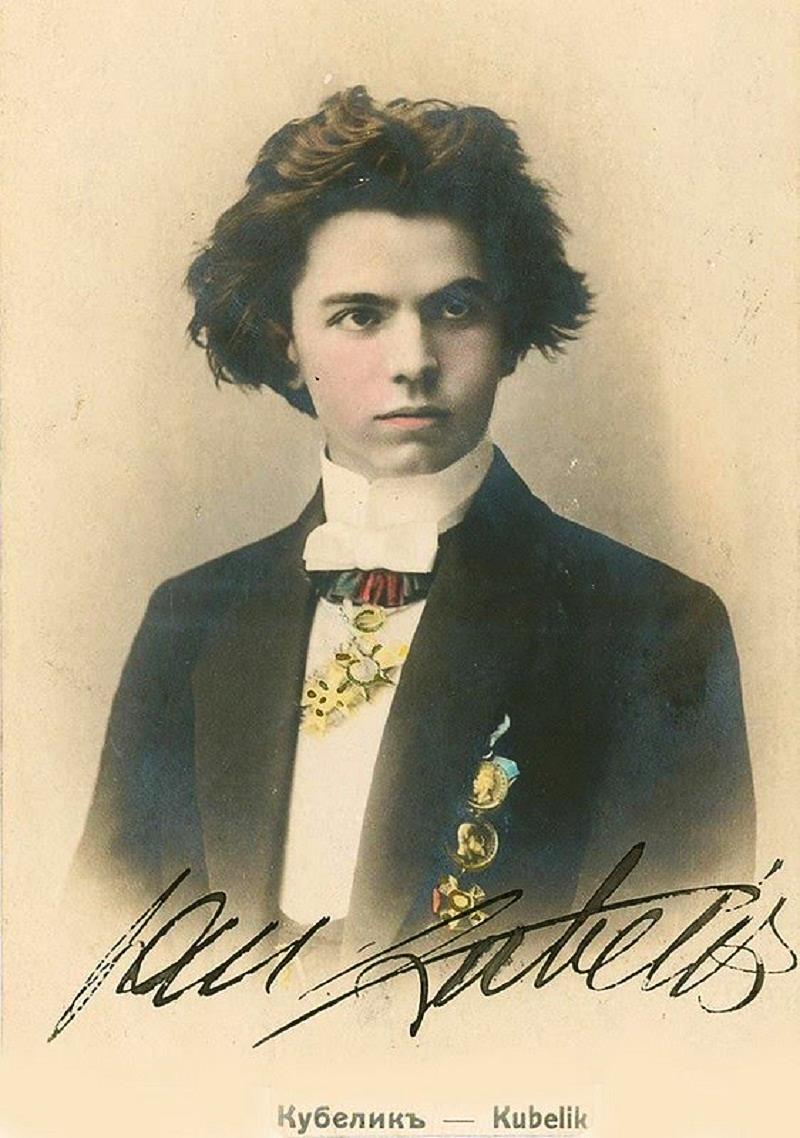 As a child, he used to practice 10 to 12 hours a day, or "until my fingers started to bleed, he would later say.
He was known, at a very young age as a genus and virtuoso, much younger than most of his peers.
After 1898, he toured as a soloist, soon becoming renowned for his great virtuosity and flawless intonation, and his very full and noble tone.
In fact, he quickly earned the name "The Czech Paganini".
You can click the image below to see it in a larger size if you wish to read the article.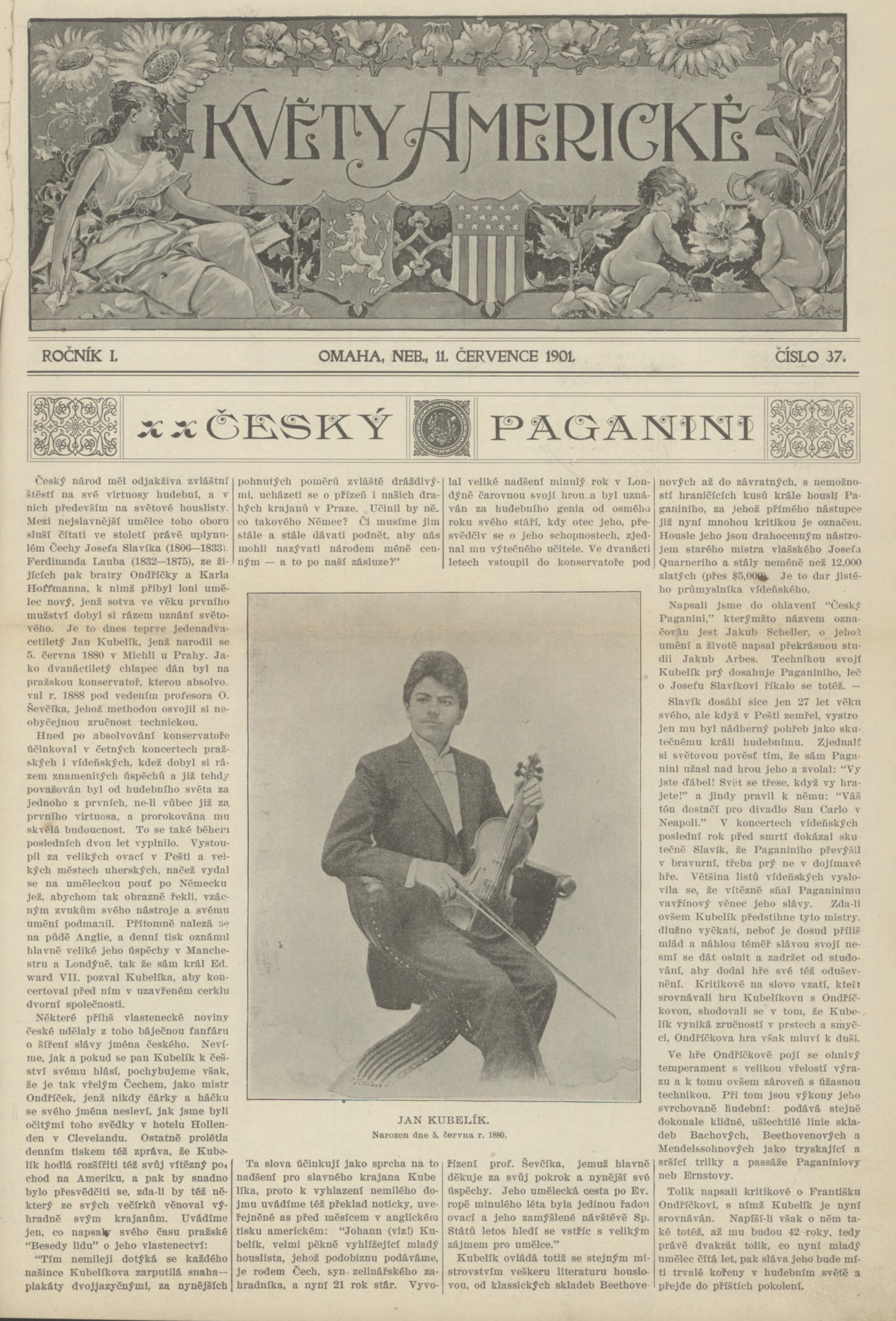 Kubelík played a Guarneri del Gesù violin and also owned two Stradivarius violins, one being the world famous 1715 Stradivarius Emperor.
On Christmas of 1910, Jan Kubelík bought the priceless musical instrument – the famous Stradivarius violin Emperor from 1715.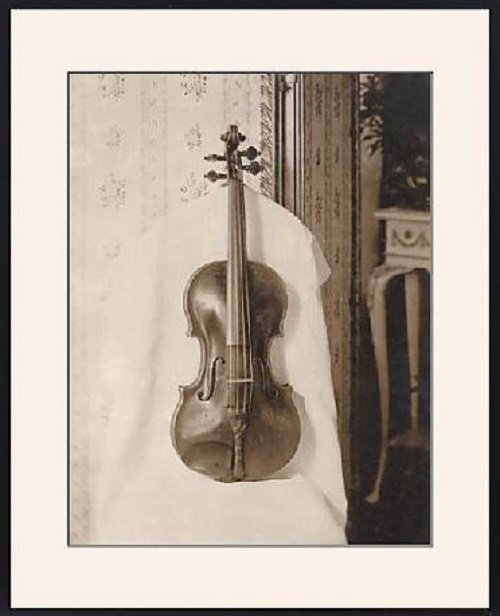 Together with the Emperor, Jan traveled around the world and played on this instrument for his children until the end of his life.
After great success following his debut in Vienna, and in London (where he first appeared at a Hans Richter concert in 1900), Kubelík toured in the USA for the first time in 1901.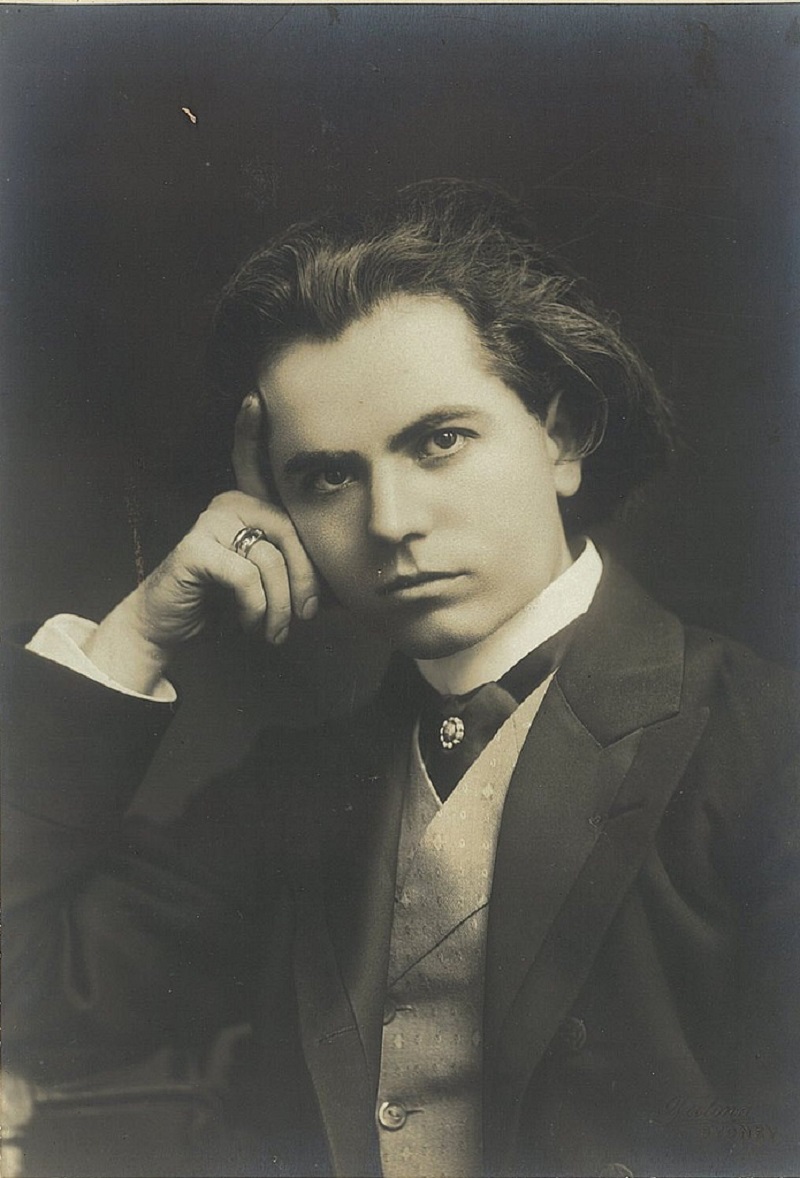 He made his first appearance for the Royal Philharmonic Society, London in the season of 1901-2, and in 1902 was awarded the Society's Gold Medal (in succession to Eugène Ysaÿe).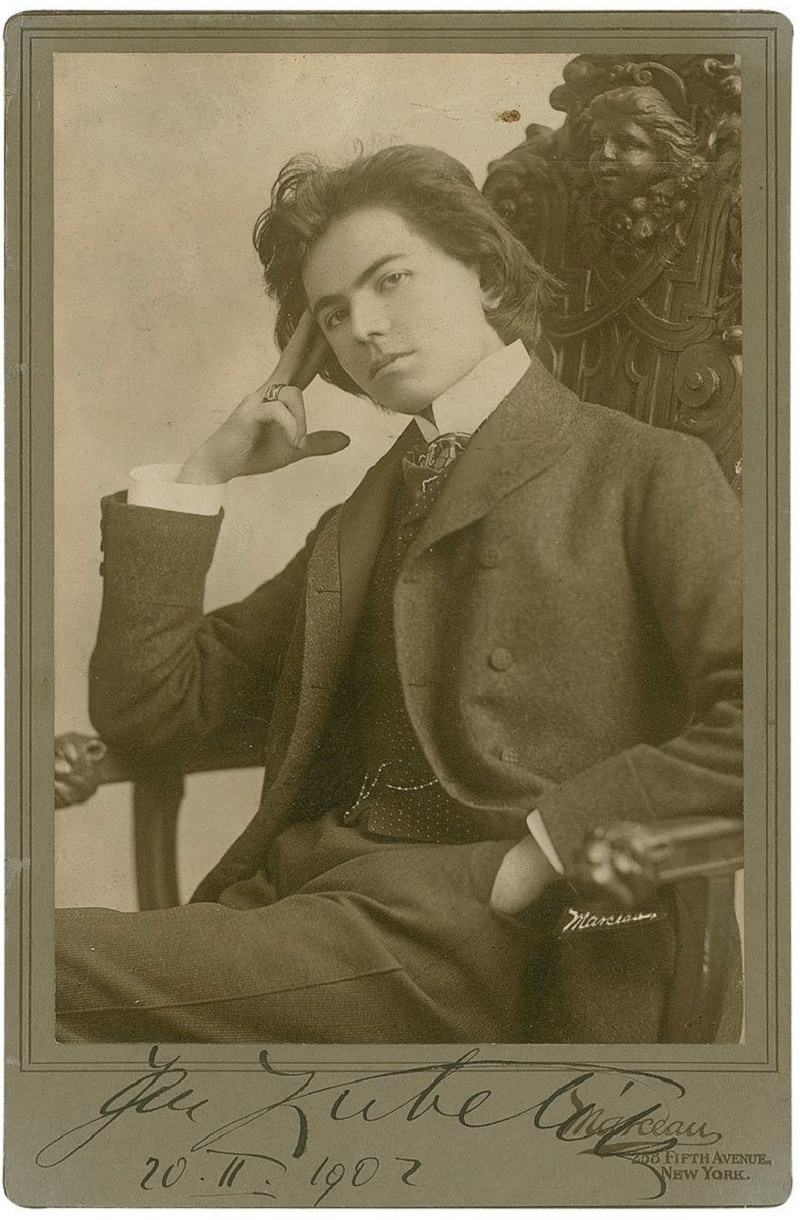 Being a very humble person from the beginning of his life (his father was a tailor), he became the patron of arts and donated large amounts of money for the emerging Czech Philharmonic.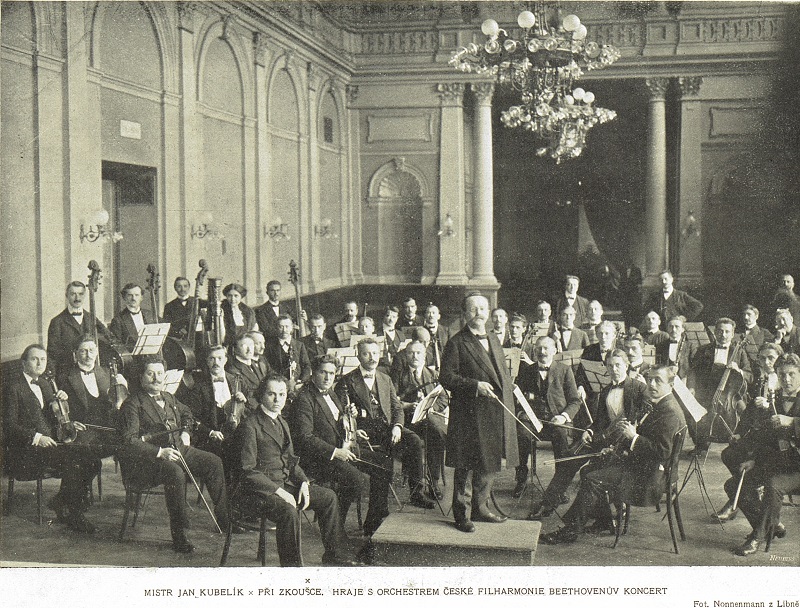 In 1902, he brought the Czech Philharmonic Orchestra to London, having assisted it financially in the previous year.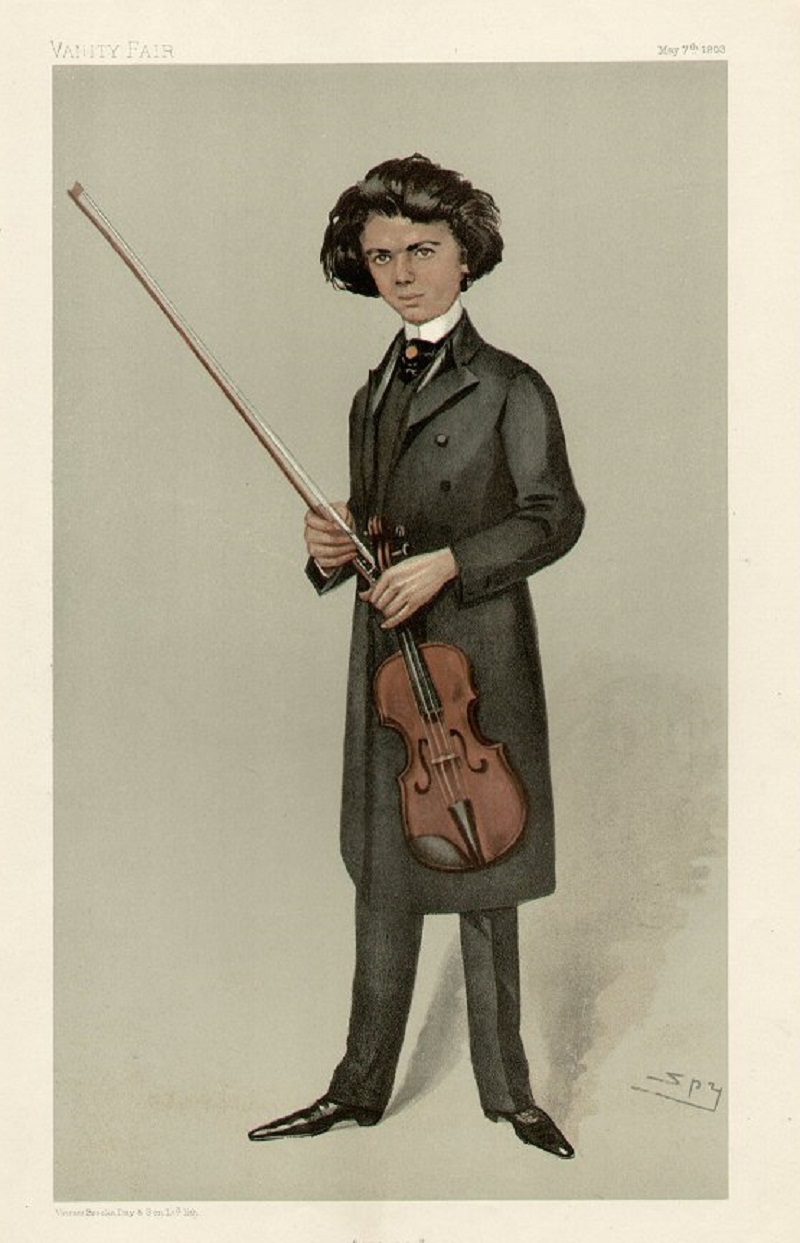 Thank you, Maestro!
Only in his early 20s, he had already traveled around the world and was receiving an astronomical salary.
He was successfully welcomed in Milan, Paris and London.
His concerts in Vienna were such a huge success that musical critics began saying, "if he lived in the Middle Ages he would be burned at the stake charged with the sorcery of a wizard".
This article, reprinted from Musical Courier, Issue 81, September 23, 1920:
Kubelik Ready for American Tour

One of the greatest violinists of all time, a name that stands among foremost living artists, Jan Kubelík is prepared to start on his sixth tour of the United States, Canada, and Cuba. During the war Kubelík played many times for war benefits and helped substantially to relieve suffering. The most remarkable record of number of concerts given by any artist was made by Kubelík.

In Rome, he played forty times. One of these concerts was specially arranged for His Holiness the Pope who kissed and congratulated him and also invited him to return soon to give the whole Vatican an opportunity to hear his marvelous art.

In Paris, where Kubelík has already played forty-two times and where the house had been sold out weeks ahead, he made such a sensation that he was awarded the medal of the Legion of Honor by the French Republic when he was only twenty-two.

In London, which city he counts as his second home, Kubelik has already appeared seventy-five times and was accorded an honor seldom shown any other artist, namely he was awarded the Beethoven Medal, and was made an honorary member of the London Philharmonic Society.

In Vienna, he has played fifty-two times, including many recitals for the late Emperor Franz Josef who rewarded him with the highest honors.

In Petrograd, where Kukelik has given forty concerts, he played four times in private recital for the late Czar and his court.

In Nice, he has played thirty-four times.

For his American tour, Kubelik has especially prepared twenty-two big concertos besides the three new ones of his own composition which he wrote during the war, to say nothing of over a hundred violin compositions, among which are four of his own works, namely Aria, Pierrette, Mattinata, and Melodie.

Everything seems to indicate that Kubelik's popularity in this country has in no way diminished. That he is still the idol of thousands of concertgoers here is shown by the number of inquiries received by his manager, Otokar Bartik, from individuals from all over the United States.
Such was the extent of his virtuosity.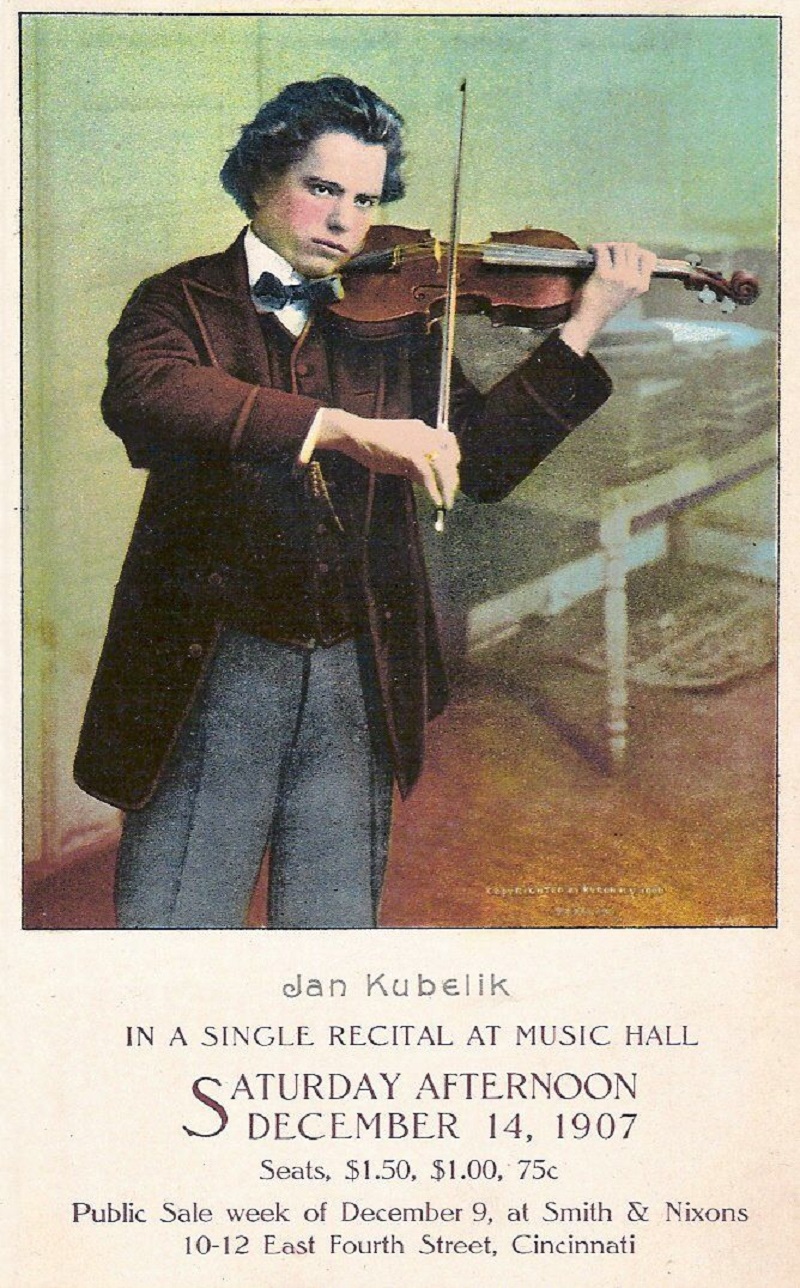 In 1903, he married the Countess Anna Julie Marie Széll von Bessenyö (Marianne Csaky-Szell) who was born on March 1, 1880 in Budapest.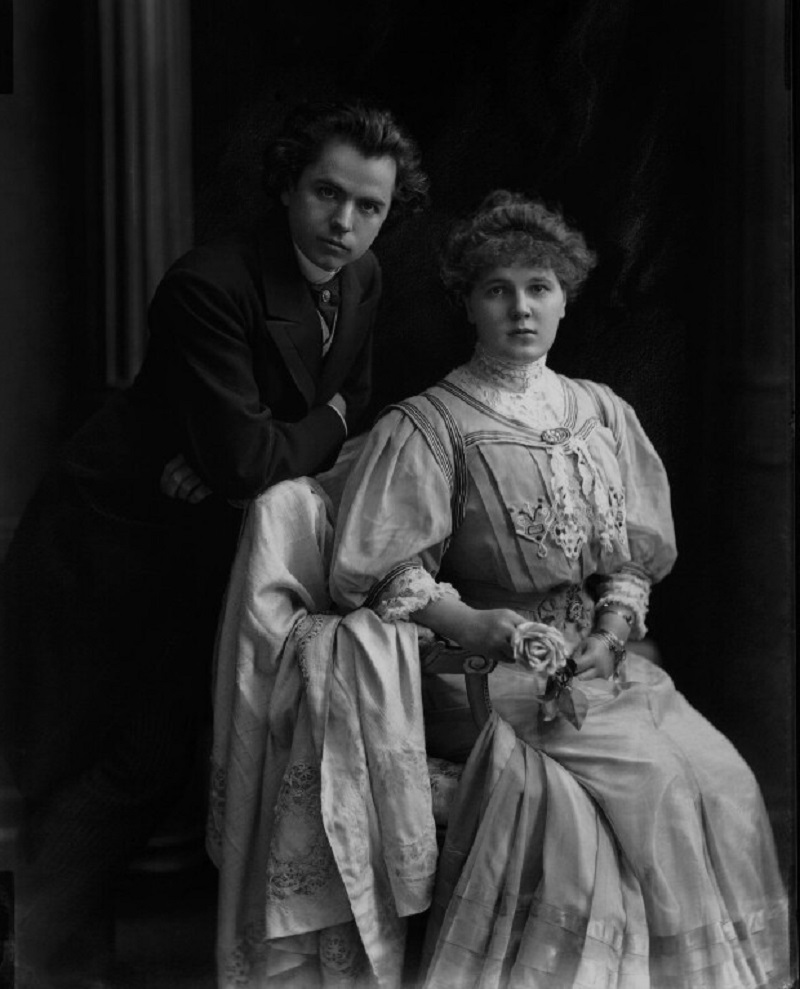 Anna was the niece of former Prime Minister of Hungary, Kálmán Széll.
In 1904 the loving couple bought  Býchory castle.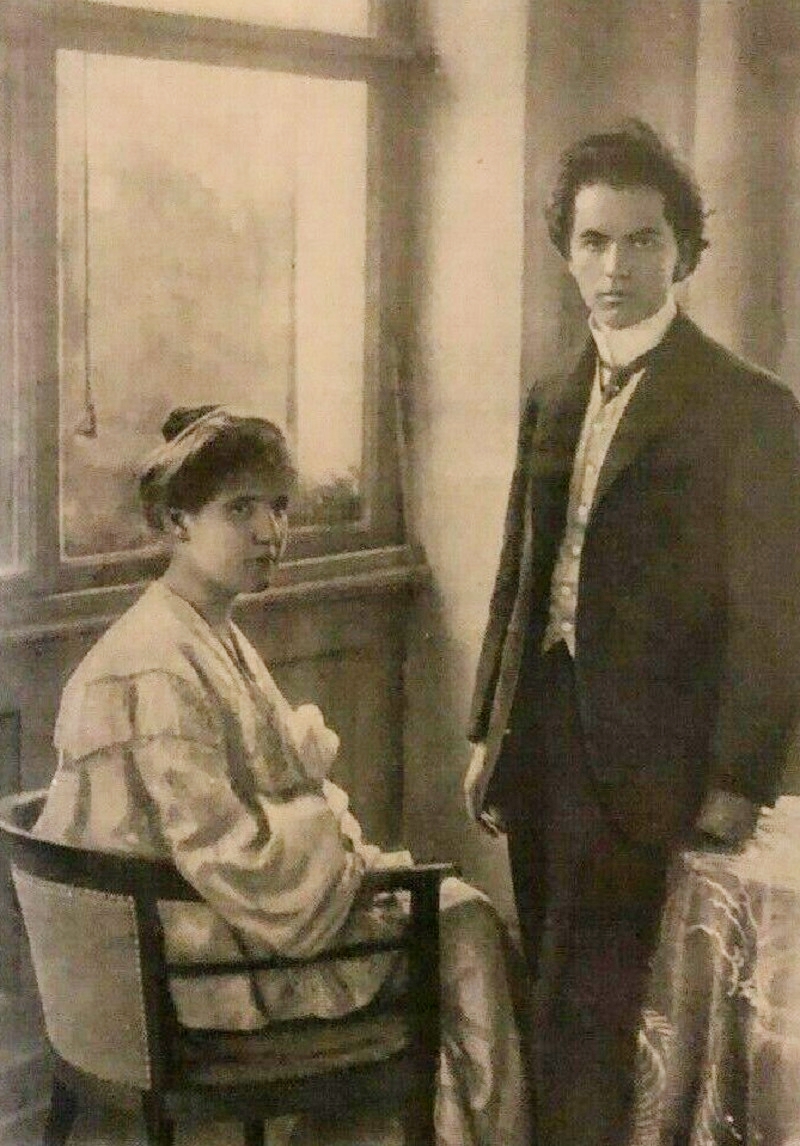 A very gifted violinist herself, Marianna and Jan begin living a life full of happiness in this castle and she begins giving birth to many little virtuosos.
In succession, they have five beautiful daughters (who all go on to become accomplished violinists). Altogether they have eight children; the five violinist daughters and three sons, among them conductor Rafael Kubelík. But more on that later…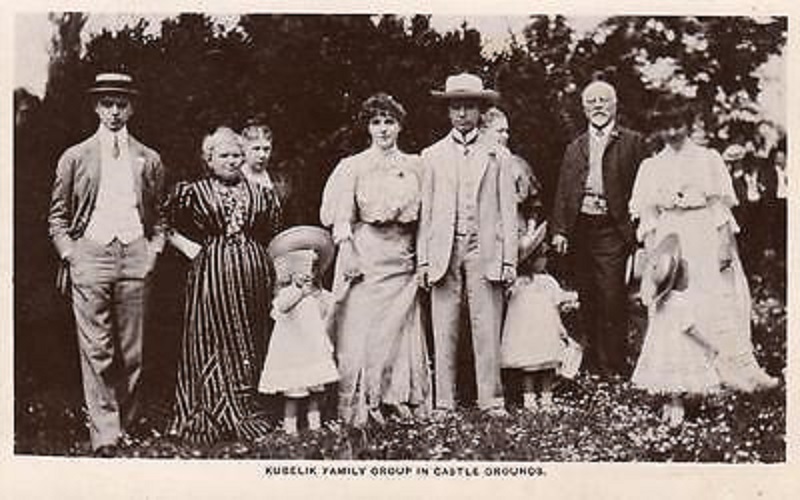 Jan Kubelík was one of the finest interpreters of the classical violin repertoire.
It was said that he did not simply play, he sung through his beautiful violin!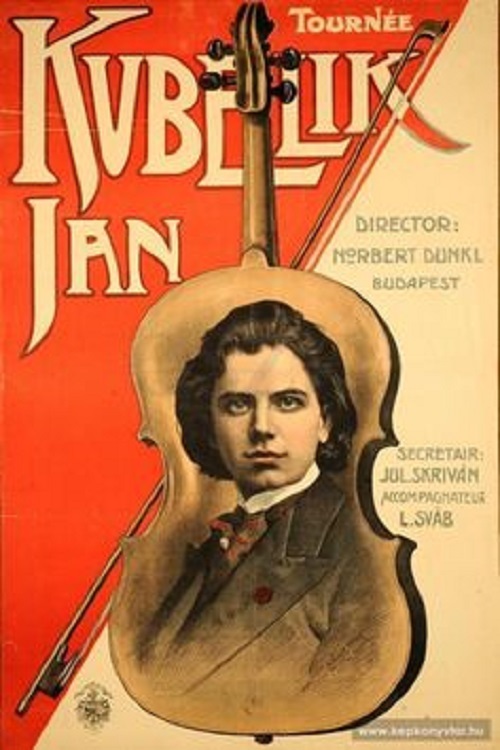 In 1907, reviewing a concert by Kubelik at New York's massive Hippodrome Theatre, the New York Times wrote
"Mr. Kubelik's artistry is of the most remarkable kind. He is not a deeply moving player; he has not the power of touching profoundly and immediately the hearts of his listeners nor of laying hold of the inner mystery of the greatest music. There is something aloof in him as he plays it; yet few have the power of so ravishing the senses with the sheer beauty of his tone, the charm of his cantilena, the elegance and ease with which he masters all the technical difficulties of what he is playing so that they no longer suggest themselves as difficulties. Octaves, thirds and sixths drop from his instrument in a tone of honeyed sweetness and oily smoothness; not a large tone, but one of indescribable roundness and purity; his runs and passages of all sorts are as pearls from his hands. There is something of feminine grace and charm in Mr. Kubelik's playing, and he seldom compels by its authority or stirs by its passion and virility, but in its way it is wholly delightful."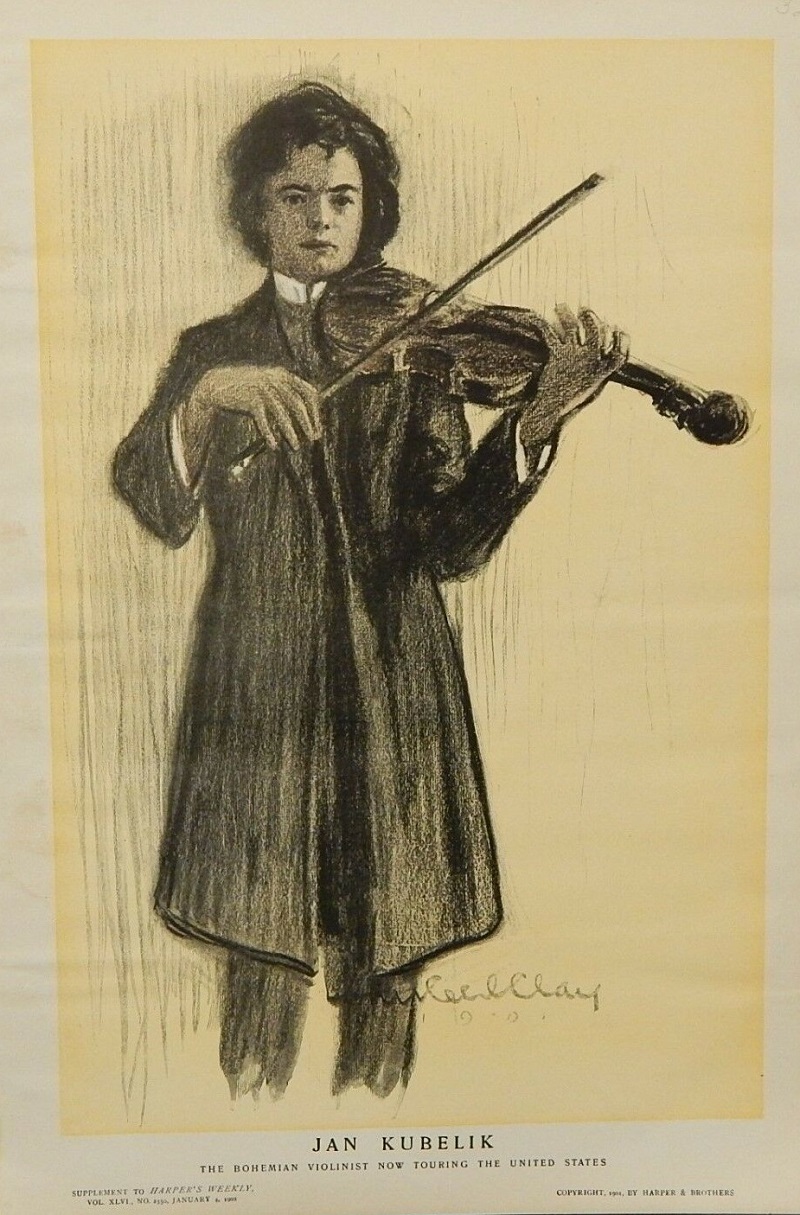 The following comes from The Notre Dame Scholastic, Volume 42 Issue 17, Publication date 1908.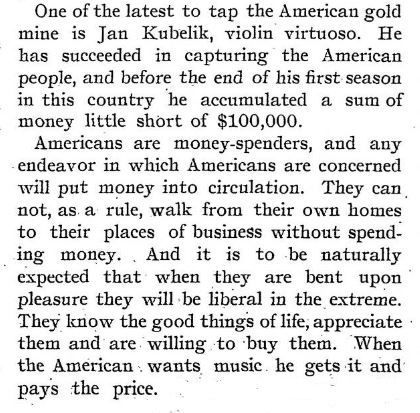 His second season was even more popular, from Kunkel's Musical Review volume 31, number 308, 1906.
"The famous violinist. Jan Kubelik, has returned to our shores, his playing showing a marked advance towards assured artistic development. I le retains the poetic charm which graced his performance on the occasion of his
last visit to America, and the American musical public, well remembering his striking ability on this occasion, proved by their presence in ample numbers their appreciation of his striking talents and strung personality. His debut on his present trip was at Carnegie Hall, which was crowded with musical enthusiasts. Even the home attractions of a Thanksgiving night could not keep his admirers away from Carnegie Hall."
"They found Kubelik unchanged in appearance. Fancy might deem him somewhat more mature than when he was last heard here, and we knew that he was so: yet there was no change in the wild chrysanthemum locks or in the virility and variety of his playing. He displayed his talents in Mozart's "Concerto in D major." fully appreciating and interpreting the melodious formality and dignified grace of the satisfying composition, a "concerto in D major," by Wieniawski, also found admirable treatment, while technical skill was shown in Weber's "Perpetuum Mobile" (originally written for the piano-forte), which created an absolute excitement among its listeners as an example of the complete overthrow of technical difficulties. Kubelik's other contribution to his varied program were the "Campanella," from Paganini's R minor concerto, an arrangement by Wilhelmj of a Chopin nocturne, Bazzinni's "Ronde des Putins," and Schumann's ever favorite and popular "Traumerei." Some of these ware given in response to calls for encores. Few prima donnas could boast of a greater tribute of floral offerings than was. received by Kubelik at this brilliant concert. It fully proved his popularity with the admirers of the highest class violin playing."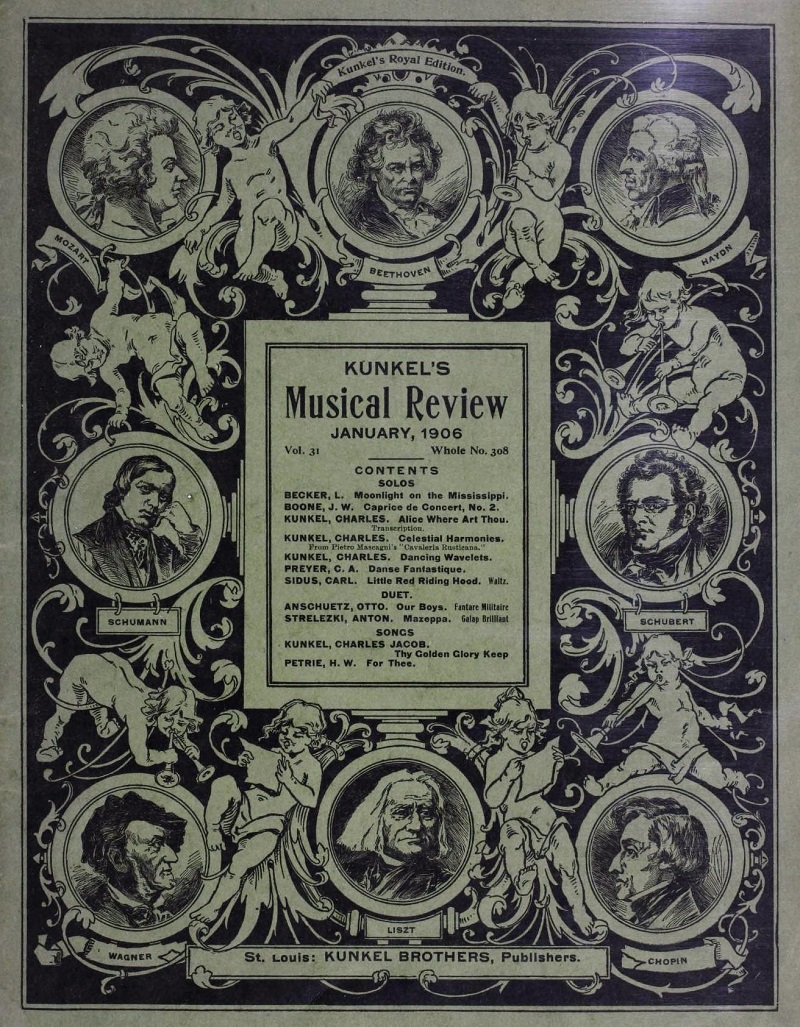 And about that astronomical salary…
According to the Bureau of Labor Statistics consumer price index, the inflation rate would make the amount he earned in the United States as follows, $100,000 in 1908 → $2,584,529 in 2018. And that was only on this first tour.
Needless to say, he was incredibly wealthy.
On March 3, 1904, Czech master violinist Jan Kubelík purchased the Býchory chateau and it's surrounding forests.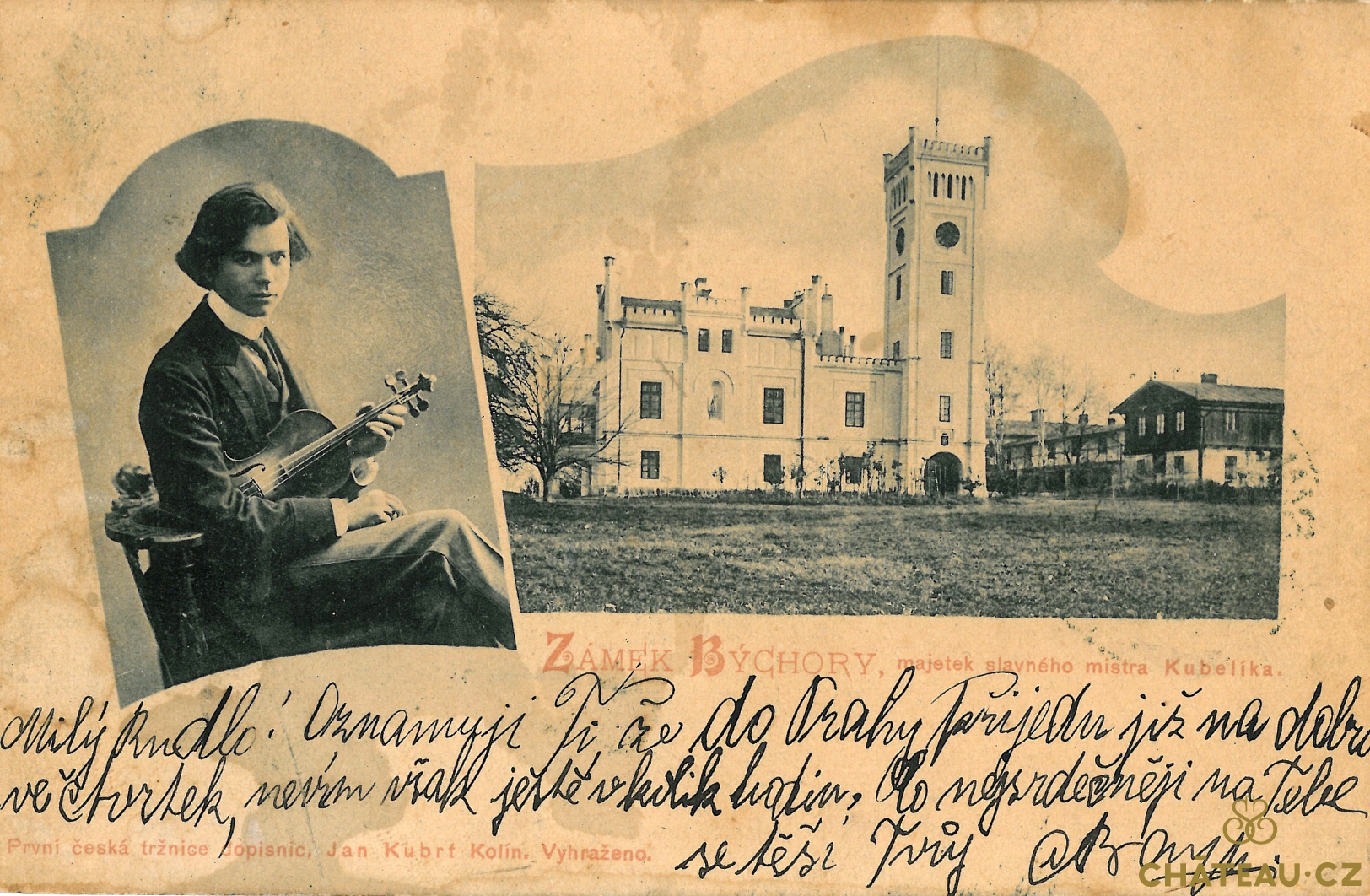 A beautiful and grand estate, this property had a rich history and was filled with beautiful frescoes, ornate fixtures and stunning architecture designed by Czech born Viennese architect Moritz Hinträger, whose plans for the estate were later discovered in the chateau.
The property was a grand showplace for a virtuoso.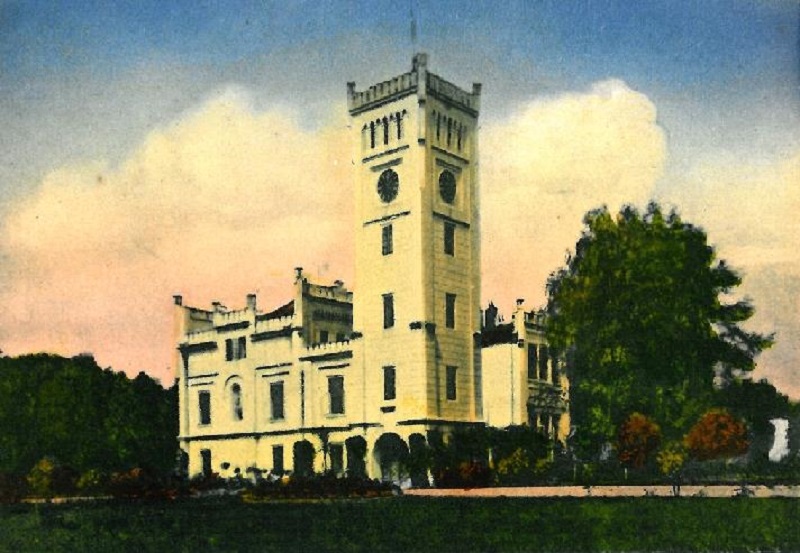 Instantly, Býchory became the center of social and cultural life with Kubelík's ownership.
The Maestro still traveled often and continued to successfully perform for his millions of fans and admirers. He also created performances for noblemen and royalty.
Soon he realized that the nobles would come to him, and so the village of Býchory became famous thanks to him. Well known guests began arriving in great number and as a result the castle turned into the prominent center of artistic life.
Jan Kubelík's red and white flag is proudly waving underneath the castle indicating that the famous owner is at home.
I cannot image the music that must have resonated from within.
Among the honored visitors were: the Czech composer and violinist Oskar Nedbal, and the prominent educator and music critic J.B. Foerster. Of course, other prominent violinists such as Moravské Trio were also frequent guests.
They would play, compose and rehearse for days, weeks and months on end, filling the castle's hallways with the sound of music.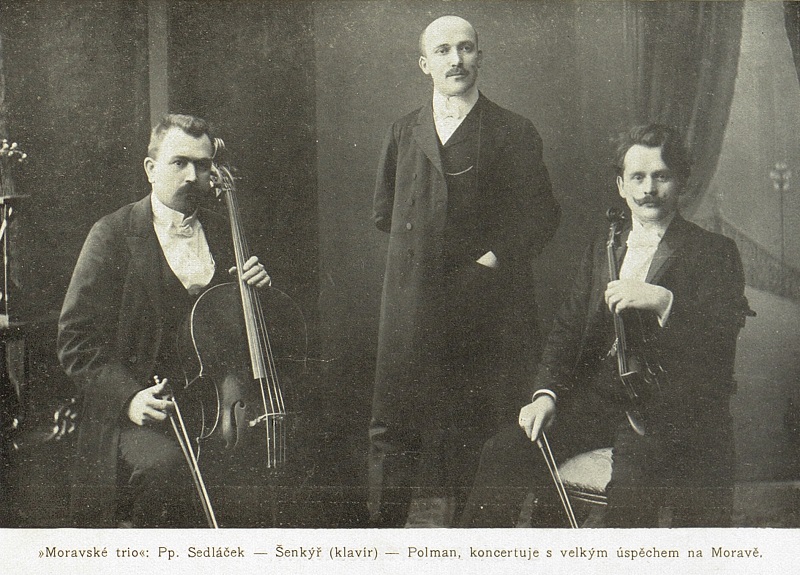 Let's take a peek inside, shall we?
Had we arrived, we surely would have been seated in the main salon while we awaited the Maestro.
The other musicians who came to visit were likely seated in Kubelík's smoking room, reserved for gentlemen.
Kubelík was an avid hunter and here he is in front of the chateau with the results of a hunt, his "hunting triumph" as it is captioned.
When he was home, he enjoyed time not only hunting, but also walking through his forests and in nature, in general.
The following image was taken at the forests of the chateau.
And if you have ever wondered where such a virtuoso would come up with his compositions and would make his beautiful music, here is a rare photograph of Kubelík's personal music room and studio.
Kubelík wrote music, including six violin concertos, some here at the chateau. The entire world bowed down to Kubelík, in fact, his recordings contributed greatly to the success of the gramophone because everyone wanted to hear him play.
And of course, Býchory was home to the Emperor as well. Whenever someone visited Bychory and their famous owners, they wanted to see the precious treasure with their own eyes. Everyone could see it, but only few lucky ones could hold the famous violin in their hands.
The times at the chateau were good ones and he was at the height of his professional success and family happiness, and then finally in 1914, Kubelik's long-awaited son was born right in the castle.
Welcome to the world, Rafael Jeroným Kubelík, Jan's sixth child. Rafael would become an internationally renowned conductor, violinist and pianist in his own right. In 1950 he would become director of the Chicago Symphony Orchestra.
Those must have been joyous times at the castle!
But WWI would soon change things…
1916 was smack dab in the middle of World War I and Kubelík sells Býchory and decides to move to another castle in Orlov (close to Považská Bystrice) in Slovakia. Here he would take a professional pause from performing and continued to compose, but it can be said that the happiest period of his life definitely comes to an end.
During his lifetime, Kubelík often said that Býchory had always been his very first and most happiest home.
The new owner Býchory is Eugen Tauber, a well known winemaker from Prague.
This is where the story of the once grand and beautiful chateau begins to get tragic…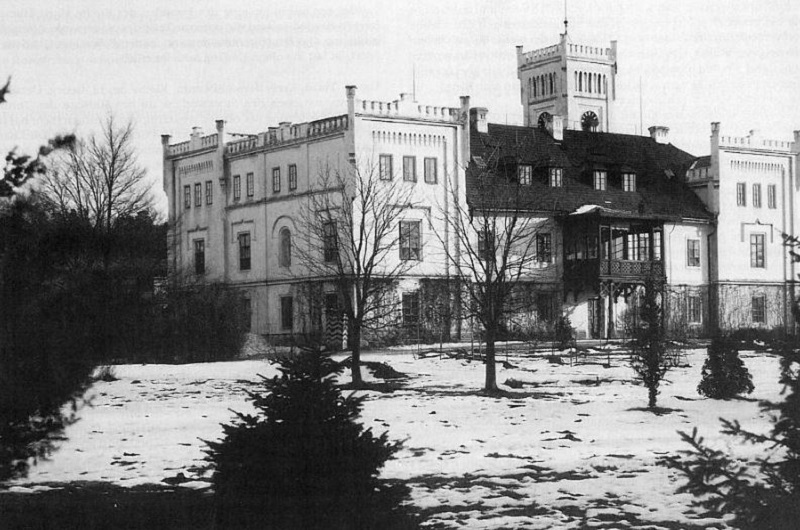 On December 31, 1936,  the estate passed to his children.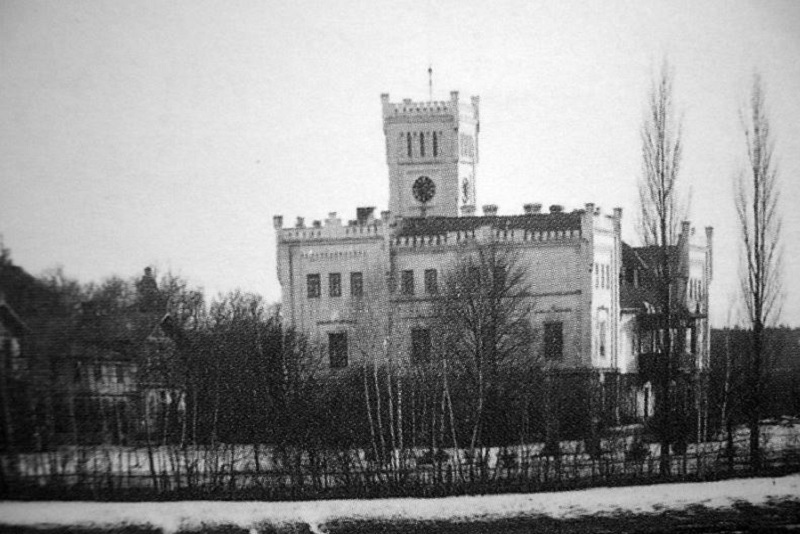 In March of 1939, the estate was purchased by Dominik Čipera, the Managing Director of Bata factories in Zlin,and Minister of Public Works. Yet, according to the guidelines Reich Protector of Bohemia and Moravia on Jewish property, this purchase was deemed void and invalid in 1940, and thus was withdrawn. Thus, in 1941, Jan Čipera, a minor at the time, became the new owner of the estate.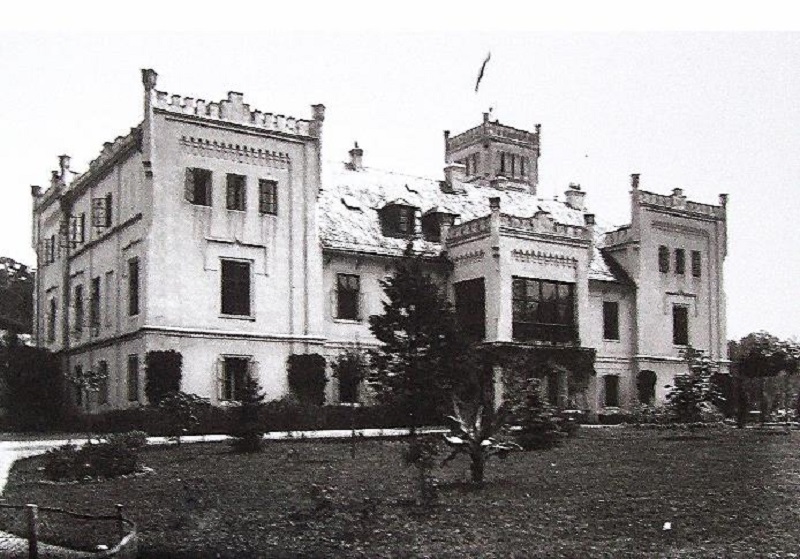 In May of 1948 the entire estate and adjacent lands became nationalized, including the forests and sawmills.
Because agricultural land was being distributed under the news land reforms, the surrounding land became a state farm and was later incorporated into the newly established unified agricultural cooperative in late 1951. The neighboring forests were also taken over by the state under national administration.
In October of 1949, the chateau became a Central Workers' School for the chemical industry and in the following years, numerous buildings around the estate were demolished and new buildings were built for the purpose of the school.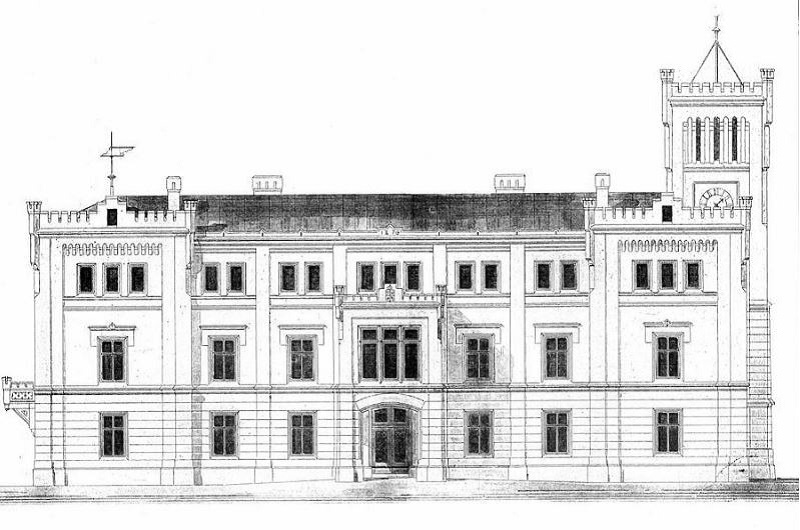 By September of 1957, the chemical school ceased and the building was re-purposed into a children's home. The original orphanage was created in 1896 and was in nearby Kolin, but was relocated to the Bychory property at this time. Because of the size, it was quickly opened as an eight-year high school and in 1960 the eight-year high school was combined into one device called "The nine-year school with boarding" (ZDŠI)
In January of 1973, the  ZDŠI became the "Children's educational institution" (DVU) and under that operation, it existed for over twenty years.
In 1989, restitution laws were enacted and and all nationalized properties after February 25, 1948  were to be returned to their rightful former owners. This mean that Jan Čipera, still a minor at the time, became the owner of Bychory but because the property was a school and home for children, things got a bit complicated. It also belonged to the DVU who were given a 10 year lease because of the situation with the children. The school was then annexed with the village primary school, and construction of a new school began. For four years during construction of the new school, the chateau still served as the lunchroom of the school,
Finally, by the end of 2002, the school was completely moved, including the lunchroom and the adjacent forests were also returned to the rightful owner.
In 2006, Elitprofit company became the new owner of the property with an aim to renovate the entire castle. But by now the chateau had been so abused by the many changing hands of ownership and tenants, it no longer resembles the grand estate it once was. And it seems, that over a decade later, Elitprofit did not make good on their aim.
So now, even the angels and cherubs seem sad at what has befallen this once grand estate.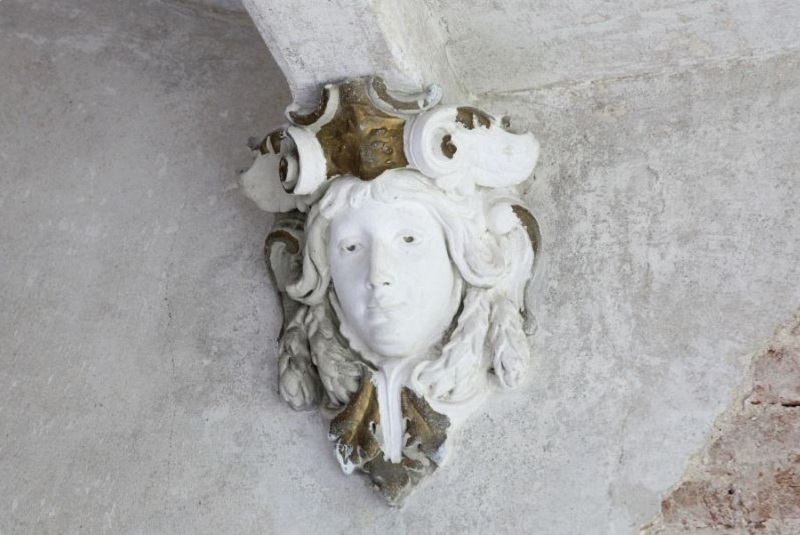 The castle is now in a state of unhappy abandonment.
It still stands, as a rectangular two-story building with three Tudor arches.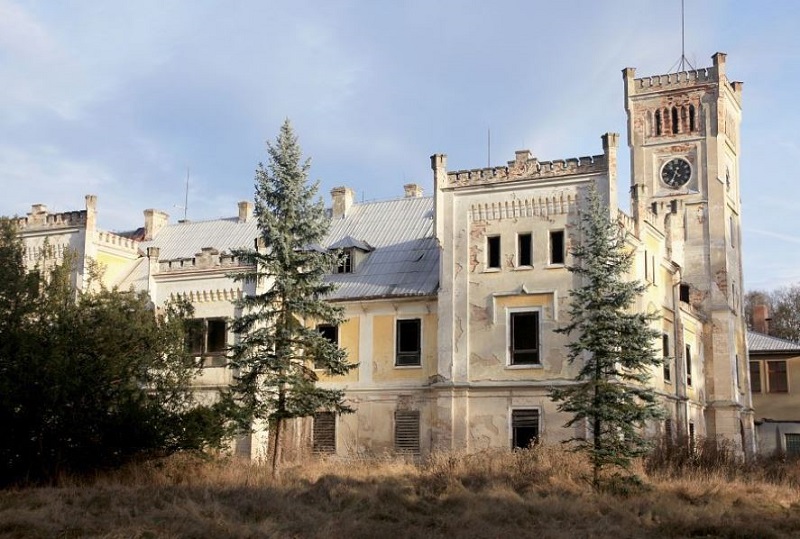 The east facade has aging buttresses on several levels, and the north facade is simple, even plain.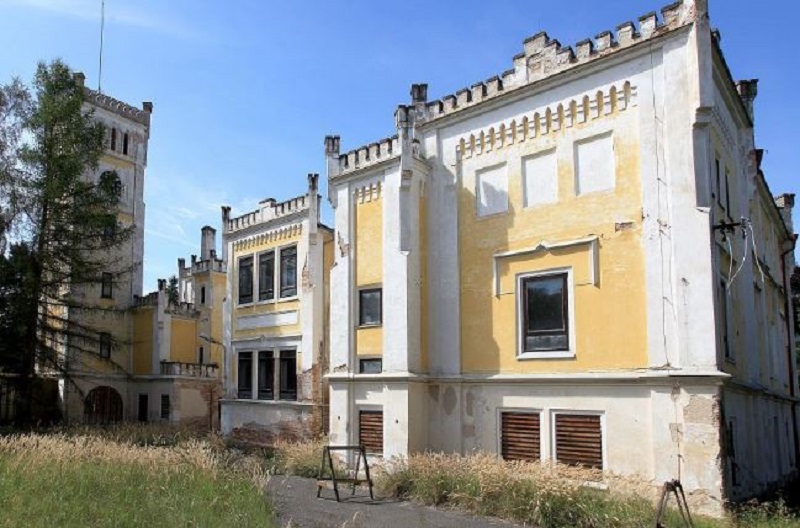 In contrast, the south facade is very rugged, on the first floor it is decorated with a niche that is home to a statue of a female figure.
So sad and strange are her removed hands.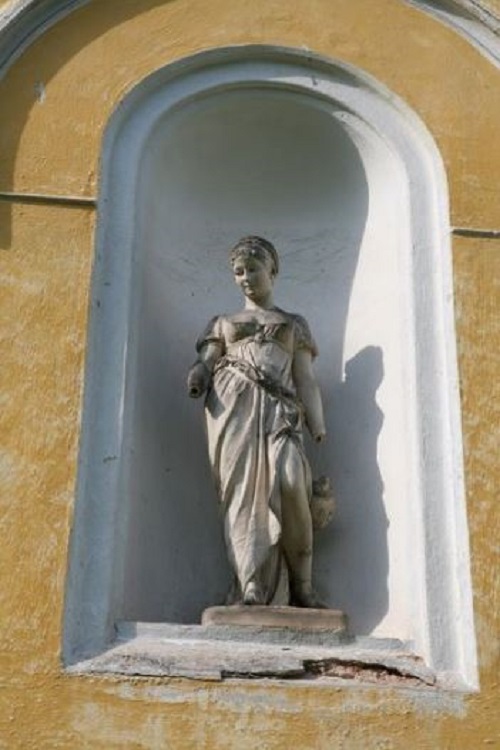 The southern corner rises 25 meters with a high four-story tower.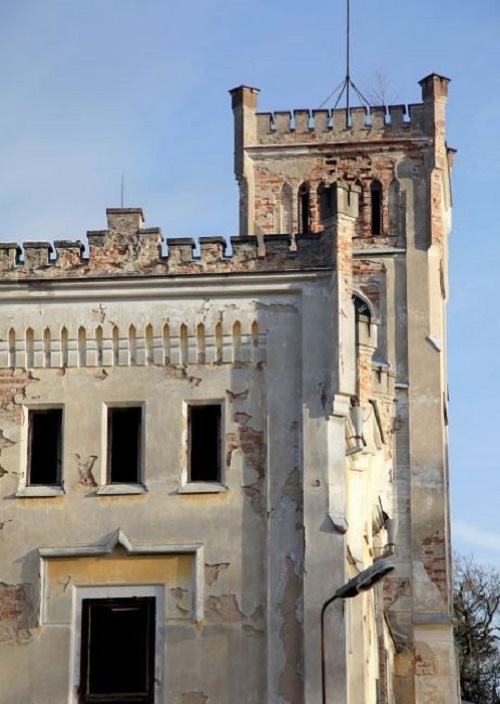 The structure is complete with battlements, which form a dominating feature of the whole building.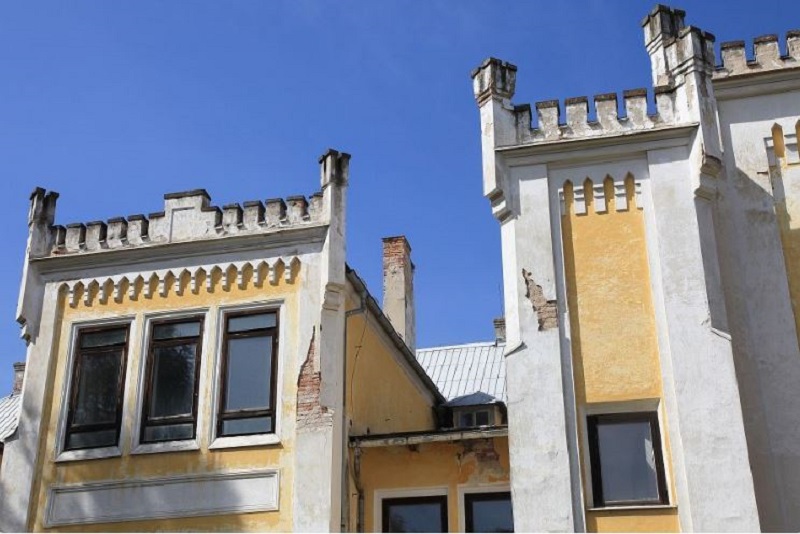 The exterior facades of the rustic band, battlements re seen from all sides of the structure.
And there are distinctive window architraves.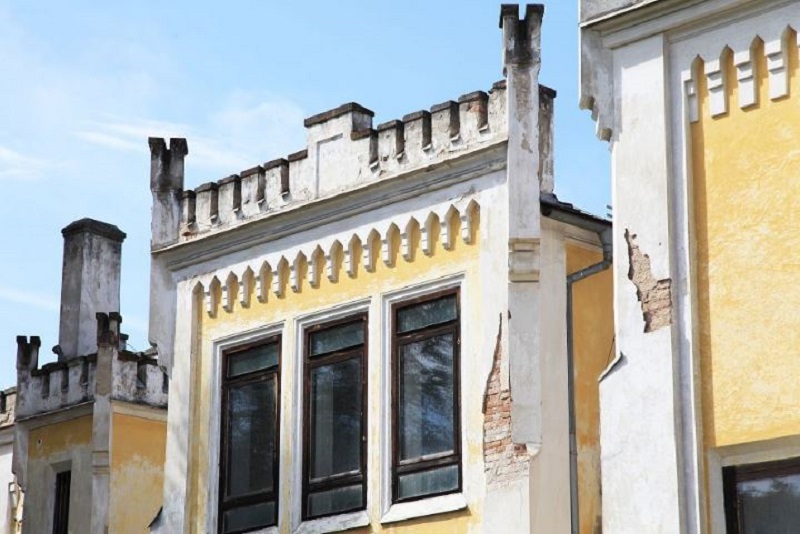 It does look odd with the seemingly modern windows though.
When you look more closely at the details, it is a rather strange design.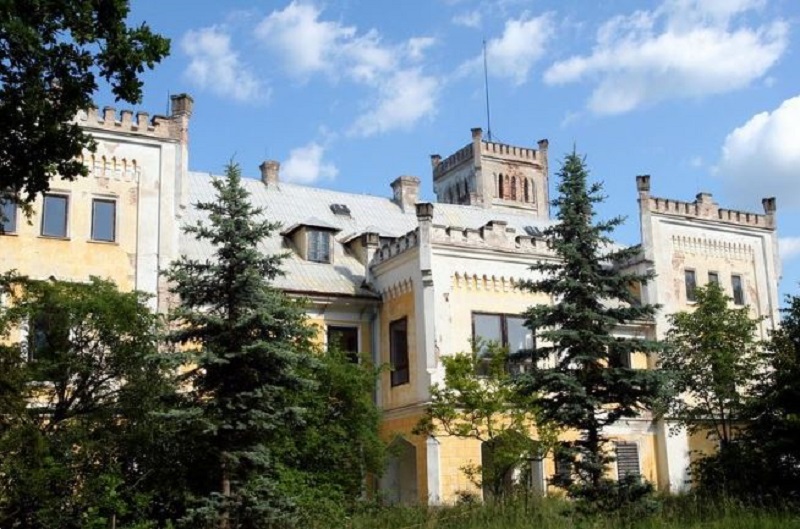 But perhaps it only seems that way because it is overgrown and so obviously neglected.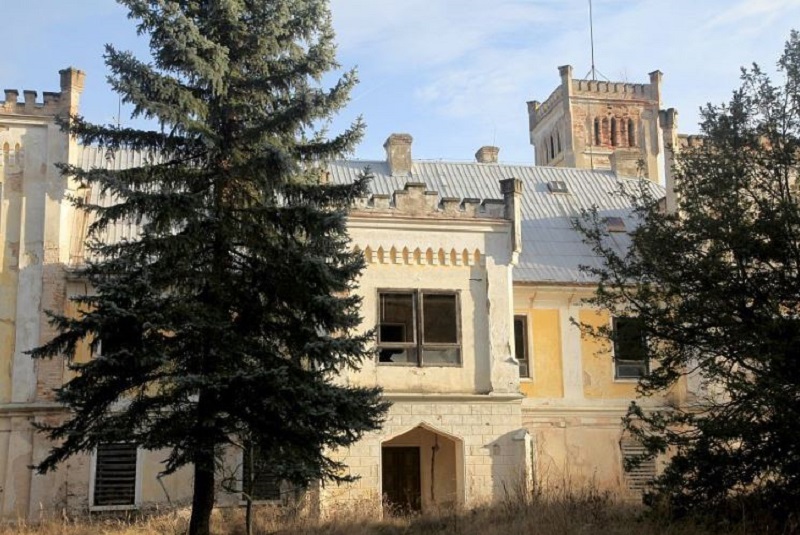 Here are the latest images from the chateau from a realtor, as it is now being offered for sale once again.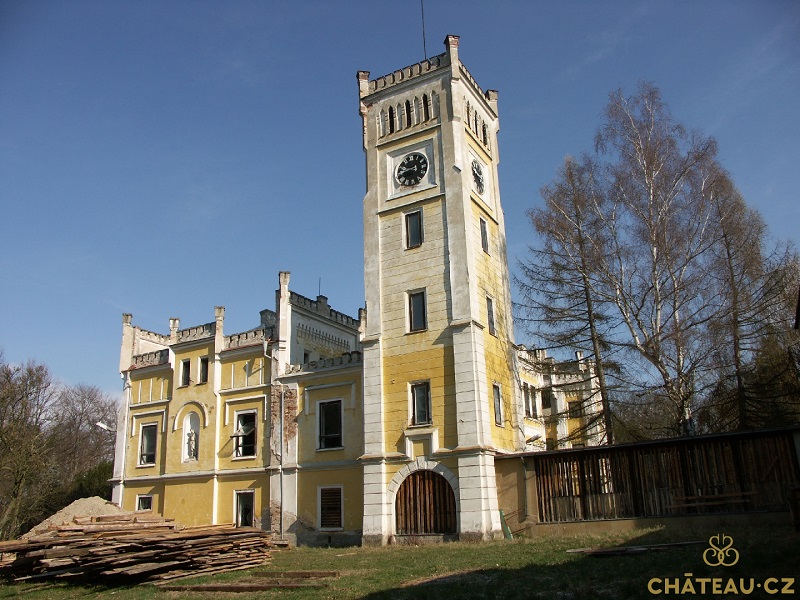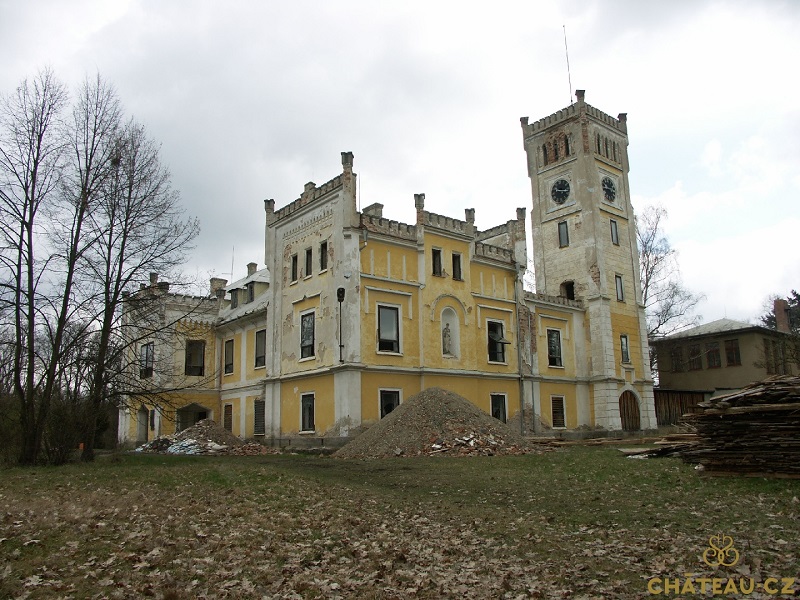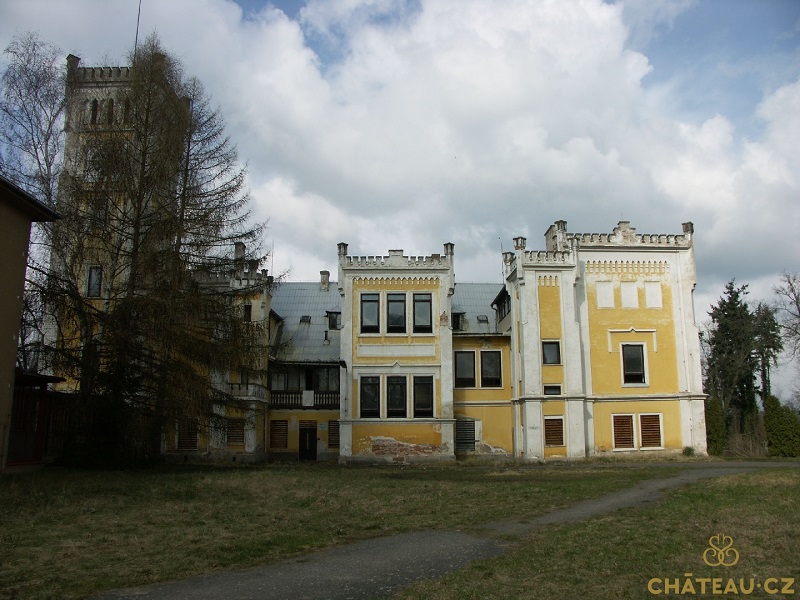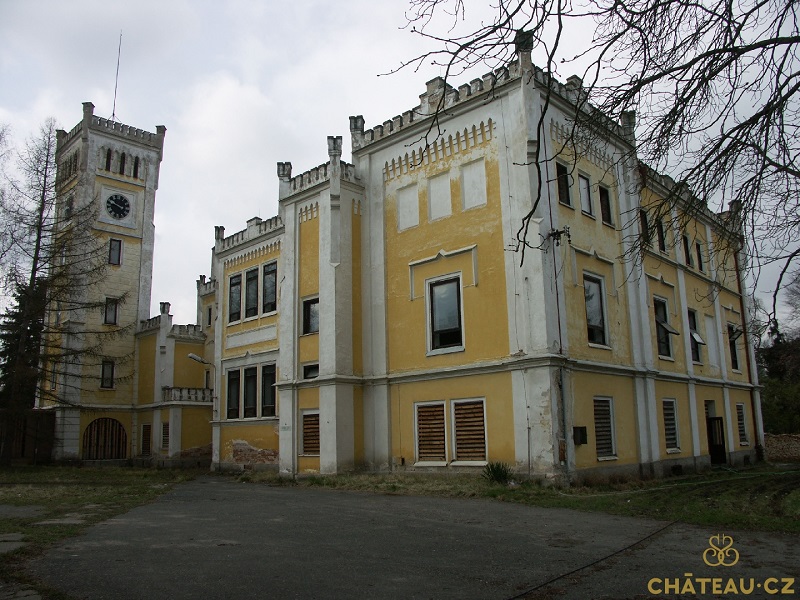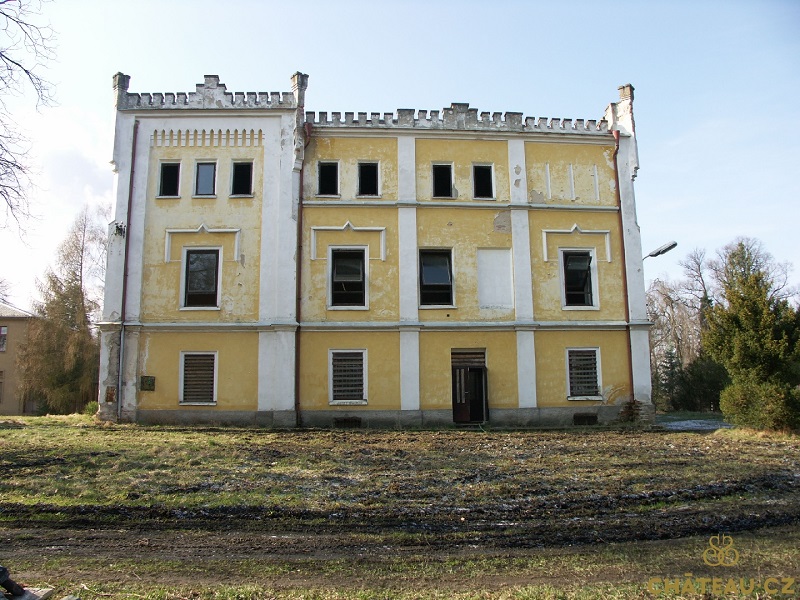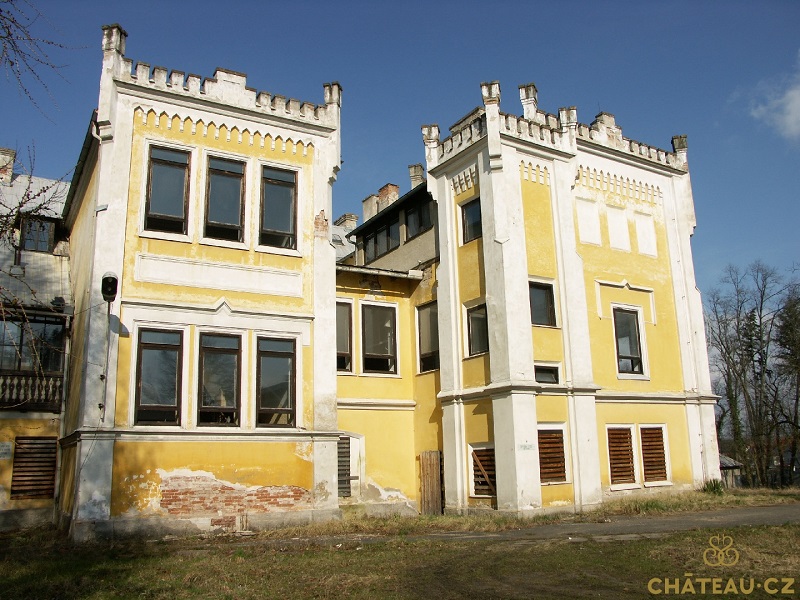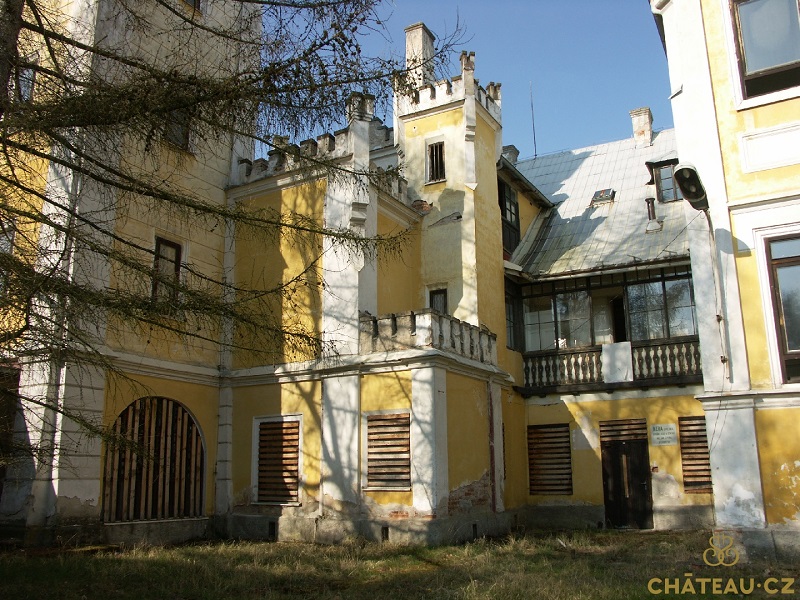 When we study the interior, after so many years of neglect, we do find some of the original details preserved.
You can view some of those in the following images.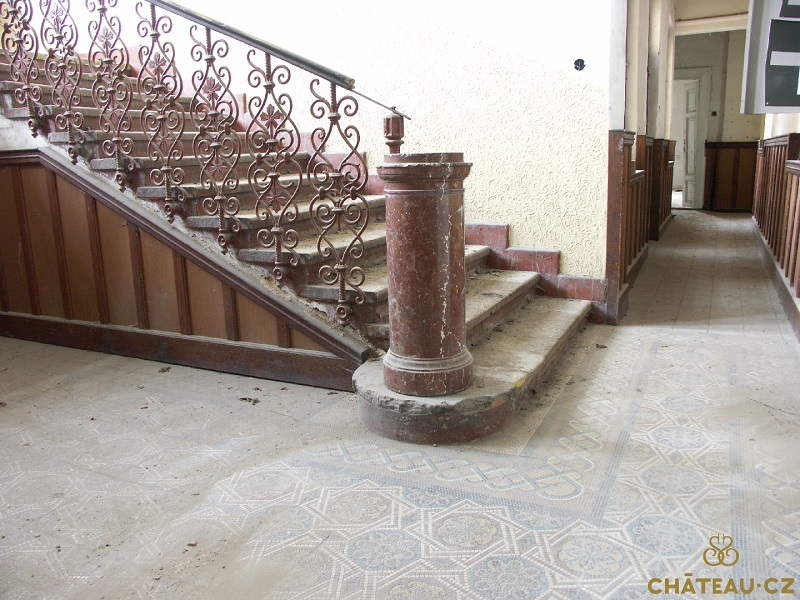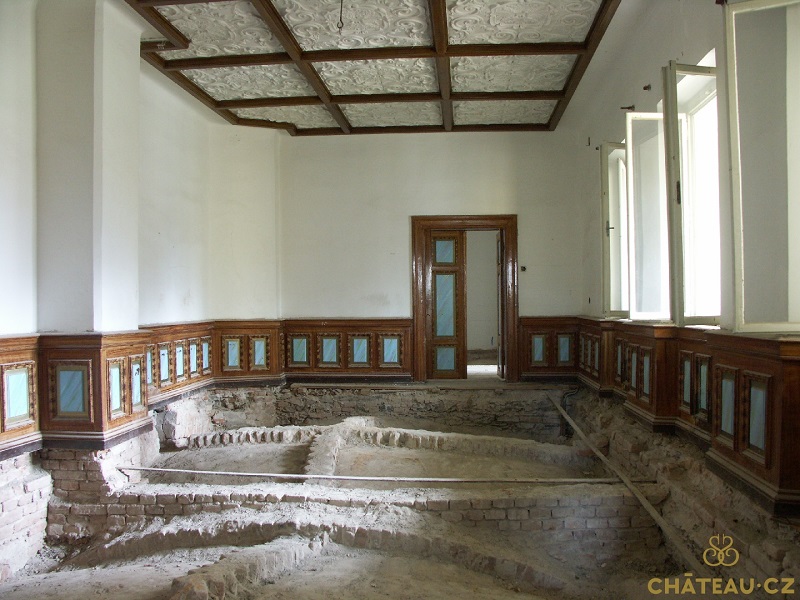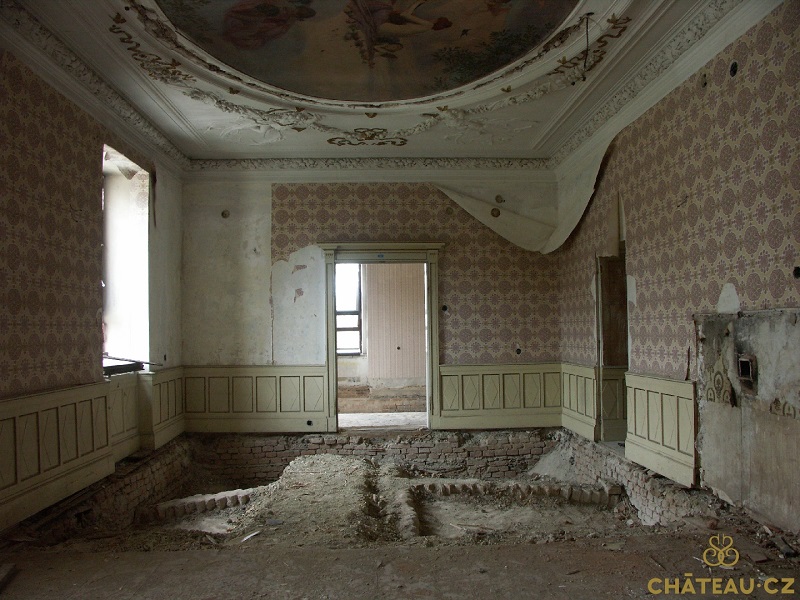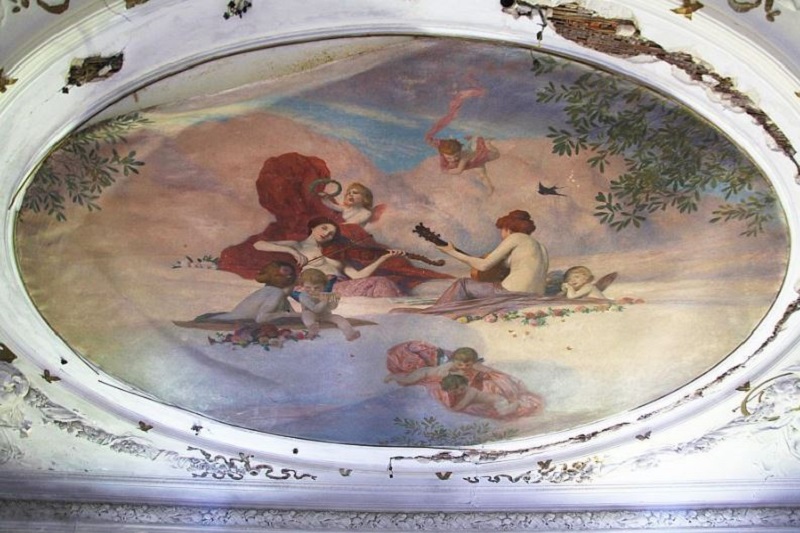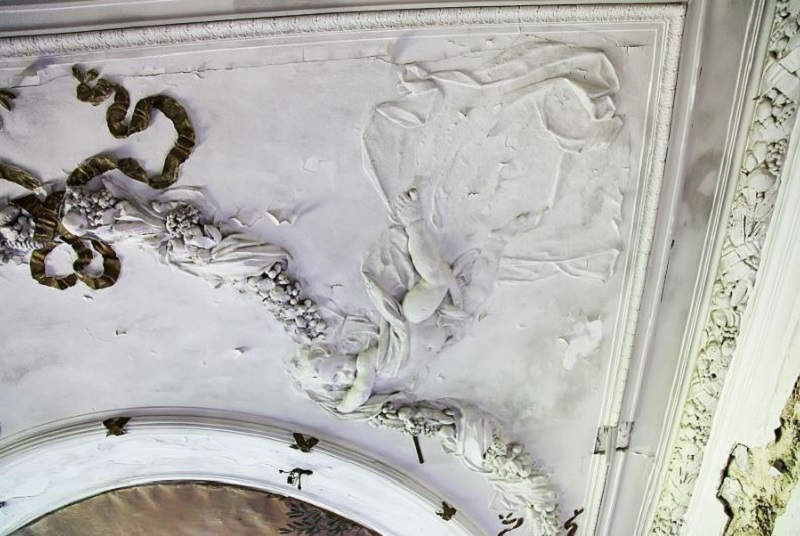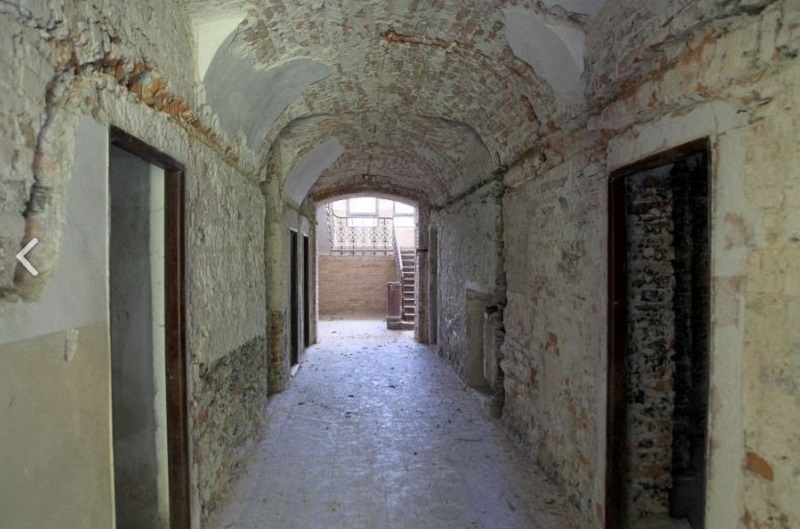 It is tragic that this has happened, yet it is quite a common story. The ravages of war are seen not only in its human victims, but also in the land, in architecture, in art…
Even the gate around the chateau seems to tell of the sad fate of this property.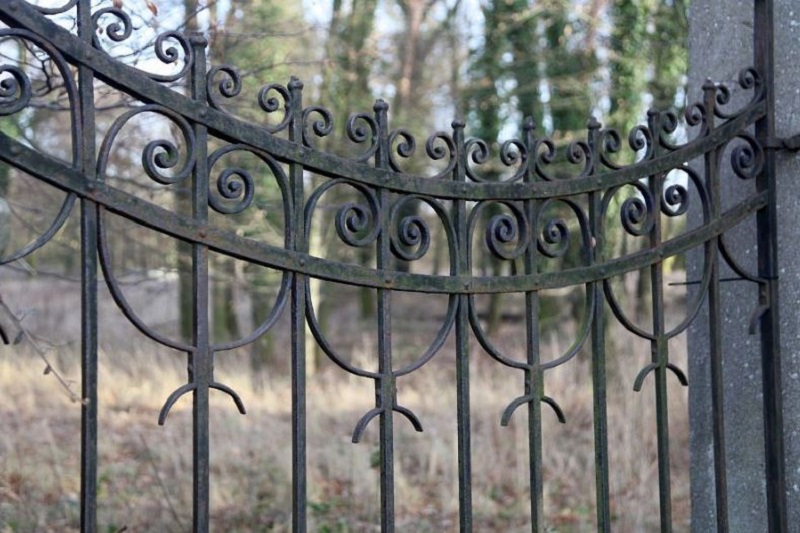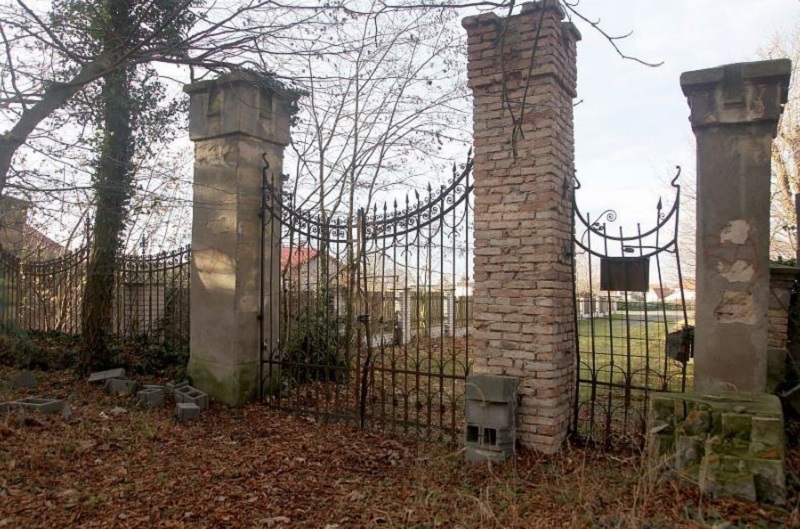 Rumor has it that at the end of his life, Kubelík was invited to perform for Queen Victoria at Windsor Palace. This means that he was reportedly one of the last artists who performed in front of the Queen before her death.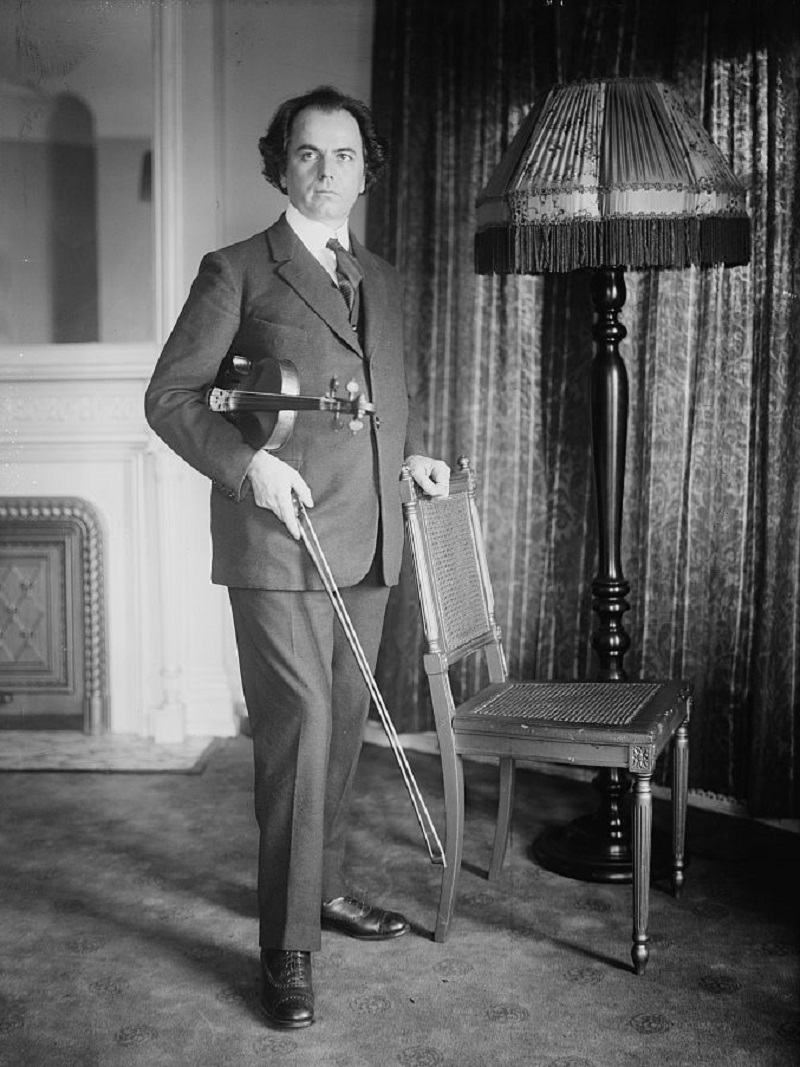 But later days were not good for Kubelík.
"Already by the early decades of the twentieth century, Kubelik was receiving intense competition from a younger generation of players whose style and technique would contribute so much to the development of violin art. It is not amiss to say that his playing had become anachronistic. Yet it would not do well to ignore the achievement of Kubelik, whose charming, "provincial" style of playing contains, in its best moments, an air of detached elegance that has now vanished from the concert platform." – All Music
Jan Kubelík died in Prague in 1940, aged 60. He is buried at Vyšehrad Cemetery.
The headline appeared on page 30 of The New York Times on December 6, 1940:
"JAN KUBELIK DIES; FAMOUS VIOLINIST; Czech Artist Acquired Immense Fortune, Only to Become a Bankrupt, $125,000 in Debt. HIS TECHNIQUE BRILLIANT. Won Acclaim in Concerts Here and at Music Centers All Over the World."
Yes, his comparison with Paganini continued to grow even after his death. They both had a seemingly magical power over the violin, both were tall and lean with a bewitched look; and both had a huge success at first but by the end of their lives were fighting with several misfortunes which you can see in the headline above.
So the magical violinist and the grand chateau both ended up with a similar fate.
Býchory is surrounded with a 5 hectares large English Park, which once was an elegant piece of landscape architecture with delicately arranged floral scenery, perfectly harmonizing with ponds and fountains.
This chateau, rich with history, is currently for sale with a rice of $735,000 USD.
It was registered in the Central List of Real Cultural Monuments of the Czech Republic under the number 15554 / 2-3120 in 1986.
Let's hope that the buyer has the desire and the financial means to restore this grand castle to its previous splendor.
Visit the Jan Kubelík Society, here.
If you have not already subscribed to get TresBohemes.com delivered to your inbox, please use the form below now so you never miss another post.
---
Remember, we rely solely on your donations to keep the project going.
Become a friend and get our lovely Czech postcard pack.