Many excellent Czech composers who made significant contributions to the field of classical music were born and raised in Czechoslovakia. The nation produced some of the world's top composers throughout the late 19th and the 20th centuries. The top five Czech composers who have had a significant influence on classical music are listed below.
Bohemia and Czechoslovakia's history, culture, and national identity have all been profoundly influenced by music. The nation has produced a number of gifted composers, musicians, and performers who have had a lasting influence on everything from classical music to folk tunes.
The works of Antonín Dvořák, Bedřich Smetana, and Leos Janáček, to name a few, are considered some of the finest examples of classical music and have been widely recognized internationally.
Antonín Dvořák
One of the best Czech classical music composers is Antonin Dvoák. Symphony No. 9 in E minor, Op. 95; Symphony No. 7 in D minor, Op. 70; and Symphony No. 8 in G major, Op. 88 are among Dvoák's best-known compositions. Known worldwide as a prolific composer and was born in 1841. His works demonstrate his proficiency as a cellist and violist. The music of Dvoák is well known, and it is being played and listened to today.
Bedřich Smetana
One of the most significant figures in Czech classical music, Bedich Smetana is referred to as the "Father of Czech Music." Smetana, who was born in 1824, was an active composer best remembered for his works "The Bartered Bride," "Má Vlast," and "Vltava." Smetana was a proponent of nationalistic music, which is obvious in his works, and Czech folk music had a significant effect on his compositions.
Leoš Janáček
Another Czech composer named Leo Janáek lived from 1854 to 1928. Janáek was a highly inventive composer best known for his compositions "The Cunning Little Vixen," "Jenfa," and "Glagolitic Mass." Janáek was greatly influenced by Czech folk music, and his works are characterized by their distinct use of rhythm and harmony.
Bohuslav Martinů
Bohuslav Martinů was a Czech composer who lived from 1890 until 1959. Martin was a very creative composer best known for his compositions "The Greek Passion," "The Memorial to Lidice," and "Rhapsody-Concerto for Violin and Orchestra." Martin's compositions are distinguished by their distinctive use of rhythm, harmony, and timbre.
Josef Suk
Josef Suk was a Czech composer who lived from 1874 to 1935. Suk was a highly talented composer and is best known for his works such as "Asrael Symphony," "Fantasia on a Theme of Chopin," and "Ripening." Suk was a student of Antonín Dvořák and his works are greatly influenced by Dvořák's music.
I have to add František Matej Hilmar to the list, as both Antonín Dvořák and Bedřich Smetana said they were influenced by him. Please visit the post we created for our family ancestor, František Matej Hilmar.
The aforementioned Czech composers have influenced the field of classical music and left a significant legacy for upcoming generations. They have all created timeless masterpieces that are still performed frequently and widely today by orchestras worldwide. The influence of these renowned Czech composers on the world of classical music will be recognized for many, many years to come.
Meanwhile – please note that these are well-known. Below are numerous other Czech composers…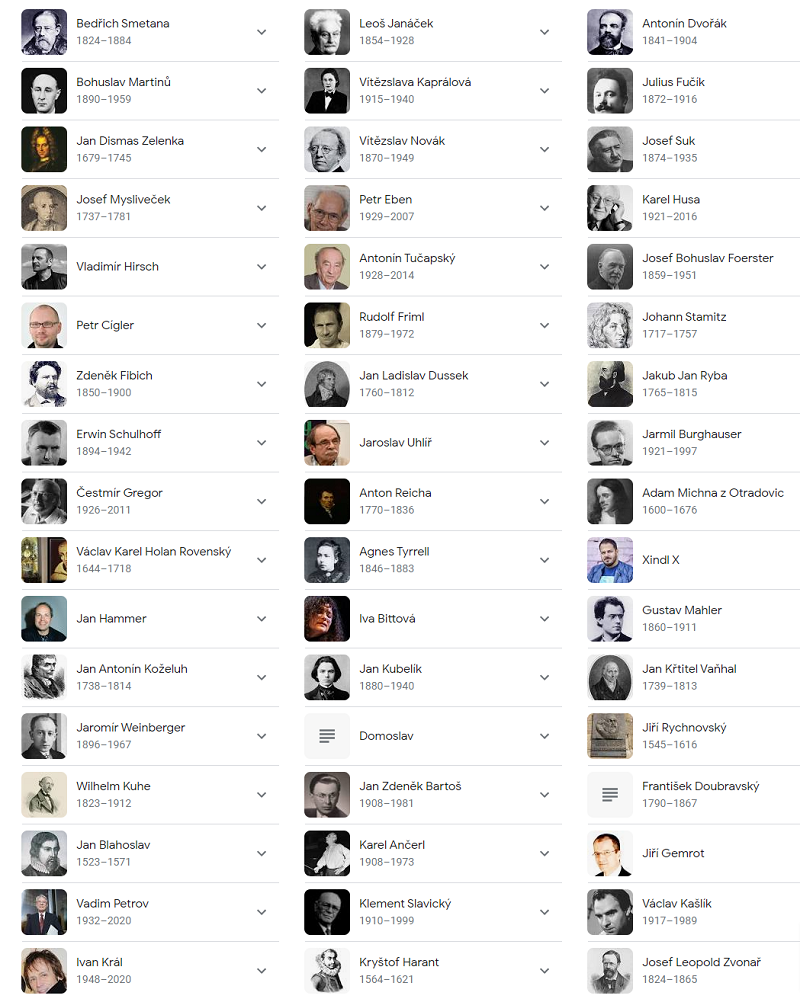 We hope you enjoyed today's post!
Thank you in advance for your support…
You could spend hours, days, weeks, and months finding some of this information. On this website, we curate the best of what we find for you and place it easily and conveniently into one place. Please take a moment today to recognize our efforts and make a donation towards the operational costs of this site – your support keeps the site alive and keeps us searching for the best of our heritage to bring to you.


Remember, we rely solely on your donations to keep the project going.
We appreciate you more than you know!
If you have not already subscribed to get TresBohemes.com delivered to your inbox, please use the form below now so you never miss another post.