Albrecht von Wallenstein (Albrecht z Valdštejna) hailed from an esteemed Czech noble family. Even in his youth, his passion for the military was evident. Toy soldiers held more allure for him than any other game, but only if he could assume the role of commander. As he matured, he enlisted in the army and pledged his allegiance to Czech King Ferdinand II. Through his exceptional courage, Wallenstein rapidly ascended the ranks, earning a distinguished reputation as a military leader.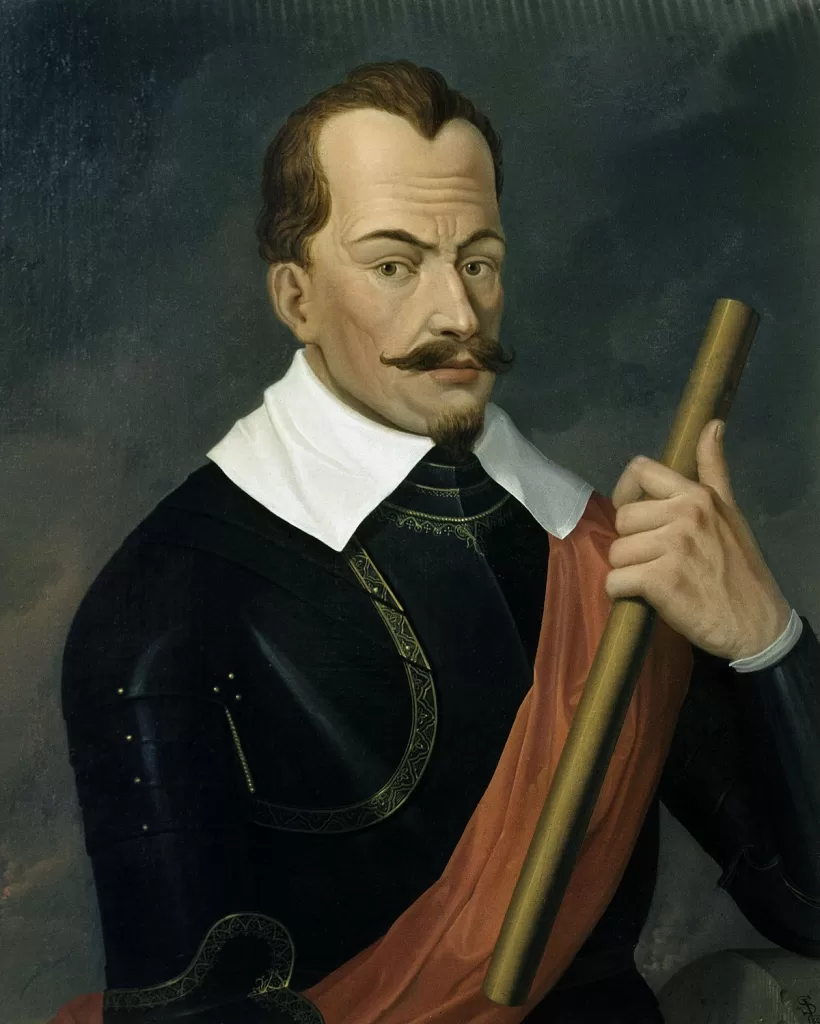 During that era, as we have previously learned, a war raged between the Protestant princes united under the Evangelical Union and the Catholic princes forming the League. This conflict served as an extension of the religious strife that originated in Prague. Seeking aid, the Protestants invited Christian IV, the King of Denmark, to join their cause. Ferdinand, faced with financial constraints, encountered significant challenges in combating this formidable adversary. It was then that Wallenstein made a momentous offer—he would independently raise an army and take up arms against the enemy. Eagerly, Ferdinand granted him the necessary authorization.
News of Albrecht von Wallenstein's recruitment efforts spread like wildfire, attracting both locals and foreigners to his camp. Soon, his forces swelled to an impressive 100,000 men. With this formidable army, he swiftly advanced across German lands, swiftly securing dominion over the Baltic coast. His ambitions even extended to seizing control of Denmark itself. However, peace was brokered between Christian and Ferdinand in 1629. In recognition of Wallenstein's instrumental role, the emperor bestowed upon him the Duchy of Friedland in northern Bohemia, along with nine cities, 57 castles, and numerous villages. Additionally, he received the Duchy of Mecklenburg in Germany, which he had successfully conquered. Subsequently, he disbanded his army.
From that point onward, Wallenstein adopted the life of a private citizen, residing in his magnificent palace in Prague's Lesser Town. His illustrious court garnered widespread renown, characterized not only by the grandeur of its lord but also by the splendor exhibited by its servants.
Meanwhile, the Protestants reached out to Gustavus Adolphus, the king of Sweden, seeking assistance. With unwavering determination, he arrived in Germany at the helm of a small yet resolute army. Fortunes favored his cause as he vanquished the Catholic forces one after another, propelling his ally John George, the Elector of Saxony, into Bohemia. John George swiftly seized Prague, claiming whatever spoils pleased him, and transporting them back to Saxony in a caravan of over 50 wagons.
Emperor Ferdinand, confronted with dire circumstances once again, realized the need for a stalwart champion and turned to the indomitable Wallenstein. Acting swiftly, he entrusted Wallenstein with the task of assembling a fresh army to vanquish the enemy. To everyone's astonishment, as soon as Wallenstein rallied his troops, warriors from all directions rallied under his victorious banners. First, he confronted the Saxons, expelling them from the land. He then set his sights on Gustavus Adolphus, leading to the momentous Battle of Lützen in what is now Prussian Saxony, in the year 1632.
King Gustavus Adolphus commanded a force of 20,000 men, while Wallenstein mustered a meager 12,000. Neither side could claim outright victory, but the clash was unforgettable. Tragically, Gustavus Adolphus met his demise, bringing an end to the battle. Wallenstein emerged triumphant in several encounters against the Protestants, capturing numerous cities that instilled great fear in his adversaries.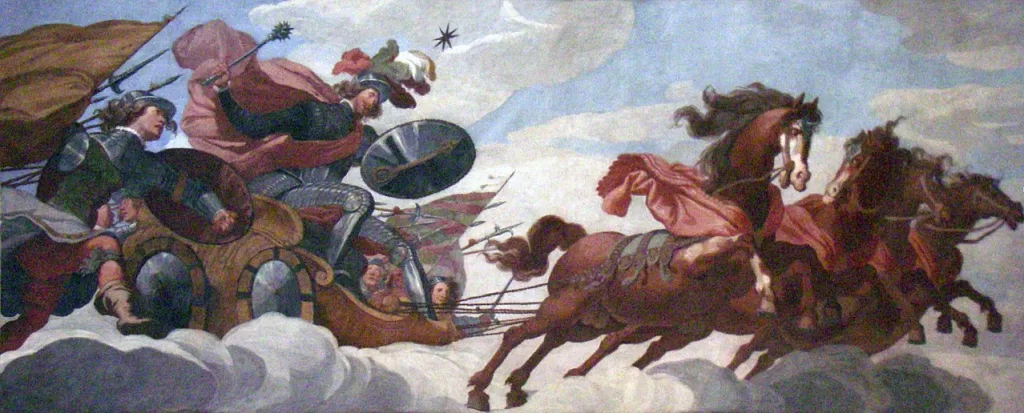 Image: Wallenstein is depicted as Mars, the god of war, riding the sky in a chariot pulled by four horses. Ceiling decoration in the main hall of the Wallenstein Palace.
However, his fortunes soon took a turn for the worse as he fell out of favor with the emperor. Manipulated by some of his adversaries, the emperor came to believe that Wallenstein had conspired with the enemy and harbored ambitions of becoming the king of Bohemia. Consequently, Wallenstein was branded a traitor, and Gallas assumed the role of supreme military commander. A courageous leader of the imperial forces named Piccolomini was entrusted with the task of apprehending Wallenstein, who was eventually handed over to the emperor. Meanwhile, with a small army at his disposal, Wallenstein made a strategic move from Pilsen to Cheb.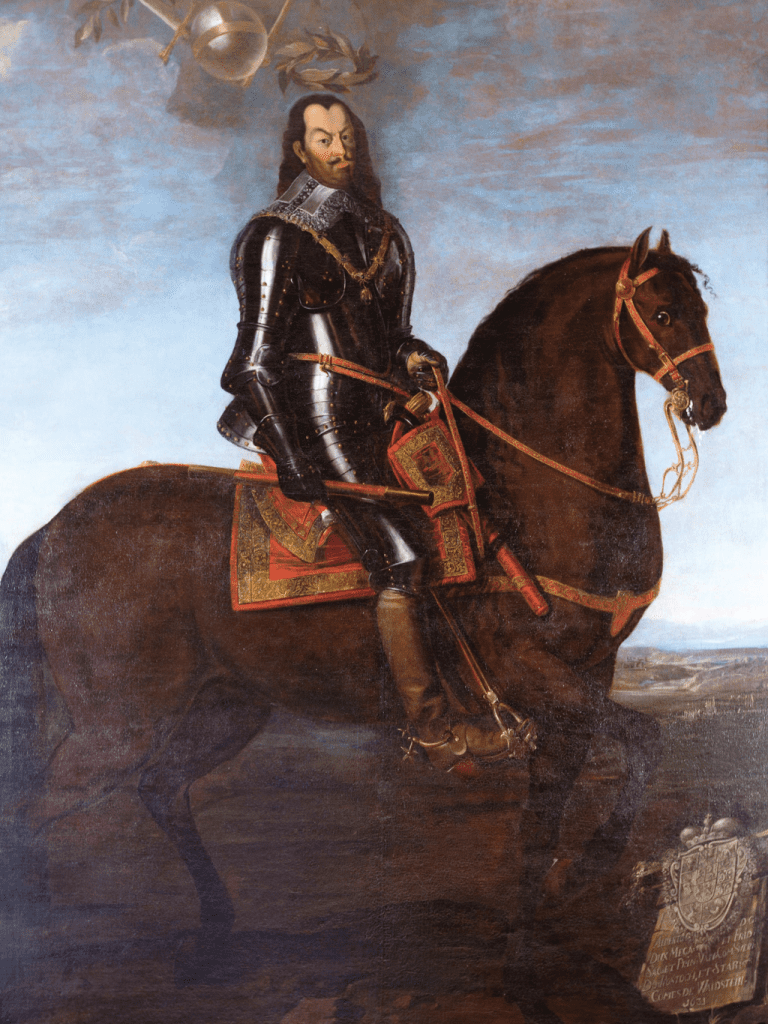 Tragedy befell Wallenstein during a banquet held in Cheb, where all his friends were mercilessly slain. Late into the night, a captain burst into Wallenstein's chamber, rousing him from his sleep. Confused and alarmed by the commotion, Wallenstein approached the window to assess the situation. Before he could react, the captain stormed into the room, accusing Wallenstein of betraying the imperial army and daring to seize the crown from the emperor's head. Unarmed and defenseless, Wallenstein exhibited remarkable composure as he bared his chest, opened his arms, and met his demise with a sword piercing his heart. Remarkably, he uttered not a single word. This tragic event unfolded on February 25, 1634. In the aftermath, Wallenstein's opponents claimed his vast estates for themselves.
To this day, the question of Wallenstein's guilt or innocence remains unresolved. The documents found on him made no mention of any act of treachery.
The above (images excluded) is a chapter from my book Czech History.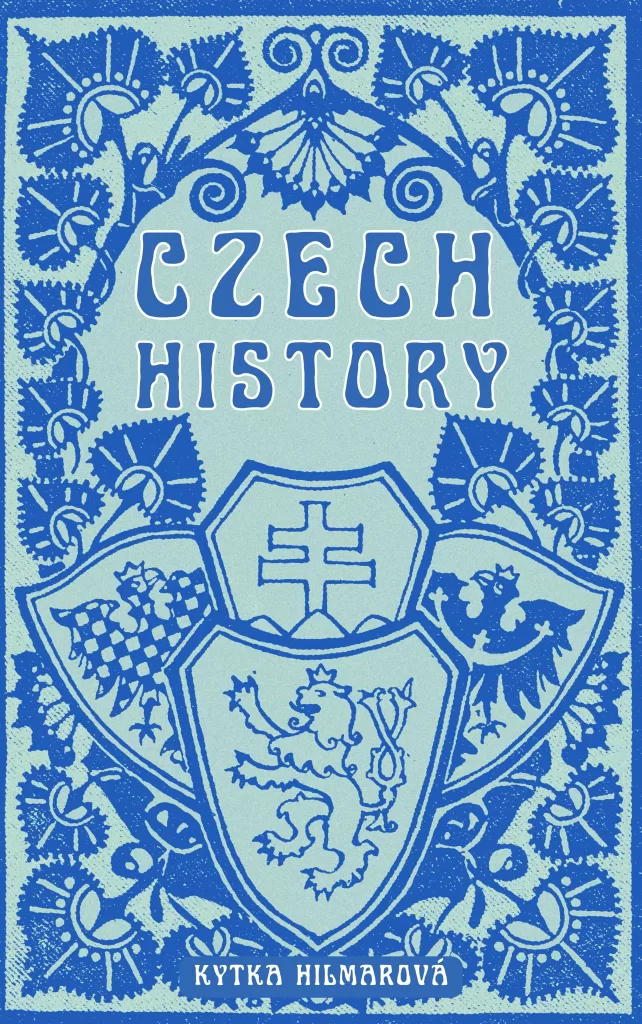 This book stands as a tribute to the past and a celebration of the remarkable individuals who have shaped the course of the nation. However, it is important to acknowledge the origins of this work. While its foundation lies in the writings of Josef Václav Nikolau, a talented author who accomplished much in his tragically short life, "Czech History" has undergone a significant transformation. What began as a translation of his work, "Dějepis český v obrazích pro českoslovanskou mládež na Skolílch národních," (Czech History in Pictures for Czechoslovak Youth at National Schools) has evolved into a comprehensive reinterpretation, combining elements from the original text with substantial additions and reimagined prose.
The intention behind this endeavor was to bring Czech history to life for contemporary readers, addressing the linguistic challenges presented by the book's 19th-century Czech language and incorporating a more inclusive and engaging narrative. While preserving the essence of Nikolau's vision, this book encompasses a wider scope, encompassing events and perspectives that have shaped the nation since the book's original publication in 1873.
From the earliest human settlements to the medieval era, the Renaissance, and beyond, the book delves into the depths of time, unraveling the remarkable stories of the Czech people and their enduring contributions to the world. It invites readers to join in the exploration of the rich tapestry of Bohemia's past, celebrating the legacy of a resilient and visionary nation.
Click Here for More Info on Czech History
We tirelessly gather and curate valuable information that could take you hours, days, or even months to find elsewhere. Our mission is to simplify your access to the best of our heritage. If you appreciate our efforts, please consider making a donation to support the operational costs of this site.
You can also send cash, checks, money orders, or support by buying Kytka's books.
Your contribution sustains us and allows us to continue sharing our rich cultural heritage.
Remember, your donations are our lifeline.
If you haven't already, subscribe to TresBohemes.com below to receive our newsletter directly in your inbox and never miss out.