Věra Čáslavská of the Czech Republic is the only gymnast, male or female, who has ever won an Olympic gold medal for every individual event in gymnastics: all-around, vault, uneven bars, beam, and floor exercise. Čáslavská also has the distinction of holding more individual gold medals than any other gymnast in Olympic history.
In fact, she was the first gymnast to be awarded a perfect score of 10.0, nine years before Nadia Comăneci.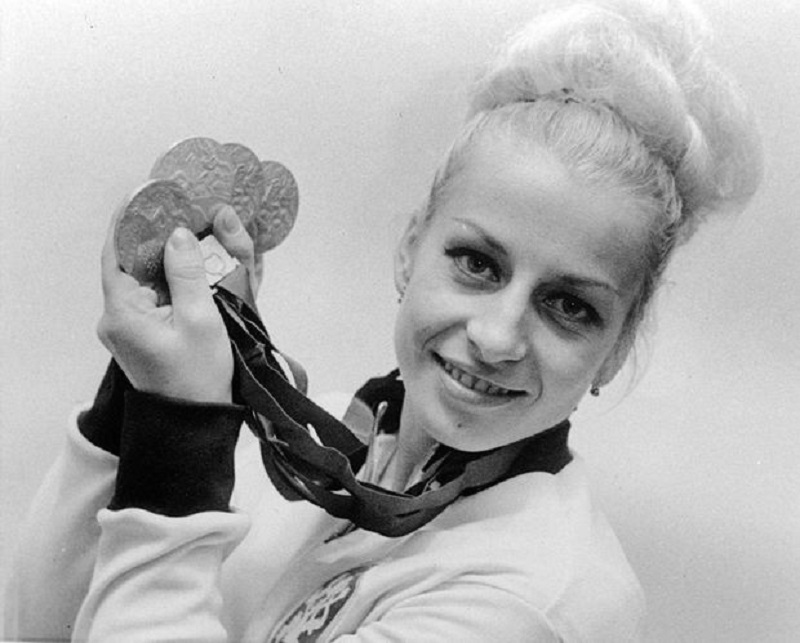 Born in Prague on May 3, 1942, and originally a figure skater, Čáslavská debuted internationally in 1958 at the World Artistic Gymnastics Championships, winning a silver medal in the team event.
Věra Čáslavská won three gold medals including the all-around at the 1964 Tokyo Olympic Games.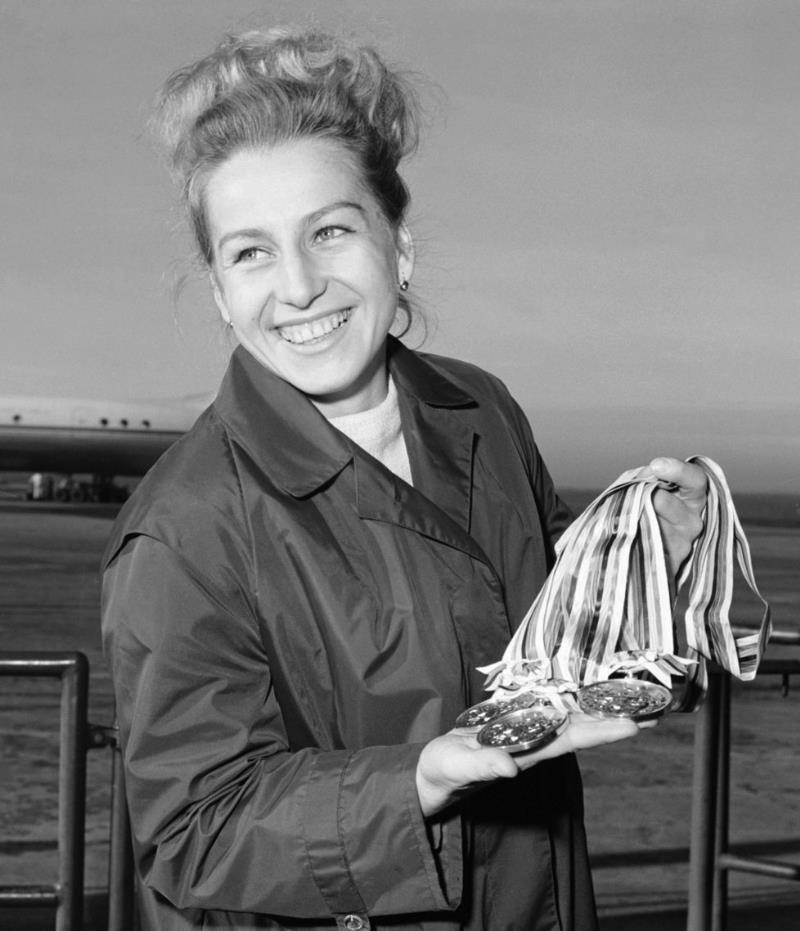 At the 1966 World Championships, Čáslavská defended her vault title, winning a team gold – breaking the Soviet monopoly in that event – and became all-around world champion.
Čáslavská dominated the 1965 and 1967 European Championships, taking all five individual titles and scoring perfect scores of 10 in 1967.
https://www.youtube.com/watch?v=K4V6IYG7g-o
Then at the 1968 Olympics, Čáslavská was once again dominant but after some controversial scoring cost her the gold medal on the balance beam, it appeared that there was more going on there than sport itself.
Two months before the Olympics, Soviet tanks had rolled into Prague to crush a popular uprising, forcing Čáslavská to train in a secret rural location. She fled arrest and holed herself up in a remote village to escape detection. With no training facilities there she allegedly kept in shape by lifting sacks of potatoes. So the political tensions between Czechoslovakia and Russia were evident during the finals as Čáslavská took to the floor to attempt to win her final gold medal.
The announcer spoke loud and clear, "The National auditorium in Mexico City awarding, by their applause, the gold medal to Věra Čáslavská. She got the 9.9. Čáslavská has won her fourth gold medal…"
Or at least that is what she thought…
Later the announcer spoke again, "We return to the National auditorium. The officials have changed the figures that were given out before this event going into the final round. They have corrected the previous score of (Soviet gymnast) Larisa Petrik and have announced that it is a tie for the gold medal between Vera Čáslavská of Czechoslovakia and Larisa Petrik of the Soviet Union."
What had transpired was almost unheard of.
After the event, officials announced that they'd been wrong all along. That Petrik's preliminary scores should have been higher entering the finals, so Čáslavská had to share the moment that was to have been hers alone.
Standing side by side, the Soviet anthem began to play.
Čáslavská decided to make an act of protest. Clearly disheartened and angered by the politics that favored the USSR, she protested during both medal ceremonies by a quiet yet profoundly powerful act.
Each time, she gazed downwards and to the side, rather than straight ahead, bearing an eloquent look of dignified sadness. They were subtle yet potent gestures, and they changed her life.
The announcer made it very clear in case the public did not notice by saying, "She turned her head to the right and down, just as she did it the last ceremony. This does not appear to be an accident."
Clearly, it was an act of public defiance in the face of Soviet tanks that had so recently crushed the Czechoslovakian uprising.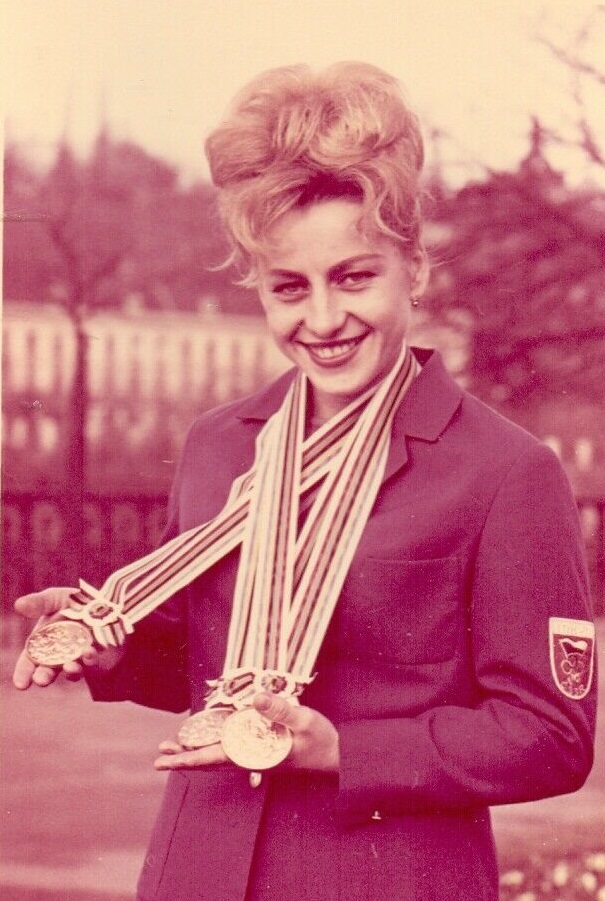 Combined with her stunning gymnastic performances, the gesture made her the star of the Games and immediately Věra Čáslavská became the heroine of the 1968 Olympics. Čáslavská was revered by Czech people for her brave demonstration on the world's biggest stage, and she was awarded Czechoslovakia's Sportsperson of the Year award in 1968 (for the fourth and final time).
After the 1968 Olympics, Čáslavská paid a dear price for her politics as Czechoslovakia was still under Soviet influence and the following images became her last as a professional athlete, gymnast and Olympian.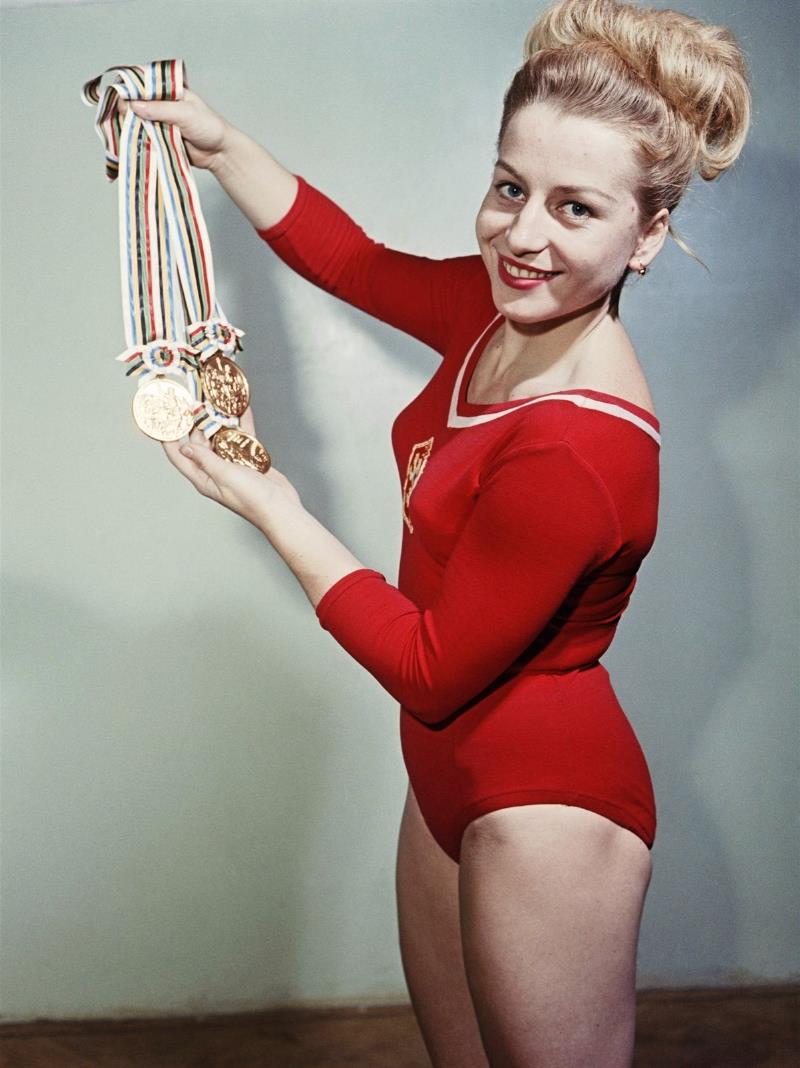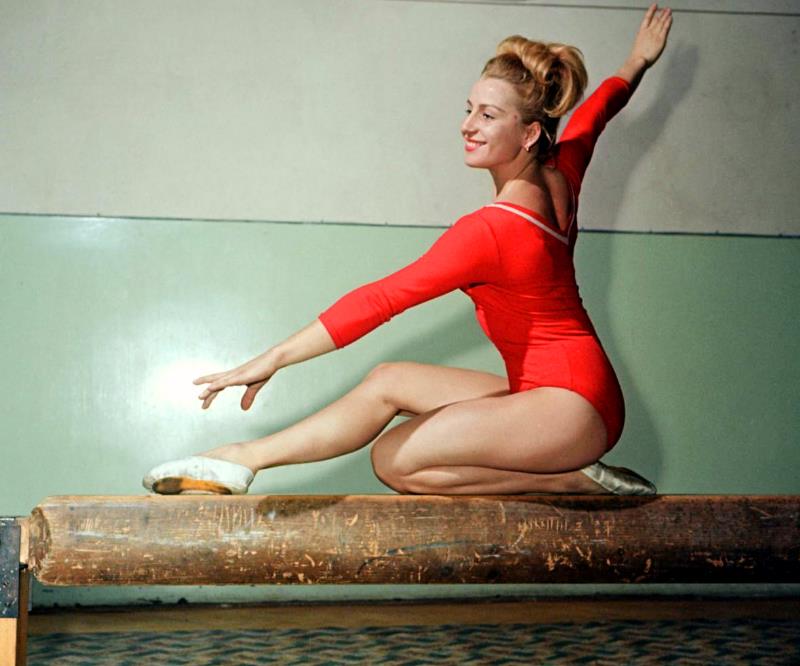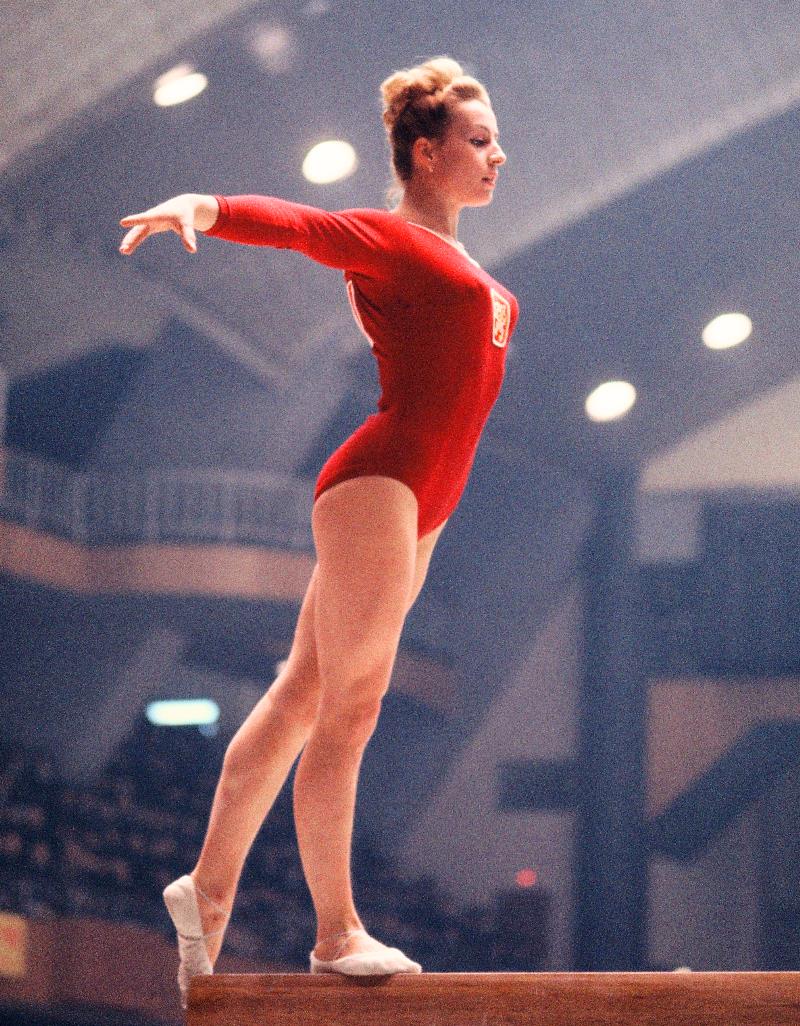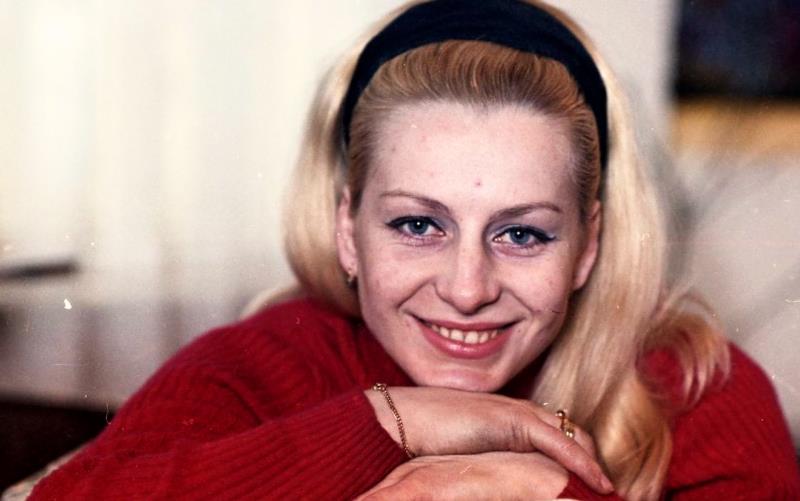 For her consistent support of the Czechoslovak democratization movement (the so-called "Prague Spring") in 1968, and during the purges which followed the Soviet-led invasion in August 1968, she was deprived of the right to travel abroad and participate in public sport events both in Czechoslovakia and abroad.
She had also signed the Two Thousand Words Manifesto (full title: Two Thousand Words that Belong to Workers, Farmers, Officials, Scientists, Artists, and Everybody; Czech: Dva tisíce slov, které patří dělníkům, zemědělcům, úředníkům, umělcům a všem) published in June of 1968, that called for deeper pro-democratic changes.
At home, Věra Čáslavská faced persecution from the post-invasion hard-line Communist regime. She was effectively forced into retirement, and was considered a persona non grata for many years in her home country. Czechoslovak authorities even refused to publish her autobiography, and insisted that it be heavily censored when it was finally released in Japan.
It wasn't until 1974 that she was allowed to work as coach in her country and later, in 1979-81, in Mexico.
After the 1989 anti-communist Velvet Revolution led by Vaclav Havel ended more than 40 years of communism, Ms. Čáslavská became Mr. Havel's adviser on matters of health care and welfare. Later she served as the President of Czech National Olympic Committee and between 1995 and 2001, she was a member of the International Olympic Committee.
Čáslavská received numerous accolades for her contributions to the sport of gymnastics. In addition to the Olympic Order, she was awarded a 1989 Pierre de Coubertin International Fair Play Trophy by UNESCO and was noted at the ceremony for her "exemplary dignity".
In 1995, she was honored with the Czech Republic's Medal of Merit.
She was inducted into the International Women's Sports Hall of Fame in 1991, and the International Gymnastics Hall of Fame in 1998.
In 1999, a group of 78 Czech experts and journalists gathered to vote on the best Czech Olympian of the Century. Čáslavská came in second, after runner Emil Zátopek.
In 2010, she was awarded the Order of the Rising Sun, 3rd class. She was also presented a 17th-century katana and a ceremonial kimono from the Japanese emperor.
In 2014, she was the joint recipient (with AP journalist Iva Drapolova) of the Hanno R. Ellenbogen Citizenship Award, awarded annually by the Prague Society for International Cooperation and Global Panel Foundation, for outstanding civic courage.
Věra Čáslavská, the beautiful multiple Olympic gymnastics gold medalist who stood up against the 1968 Soviet-led invasion of Czechoslovakia passed away in Prague on August 30, 2016.  Ms. Čáslavská had cancer of the pancreas. She was 74 years old.
Sources: RFE/RL, FIG, Wikipedia, The Globe, Breitbart.
We hope you've learned something new about your Czech heritage!