On the eastern end of the Charles Bridge, located next to the Church of St. Francis and across the street from the St. Salvator Church in the middle of the Knights of the Cross Square (Křižovnické Náměstí) is the famous Statue of Charles IV.
Surrounded by a small fence, the solid bronze monument stands a breathtaking 4 meters high and holds a sculpture of Charles IV. who founded the Charles University in Prague, in 1348. The statue was designed by Ernst Julius Hahnel, a German sculptor and it was made in 1848 for the 500th anniversary of the foundation of the Charles University.
Although the monument was originally made in 1848, it could not be revealed until 1849 because at the time it was made there were fights in the surrounding area and the monument and therefore, it had to be protected.
Thankfully, now it is on display for everyone who comes to visit Prague!
In the depiction of the emperor, he is holding a sword in one hand and a foundation charter of the University of Prague in the other. Millions of tourists come to view the monument which is one of most significant Neo-gothic monuments in all of Central Europe.
The monument is not only a shrine to Charles himself, but it also honors four important personalities of that era who were Charles' good friends. On the foundation of the mega statue on each corner sits Arnošt of Pardubice – the first Prague archbishop, Jan Očko of Vlašim – the successive Prague archbishop, Beneš of Kolovraty – who accompanied Charles IV. on his way to Rome, and Matthias of Arras – the first builder of the St. Vitus Cathedral at the Prague Castle.
The Knights of The Cross Square is actually one of the smallest squares in Prague and all of the surrounding churches and buildings are decorated with baroque statues and sculptures of saints peering down from their mighty columns.
It is the perfect place to take pictures and soak in the local history. While you're there make sure to stop into the Charles Bridge Museum and learn about how the bridge was made!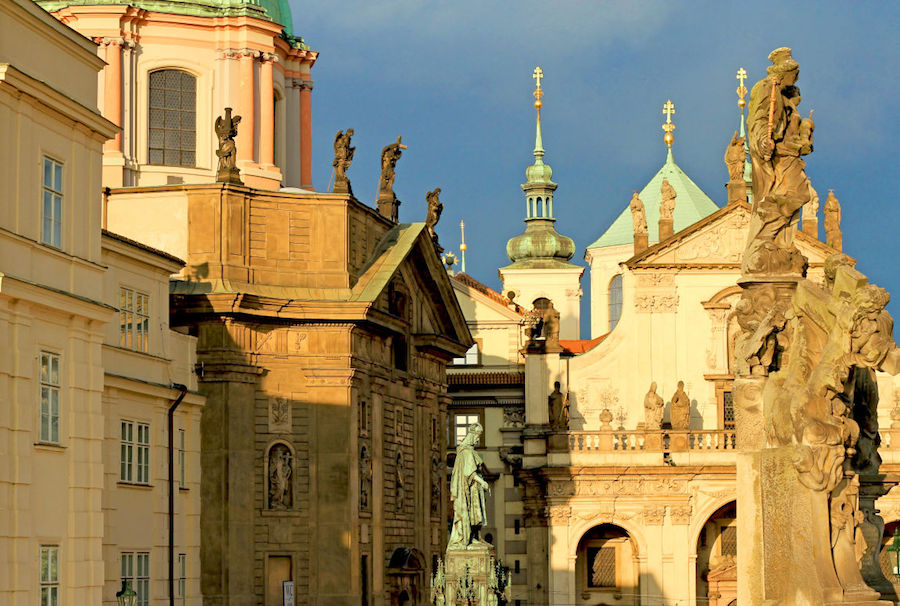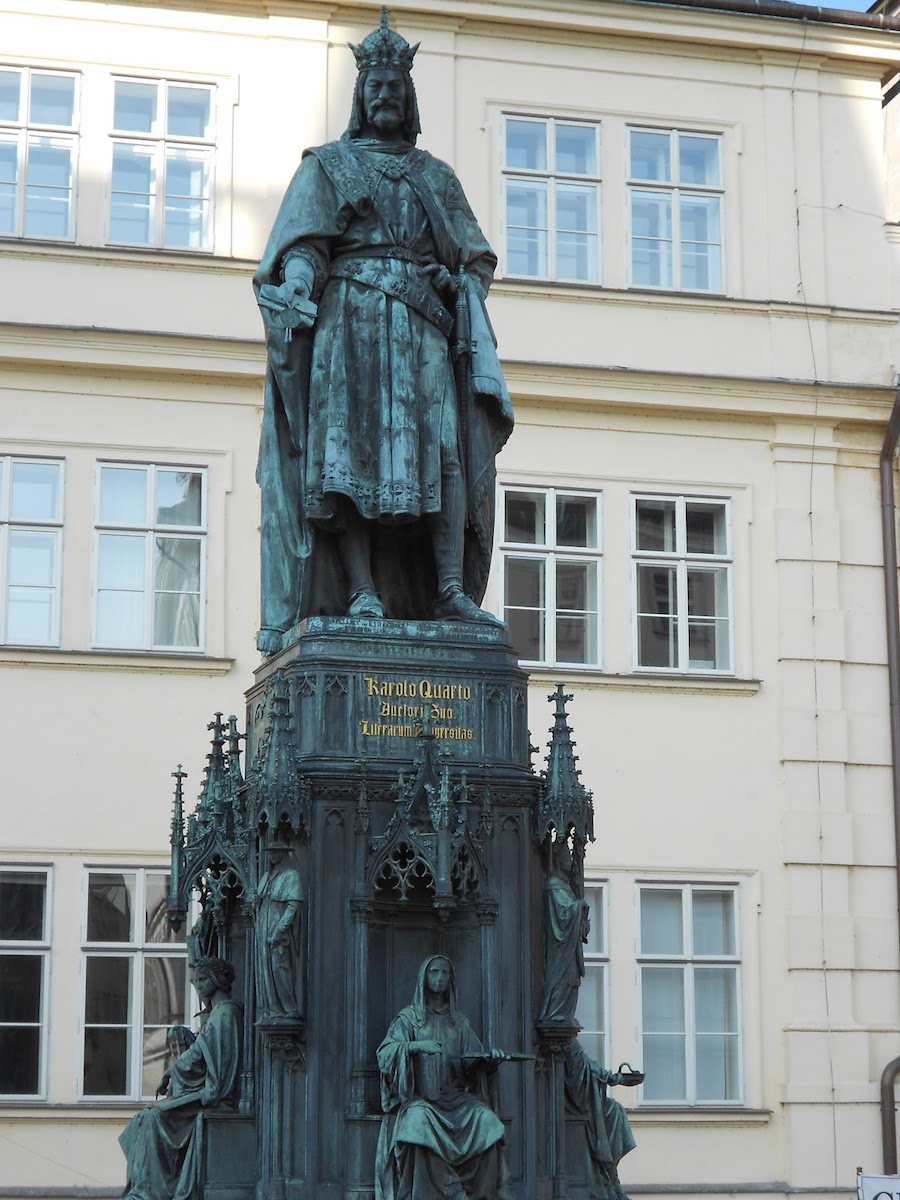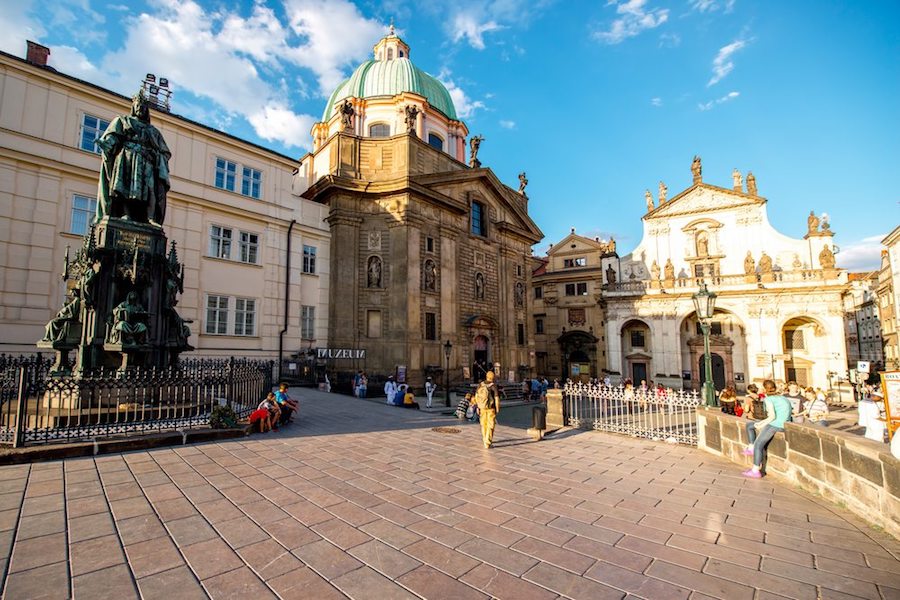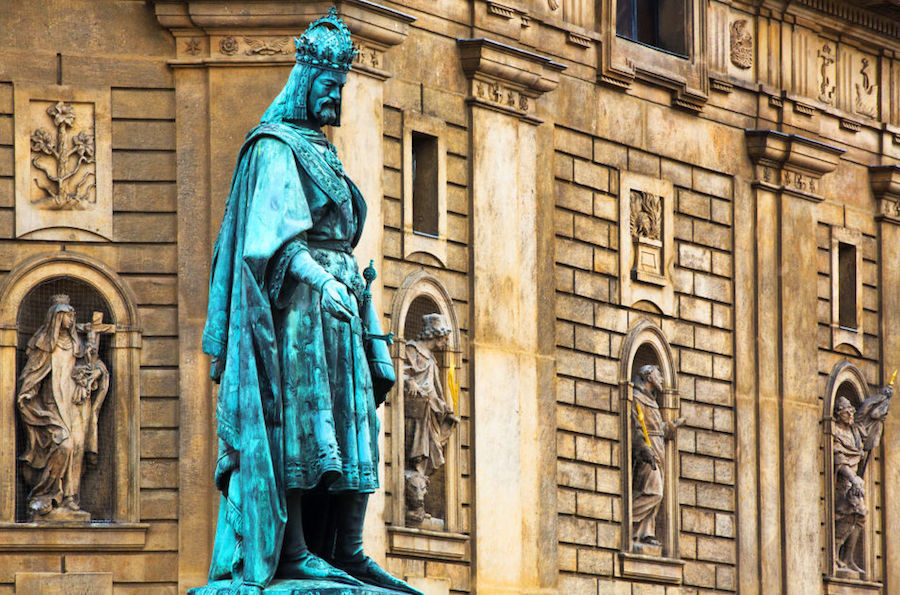 If you have not already subscribed to get TresBohemes.com delivered to your inbox, please use the form below now so you never miss another post.
---
Remember, we rely solely on your donations to keep the project going.
Become a friend and get our lovely Czech postcard pack.