The late Middle Ages and the Renaissance saw a flurry of intellectual and scientific endeavors in the medieval city of Prague. A vibrant group of individuals who were dedicated to studying and unlocking nature's mysteries lived in the city and were known as the Prague alchemists.
The goal of the scientific and metaphysical discipline of alchemy was to unlock the secrets of the cosmos and produce new technology and knowledge. Since Prague was home to a sizable community of intellectuals and artists attracted to the city's rich cultural legacy and active intellectual culture, it seemed sense that the city would serve as a hub for this kind of activity.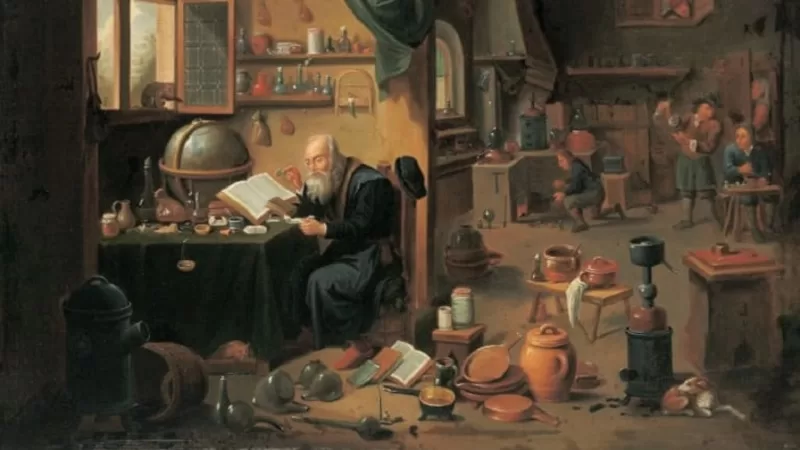 John Dee was among the most well-known alchemists connected to Prague. During the sixteenth century, he settled in the city. During the Tudor era, John Dee (1527–1608; English) was a mathematician, astronomer, astrologer, and alchemist. He was well-educated, having attended the University of Cambridge to earn a degree in mathematics. He was born in London. Dee became sought-after as a consultant by Elizabeth I, who hired him as a military and navigation counsel due to his understanding of mathematics and natural philosophy.
Dee was interested in the mystical and esoteric arts, particularly alchemy, in addition to his scientific and mathematical endeavors. He spent a large portion of his life learning about and engaging in the practice of alchemy because he was convinced that it contained the key to discovering the mysteries of the natural world. Many wealthy and influential people, including Emperor Rudolf II, sought for Dee's advice because of his reputation as a talented alchemist.
Dee was repeatedly condemned by the Church and other religious leaders due to his alchemical endeavors and belief in the supernatural, which gave him notoriety as a magician and a heretic. Dee persevered in his alchemical studies, practiced alchemy throughout his life, and promoted it despite these attacks.
John Dee's contributions to the sciences of mathematics, astronomy, astrology, and alchemy have guaranteed him a place in history. He is now recognized as one of the most important numbers of the Tudor era. Both for his academic accomplishments and his cryptic and mystical interests, he remains a fascinating figure. It is thought that Dee went to Prague to learn with other alchemists and to conduct his own independent investigation and experiments.
Edward Kelley was a famous alchemist who was born and raised in Prague in the late 16th century.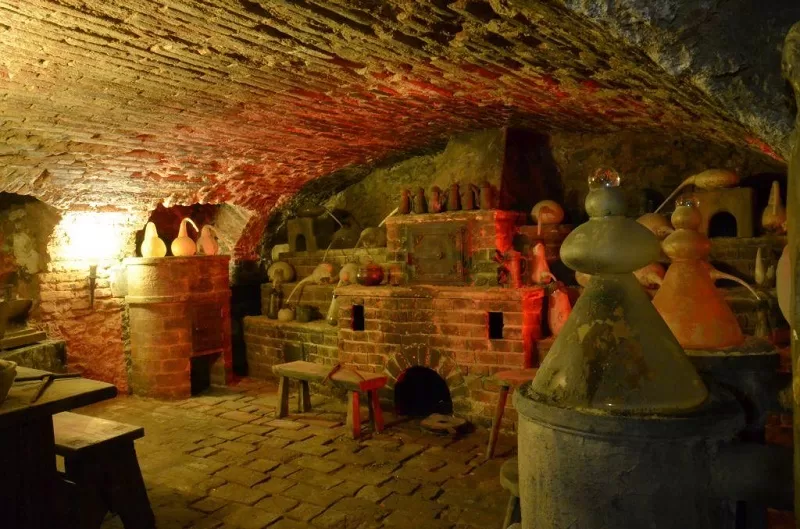 English alchemist and spiritualist Edward Kelley (1555–1598) lived in the late 16th century. He was born in Worcester, England, in 1555, and became well-known for his alleged proficiency in alchemy and spirit communication. He rose to fame as a result of his connections to Rudolf II's court in Prague, where he lived for the majority of his life.
Rudolf II and other powerful figures in Prague who were drawn to occultism and alchemy gave Kelley their support. He was renowned for having a colorful character and being able to conduct experiments in alchemy, which were believed to be magical and supernatural. Furthermore, Kelley was thought to have struck a pact with the devil, which bolstered his reputation as a powerful alchemist.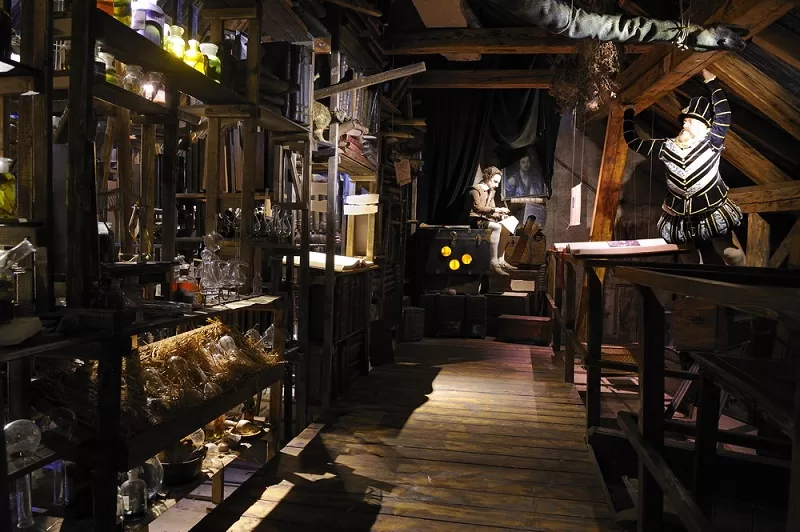 Kelley's alchemical attempts never yielded gold, despite his notoriety and the suport and backing of Rudolf II. He got involved with other alchemists in a number of disputes and debates, which ultimately brought him to his demise. He was repeatedly detained and imprisoned, and in 1597, he passed away in an enigmatic setting.
In the history of alchemy and the occult, Edward Kelley is still regarded as a contentious character since so many of his deeds and convictions are still up for discussion and conjecture. However, the history of alchemy and the Renaissance continues to be greatly enriched by his time spent in Prague and his connections with Rudolf II and the court of the Holy Roman Empire.
Prague alchemists were world-renowned for their use of high-tech and sophisticated laboratory apparatus, their superb mastery of chemistry, and their familiarity with astrology and other occult sciences. They worked on a variety of initiatives, including the development of novel chemical processes, new metals and alloys, and new medications at the time.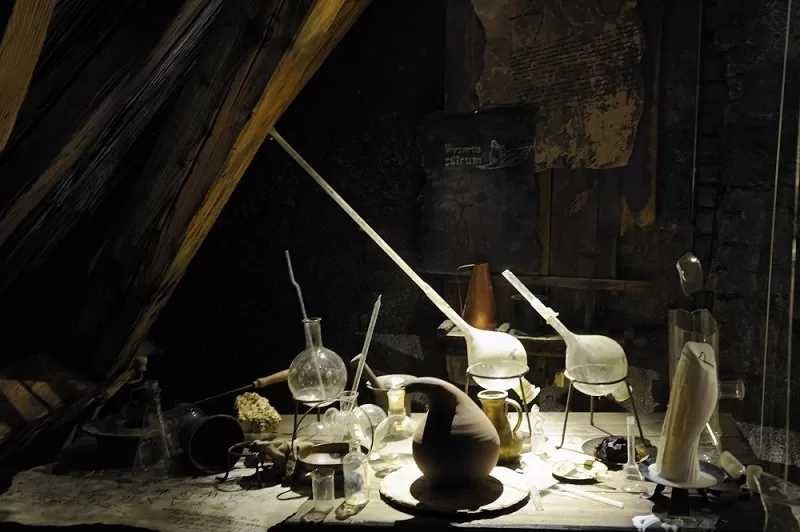 The alchemists of Prague were renowned for their use of advanced laboratory apparatus, their superb mastery of chemistry, and their familiarity with astrology and other occult sciences. They worked on a variety of projects, such as developing novel drugs, new metals and alloys, and new chemical processes. Many of the alchemists of Prague devoted their entire lives to the ongoing pursuit of the Philosopher's Stone because it was the principal focus of alchemical research at the time.
Watch this short video to learn about the Philosopher's Stone:
Alchemists in the Middle Ages went after the mythical Philosopher's Stone, which was said to have the ability to change common metals into gold and bestow immortality. It was also believed to have therapeutic qualities. A key component of the European alchemical tradition was the famous search for the Philosopher's Stone, and Prague was a notable hub of alchemical work during the Renaissance period.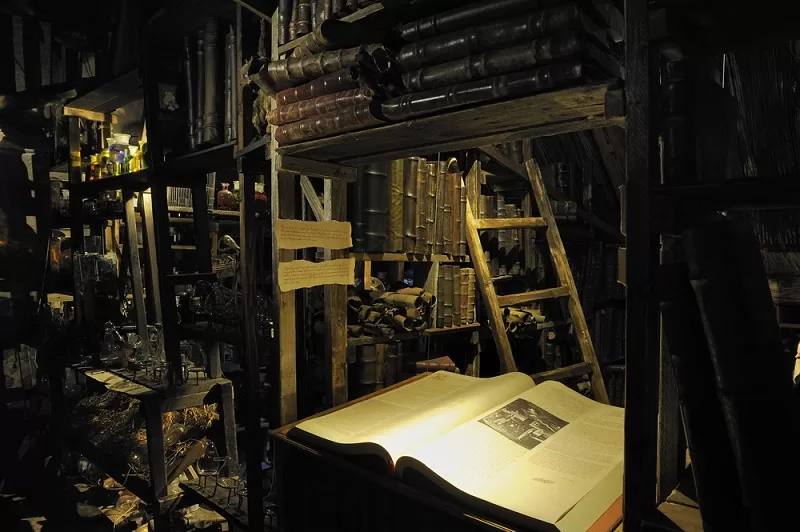 The court of Emperor Rudolf II, who was renowned for his interest in the esoteric and mystical arts, attracted a large number of alchemists and mystics to Prague at this time. Edward Kelley performed multiple alchemical experiments for the emperor and claimed to have revealed the Philosopher's Stone's secret.
The Philosopher's Stone has a reputation for serving as a hub of alchemical knowledge, but its real existence was never established; it is still the product of myth and legend. Nevertheless, the pursuit for the Philosopher's Stone had a long-lasting impact on science and chemistry since alchemists' experiments resulted in the discovery of novel chemical processes and reactions.
The Philosopher's Stone continues to awaken the imaginations of readers, authors, and filmmakers worldwide. Its legacy survives as an important element of Prague's and the world's cultural heritage.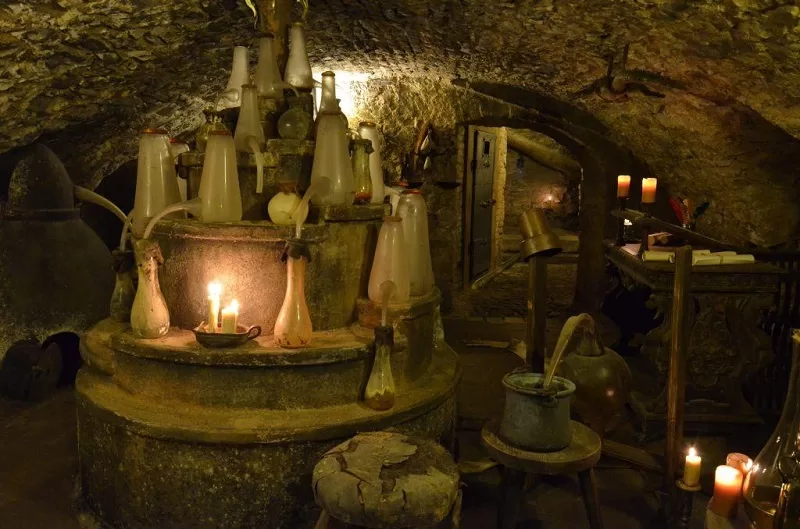 The alchemists of Prague were also famous for their obsession with magic and the occult, something they routinely incorporated into their creations. They considered their experiments as a method to penetrate deep into the universe's mysteries and gain a greater understanding of the forces that influence the world because they felt that learning about alchemy was a path to spiritual enlightenment.
Despite the fascination with alchemy in Prague, it was eventually discredited as a scientific discipline and fell out of favor as the scientific revolution swept through Europe. However, the legacy of the alchemists of Prague lives on in the modern-day city, where many of their old laboratories and workshops still exist and can be visited by tourists.
In conclusion, the medieval alchemists of Prague were a fascinating group of intellectuals who made important contributions to chemistry, astrology, and magic. Their work and their legacy continue to inspire and captivate people to this day, and their impact on the history of science and culture is undeniable. Whether you are a historian, a scientist, or simply someone interested in the mysteries of the universe, a visit to Prague is an opportunity to explore the rich cultural heritage of this fascinating city and to learn about the incredible achievements of its medieval alchemists.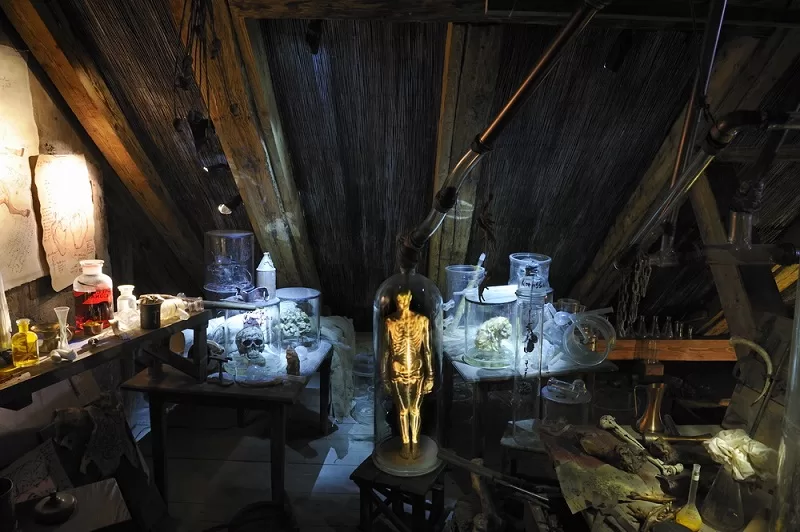 If you're interested in learning about medieval alchemy in Prague, you can visit the National Museum in Prague, which has an extensive collection of artifacts and exhibits related to alchemy and medieval history. Additionally, you can also visit the Alchymist Grand Hotel and Spa, which is housed in a historic building that was once used by alchemists. This hotel has a museum dedicated to alchemy, as well as a restaurant that serves traditional Czech cuisine.
Another option is to take a guided tour of Prague's historical alchemical sites, where you can learn about the city's alchemical history and visit some of its most famous alchemical landmarks.
Take the quick 3-minute video tour:
The Alchemists' Museum in Prague is a museum dedicated to the history of alchemy and its practitioners. Located in the heart of the city, the museum provides an in-depth look into the world of alchemy and its impact on science and society. Visitors can expect to learn about the history of alchemy in Prague, including the work of famous alchemists such as John Dee and Edward Kelley. The museum features a variety of exhibits, including historical artifacts, manuscripts, and works of art, as well as interactive displays and multimedia presentations that provide a hands-on experience for visitors. Whether you're a history buff, a science enthusiast, or simply interested in learning more about this fascinating subject, the Alchemists' Museum in Prague is definitely worth a visit.
Thank you in advance for your support…
You could spend hours, days, weeks, and months finding some of this information yourselves. On this website, we curate the best of what we find for you and place it easily and conveniently into one place. Please take a moment today to recognize our efforts and make a donation towards the operational costs of this site – your support keeps the site alive and keeps us searching for the best of our heritage to bring to you.


Remember, we rely solely on your donations to keep the project going.
We appreciate you more than you know!
If you have not already subscribed to get TresBohemes.com delivered to your inbox, please use the form below now so you never miss another post.