There is nothing more popular in Czech cuisine as dumplings. Today we are going to share a family recipe for Carlsbad Dumplings or Karlovarský Knedlíky.
In the Bohemian forests, around the Šumava mountains, dumplings are called bosáky, in Southern Bohemia, they're called drbáky and in Moravia they're often served with poppy seeds and called šulánky. In the Slovakian kitchen, they are known as halušky and they are also made in Hungary and Slovenian kitchens.
Bavarian or Austrians also make dumplings although they are smaller and if we look at Italian gnocchi, we realize that these too are mini-dumplings.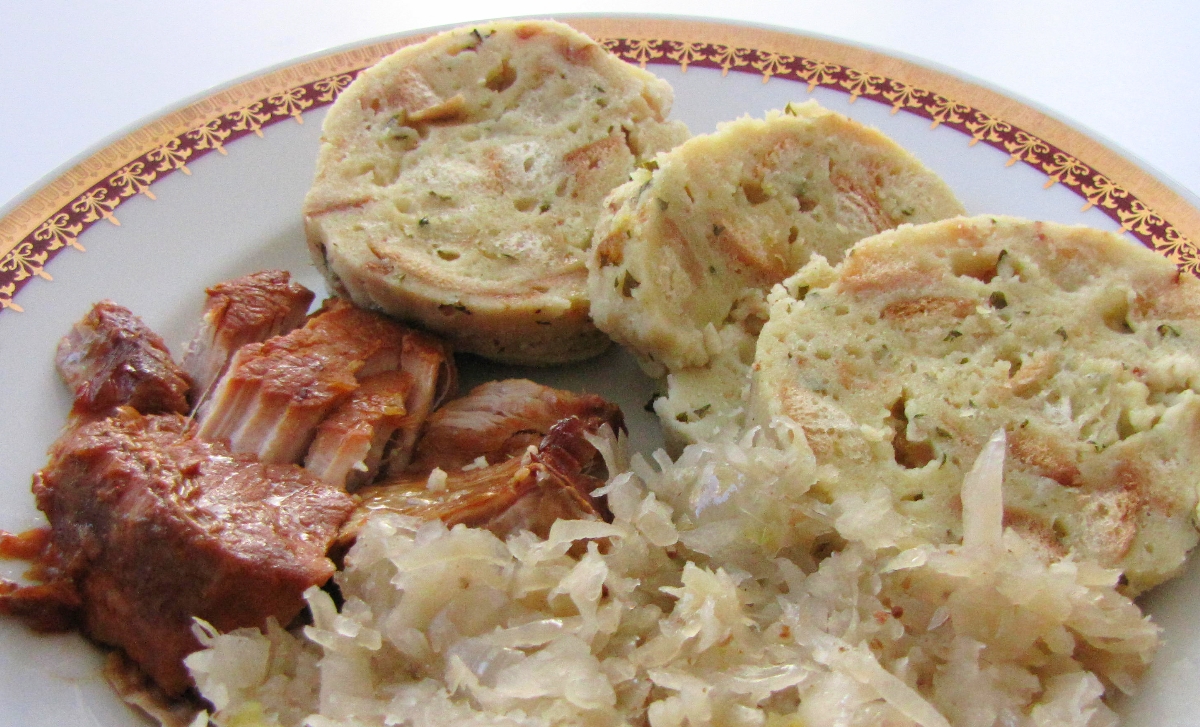 Long ago, when flour was scarce or too expensive for peasant families, dumplings were fashioned from stale bread or potatoes. They're also made from farmer's cheese with flour, semolina or cream of wheat. Czechs will argue which flour suits them best and American Czechs will swear by the Wondra flour brand.
There are Houskové knedlíky, Kynuté knedlíky, Jemné knedlíky, Knedlíky v ubrousku, Krupicové knedlíky, Péřové knedlíky, Brynzové knedlíky, Vaječné knedlíky, Špekové knedlíky, Hrnečkové knedlíky, Bramborové knedlíky, Bramborové knedlíčky, Bramborové knedlíky s houskou, Bramborové knedlíky z teplých brambor, Knedlíky ze syrových brambor, Chlupaté bramborové knedlíky (wooly), Hrnkové knedlíky, Drbáky, Rychlé drbáky, Bramborové knedlíky bavlněné (krkonoše), Krkonošské knedlíky, Duryňské knedlíky, Karlovarský knedlík, Pošumavské bosáky, Jihočeské knedlíky, Vídeňské žemlové knedlíky, Český houskový knedlík, Zelníky po veselském způsobu, Bavorské krupicové knedlíky… and of course, these.
We're sure there are even more varieties that we've not listed!
When my father was coming to the United States to visit us, I asked for one thing: a Czech dumpling slicer.
As you can see, he brought it…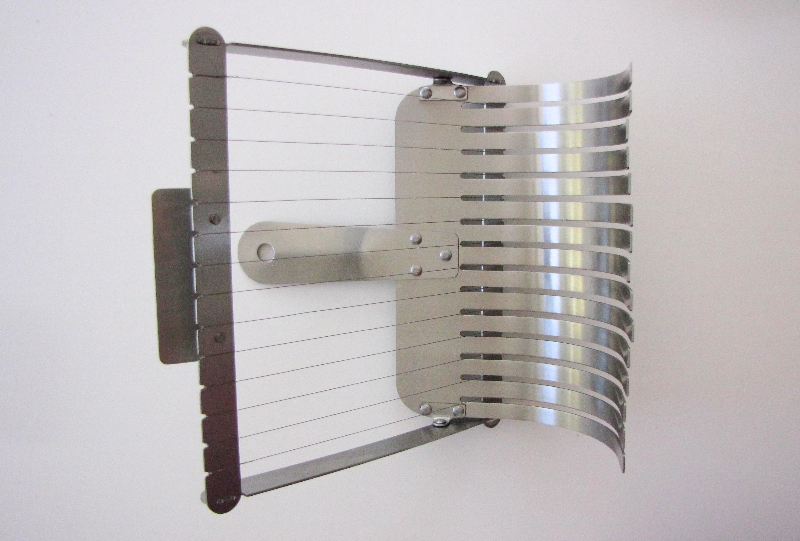 Thank you dad! I love it!
Before this nifty stainless steel and wire gadget arrived, I used to cut dumplings with threads, the way my mother showed me when I was just a little girl.
Dumplings were, are and always will be a Czech thing, at least in our family.
Many generations ago, they were not a side dish but were rather served as the main course. Drizzled with fried onions or stacked with cabbage, and then doused with lard or butter, they filled the bellies of workers and made a hearty, stick-to-your-ribs kind of meal.
When my folks first emigrated to the states, they were often a main dish for us too. I remember many nights eating plum or apricot stuffed dumplings believing I was the luckiest kid alive, eating dessert for dinner!
Looking at their caloric value, they are ranked as an unhealthy food – yet they are the heart of a Bohemian or Czech kitchen and the best representative of the regional cuisine.
We make potato dumplings, bread dumplings, baking powder dumplings, yeasted dumplings and even Carlsbad dumplings, which we're sharing with you today.
Some people will argue that these are a Viennese creation, others will credit the Sudeten Germans living in Northern Bohemia, but wherever the original recipe comes from, they are officially credited to Karlovy Vary (Carlsbad), a spa town in the west Bohemian region of the Czech Republic. Karlovy Vary's numerous thermal springs have made it a popular resort since the 19th century.
It's ironic that one of the unhealthiest foods supposedly comes from such a healthy place!
I searched all of my oldest Czech cookbooks (I have over 25 of them!) and I could not find a recipe.
What makes these different is that they are made primarily with cubed bread. People will argue whether the bread is toasted, or dried. The next addition is beaten egg whites and finely chopped parsley.
The result after cutting is a beautiful mosaic of deliciousness.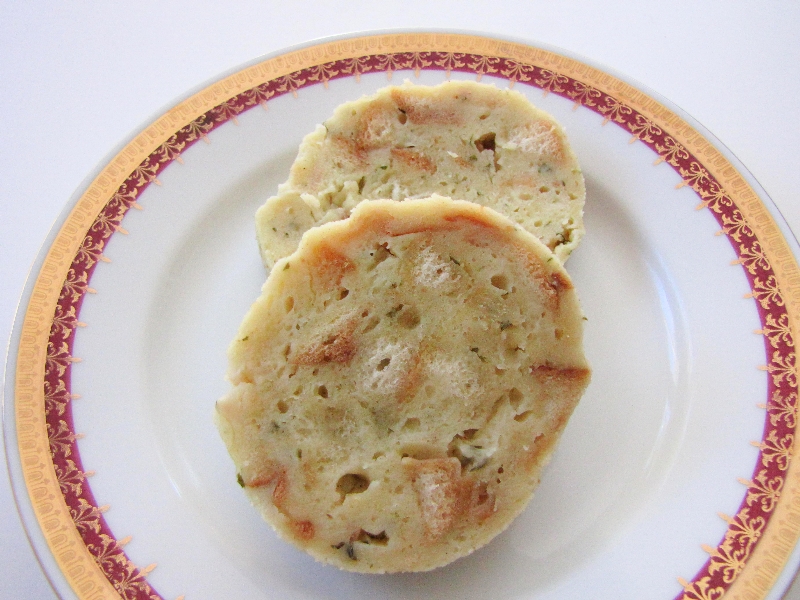 Below is my great-grandmother's recipe (she was born in Vienna and my great-grandfather was a Sudeten German). While they are time consuming, the taste is worth the effort. Old Czech proverbs state that a girl is not ready to be married until she can properly make dumplings!
Traditionally, these Czech dumplings are boiled in a dishcloth. We do that but we also wrap it in foil for the first half of the boiling process. This ensures a more dry dumpling which has a crust allowing it to keep it's shape and yet a very moist interior.
About 10-15 minutes in, I peel away the foil. If you leave it the entire time, it will darken the water and make you think your dumplings are full of aluminum, and no one wants that. Other's use a plastic wrap, and no – it will not melt – but yes, it's highly likely that invisible plastic unhealthy somethings are leeched into the water.
Okay, so better to make them old school and just use the dishtowel method.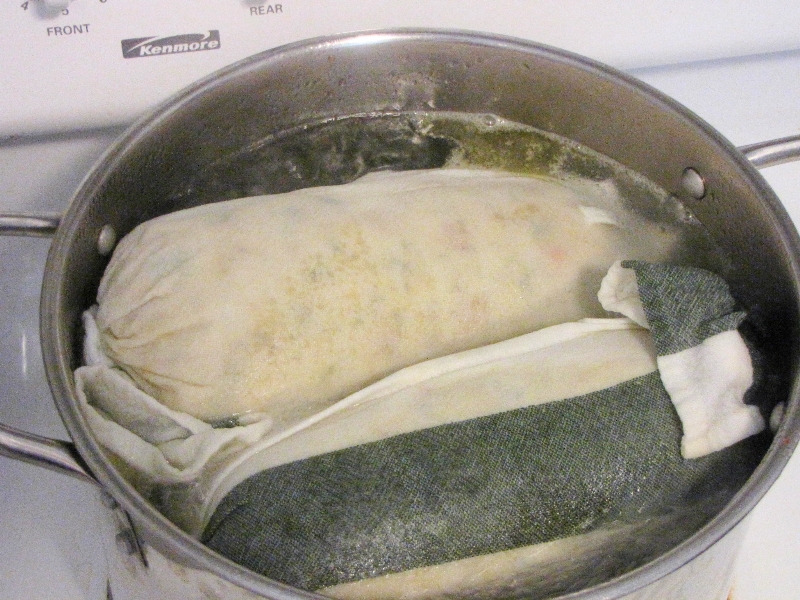 Or….
I do know people who just roll them into smaller balls with wet hands and drop them into the boiling water, but I have also seen them fall apart this way, which is why we use the dishcloth method. It's safer and makes for a nicely shaped dumpling.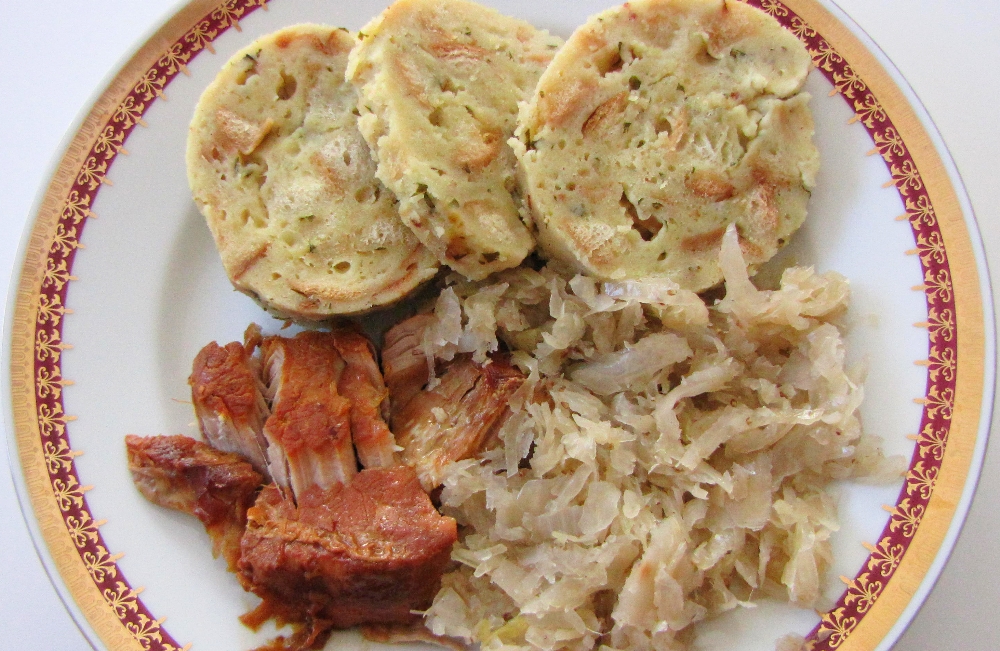 Ingredients
1 large baguette, cubed into even size pieces
Flour (up to 2 cups)
2 cups milk (or 1 cup kefir and 1 cup milk)
4 eggs, separated
1 stick butter, split in half
1/2 bunch fresh chopped parsley
1/2 tsp nutmeg
salt to taste
Directions
Begin bringing a large pot of salted water to a boil.
Melt half of the butter in a large teflon skillet and fry the bread cubes lightly in butter on medium heat, stirring. You want them to get an even light golden coat.
Meanwhile, in a large bowl, whisk together the milk, egg yolks, finely chopped parsley, nutmeg and salt.
Melt remaining half of butter and add to the milk mixture.
Add bread to the milk and allow to soak while you whip your egg whites and when stiff peaks form, set aside.
Looking at the soaking bread cubes, you will now add the flour. How much depends on how the bread soaked the milk. Sometimes I add as little as 1/4 cup, other times I add up to 2 cups. It's a chemical reaction kind of thing….
You have to gauge it so that you have it wet enough to fold in the egg whites but solid enough to form balls or shape into a log and wrap in your dishcloth.
Note: They will stick to the dishcloth so make sure to smear it with some melted butter. I used another half a stick because I did not want them to stick, but they did anyway…
If making balls (the size of a plum) then cook in the salted water about 15-18 minutes.
If cooking a log shaped dumpling in a dishcloth, cook for approx. 1 hour.
When done, slice with thread or a handy-dandy dumpling slicer like the one my daddy brought me from Czech Republic.
Serve with your favorite kraut and meat or other Czech gravy.
Dobrou Chut!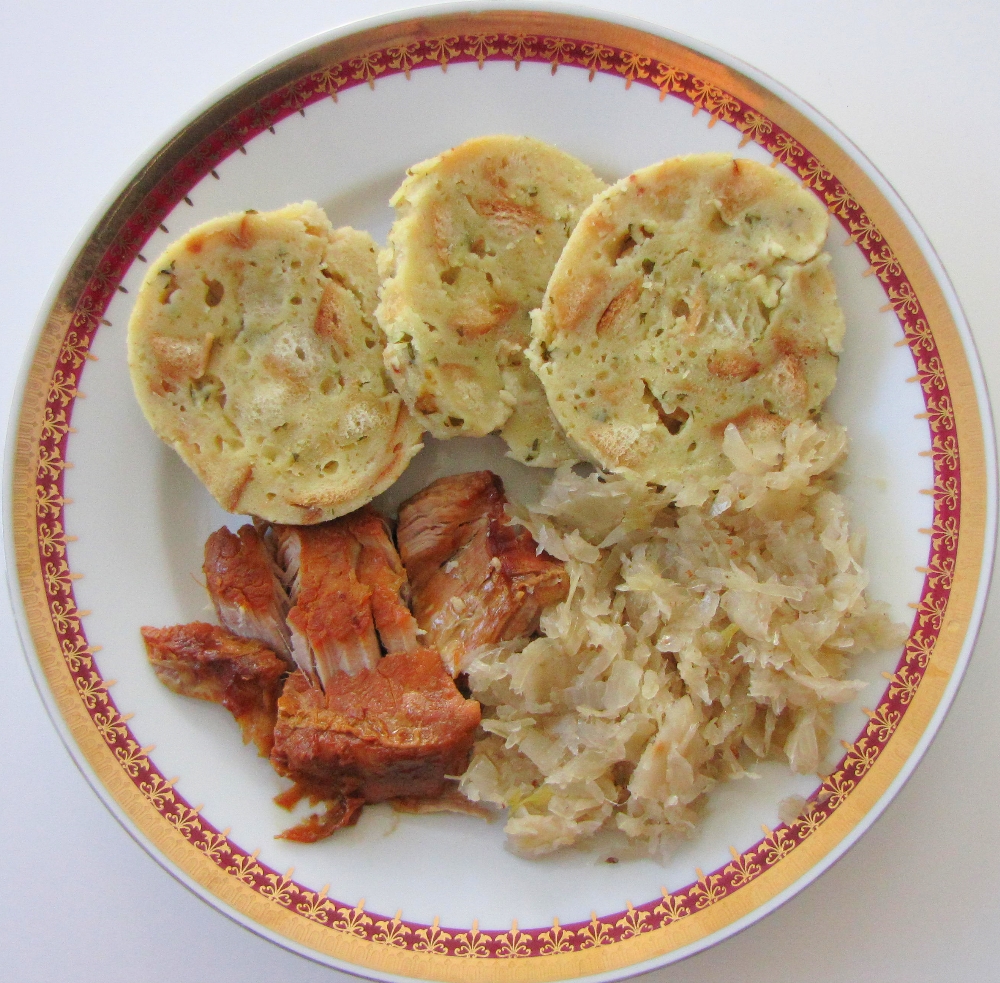 Sources: Czech Specials, Czech Gastronomy, CoopClub, Specialty Food.
If you have not already subscribed to get TresBohemes.com delivered to your inbox, please use the form below now so you never miss another post.
---
Remember, we rely solely on your donations to keep the project going.
Become a friend and get our lovely Czech postcard pack.