In honor of #NationalCoffeeDay, I poured myself a strong cup of coffee and began to remember all of the wonderful cafe's we went to in Prague. Suddenly I was inspired to write Top 5 Places To Have Coffee In Prague.
In fact, there is nothing better than to go to a cafe in Prague.
It's just what you do.
The café culture in Prague was at its height in the late 19th century to the 1930's, when the coffee bars in the city allowed a place where writers, political activists and artists could meet. Their most famous cafes were favorite meeting places for Bohemians which included writers, artists and intellectuals. Sure, the times have changed but coffee culture still thrives in the city of a thousand spires.
At the turn of the century, the Bohemian capital was a melting pot; home to Germans, Jews and Czechs. The people who were a part of that time cultivated a culture that catapulted their reputations into the international sphere. Prague exploded with fervent artistic and intellectual activity and focused a new way of seeing the world.
Prague's decadent art nouveau cafes became the public meeting points for the city's intelligentsia and when you think of your typical 'Bohemian', you most likely imagine someone sitting in a Prague cafe.
Bohemians and coffee. Yes, it's the the perfect match.
Most of these cafés were in a sorry state after WWII but a handful are still standing or have been resurrected to the glory of their Art Nouveau heyday.
Some of the cafes on this list are historic and were frequented by people like Einstein and Kafka. They usually offer delicious desserts, expertly brewed coffee, decadent decor and extensive drink menus. Others are more modern and offer great views, excellent coffee and quick bites to eat while on the run through town.
Either way you like your coffee – this is our list of 30 amazing coffee houses we've visited over our travels to Prague. The historic information provided is from each cafe's website.
1. Café Slavia.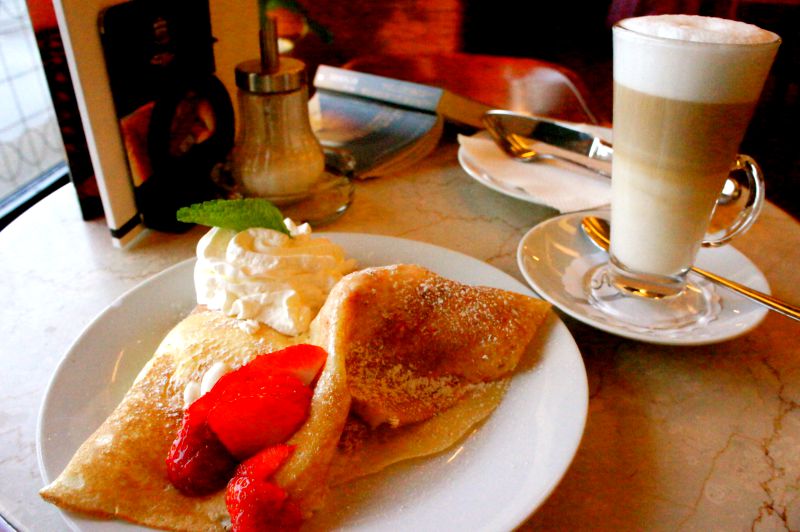 This is probably Prague's most famous coffee house in the historical centre of Prague. They are number one on Narodni trida street and not only by address. Their prime corner location makes it possible to observe the whole of Czech history from the windows. You can see the National Theater, the Charles Bridge and the Prague Castle. From the same windows it was possible to see the funeral procession of T.G. Masaryk on September 21, 1937 and the procession of students during the Velvet Revolution on November 17, 1989.
Their guest list looks like a who's who of celebrities from all existing spheres. The poets, Jiří Kolář and Jaroslav Seifert wrote poems. Jiří Grossmann wrote stories. Jiří Šlitr composed songs. Jiří Krampol wrote screenplays and President Vaclav Havel gained strength, energy and inspiration. In fact, Slavia was a popular meeting place for many anti-Communist dissidents. When it closed in the early 1990s with an uncertain fate, Havel joined a sit-in demanding it be returned to its former glory – and we're happy it did.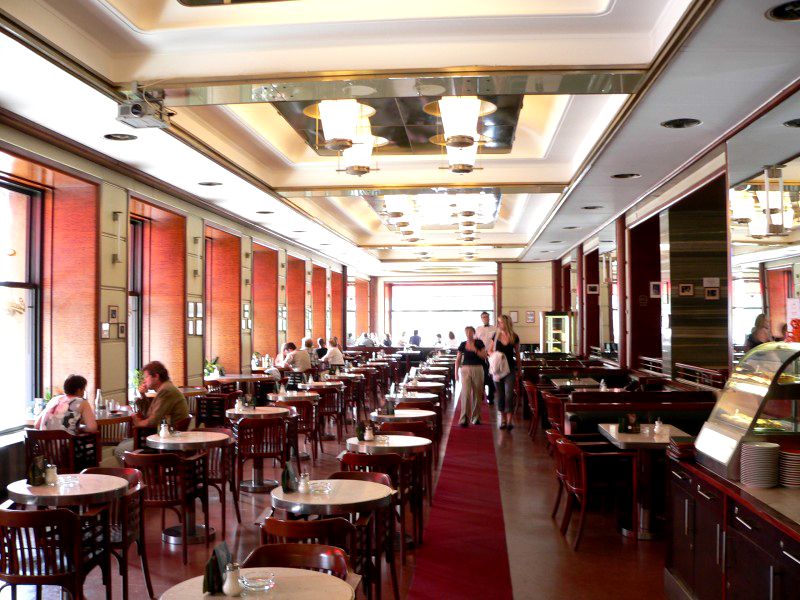 2. Café Louvre. 
This Café, bearing the name of the world's famous gallery, has been standing since 1902, for over a century. Among its guests were Karel Capek, Franz Kafka and Albert Einstein during his professorship in Prague. The Café's life was interrupted by force in 1948 by the communist coup when all café fixtures were thrown out of the windows into Narodni Avenue. The cultural melting pot was revived in the place after 1992 when the devastated premises underwent a complete reconstruction.
Eduard Vojan [1853-1920], a famous Czech actor, used to have his favorite table here. German writers Otto Pick and Franz Werfel joined him here in 1913. German Philosophical Circle professing the teachings of Franz Brentan [1838-1917] started their regular meetings here in 1902. The Circle's members included amongst others an experimental psychologist, Josef Eisenmeyer, a private senior lecturer, Alfred Kastil, Oskar Kraus, a scholar known for his refusal of the relativity theory and his Illias paraphrase – published as Meyrias. Berta Fantova, Emil Utitz [1883-1956], a latter aesthetics professor, Hugo Bergmann, and several significant law students – Felix Weltsch, Max Brod, and Franz Kafka.
In autumn 1905, Brod was expelled from the Circle, and Kafka, sympathizing, seceded shortly after. It wouldn't stop them from visiting their favorite café, though. As documented in their correspondence, they spent " pleasant and relaxing moments" here on the 7th of November 1907, reading Legendary Moralities by Jules Laforgue. Brod's group rented a separate clubroom for themselves here.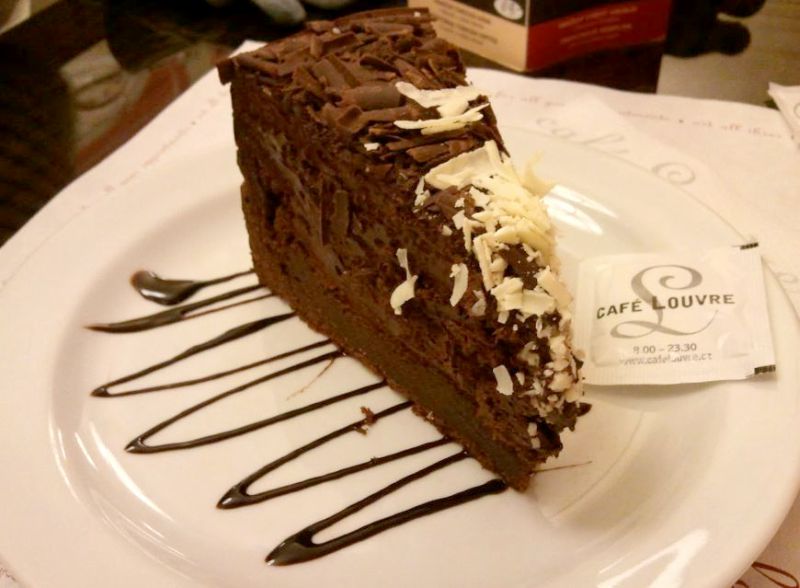 Café Louvre was also used by Prague writers as an office, as we can read in Brod's letter dated May 1912, addressed to a publisher named Axel Juncker, or in letters by Arne Laurin, a latter editor-in-chief of Prager Presse, and František Langer, who wrote his letters to a playwright, František Kohl, using Café Louvre's letterhead papers.
Since the turn of the 19th century, upper class ladies started visiting the Café, and gradually even made it a bastion supporting female emancipation.
The Café later extended its premises with a cellar resembling a labyrinth, these days also housing a jazz club. In January 1915, a Louvre's wine cellar called "The Catacombs" welcomed its first guests there. There also used to be a "Pilsner Grand Restaurant" there.
In 1911-1912, Albert Einstein worked at The Prague German University. He was one of the regular guests of Mrs. Berta Fantová's (mentioned above) Tuesday evenings. He used to sit at Café Louvre on Národni Avenue with George Pick and Vladimir Heinrich, later a professor of astronomy at the Czech University.
In 1911, Café Louvre was honored by three Committee meetings of the Sursum Art Association. Among the association members there were artists like Emil Pacovský, Josef Váchal, Jan Konůpek, Jan Zrzavý, E. Frynta, M. Alšová, R. Medek and others. According to Emil Pacovský, "The art of the Sursum group is antagonistic to all the realistic art schools and is occupying itself solely with spiritual and cult matters." The Association's stamp as well as member cards were created by a founding member of the Association, Josef Váchal, using his specific woodcutting technique.
On 15th February 1925, thirty-eight writers met in Café Louvre at a constituent General Meeting of the PEN Club Czechoslovak Center. Karel Čapek became its first Chairman, and President of the Republic, T.G. Masaryk, was an honorable guest to the first PEN Club dinner.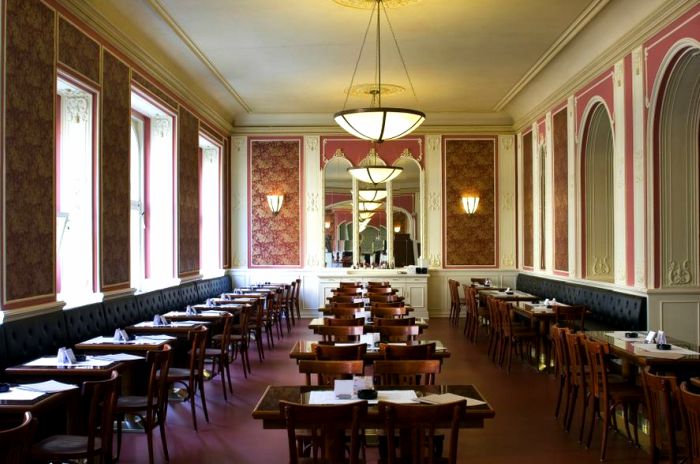 3. Café Imperial.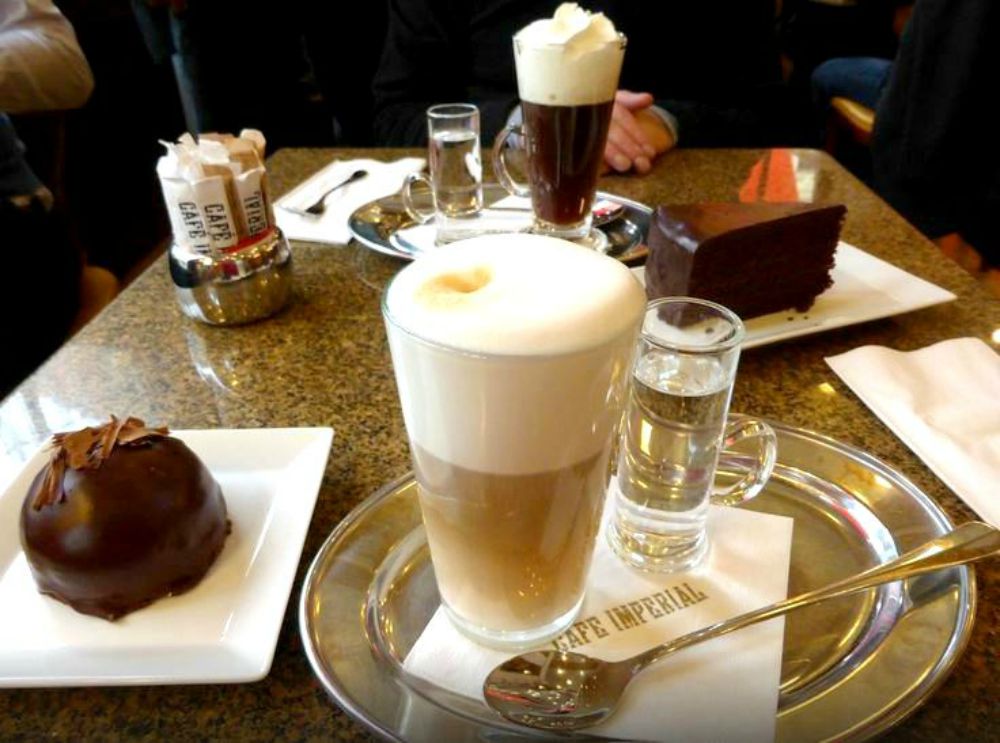 Café Imperial has always been a busy and well-visited place. Throughout the years it was a social gathering spot for guests from all walks of life. Now the tradition continues…
This gorgeous café originally opened in 1914 and was completely restored to its former glory in 2007. The successful reconstruction has on the one hand added a touch of class to this place, but on the other still keeps the unforgettable atmosphere of the Grand Café. Whether it be breakfast, lunch, afternoon tea or a private party, this place exudes elegance. The menu is a blend of Czech cuisine and some of the Chef's signature dishes.
Coffee and pastries are always important in a Café of such style. They have made sure that a full selection is offered in both areas. All of their dishes are homemade without any artificial "improvements"; they are as pure as they can be.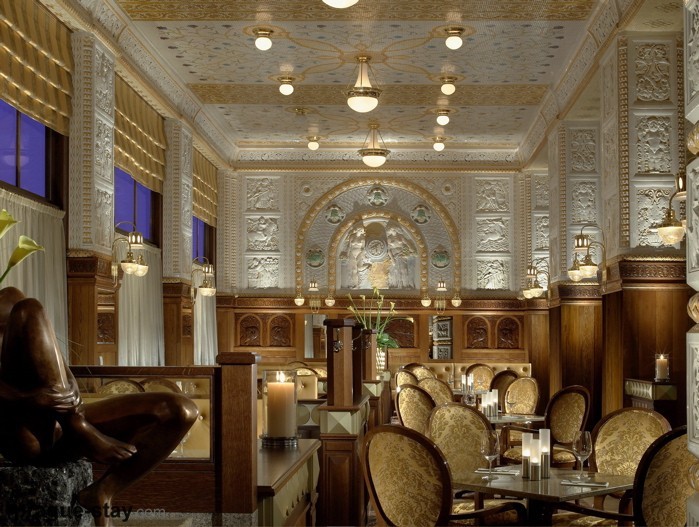 4. Kavárna Obecní Dům.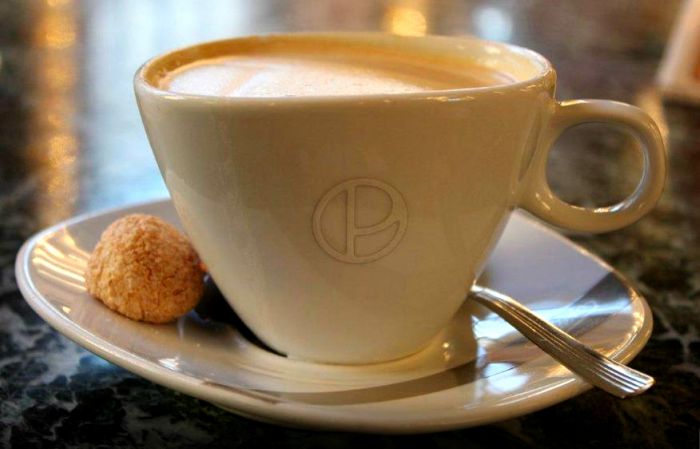 The Municipal House Cafe, is an Art Nouveau delight. It features high ceilings dripping with chandeliers, tall windows to let in light that glitters of of every surface, and gold-plated detailing that make interiors from that era so luxurious that it instantly transports cafe guests into a more decadent era.
Like other large European cities, Prague has its share of famous cafés, which, in the last century, were the center of cultural and social life. Kavárna Obecní dům is, without a doubt, one of the best examples. Although the peak period of the artists' avant-garde and the Prague elite belongs to history already, the spirit of the 20th century is clearly very much alive here. Kavárna Obecní dům offers the possibility to relax and enjoy a cup of delicious coffee and one of the famous desserts in beautiful Secession-era premises.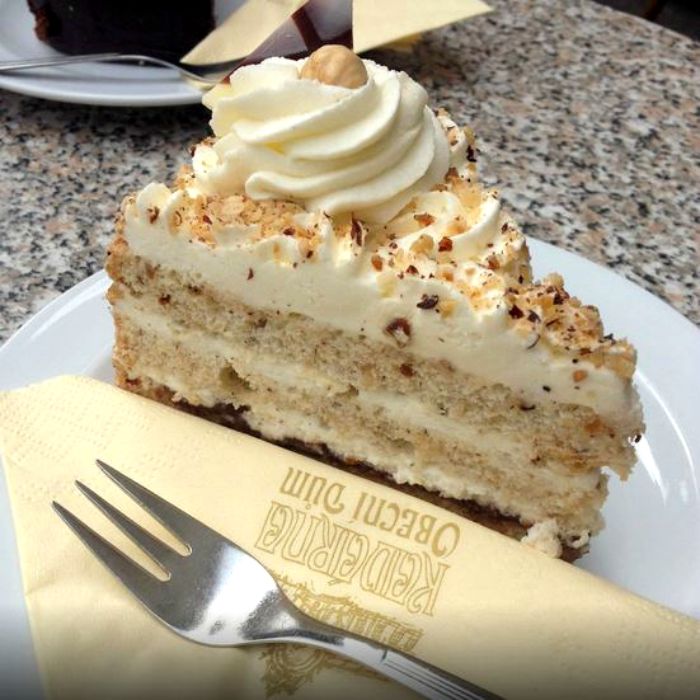 Kavárna Obecní dům has an extensive offer of homemade desserts from their own confectionery and expert chefs who have cooked for heads of state.
Thanks to the effective contemporary-style interior, you will be able to forget the hustle and bustle of modern-day life and relax in the ambiance of a classic 20th-century café.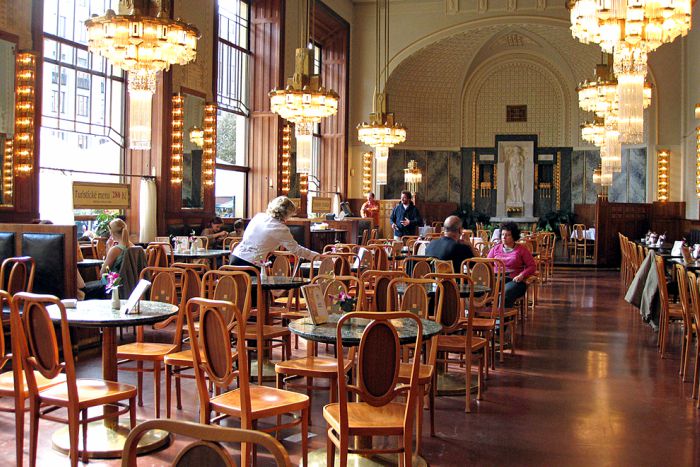 5. Cukrárna Myšák.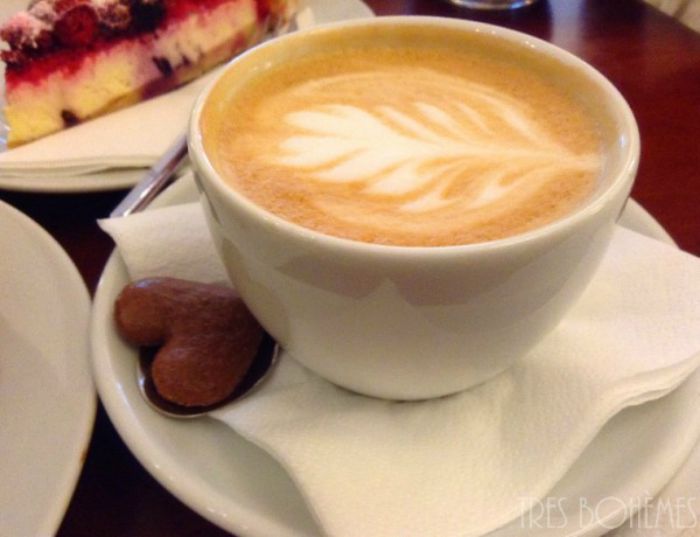 A traditional patisserie located at Vodičkova 31, founded by confectioner Fratišek Myšák and occupying the ground floor and first floor of a house known to the general public as "Myšák", is famously known for evoking a unique atmosphere and charm of pre-war style interiors. Get transported back in time by visiting this unique patisserie in Prague, where you will be surrounded by traditional ambience, comfortable seating, peace and tranquillity.
Confectioner František Myšák's company was founded in 1904 and moved to the house in Vodičkova 31 in 1911. Under the direction of František Myšák senior, cakes for celebrities of the political, cultural and sporting world were born. He created the 80th birthday cake for president T. G. Masaryk, using his favourite apricots (which, however, the president never tasted, to the disappointment of Mr. Myšák, as it was exhibited with other gifts and got spoiled). He welcomed President Beneš after the war with a cake with roses whilst Klement Gottwald enjoyed the Paris cake in the form of a hedgehog. Myšák's cakes were admired and devoured by celebrities of the time, such as Oldřich Nový, Emmy Destinn, Růžena Nasková. The tennis player Mr. Koželuh reportedly claimed that the chocolate rocket, which František Myšák gave him, drove him to victory. Later, in 1922, the renowned confectioner had the original Neo-Renaissance building redecorated by architect Josef Čapek.
This happens to be our personal favorite in Prague. In fact, we wrote an entire post about it.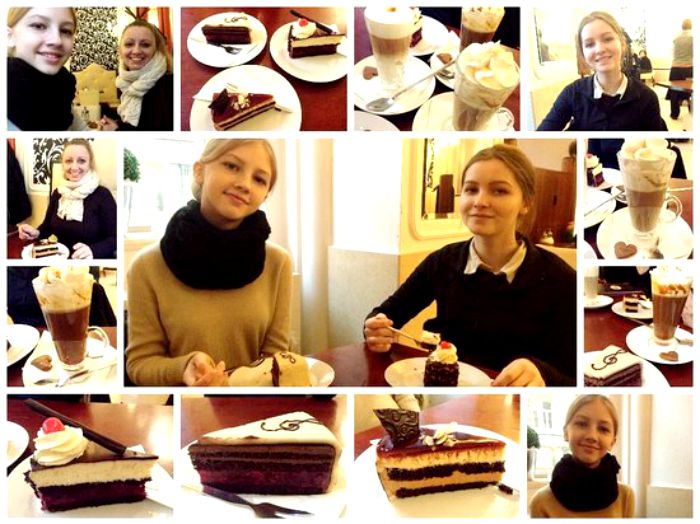 The house, known to the general public as "Myšák", thus got its typical rondo-cubist facade of red bush-hammered bricks. The design of the facade was probably the work of famous architects Josef Gočár and Pavel Janák. The facade and the whole house are a very distinctive contribution to the world-renowned phenomenon of Prague cubist architecture. The patisserie operated under the baton of Myšák's family until 1949, when it was leased to Odkolek national enterprise. A year later it was nationalized.
The son of František Myšák worked in his father's patisserie from the age of five. After the nationalization of the company, he worked at Prague-based Tatran. His most famous inventions include the caramel sundae. He got his greatest acclaim for his marzipan mushrooms at the World Exhibition in Brussels. Creations of both Myšák gentlemen gathered awards around the world.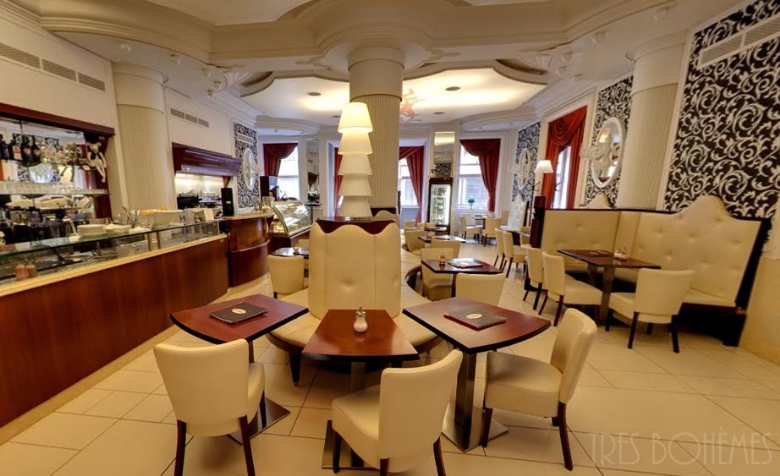 We hope you'll have a chance to visit these top 5 on your next trip to Prague and make sure to enjoy #NationalCoffeeDay.
If you have not already subscribed to get TresBohemes.com delivered to your inbox, please use the form below now so you never miss another post.
---
Remember, we rely solely on your donations to keep the project going.
Become a friend and get our lovely Czech postcard pack.