Did you know that there are several Czech bread superstitions? There are – and they are very old beliefs and customs that have been passed down through generations. In today's post, we look into the folklore surrounding this beloved staple and uncover the reasons behind the cautionary tales that have woven themselves into Czech culinary traditions.
 – – – Tomorrow I am sharing a very special Czech bread recipe so
make sure to subscribe now so you don't miss it. – – –
For centuries, Czech bread has held a sacred place in the hearts of its people. Revered as a symbol of sustenance and prosperity, it is said that no bread is baked as deliciously as in the Czech Republic and Moravia. But there is more to this bread than meets the eye. Beneath its crust lies a tapestry of superstitions that have persisted through time, guiding the actions of those who handle it.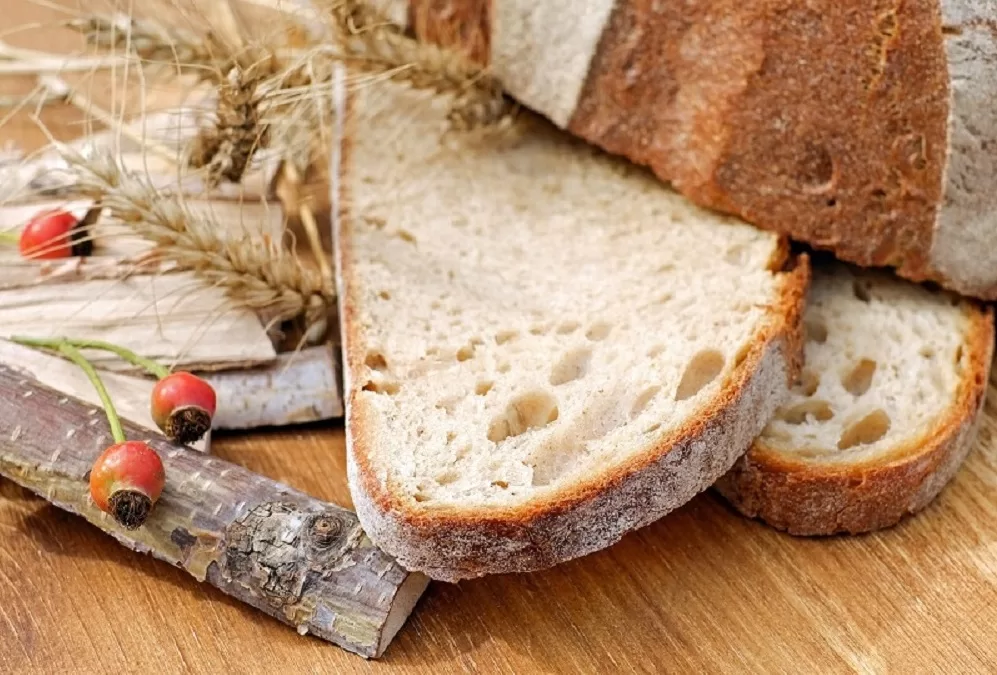 Never on Friday and Good Fermentation
Baking bread in households took place at specific intervals (usually every 2-3 weeks) on predetermined days. Some believed that Friday was an unlucky day, and therefore bread was not baked on Fridays. During bread preparation, the woman had to wear a clean apron and a clean headscarf and was not allowed to speak. It was recommended that she or the children jump around during the fermentation process to ensure the proper rising of the bread. Excessive noise or shouting was also to be avoided during fermentation.
Never Throw It Away
One ancient belief that has persisted through generations cautions against wasting Czech bread. Our ancestors firmly believed that even discarding a tiny crumb of this valuable commodity would bring about undesirable consequences. Recognizing the laborious process of bread preparation, they considered any disrespect towards it as a grave offense. Instead, they instilled in us the importance of treasuring every morsel, whether by consuming the bread while still fresh or by freezing leftovers for future use. This profound reverence for bread stems from a deep understanding of its significance in providing sustenance and serves as a reminder not to take such a precious resource for granted.
In Czech culinary traditions, stale bread finds new purpose and significance. Rather than simply discarding it, Czechs ingeniously utilize stale bread to enhance their dishes. They employ it for thickening gravies, transforming it into delightful homemade croutons or breadcrumbs, or crafting the beloved Topinky aka Czech Fried Bread – a traditional Czech delicacy. This resourcefulness not only demonstrates a commitment to minimizing waste but also pays homage to the ingenuity of Czech cuisine, where even humble ingredients are given a second chance to shine. By valuing every morsel of bread, Czechs embrace a sustainable approach to food consumption while celebrating the versatility of this age-old staple.
Never Eat It In Secret
Another superstition cautions against consuming bread in secret. The irresistible aroma of freshly baked slices may tempt you to sneak a bite before the whole family gathers around the table. However, such clandestine indulgence is believed to deprive others of their health, happiness, and prosperity.
There is a Czech saying that reflects the superstition about consuming bread in secret: "Kdo chléb v koutě pojídá, toho bída nikdy neopouští." Translated, it means, "Whoever eats bread in the corner, misfortune never leaves them." This saying emphasizes the belief that indulging in bread secretly goes against the spirit of sharing and can result in negative consequences for the individual.
According to Czech folklore, the act of consuming bread in the presence of loved ones and openly sharing it at the table is considered a way to invite blessings and ensure the well-being of the entire family. By partaking in bread together, it is believed that everyone can collectively enjoy good health, happiness, and prosperity.
Share Stale Bread
In Czech folklore, bread holds not only physical nourishment but also spiritual significance. It was once customary to offer old bread as a gesture of goodwill to the house's guardian spirits. By feeding birds or livestock with stale bread, it was believed that these benevolent forces would reciprocate by safeguarding the household's well-being and ensuring prosperity.
Once upon a time, in a small village nestled among rolling hills, there lived a humble family known for their deep reverence for bread. They understood that bread held a sacred place not only in their daily sustenance but also in the realm of spirits that watched over their home.
Every evening, as the sun dipped below the horizon, the family would gather in their kitchen, a warm hearth crackling with a comforting glow. They would take the leftover bread from the day, carefully collecting the stale crumbs and crusts. With hearts full of gratitude, they ventured outside to a secluded corner of their garden.
There, beneath the shimmering moonlight, they placed the old bread on a wooden plate, their offering to the house's guardian spirits. Whispers of gratitude and well-wishes were spoken into the night, acknowledging the spirits' presence and expressing appreciation for their protection.
As the family returned inside, a sense of peace enveloped their home. They believed that by sharing the stale bread with birds and livestock, the benevolent spirits would be nourished and would reciprocate by safeguarding their household. It was believed that the spirits would watch over their loved ones, ensuring their well-being and guiding them toward prosperity.
Over time, this simple act of offering stale bread to guardian spirits became a cherished tradition, passed down through generations. The family believed that by demonstrating gratitude and respect for the bread and its spiritual connection, they fostered harmony between the physical and metaphysical realms.
This story serves as a reminder of the profound relationship between bread, the spiritual realm, and the traditions that have shaped Czech folklore. It highlights the belief that through mindful offerings and acts of gratitude, one can create a harmonious bond with the unseen forces that surround us.
Always Bless the Bread
In the past, it was customary for the housewife to cross the bread before placing it in the oven, ensuring a successful outcome. In popular belief, bread that crumbled or tore during baking was seen as a sign of impending failure, illness, or even death within the family. Freshly baked bread was typically reserved and consumed on the second or third day, as it was deemed unhealthy and wasteful to eat it sooner. It was believed that by waiting, the bread would fully develop its qualities.
Additionally, it was considered unlucky to place the bread with the bottom crust facing upwards, as it was believed to bring bad luck to the household. In certain families, they took care to position the cut part of the bread away from the door, symbolizing a desire to prevent it from running out. Before cutting the bread, it was customary to make three crosses and utter the words, "God, bless that it may be and never diminish." (Bože, požehnej, aby bylo a nikdy neubylo.)
Never Cut The Wrong Way
Even the act of cutting bread carries its own set of superstitions. Our ancestors cautioned against cutting bread in a vertical position or using two knives simultaneously. Such actions were believed to invite poverty and disharmony into the home. The proper way to handle bread was seen as a respectful act, preserving its integrity and honoring the sustenance it provides.
A Czech saying related to cutting bread the wrong way goes: "Kdo chléb naruby krájí, o bohatství přijdeš bájí." Translated, it means, "Whoever cuts bread upside down will lose their wealth in a fairytale." This saying implies that cutting bread in a manner that goes against tradition or superstition can bring about negative consequences, including potential financial loss. It reflects the belief that proper respect and adherence to customs surrounding bread are essential for maintaining prosperity.
Bread in Folk Sayings and Proverbs
Bread has found its place in numerous folk sayings and proverbs, reflecting its significance in cultural wisdom. Expressions such as "Everywhere there is bread with two crusts," (Všude je chleba o dvou kůrkách)"Whose bread you eat, sing his song," (Čí chleba jíš, toho píseň zpívej) and "He who does not compare with bread, does not compare with people" (Kdo se nesrovná s chlebem, nesrovná se s lidmi) illustrate the role of bread in conveying deeper meanings and truths. These sayings serve as reminders of the importance of bread in daily life, highlighting its symbolism as a staple food that nourishes both the body and the spirit.
List of Sayings about Czech Bread
Važte si chleba, bez něho je lidem zle.
Translation: Value bread, without it, people suffer.
This saying emphasizes the importance of valuing and appreciating bread as a fundamental necessity for sustenance. It suggests that without bread, people would experience hardship and difficulty.
Vlhký chléb věští déšť.
Translation: Moist bread predicts rain.
This saying suggests a folk belief that when bread retains moisture or becomes damp, it is an indication that rain is likely to occur.
Chleba se nedospíš.
Translation: Bread cannot be rushed.
This saying highlights the patience and time required in the process of making bread. It implies that quality bread cannot be hurried and emphasizes the importance of allowing proper fermentation and baking time.
Kdo se nesrovnává s chlebem, nesrovnává se ani s Pánem Bohem, ani s lidmi.
Translation: Whoever does not compare themselves to bread, does not compare themselves to God or people.
This saying suggests that one should reflect on their own qualities and virtues by comparing themselves to the purity, simplicity, and nourishing nature of bread. It implies that self-reflection and humility are essential in relationships with both the divine and fellow human beings.
Je-li chléb, není hlad.
Translation: If there is bread, there is no hunger.
This saying emphasizes the significance of bread as a staple food that satisfies hunger. It suggests that having access to bread ensures the absence of hunger or food scarcity.
Bez chleba polovice oběda.
Translation: Without bread, half of the meal is missing.
This saying emphasizes the essential role of bread in completing a meal. It suggests that bread is a vital component, and without it, the meal would feel incomplete.
Kdo si neváží chleba, neváží si ničeho a nikoho.
Translation: Whoever does not appreciate bread, does not appreciate anything or anyone.
This saying underscores the value of gratitude and appreciation for the basic necessities in life. It implies that if one fails to appreciate something as fundamental as bread, they may struggle to appreciate other aspects of life and the people around them.
Chybí-li chléb, chybí i zpěv.
Translation: If bread is missing, so is singing.
This saying suggests a connection between bread and happiness. It implies that when there is a lack of bread or basic sustenance, it can have a negative impact on overall well-being and joyous expression.
Do nového domu se má nejdříve donést chléb, aby přišlo požehnání.
Translation: Bread should be the first thing brought into a new house to invite blessings.
This saying reflects a tradition of bringing bread into a new home as a symbolic act to invite blessings and good fortune. It highlights the belief in the power of bread as a symbol of abundance and prosperity.
Vlastní chléb jest nejjistější.
Translation: Your own bread is the most secure.
This saying suggests that relying on one's own efforts and resources, represented by "own bread," is the most reliable and secure way to ensure sustenance and success.
Pro drobeček rozsviť devatero svíček!
Translation: For a crumb, light nine candles!
This saying expresses the idea of valuing and appreciating even the smallest things in life. It suggests that a small or humble offering or gesture can have significant meaning or impact, comparable to lighting nine candles to illuminate a small crumb.
Chléb a sůl jez a pravdu střez!
Translation: Eat bread and salt and guard the truth!
This saying emphasizes the importance of simplicity and honesty. It suggests that by consuming bread and salt, symbolizing basic sustenance, one should uphold and protect the truth, integrity, and moral values.
Zlé maso bez chleba.
Translation: Bad meat without bread.
This saying conveys the idea that certain things or experiences are incomplete or less enjoyable without the accompaniment of something essential. In this case, it implies that consuming bad or undesirable meat becomes more tolerable or acceptable when paired with bread.
Drobečky dělají krajíčky, krajíčky dělají bochníčky.
Translation: Crumbs make slices, slices make loaves.
This saying highlights the idea of gradual accumulation and progression. It suggests that small efforts or contributions, represented by crumbs, can lead to larger and more significant outcomes, symbolized by slices and loaves.
Je dobrý jako chléb
Translation: He is as good as bread (referring to a person).
This saying implies that the person being referred to is highly regarded, trustworthy, and reliable, much like bread is seen as a staple and essential food item in daily life. It is a compliment to someone's character and qualities.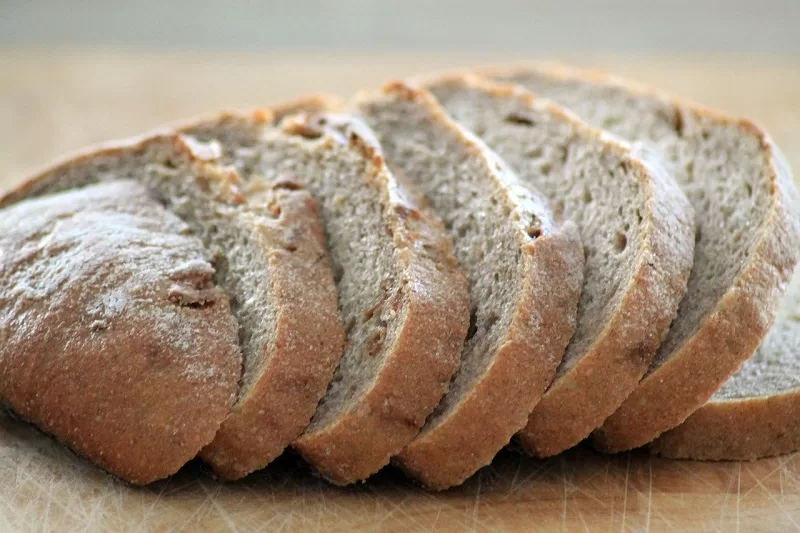 These Czech bread superstitions and sayings offer a window into the rich tapestry of Czech culture and the profound connection between food and tradition. Whether we choose to embrace these beliefs or view them through a lens of curiosity, they serve as a reminder of the deep-rooted respect and reverence our ancestors held for this humble staple.
What Sets Czech Bread Apart from the Rest?
Is it the shape, the color of the crust, or the distinctive sourness? Perhaps it's the traditional use of caraway seeds? It's all of these elements and something more. The secret lies in rye flour…
Rye has a long-standing tradition as a crop in Central Europe, dating back to the Middle Ages. It possesses distinct characteristics that differ from wheat. Rye contains less gluten, which impacts the stickiness, firmness, and taste of the bread. To achieve the desired results, the dough requires some assistance in the form of leaven, preferably homemade. The leaven is a mixture of pre-yeasted flour and water.
That Distinct Czech Bread Taste
The fundamental ingredients used in Czech bread are rye and rye field wheat flour. Depending on the ratio of the two, the bread is referred to as either rye-wheat bread (with more rye flour than wheat flour) or wheat-rye bread. The proportion of these flours in typical Czech bread varies and is influenced by local customs. The most balanced option is a 1:1 ratio with a slight predominance of wheat flour. The difference, when compared to standard white bread made purely from wheat, is truly remarkable.
Magic Ingredient – Kvas or leaven
The need to incorporate rye flour in the bread-making process gave rise to a new tradition—the use of leaven. Leaven is a living organism that produces carbon dioxide, resulting in a light and fluffy texture with a distinctive bubbled structure. The original Czech leaven, which has been a part of Czech culinary tradition for generations, is considered a little miracle. It contains everything necessary for making good bread: yeast for proper rising and lactic acid bacteria for the classic sour taste. Moreover, it is completely natural, contributing to its wonderful aroma and long-lasting freshness.
The process of bread-making owes its success to enzymes, bacterial spores, and yeast cells naturally present in flour. The enzymes gradually break down the starch in the flour into simpler sugars, creating an ideal environment for bacteria and yeast cells to thrive and multiply.
Achieving the Perfect Balance
A crucial aspect of making this type of bread is carefully balancing the ingredients. While too much yeast can assist in the rising process, it may compromise the taste. The ratio of rye flour to wheat flour also influences the overall outcome.
Over time, various methods of preparing the leaven have been developed, as each baker sought to meet their own preferences and requirements. However, properly preparing a good leaven takes time, and in a fast-paced world where time is money, many commercial baking companies have resorted to quicker, more artificial methods of dough rising. This, unfortunately, affects the quality of bread found in supermarkets, making it increasingly challenging to find traditionally made bread. Thankfully, there is a growing number of individuals who bake their own bread, keeping the tradition alive and thriving.
So, the next time you savor a slice of Czech bread, let its flavor transport you to a world where age-old beliefs intertwine with culinary delights. Cherish each bite, for behind its simple facade lies a wealth of stories, customs, and collective wisdom that has been passed down through generations.
Click Here to Get Your Free Dessert  Cookbook
We tirelessly gather and curate valuable information that could take you hours, days, or even months to find elsewhere. Our mission is to simplify your access to the best of our heritage. If you appreciate our efforts, please consider making a donation to support the operational costs of this site.
You can also send cash, checks, money orders, or support by buying Kytka's books.
Your contribution sustains us and allows us to continue sharing our rich cultural heritage.
Remember, your donations are our lifeline.
If you haven't already, subscribe to TresBohemes.com below to receive our newsletter directly in your inbox and never miss out.