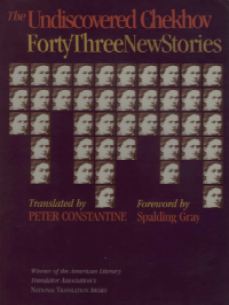 The Undiscovered Chekhov is a collection of forty three stories written by Anton Chekhov during the most prolific years of his life.
Written between the years 1880 and 1887, the stories featured in this book have a refreshing youthfulness to them which differentiates them from Chekhov's later works.
The short stories in this collection are brimming with wit, originality, innovation, and creativity.
Outside the wide-open window the night was gray. Along with the fragrance of lilacs and the quiet whispering of lime trees, a weak breeze wafted a strange sound toward the bed.
This english translation is as refreshing as the stories themselves. The humorous, experimental works in this book have a sharpness to them which is incredibly enjoyable.
The translator, Peter Constantine, writes in the introduction, "In The Undiscovered Chekhov, one sees exuberance and energy, but also the technique of a young writer of genius."
The stories bring to life a vivid portrait of German sausage sellers, rainy taverns, and hypnotists; of fruit blossoms and doctors; of blushing girls, bearded peasants, and old men.
One coachman, a pockmarked fellow with a scarred face, held a wet accordion on his knees: he played and stopped mechanically.
This is an excellent introduction to the stories which first made Chekhov famous and established him as a literary star. The Undiscovered Chekhov is an exhilarating read for anyone interested in the early works of a great writer.
You can get the book on Amazon.
If you have not already subscribed to get TresBohemes.com delivered to your inbox, please use the form below now so you never miss another post.
---
Remember, we rely solely on your donations to keep the project going.
Become a friend and get our lovely Czech postcard pack.