I just finished a very interesting book, Warrior of God: Jan Zizka and the Hussite Revolution by Victor Verney with Foreword by David Muhlena.
Jan Žižka (1370–1424) belongs to the elite group of leaders who never lost a battle. He was a formidable figure whose life and military career was set amidst the whirlwind of monumental revolutions – military, religious, political and social – that engulfed medieval Europe in the 14th and 15th centuries. The leader of Bohemia's Hussite Revolution – the first of the religious wars during the Protestant Reformation – he was a forward-thinking military genius whose record is virtually unmatched.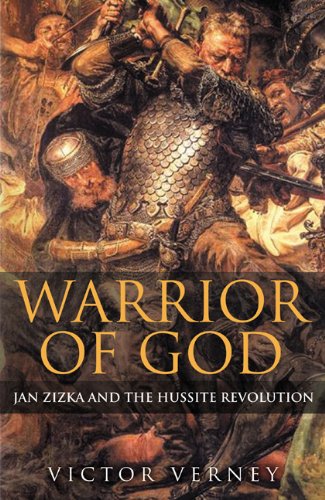 Although his name is Žižka, I will refer to him as both Žižka and Zizka for search engine purposes.
Jan Žižka is one of the most prominent figures in Czech history: his towering equestrian statue looks out over Prague from the the top of Vítkov Hill (and was recently featured in The Gray Man, standing in for Baku). The nearby Prague neighborhood of Žižkov is named after him.
This is surely one of the most incredible — and woefully neglected — episodes of European history, one with profound religious and political effects we're still feeling today. -Victor Verney
Most famous as the Hussite military leader during the Hussite Wars, Žižka legendarily defended Prague from about ten thousand invading crusaders with a force of 80 soldiers atop Vítkov Hill. Despite being completely blind by the end of his military career, Žižka is said to have never lost a battle leading Hussite forces against invaders during three separate crusades.
Žižka fielded a peasant militia, initially untrained and unequipped, and faced down the Holy Roman Empire's huge professional army of armored knights known as 'The Men of Iron'. Among his numerous innovations was the armored wagon fitted with small cannons and muskets, presaging the modern tank. All this, despite the fact that for much of his later career he went completely blind.
Yet remarkably, beyond central Europe, very little is known about him.
In this original and engrossing study, historian Victor Verney combines an authoritative analysis with colorful anecdotes to reveal the incredible exploits of this forgotten military genius and the fascinating cast of characters who surrounded him.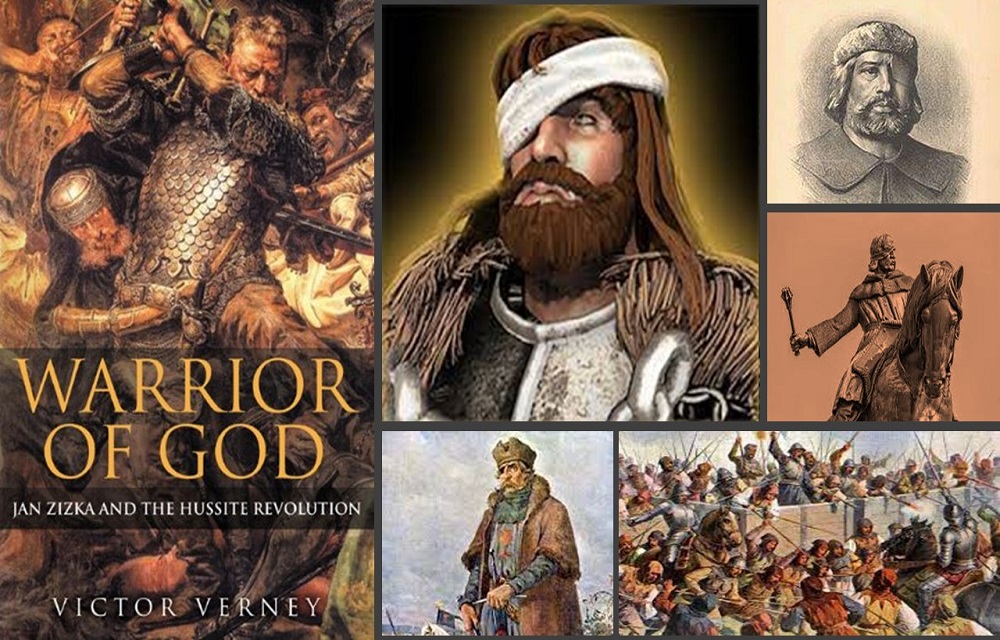 Book Reviews
This is an excellent introductory book on the Great Czech/Bohemian hero Jan Zizka and the Hussite Revolution.
Although I would not describe this work as scholarly, the Hussite movement and its place as the first successful Protestant rebellion in the Reformation is extremely important in European and religious History. The military leader that made this possible was Jan Zizka, who was able to forge an army out of peasants, devise new or improved military arms (such as flails and war wagons), develop new tactics, and defeat superior forces through discipline, training, effective tactics and leadership time and time again. This is all the more remarkable as Zizka possessed only one eye before becoming completely blind for his last three years of campaigning, during which time he achieved some of his most remarkable victories. I can name no other commander in history who was even marginally effective after becoming blind, let alone extremely successful and repeatedly victorious.
There is much to learn in this book in regards to religious and national revolutions. The Hussite movement splintered multiple times into almost irreconcilable religious factions, and rabble rousers and charismatic leaders were the order of the day. Almost without exception they were dogmatic in their beliefs, and their actions would have doomed Bohemia to utter destruction had not Zizka been able to help patch over differences to fight common enemies. Nonetheless, eventually the Hussites were their own worst enemies due to their internal politics, willingness to give opponents the benefit of the doubt in accepting their word, and allowing minor theological points to divide them.
The Hussite's Roman Catholic enemies, kings, nobles, clergy and the Pope, resorted to any and all tactics, fair and foul to suppress them. Time and again pledges were broken by Catholics following the reasoning that a pledge make to a heretic was not valid or enforceable. Gee, I wonder where Europeans got the idea they could do the same to the Indians of America. Repeatedly the same individuals broke their promises and either burned their captives to death or threw them down mine shafts. In fact, burning at the stake or jamming prisoners in churches or other buildings and setting them on fire were common methods of execution. And in the face of all this, the Hussites repeatedly accepted promises by Catholic prisoners, particularly nobles, and set them free to fight again and kill more Hussites. If there were ever examples that mercy in war is counterproductive, the Hussite wars fill the bill.
This is a book that can be read in a few hours, and the footnotes are mostly explanatory descriptions. Reference footnotes or endnotes are absent. There are relatively few references, and the author points out that primary sources are very scarce.
After the Battle of White Mountain in 1620 during the Thirty Years War, Protestant Bohemia was re-Catholicised, and Catholic forces and clergy, most notably the Jesuits, destroyed everything could find concerning Bohemian history and the Hussites. As usual, the world is poorer for such book-burnings in the name of religion.
Today, 56% of the citizenry of the Czech Republic claim to be atheists. The flock has flown.
Jan Hus and Jerome of Prague, of course, were lured to councils with false promises and burned at the stake by Roman Catholic authorities.
There is much to learn here, and I highly recommend this book to all.
Jan Zizka inspired those who fought for him to feats unheard of at the time. For example, they launched surprise attacks at night and fought long campaigns throughout the harsh winter months. He implemented a strict code of conduct among his peasant, lower class troops that enabled them to defeat armies with far greater resources and numbers. Zizka's mastery of strategy and tactics enabled him to win all of his battles.
For these reasons, he is counted among the world's greatest military commanders.
---
Author Victor Verney is the grandson of Slovak and Greek immigrants. He grew up in Buffalo, New York. Formerly a college professor and newspaper editor, he is now a full-time writer residing in Surfside Beach, Texas.
The book is available on Amazon.
Thank you in advance for your support…
We know that you could spend hours, days, weeks and months finding some of this information yourselves – but at this website, we curate the best of what we find for you and place it easily and conveniently into one place. Please take a moment today to recognize our efforts and make a donation towards the operational costs of this site – your support keeps the site alive and keeps us searching for the best of our heritage to bring to you.


Remember, we rely solely on your donations to keep the project going.
Thank you in advance!
If you have not already subscribed to get TresBohemes.com delivered to your inbox, please use the form below now so you never miss another post.