Have you ever wondered how professional football and the NFL got started? How about the merger of the NFL with the competing American Football League? After all, it was this which helped to create the ultimate televised sporting event on fall Sundays and Monday nights, eventually boosting the value of franchises into the hundreds of millions of dollars. Like numerous other "all-American" discoveries we've shared on this site, it came from the heart, mind, and work of a Czech named George Halas. He is known as father of the NFL who also served in both World Wars.
George Stanley Halas Sr. (February 2, 1895 – October 31, 1983), nicknamed "Papa Bear" and "Mr. Everything", was an American professional football player, coach, and team owner. Universally celebrated as a pioneer, a visionary, a humanitarian, and a winner.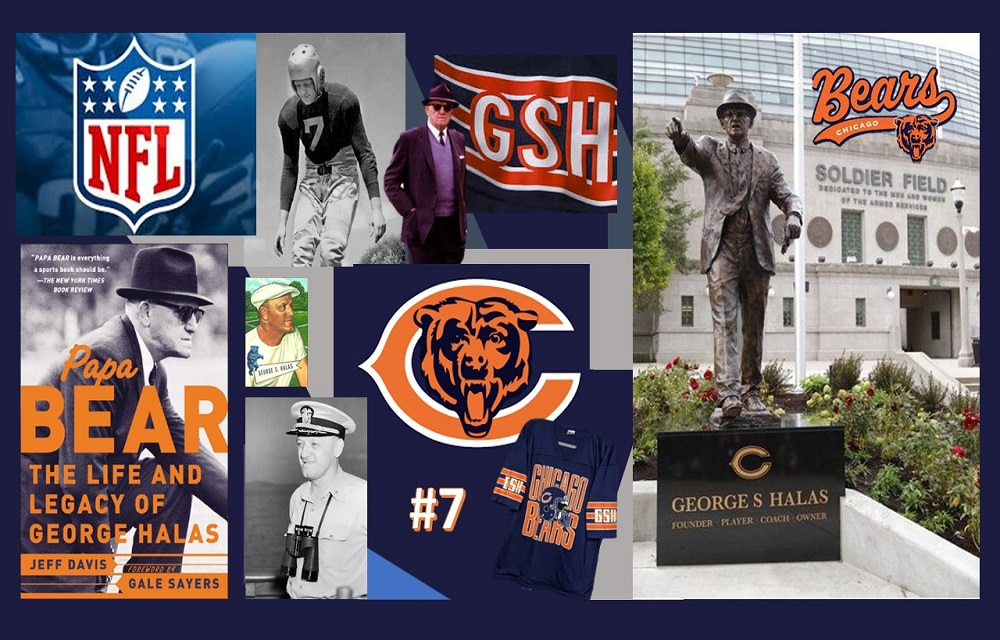 George was born in Pilsen, a Czech community on Chicago's West Side, into a family of Czech-Bohemian immigrants. His parents were Frank Halas, an immigrant tailor from Pilsen, Bohemia, and Barbara Poledna, who ran a grocery store. They had eight children, of which four didn't survive infancy. Frank and Barbara were hard-working Bohemian immigrants who taught their children the value of a strong work ethic and to appreciate their opportunity to build a good life in the land of opportunity.
I was blessed the day I came to America. (Barbara would tell her children.)
George's parents stressed that the best way to advance was to be an American in every way.
Frank Halas was a reporter for a Bohemian-language newspaper before becoming a tailor and shop owner. He sold his business after suffering a stroke and invested his proceeds from the sale into a three-story structure that consisted of two apartments and a grocery store. He was too frail to work (he died in 1910), and to help stave off poverty, the rest of the family pitched in. "Every day after school, my brothers and I performed the janitor's chores for those apartments," said Halas. His job was to shovel coal, shovel snow, and clean the furnaces. His mother ran the grocery store and "our sister Lillian helped mom at the store." George also got up at 5:30 every morning to run a paper route before school. He attended church, and he found time for sports.
Halas's earliest memories were of playing seventeen-inch softball with his two older brothers, using manhole covers and sewer grills as bases. Life centered on the Sunday mass at the Saint Vitus Church and the Pilsen social center, the Sokol, where the Halas brothers led neighborhood boys in indoor baseball. By the time he was ten he had become an avid fan of the Chicago Cubs, who then played only a mile from the Halas home. He fought the Fourteenth Street gang to get to the games before learning to outrun them. His persistence paid off; first baseman Frank Chance frequently took "the Kid" to the game through the pass-gate.
Halas learned the value of hard work and a dollar at an early age. He toted coal for the family's nickel-plated stoves, rode a horse-drawn wagon to the South Water Street vegetable market, stopped at the rail station for fresh milk from suburban farms, and then delivered his morning newspapers on foot. Critics later claimed he "threw dollars around as though they were manhole covers," and Halas admitted as much. Though weighing only 120 pounds, Halas played baseball, basketball, and lightweight football at Crane Technical High School, patterning himself after the fictional Frank Merriwell. When he was fifteen his father died, and his mother increased his weekly allowance to seventy-five cents while urging him "to save heavily for college." He graduated from Crane Tech in 1913.
Halas worked temporarily for Western Electric, and was planning on being on the SS Eastland. He was running late, however, as he was attempting to gain weight to play Big Ten football and missed the capsizing, which killed 844 passengers.
In the fall of 1914, Halas enrolled at the University of Illinois. He majored in civil engineering and, at 140 pounds, played reserve halfback. That summer he worked for Western Electric. By the next fall, having shot up to six feet and 170 pounds, he made Bob Zuppke's varsity team as backup wide receiver and sustained a broken jaw. As a junior Halas started before breaking a leg, and also won letters in baseball and basketball. On crutches, he took careful notes on how Zuppke prepared his team.
He enlisted in the U.S. Navy in 1918 and was assigned to the Great Lakes Naval Training Station, where he played for the Great Lakes Bluejackets. Halas was voted the Most Valuable Player when he caught two touchdown passes and returned an interception seventy-seven yards, pacing the Bluejackets to a 17–0 win over the Mare Island Marines in the 1919 Rose Bowl.
After graduating from college, Halas, a switch hitter, played eleven games with the New York Yankees, "full of spirit" but "unable to hit the curve ball." He injured his hip in a slide at third and later observed that he was replaced in right field by Babe Ruth.
After the baseball season Halas took a $55-a-week job in the bridge design department of the Chicago, Burlington, and Quincy Railroad, but he longed to play football. He played on the fourteen-man, semipro Hammond, Indiana, Bulldogs for $100 a game. Halas's team defeated Jim Thorpe's Canton Bulldogs for the championship after a six-game season. A. E. Staley, owner of the Staley Starch Works, paid Halas to come to Decatur, Illinois, in March 1920 to coach the company's football team.
Halas liked players with great desire—he called it "mental heat"—and recruited former Notre Dame center George Trafton, Great Lakes halfback Jimmy Conzelman, Canton end Guy Chamberlin, and Illinois teammate Edward "Dutch" Sternaman to star on the Decatur Staleys.
Over the objections of Amos Alonzo Stagg and other college coaches who decried athletes who played for money, Halas aggressively lobbied for a professional league that would charge for tickets and pay its players.
Ralph Hay, manager of the Canton Bulldogs, shared his enthusiasm. Representatives from twelve teams met in Hay's Hupmobile dealership on the evening of September 17, 1920. Within two hours the American Professional Football Association was formed, and Jim Thorpe was elected its president without pay. Franchises from Cleveland to Rock Island were awarded for $100 apiece.
At twenty-five, Halas coached, scheduled, wrote press releases, played end, collected gate receipts, and paid salaries for the Decatur Staleys in their inaugural season. They breezed past the Moline Tractors 20–0 and the Kewanee Walworths 27–0 en route to a 10–1–1 season that climaxed with a 10–0 win over the Chicago Cardinals before a crowd of 8,500 at Wrigley Field. A championship game against the undefeated Akron Indians at Wrigley ended in a scoreless tie and drew 10,800, at fifty cents apiece. Halas earned $2,322.77 that year, enough to give his fiancé Minnie Bushing a $250 engagement ring he bought in a pawnshop.
The Staleys opened the 1921 season with convincing wins over Waukegan and Rock Island, but it was not enough to persuade their owner to field the team a third week. Staley felt he could no longer afford the expensive burden of pro football.
On October 6th, he gave Halas $5,000 in seed money to move the team to Chicago on condition that it still be called the Staleys. Halas took Sternaman in as a 50-50 partner and agreed to give Bill Veeck, president of the Chicago Cubs, 15 percent of the gate receipts and concessions for the use of Cubs Park. Halas and Sternaman publicized the team at meetings with Chicago sports editors and by leafleting in the Loop. Eight thousand spectators paid a dollar apiece to see the Staleys defeat the Rochester (New York) Jeffersons 16–13 on 16 October 1921. A condensed version of Halas's own account of the game appeared in the press the following day. The Staleys finished the season 10–1–1, claimed the league championship, and showed a $7 profit for the year.
The Chicago Bears were incorporated at a league meeting on January 28, 1922. They boasted Illinois's colors of navy blue and burnt orange and were called the Bears because of Halas's passion for the Cubs.
Nobody whoever gave their best regretted it. – George Halas
Halas married Minnie on February 18, 1922; they had a daughter in 1923 and a son in 1925.
The name National Football League was suggested by Halas at an association meeting in June 1922.
The Bears were the league's most successful franchise, winning seventy-five games, losing twenty-nine, and tieing seventeen during the 1920s. Halas's ninety-eight-yard run for a touchdown of a Jim Thorpe fumble in 1922 put him in the record books. His signing Harold "Red" Grange, the "Galloping Ghost" from the University of Illinois, in 1925 to a nineteen-city barnstorming tour drew 360,000 fans and gave the Bears their first sellout game at Wrigley Field.
The excitement peaked in a Polo Grounds battle against the New York Giants that set a league attendance record of 73,561 and helped to establish pro football as a national sport.
In 1930, Halas retired as both a player and a coach. His determination and IOU's were needed to carry the Bears through the worst years of the depression. By 1932, only eight teams remained of the thirty-three that had played in the league during the 1920s.
Halas borrowed money to buy out Sternaman's interest in the team. With Zuppke's former assistant Ralph Jones, he refined the T formation and added a man-in-motion, which opened up the game and increased scoring and attendance. The football became streamlined to improve passing. Competition was created through Eastern and Western Divisions. After a three-year sabbatical, Halas returned to coaching in 1933. The Bears were 23–2–1 behind the backfield tandem of Bronko Nagurski, perhaps the greatest blocker in NFL history, and Beattie Feathers, the league's first 1,000-yard runner, and appeared in two championship games, winning one.
Halas understood that the viability of the National Football League depended on strengthening its weakest franchises and equalizing their access to college talent.
In 1936, he worked with league president Joe Carr to create the first college football draft. Halas chose future Hall of Fame tackle Joe Stydahar and guard Dan Fortmann in that draft. They joined veteran end Bill Hewitt and guard-tackle George Musso, future Hall of Famers as well, in establishing the backbone of a team as hard-nosed and competitive as its coach and owner.
Columbia quarterback Sid Luckman joined the team in 1939, followed by running back George McAfee, center Clyde "Bulldog" Turner, and ends Ken Kavanaugh and Hampton Pool a year later. When Washington owner and Halas rival George Preston Marshall called the Bears "crybabies" after their disputed early-season loss to the Redskins, the "Monsters of the Midway" responded by annihilating the Skins 73–0 in the 1940 championship game, going on to win the league title in two of the following three years, while posting a record of 40–6–1.
George did not shirk his duty for his country. He enlisted in World War II as a Navy lieutenant commander and by the war's end was the rank of Captain. He earned the Bronze Star during his stint. He was forty-six at the time when he began a thirty-nine-month enlistment in the U.S. Navy, where he used his background in engineering to train aircraft mechanics.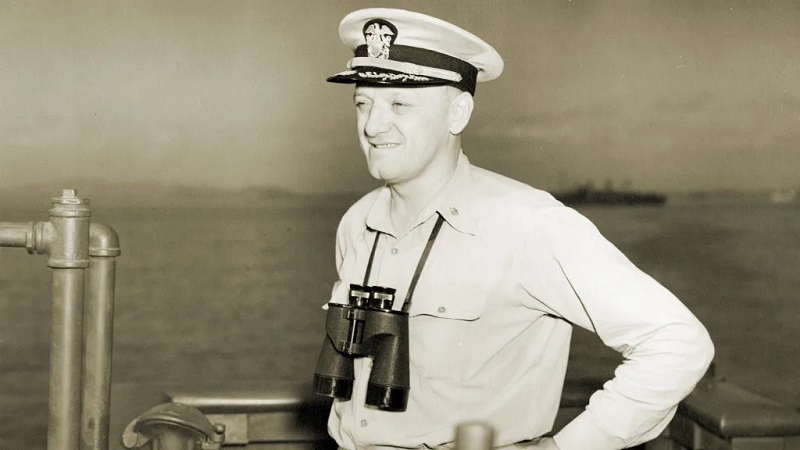 He returned to coach the Bears to another championship in 1946.
The following year he became one of the first owners to televise all his home games, and set up a twenty-five-station radio network to carry the games. Later he would successfully argue that all television rights be assigned to the league and that revenues be shared equally by both small-and large-market teams.
One of Halas' best ideas was to institute what he called a "barnstorming tour." What this entailed was after the Bears season was over, the team would go across the country playing various community clubs in a match. From Chicago, the team would venture into Memphis down to Florida then back up the eastern seaboard playing as many as 18 games in two months. The players welcomed the extra pay and Halas could pocket as much as over $100,000 in profits.
The Bears finished second in six of nine seasons through the mid-1950s, frustrating Halas and forcing him, at his wife's insistence, to temporarily retire from coaching. At the start of the 1958 season, however, Halas was back on the field again, determined at age sixty-three to win another championship. But by 1960 his hat-throwing and referee-baiting sideline tantrums during a 5–6–1 season convinced critics that the game had passed the irascible field commander by.
My body was on the sidelines, but my spirit was right there with my players.
Each loss was "an agony" that would only "dissipate through victory." Halas painstakingly rebuilt his Bears through the college draft and on defense and was ready by 1963 to challenge Vince Lombardi's Green Bay Packers for league dominance.
In the following video, Chicago Tribune photographer Michael Tercha sat down with former Bears players to talk about the chemistry and attitude of the 1963 team.
The Bears beat the Packers twice that year, 10–3 at Lambeau Field and 26–7 in Chicago, and won the NFL championship for the first time in seventeen years by defeating the New York Giants, 14–10, in a moment of personal triumph for the sixty-eight-year-old coach.
Halas's arthritic hip and the sudden death of Minnie, "the Bears' most avid fan," on Valentine's Day, 1966, led to his retirement from coaching on May 27, 1968.
In forty years he had amassed 321 coaching victories, the most in league history, and was inducted as a charter member into the NFL Hall of Fame. He made his son, George Stanley ("Mugs") Halas, Jr., president of the Bears and gave him day-to-day management of the team.
The Bears, however, struggled on the field. In 1974, after several losing seasons, Halas hired Jim Finks to become the team's executive vice president and general manager. The sudden death of his son, Mugs, on 16 December 16, 1979 deeply saddened Halas. In January of 1982, he brought in Mike Ditka, a star of the 1963 championship team, "to return the Bears to our former glory." It happened in January 1986, when the Bears blasted the New England Patriots in an international sports spectacle, Super Bowl XX, 46–10, that led to a tumultuous civic celebration in Chicago. Halas didn't live to see it. His death at age eighty-eight following a variety of illnesses saw him memorialized by longtime NFL Commissioner Pete Rozelle for helping to invent a game "very much like George himself—full of wisdom and creativity, vitality and endurance, and above all, intensely competitive."
What makes a good coach? Complete dedication.
During Halas's four separate ten-year tenures as head coach, the Bears were 321–148–31 and won seven championships. During that time, Halas helped to transform professional football from a small city, Midwestern sandlot sport to an entertainment industry worth billions.
It was Pete Rozelle who observed that, "George Halas was the National Football League."
So how much did George Halas pay for the Bears?
$100. Yes, you read that correctly. One-hundred dollars.
The franchise fee was $100. In 1921, the Staley Starch Company gave Halas the team, $5,000 and permission to move the team to Chicago if he would agree to keep the Staleys name for a year. The Staleys won the 1921 league championship. A year later, the team was renamed the Chicago Bears.
---
George Halas was intensely proud of his triple identity: son of Bohemian immigrants, lifelong Chicagoan and founder of the Chicago Bears. He served as his own head coach on four occasions. He was also lesser-known as a Major League Baseball player for the New York Yankees.
Many NFL fans have noticed that the Chicago Bears have one of the more iconic uniforms in the NFL. Since they are one of the original NFL teams, the Chicago Bears find importance in tradition and that includes their uniforms. The Chicago Bears uniform — featuring the colors navy, orange, and white — is one of the most iconic in the league partly due to the "GSH" on the players' arms.
So, what does it mean?
The GSH stands for the initials of George S. Halas. George was long involved with the team, whether by playing or working in the front office. From 1920 until his death in 1983, George Halas devoted his life to the Chicago Bears for 63 years!
Though he has many roles in his career from owner to player, he truly shined as a coach. George Halas coached the Bears for 40 seasons. In 1934 and 1942, his teams had undefeated regular-season records. His 318 regular-season wins and 324 total victories were long-standing NFL records.
After his death in 1983, the Chicago Bears honored his historic legacy with the GSH initials on their left sleeve, where they have remained since.
Halas was one of the co-founders of the American Professional Football Association (now the National Football League (NFL)) in 1920, and in 1963 became one of the first 17 inductees into the Pro Football Hall of Fame.
I've loved sports since I was old enough to cross a Chicago street by myself. I'm happy that I made pro football a career. It has been good to me in the material sense, but more important is that I have been associated with youth in all my years as a pro football coach and owner. – George Halas
Until 2020, Halas was the oldest person in NFL history to serve as a head coach, as he was 72 years and 318 days old when he coached the final game of his career in December 1967.
25-Minute Interview with George Halas in 1975
A pioneer both on and off the field, George Halas made the Chicago Bears the first team to hold daily practice sessions, to analyze film of opponents to find weaknesses and means of attack, place assistant coaches in the press box during games, place tarp on the field, publish a club newspaper, and to broadcast games by radio. He also offered to share the team's substantial television income with teams in smaller cities, firmly believing that what was good for the league would ultimately benefit his own team. A firm disciplinarian, Halas maintained complete control of his team and did not tolerate disobedience and insubordination by players. He also insisted on absolute integrity and honesty in management, believing that a handshake was sufficient to finalize a deal; few, if any, intermediaries were necessary.
Halas's career ledger reads as follows: 63 years as an owner, 40 as a coach, 324 wins, and 8 NFL titles as a coach or owner. His 324 victories stood as an NFL record for nearly three decades, and are still far and away the most in Bears history; they are three times that of runner-up Mike Ditka. He was a charter member of the Pro Football Hall of Fame in 1963.
In both 1963 and 1965, Halas was selected by The Sporting News, the AP and the UPI as the NFL Coach of the Year. In 1997, he was featured on a U.S. postage stamp as one of the legendary coaches of football. He has been recognized by ESPN as one of the ten most influential people in sports in the 20th century, and as one of the greatest coaches.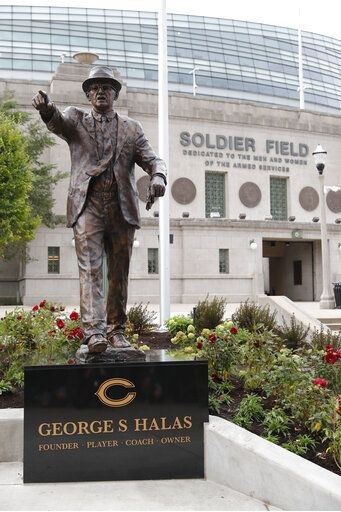 To this day, the jerseys of the Chicago Bears bear the initials "GSH" on their upper left sleeves in commemoration of Halas. In 1956, Halas was awarded the Navy Distinguished Public Service Award, which is the Navy's highest civilian award.
There are two extant awards named for Halas: the George Halas Trophy (awarded by the NFL to the National Football Conference champion) and the George S. Halas Courage Award (Pro Football Writers Association). From 1966 to 1996, a George Halas Trophy was also awarded to the NFL defensive player of the year by the Newspaper Enterprise Association.
The Chicago Bears retired number 7 in his honor, and the Pro Football Hall of Fame is located on George Halas Drive.
The University of Illinois at Urbana–Champaign inducted Halas into the Engineering Hall of Fame in 2016.
In the 1971 made-for-television film Brian's Song, about the friendship between Chicago Bears players Brian Piccolo and Gale Sayers, Halas was portrayed by Jack Warden, who won an Emmy Award for his performance.
Papa Bear also had a reputation for playing dirty. Most know the stories from his time as a coach. He'd encouraging players to take extra liberties with their physicality. He trained a dog to run on the field when he needed an extra timeout. He sold extra tickets to fans that were directly behind the opposing bench. Whatever he had to do to get an edge.
According to the Pro Football Hall of Fame, George was a way maker for many NFL coaches who came after him. He was the first head coach to hold daily practice sessions, to utilize films of opponents' games for study, to schedule a barnstorming tour, and to have his team's games broadcast on radio.
Never go to bed a loser!
Did you know that in 1956, Bears legend George Halas helped save the Packers in Green Bay? It's true. Halas spoke forcefully at a rally to encourage local voters to approve public funding for reconstruction of their football field.
15-Minute Remembrance of George Halas
Before he died, George Halas gave Mike Ditka a bottle of Dom Perignon champagne with the instructions that he wasn't supposed to open it until Ditka won a Super Bowl. That happened on January 26, 1986 against the New England Patriots with a score of 46-10, and Ditka celebrated with that bottle of champagne!
It's sad that George Halas never lived to see the Chicago Bears win their only Super Bowl in 1985, just two years after his passing.
Biographical material on the life and career of George Halas is kept at Halas Hall, the Chicago Bears' administrative headquarters in Lake Forest, Illinois, and at the Pro Football League Hall of Fame in Canton, Ohio.
American War Hero and Patriot
Determined to raise money for servicemen after the war, Halas created an annual preseason benefit game. His proposal was approved during a meeting with none other than General Dwight D. Eisenhower in Washington. The first Armed Forces Game was played at Wrigley Field on Sept. 1, 1946 between the Bears and New York Giants. The contest drew 32,367 fans and raised nearly $70,000. The Armed Forces Game existed for 25 years and generated more than $1.2 million.
The Bears continue to support American soldiers today with their "Hello to Our Heroes" program, which was developed to help boost the morale of those who are serving overseas. Every year the team sends more than 400 care packages to troops stationed all over the world.
George Halas died of pancreatic cancer in Chicago on October 31, 1983, at age 88, and is entombed in St. Adalbert Catholic Cemetery in Niles, Illinois.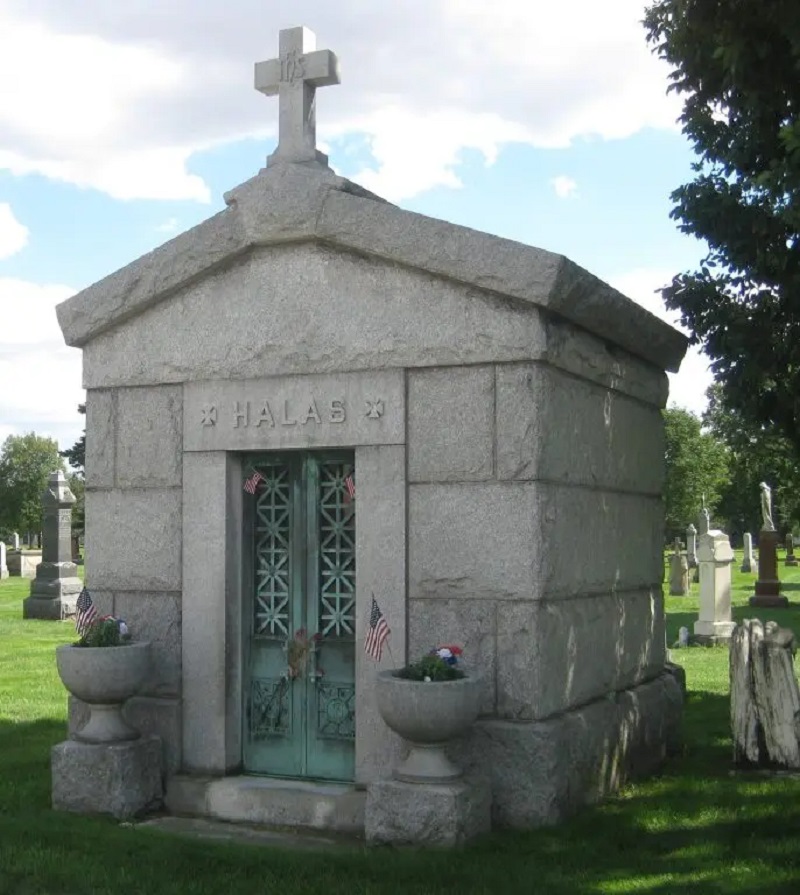 At the time of his death, he was the last surviving participant of the meeting that formed the NFL in 1920.
His eldest daughter, Virginia Halas McCaskey, succeeded him as majority owner, and her son Michael McCaskey served as team president from 1983 to 1999 at which time the elder McCaskey was forced to fire her own son. In the 1985 season when the Bears won their only Super Bowl (and post-merger NFL championship), they recorded a song called "Super Bowl Shuffle." In the song, backup quarterback Steve Fuller rhymes "Bring on Atlanta, Bring on Dallas / This is for Mike [then-current coach Mike Ditka] and Papa Bear Halas."
Super Bowl XVIII was dedicated to Halas. The pregame ceremonies featured a moment of silence and the ceremonial coin toss by former Chicago Bear Bronko Nagurski, the latter of which was previously performed by Halas for Super Bowl XIII.[38] The missing-man formation over Tampa Stadium, performed by airplanes from MacDill Air Force Base in Tampa, Florida at the conclusion of Barry Manilow's performance of the National Anthem, was also presented in tribute to Halas.
Books about George Halas
Virginia Marion Halas McCaskey (born January 5, 1923) is now the principal owner of the Chicago Bears of the National Football League (NFL). She is the eldest child of Bears founder and owner George Halas, who left the team to his daughter upon his death in 1983, and Minnie Bushing Halas. After the death of Buffalo Bills owner Ralph Wilson in March 2014, she became the oldest owner in the NFL and in all major league sports in the United States.
George Halas had initially intended for Virginia's younger brother, George "Mugs" Halas Jr., to inherit the team, and passed the team presidency to him in 1963. However, Mugs died suddenly of a heart attack in 1979. Thus, it was Virginia who inherited the Bears when her father died four years later. McCaskey inherited a Bears team that won Super Bowl XX two seasons after "Papa Bear's" death. It was part of a run of five consecutive NFC Central titles from 1984 to 1988.
Officially, Virginia is the secretary of the Bears franchise, as well as a member of the team's board of directors. However, she is empowered to vote the shares of her children and grandchildren as well as her own. Between them, McCaskey and other Halas heirs own 80% of the Bears.
Virginia is the oldest owner in the NFL.
The Chicago Bears have been in the hands of the Halas-McCaskey family since George Halas acquired the then-Decatur Staleys from A. E. Staley for $100 and moved them to Chicago in 1921 (they were renamed the Bears in 1922), longer than any other family in the NFL.
The McCaskeys were married for 60 years until Virginia's husband Ed passed away April 8, 2003 at the age of 83. Devout Catholics, they raised 11 children. Four of their eight sons currently work full-time for the Bears: George (chairman), Patrick (vice president), Brian (vice president) and Rich (administration).
The entire McCaskey family is worth $1.3 billion (per Forbes in 2015)
Forbes reported in August 2021 that the Bears were the seventh most valuable team in the NFL at $4.075 billion dollars.
The 99-year-old team matriarch and her sons have stated on multiple occasions they'd like to keep the team in the family. Bears Chairman George McCaskey has said his family "will never sell the team".
"We have no intention of selling," George McCaskey said in January of 2017, via the Chicago Tribune. "My brother Pat says it very well: 'We intend to hold onto the Bears until the second coming.' My brother Mike, when he was president of the Bears, said it very well: 'We want to discourage people from even making inquiries.' We have no intention."
Related Articles
Thank you in advance for your support…
We know that you could spend hours, days, weeks and months finding some of this information yourselves – but at this website, we curate the best of what we find for you and place it easily and conveniently into one place. Please take a moment today to recognize our efforts and make a donation towards the operational costs of this site – your support keeps the site alive and keeps us searching for the best of our heritage to bring to you.


Remember, we rely solely on your donations to keep the project going.
Thank you in advance!
If you have not already subscribed to get TresBohemes.com delivered to your inbox, please use the form below now so you never miss another post.