Today is August 16th, the day Elvis Presley died in 1977. I cannot believe it has been 45 years. Like so many others, I know exactly where I was the day Elvis died. I was in the car with my mother, in Redondo Beach, California. The radio was playing and suddenly the music was interrupted for an announcement that Elvis died. The King was dead. My mom pulled over and began to cry inconsolably. I began to cry with her. We listened to Elvis records, all of the time. He was on the radio, all of the time.
I felt like we all knew Elvis. Neighbors and friends were outside of their homes, hugging and crying. The next few days, every newspaper and magazine everywhere had Elvis all over it. I think he brought us all so close to him for so long with his music that we felt a loved one or a family member had died.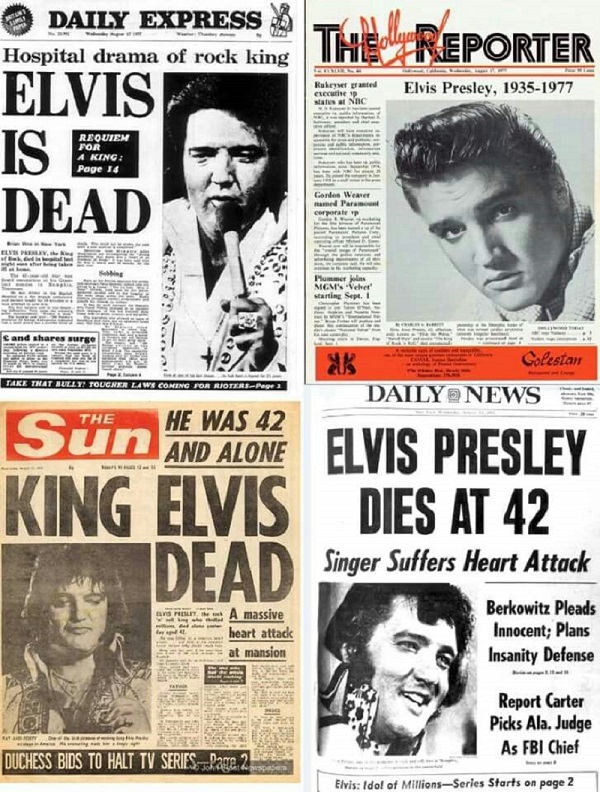 For fans worldwide, this week in August is known as Elvis week. I'm a lifelong Elvis fan, so I know this.
Elvis is regarded as one of the most significant cultural figures of the 20th century.
I don't think there is anyone who does not immediately recognize his music, his voice, his likeness, or his name. Elvis Presley's earliest musical influence came from gospel. His mother recalled that from the age of two, at the Assembly of God church in Tupelo attended by the family, "he would slide down off my lap, run into the aisle and scramble up to the platform. There he would stand looking at the choir and trying to sing with them." In Memphis, Presley frequently attended all-night gospel singings at the Ellis Auditorium, where groups such as the Statesmen Quartet led the music in a style that, Guralnick suggests, sowed the seeds of Presley's future stage act:
The Statesmen were an electric combination … featuring some of the most thrillingly emotive singing and daringly unconventional showmanship in the entertainment world … dressed in suits that might have come out of the window of Lansky's. … Bass singer Jim Wetherington, known universally as the Big Chief, maintained a steady bottom, ceaselessly jiggling first his left leg, then his right, with the material of the pants leg ballooning out and shimmering. "He went about as far as you could go in gospel music," said Jake Hess. "The women would jump up, just like they do for the pop shows." Preachers frequently objected to the lewd movements … but audiences reacted with screams and swoons.
As a teenager, Presley's musical interests were wide-ranging, and he was deeply informed about both white and African-American musical idioms. Though he never had any formal training, he had a remarkable memory, and his musical knowledge was already considerable by the time he made his first professional recordings aged 19 in 1954. When Jerry Leiber and Mike Stoller met him two years later, they were astonished at his encyclopedic understanding of the blues, and, as Stoller put it, "He certainly knew a lot more than we did about country music and gospel music. At a press conference the following year, he proudly declared, "I know practically every religious song that's ever been written."
This is why I absolutely loved the new Elvis film and believe that Austin Butler did a wonderful job capturing the spirit of the King of Rock n' Roll. Because of the pandemic, he had 2 years to learn his moves and mannerisms. Because of his musical background, he actually did much of the voice and singing in the film – the young Elvis performances and the solo piano and guitar parts. They decided to use Austin's voice because the old Sun Record recordings are such a low quality, that it would upset the theatergoers. Many people can't decipher which parts are Elvis and which are Austin Butler.
In the film, Elvis' early voice is sung exclusively by Butler. But as the singer ages, Butler's voice is blended with tapes of midlife Elvis to give as similar a vocal tone as possible, a decision made by the film's director, Baz Luhrmann.
Elvis played guitar, bass, and piano; he received his first guitar when he was 11 years old. While he couldn't read or write music and had no formal lessons, he was a natural musician and played everything by ear. Presley often played an instrument on his recordings and produced his own music. Presley played rhythm acoustic guitar on most of his Sun recordings and his 1950s RCA albums. If you've seen the film, you may be wondering if Austin Butler is really playing guitar in Elvis? As well as being a strong singer, Butler has been playing the piano and guitar since he was 13. Similarly to Elvis, the actor taught himself to play his instruments.
The two men share an eerie similarity that appeared to make Butler predestined to play the part of Elvis. The odd and eerie synchronicities or coincidences are that Austin and Elvis both lost their mothers when they were 23.
Butler spoke of this parallel between himself and Presley. "I'd been watching all these documentaries and learned a couple of days prior that Elvis's mom had died when he was 23, the same as me," Butler said.  It was a performance of The Rightgeous Brothers' "Unchained Melody" that secured Butler the coveted role.
"I sat down at the piano in my bathrobe and just started fiddling," he says. "I'd been practicing 'Unchained Melody' for a while, but I'd always been singing it to a lover," the actor admitted. "That night, I sang it to my mom. I wasn't trying to look and sound like Elvis. I wasn't trying to do anything but take that emotion and pour it into the song."
It was that vocal that Luhrmann said sealed the deal. "What I heard vocally, and more importantly, what I saw emotionally, was something that simply couldn't be ignored," Luhrmann said to Vogue. "From the moment I met Austin, he carried something of Elvis with him. He had a hint of the swagger, a touch of the sound," the filmmaker concluded.
Listen to Austin Butler's Pre-Production Test Footage below. That's his voice and guitar playing!
Priscilla Presley and Lisa Marie both said that the very spirit of Elvis was guiding Austin and that he made Elvis live again. His performance is that powerful! (I hope they get all win the Academy Awards and go home with the Oscar!)
Austin Butler is absolutely charming!
Tom Hanks plays Colonel Tom Parker, and he is a villain we love to hate.  This film shows where the music inside of Elvis came from. That is the first thing I loved about the film. Secondly, I believe the movie really shows how manipulative the Colonel was of Elvis' trust and naïve sense. By the end of the film, you feel like they have a very dysfunctional and toxic relationship with the Colonel completely abusing and exploiting Elvis like a circus freak.
Watching Elvis at times eerily reminded me of the sad and tragic feeling of The Elephant Man, and I think the director, Baz Luhrmann did a wonderful job of giving viewers an understanding of how and why Elvis never did tour the world, and why he left us so young. The Colonel gaslighted him, abused him, and sold him out. He treated him like a circus freak show and finally, the Presley's (Priscilla and Lisa Marie) have gotten behind an Elvis film which they say was true to the man they knew. We painfully watch as Elvis goes back to the Colonel again and again, to his tragic end.
The film is just under 3 hours and a wonderful musical journey. I highly, highly recommend it.
The film is already available digitally on Amazon, but it's still in select theaters and I recommend seeing it on the big screen if you haven't already.
So what does this have to do with Elvis in the Czech Republic?
Keep reading and you'll know…
Like every famous person who died tragically young, Elvis Presley has inspired a host of conspiracy theories, whacko followers and crazed impersonators – there's no mistaking it, the man is a legend. I've had people tell me that so many amazing things come out of Czech lands, that Elvis must certainly have Bohemian roots. Well, I have not found any evidence of this, but there are some sources who claim that Elvis Presley had Romani ancestry, and a Romany group that claimed Elvis was a gypsy king.
A good link to follow Elvis' ancestry is here.
Czechs are famous for their marionettes, and I found a lovely Czech Elvis marionette here.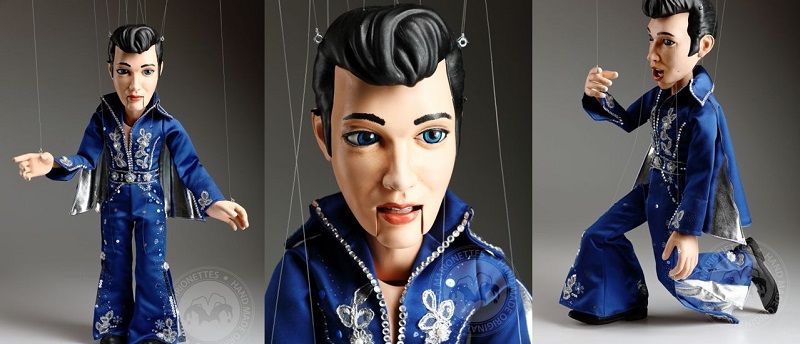 A "Czech Elvis" I discovered was Karel Zich (June 10, 1949 – July 13, 2004).
Karel was a Czech singer, guitarist and composer whose voice was often compared with that of Elvis Presley. He was born in Prague, Czechoslovakia, into a musical family. His grandfather was Otakar Zich, composer and professor of music aesthetics, and his uncle was the composer Jaroslav Zich. Karel attended the Prague State Conservatory (Státní konzervatoř Praha) for three years and later graduated from Charles University in sociology. Between 1964 and 1965 he performed with the band Framus as a singer. In 1968 Zich joined Spirituál kvintet and stayed with them until 1973.
As you can see, his album is called "Let Me Sing Some Elvis Presley Songs".
Here is a link to his entire playlist on YouTube.
He does have a nice voice, but no one sings Elvis like Elvis!
This is where it gets funny…
Taking it to back in time a bit, we have discovered someone who was promoted as the "Elvis Presley of Czechoslovakia", during the Soviet-controlled communist regime. I suppose that no matter where you go, it's seemingly impossible to escape the reach of American culture, so they just went with it. Meet Jiri Korn.
Jiří Korn (born May 17, 1949 in Prague) is a Czech recording artist and actor. Korn is a highly acclaimed musician in his native Czechoslovakia, and remains such after his five decade long career one of the most prominent Czech singer-songwriters, but is internationally perhaps best known for his single Miss Moskva, which received radio play in most European countries, including France, Germany, Croatia, Hungary and Norway. His main interest was in rock'n'roll, and he was sometimes called the "Czech Elvis" because of his moves.
Watch those supposed Elvis moves in his big hit song from back then…
Okay, I admit it. I laughed out loud.
He looks like an Andy Gibb character more to me than an Elvis, and those moves!???
Let me just share some of the comments I found alongside this performance because the comments about his performances are hysterical…
This is so funny! Interesting to see how the socialist governments of Europe tried to be "cool" Americans – 20 years after Elvis did it. Actually pathetic, in a way. No wonder that European socialism went into the ash heap of human history. Elvis Rules!
and…
The Czechs and Slovaks in the Chicago metropolitan area have told me that they think this communist-era attempt to be like the USA is funny. They say, that's why they and their parents came here.
and…
I have to say that watching Jiri Korn perform and shake his legs triggered a major panic attack that lasted 15 minutes. I haven't had a panic attack since my high school days! I honestly think Jiri Korn's strange way of singing/dancing may well have been a contributing factor to the Czechs decision to sign on to the Velvet Revolution.
Of course, then we have the Elvis impersonators…
Since Elvis Presley's death in 1977, Elvis impersonating has been a growth industry. From about 170 impersonators at the time of his passing, today there are an estimated 250,000 to 400,000 Elvis impersonators worldwide, from singers to skydivers. If the trend continues, it is projected that there will be 700 million Elvis impersonators by the year 2060. I'm not sure if that's fantastic or horrifying!
The Czech Elvis impersonator I found is called Elvis Presley Pavlevský. His show is called the "Live Performance King of Rock'n'Roll" and from his about information at YouTube, "Thanks to the perfect voice, great costumes and amazing form, you will experience a whirlwind of the greatest hits of the King of Rock'n'Roll, which was Elvis Presley – Elvis by Pavel Pavlovsky. Perfect for weddings, birthday parties, corporate parties, receptions, New Year, TV show, hen parties, Christmas parties."
His website and Facebook pages are down, but he still has his Instagram page.
Like many of the American Elvis impersonators, I feel no one can even come close to the King.
Then I found Elvis from Prague. His website says, "Elvis from Prague not only looks like the real E. Presley but also sings his songs in an original key playing guitar wearing the well-known costume, wig as well as sunglasses."
Below is a video from his website.
He's a bit better, in my opinion, but again, no one can even come close to the King.
I even found an Elvis concert from Vláďa Lichnovský. From his website, "one of the best European Elvis Presley impersonators, Vlaď Lichnovský, and his band, the Elvis Presley Revival Band. As one of the few, he can boast the title "second best Elvis in Europe 2004", which he won at the biggest European competition (Europe's No 1 Elvis Contest) in Blackpool, England, as well as a lot of awards here (Encyclopedia of the successful, written thanks from Václav Havel) also in the world (e.g. Certificate of Appreciation, New York, USA 2006).
The video below is from 2019. I love it when he goes out through the Czech crowd.
Finally, I located this…
A wonderful Czech singer who I adore, Karel Gott, did a musical tribute to the King which I enjoyed.
I enjoyed it because he's not trying to be Elvis. He had enough of his own fame and followers, and his own style. But like most of us, he appreciated Elvis and his music and he did a tribute show to him.  You can watch it below.
Karel Gott's Musical Tribute to Elvis Presley – Those who speak Czech and love Karel will enjoy this one.
Elvis Presley's rise to national attention in 1956 transformed the field of popular music and had a huge effect on the broader scope of popular culture. As the catalyst for the cultural revolution that was rock and roll, he was central not only to defining it as a musical genre but in making it a touchstone of youth culture and rebellious attitude
President Jimmy Carter remarked on his legacy in 1977: "His music and his personality, fusing the styles of white country and black rhythm and blues, permanently changed the face of American popular culture. His following was immense, and he was a symbol to people the world over of the vitality, rebelliousness, and good humor of his country."
Elvis Presley also heralded the vastly expanded reach of celebrity in the era of mass communication: at the age of 21, within a year of his first appearance on American network television, he was regarded as one of the most famous people in the world. For much of his adult life, Elvis Presley, with his rise from poverty to riches and massive fame, had seemed to epitomize the American Dream.
To this day, Elvis Presley's name, image, and voice are recognized around the globe. He remains the best-selling solo music artist of all time.
A little spoiler alert about the Elvis film…
If you do watch the Elvis film, you'll discover that Unchained Melody is played in the last scene.
It is very touching, and very hard breaking. Elvis was very talented, to the very end.
Austin Butler sang this song when he played the title role in Baz Luhrmann's 2022 biopic, Elvis. Knowing that Elvis' own performance earned more than 10 million views on YouTube, Butler felt the pressure to stay true to the King. "Somebody is going to know exactly how he placed his foot, how he placed his hand or how he sang this song," he told the Los Angeles Times.
Physical restraints added to the challenge of re-creating the iconic performance. Underneath the bedazzled white jumpsuit were layers of prosthetics to mimic Elvis' late-life bloated physique. "Unchained Melody was a physical challenge because it was done with the jumpsuit and the body adjustment suit under that, and it squeezes your ribs to the point where you can't breathe," Butler recalled. "I felt very claustrophobic there and very constricted, I couldn't breathe and I was really, really hot."
Baz Luhrmann also fought hard to use footage of Presley's 1977 performance (seen below) in the movie. "I remember seeing the video and thinking, 'Oh, gosh. After that moment, what else is there?'" he recalled. "There was a lot of, 'Oh, no, we'd never do that – we don't like seeing Elvis like that. But the moment he looks at the camera and smiles, he's like a kid inside when he sings. It makes the point of the whole movie, which is that when he's in front of an audience, the spirit is so alive."
This was the part of the film where the entire audience cries.
Below is the footage of Elvis singing it just weeks before his death.
Heartbreaking, because no matter what, Elvis always gave his all to his fans, and in this video, we can clearly see and hear that he is singing his heart out.
We love you Elvis. We will always love you.
At the screening at the Cannes Film Festival, Priscilla Presley was in tears as the biopic Elvis received an extraordinary 12-minute standing ovation— the longest applause ever at Cannes, according to Variety.
The entire film team certainly deserved it.
And Elvis deserves it to this day.
Rest in peace Elvis, we love you and miss you so much!
Thank you in advance for your support…
We know that you could spend hours, days, weeks and months finding some of this information yourselves – but at this website, we curate the best of what we find for you and place it easily and conveniently into one place. Please take a moment today to recognize our efforts and make a donation towards the operational costs of this site – your support keeps the site alive and keeps us searching for the best of our heritage to bring to you.


Remember, we rely solely on your donations to keep the project going.
Thank you in advance!
If you have not already subscribed to get TresBohemes.com delivered to your inbox, please use the form below now so you never miss another post.