Today I am taking everyone on a nostalgic trip to a Czechoslovakia of the late 1960's. The images come from a book entitled, Children of Czechoslovakia by Marcela Andrlova. It was published in 1969. On the back cover it reads:
"Living at the crossroads of Europe, the children of Czechoslovakia and their parents are much in the eyes of the world these days. In this book, you see the offspring of an ancient and proud culture in intimate glimpses of their daily routine of family life, school, work and play. With the aid of 150 photographs, the author, a Czech herself, draws from her personal experience to provide an absorbing, detailed account of games and holidays, food and folklore, studies and sports, healthcare and duties that make up the life of a Czechoslovakian child.
"Czech and Slovak children live in a land that is a special blend of the traditional—Gothic churches, medieval castles, Baroque palaces—and the ultra-modern. Here you see youngsters in traditional folk costume parading through a village straight out of Mother Goose; standing wide-eyed before a Christmas tree; hiking through pine-clad mountains trails; skiing, swimming, building snowmen; and preparing for the future in fully-equipped modern schools. The future of Czechoslovakia hangs in the balance. This book provides a unique look at the generation that will shape that future."
Feeling the heat of summer, and remembering how much my family always escaped the city to go to the forests for camping, I am sharing photos of summer vacation from the book. The text in quotations is also taken from the book, but not in any particular order.
I hope this brings you all a bit of nostalgia…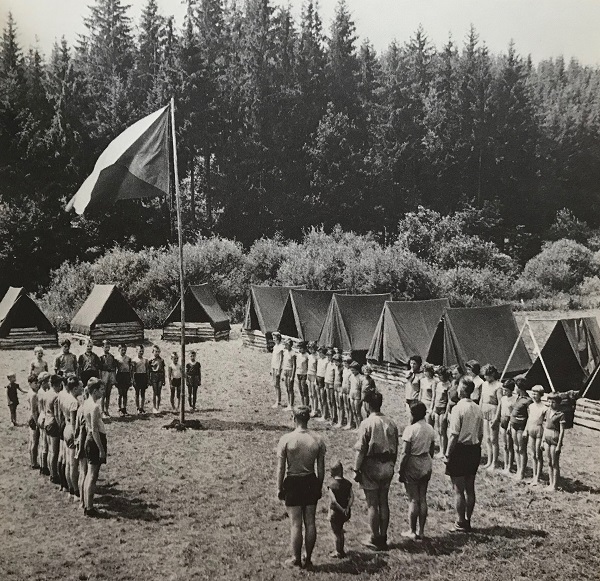 "Preschool children of city-dwelling parents are usually taken by them to the country in summer. Some people have their own country cottages, or accommodations that they rent. The summer recreation of school children is organized by the Trade Union their parents belong to, by physical culture organizations or by the Young Pioneers organization. There is no city child who does not spend summer in the country. Those children who are disabled have special summer camps, which are run by the Czechoslovak Red Cross."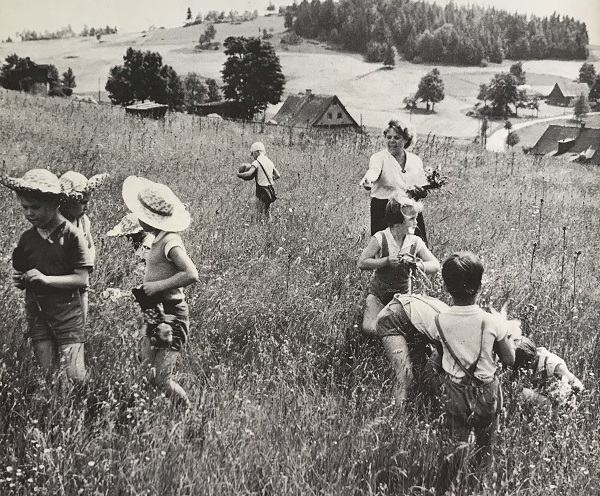 "A trip to the country in the summer gives a child a chance to learn about nature and also to bring home a bunch of wildflowers or berries for mother."
"A hot afternoon and a dam with its rushing waters are all that are needed to bring children together in the summer."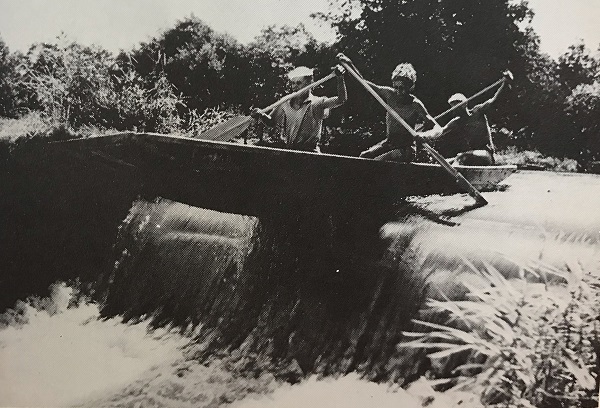 "For older boys, a dam provides a thrilling ride in a punt."
"Czechoslovakia is filled with deep fir and pine forests where a family can build a small cottage or camp out n seclusion."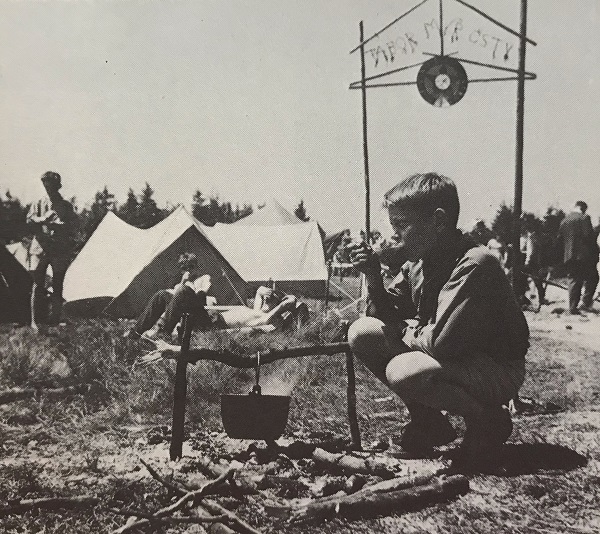 "There are many summer camps for children in Czechoslovakia, and, almost without exception, every child spends all or part of his summer in the mountains or on a lake." "At camp, even boys must learn to cook, but it's more fun, and besides, being in the air all day really stirs up appetites."
"Water is always the one of the main attractions in summertime. There are many rivers and lakes in Czechoslovakia."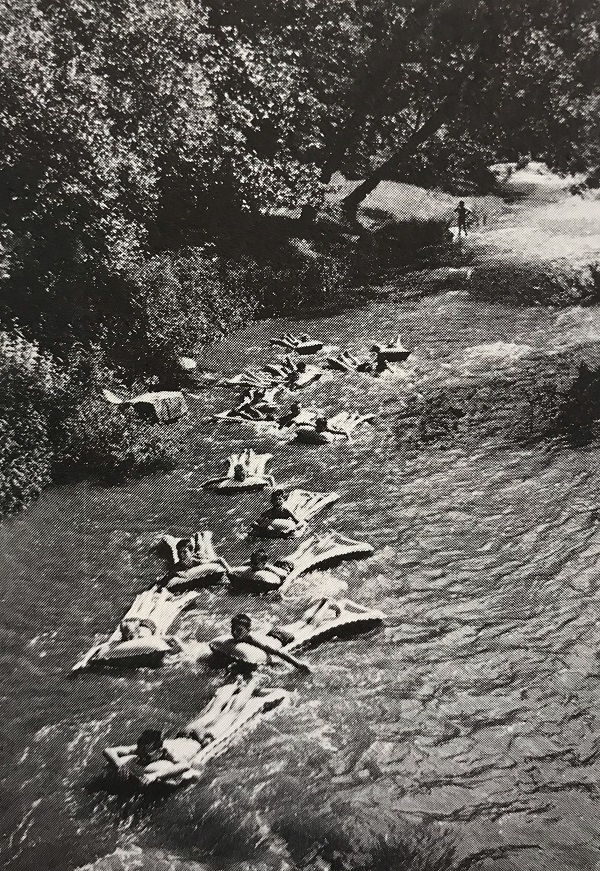 "This is a lazy way to spend the afternoon—floating down a quiet stream ad exploring at the same time."
"Summer in Czechoslovakia may also mean helping with the haymaking in the mountains or with the harvest in a village. Summer means tractor rides, games in the straw, milk fresh from the cows, and many other pleasures which stay with the children for the rest of their lives, or at least until the next summer vacation."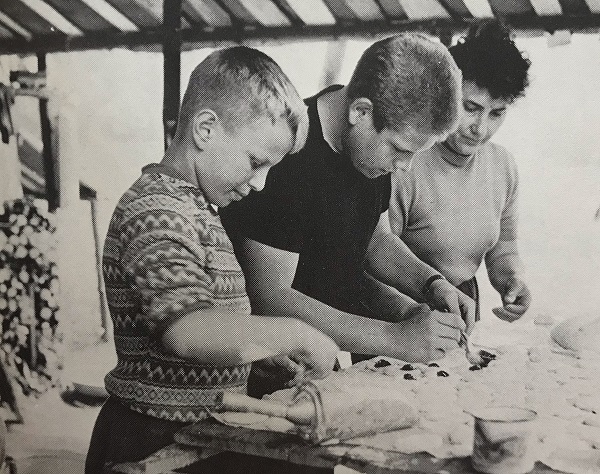 " Young Pioneers and Boy Scouts can earn many badges during the summer while at camp. These boys undoubtedly prefer making their plum dumplings at a camp than at home in a kitchen."
"The most popular form of vacationing is in tent camps, in which children can enjoy the feeling of independence to the full, with the added measure of excitement. There is night sentry duty, with the moon rising above the meadow and all kinds of sounds heard in the woods, explorations of the ruins of an old castle, and many such adventures."
"One of the thrilling adventures for Czech children is open-air camping in tents. Of course, everyone must pitch in as there is a lot of work involved in camping."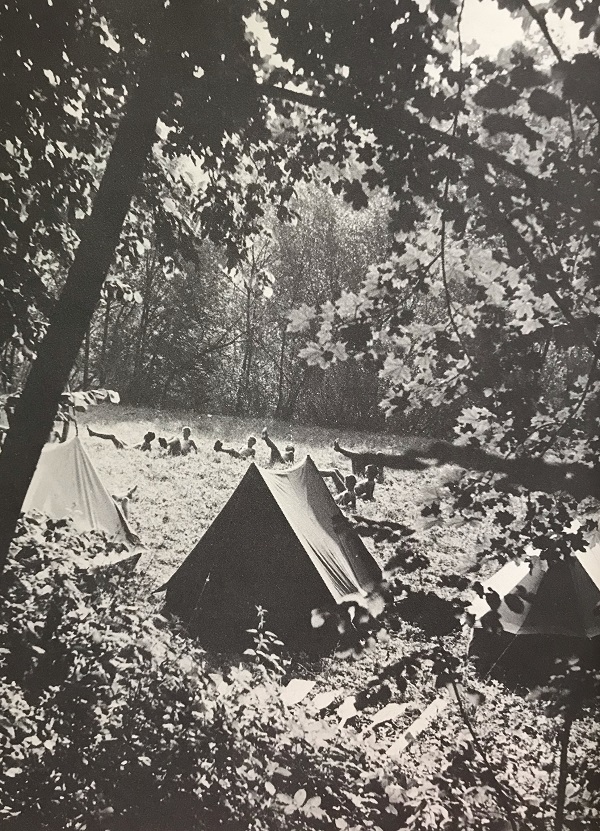 "At break of day in the woods everyone wants to get up—there is so much to do. You can be sure these boys don't do their morning calisthenics with such enthusiasm at home."
"Hiking and exploring are very popular with Czech boys. One of the first rules for a modern pioneer is learning to use a compass and map and knowing where you are."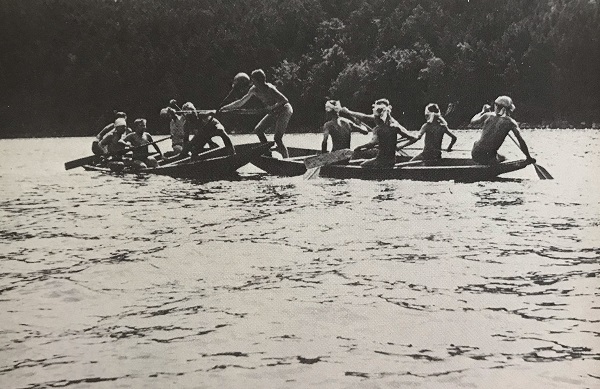 "Wearing pirate headbands, these boys are engaged in an ancient sport—jousting. The jousters will probably not only upset each other but tip the boat as well."
"There are also less pleasant duties—cooking, morning calisthenics in wet grass, or washing pots and pans in cold water. But there is plenty of fun too—water games, gathering raspberries and strawberries in the clearings, watching deer coming to drink in the brook, singing to the guitar at the campfire, and eating barbecued sausage and potatoes."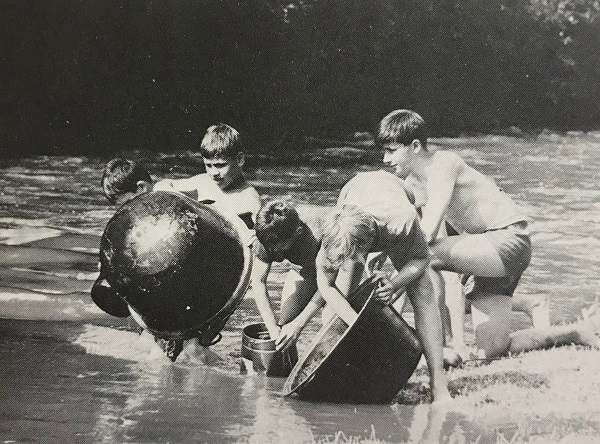 "Cleaning cooking pots can even be fun when it's done in a stream where you can wade at the same time."
"Schoolchildren receive their report cards on the last day of June, and the two-month summer vacations begin. Czechoslovakia is a Central European country, far from any sea. In spite of that, many children do spend their holidays at the seaside—either with their parents or in pioneer camps or recreation and health spas on the Black Sea coast in the Soviet Union, Rumania or Bulgaria; on the Baltic Sea in Poland or the German Democratic Republic; or on the Adriatic Sea in Yugoslavia. In 1967, every eighth citizen of Czechoslovakia spent his holidays or vacation abroad."
That last paragraph really dates the piece and while sounding so free, how limited the travel was to Czechs at the time. I hope this brought those of you who emigrated here in the late 60's or after some fond memories…
If you would like to see more like this, I recommend the following:
Camping at Rabštejn nad Střelou in 1966 aka Ravenstone
A River Trip Through the Lens of Vilem Hekel
Czech Style West Side Story in Starci na Chmelu
Enjoy your long summer days!
Thank you for your support – We appreciate you more than you know!
We know that you could spend hours, days, weeks and months finding some of this information yourselves – but at this website, we curate the best of what we find for you and place it easily and conveniently into one place. Please take a moment today to recognize our efforts and make a donation towards the operational costs of this site – your support keeps the site alive and keeps us searching for the best of our heritage to bring to you.


Remember, we rely solely on your donations to keep the project going.
Thank you in advance!
If you have not already subscribed to get TresBohemes.com delivered to your inbox, please use the form below now so you never miss another post.