If you are a West Side Story fan and you loved the singing and dancing mixed with youthful rebellion and angst, then you'll enjoy Czech-made Starci na Chmelu (Called Green Gold or The Hop Pickers in English), a 1964 musical filmed in the hop fields of then called Czechoslovakia.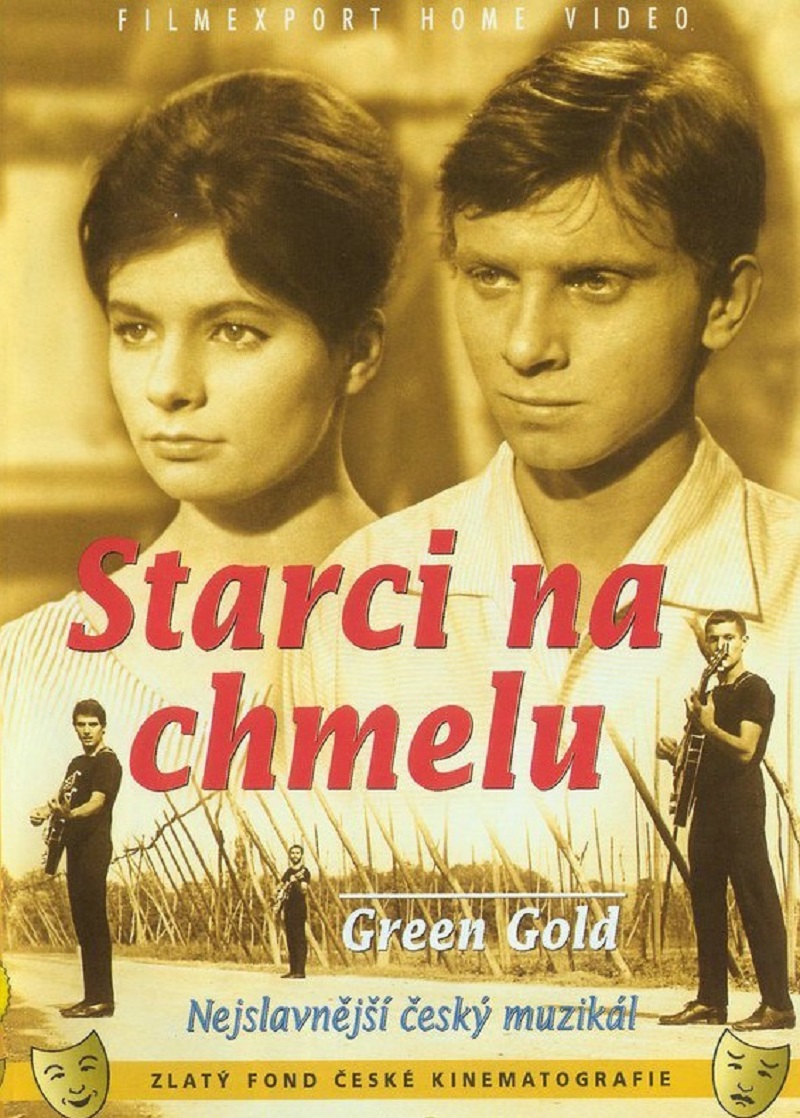 The film feels very West Side Story-ish and my mother shared many memories of her summer "na chmelu", which is the harvesting of hops. She remembers the scratches on her fingers and wearing special gloves which had openings right where the scratches took place. They were called Brigádníci which are temporary or seasonal workers – or quite literally, the hop brigade.
The hop brigade was mandatory. High school students had to attend and no one was exempt. The hops used to be town off their tall pillars manually. One brigadier would tear and cut it down, while two others, sitting on a cart pulled by a tractor would break down the hop vines. Others would then carry on the next steps in much like an assembly line.
Called zelené zlato, or green gold, the hops are harvested to make famous Czech beer.  Interestingly – they were paid and yet the average monthly salary at that time was about 1,400 crowns or around $55 US dollars.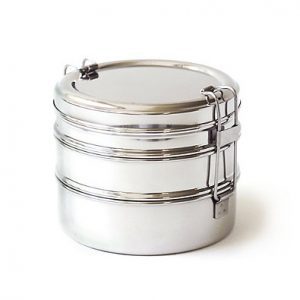 The hop brigade students were separated with boys in one area and girls in another. Their teachers were the most likely chaperones. They slept on mattresses and mats in the gym and there was a strict curfew at 10 pm. They were served breakfast, lunch and dinner and they dined communally, using their stackable metal lunch containers to eat from. Who remembers these old style meal tins? Apparently, they are making quite a comeback and we recently saw some for sale at Bed, Bath & Beyond. They also have some really nice varieties including 2-tier, 3-tier and 4-tier stainless steel ones with insulated carry cases at Amazon.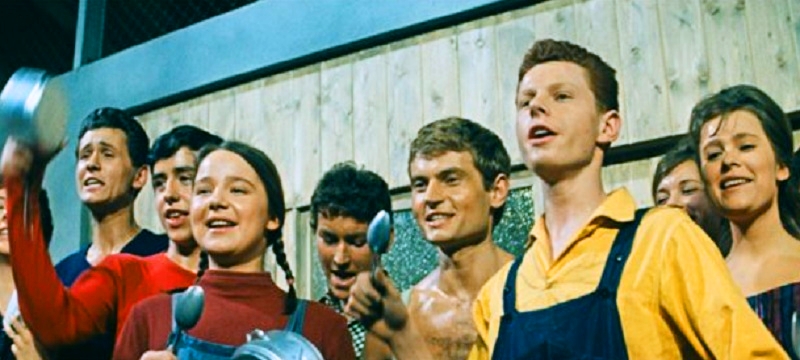 But back to the film…
Often referred to as the first Czech musical comedy, this film deals with adolescent morality and the accompanying bureaucracy without being overly forceful or heavy-handed. It takes place in the summertime where a group of teenage boys and girls have been sent to pick hops for the summer. A very nice communist way of making forced child labor feel more like summer camp. My mother remembers such a summer na chmelu very fondly and says it was one of the best times of her youth!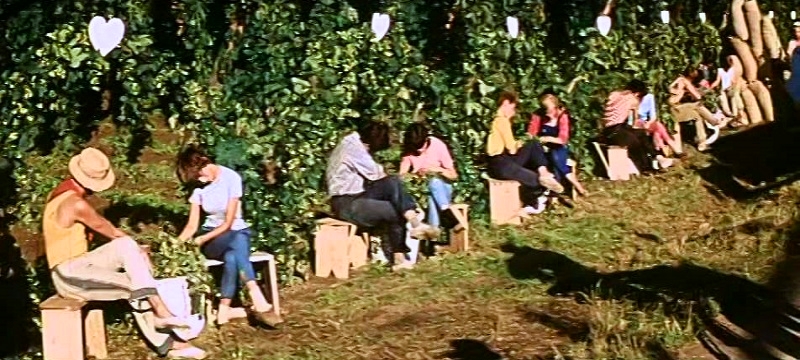 When she mentioned the film I couldn't imagine what it may look like, and in all honesty I was expecting a communist musical, whatever that may look like. But it was a sweet love story so typical for the youth of the time, wherever in the world they may be. Parts of it seemed to anticipate the soviet tanks and their wrongful intrusion four years later, in 1968.
The film is about a boy named Filip (Vladimír Pucholt) who prefers great writers to hanging out with the other boys up to no good takes refuge in the attic where he has made himself a wonderful room, a kind of secret hideaway where he plans to spend the summer.
Being different than the other boys, the teacher (Irena Kačírková) is always suspect of him and he has the unlucky habit of showing up at the wrong time, usually placing him at the scene of trouble.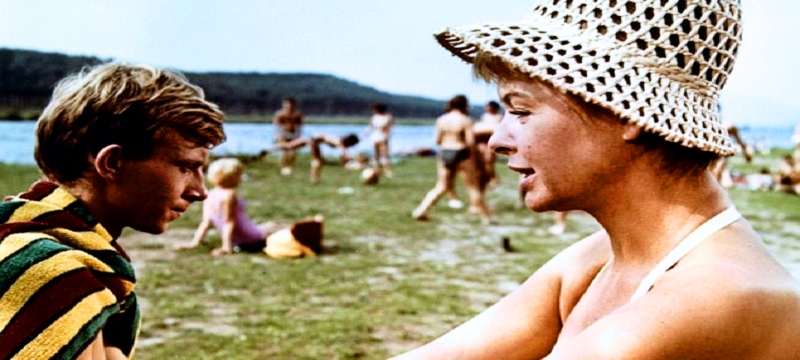 He has a jealous classmate named Honza (Miloš Zavadil) who is always trying to beat him up. Honza seems to have all the luck, riding his motorcycle around, having visits with his "aunt" and getting other people to do his work. He is the resident bad boy pretending to be a good guy.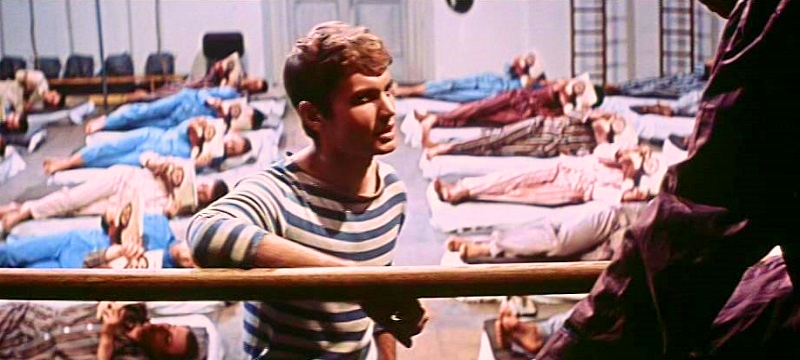 Honza spends most of his time being a bully with the help of his two friends. Eventually, he tells the teachers about the boys hideaway, jealous that he didn't make it his own.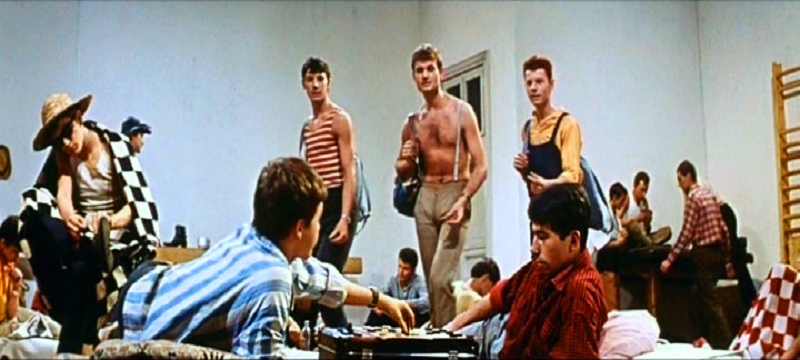 The jealousy undoubtedly springs from the fact that Hanka, of of the prettiest girls in school (Ivana Pavlová) favors the boy and his brains over Honza's brawn.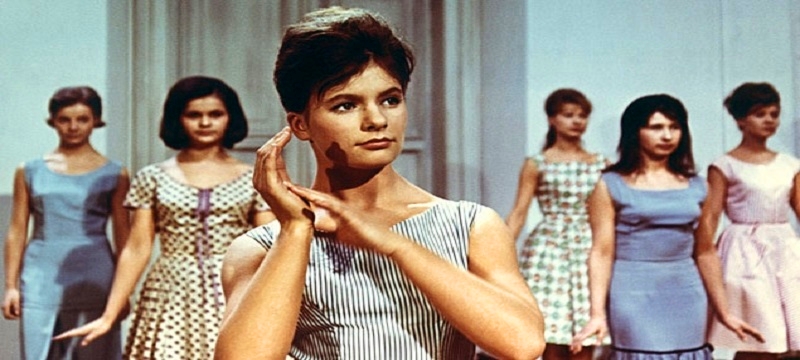 An innocent puppy-love blossoms in the attic while the other students sing songs about making beer, dance to catchy pop tunes with their comrades, pick hops and try to figure out what is really going on in the attic.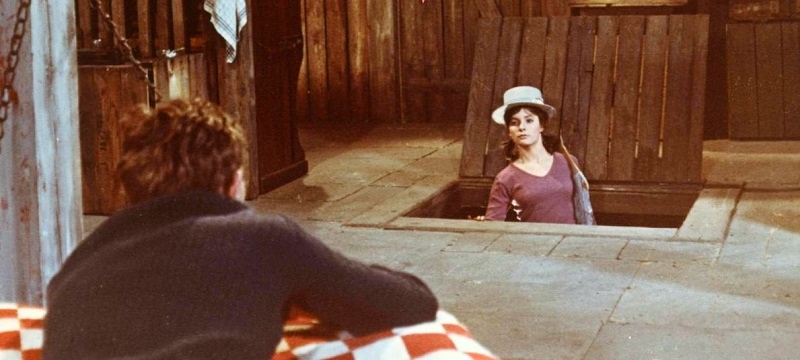 Their behaviors invite both conflict and debate among the other characters and we see that emerge in each member of the school as well as feel it in Czech society.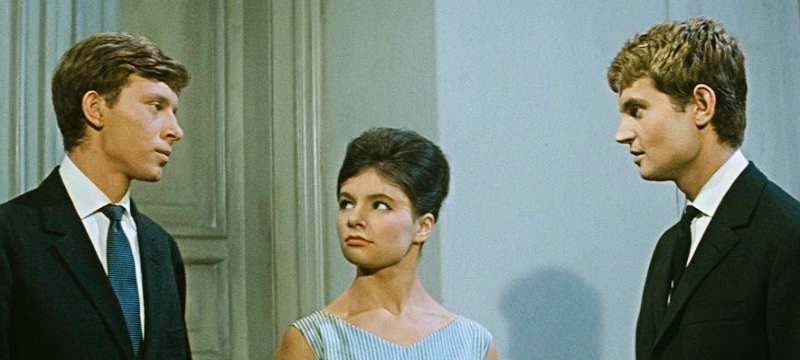 The Chairman of JZD is in charge of the whole scene and his presence is felt as a stress by most of the kids. (JZD stands for Jednotné zemědělské družstvo, which was the collective agricultural cooperative, the usual name of the agricultural cooperatives in the former socialist Czechoslovakia.)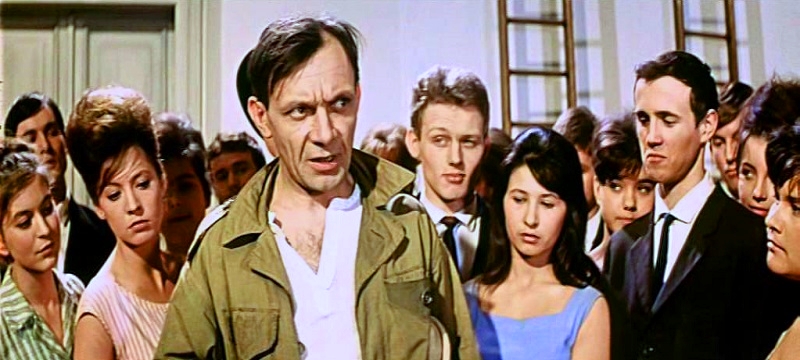 By the end of the film, the two students are suspended from school and sent away from the camp. The punishment leads to them forming a stronger bond and you see them happily leaving the place, heading back to the city.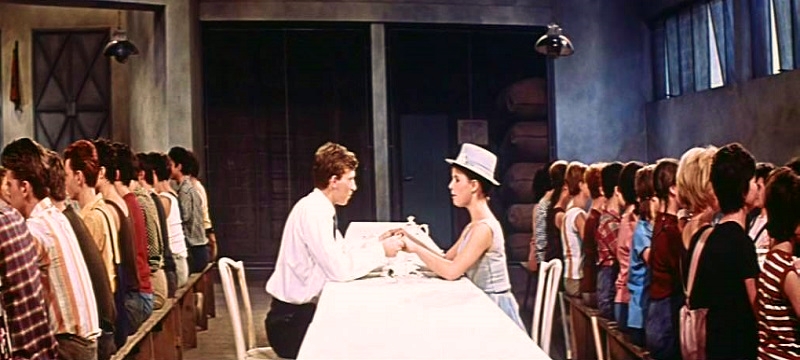 Meanwhile, the jealous informant who is even more jealous to see them go while he remains stuck at the camp literally has everyone at the camp turn their backs on him as he is ostracized for his behavior.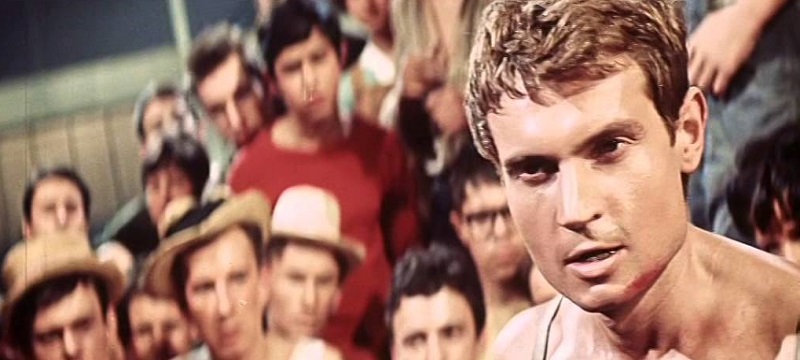 The film is directed by Ladislav Rychman, who must have seen West Side Story which debuted in 1961 and was immediately inspired. Ladislav went on to be cited as being "indispensable" as the founder of Czech music clips which were basically very short films with a central musical performance very similar in length and style to modern music videos.
The three guitarists who start the movie off and then pop up throughout the film look so contemporary and reminded me of so many MTV videos that came many years later. An interesting side note my mother shared was that she actually went on a couple of dates with one of them and he lived very close to her. It's a small world.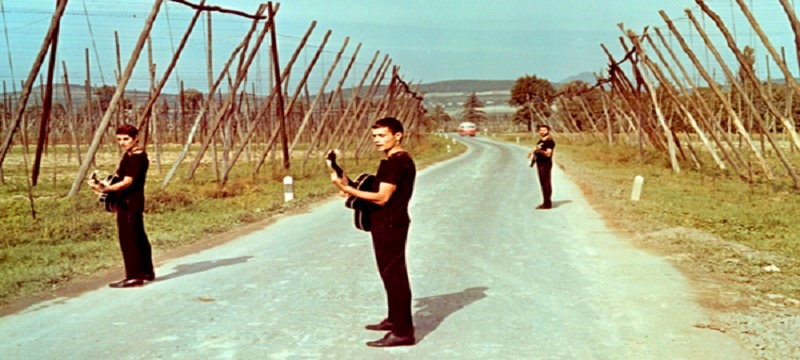 This is a wonderful and quirky film that takes place during the swinging 60s and it has the vibe of the typical American musicals of the time. It's filled with music, singing, dancing, color and emotion and even has the voice of Karel Gott singing the male lead. Choreographed dance scenes dominate the film and make it look like one big summer party!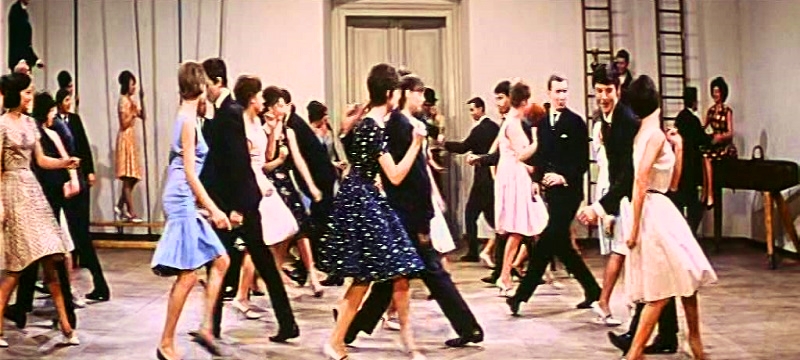 We thoroughly enjoyed this beautiful technicolor journey back in time to Czech innocence and are so happy my mother decided to share it with us, along with her memories.
And of course, we're happy that the films ending is more positive than in West Side Story.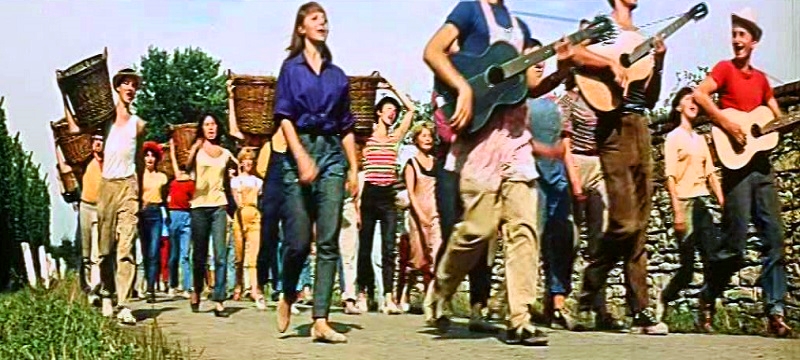 We think that even English speaking viewers will enjoy the bright bursts of color, the singing and dancing as well as the story. When we checked eBay, many of the available versions of the DVD do feature English subtitles!
Enjoy these clips from the some of the musical scenes.
Téma Milenci v texaskách (Theme: Lovers in Jeans)
Život je kolotoč (Life is a Merry-go-Round)
Chmel je naše zlato (Hops is Our Gold)
Hodní hoši (Good Guys)
Den je krásný (The Day is Beautiful)
Do gala (To the Gala)
Bossa nova (Bossa Nova)
Closing Song – Melody in Jeans – Closing Version
We thoroughly enjoyed seeing the harvesting of the hops used to make world famous Czech beer and the beautiful blue sky of summer in so many of the colorful scenes and upon dosing some research we found out that while these days most of the work is completed by machines, certain parts still require a human hand and summers still look somewhat the same near the hop fields. Students and others can now attend willingly and earn up to 17,000 crowns or approx. $675 USD for a three week stay. Some women attend, but most of the work is done by young men. They still have lunchboxes and sing songs to make the time pass by, and who knows… maybe they even find love under the summer sky.
Pick up your copy on eBay.
If you have not already subscribed to get TresBohemes.com delivered to your inbox, please use the form below now so you never miss another post.
---
Remember, we rely solely on your donations to keep the project going.
Become a friend and get our lovely Czech postcard pack.