Rabštejn nad Střelou (Raven stone over bullet or missile in English or Rabenstein in German) is a part of the city of  Manětín, located in the Plzeň (Pilsen) district.  It is an old historic town, which lies on the river Střela about 30 kilometers north of Pilsen. Today I am sharing some memories of camping at Rabštejn nad Střelou in 1966 aka Ravenstone.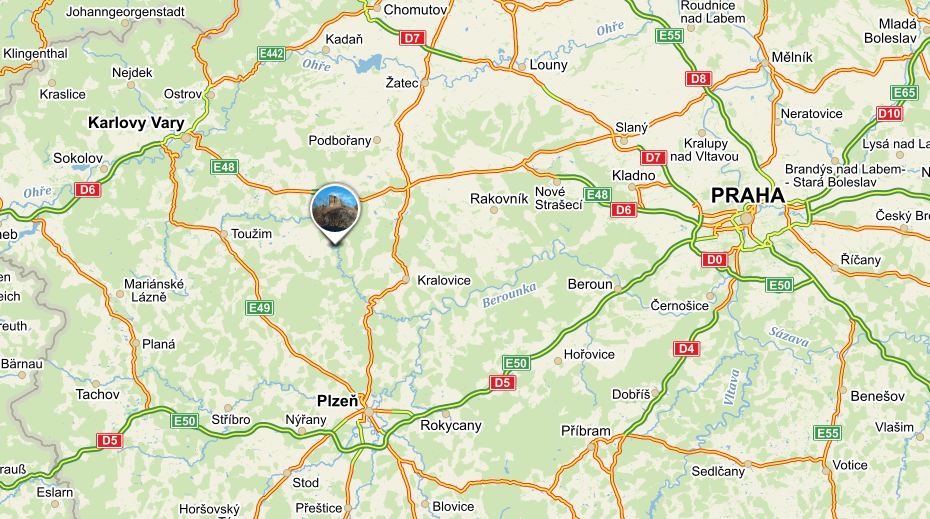 It is believed that this place most likely got it's name in relation to its location and a legend of a raven and a found ring. That is the mythical foundation for the city on a rock. The first written mention of the Rabštejn castle dates to 1269.
Given the preponderance of the German population, in 1938 Rabštejn became part of Sudetenland and was cleared of many of its inhabitants and along with them the last two remaining Jewish families who had lived there and maintained community for over 300 years. In fact, WWII cleaned out the town and even before the end of World War II, in 1945, German soldiers shot several prisoners of war dead. By the end of the war the population had already been fully resettled.
The quaintness of the town predestined his gradual transformation into a recreation seat, and many unoccupied houses were demolished. Even the town as it was known eventually lost its independence (July 1, 1980) and became part of the city Manětín.
By that time, almost all services had disappeared. The post office has been closed since 1998, trade was abolished in 2003, and the pensions in the castle and monastery are also now gone.
But – for my family, many happy memories of time spent there remain.  Back in the mid 1960's, when I (Kytka) was just a year and two years old, my parents would go there on the weekends and camp, fish, frolic and play Tramp music and songs (Trampské písně).
I don't know if it's a Czech thing or just a family thing, but wherever we went those days, and for many, many years after we emigrated to the United States, it was always the group of my mother Anna and father Mike (after he got out of the army), my aunt Helen and uncle Vlasta, and my grandmother Marie and her husband, the baker, Gusta. If and when we share more personal photos here, you'll always see the family together. Maybe that is why family is still so important to us today.
At Rabštejn nad Střelou, it was all about finding the perfect location near the river to set up camp.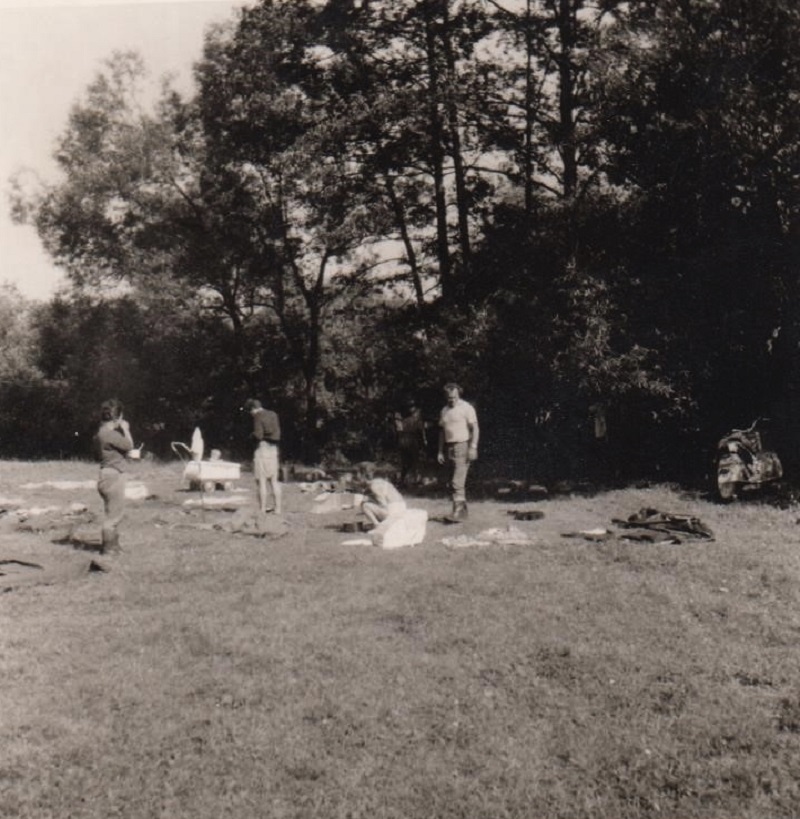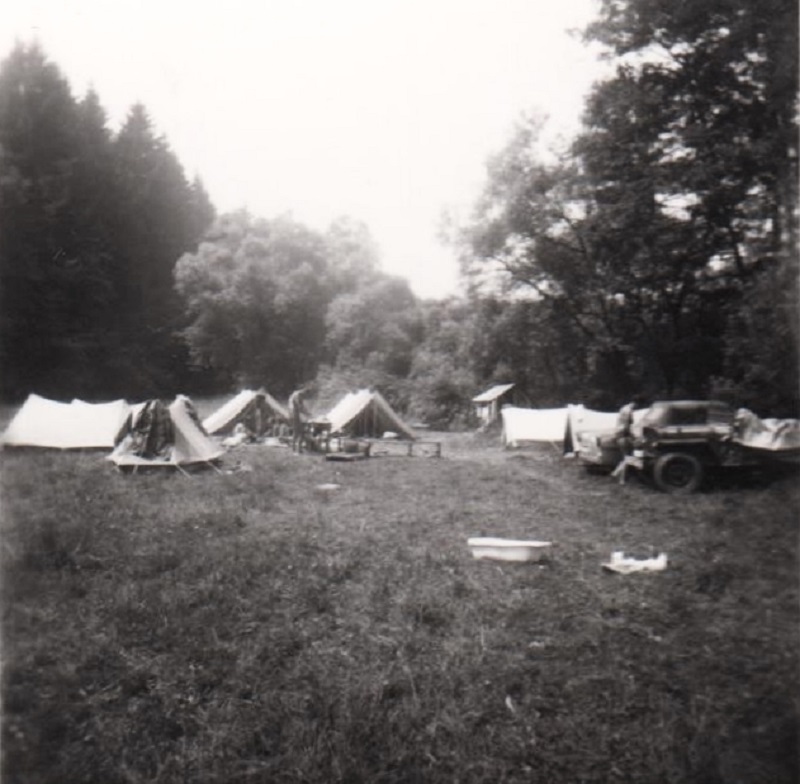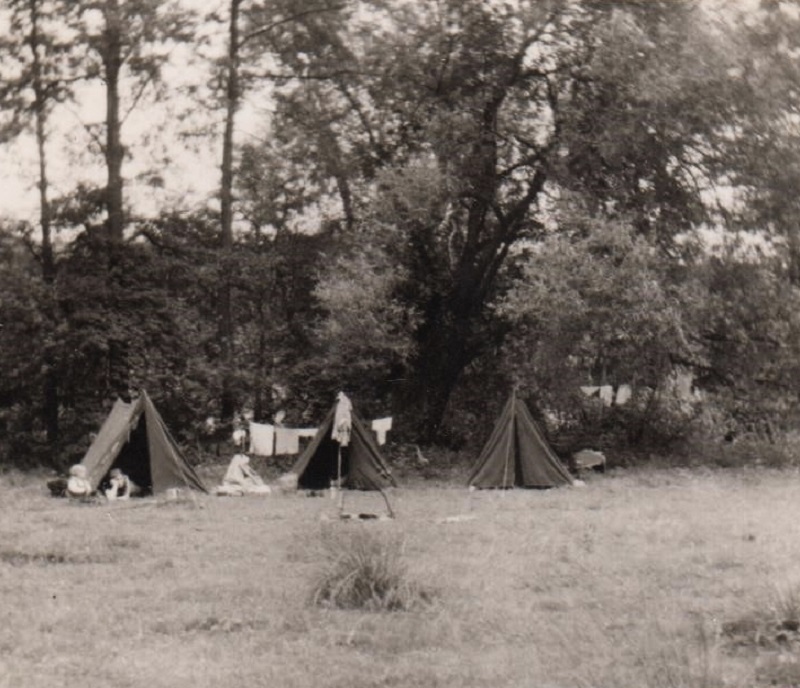 Once the tents were up, it was time to get to finding some food. Mushrooms were always abundant in the forest that bordered the edge and hunting for them has always been a favorite pastime of my family (and most Czechs!).
I must have been very lucky to have found these!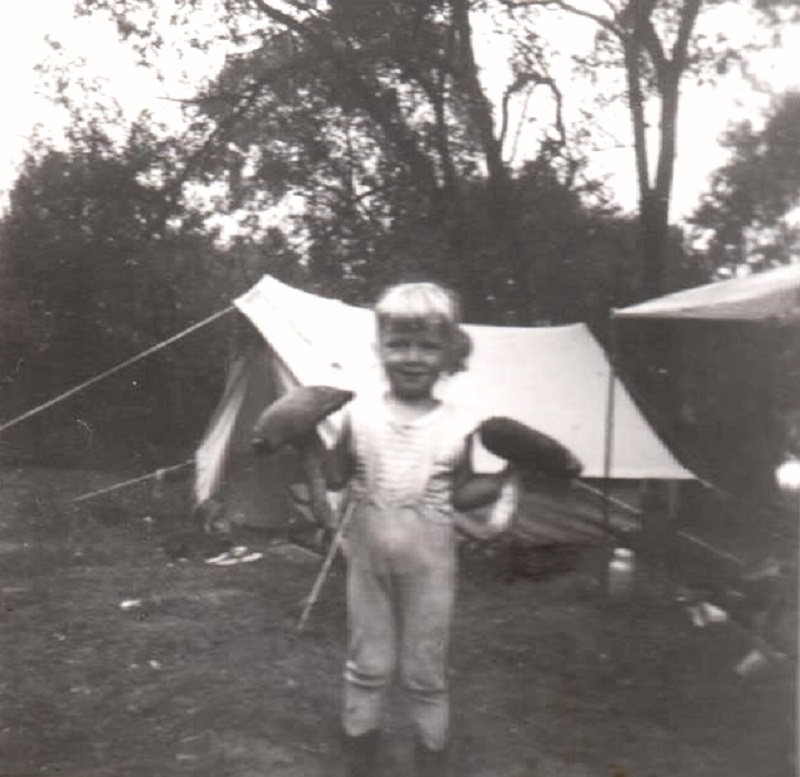 My father and I show them off.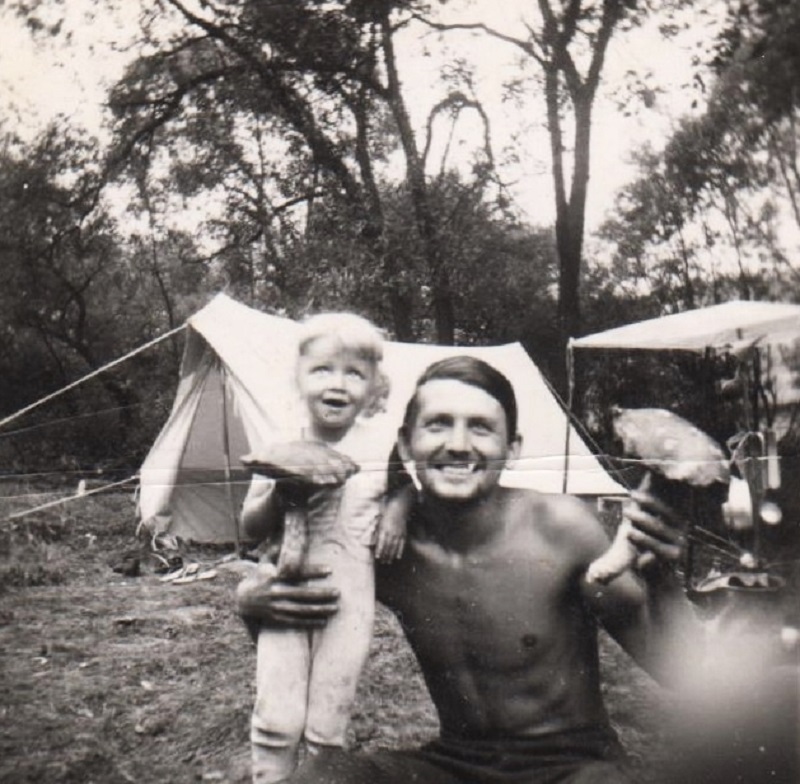 It looks like my mother Anna is showing off, too!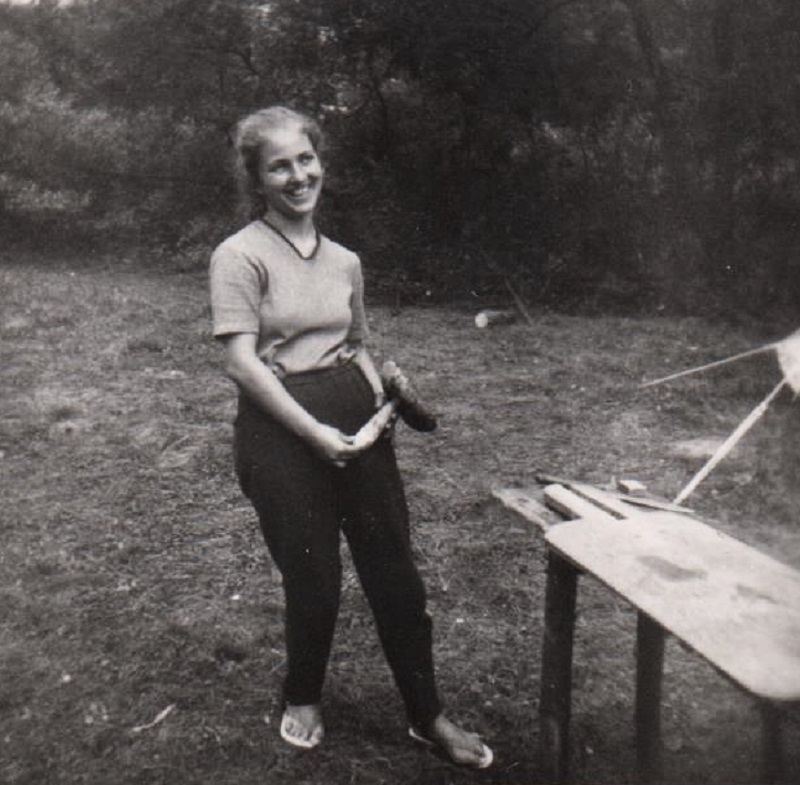 There's my grandmother Marie standing over a pot of something cooking, surely stewing up some kind of mushroom soup!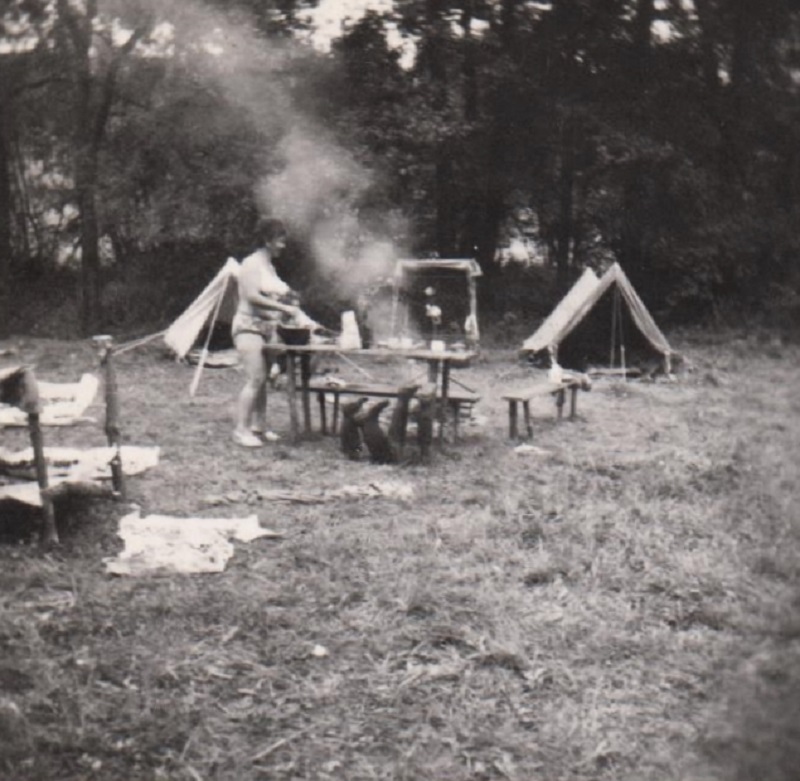 Speaking of food. My mother Anna tells me a story of how one time we went, I wandered off. They thought I was asleep and I slipped quietly out of the tent and disappeared. Of course they were all in a panic. They spent hours and hours looking for me, combing the forest paths and worrying about the riverside. My mother thought I had drowned.
It turns out that they found me in a nearby field some hours later. I was sitting contentedly surrounded by a flock of sheep who seemed to have herded me into their center. In the circle, I was happy as can be, apparently picking up little balls of sheeps' poop and snacking on them.
Maybe that is why I am so unhappy in this picture! They washed me off and I was scolded for wandering off and eating the poop!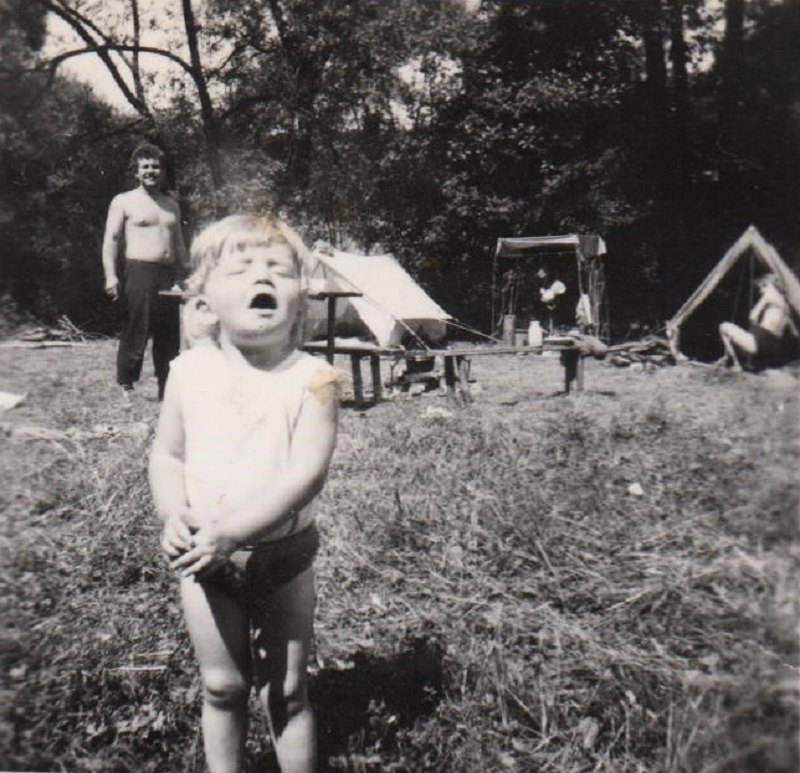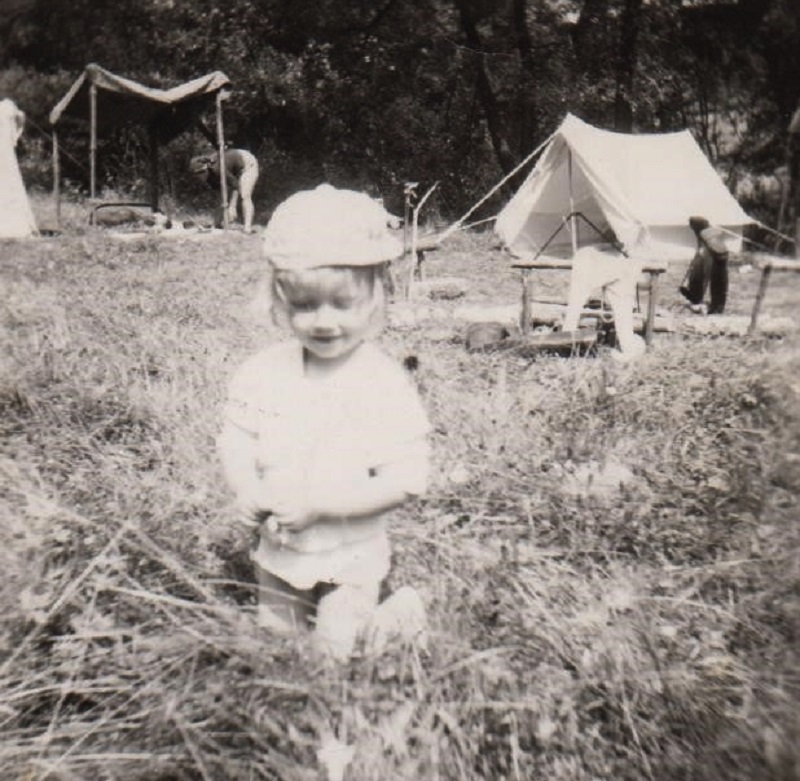 Of course, sitting with a safe tub of water apparently fascinated me for hours.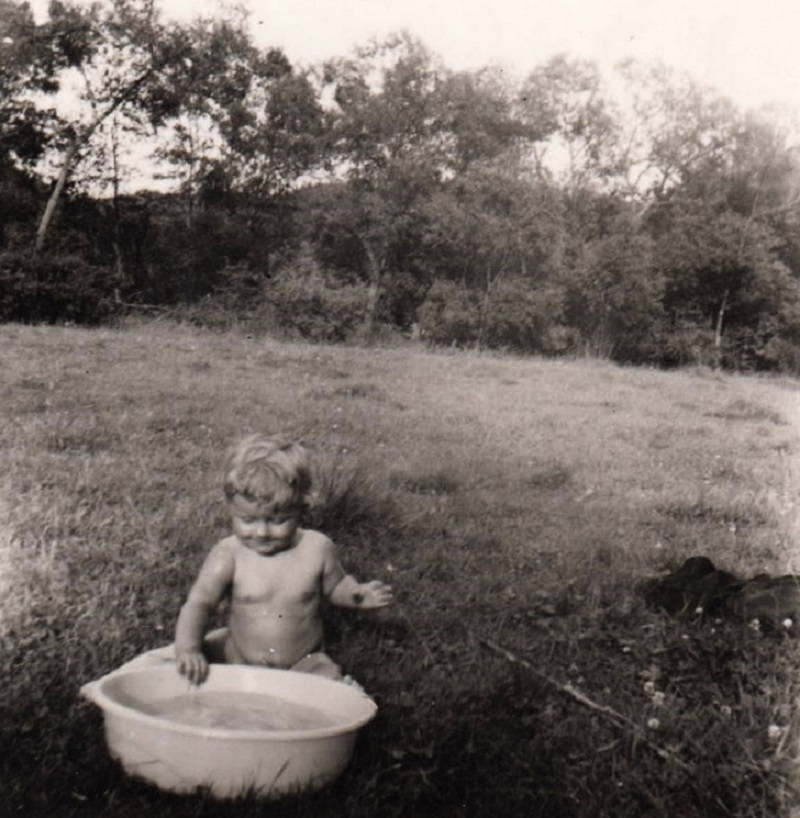 The fish were apparently abundant and always biting at the time.
Here are my father Milan and uncle Vlasta, both getting lucky and showing off their catches.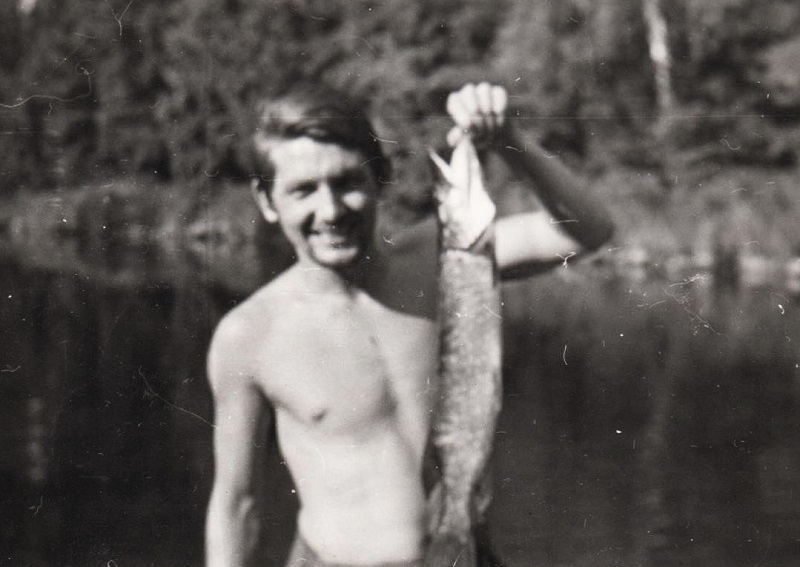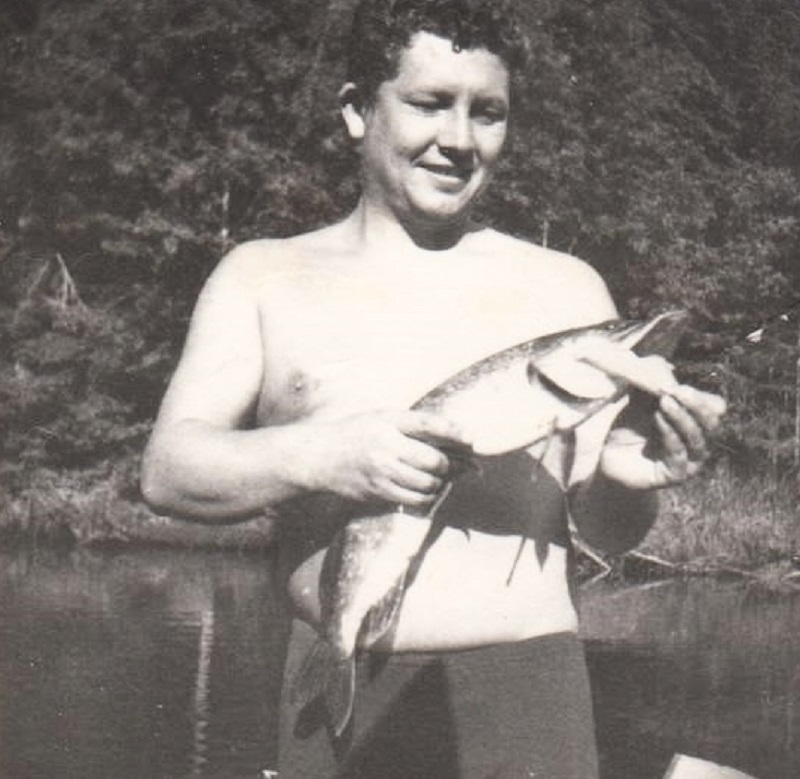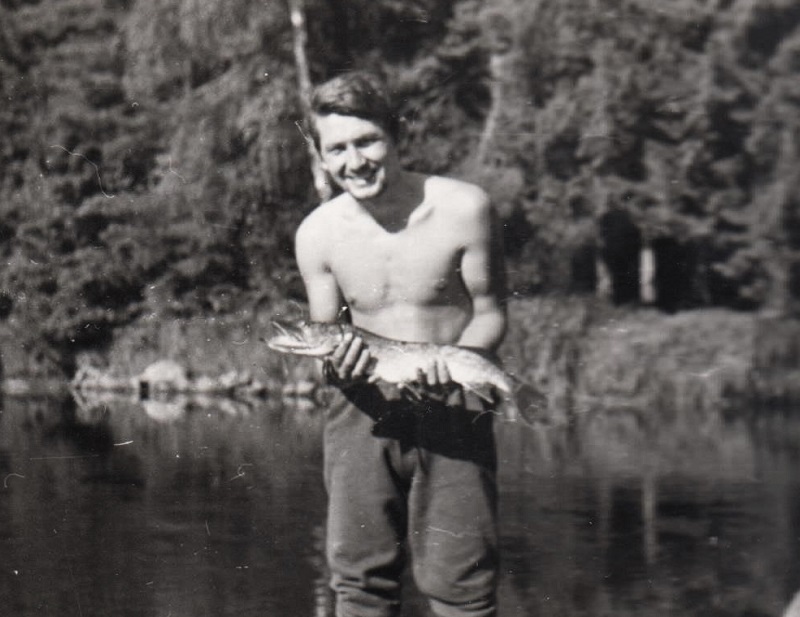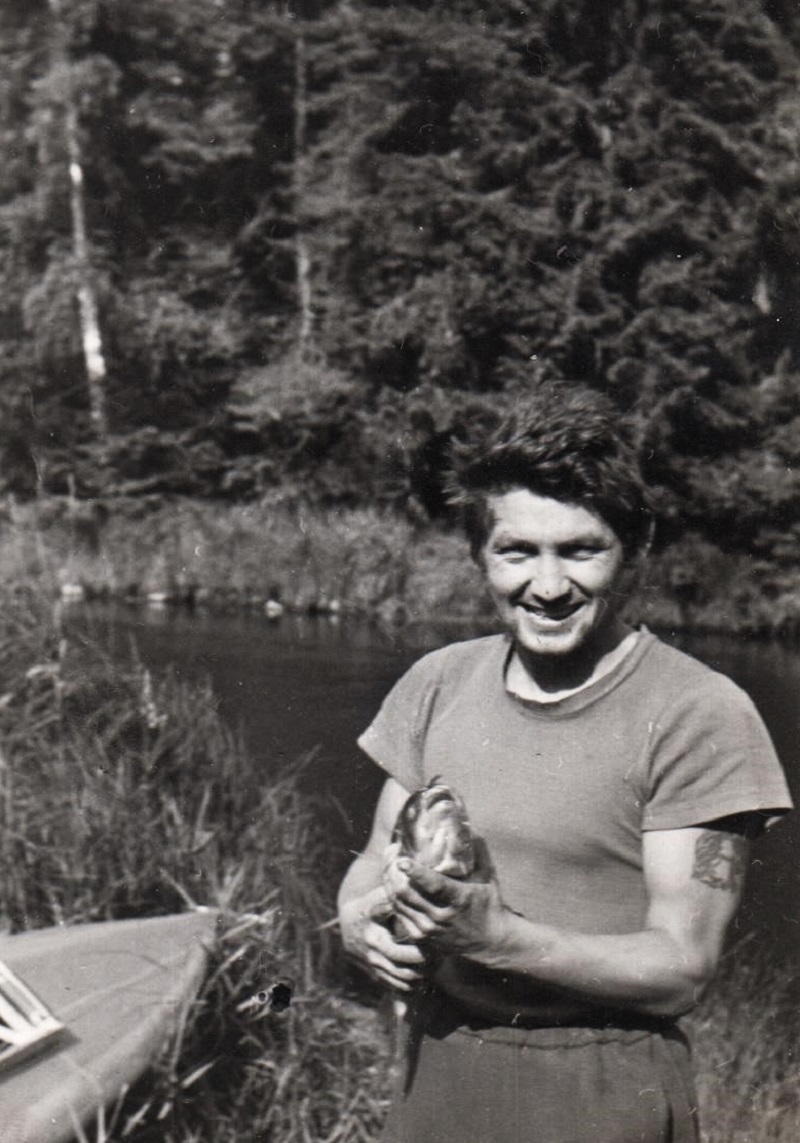 And while the men were fishing the women would sunbathe and play with me. My mother Anna is so beautiful in this photo. She's probably 22 years old here.
What a beauty!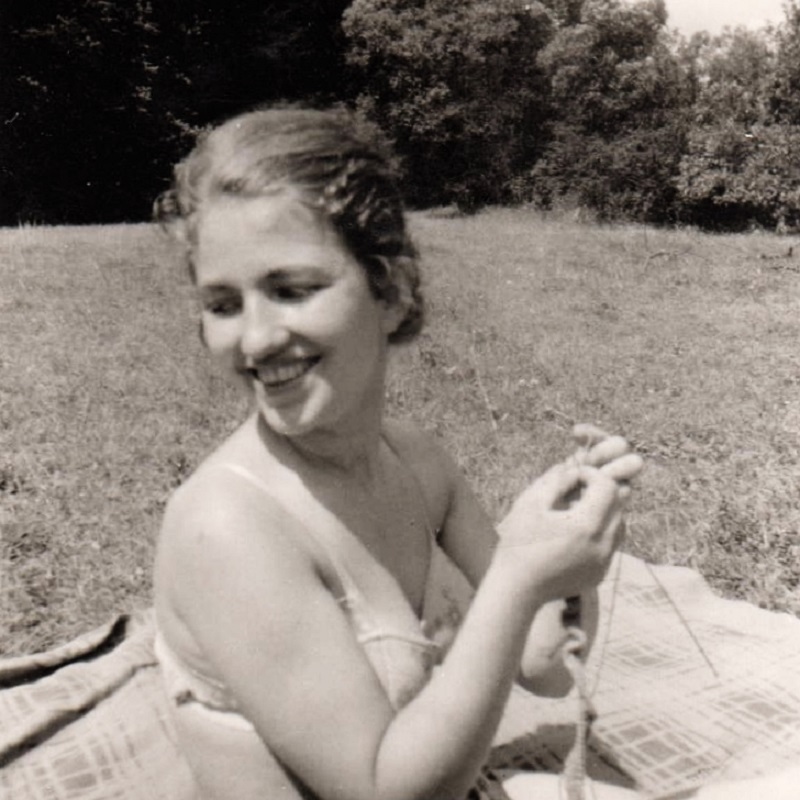 And my aunt Helen.
She was a beauty too!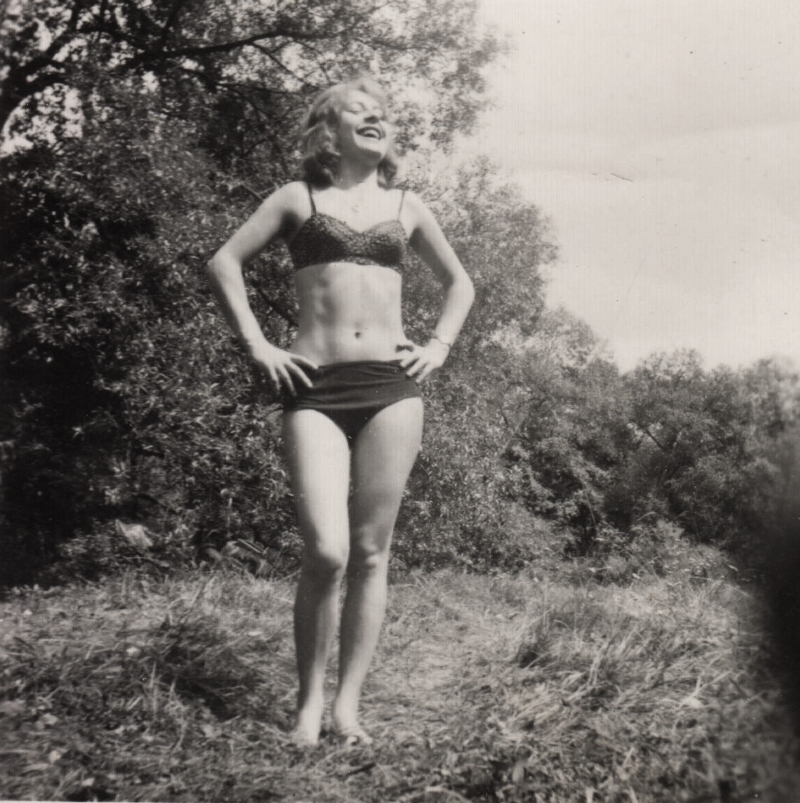 And as for me, at that time I was the only child in the family and therefore the center of attention.
I loved that!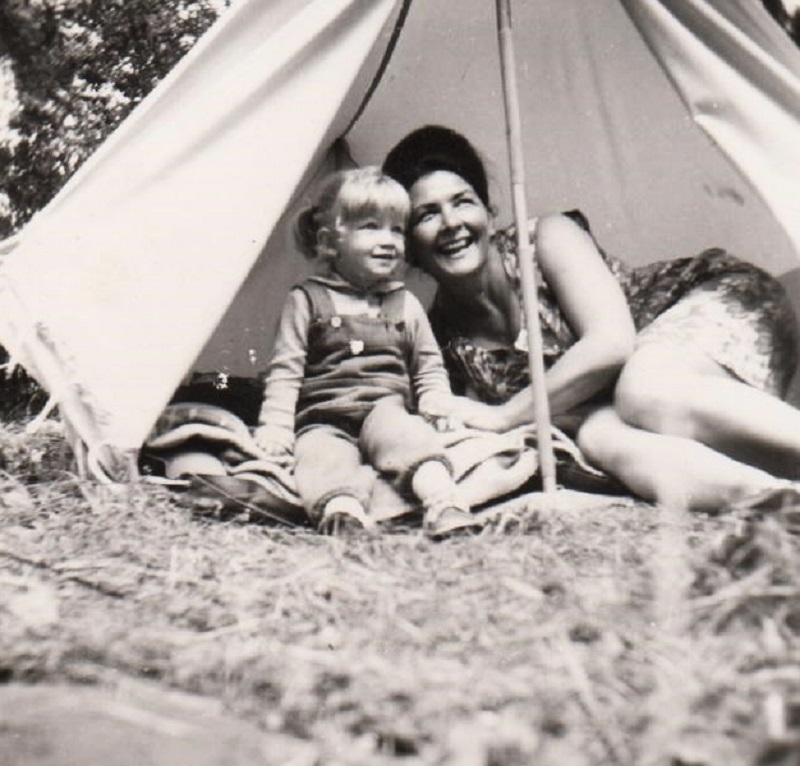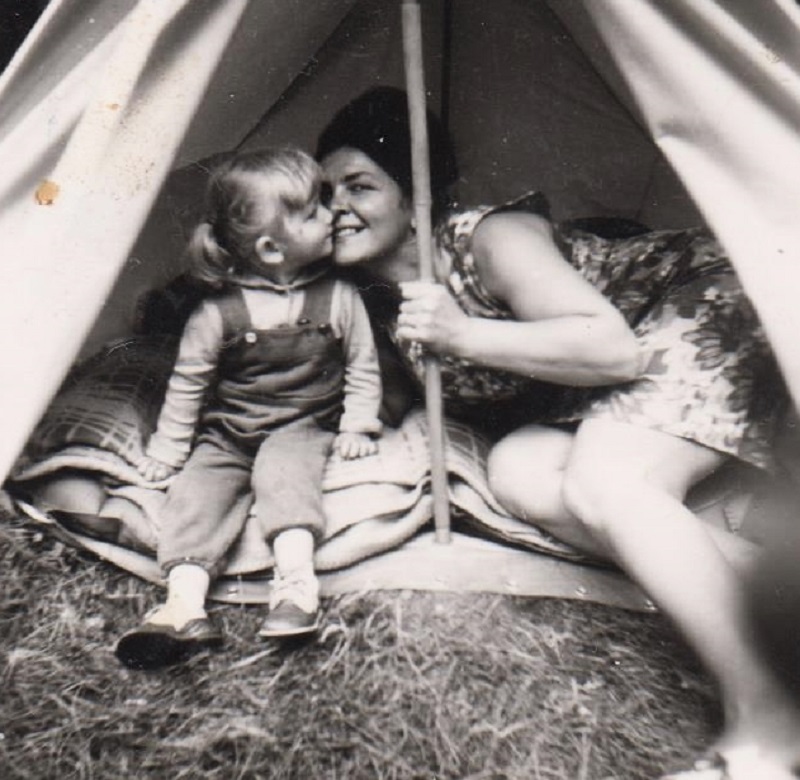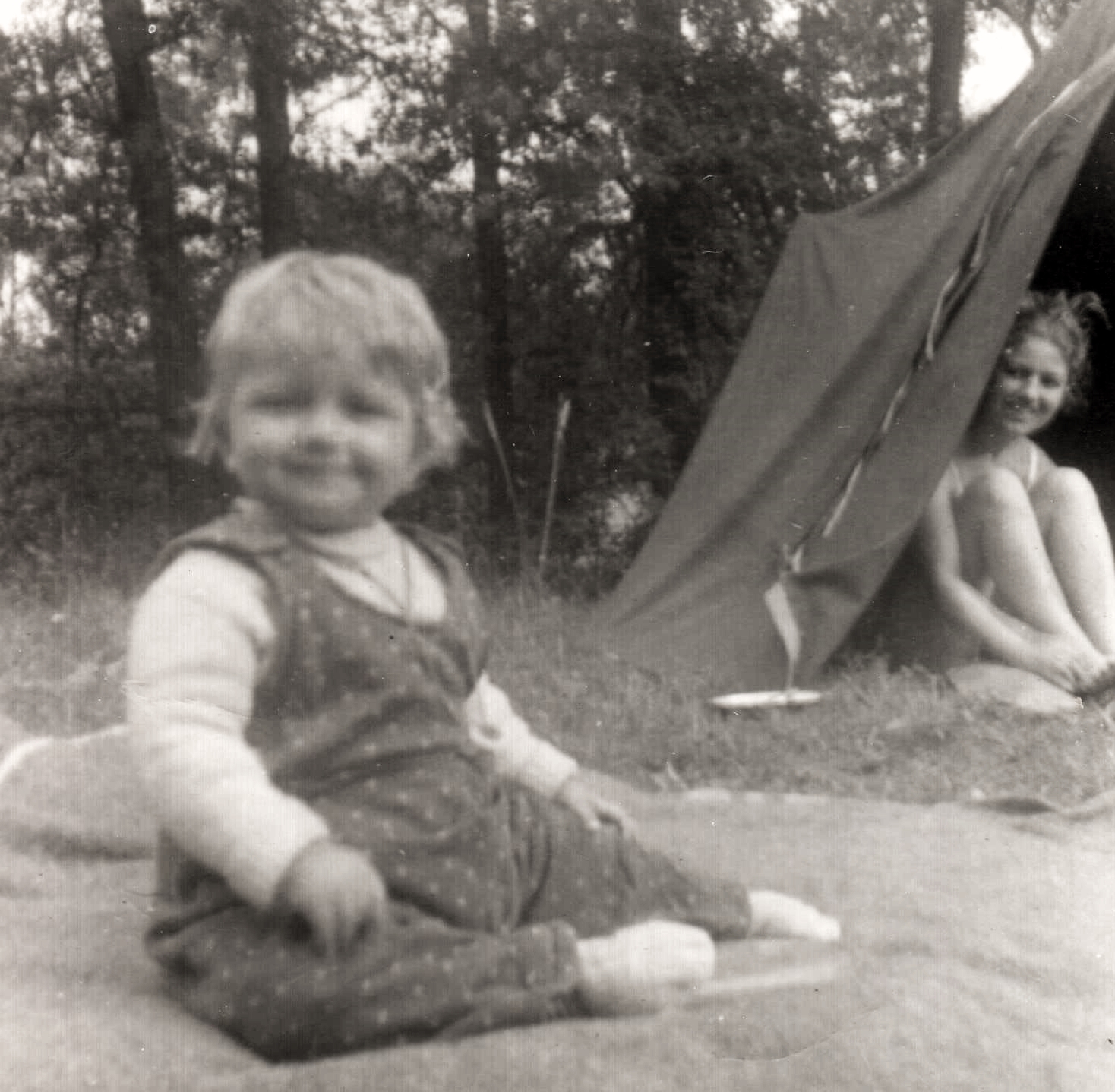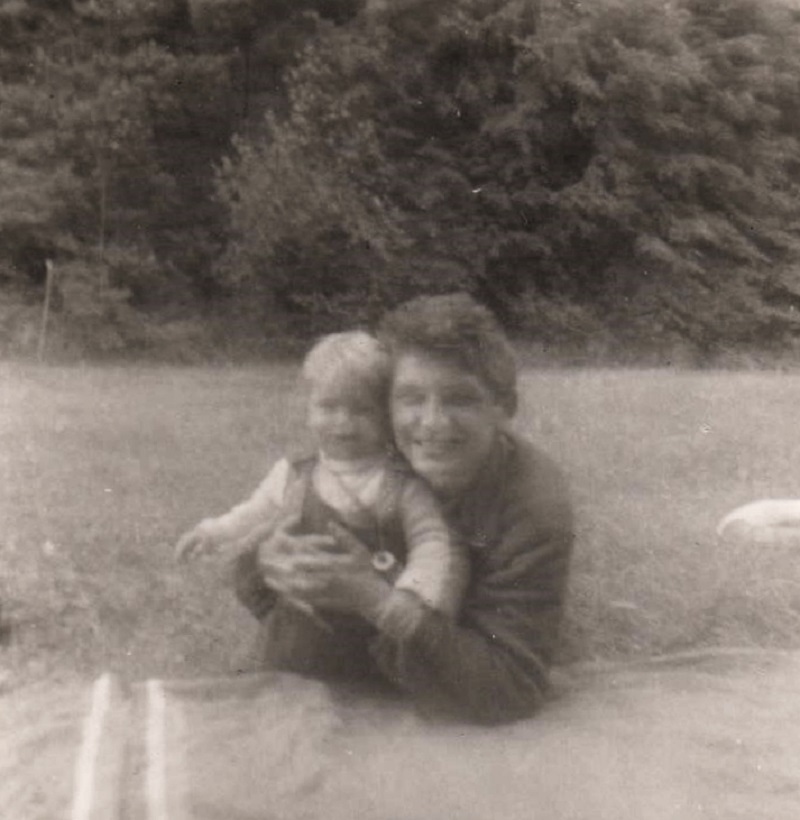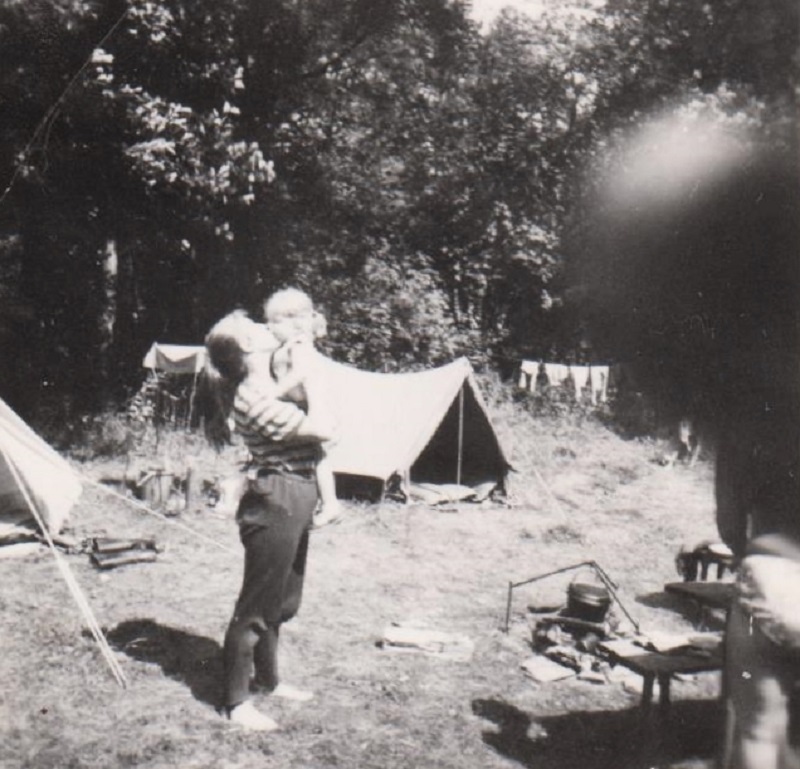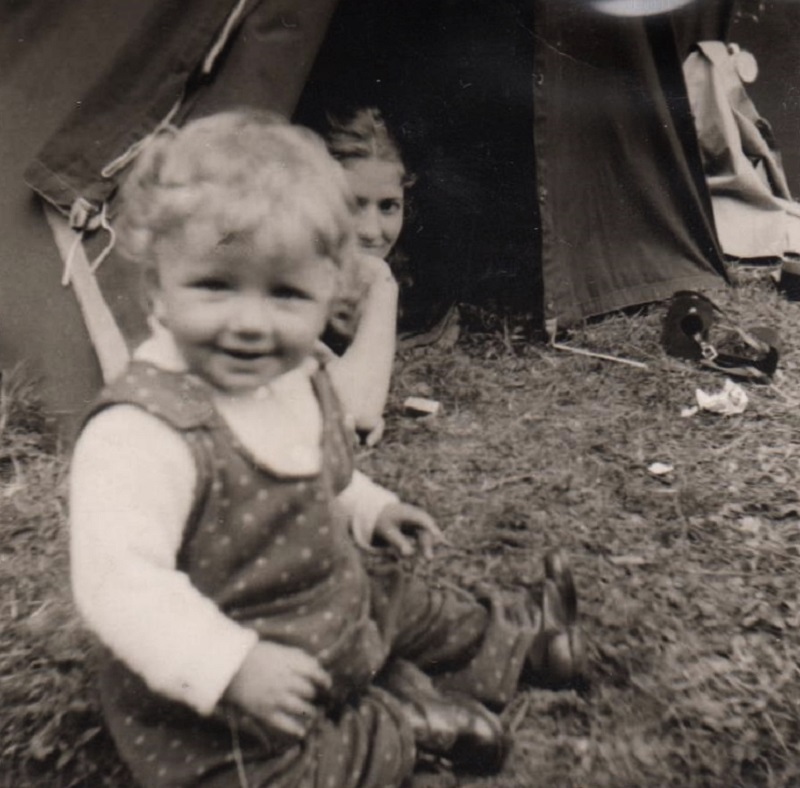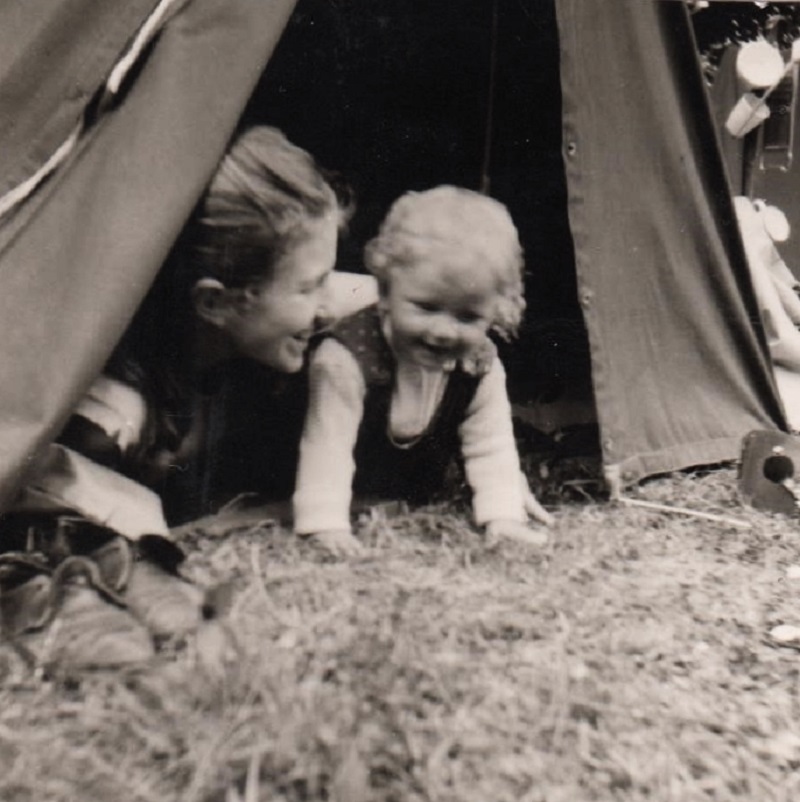 It was a beautiful family time for all of us, and both of my parents say they loved to do this.
(So much that we continued the tradition even after we came to America.)
What wonderful memories and how very blessed I feel to have these precious images.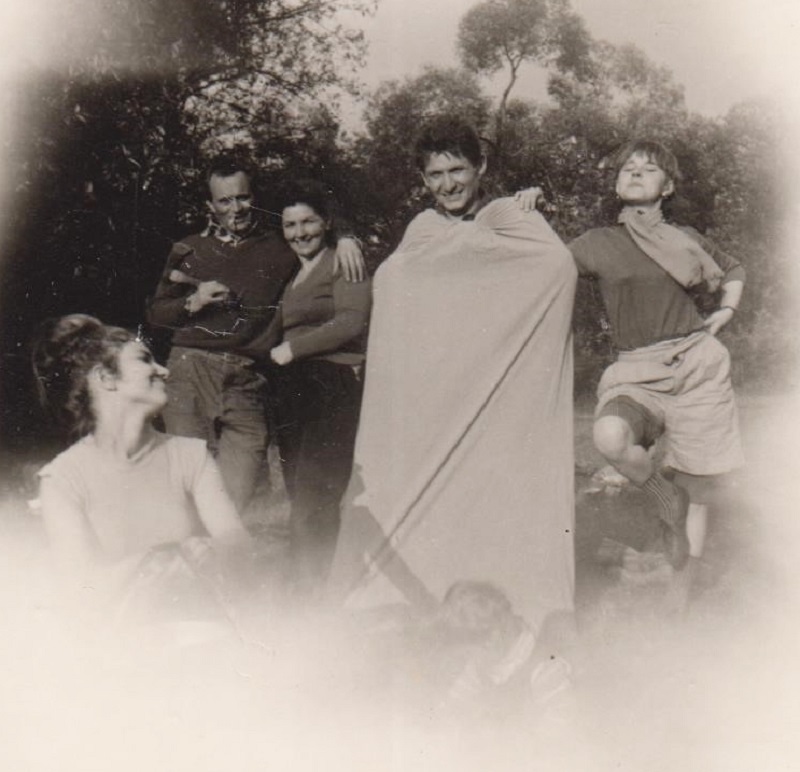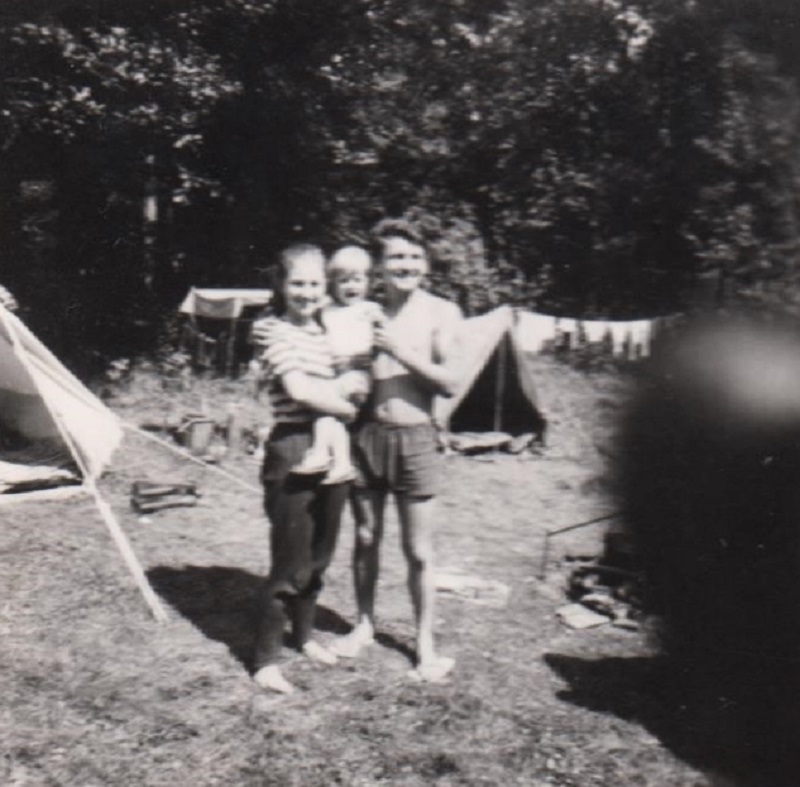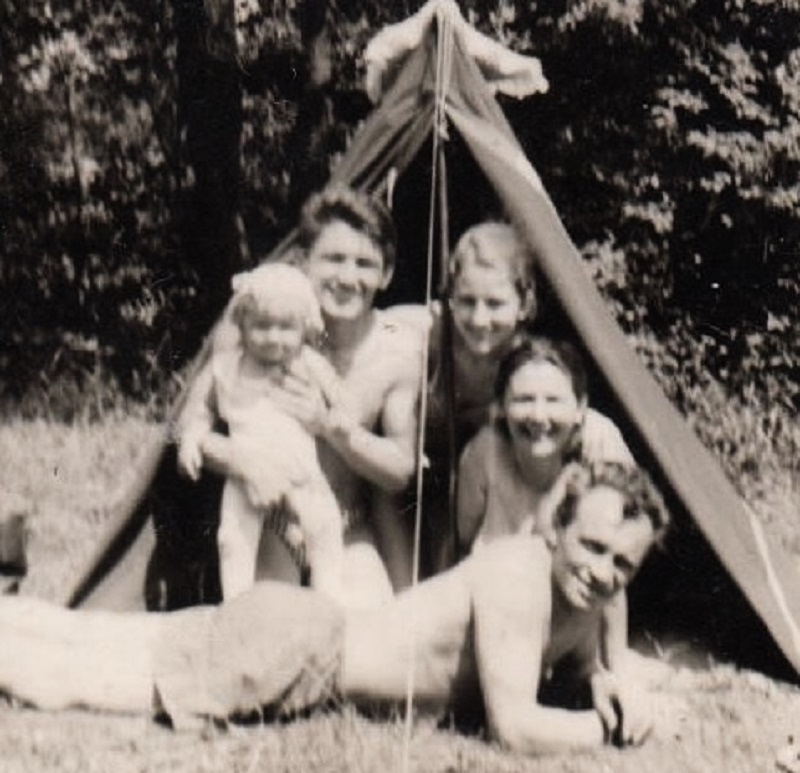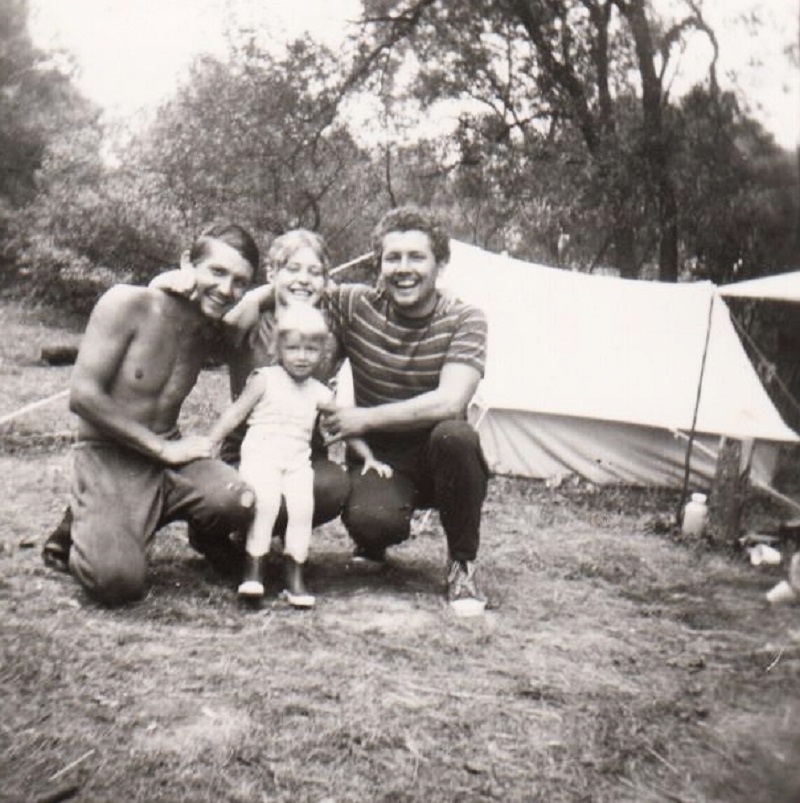 I loved camping…
We all did.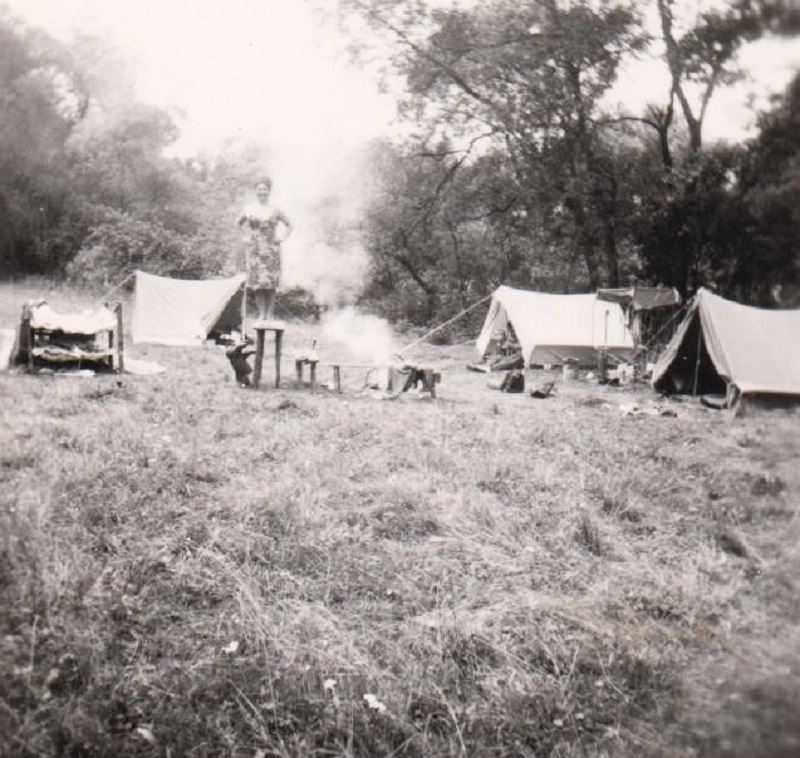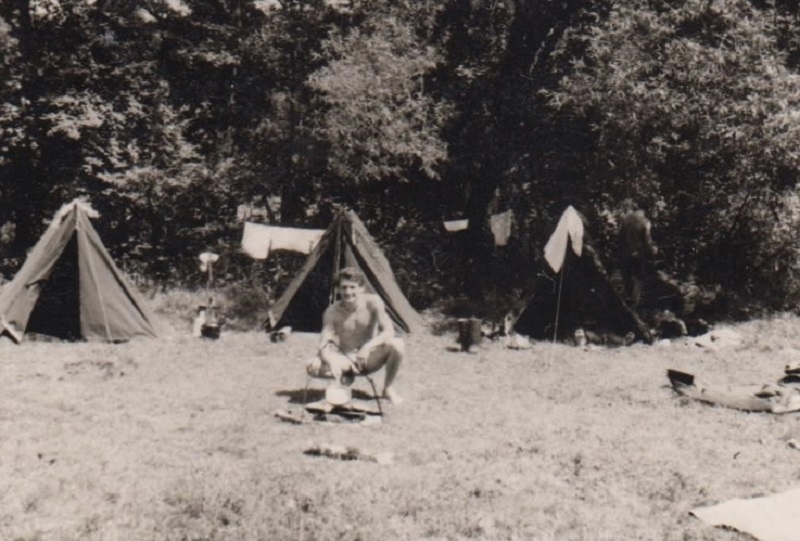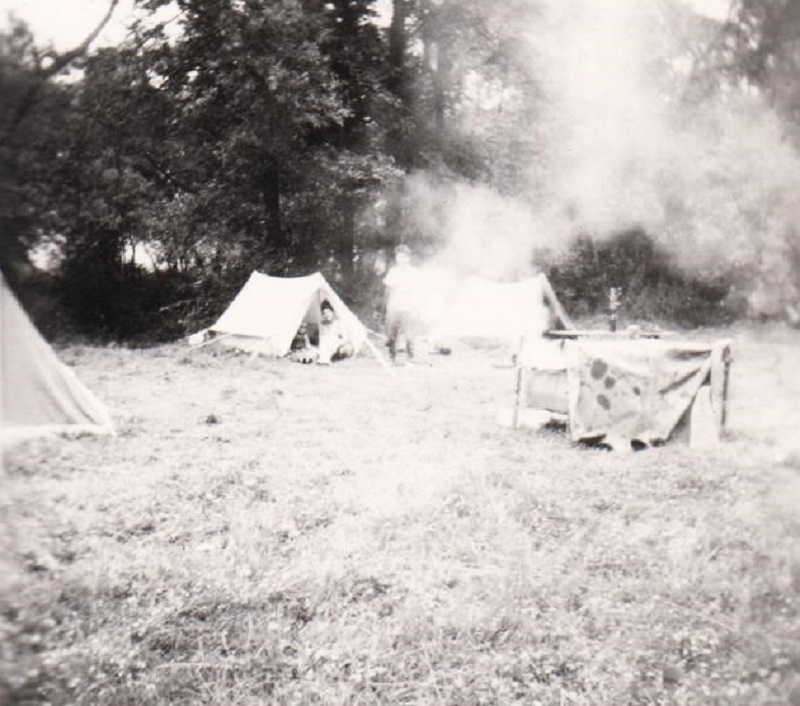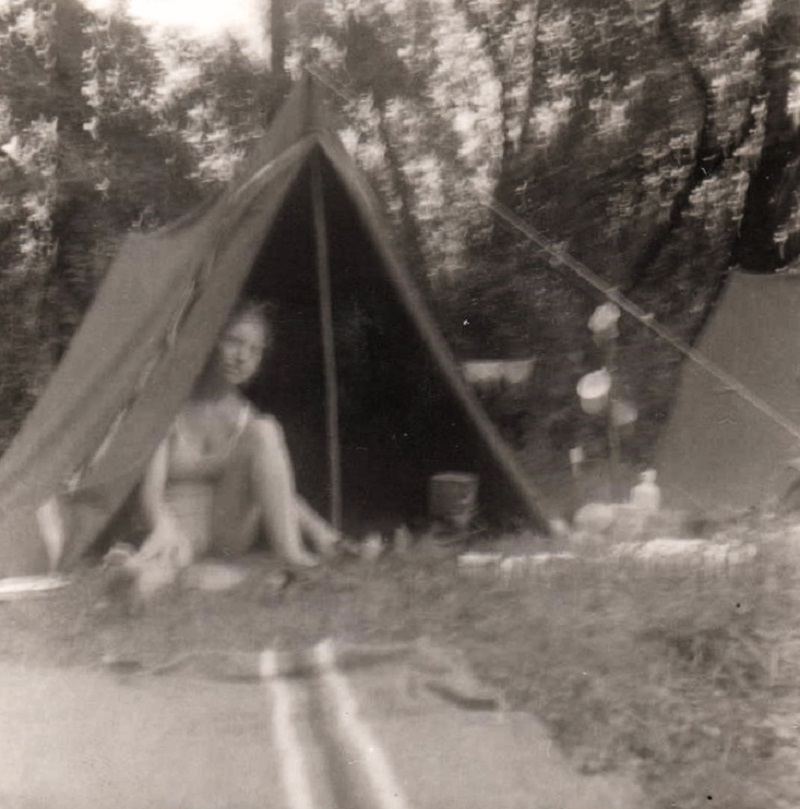 Seeing my father Milan and his brother, my uncle Vlasta horsing around in 1966 is just precious.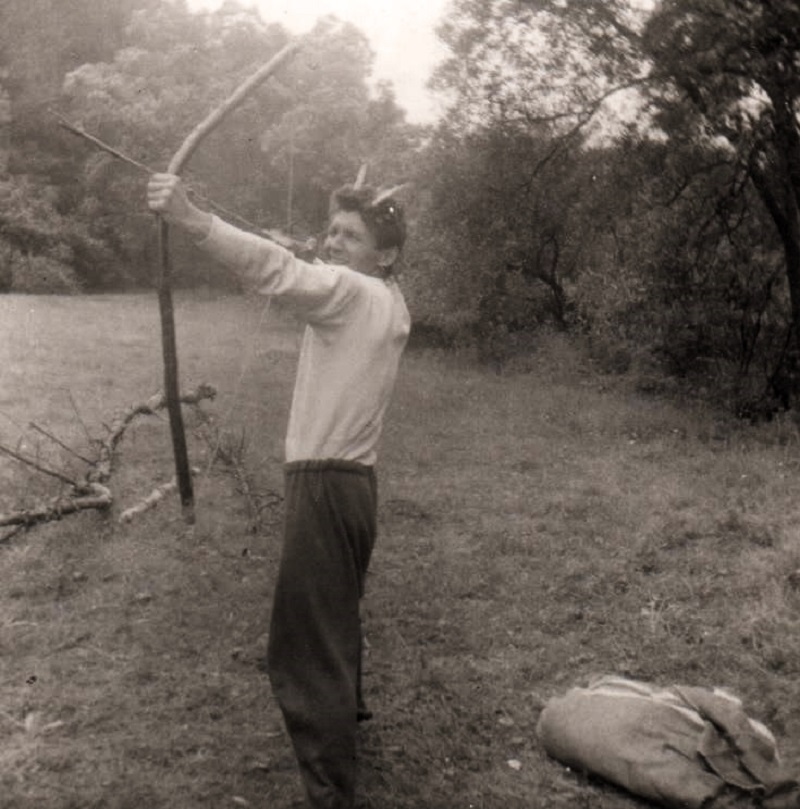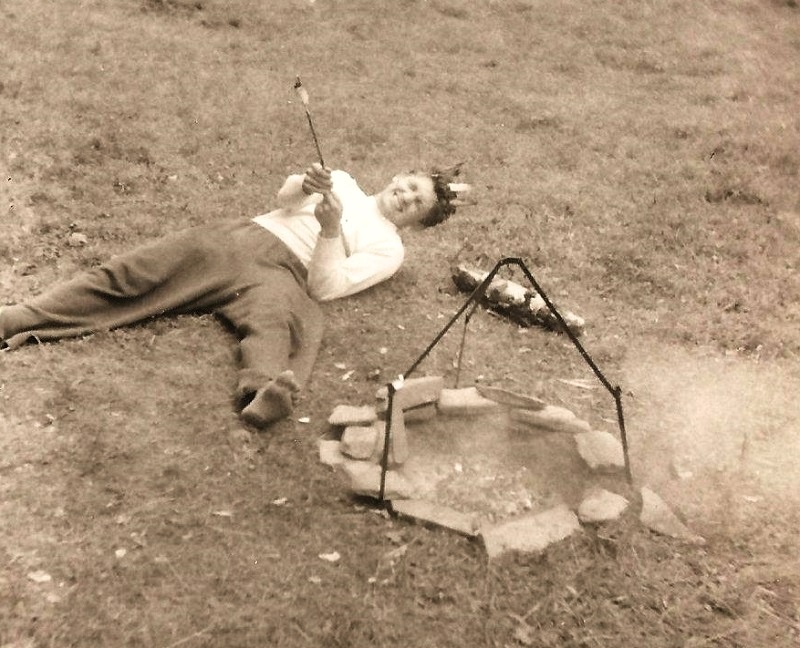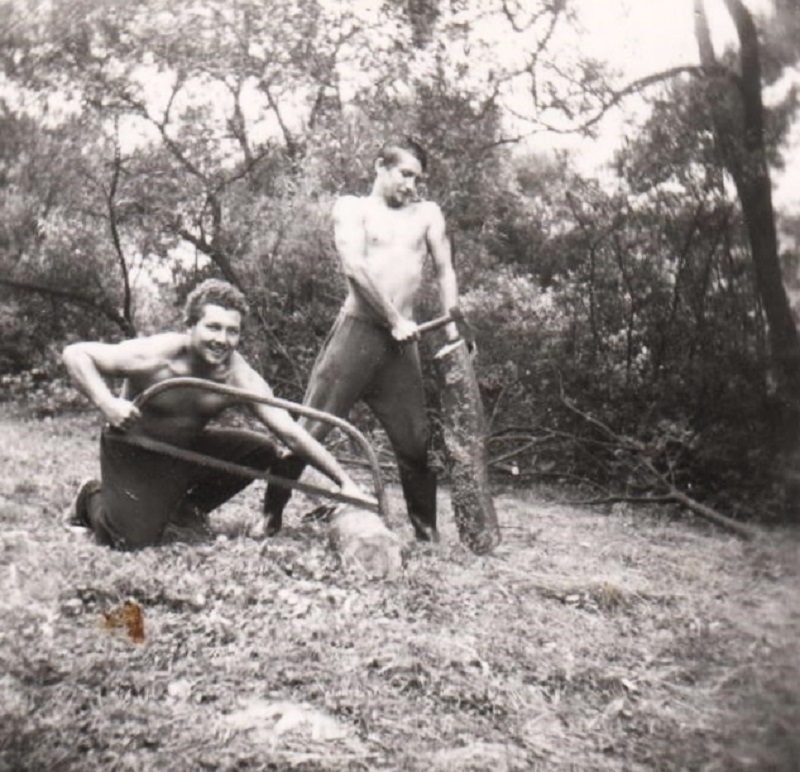 In fact, they all goofed around and I am sure it was a time of laughter and much fun.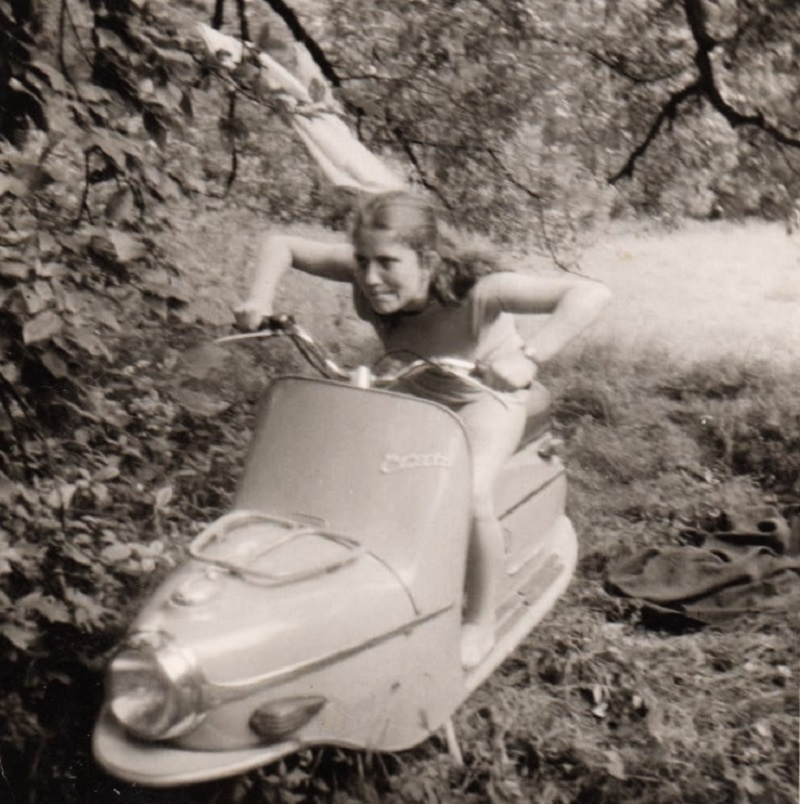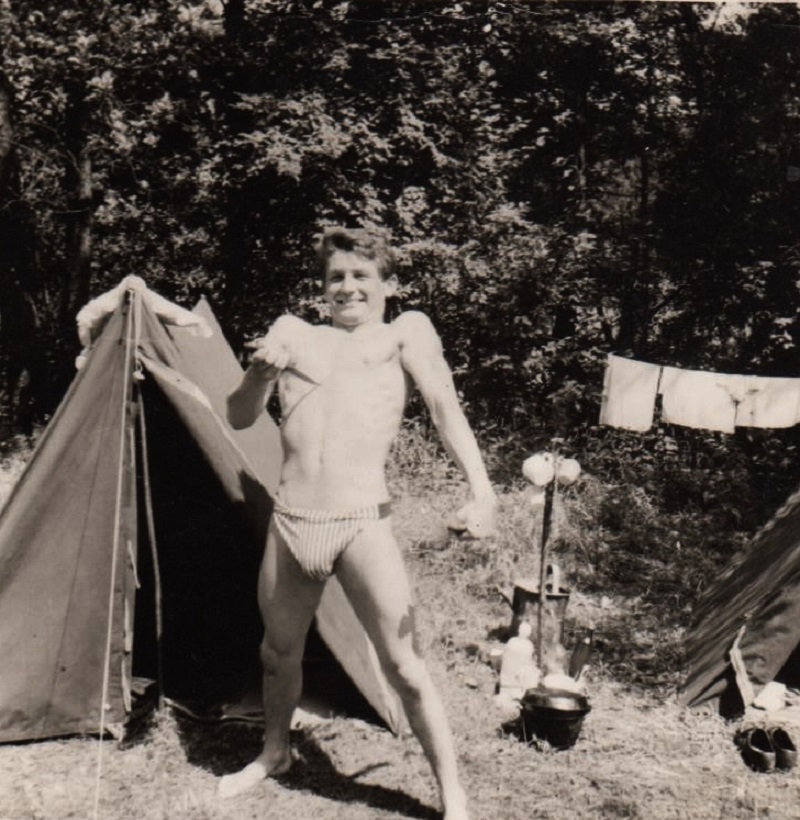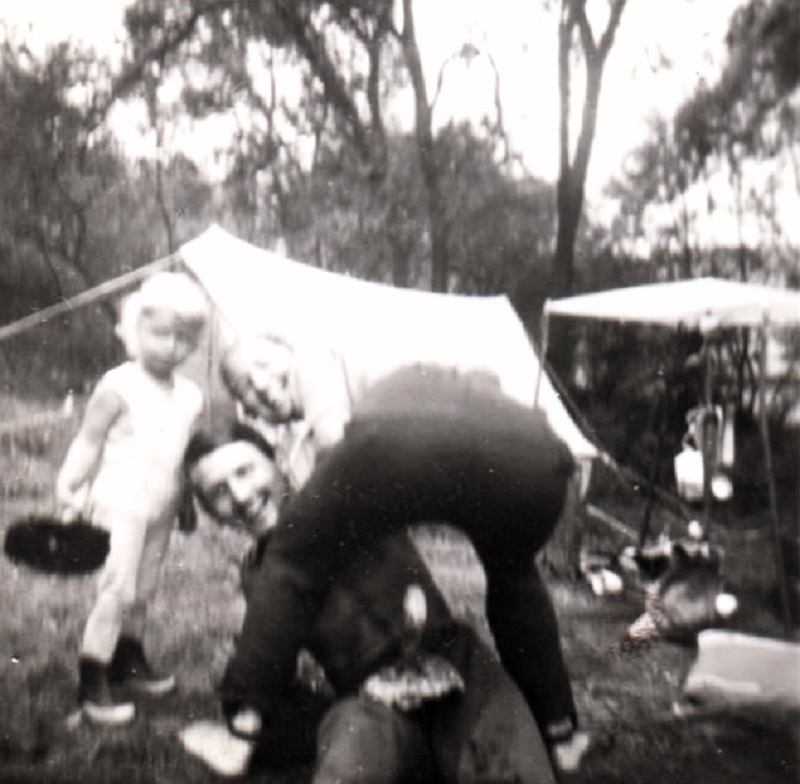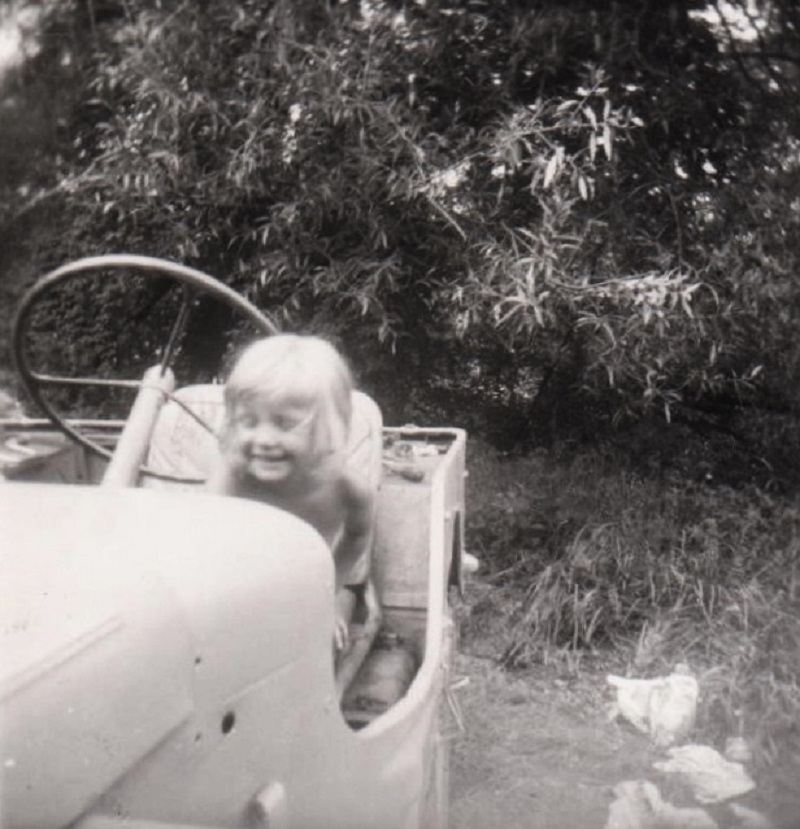 It was as though they knew I would be writing this today…
They even took a selfie – back in 1966!
You can see it by looking at my father's arm!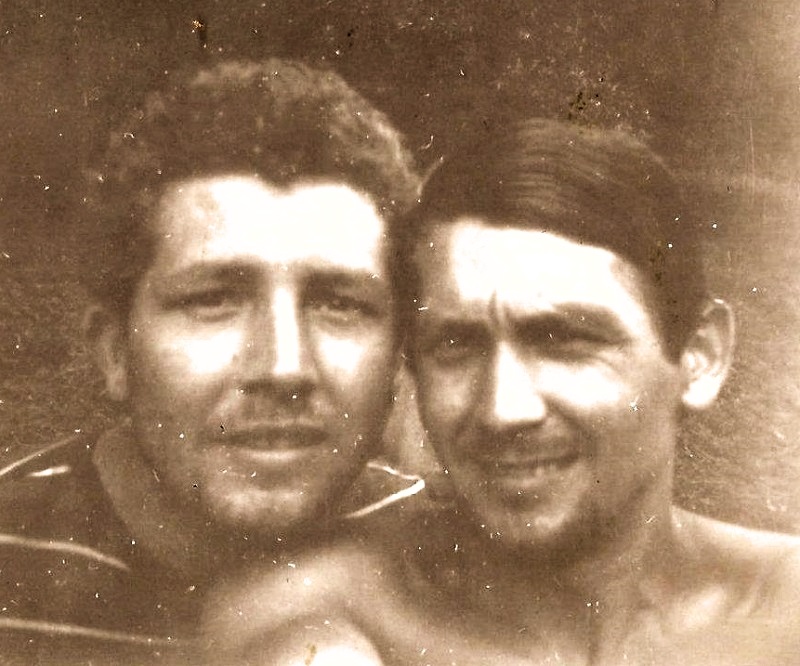 I have the coolest family!
I wish I could hop into this jeep like the Back to the Future car and go back to these moments…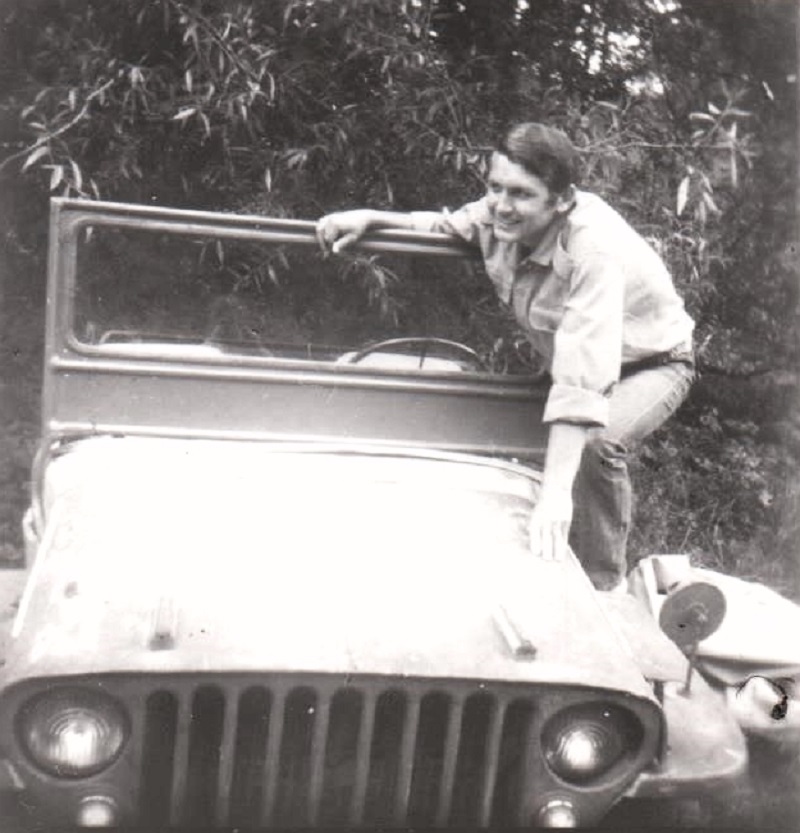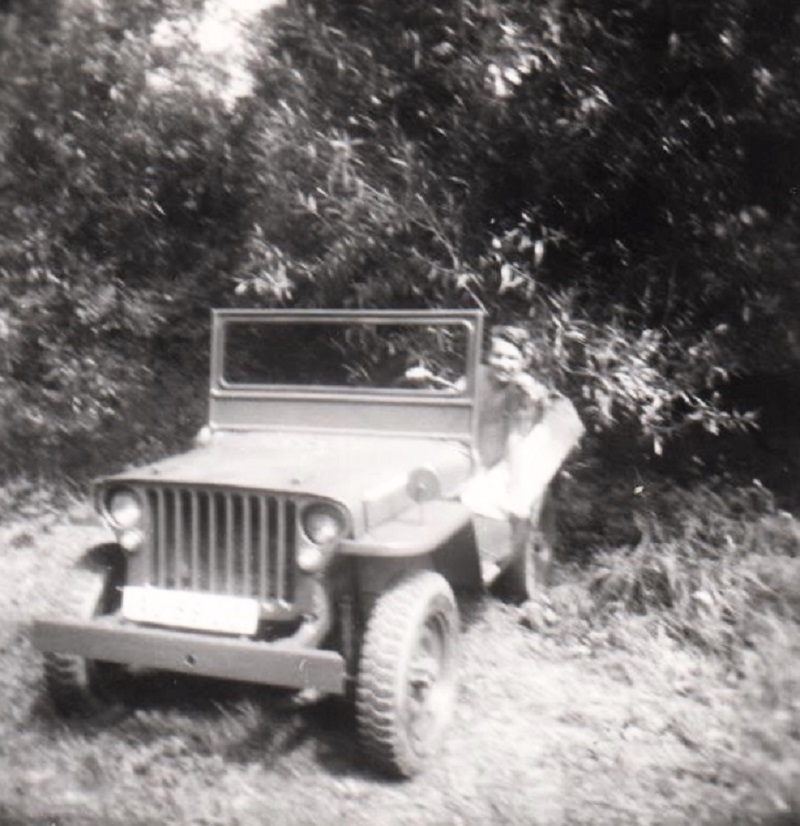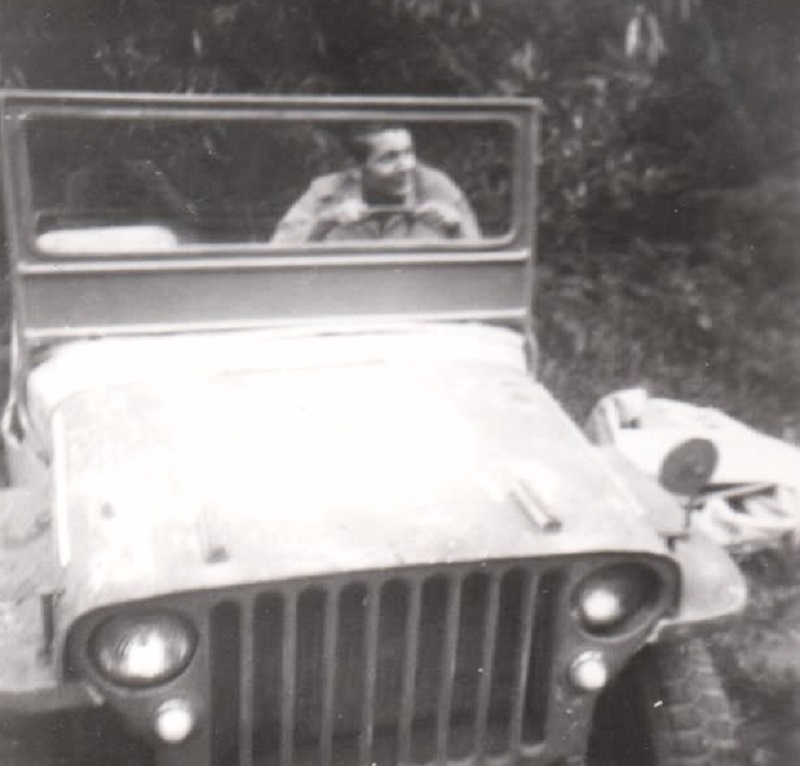 In this video, you can travel back in time to 1963, around the time my parents were leaving Prague for the weekends! This film is called Pražská neděle (Prague Sunday). You can see the backpacks, long lines, families packed up, swimming, boating, singing with guitars and everyone ready to GO!
Next time we go to Czech Republic, we will go there and backtrack the steps our parents took. We've heard that in recent years, there has been a gradual revival of the city, which now occupies 23 permanent residents. They've opened three new restaurants and accommodation establishments which are open during the summer tourist season, so maybe people are beginning to go back there.
Today, this tiny area is considered the smallest Czech historic city! In fact, according to the Guinness Book of World Records, it is the smallest town in the world closely compared to Hum in northern Croatia. But regardless of that, they do now have a Facebook page!
For my Czech speaking friends, here is an interesting 25 minute documentary that is a must watch. We just adore him and his story!
Enjoy and make sure to leave your comments below!
Sources: Wikipedia 
UPDATED FACTS April 10, 2022:
Recently speaking to my father, he said we went every year. These photos are from 1966 and 1967. We also alternated between the river Střela and the river Lužnice. In 1968, my parents took us once again camping and on the second day, someone had arrived in the camp and announced that the Russian tanks had rolled into Prague, so we left abruptly and returned home.
Shortly after that, we were at a refugee camp in Traiskirchen*, and Mariazell in Styria (It is picturesquely situated in the valley of the Salza, amid the north Styrian Alps. in Austria). After the Prague Spring (1968) all Czech and Slovak refugees were brought here.
(*Traiskirchen is home of the largest refugee camp in Austria and one of the largest of these camps in the EU. The refugee camp is based in the center of Traiskirchen on the area of the former Imperial Artillery Cadet School which was built in 1900. Learn more here.)
We stayed there before being sponsored and sent to the United States where we ended up at the famous Mount Airy Lodge!
Those of you continuing to subscribe and send your support – we appreciate you more than you know!
We know that you could spend hours, days, weeks and months finding some of this information yourselves – but at this website, we curate the best of what we find for you and place it easily and conveniently into one place. Please take a moment today to recognize our efforts and make a donation towards the operational costs of this site – your support keeps the site alive and keeps us searching for the best of our heritage to bring to you.

Remember, we rely solely on your donations to keep the project going.
Thank you in advance!
If you have not already subscribed to get TresBohemes.com delivered to your inbox, please use the form below now so you never miss another post.