During the times of Soviet Rule in Czechoslovakia, most everything came with standards and protocol, including the way Czech chefs were to prepare Vlašský salát, or what we're calling Czech retro potato salad for the sake of today's post. While this salad has been around much longer than times of the CSSR, and older Czech cookbooks also have recipes for it, most of our parents and grandparents learned to make this variation because of the state cookbook and standards available at the time.
Today's recipe is a variation of a Czech retro potato salad which anyone who has eaten Chlebíčky will recognize, as this is the base under all the decorative toppings. We've posted about The Traditional Czech Treat Known As Chlebíčky before. (Clicking the link will open the post in a new window.)
This particular recipe is from the ČSN from 1976. ČSN is a protected designation of Czech technical standards. Creation and issuance of ČSN is currently provided by the Czech office for Standards, Metrology and Testing. ČSN was also the official name of the Czechoslovak state standards (since 1964), and after 1991 the Czechoslovak standards (Czechoslovak technical standards).
Vlašský salát
After making it, everyone in my household said, "Yes!", that this is exactly the taste of the Czech Chlebíčky, so if you miss that taste as much as we do, now you can prepare it at home just like we did.
The only thing I would change in this Czech retro potato salad when I make it next time is that I will make much smaller cubes. Also, I confess – when I weighed out the mayonnaise, It looked like too much, so I took about one third of it away. I continued with the photographs, and my first tasting. I took a little bit of the salad on the side and added more mayo, and it was so much better – So next time I will definitely not cheat and use all the recommended mayo. That is why the pictures I am sharing look more like our regular potato salad, My Mother's Bohemian Potato Salad.
What can I say, old habits die hard…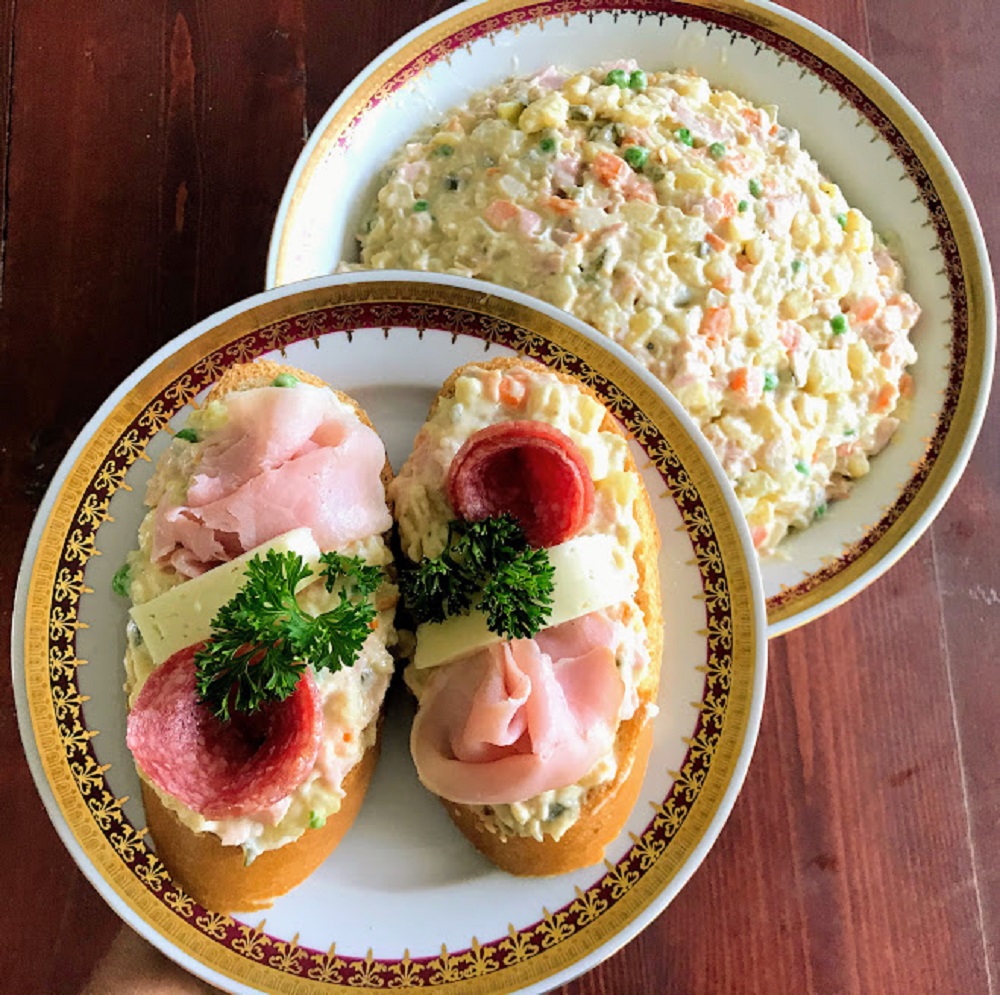 Make sure to try to use the very best flavored pickles from a European market and a quality ham as well (your deli may sell "off the bone ham"). Additionally, use gold potatoes and if you're really inspired, whip up your own homemade mayonnaise. (My immersion blender broke, so I used the mayonnaise shown in the photo.)
Also, to keep the exact measurements, I did not convert the weights to ounces, or cups. Instead I encourage you to purchase a nice scale which weighs in many different formats, known as a multifunction scale which measures in grams and ounces. I picked ours up from Amazon for approx. $25.
Now let's get to the goodness…
Ingredients for Czech Retro Potato Salad for Chlebíčky
500 grams gold potatoes (boiled in skins until fork tender)
30 grams celery root*
60 grams carrots*
20 grams peas (canned is traditional)
100 grams pickles
240 grams off the bone ham
* You can boil the celery root and carrots together. I cube them first and then boil for approx. 20 minutes.
Wet ingredients
200 grams mayonnaise
20 grams dijon style mustard
5 grams Worcestershire sauce
15 grams vinegar
10 grams sugar
10 grams salt
pepper to taste
The boiled potatoes, celery root, and carrots should be completely cooled before you cube them. (I prepare them the morning of, or the night before.) The smaller the cubes, the better. Try to make them the same size as the peas, and the pickles even smaller.
Here are the ingredients. (Also sugar, though I left it on the counter!)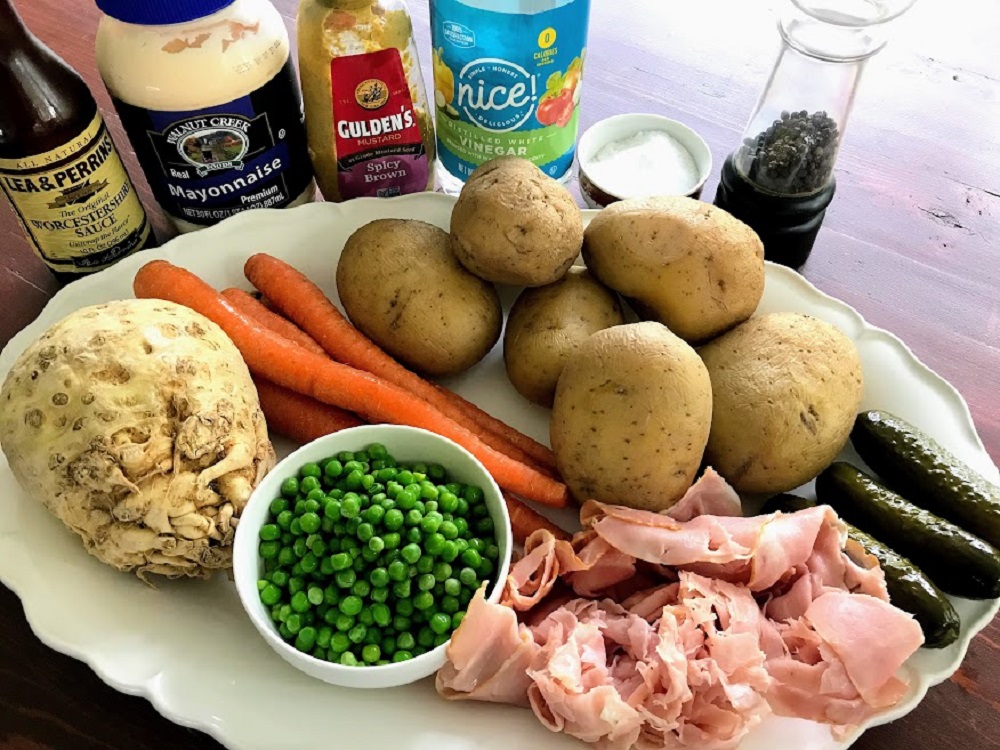 Cube the potatoes, celery root, and carrots. Chop the ham. Finely chop the pickles. Add the peas.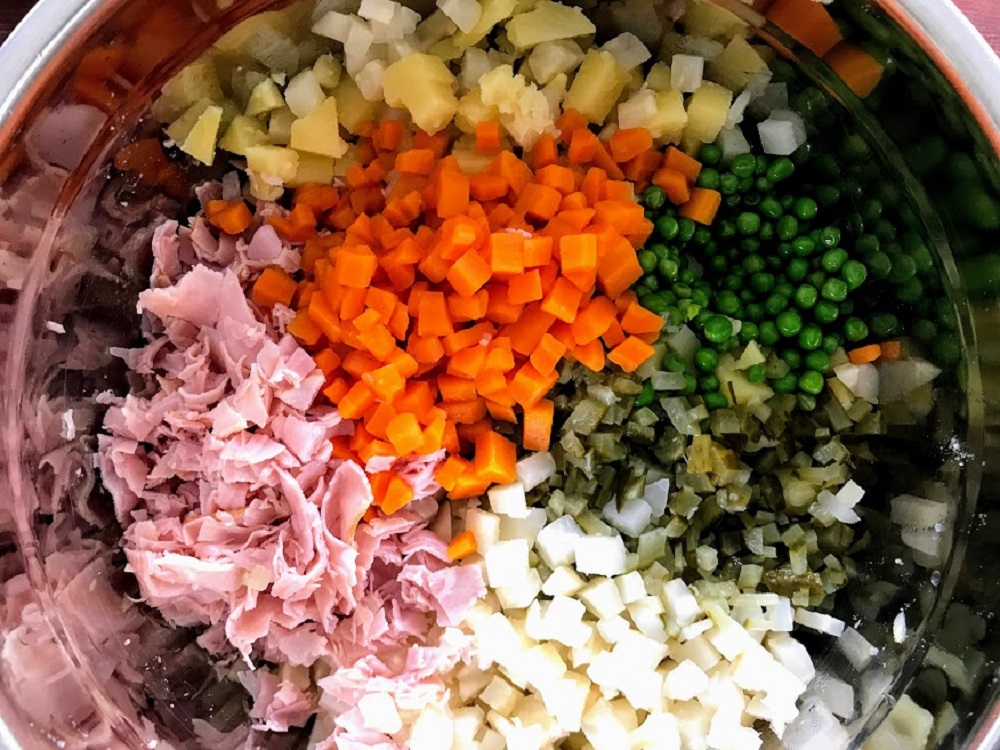 Mix all of the chopped ingredients in a large bowl and mix well.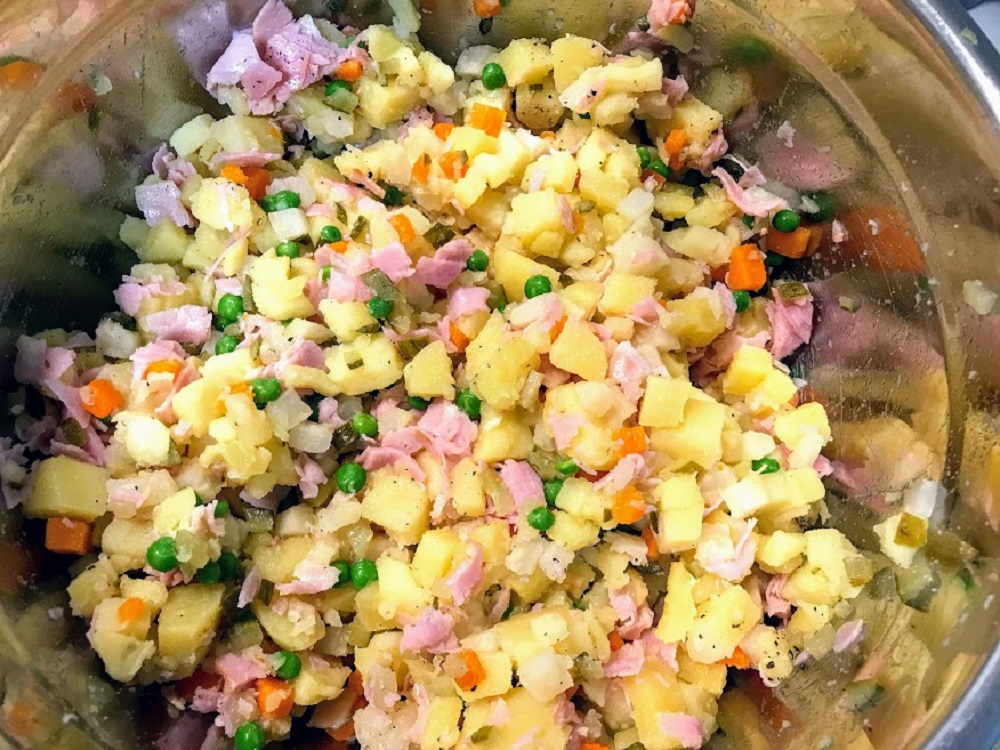 Mix all of the wet ingredients in a small bowl and mix well.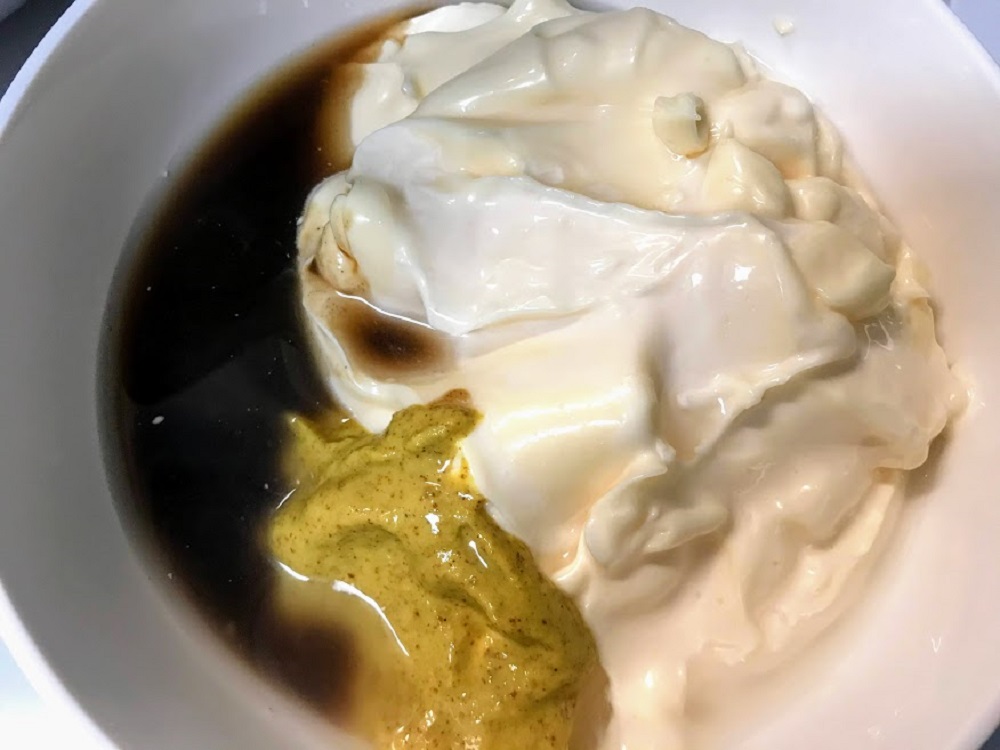 Pour the ingredients of the small bowl onto the ingredients of the large bowl and mix well.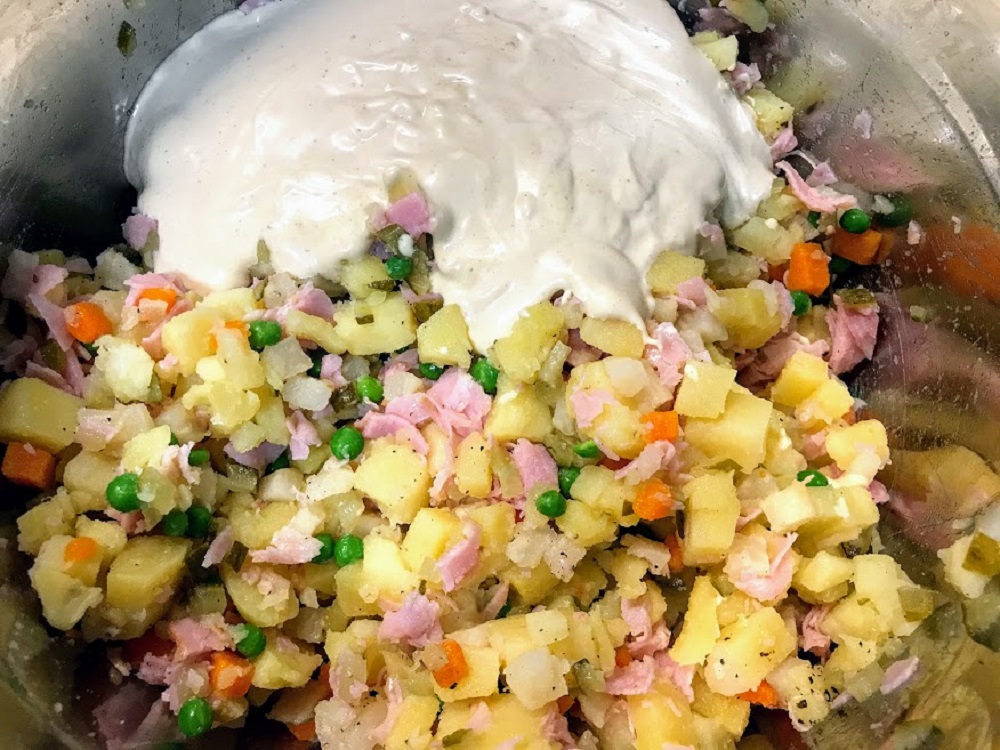 That's it.
You now have Czech Vlašský salát, a delicious base for your chlebíčky, or to eat as a side to yummy Cutlets, Schnitzels and Řízeks.
So tasty!
Delicious!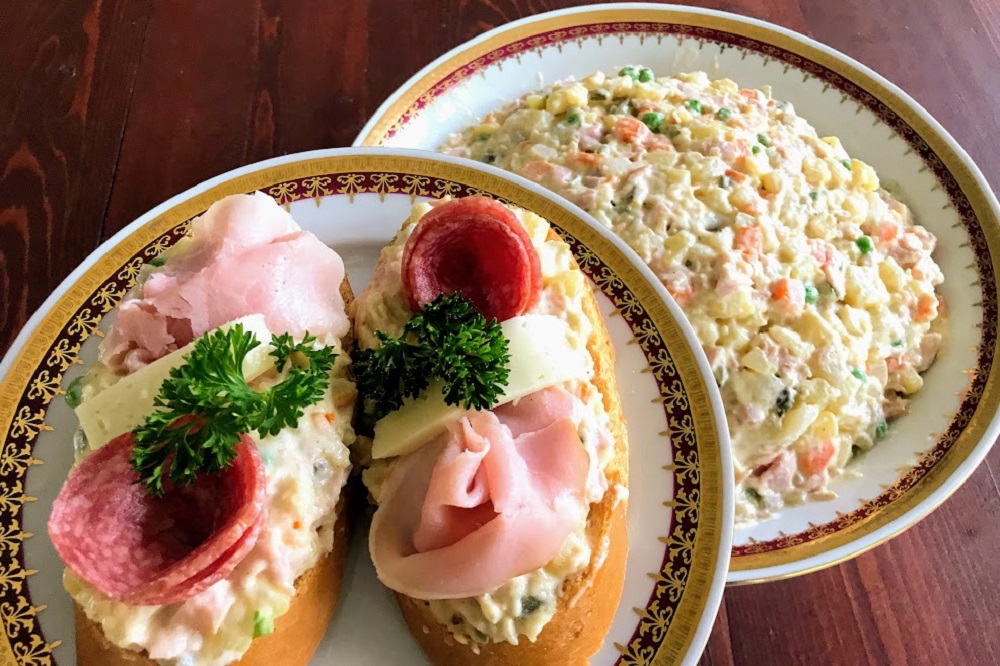 I have to tell you – it tastes just like home!
My nostalgic taste buds have been completely satisfied y this Czech retro potato salad. After all, food connects us all. It connects us to each other, to our own pasts and identities and memories. It connects us to our culture, heritage and traditions – and to the larger world around us.
So I hope you enjoy this recipe and make is soon. I'd love to see the fruits of your labor in the comments section below to inspire others. I personally love to read the comments almost as much as the blog posts on sites that I follow.
Finally, when I was looking at all of my older cookbooks I found numerous variations. They showed different ingredients, including veal and tongue, so the recipe has changed through the years, and also by region. Looking further back, Czech readers can see the changes of ingredients as shown in the following scans from cookbooks going as far back as 1880.
Below is the recipe from Úprava jídel zemákových (Preparation of potato dishes), by Hanna Dumková, 1880.

Below is the recipe from Velká kuchařka podrobné navedení k upravování všech druhů pokrmů a nápojů, (Big cookbook of detailed instructions for preparing all kinds of food and drinks), by Magdalena Dobromila Rettigová, 1912.


Below is the recipe from Velká illustrovaná kuchařka sestavená dle nejosvědčenějších vzorů českých i cizích, (Big illustrated cookbook compiled according to the most proven Czech and foreign models), by Alois Hynek, 1921.
Below is the recipe from Kniha kuchařských předpisů, (Book of Cooking Regulations), by Československý svaz kuchařů, 1925.

We hope you enjoyed today's post and recipe!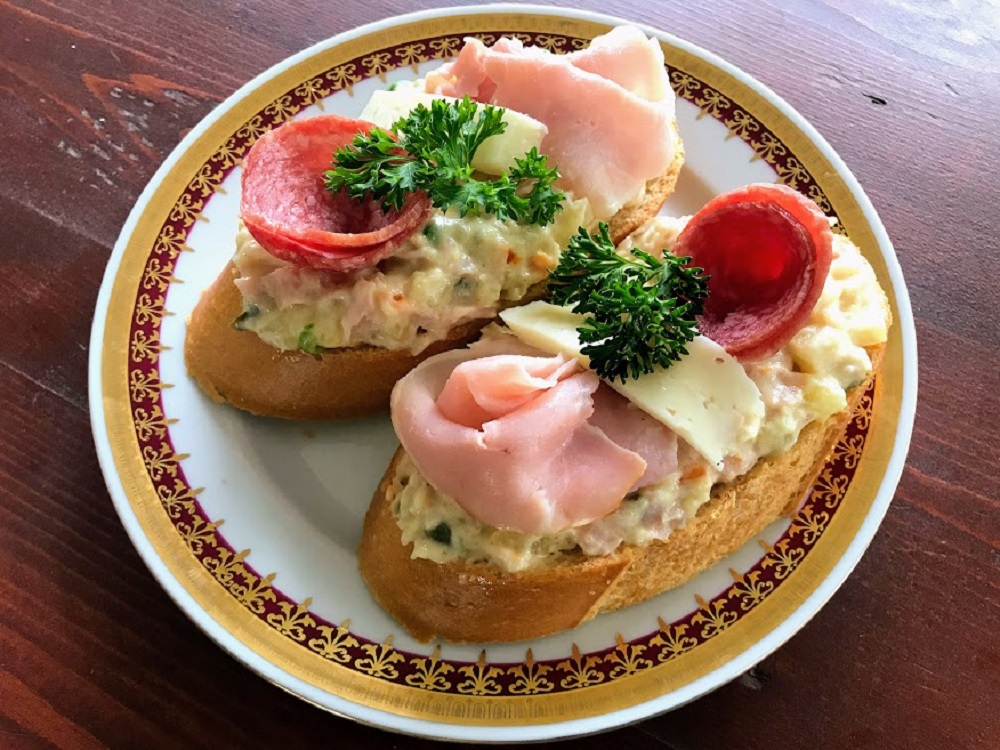 Let us know your thoughts and share your images in the comments section below.
Dobrou Chut!
Thank you for your support – We appreciate you more than you know!
We know that you could spend hours, days, weeks and months finding some of this information yourselves – but at this website, we curate the best of what we find for you and place it easily and conveniently into one place. Please take a moment today to recognize our efforts and make a donation towards the operational costs of this site – your support keeps the site alive and keeps us searching for the best of our heritage to bring to you.


Remember, we rely solely on your donations to keep the project going.
Thank you in advance!
If you have not already subscribed to get TresBohemes.com delivered to your inbox, please use the form below now so you never miss another post.