Whether you call it a cutlet, a schnitzel or a řízek, a piece of meat which is thinned by pounding with a meat tenderizer, then coated with flour, beaten eggs and bread crumbs, and then fried. It happens to be the perfect accompaniment to potato salad for Czechs – and a national favorite. It's traditionally garnished with a slice of lemon and either potato salad or boiled potatoes with butter and parsley garnish.  And it's the perfect meat for when you are on the go because it tastes even better when cold and eaten with delicious Czech rye bread.
Variations of the dish exist in many cultures throughout the world. The term Wiener Schnitzel was first used in the early 1830s, Escalope was mentioned in French cookery in the 17th Century. We found a reference from the 15th Century in česká kniha kuchařská od Severína Mladšího (The oldest Czech cookbook by Severin the Younger).
People mistake this dish as Austrian, but remember that Bohemia was a part of the Austro-Hungarian Empire at the time, so true origins are unknown – but knowing Czechs and how they love to eat this dish, I feel comfortable saying it's most likely a Bohemian creation which was at one time served to the royalty in Prague, the capital of the Holy Roman Empire in 1355.
It can be made with chicken, pork, beef, veal, turkey, mutton, or reindeer. Anything that allows you to beat thin your cuts of meat. Some variations of this dish exist in almost all of the world's cuisines. Check out the variations here.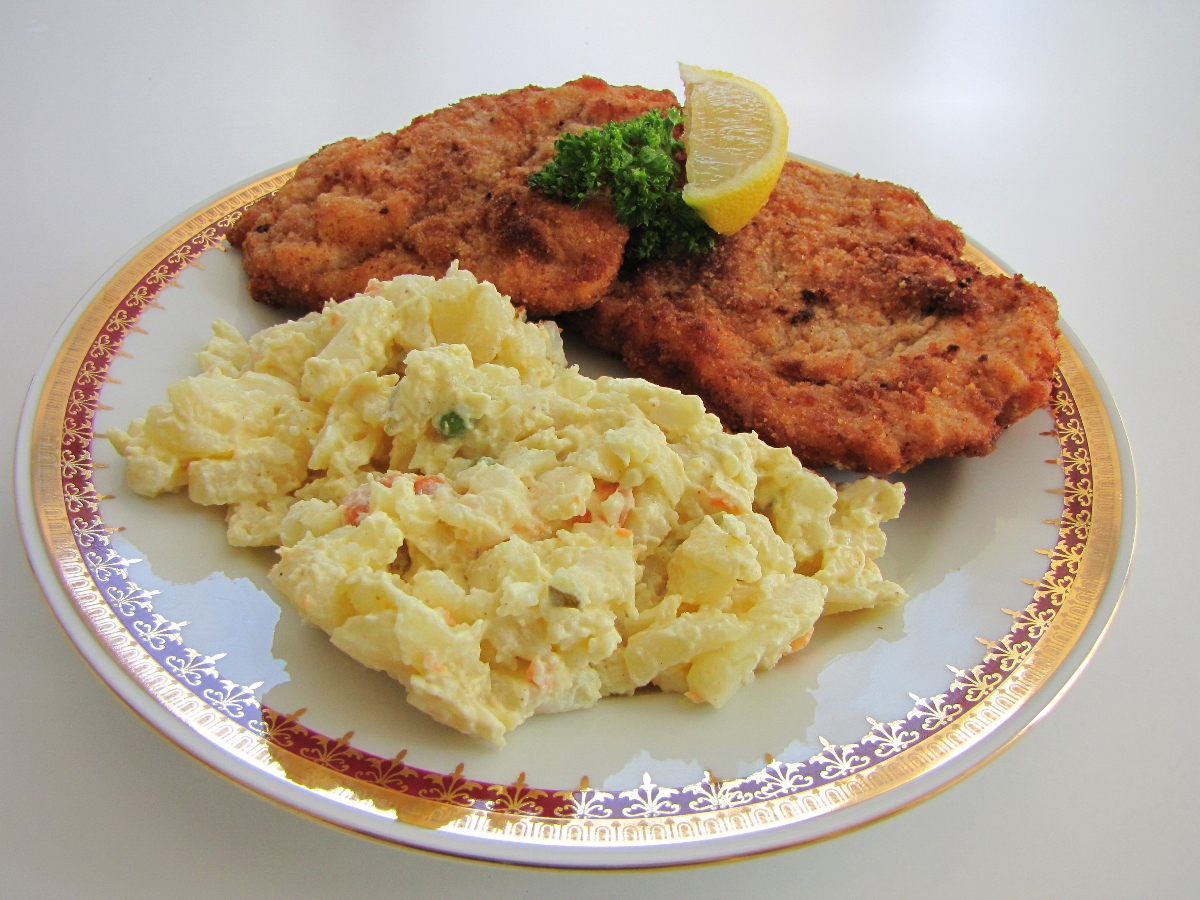 We like it made with chicken the best, pounded super thin and fried to a crisp. The trick is to use a large heavy skillet. We have this trusty Cuisinart 14″ open skillet which fries up many pieces at a time. (We also use this for our Christmas fish fying!)
The result – delicious!
Ingredients
1 1/2 cups bread crumbs (or 10 bread slices)
salt and pepper to taste
1 cup flour, for dredging
2 large eggs, beaten
2 Tbsp. milk
4 – 6 boneless and skinless chicken breast (or pork cutlet, or….)
3/4 cup oil, for frying
Note: You can make your own bread crumbs. We've had excellent results using rye bread. Simply trim the crust off the bread and set aside (we cut it up and throw it in the yard for the birds!). Then break and tear your bread into smaller pieces. Spread the bread out on a baking sheet and dry in a preheated 300 degree F oven for 22 to 25 minutes. Place into a food processor and pulse the dried bread until you get the desired consistency. We like it very fine. 
Directions
I use 3 pie pans for the process but a deep plate will also do. In one, place the flour with salt and pepper. In the second one combine the eggs and milk. In the third one, fill with your bread crumbs.
Take a piece of the meat and place between two slices of plastic wrap and beat with a meat tenderizer to get even sizing. When all of your pieces have been beaten, then one by one dredge them in the flour, then the egg mix and then the bread crumbs to coat both sides.
Heat your oil to medium high and test for sizzle. When hot enough, carefully place the cutlets in the pan and fry until golden brown and then turn and do the same on the other side. Transfer your meat to a paper towel lined plate to drain.
Serve with delicious potato salad and lemon wedges.
Here's the link to my mother's delicious potato salad with lots of mouth-watering photos of serving ideas.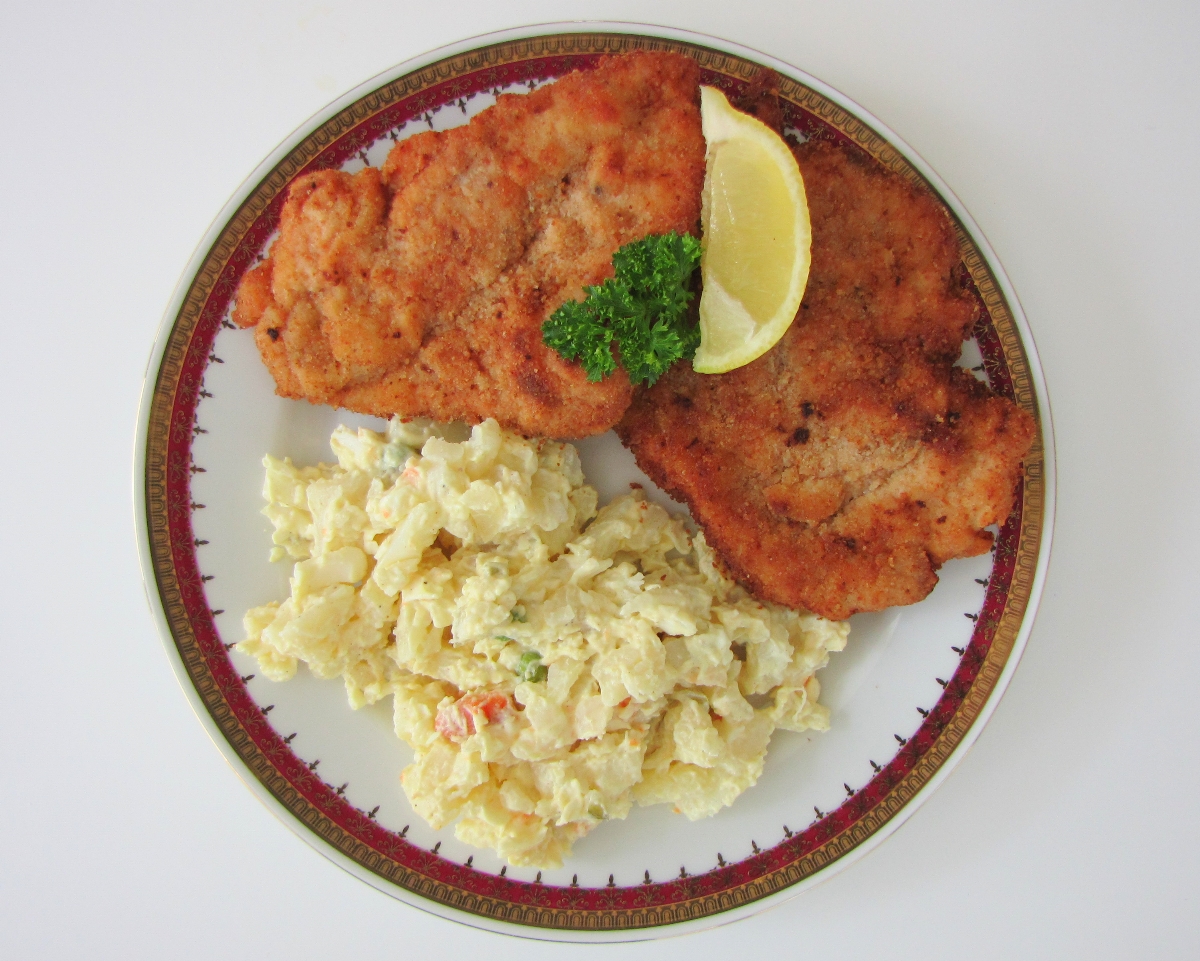 So, so good!
This is our definition of comfort food.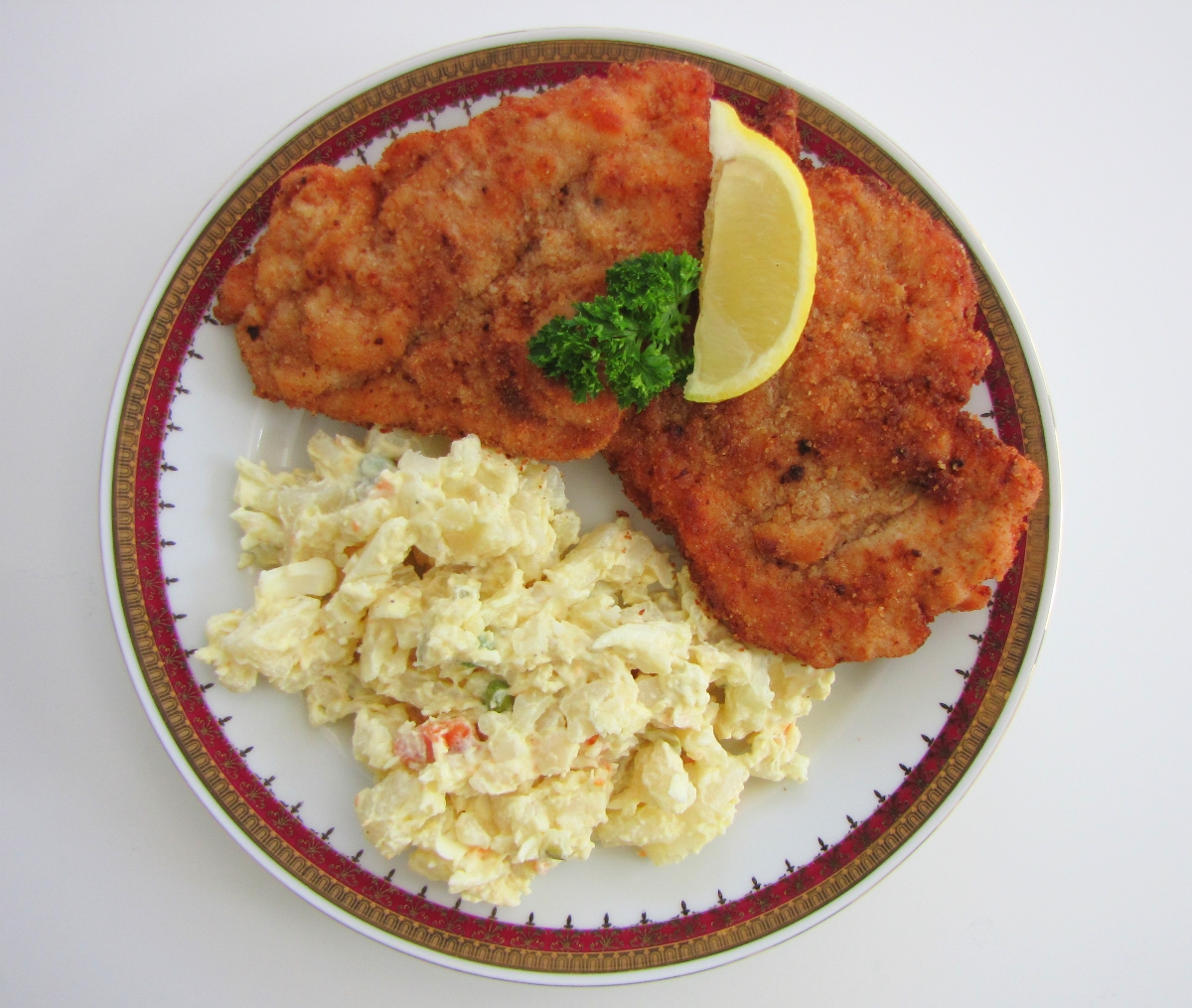 Dobrou Chut!
Thank you for your support – We appreciate you more than you know!
We know that you could spend hours, days, weeks and months finding some of this information yourselves – but at this website, we curate the best of what we find for you and place it easily and conveniently into one place. Please take a moment today to recognize our efforts and make a donation towards the operational costs of this site – your support keeps the site alive and keeps us searching for the best of our heritage to bring to you.


Remember, we rely solely on your donations to keep the project going.
Thank you in advance!
If you have not already subscribed to get TresBohemes.com delivered to your inbox, please use the form below now so you never miss another post.