Today is International Women's Day so to celebrate today, this post is primarily for the ladies! To us Czech 'girls', Paulina Porizkova is one of ours… Most of us grew up with seeing her supermodel covers in the 80's and 90's and followed her acting career as well as that of her husband, Ric Ocasek, from the band The Cars. (Yes, he was also Czech.) We remember the high-hip bikinis, the big hair and became loyal to Estee Lauder because after all, she was the face of the company for years. Back then she was considered so exotic because she was something quite rare at the time, an 'Eastern European' model because at 18 years old, in 1984, she became the first woman from our part of the world to be on the cover of the Sports Illustrated swimsuit issue.
But as most of you know, that was quite some time ago. Since then, Czech women have been called among the most beautiful women in the world and today so many of the models you see gracing runways and filling your favorite magazine pages are Czech.
Paulina is 54 years old today. She was born on April 9, 1965 and is a year younger than myself. We've written about her before here at TresBohemes.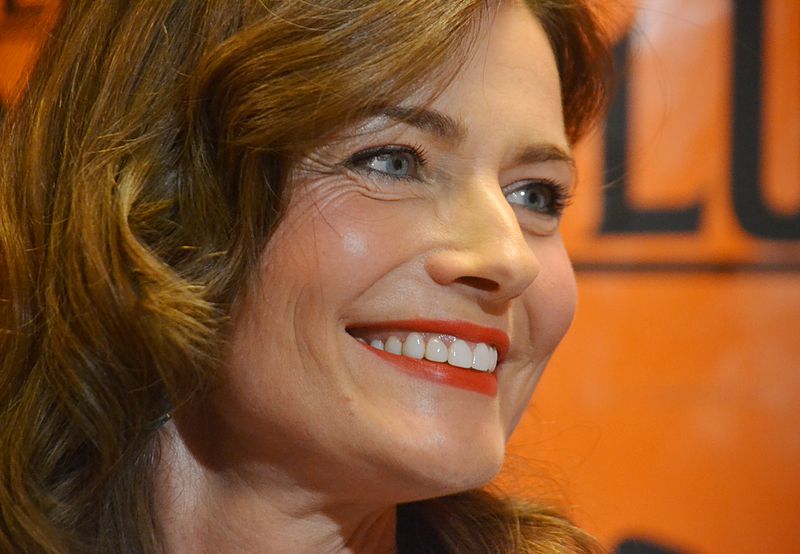 Wikipedia tells us she was born in Prostějov, Czechoslovakia.Porizkova was just a toddler when her parents fled Czechoslovakia to Lund, Sweden, to escape the 1968 Warsaw Pact invasion. They write, "Paulina was left behind and in the care of her grandmother. Czechoslovak authorities would not allow her parents to reclaim her, and the ensuing battle was widely publicized in the Swedish press, making Porizkova a cause célèbre. After a failed rescue attempt, in which her pregnant mother returned to Czechoslovakia and was shortly detained by the national police and then placed under house arrest, international political pressure led by Olof Palme caused the communist government to allow the Pořízek family to be reunited after seven years."
Porizkova rose to become a top model in Paris during the early 1980s, and her fame spread to the United States when she posed in swimwear for Sports Illustrated. She appeared on the cover of the Sports Illustrated Swimsuit Issue in 1984 and again in 1985 (though her first appearance as a model in the magazine was actually in 1983). She appeared on the cover and inside New York Magazine in July, 1985. Harper's Bazaar named her one of its ten most beautiful women in 1992 and American Photo magazine in its first issue declared her to be the model of the 1980s. Paulina appeared on the covers of numerous magazines around the world during the 1980s and 1990s, including Vogue, Elle, Harper's Bazaar, Self, Cosmopolitan, and Glamour.
She has been featured in advertising campaigns for Chanel, Versace, Hermes, Christian Dior, Oscar De La Renta, Mikimoto, Perry Ellis, Laura Biagiotti, Anne Klein, Ellen Tracy, Barneys New York, Ann Taylor, Guerlain, and Revlon and appeared on the runway for Calvin Klein. In 1988, Porizkova won what was then the highest-paying modeling contract: a $6,000,000 contract with Estée Lauder. The black-and-white television and print advertising campaign won praise from critics. The Estée Lauder makeover transformed Porizkova's public image from a swimsuit model to that of European sophisticate and she remained the company's face until 1995. She soon landed another multimillion-dollar contract, with Escada. She was presented on the November 1999 Millennium cover of American Vogue as one of the "Modern Muses."
She's acted in both television and film and has also written numerous articles as well as a children's book and a novel. On August 23, 1989, Paulina married Ric Ocasek, lead singer of the rock band The Cars. They had met in 1984 during the filming of The Cars' music video "Drive". The couple has two sons, Jonathan Raven Ocasek (b. 4 November 1993), and Oliver Ocasek (b. 1999). In May 2018, Porizkova announced she and Ocasek had separated a year earlier. In September 2019, while caring for Ocasek following an unspecified surgery, she found him dead in his home.
Many people assume that such a life is graced and to be so beautiful and loved by the world is a fairytale, and yet we know better than to judge a book by it's cover don't we? She's had what we most have, both a blessed life as well as hard trials. As a woman, you get to be our age and you realize that no one is exempt from loneliness, abandonment, depression, betrayal…
Watch the 8 minute video below to hear her talking about the recent obstacles she's having to face.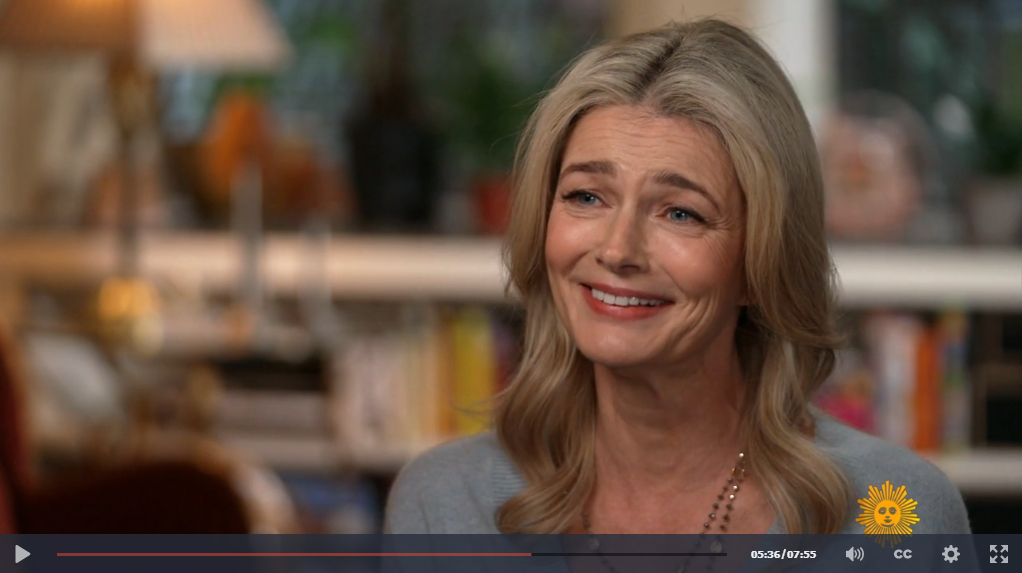 Just as I could relate (albeit on a microscopic level compared to hers) to a young life of emigration, modeling, rock and roll, and a moment of living the high life in Beverly Hills, I've also lived through tremendous loss and numerous heart-wrenching betrayals. Back in 2006, I had managed to maintain my little girl enthusiasm, the bright smile I was known for, and my figure of 125 pounds at 5′ 9″. I still looked like I always had, like I was 20 even though I was 42 and had given birth to 3 children. But life throws us some very hard curves, doesn't it, ladies? And let me let you in on a little secret – being 'beautiful' is often does not show up in life as a blessing, but as a curse because you attract so many people who never see the inside of you because they are so focused on the outside. All the extremely beautiful women I have known carry an extra wound, as if they are somehow cursed by beauty.
Fortunately, women like Paulina push through their own personal pain and allow their growth to inspire the rest of us. On her personal Instagram account, we see her battling depression, and showing herself open, vulnerable and bare. We see her with the lines of grief on her face and see through her writing, the pain she also endures, just like the rest of us.
In one post, she is appears in a blurred out photo and reveals her struggle to cope with her unrelenting grief over the death of her husband, admitting she feels like she's been "hijacked" and just wants to "curl up in the fetal position and wail". She said, "I have never experienced this sort of grief. When my beloved grandma died, all I felt was a gentle sort of sorrow. She was old. She was senile. She couldn't recognize anyone and death was freeing her from a broken body. But the unexpectedness, the unfairness and unpreparedness of Ric's death suddenly rendered grief a whole new beast. It hijacks your body and rides in you. You've become a physical vehicle for an emotional doppelgänger. It's very much like the alien invasion movies or horror movies, except here it's double YOU. The "you" you were, and a new "you" , one in which fear and horror and sadness have been distilled into a separate being. This new you tries to take over – and succeeds, especially in the beginning of grief. Every thought and action suddenly requires 10 times the energy it used to. Making a single phone call in a day is an accomplishment. Because the terrified pained skinless thing that has hijacked you has its own ideas of what it needs to do. Like curling up in the fetal position and wailing. Like lashing out and screaming that it's just not fair. Like hiding in a dark corner: looking for a non existent place where light and air and life don't hurt so much. I'm learning that to understand grief – you must have experienced it. It's a costly lesson. And the price to pay for living on. #grief #loveneverdies #end"
Most of us have been there. We can relate. I certainly know I can.
In another, she posts a face that looks even more familiar to me now than the face I've seen on all those magazines – a face of truth, of life. She is showing herself bare and (temporarily) broken. Life has its hardships, and no one is exempt. I see myself in this photo. When I look in the mirror now, I barely recognize the little girl I always was. I see a bitter old woman. My (used to be) permanent smile has turned upside down and these 'marionette lines', as they are called have made me appear permanently sad, even when I am feeling happy. I call it my new 'downward facing dog' face and I've said it to myself with cynicism and yes, even hate.
But in the words Paulina shared with the photograph, I find inspiration and a soul sister; an ally in this battle. Mostly, I feel the burden of it lifting because I realize I am not the only one… I am not alone in this unfamiliar aging process.
She writes, "Today narcissism is king and constant self-improvement is queen. Who wants to see "real" people on social media? No, we want aspirational. We want tips and secrets and shortcuts to how best present ourselves in the most glowing light. We want people to envy us, to copy us, to buy what we sell them, whether it's our words, our brands, torture or magic. In this crowded forest of aspirations, I look for the little meadows of peace. To me, those are the truthful ones, the ones that don't always look amazing, and don't always feel amazing, and aren't just so fucking thrilled to be their awesome selves. So, this is what I really look like. Not a great photo, early in the morning, no make up no filters, just the real true me. I'll be turning 55 soon. At first glance, I think – ew. I look so old. Grief is certainly no beauty maker. My eyelids are starting to droop. The jowly bits next to my mouth don't only make me look older but also somehow bitter. The gray in my hair is an easy fix, although, honestly, I'd love to just grow it out and stop coloring. Now, how can I help to make all this -what we consider flaws – to be seen differently, to be seen as confidence and beauty of a mature age rather than something that needs to be eliminated? I used to think gray hair was aging, that it was a sign of giving in to being old, but thanks to many glorious and rocking hot women on Instagram, I've changed my vision to gray hair being sexy and confident. @themiddleagedgoddess @annikavonholdt There was a quote by @pink to her little daughter, about how it was not for them to fix themselves to fit the standards of beauty, but rather to help other people discover their beauty. Now, that is something to strive for. Not change yourself to fit in the box, but to blow up the fucking box. I'd like to end this post with a rousing " let's blow up the fucking box, ladies", but although I really want to, and will try my best, the truth is that I am a mid-fifties woman, I'm vain and insecure, and next week I could decide to have surgical help to fit the comfortable and warm and familiar box instead of crusading to blow it up. #selfie #truth #beauty #sexyhasnoagelimit#blowupthefuckingbox"
I've seen this type of thinking growing recently. The hashtag #nomakeup has 18,475,611 posts to date. Instagram allows us to follow most of our favorite heroines. And it's funny, some post all of their professional photos and look unrealistically ah-mazing (as always) and yet there are those who are using the power of their own social media accounts to make a change, the kind Paulina writes about. We see Michelle Pfeiffer naked-faced on her treadmill, Goldie Hawn (mascara only) cooking chicken soup, Gwenyth Paltrow throwing a complete no-makeup cocktail party (with a radiant makeup-less Demi Moore), Kate Hudson in baby-bun hairdos and no makeup, Drew Barrymore scarfing down peanut butter out of the jar, Susan Sarandon donning a makeupless black-eye (okay, it looks like she has last night's eyeliner left), a no makeup Isabella Rossellini joking about waking up with David Lynch's hair, and Charlize Theron joking about "Instagram vs. reality", Salma Hayek poolside with no makeup, and Sharon Stone, relaxing with one of her pups at home.
Aside from being the beautiful celebrities we immediately recognize when we see that magazine cover while standing in line at the grocery store, these are also women who have somehow influenced our own lives. We've aspired to get 'that look' or subconsciously think how great we would look in 'that dress' or with 'that hair'. But we get the look, the dress, the hair and no matter how hard we try, we are still flawed in some way because we're not filtered and photoshopped. What's wonderful is that all of these women inherently know that and they are using their personal power in various ways to let the rest of us know that life is not picture perfect. We live in a superficial world and these women have been encouraging cultivating our own depth and showing what lies beneath the masks we wear in the world.
I'm focusing on Paulina not only because she is Czech but because her loss is recent, her struggle is ongoing, her writing is very raw, real and vulnerable on what she's feeling, and I applaud her for wanting to change the standard. She has been a perfect model of embracing our maturity.
She's also sharing how the power of all of us together make this change happen. We can't sit by and watch and wait. We have to take our own baby steps to break the pattern, for our own daughters. I confess, I have not wanted to be in a photograph for the last 3-4 years. I am ashamed of the weight I have gained, the late night depression-fueled food binges, and the total lack of self-care (when looked at deeper, self-love) I have felt. And because I don't have any girlfriends (except my two daughters who are young and beautiful and cannot truly relate to what I am going through), I have watched these ladies I grew up with on Instagram and have allowed them to be my inspiration. Slowly, I am realizing that to bring back the little girl in myself again, I have to look at the world with eyes of wonder vs. eyes of cynicism and mistrust, to turn my frown upside down and into a smile more often, and to thank and love the strong and beautiful woman I see in the mirror each morning, the one who has lived through things most people only see in horror movies and is still here!
In seeking things that make me smile, I stumbled upon Paulina and her pink Gap dress. What is that and how does it relate to everything else I have written so far?
If you want to smile and celebrate international women's day by paying homage to the beauty and power in all of us older women, keep reading…
The first time the pink Gap dress appears on her Instagram account is August 3, 2017. Unfortunately, we can't embed the video here, but of you click on any of the photos below, you will see the video or photo and be able to read all of the comments.
The dress then resurfaces almost a year later on June 17, 2018 while she's in Rome at the Spanish Steps.
On June 20, 2018, she is wearing the same favorite pink Gap dress at the Vatican.
On May 18, 2019, she appears in New Orleans and gives a wonderful shout out to her pedicab driver. I bet this photo with one of the world's top supermodels made him the hero among all his friends! ;)
On June 25, 2019, Paulina is wearing her favorite pink Gap dress in Pompeii. Her Instagram descriptions are getting longer and whilst reading the comments, you can see how deeply her followers are beginning to connect with her. Doesn't she look absolutely stunning in the little dress that seems to follow her to all corners of the world?
A few days later on July 2, 2019, she's helping her mother get ready for her wedding on the Amalfi Coast. Looking at her beautiful mom, you can clearly see where she gets her good genes! Seriously… they look like sisters!
In the next photo, she responds to all of those comments about her pretty pink Gap dress. She writes, "Ok, back in Pompei for a moment- to talk about my dress. I have gotten so many compliments on this dress and so many questions of where I got it, that I just have to share: this is an old GAP, about twenty years old, that I got on sale for 25 bucks. It's not even my size, I just liked the color. And I have worn it every summer since I bought it in 1999. I even tried to have it copied for hundreds of dollars, only to get a weird unsuccessful and misshapen expensive dress. So I keep wearing this one until it falls apart. Which will be a sad day indeed. ( if you look through my photos here on Insta, you'll see it plenty of times). Do you have piece of super favorite clothing?"
And adds the hastags #favoritedress #myfavoritedress #gap #cheapclothes #nocouture.
On July 31, 2019 Paulina shares a video of herself (of course – in the pretty little pink Gap dress) and her granddaughter, Olivia. Oh how I wish I could embed it here – but just click the image and you'll see.
On August 7, 2019 Paulina gets a surprise. She tells it best in her own words, "And sometimes, wonderful little things happen that inspire you and give you hope about the kindness of people: witness Deborah Newell Tornello. You guys remember my pink gap dress, right? I'm obviously wearing it. Anyway, Deborah contacted me on Twitter. She also has and still wears the famous pink gap dress. And you know what?! She found me a new one! Unasked, just went and found one on eBay and bought it for me. Not knowing if I would even respond or pay her for it. Thank you, Deborah, in the right hand corner! You look fabulous in yours! 📸My photo by world famous genius Quantum Physicist @spirosmichalakis 😜 gooddeeds #nicefolks #pinkdress #thankyou
That's pretty wonderful isn't it?
On August 16, 2019, she shares a video straight from a dream scene. She's gracefully running in slow motion towards the camera, almost floating like a butterfly in the lovely pink Gap dress and we're almost as happy as she is just watching it! This is a perfect example of that 'little girl' sense of wonder and playfulness I was talking about, the kind that keeps you forever young.
On March 5, 2020, we see Paulina wearing the little pink Gap dress again. This time it's the one she received as a gift. She writes, "My brand new/ old Gap @gap dress worn for the first time thanks to @litbrit – who found it for me on eBay and sent it to me! Talk about gratitude!"
She looks fantastic. And happy again. Don't you agree?
But here is my favorite part of the story and what inspired me to post about all of this today…
A day later, on March 6, 2020, she posted herself in the little pink Gap dress once more and placed a message she received from the Gap right onto the photo. In case you can't read it is says, "@paulinaporizkov, thank you so much for sharing your Gap story. ❤️ We love that the dress made its way back to you with the help of @litbrit. It inspired us to bring it out of the Gap archive – stay tuned for the drop in April."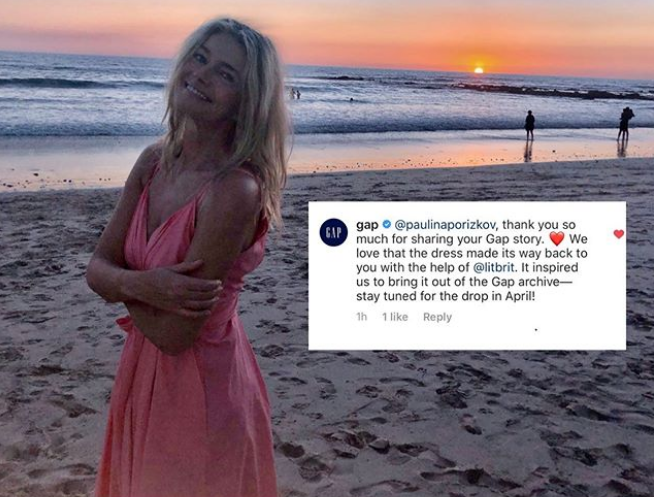 She responded by sharing her reaction with all of her followers, "HOLY COW! How's this for amazing? I'm pinching myself. YOU guys did this! Thanks to all of you, I will buy ten copies of my dress and live in it for ever. It really just blows my mind what we can do when we all pull together. Every single one of you who follows me- thank you. And now you can all wear it too!!!❤️ I would absolutely love to see a photo of ALL OF YOU WHO WANT TO BUY ONE wearing it YOUR own ways!! 😊😊😊😊😊 And thank you the wonderful people of the @gap, can't wait to see the new installation!"
I know it's just a dress, but it's what we can relate to – our favorite article of clothing that has been with us through thick and thin (even though family members, friends, lovers, spouses have come and gone). It's not high fashion or couture (that most of us cannot afford). It's classic and Paulina modeling it would be so representative of all of us little girls on the inside who want to frolic in the summer sun once again and just shine, you know? Like as in being happy with who we are, who we have become and truly loving who we are still becoming.
Every wrinkle, every dimple of cellulite, every stretch mark, every blemish and scar was earned by us because we survived – many of us still holding in so much for shame, grief or fear. We must remember that it is this 'holding in' which manifests outside of us as looking old, weathered, haggard, and tired. Honestly, I still can't comprehend waking up tired, but it happens on many days and I know has happened to all of us.
So it's important to actively seek joy. To seek friends, hobbies, or sources of inspiration to remind us that we are powerful and beautiful beyond measure, each and every one of us who have made it this far because let's face it, dammit, life is not easy!
Personally, I love that they are bringing it back. Believe it or not, I had the same dress back in the day but was not so meticulous about keeping it around for so long. I think the color should be Paulina Pink, but the way I see it, the Gap should design an entire wardrobe around her (and all of us women in that age group "between JLo and BettyWhite") and call the entire new line Endless Summer and of course, Paulina should head up the campaign along with other models around the 55 +/- age range.
Why call it Endless Summer?
Well for those who remember the 1966 film, its title came from the idea, expressed at both the beginning and end of the film, that if one had enough time and money it would be possible to follow the summer up and down the world (northern to southern hemisphere and back), making it endless. In this case, the kind of authentic natural beauty and confidence which radiates from within at Paulina's age can also be seen as endless.
Seriously, in her little pink Gap dress she looks the way we all feel on our best days – isn't it true? Yet, we also know the truth and see the little "flaws" (for lack of a better word to make my point) that make her a woman who has been through life with all its ups and downs, like the rest of us…
Make sure to look through her entire Instagram feed. She's wonderful to follow and has quite a sense of humor even though she's going through tough times. She's also actively responding to many of her followers. Thank you Paulina! Your beauty and grace, your honesty, courage, and authenticity, your life and personal story inspires us all. You have helped me see that it is inner strength that comes through so beautifully. Growing older looks damn good on you! #nomakeup #noprocedures #nofacelift #sexyhasnoagelimit #nofilter #nofiller #nobotox #blowupthefuckingbox #fiftyandfabulous #overfiftyandfit
On this International Women's Day, do something awesome and amazing for yourself – get on Groupon and buy a greatly discounted hair or face treatment, buy that healthy foods cookbook you've been wanting, sign up for that workout class or just take yourself to walk in nature. As you give to yourself, remember to thank yourself for how far you have come, despite all the obstacles and practice gratitude for the blessings that do exist in your lives.
Make a conscious effort to smile and reach out to reconnect with old girlfriends. If you are an introvert, follow Paulina and allow her to be your Czech friend in the cloud, and be inspired to love yourself. Remember that your beauty is beyond your face and your skin – it is your journey and that you've (we've) made it this far…
Happy International Women's Day!