Each country that has bread offers up their own version of bread pudding. Bread pudding is a (usually stale) bread-based dessert popular in many countries' cuisines, made with old bread and milk or cream, generally containing eggs, a form of fat such as oil, butter or lard. Sweet bread puddings may use sugar, syrup, honey, dried fruit, nuts, as well as spices such as cinnamon, nutmeg, mace, or vanilla. The bread is soaked in the liquids, mixed with the other ingredients, and then baked. This Czech bread pudding recipe is as easy and easy gets and turns out a delicious dessert.
The best part about this recipe is that most people have these ingredients in their cupboards as they are basic foods everyone usually has at home. The thing that makes this Czech bread pudding recipe a little different is that it's commonly made with apples, and they are layered.
But first things first…
A žemle or žemla is a roll, kind of like a miniature baguette if you will. This name suggests that it was probably first made from bread rolls as a žemlovka basically means a pie which is made from bread rolls. You want a light (white) bread that is not too heavy. A Cuban load, French bread, even hot dog or hamburger buns do the trick. In Prague, I make this from rohlíky.
Some Czechs substitute pears for the apples, others add a meringue to the top. Some bake it once and others bake it twice, first with the breads just dipped for 10 minutes, then they add the remaining custard and bake another 20 minutes or so. This tends to crisp the inner bread a bit more.
Some prefer to let it sit and soak in the egg custard while others mix and bake straight away. In some homes, they swear by grating the apples and in other's they slice them. Some piece it together carefully, layering in a nice pattern and others just cube everything and toss it into the pot to bake.
I've seen families add tvaroh (a farmer's cheese) and other's leave it out. I've had it with rum soaked raisins added, nuts added, even cherries added. In fact, this dessert is so versatile that you can't really mess it up and it's a hodgepodge of deliciousness pretty much no matter what you put into it.
Just remember that you have three main components:
the bread
the filling and
the custard.
I make it from leftovers and scraps, literally. I usually combine 2 or 3 different breads and rolls, and add whatever fruit I have handy. For me, the custard is the important part. I like when my bread pudding puffs up and is airy and light rather than heavy and dense. This means beat that I beat my eggs well and do not pack it all too tight into the baking dish.
The key here is to allow yourself to experiment with your personal favorites. I've made this over a thousand times and trust me, it's never tasted the same – and yet it's always creamy, light, airy, fluffy and just plain 'ole delicious!
Ingredients
Old bread, rolls, baguette, toast, hamburger or hot dog buns
3 eggs
1-2 cups milk
2 Tbsp – 1/2 cup sugar (brown, white, turbinado)
6 Tbsp fat (butter, oil, lard, duck fat)
1 tsp vanilla (or rum or other liquor)
1-2 tsp cinnamon (or other spice you like)
gash of salt
2-4 apples (or other fruit or berries)
Optional – nuts, raisins, dried cranberries or other, grated lemon or orange zest, bits of chocolate, etc.
Directions
Today for my Czech bread pudding recipe I used the ingredients in this photo: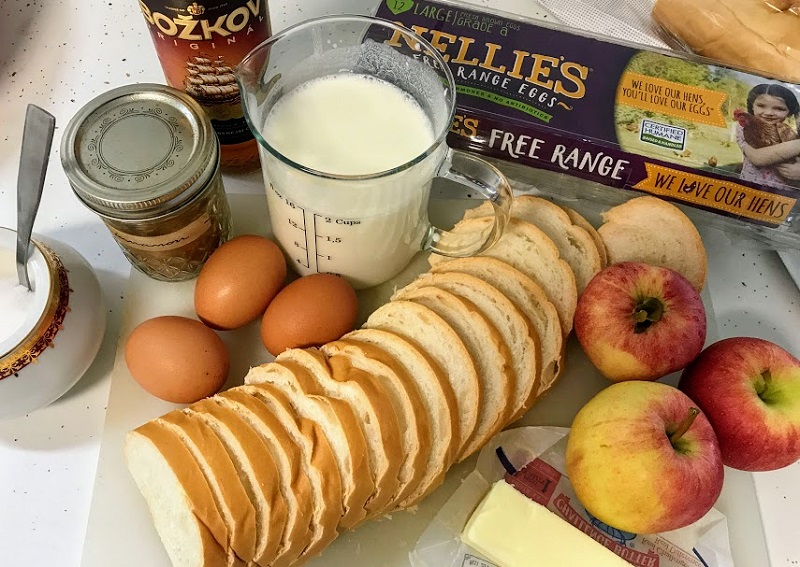 I began to assemble my ingredients and guess what? No milk!
No problem.
I did find what looked like somewhere between 1/2 and 3/4 cup of sour cream in the fridge. I put it into my glass measuring cup and added enough water to make 2 cups of "milk". I've done this before and my family loves it. I've used both sour cream and yogurt to the same effect. If you want a wetter bread pudding use the full 2 cups. If you like it drier, you can only use one cup – it's still delicious, it just depends on your personal preference.
I also discovered I had no vanilla. Ooops!
No problem again.
I added a larger splash (I'm guessing between 2-3 teaspoons) of Czech rum. I like it. A lot.
I then began to melt the butter. Meanwhile, I found a baguette I bought 2 days ago for chlebíčky that I never made. Perfect. I sliced approx. 18 or 20 thin slices, to the equivalent of about half of the baguette. I set that aside. Then I beat 3 eggs until they began to foam and doubled in size. I mixed about 1/3 cup of sugar with about 2 teaspoons of cinnamon and set that aside. Then I peeled and sliced (thin) 3 apples.
I took the butter off the stove and using my pastry brush, I used a bit of it to coat a 9 x 9 inch square pan. Then I poured the egg and rum mix into the egg and stirred to mix well. I began to dip the bread into the egg mixture and layer into the pan.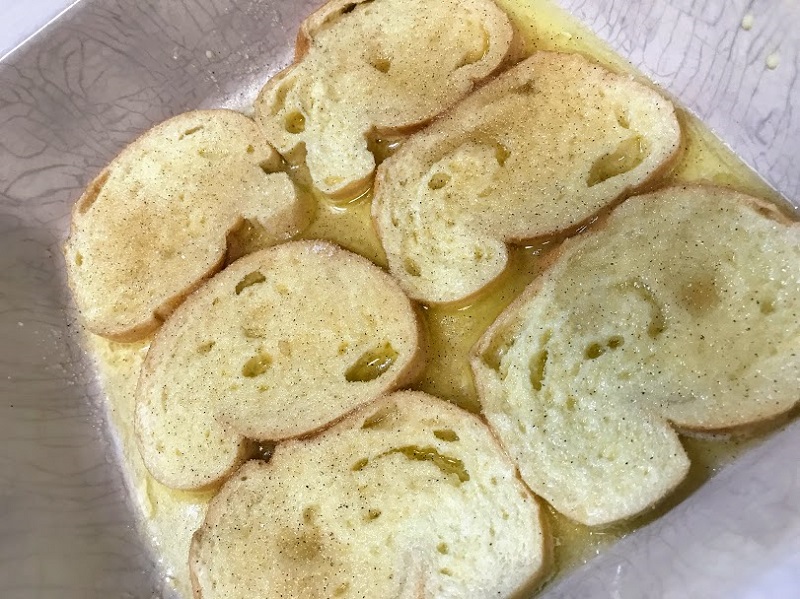 Then I layered 1/2 of the apples and sprinkled with 1/3 of the sugar mix.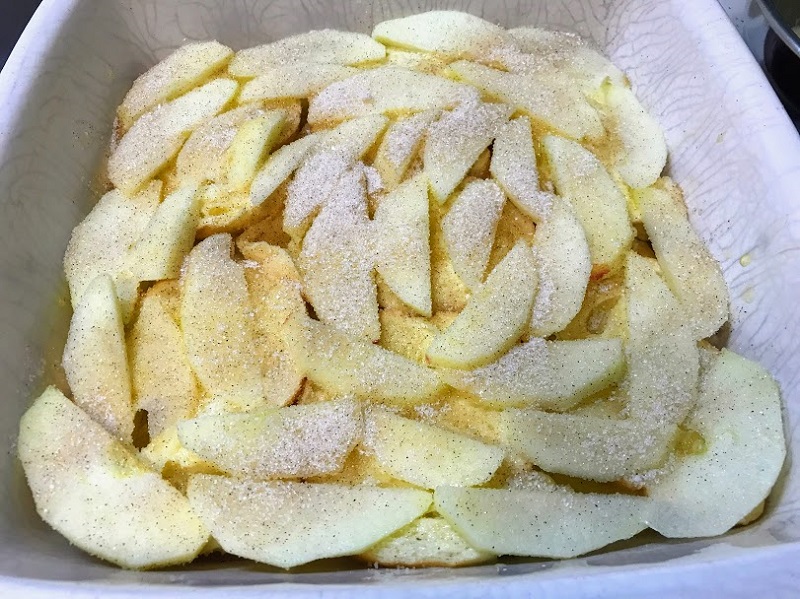 I drizzled some butter over it and repeated the process, layering until the top coat was bread.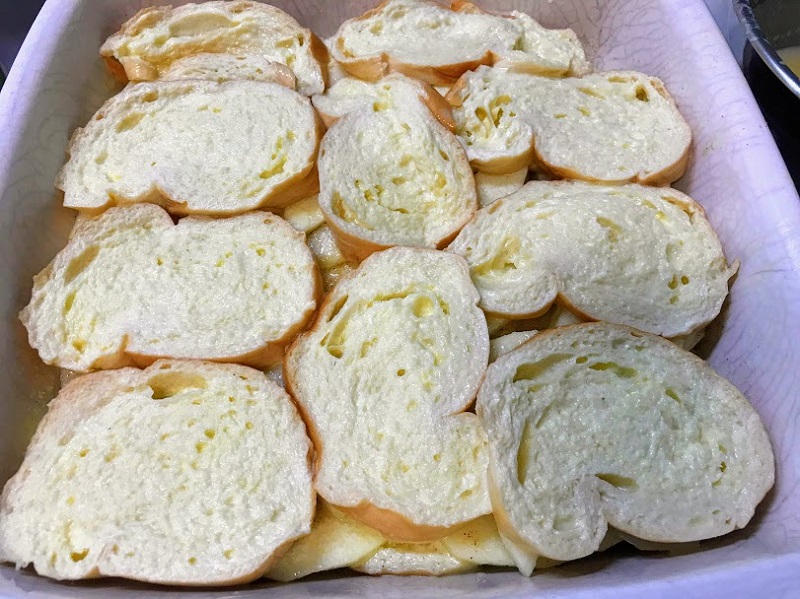 I poured the last of the egg/milk mixture over it and used the last of the butter. Then I sprinkled it with the remaining sugar mixture.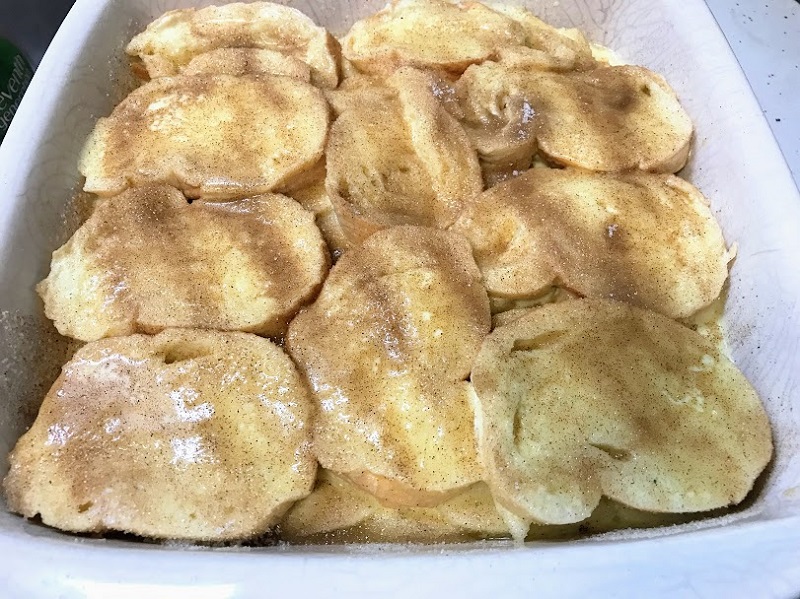 I put it into the oven and baked it at 350 degrees (Fahrenheit) for 30 minutes.
When you remove from the oven make sure to let it sit at least 5 minutes before slicing.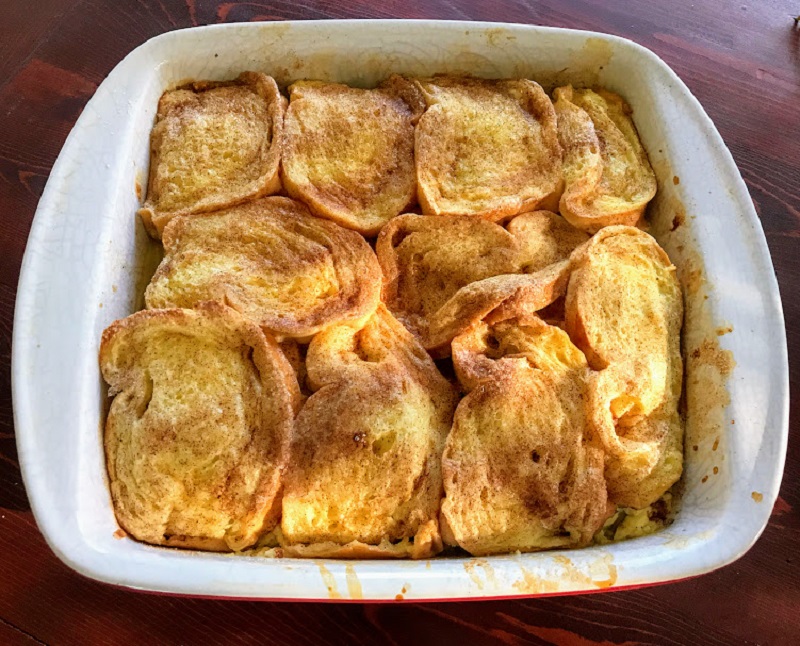 There is something so wonderful about the marriage of apples and cinnamon baking. The entire house smells delicious!
And here you have it…
Czech bread pudding!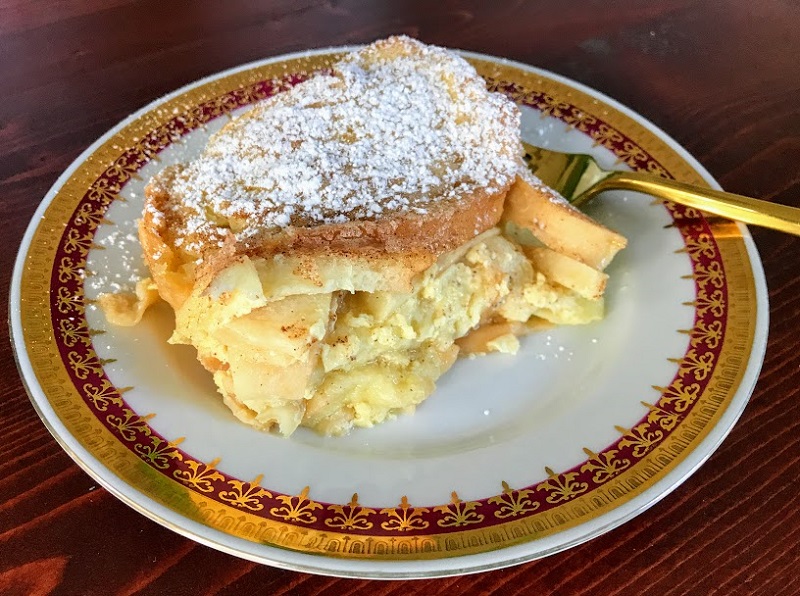 Serve with creme fraiche, sour cream, whipped cream or whatever your preference is. Some folks sprinkle it with powdered sugar. Personally, I like it hot with a light dusting of powdered sugar.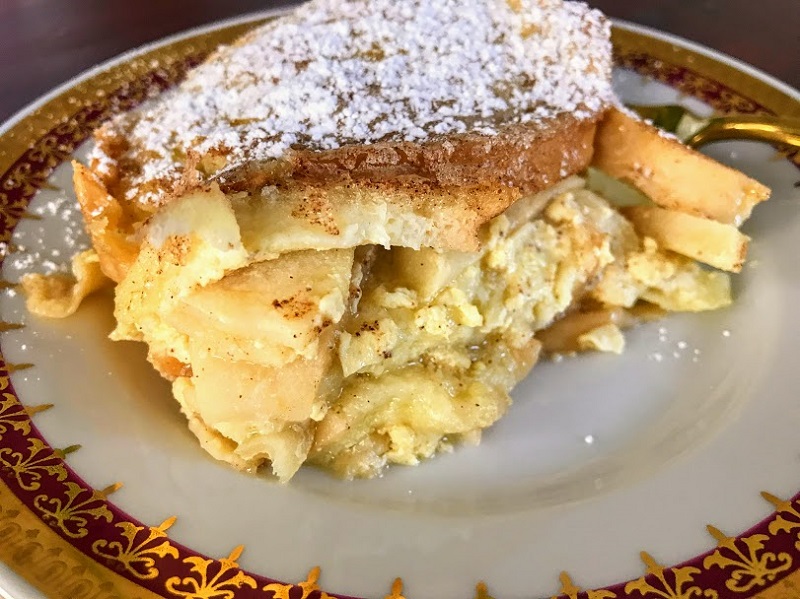 As it cools, the egg tends to deflate and it becomes a bit more dense. Some people like it that way better. My mom likes it the next day coming out of the refrigerator, so it's really the easiest dessert that doesn't take a lot of time to prepare, the ingredients cane be substituted in a myriad of ways and it can even be eaten in various ways.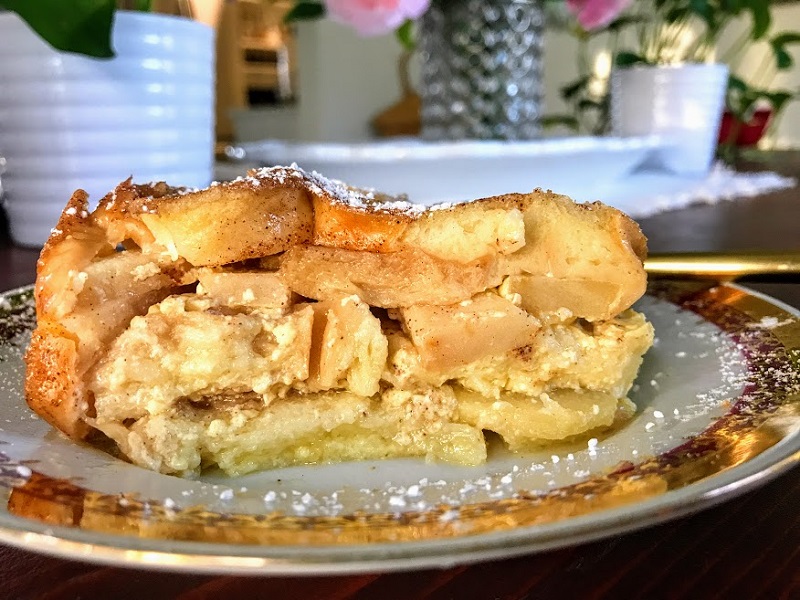 Can you taste it?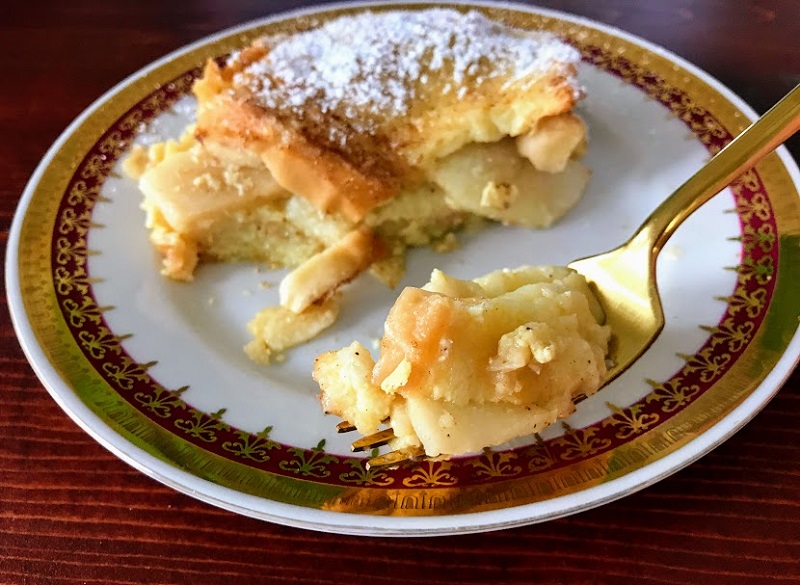 Mmmm, mmmm good! I think you'll want to try it immediately and tell your friends about this delicious (and super easy) Czech bread pudding recipe.
Czechs create the most delicious things!
And for those of you who asked… Here is our source for Czech-style Vanilla sugar. Delicious – use one envelope in your milk or egg mix to spike up the aroma.
Thank you for your support – We appreciate you more than you know!
We know that you could spend hours, days, weeks and months finding some of this information yourselves – but at this website, we curate the best of what we find for you and place it easily and conveniently into one place. Please take a moment today to recognize our efforts and make a donation towards the operational costs of this site – your support keeps the site alive and keeps us searching for the best of our heritage to bring to you.


Remember, we rely solely on your donations to keep the project going.
Thank you in advance!
If you have not already subscribed to get TresBohemes.com delivered to your inbox, please use the form below now so you never miss another post.