Today we slip into the magical world of Czech painter, Reon Argondian. Though he was born in Prague with a different name, Jan Zahradník, and was given a Czech name that translates to gardener by birth, the powers that be wanted to suppress the garden of his mind. Born on the 21st of July 1948, he was not allowed to study art because the communist government thought it best he was become a potter. Yet he felt the art within and could not suppress it. He painted his first oil paintings at the age of 11, and by the age of 17 he was creating his first paintings based on an imaginary dreamlike world, the perfect escape.
The fates intervened as they would have it, Jan was sent to Italy to gain experience at a potter's workshop Ceramica C. Morelli in Bellaria (Rimini). What blessed timing! He left in early August of 1968, and if he had not gone then perhaps he would have never been able to realize his artistic dreams. In Italy, he is free to paint and he spends every free moment doing just that. He's so good, that he has his first exhibition there. Soon thereafter, his Czech friends from Switzerland invite him to come, so he accepts the invitation.
At 20 years of age, Jan is finally able to dedicate his full time to formerly studying art. Once again the fates intervene and he is brought to the villa of Georges Eckert, a Kunstrestaurator (one who restores art!) by the lovely lake Lucerne. Georges takes the young artist under his wing and this is when the most intense period of creating begins. The young artist begins to explore the techniques of the old masters and begins applying them to his dreamlike fantasy creations.
At the bold age of twenty, Jan decides to dedicate his time to the studies that were previously denied to him. Great luck brings him to a villa by Lake Lucerne – the place of work of Kunstrestaurator Georges Eckert, who takes the young artist under his wing. There, the most intense education begins, as the young painter explores the technique of the old masters. He is exposed to numerous masterpieces, specifically St. Christopher by Hieronymus Bosch which he is also a helping to restore.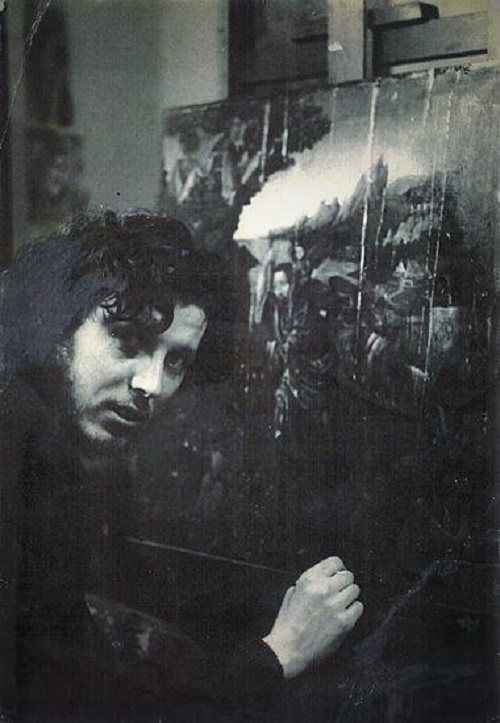 The St. Christopher is known as "an extraordinary and masterful portrait" of this popular saint, "based on the traditional motif, but elaborated with several features unique to Bosch".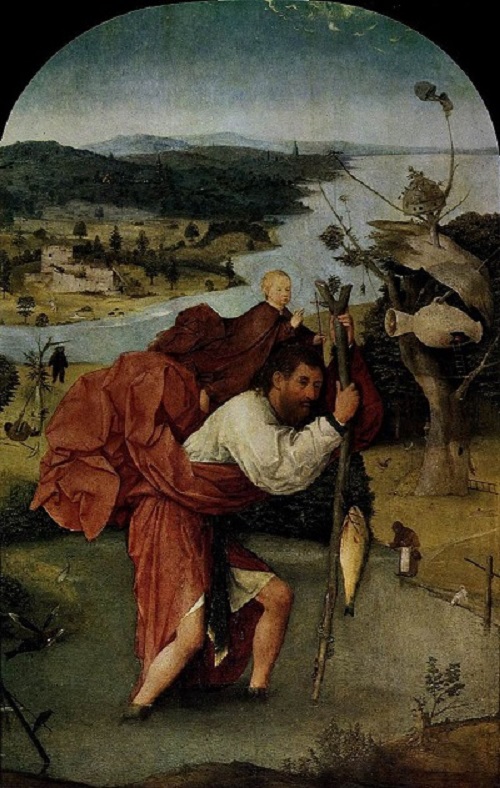 Jan has an epiphany and realizes his place in the art world and sees this as a sign. His dreamland of Argondia is realized as is his place in it as Reon.
A reader and supporter of TresBohemes, Jiří Havrda, alias Georg Aeberhard of galerie9.com, has shared the following rare video which you can view by clicking on the image. (Thank you, Jiří!)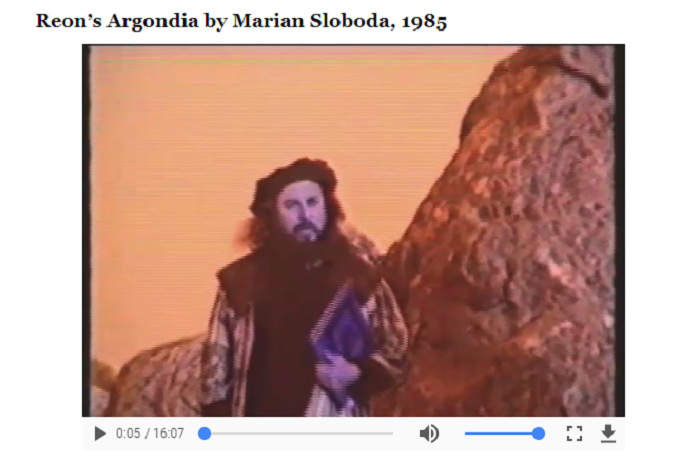 Or click here to view the video.
Dedicated since the beginning to his true calling, Reon goes into complete isolation and has his first period of intensive painting which culminates in a public exposition to great reviews and many offers to purchase his unique paintings. Reon the artist is born.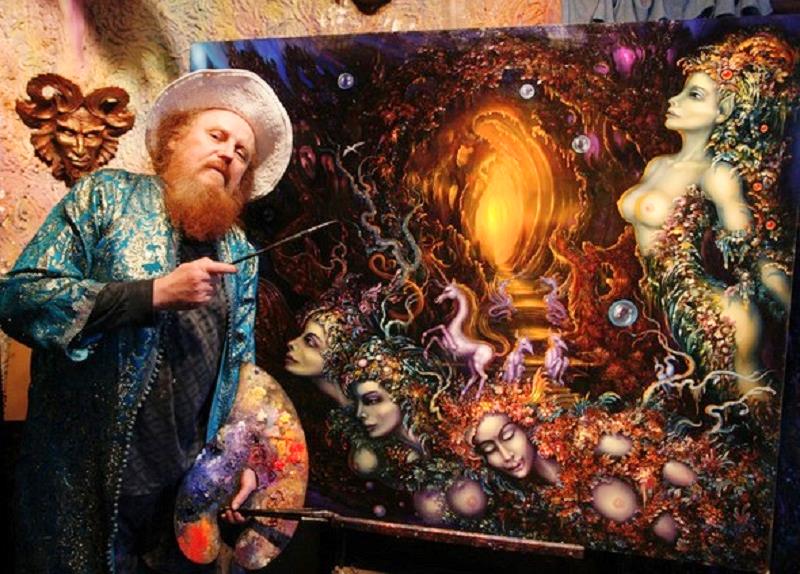 This expo leads to the need for a manager and an invitation to come to the highly esteemed "Galerie de Monte Carlo" in Palais du Scala. There, he makes connections with higher society, and the media response to his work opens new doors for him, gaining him invitations to galleries in Brussels.
Reon then chooses the village of the medieval castle Château Médieval de Roquebrune for is next dedicated painting time. Roquebrune village is a picturesque medieval village perched on a rocky outcrop high over the Mediterranean. It's located between Monaco and Menton, east of Nice. The old village has a very interesting, and lovely center, with narrow streets, colorful old buildings, blossoming gardens and a spectacular view of the the coast. The colors of this beautiful village bring his paintings new, brighter colors, but the main motive of the Legend of Argondia remains unchanged.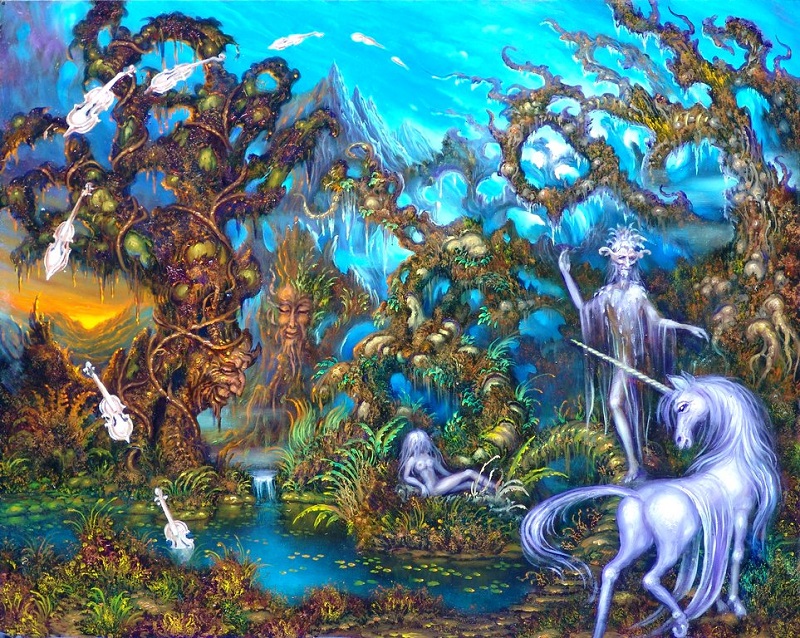 But soon the French Riviera begins to lose its allure and Reon begins to wish for a landscape which will remind him of his childhood. An expert of manifestation, or helped all along by the fates, his wandering takes him to the very center of Brittany where he finds his dream location at the estate of the Earl of Jacques du Pontavice. The Earl allows him to set up studio at an old mill house in a spacious valley in the foothills with a stream and his own pond, where the silhouette of the romantically dilapidated Rohan castle from the 11th century dominates the lake.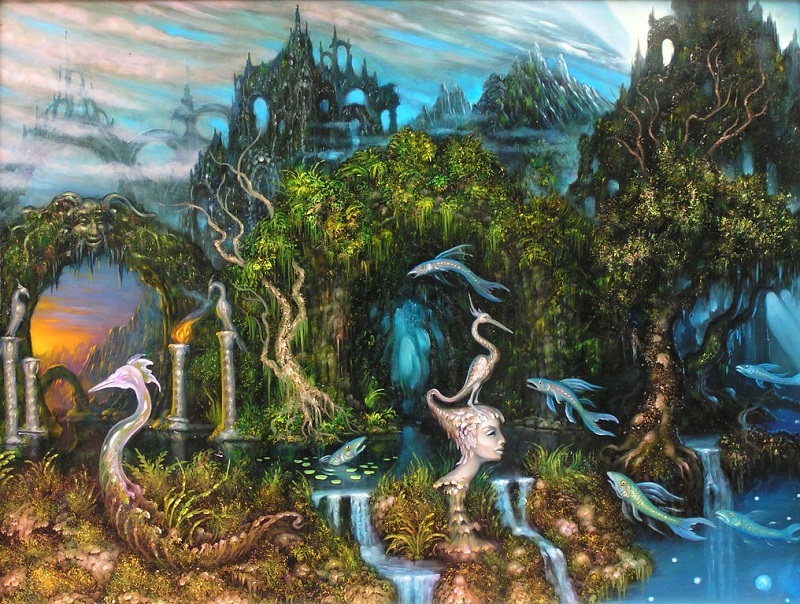 In this heady, lively isolation, where the closest neighbors to a very large estate are located 2 kilometers away, Reon remains for the next twenty years. By his 40th birthday, Reon had created his own Breton Magic Cave, and considers this his largest sculpture-architectural life work, with significant ceramic sculpture decoration throughout. The importance of this center of events between Reon's paintings, concerts by Alan Stivel, Glenmour and others encourages the encounter of other notable and cultural personalities in the middle of the Breton forests. You see, by now, Reon was not simply content to show his pieces in galleries, so instead he turned his home into a Magic Cave, and thus the old mill building became home to the Kingdom of Argondia.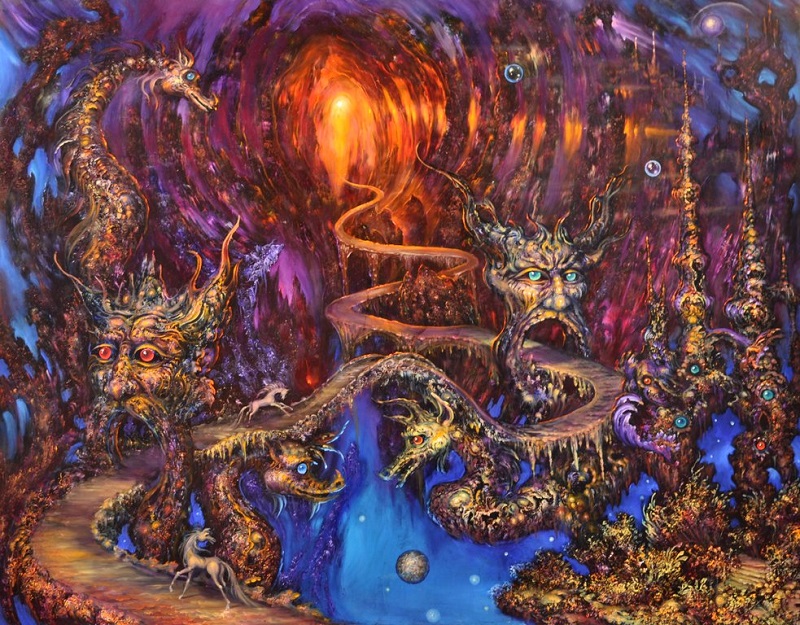 And then the unthinkable happened for Reon, the fall of the Iron Curtain in 1989 opened an unlikely return to his own hometown. Reon prepared for two years for an exhibition which would take place in five halls of Prague's Karolina. The exhibition was visited by 40,000 visitors and attracted world-wide media interest. This exceptional and incomparable response once again awakened the fates and thus had a major influence on Reon's destiny.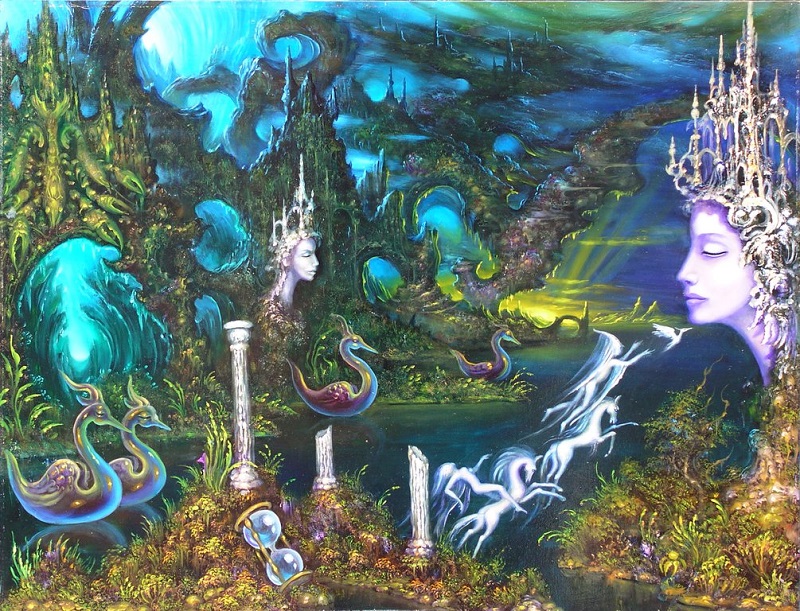 Though Reon had no intention of returning to his father's house, he was then subject to a friendly co-operation by his friends, supporters, fans and vox populi to build a permanent gallery in Prague.
(Vox populi is a Latin phrase that literally means "voice of the people".)
A few meters from the Malá Strana Tower of Charles Bridge, the area of ​​the renowned Malostrany bakery was turned into the architecture of his other "Magic Caves". Over 30 tons of sculptural work was built between the spring of 1995 to it's opening in December  of 1996. A vast undertaking, but one Reon's life had been preparing him for.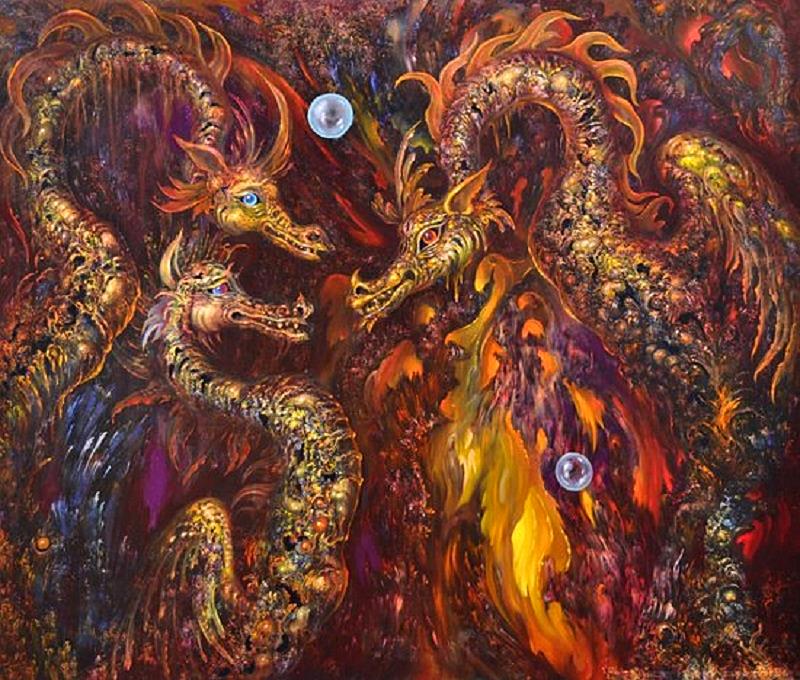 Suddenly there was a whirlwind of activity around the artist and his cave and an entire cultural program was born complete with concerts, books, television shows – and not just on a local scale. To date nine foreign networks have featured the Magical Cavern.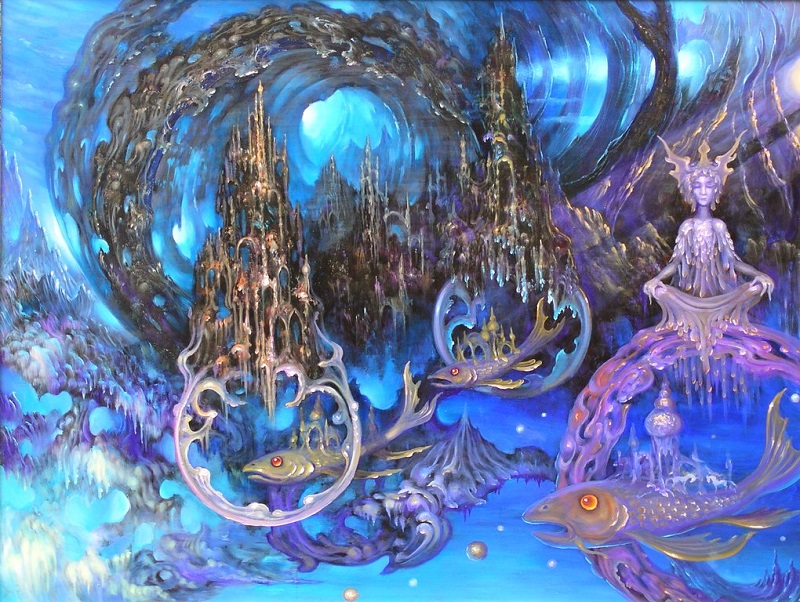 However, after five years of operation, the landlord has a change of mind and the artist and his magic world are to be evicted. A huge hullabaloo follows where the public take it as a disgrace to the image of  local affairs, and the matter is even discussed in Parliament. The Ministry of Culture, as well as Mr. V. Klaus, reject the possibility of any guardianship and the stress of it all causes Reon to withdraw into another period of intense creative time.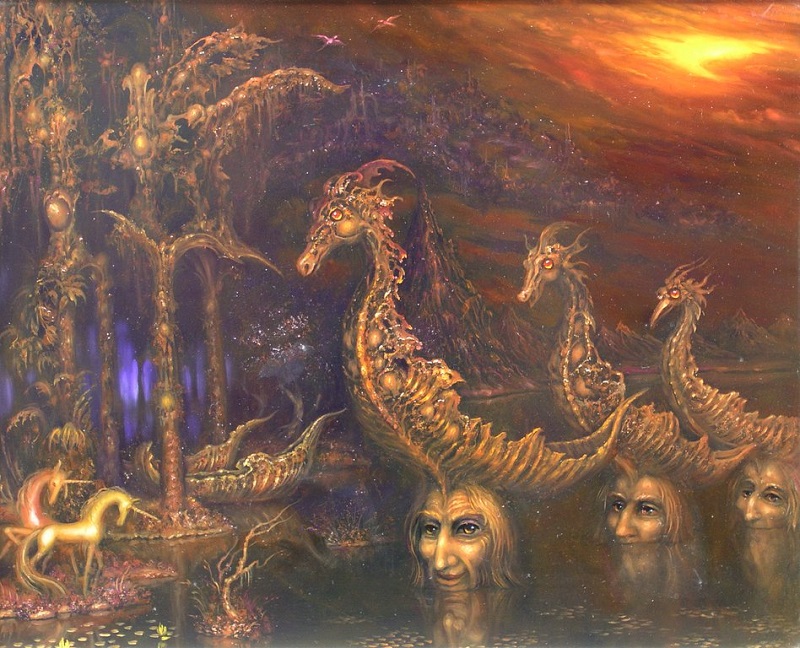 Such hermitage gives the artist new strength and he rebuilds, this time in a three story house located in Petřín. In the spring of 25, his new Magical Cavern is opened to the public.
The premises are mostly filled with new paintings and this new gallery is visited by an average of 10,000 visitors per year. But Reon continues to create and has received numerous commissions to produce much larger formatted paintings which are being exhibited at Czech castles, and other such facilities across Western Europe.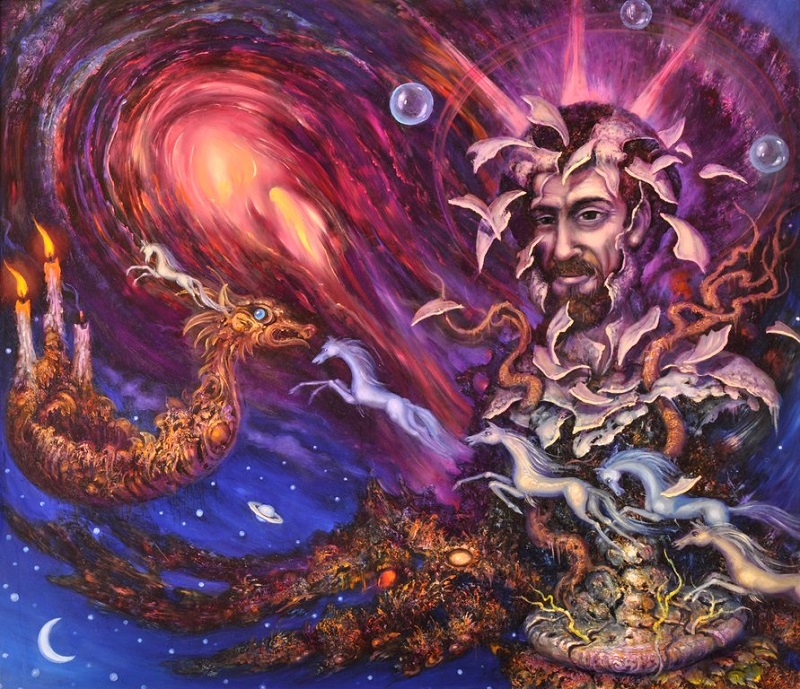 Some may call Reon and old eccentric artist, but his cave-like fantasy world is truly magical and a testament to his life's work and devotion to his art. Reon claims that each piece in the Magical Cavern was inspired by a personal vision and not some outside inspiration, but the experience of visiting his gallery may be the closest anyone has ever come to visiting the realms of fantasy.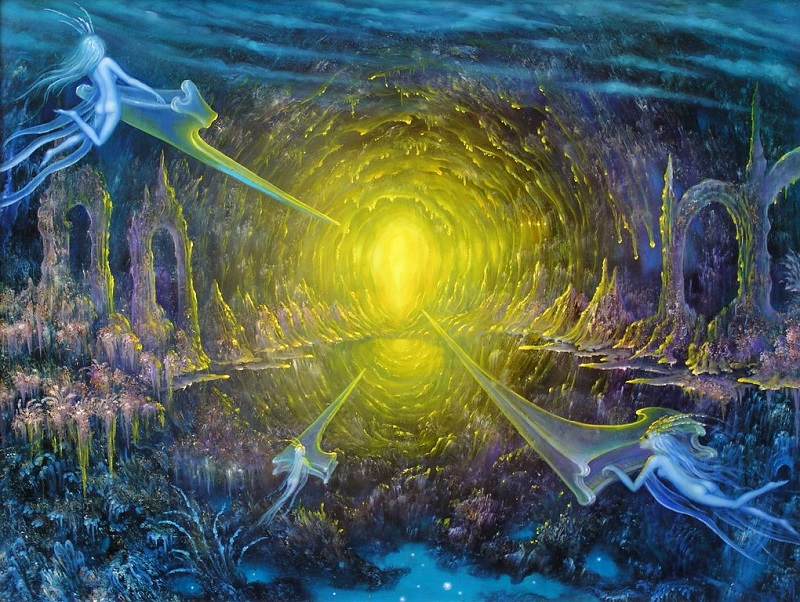 Inside the Magical Cavern, Reon has covered every wall with colorful hand-sculpted facades, making the interior of his house into an otherworldly cave system, his magical Argondia. Every surface has the rough natural look of stone accented by large, decorative roots, jutting out at irregular angles. As you walk through, exploring every nook and cranny, you will notice that not an inch of the place is without swirling color and exact detail.
In truth, the experience of visiting this gallery is what Reon has always hoped for, it is as though we too are stepping into a fairy tale world, his vision of Argondia that his art makes us see is real.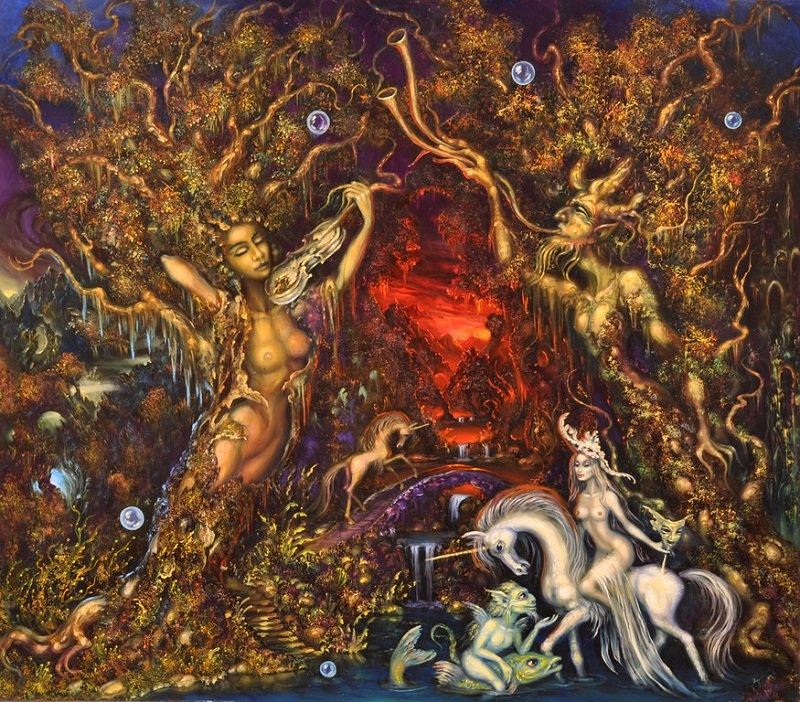 Reon claims that each piece in the Magical Cavern was inspired by a personal dream or vision. He paints primarily using two specific techniques, Renaissance and "A la prima".
The Renaissance technique is what Reon learned in his young years as a restorer of paintings of the old masters when he lived in Lucerne. The painting is created by several (usually 3) superposed layers of paint on a tested foundation. Special wooden boards known as the "medium" are impregnated by this foundation formula. In between each layer of oil paint, there needs to be enough time for it to dry, which is usually 2-6 months, before another layer can be applied. Therefore, such a painting stays unfinished in the atelier for approximately one year together with several other paintings for the possibility of everyday creation. Paintings therefore leave the atelier in series every 1-2 years and this is also what forms the basis for new exhibitions.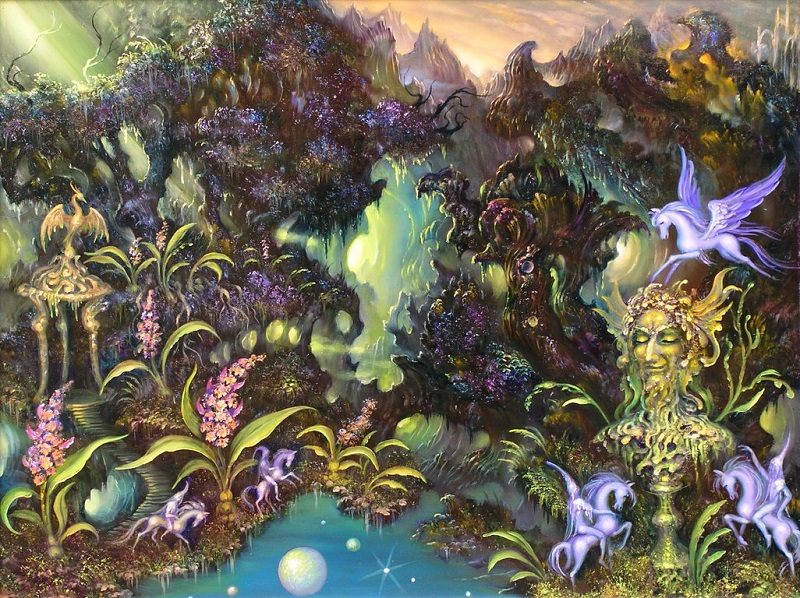 The "A la prima" technique is used by Reon as a method to relax from the time-consuming classical technique of the old masters. This technique is much more spontaneous and an expressive painting without foundation and extra layers. This is what causes it to seem to vibrate with unchained energy. Its realization is only possible before the paint starts drying to keep its lively freshness and the raw expressive energy of this technique. It doesn't require the patience of many months to finish a painting; at the expense of this it doesn't offer the possibility to show more concrete detail. It is more of a study and depiction of exploding colorful energies.
Despite the differences in the creation process, Reons paintings made using both of the techniques can be put together at exhibitions and it works with magical effect which his fans and supporters love.
The Magical Cavern on Petřín Hill is not just an art gallery but it is also a unique piece of art in itself. The place has a very special atmosphere and there are places to sit and enjoy a nice drink where both alcoholic and non-alcoholic beverages are offered at no additional costs.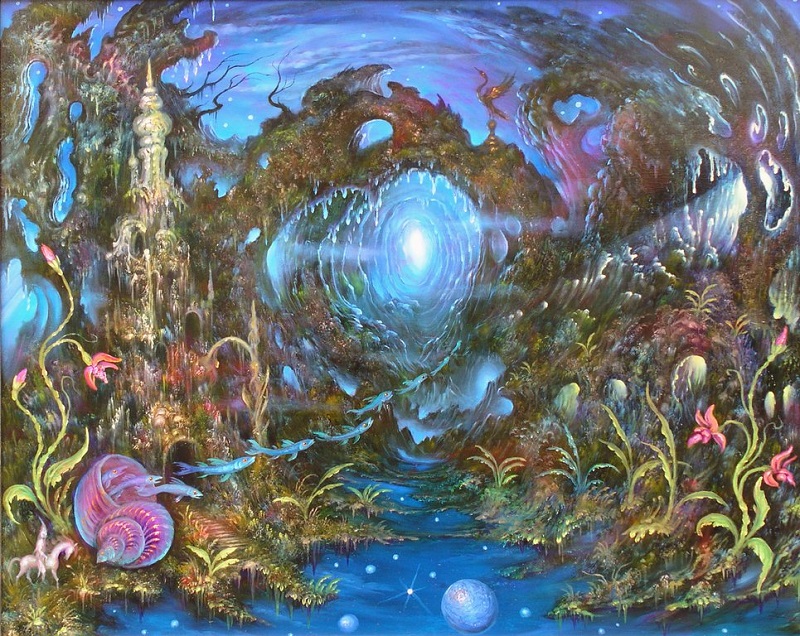 When in Prague, we definitely recommend a visit to this artists residence and studio, a magical place where you will surely leave feeling like you have just stepped out of a fairy-tale. And if your journeys do not take you to Prague, we invite you to visit his portfolio online to see more of his incredible dream-like works of art.
Note: TripAdvisor reviews repeatedly mention the ticket taker, and door man being a bit odd and sometimes making advances at the ladies at the Magical Cavern. They warn of the intense climbing of stairs and tight feeling nooks and crannies, and therefore, this is not recommended for those with physical limitations. Could it be that in his odd eccentricity, that Reon himself is the one meeting and greeting the tourists and that they don't understand that he is the creator of this strange world? In any case, ladies – we recommend you go with a male friend or in a group. No one likes a dirty old man, whether he works there or is the artist himself, and that said, I would also avoid the free drinks being served. Some have said that indulging might make this more like "a trip down the rabbit hole in Alice in Wonderland" or "a psychedelic funhouse" than the dreamlike vision of Argondia.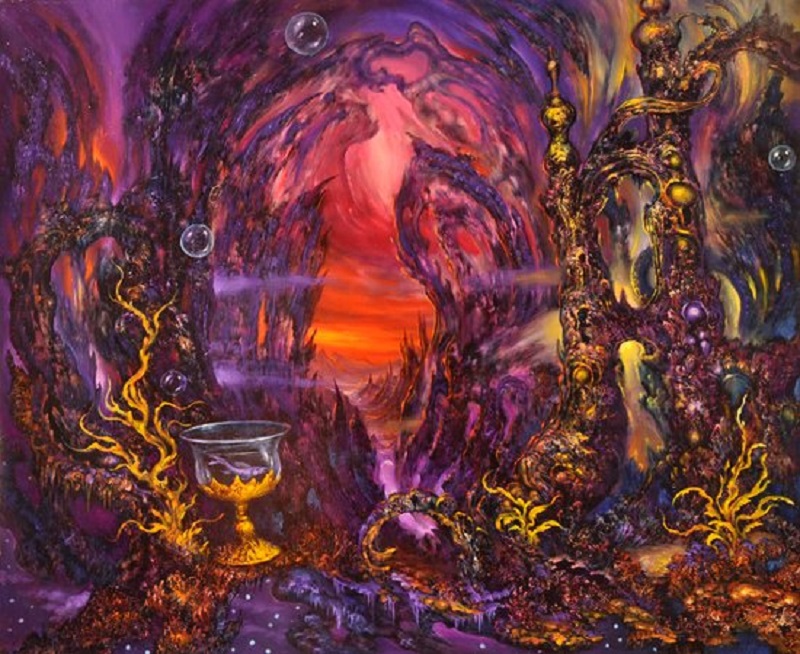 Fodor's Travel featured the Magical Cavern in its article entitled 10 Ways This European City Keeps It Weird—Really Weird about 10 Weird Things to Do in Prague. They wrote:
"Everything about the Magical Cavern perplexes and entrances, starting with why a "cavern" was built inside an old mill halfway up Petřín Hill. Pay the Renaissance faire-dressed doorman a few crowns and step inside to enter an entirely different dimension, one full of extremely buxom nude nymphs flitting across two floors of canvases, sculpture, and faux stalactites. All are pulled from the mythical land of "Argondia," dreamed up by Prague artist, Reon (actually Jan Zahradnik), and inevitably impress with the completeness of the vision and quality of work. Entry also gets you all the juice and sangria you can drink, but you'll be hard-pressed to tell the difference between the contents of the two jugs, which is perfect."
I suppose that people do not realize that the artist and the "Renaissance faire-dressed doorman" are one and the same – as the Magical Cavern is Reon's home as well. And the video above, with it's strange lighting and soundtrack make the experience feel, well almost as eerie as the reviewers describe it. But nonetheless, the Magical Cavern is overflowing with imagination and surprises and Reon's eccentric paintings and sculptures do seem to jump off the walls at you. In fact, there is barely an inch of this cavern which is not adorned with bright, twirling colors.
While this gallery may not be to everyone's taste, for those who are interested in trying something which is more than a little unusual, we do recommend The Magic Cavern because all weirdness aside, to learn of his history and to see the detail up close of the unique art he creates, is to see the eccentric art of a master. Besides, the everyone knows that the Bohemian capital has a long-standing taste for the bizarre anyways, so finally, Reon is at home.
To find The Magic Cavern, you should first take the tram to the stop Ujezd. From here you can choose to take a walk up Petrin hill (which we highly recommend for the stunning views) or you can take the funicular from the base of the hill to the half way point (Nebozizek). The Cavern is open everyday from 10 am-10 pm and the entrance fee is only 70CZK.
Visit the artists website or if in Prague, the address follows…
Magical Cavern
Petřínské sady 417/5,
110 00 Praha 1
Thank you in advance for your support…
We know that you could spend hours, days, weeks and months finding some of this information yourselves – but at this website, we curate the best of what we find for you and place it easily and conveniently into one place. Please take a moment today to recognize our efforts and make a donation towards the operational costs of this site – your support keeps the site alive and keeps us searching for the best of our heritage to bring to you.


Remember, we rely solely on your donations to keep the project going.
We appreciate you more than you know!
If you have not already subscribed to get TresBohemes.com delivered to your inbox, please use the form below now so you never miss another post.