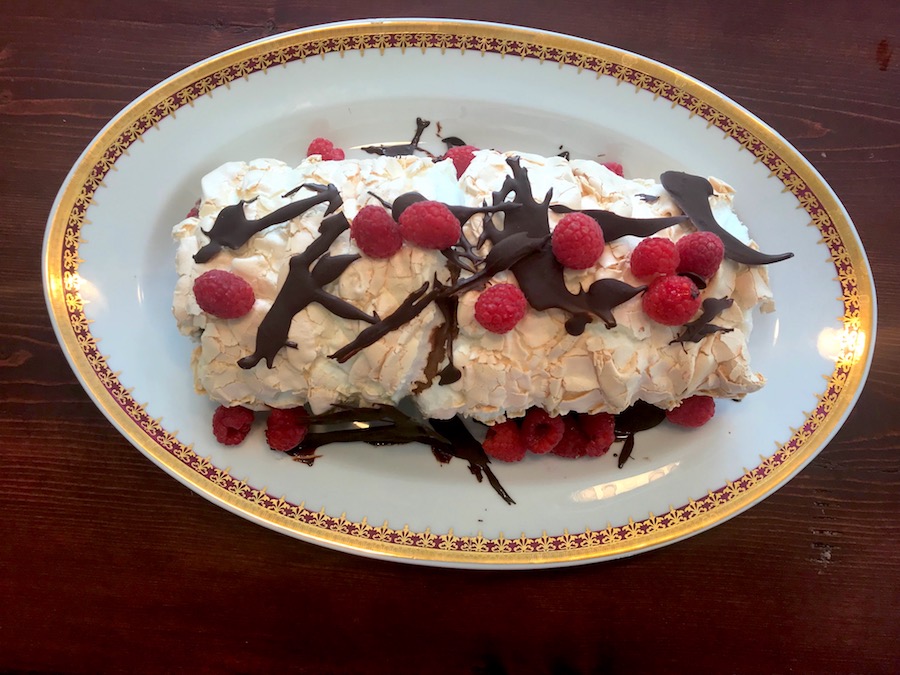 Rolls are a very popular dessert style all around the world, but especially in many parts of Europe. Some are made of sponge cake, others pastry dough, but our favorite is a meringue roláda. The fillings of these rolls can also differ depending on the culture and personal preference.
In this recipe we will be making a chocolate raspberry whip cream filling.
When people think Czech roládi, the typical image that comes to mind is a very classic savory Czech dish called Španělský Ptáčky (check out our recipe here!) which are actually a delicious stuffed meat. The Czech word "roláda" seriously translates to roll in English and so it can apply to really any type of dish formed into a roll, whether it is savory like ptáčky or a classic dessert like a poppy-seed roll.
Today, we'll be sharing a very quick and easy recipe for a roláda that is not very sweet and great for parties! It is basically a meringue crust filled with fresh fruit and a rich but light chocolate cream. (Adding chocolate to the cream in optional, you can also flavor it with lemon, or simply leave it vanilla.)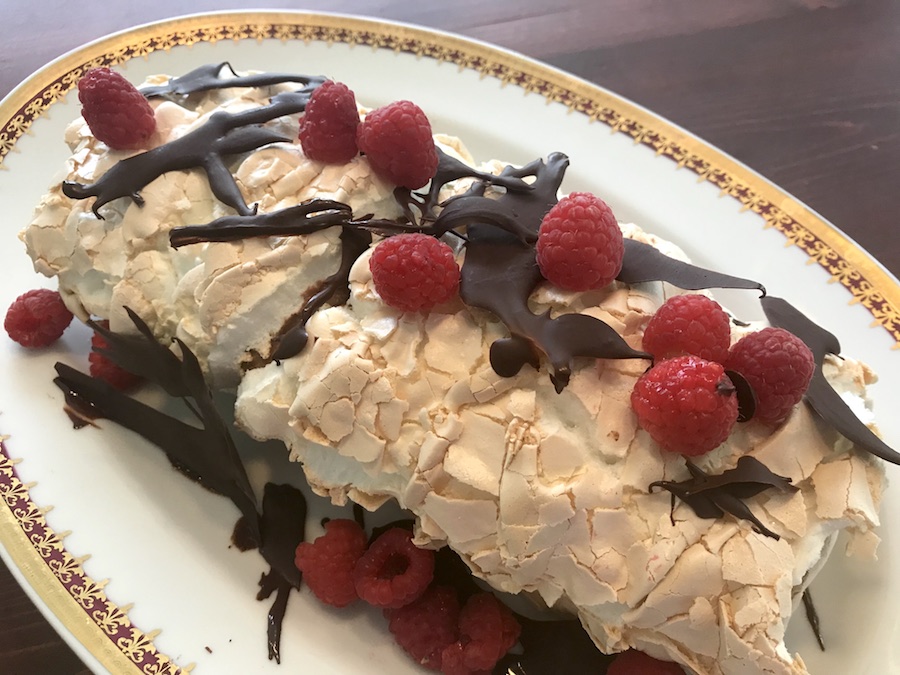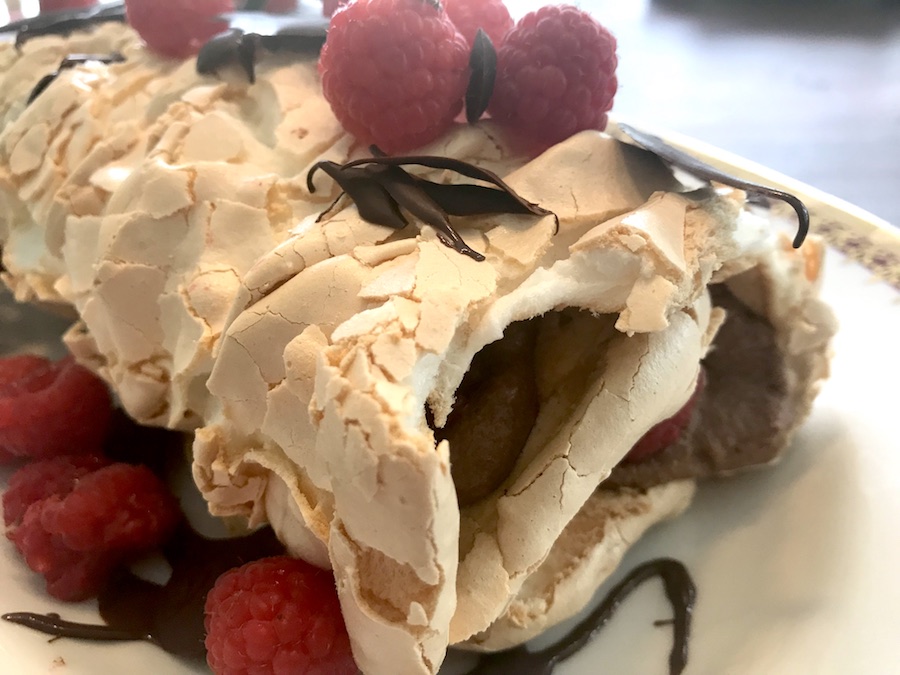 Ingredients for the meringue
4 large egg whites
1 cup sugar
1 tsp lemon juice
1 tsp cornstarch
For the filling
100g dark chocolate
1 cup heavy whipping cream
1 tsp vanilla extract
1 package berries (plus some for garnish)
Directions
Fill half of a small saucepan with water and place a heat-safe bowl on top, break the chocolate bar into small pieces and place in bowl. Melt over medium low heat. Take a couple spoonfuls and drizzle over a piece of parchment then place in freezer. Stir 1/4 cup milk and vanilla extract into the rest of the chocolate and remove from heat to let it cool down.
Meanwhile in another bowl, beat the remaining milk with a electric whisk on high until stiff peaks form. Now combine with the melted chocolate mixture until well combined. Place in the refrigerator till ready to use.
Whisk egg whites, lemon juice and cornstarch together and then gradually add spoonfuls of sugar until it becomes stiff peaks (around 5/10 minutes of beating with the whisk on high). Spread the meringue across half of a baking sheet lined with parchment paper and bake for 20 minutes on 320 Fahrenheit.
Pull tray out of the oven and let cool 15 minutes, then flip over onto another piece of parchment paper and spread evenly with the chocolate whipped cream sprinkle with raspberries or any other berries you would like.
Roll the meringue and top with raspberries, frozen chocolate pieces and powdered sugar if desired. Let sit in the fridge about 20 minutes before slicing.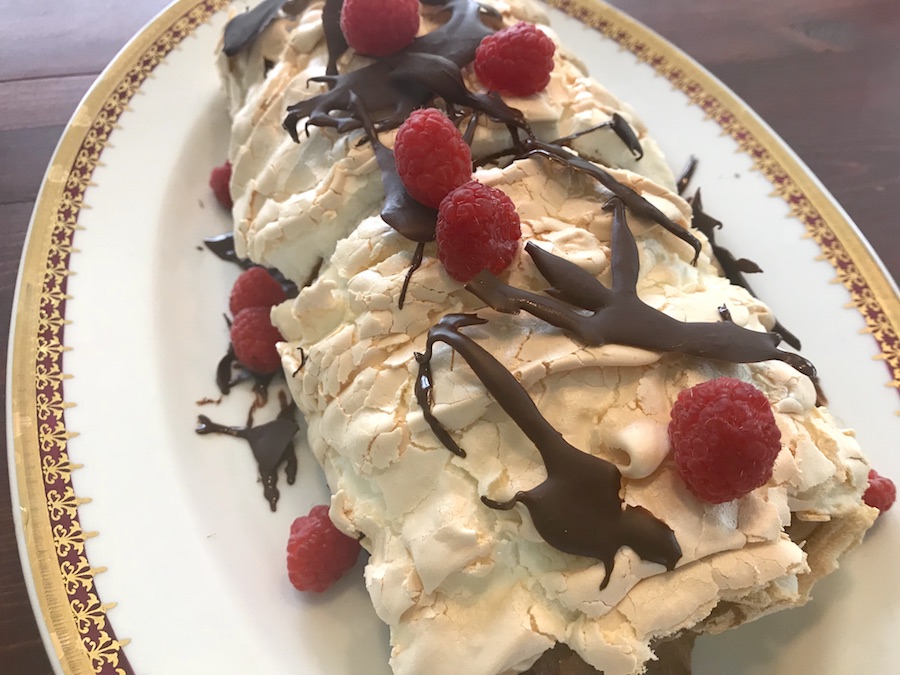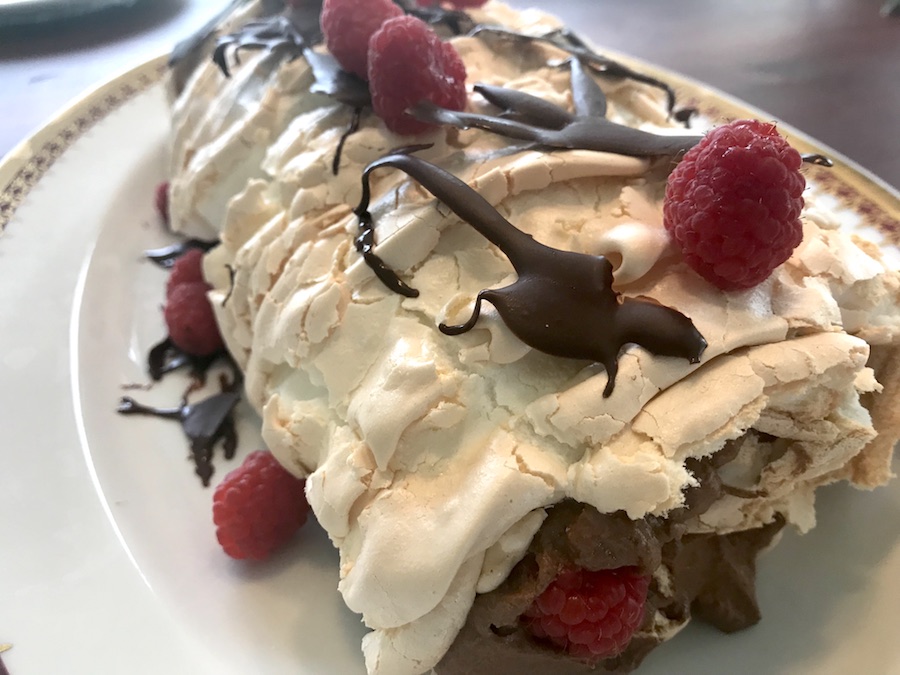 If you have not already subscribed to get TresBohemes.com delivered to your inbox, please use the form below now so you never miss another post.
---
Remember, we rely solely on your donations to keep the project going.
Become a friend and get our lovely Czech postcard pack.