Growing up, I ate Španělský Ptáčky (Czech Spanish Birds) thinking they were really some poor little birds from Spain that somehow made it into our kitchen and on to my dinner plate. I never would have guessed that their recipe goes all the way back to the 16th Century!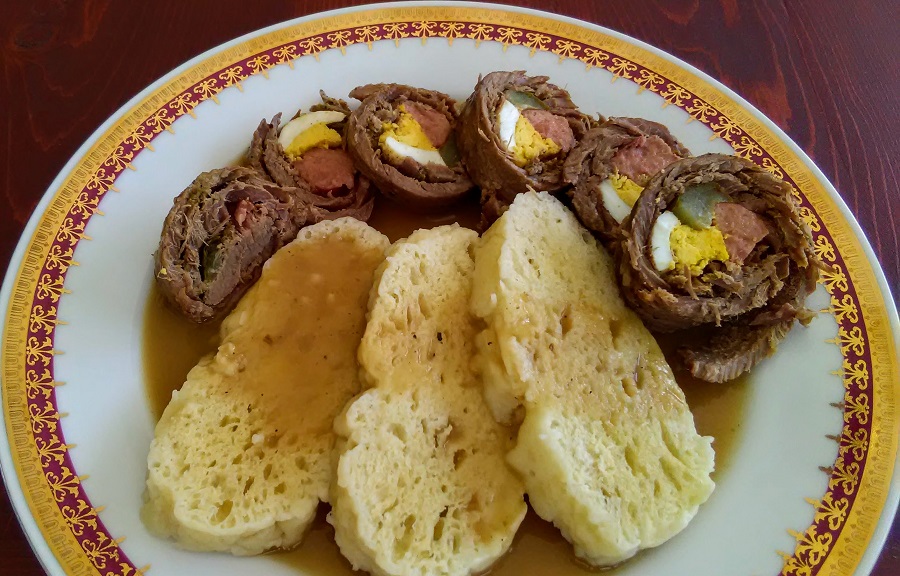 You see, Maria of Spain and Maxmilian II, Holy Roman Emperor and King of Bohemia (crowned in Prague on May 14, 1562) had a son. In fact, the couple had sixteen children during the course of a twenty-eight-year marriage.
Their son, Rudolf II, was born on July 18, 1552 (and died on January 2, 1612). He was also Holy Roman Emperor (1576–1612), as well as King of Hungary and Croatia (as Rudolf I, 1572–1608), King of Bohemia (1575–1608/1611) and Archduke of Austria (1576–1608). Additionally, he was a member of the House of Habsburg. Rudolf especially loved Španělský Ptáčky.
Maria, giving birth to all of those children was known for her tastes in food and she was most particular about the culinary creations in their house. When she found a chef she liked, she would have him accompany her, wherever they would travel and cook for the royal family. Mostly, she brought chefs from her native Spain.
A very impressive and popular dish which was served at the royal banquets was a beef or veal steak which was rolled and when cut, showed the vegetables or meats stuffed inside. In other words, a roulade.
A meat-based roulade typically consists of a slice of fine steak rolled around a filling such as cheese, vegetables, or other meats. Like a braised dish, a roulade is often browned then covered with wine or stock and cooked. Such a roulade is commonly secured with a toothpick, metal skewer or a piece of string. The roulade is then sliced into rounds and served.
Of this common form, there are several notable dishes:
Spanish Bistec Enrollado, which was a fine veal or beef filled with a bacon, egg and pickled vegetable.
French Paupiette, which is a veal roulade filled with vegetables, fruits or sweetmeats.
Italian Braciole, which consists of beef, pork or chicken usually filled with Parmesan cheese, bread crumbs and eggs.
German Rouladen, which is a beef roulade filled with onions, bacon and pickles.
Polish Zrazy Zawijane are a version which date back to the 14th century, and were a favorite among Polish nobility.
and of course, Španělské ptáčky (Spanish birds), which are roulade in Czech cuisine.
The first official mention of this dish was in 1826 in a cookbook entitled Domácí kuchařka aneb Pojednání o masitých a postních pokrmech pro dcerky české a moravské (A Household Cookery Book or A Treatise on Meat and Fasting Dishes for Bohemian and Moravian Lasses) by Magdalena Dobromila Rettigová.
This book became a 19th-century bestseller and for a long time remained the only cookery book written in the Czech language. The cookbook is well known even today though most of its recipes tend to be very high on fat and carbohydrates, and generally don't fit with a modern lifestyle. But Czechs love their good and heart foods, which likely explains why the book is still being reprinted and most Czech households have one.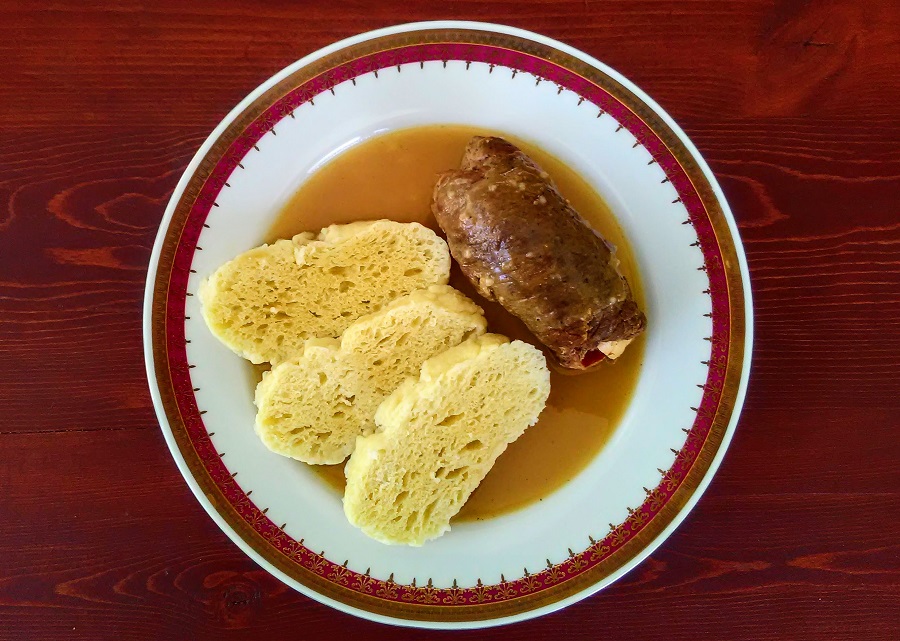 The recipe we are sharing today is based on the one in her cookbook.
Ingredients
2 large onions
8 pieces of steak or veal (we have made this with pork and it's been good, too!)
salt and freshly ground pepper
4 Tbsp. lard, fat or shortening
Filling
8 tsp. dijon style mustard
4 eggs (hard boiled, peeled and cooled)
4 pieces bacon or Polish sausage (cooked)
4 quality pickles (we use Polish pickles)
Gravy
2 – 3 Tbsp. juice from pickle jar
1 crumbled boiled egg (you can omit this)
6 cups water or beef broth
4 pieces pickle
water
2 – 3 Tbsp. all purpose flour
1 cube extra strength beef bullion
salt and freshly ground pepper
Directions
Slice the beef or veal into thin slices. We purchased ours already sliced quite thin. Using a meat tenderizer, gently use the smooth side of the mallet to beat the meat, making it thin without breaking it.
If you have not already, hard boil the eggs in salted water and allow them to cool, then slice into 4 quarters lengthwise. Slice the pickles into quarters lengthwise as well. Whether you are using bacon or polish sausage, cut lengthwise equally to be able to stuff the 'birds'.
Salt and pepper the meat and then spread 1 teaspoon of the mustard onto each piece. Then lay a slice of bacon or sausage on each. Place eggs and pickles in the middle of the slices as well and roll the slices of the meat tucking here and there to try to seal in the filling ingredients. Using kitchen twine, (I confess, I prefer thread), wind the meat rolls well and bind the ends to make the filling secure within.
Peel the onions and chop them. Heat the fat in a large heavy pan or Dutch oven which has a tight fitting lid.  Add the onions and cook on medium high heat for 6 to 7 minutes. Gently lay the meat rolls onto the golden onions and turn them in order to brown all sides. This process takes about 12 minutes.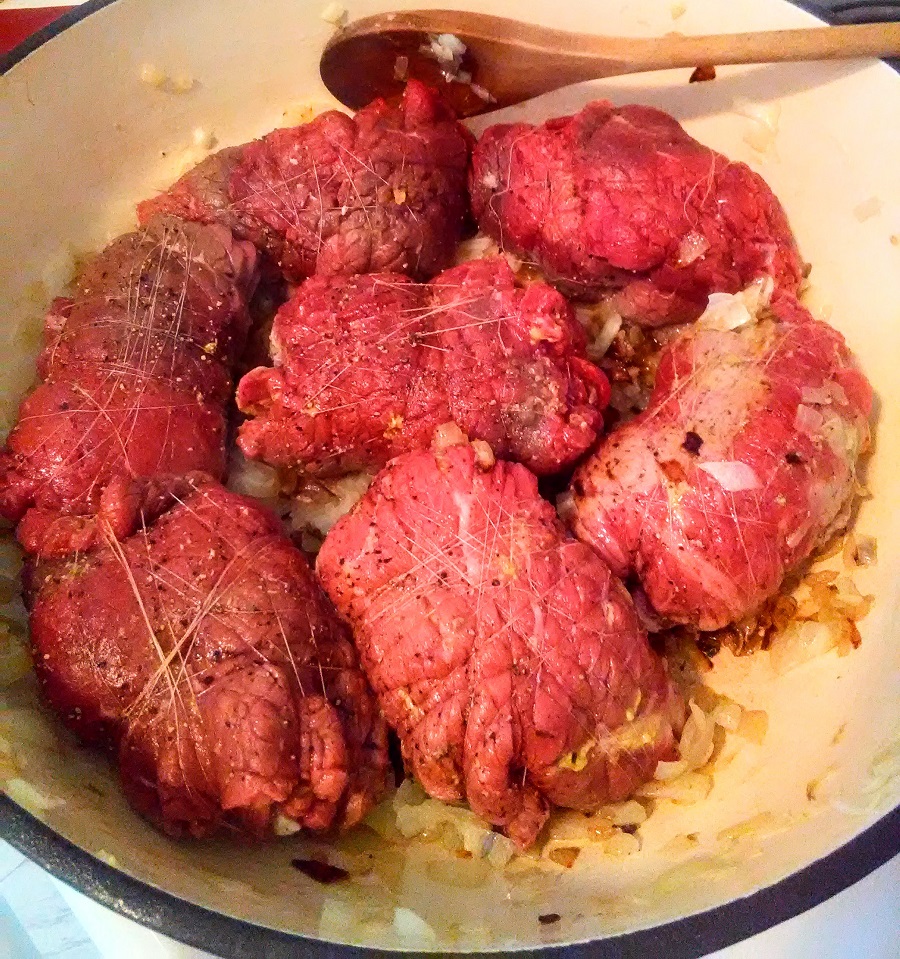 Meanwhile, boil the water or broth and add the bullion cube and mix well.
Pour the broth onto the roasted Spanish birds, stir gently and cover. Stir only occasionally and cook for two and a half hours on medium low heat.
When finished, remove the Spanish birds and make the gravy using the remaining liquid in the pot.
To make the gravy, cut the egg and pickles into small cubes. Add these to the sauce and raise heat to medium high. Add the pickle juice as well. Stir in flour, salt and pepper and stir until it begins to thicken, about 15 minutes.
At this point, I always remove the twine from the Spanish birds and gently return them back into the gravy to make sure they are warm all the way through. I taste and adjust with salt and more fresh ground pepper if needed.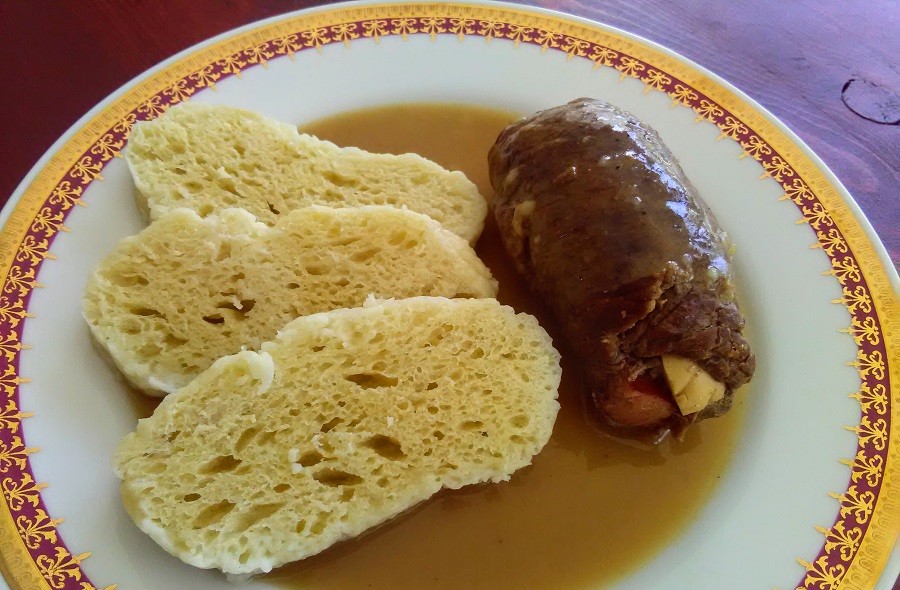 Classic Czech Spanish Birds are served with homemade bread dumplings.
Some people will also serve the dish with rice.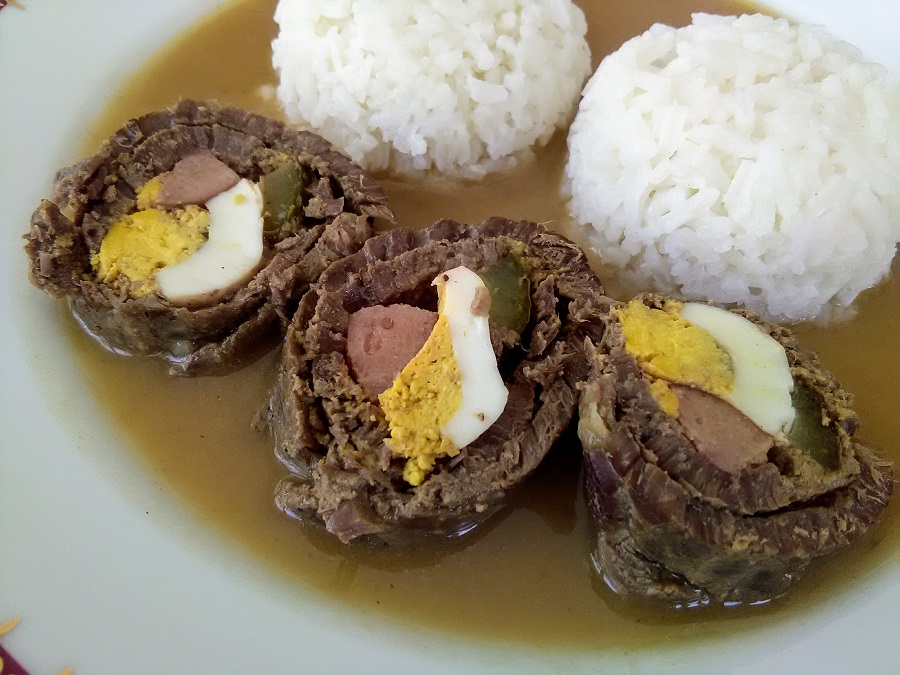 Some people like to keep the birds whole on the plate, while others plate the meat sliced, showing the colorful insides. It is really just a matter of personal preference.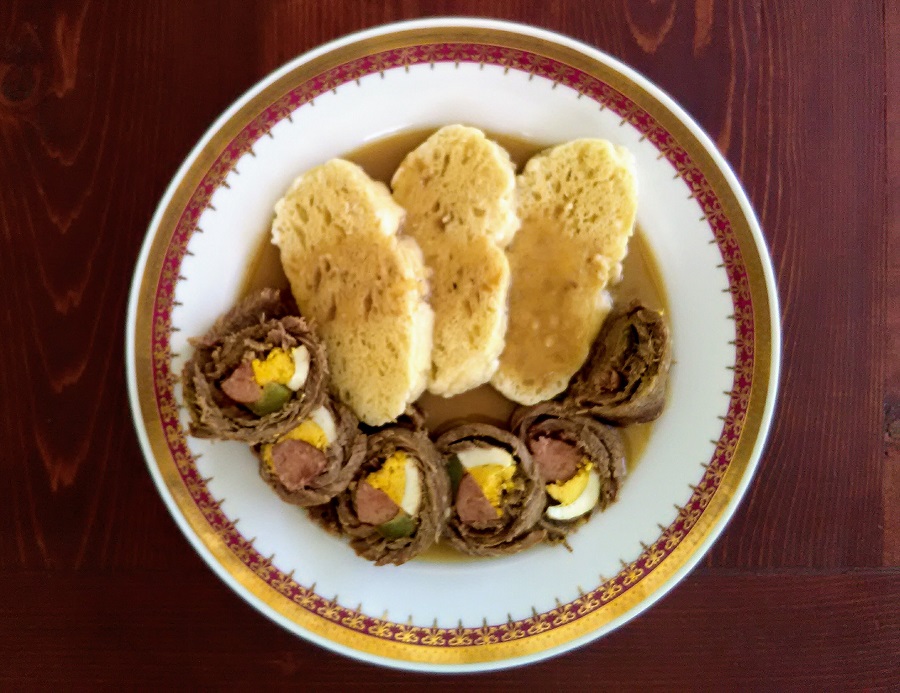 We have shared some images of both.
Let us know how you enjoyed this recipe in the comments section below and lease share if there are any dishes you would like to see here.
Dobrou Chut!
If you have not already subscribed to get TresBohemes.com delivered to your inbox, please use the form below now so you never miss another post.
---
Remember, we rely solely on your donations to keep the project going.
Become a friend and get our lovely Czech postcard pack.