TresBohemes receives many letters from all sorts of Czech and Slovak artisans, photographers, business owners, musicians, and others who want to connect with other Czechs or let the world know about their offerings. Today I have decided to share such a letter in hopes that the right set of eyes reads it and we can help Ondřej bring the gift of his music back to the United States…
His letter to TresBohemes follows:
Dobrý den/Good morning vážená paní, vážený pane.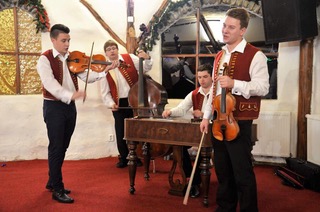 My name is Ondřej Tofel and I am from Czech Republic – Ostrava. I come from region, from where a lot of people and distant relatives immigrated to Texas hundred years ago.
My distant relatives from nearby are now living in Texas. I visited Austin and Hallettsville 4 years ago and I was really impressed by all the Czech culture that people are keeping in USA. I felt like at home.
I am writing this letter because I got an idea in Texas when I was there.
I am musician and I play a cimbalom. We have several cimbalom bands here in Moravia that play on professional level. I am attaching some photos and videos.
The idea I got in Texas was to bring our band there and play there for people and show some local traditions. The music that is presented in Texas by brass bands and similar is not exactly what we do, but of course similar songs. And people would definitely appreciate our music.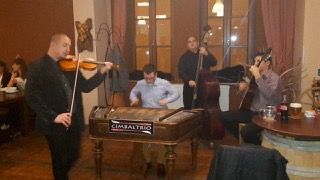 We play Czech traditional songs. As well as Slovakian, Hungarian or also world popular. The typical band consists instruments: Violin, Viola, Doublebass and Dulcimer (Cimbalom). We also have typical Moravian costumes.
My idea was to arrange concert in every city or village in Texas where Czech communities live.
What is your idea? It would be perfect to plan this concert trip this year. Maybe for the summer. We would also be happy to join some festivals. Or create with you or other musicians some cooperation.
I am going to send this email to many Czech centers and Czech people in Texas. I also have some friends in San Antonio and Hallettsville that would help us to make a plan.
Here are some videos:
Band Konopjan
Make sure to subscribe to their YOU TUBE channel.
And visit their website.
Band Cimbaltrio
I would like to keep in touch and think together about concerts and how would we go about it. I would be also happy if you share this letter and let people know or ask who can give me any ideas where we should write or whom we should contact. I would love to hear your ideas.
Thank you very much.
Your sincerely.
Ondrej Tofel
ondrejtofel@icloud.com
+420 602 508 016
======
So there you have it. A talented musician who wants to bring a little bit of the Czech experience to the United States. Who can help? Please reach out to him directly and if you know anyone who arranges performances, festivals or knows bands, please do share this post with them.
Good Luck Ondřej, we hope our sharing helps you!
If you have not already subscribed to get TresBohemes.com delivered to your inbox, please use the form below now so you never miss another post.
---
Remember, we rely solely on your donations to keep the project going.
Become a friend and get our lovely Czech postcard pack.