Karl Friedrich May (February 25, 1842 – March 30, 1912) was a German writer best known for his adventure novels set in the American Old West. His main protagonists are Winnetou and Old Shatterhand. It began with Winnetou. Winnetou, the chief of the Apache, is a legend in many countries, especially in then-called Czechoslovakia.
Fresh off the boat from Europe and looking for adventure, a young German named Charlie heads west. He finds plenty of excitement on the untamed American frontier. Whether it is an encounter with a grizzly, a hostile Indian, or a dishonest white man, he always manages to emerge victorious. He gets out of one dangerous situation after another, thanks to his quick wits, his skill with a gun, and his remarkable strength (which earns him the nickname "Old Shatterhand").
Along the way, he makes friends with an equally remarkable young Indian, Winnetou. Together, they embark on adventures throughout the West.
This classic adventure story of the American West, along with a host of other books and stories by Karl May, shaped the perception of the frontier for generations of readers.
May's books became the all-time best-sellers in Germany and were translated into many languages, including Czech. But even though his books have sold more than 150 million copies and have been translated into multiple languages, most Americans have never heard of Karl May or his stories.
In his native country Germany, Karl May's books and the characters that drive them have become part of the fabric of German culture. Just like in the U.S., many Germans grew up playing cowboys and Indians, but because of Karl May's stories, they all wanted to be the Native American instead of the cowboy.
More copies of this German tale of the American West have been printed than any other novel in German publishing history.
By the way, based on my own research, good English translations have been difficult to find – until now. I recommend this edition if you want the best version of this story for English readers.
Recently, I located a couple of the Old Surehand books in Czech.
This edition was illustrated by Gustav Krum.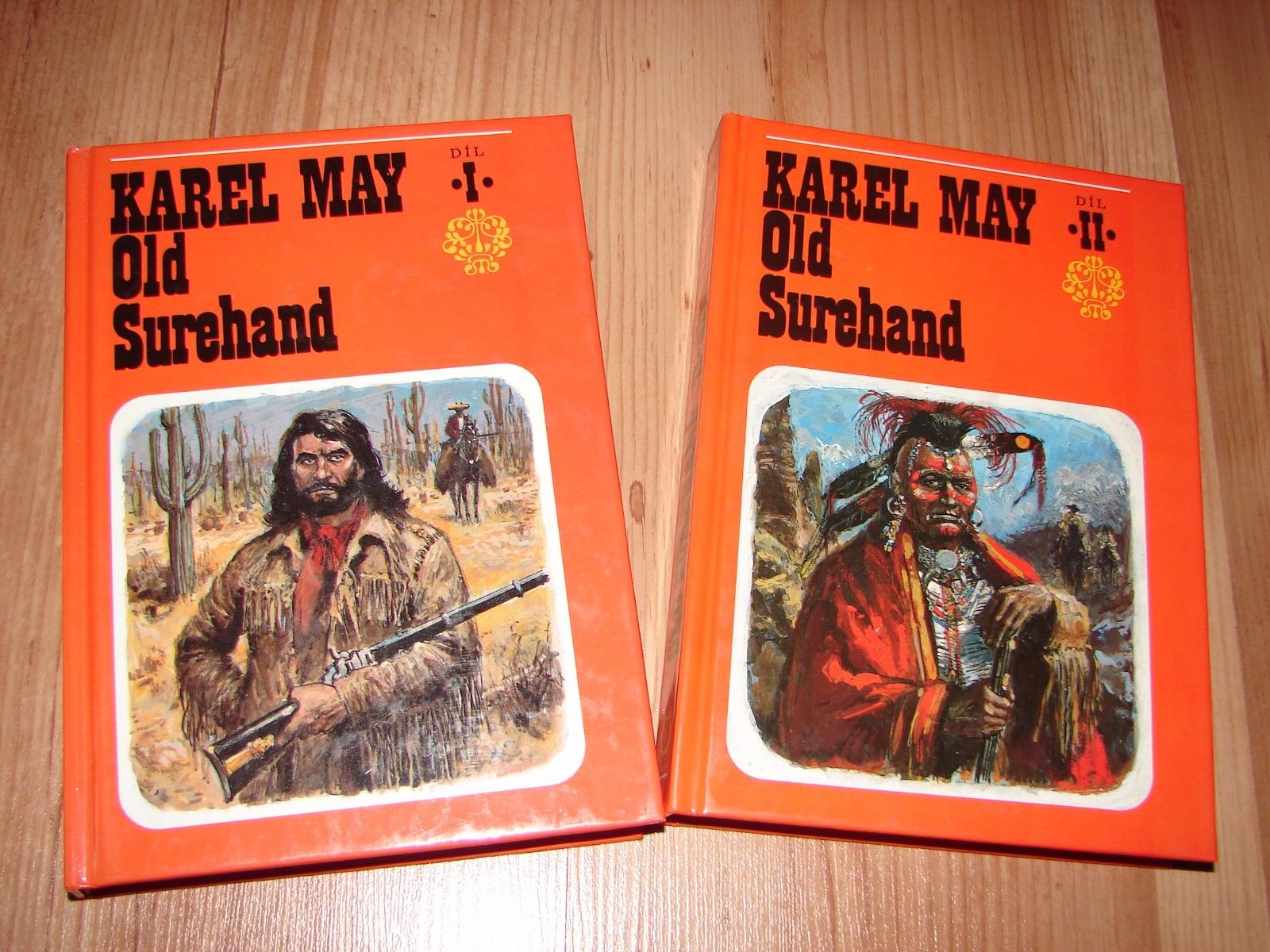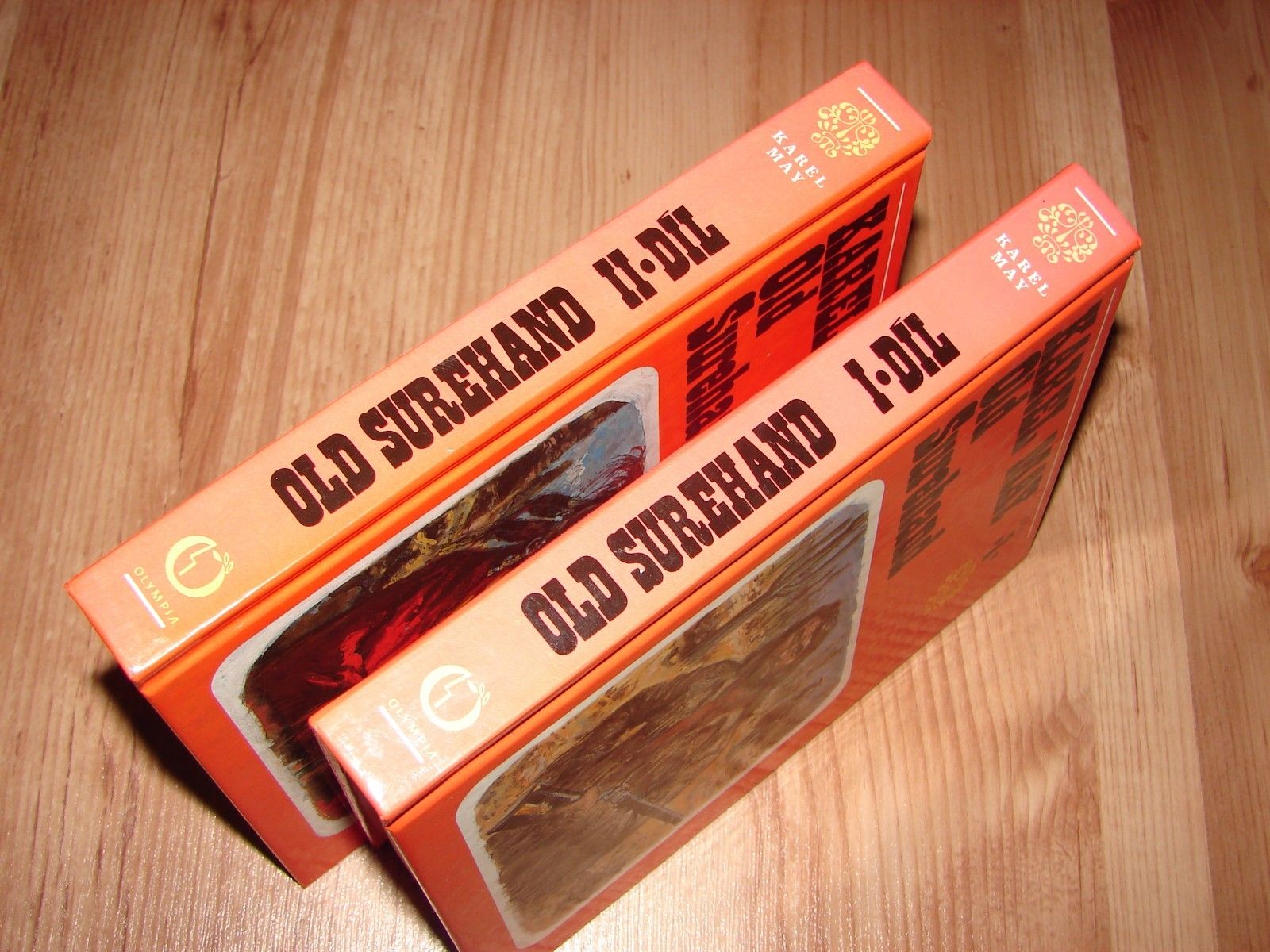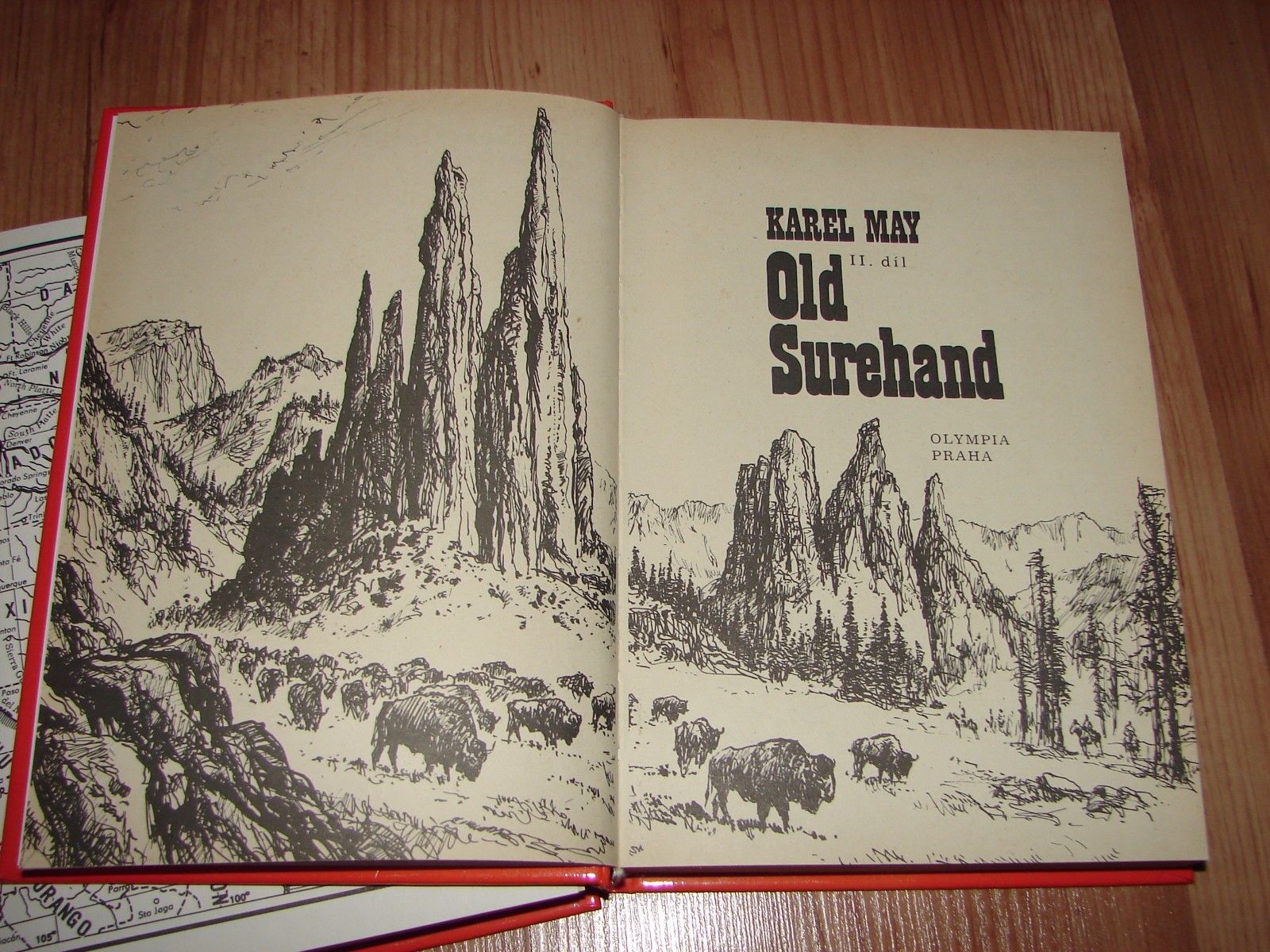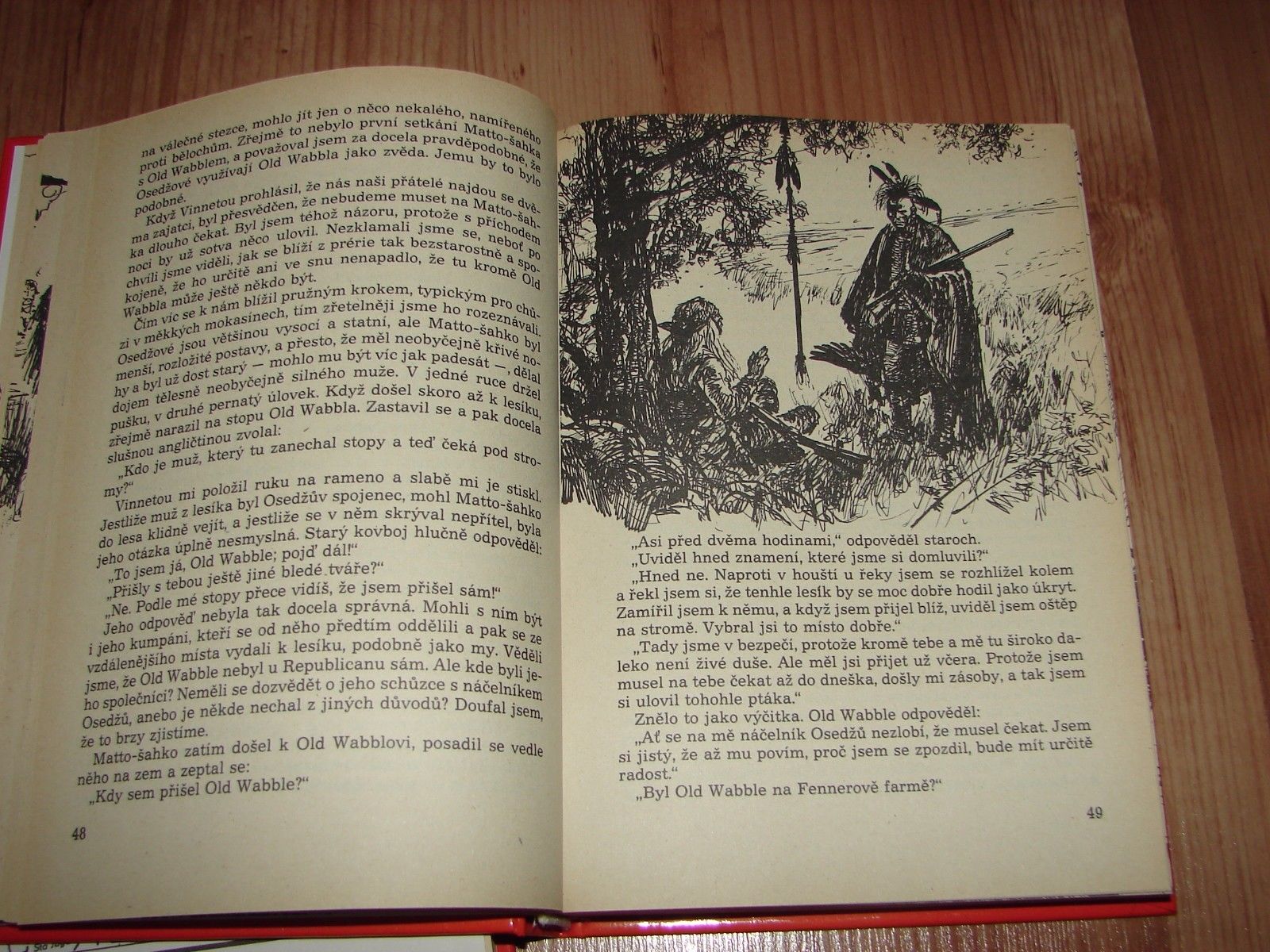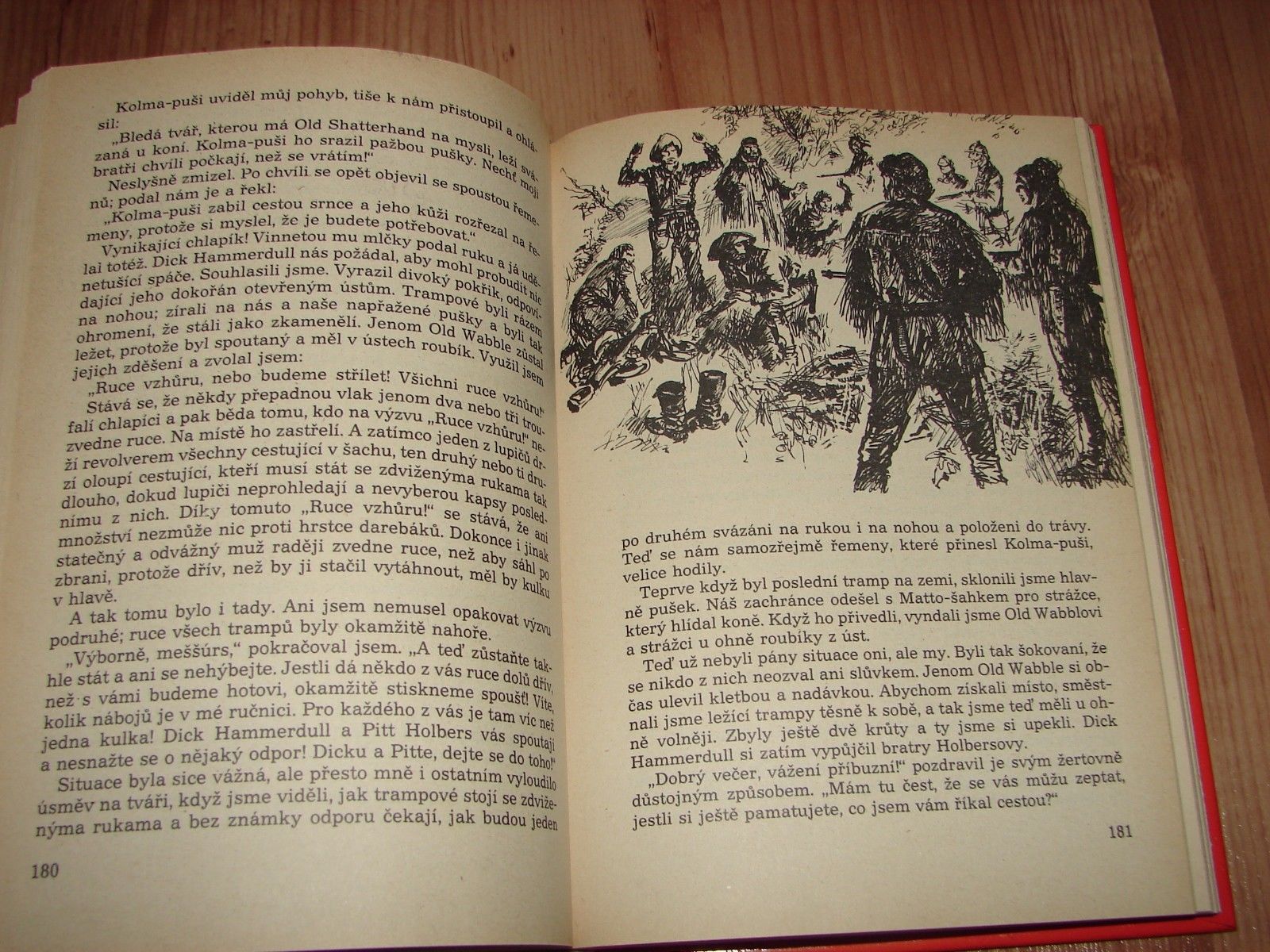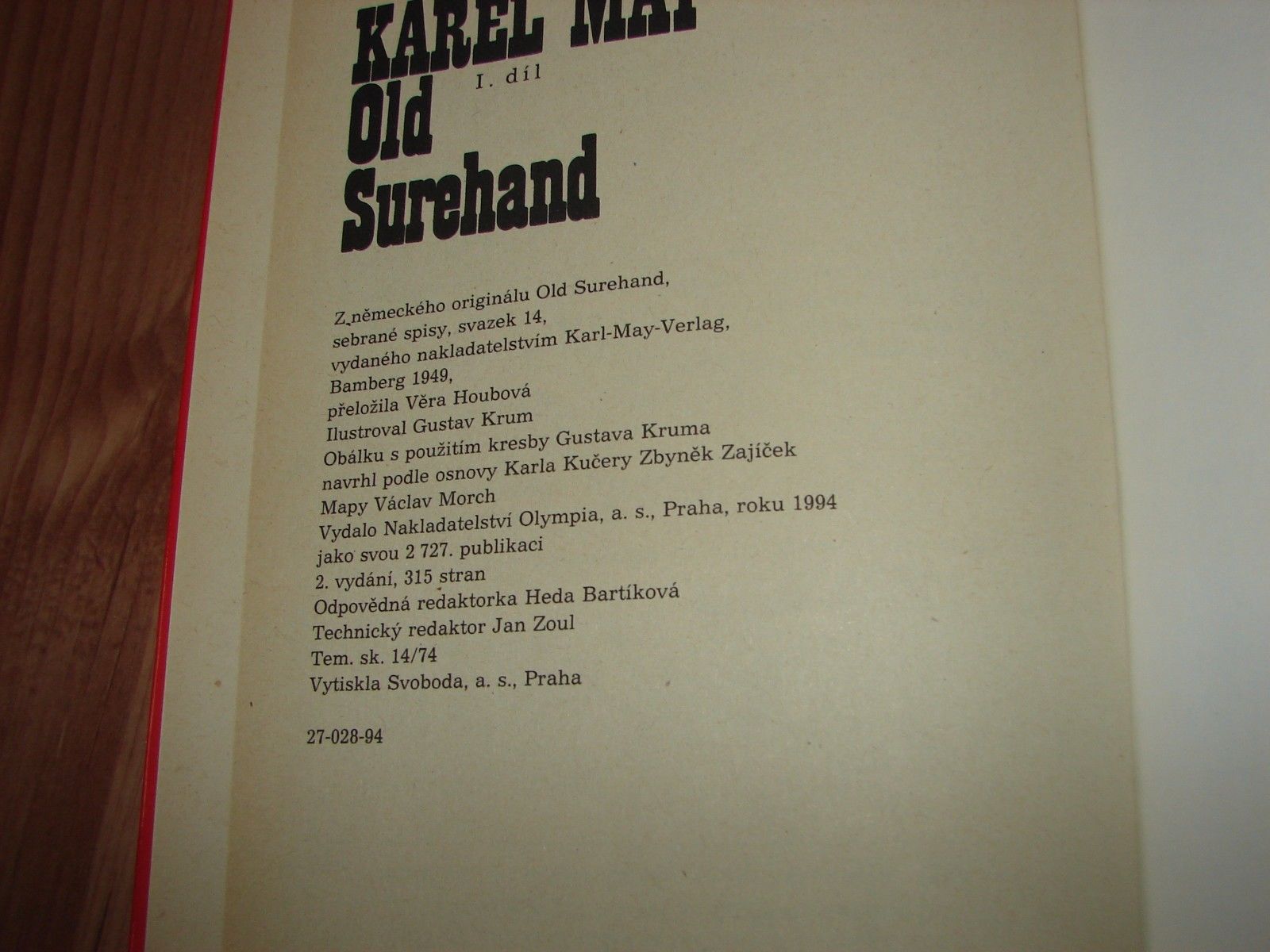 Note: Gustav Krum (May 23, 1924 – March 21, 2011) was a Czech painter and illustrator of adventure books. He was particularly famous for his illustrations (mainly for Karl May's books) and for the series of images (now used for the genre to be used as a comic book), which were based on the continuation of various magazines.
The lead characters in his books — Winnetou, a magnificent Mescalero Apache Chief, and his counterpart, a German nobleman named Shatterhand who packed a power punch (played by Lex Barker, known to many Americans for his role as Tarzan) — were like the American story of Tonto and the Lone Ranger, except in Karl May's books, the Apache was no sidekick to his white partner — no kemosabe.
He was the hero in his own right.
Old Surehand Quest I
Winnetou, Old Shatterhand and their mysterious new friend Old Surehand are on a desperate mission into the Llano Estacado to defend Bloody Fox' oasis hideaway against an attack by enemy Comanche. A note from his blood brother Winnetou calls Old Shatterhand to the desolate Llano Estacado. The Comanche are on the warpath and with hundreds of warriors plan to attack Bloody Fox' secret oasis hideaway in the desert.
During his ride Old Shatterhand crosses paths with Old Wabble, the legendary 'king of the cowboys' and together they rescue Old Surehand from the clutches of the enemy Indians. Old Shatterhand realises that Old Surehand is at the center of a desperate secret when he has an eerie encounter with an insane squaw in Kaam-Kulano.
The adventure turns complicated when a detachment of mounted white soldiers becomes involved, but together Winnetou, Old Shatterhand, Old Surehand, and Bloody Fox repel the Comanche attack by cunning and subterfuge.
When the cactus trap falls shut behind the enemy Indians, a new friend joins them-Apanatshka, a mysterious Comanche chief; but the other companion, Old Wabble, turns from friend to foe when a scoundrel known as the 'general' appears in the oasis.
Old Surehand Quest II
Winnetou and Old Shatterhand separated from Old Surehand and Apanatshka when the 'general' and Old Wabble stole their precious weapons, the silver rifle, the Henry rifle and the bear killer.
In the meantime, Old Surehand is on a mission of his own; when Shatterhand visits banker Wallace in Jefferson City, he learns that his new friend is on his way to the Rocky Mountains. The blood brothers also head for the Rockies in pursuit of villains and robbers.
Winnetou and Old Shatterhand ride with Dick Hammerdull and Pitt Holbers, the robbers' victims, as well as detective Treskow, who has unfinished business with a dangerous villain.
While spying on enemy Osage Indians, Old Shatterhand saves Apanatshka from certain death. The mystery surrounding Old Surehand deepens when another enigmatic and elusive red Indian, Kolma Putshi, becomes involved in the pursuit.
As the drama nears its end at Devils Head, the 'general' is unmasked.
Another set I found was illustrated by Zdeněk Burian.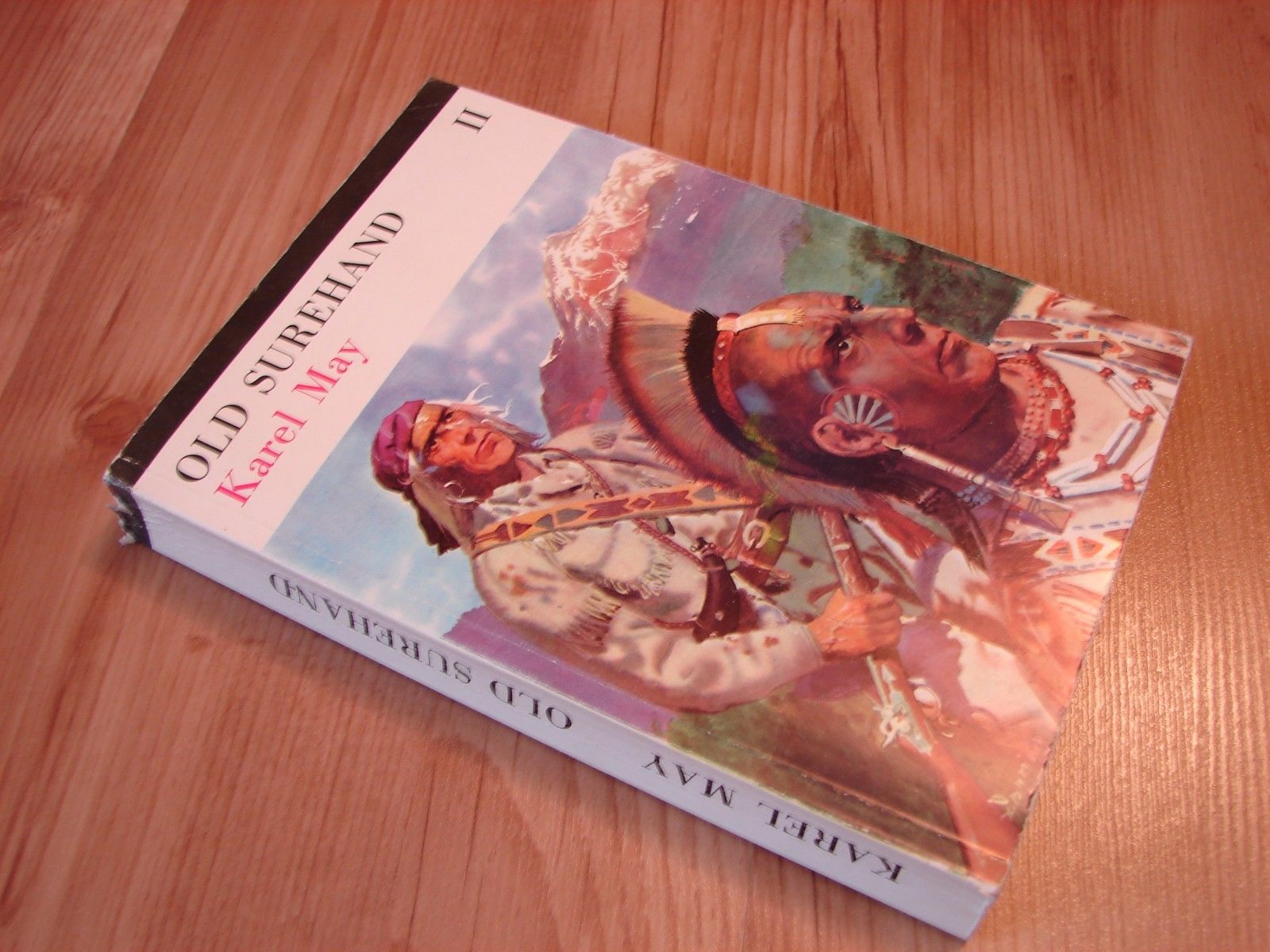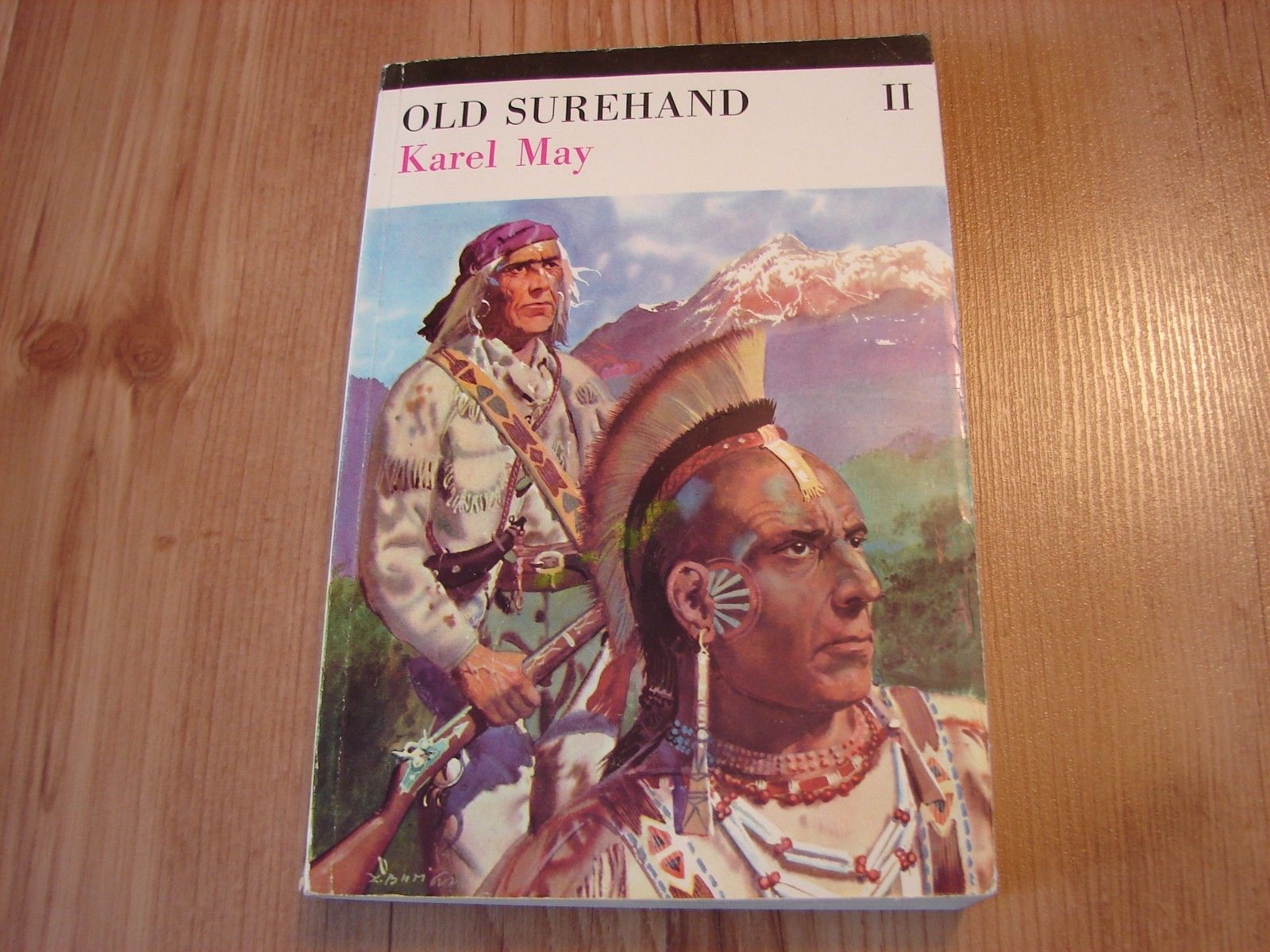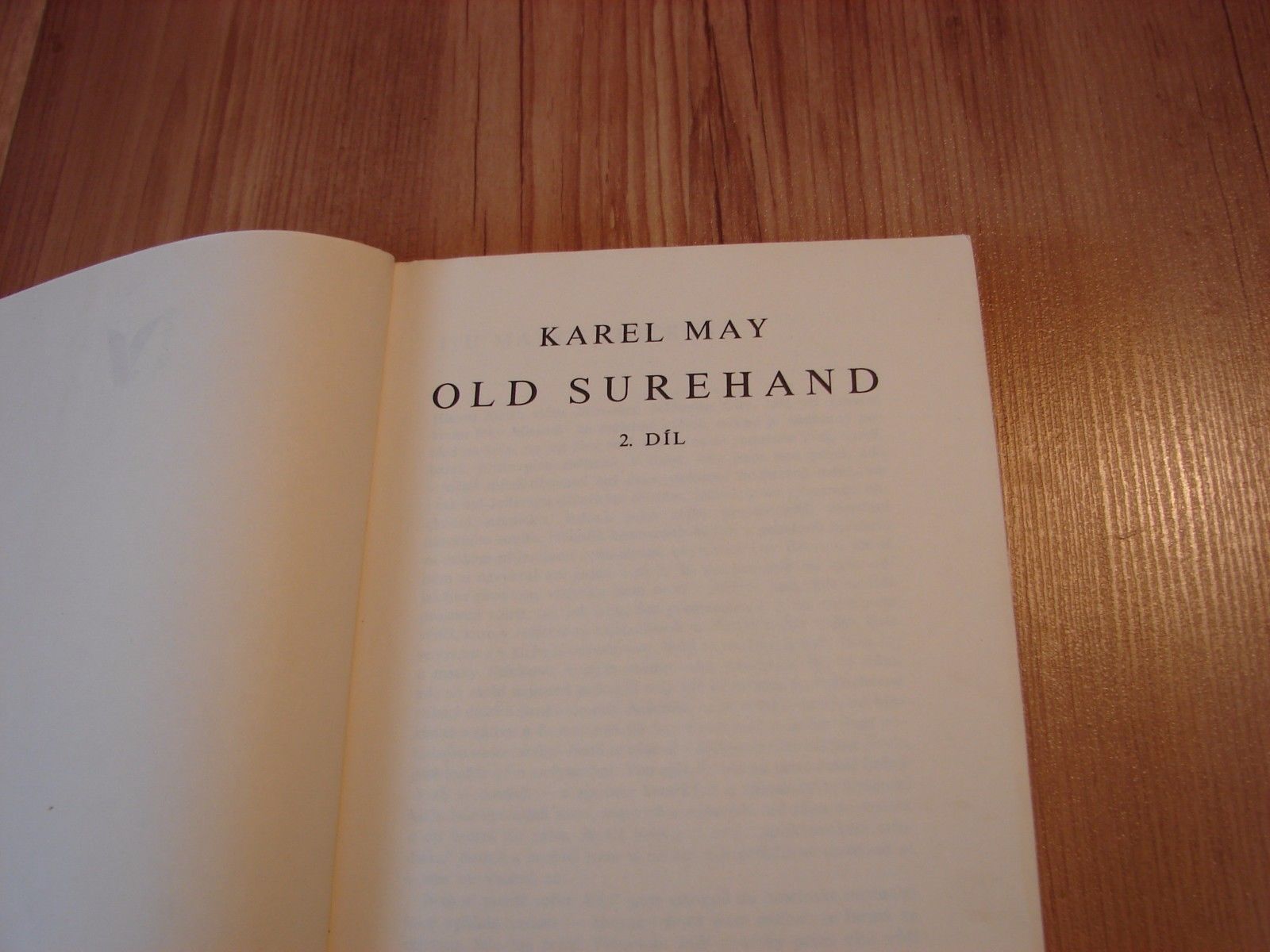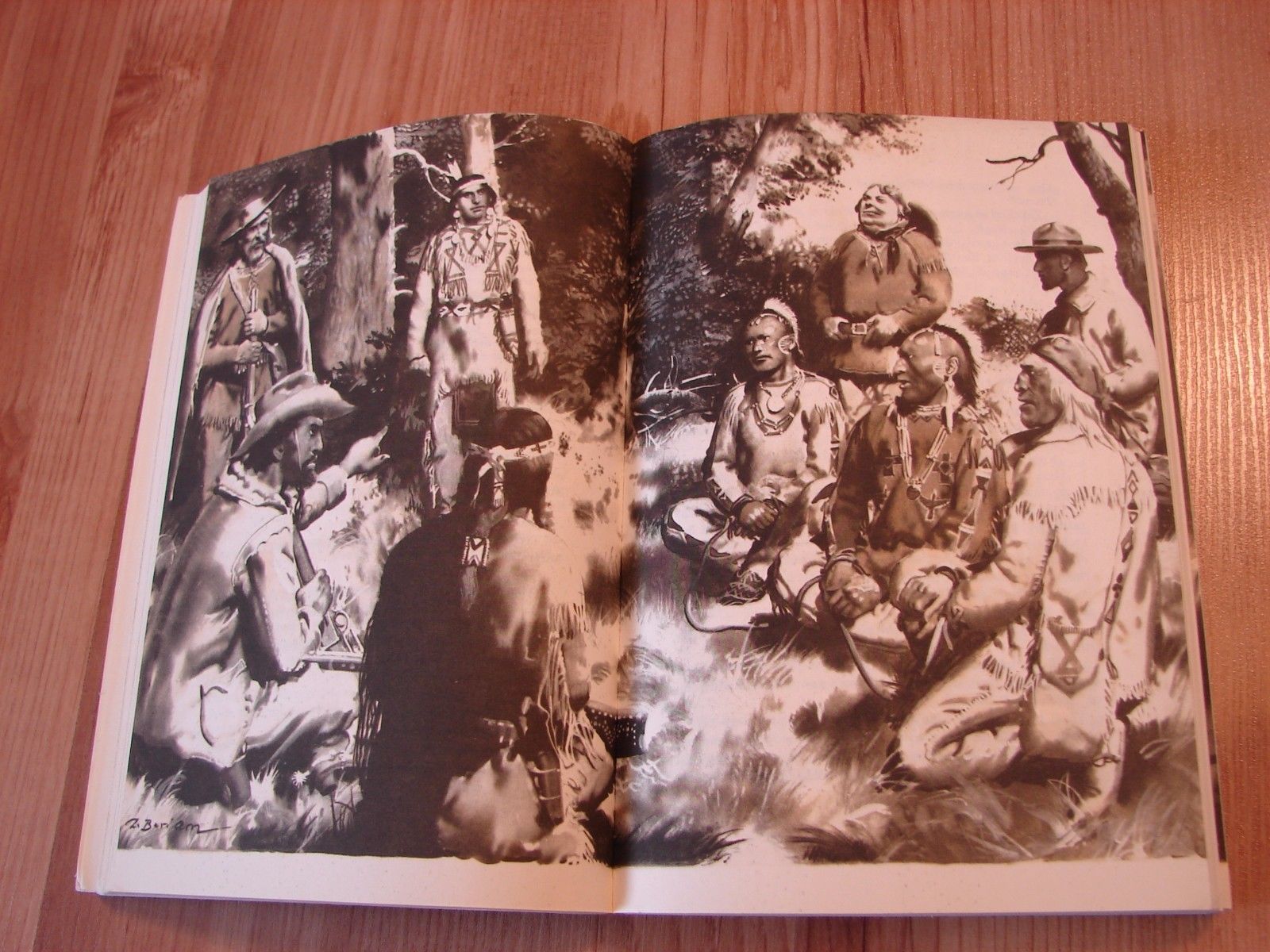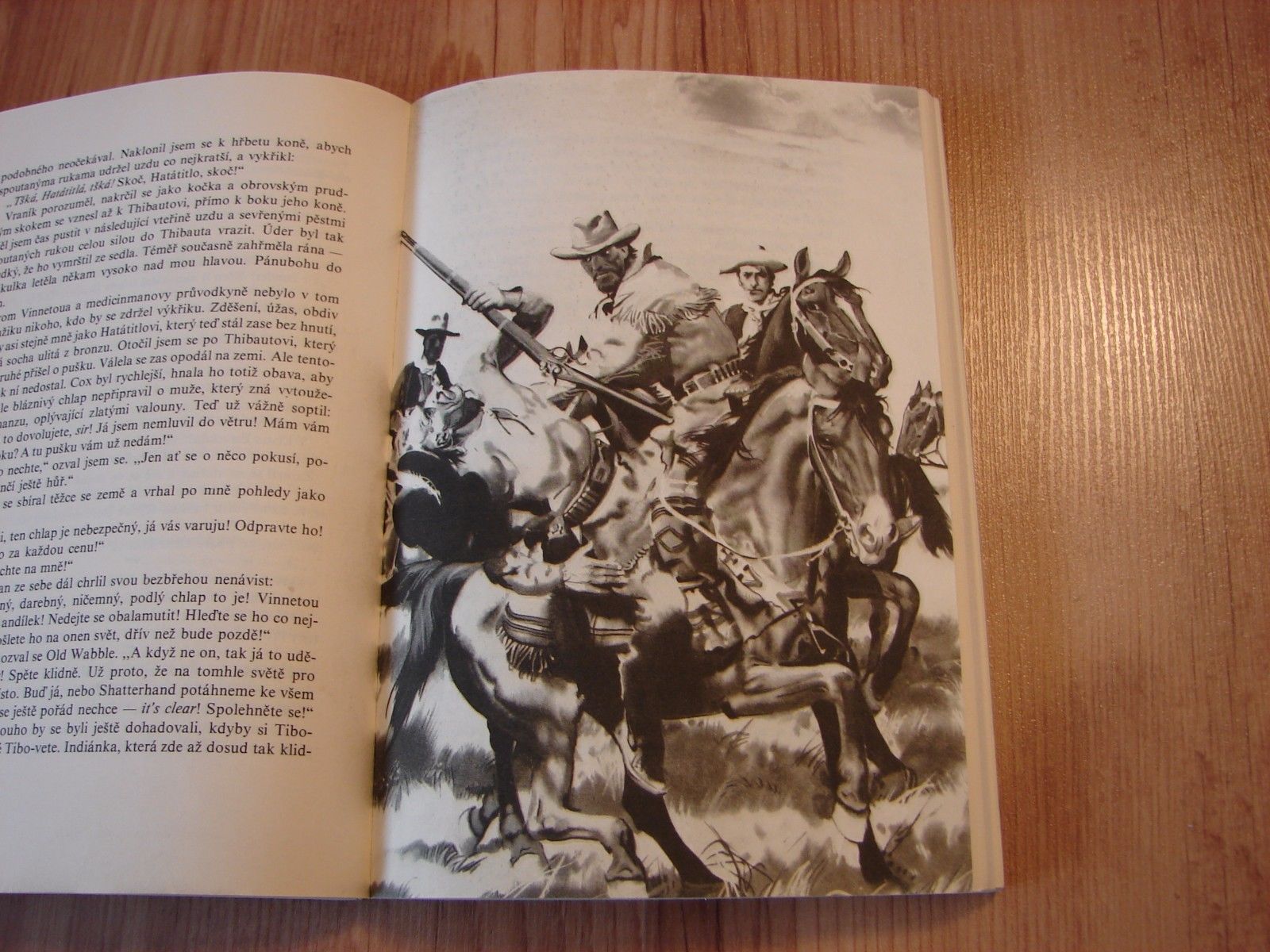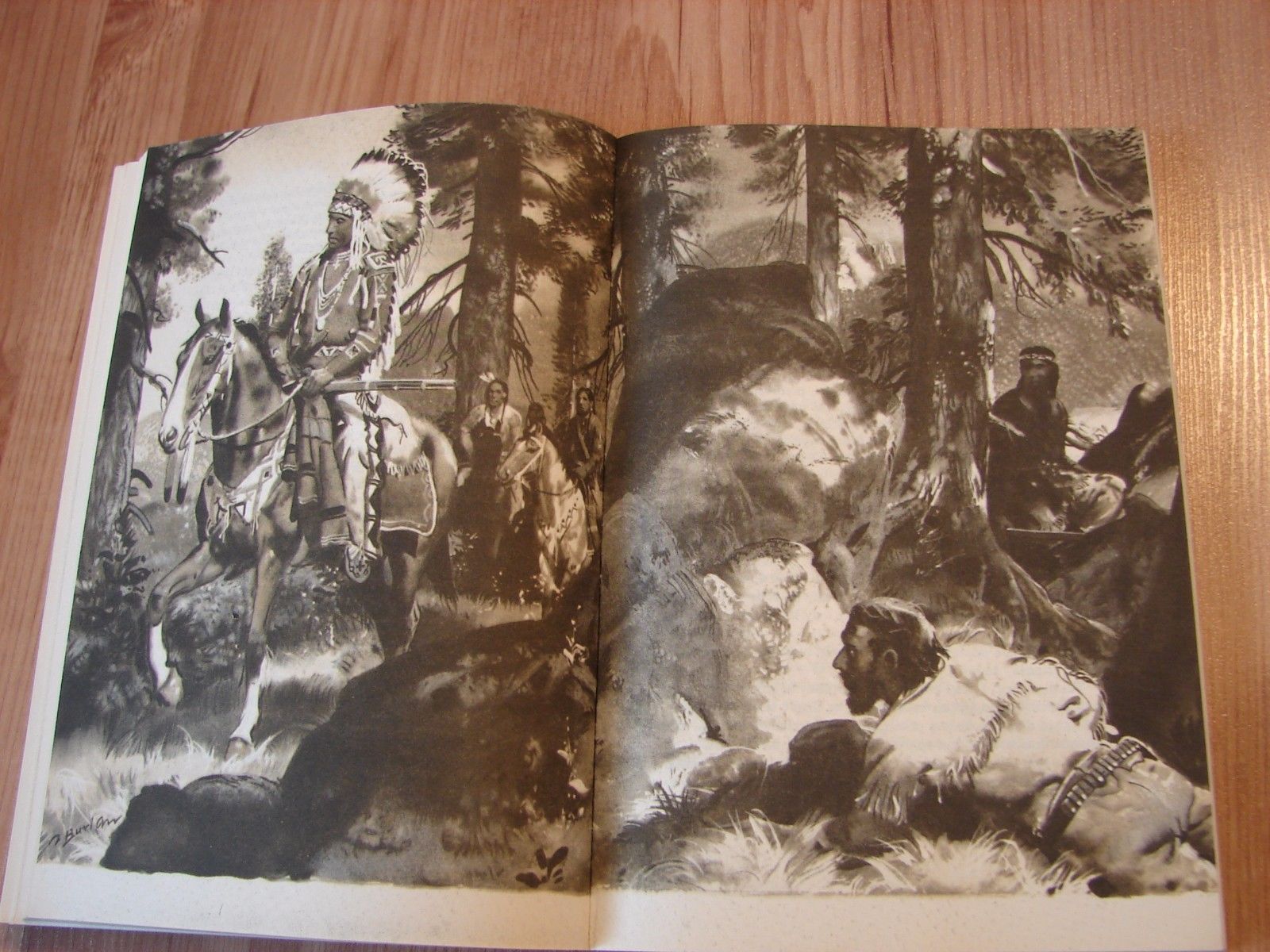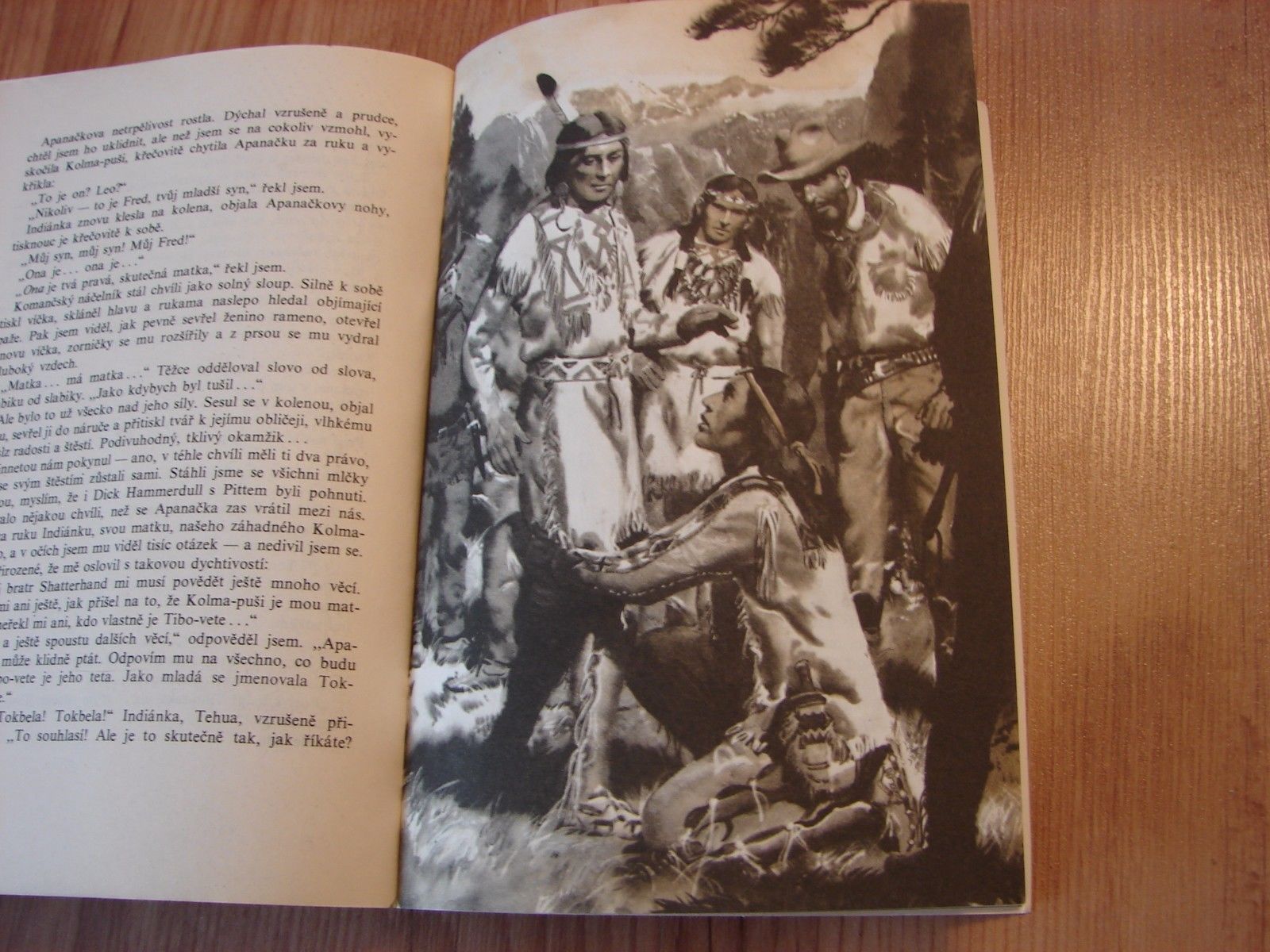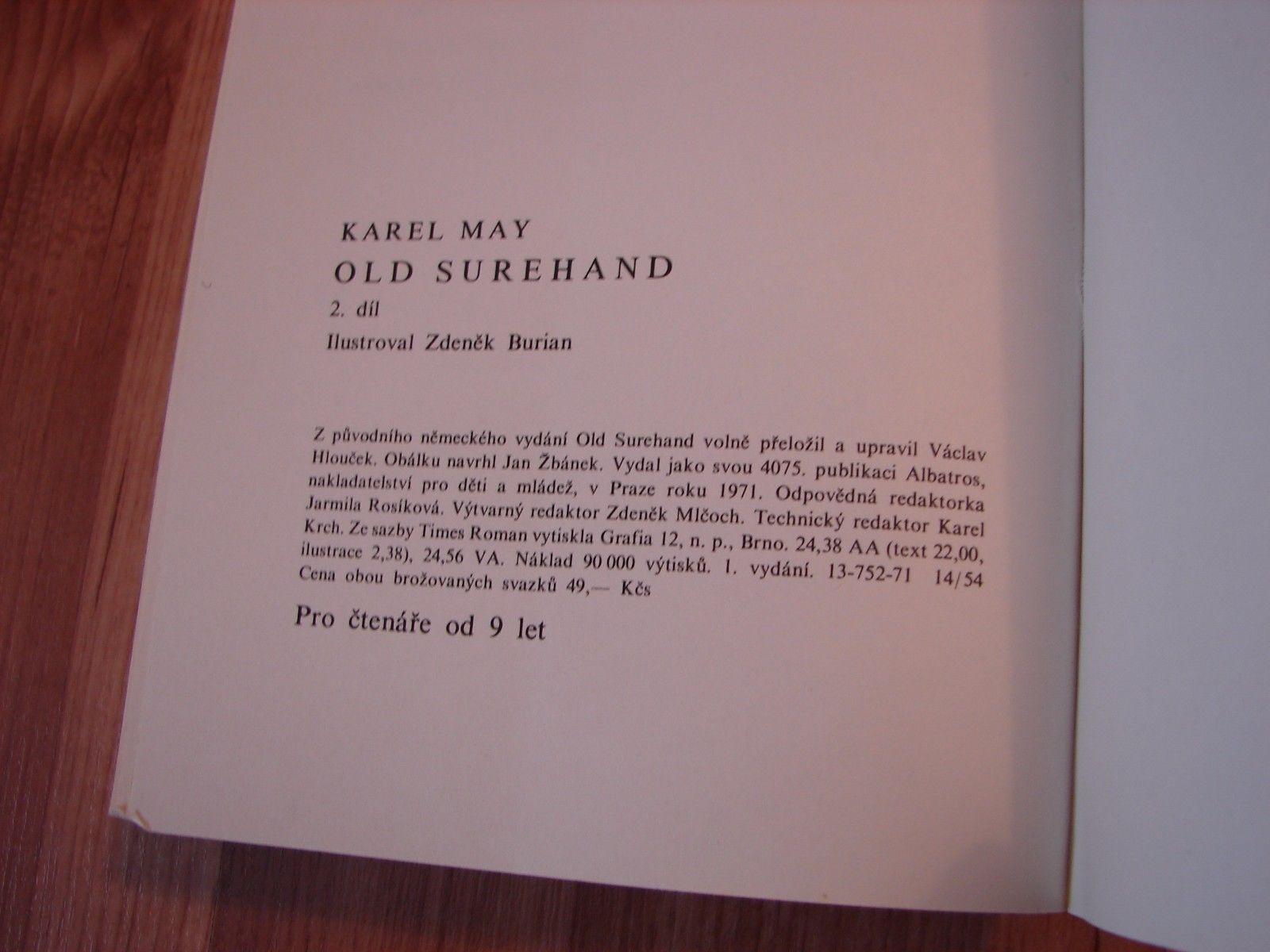 Note: Zdeněk Michael František Burian (February 11, 1905 – July 1, 1981) was a Czech painter and book illustrator whose work played a central role in the development of palaeontological reconstruction. Originally recognized only in his native Czechoslovakia, Burian's fame later spread to an international audience during a remarkable career spanning six decades (1930s to 1980s). He is regarded by many as the most influential palaeo-artist of the modern era, and a number of subsequent artists have attempted to emulate his style.
We enjoyed the films (we have the set on DVD). Pierre Brice's enigmatic portrayal of the Apache Chief Winnetou has earned him a place in the hearts of the German (and Czech) people forever.  Although he is of French descent, he captured the essence of an Apache warrior chief with all the right qualities: proud, strong, wise and fierce.
The movies were filmed between 1962-1964. You can get the Winnetou collection on DVD here.
A new version, a three part series shot for television was broadcast in late 2016.
The official website (in German) for the new film is here. (Wait for it to load to watch the trailers.)
You may also be interested in this article which discusses why so many Europeans fell in love with the unrealistic 'Indian' in the series.
If you have not already subscribed to get TresBohemes.com delivered to your inbox, please use the form below now so you never miss another post.
---
Remember, we rely solely on your donations to keep the project going.
Become a friend and get our lovely Czech postcard pack.