A few weeks ago, I received a message on the Facebook page for TresBohemes which shared a recipe and some lovely photographs of a medovnik, a Czech or Bohemian honey cake. Yesterday as I was looking into the pantry I noticed that we have a lot of ingredients left over from baking Czech Christmas cookies; honey, condensed milk, walnuts, hazelnuts, almonds…
I realized it's time to try the recipe!
Now, I do a lot of baking. My grandmother Marie had a bakery when I was young and she made gorgeous and award winning cakes as well as making special holiday cakes for everyone in the family her entire life. I remember when she taught me the secret to her delicious European buttercream frosting. Being a baker, I wanted to compare several recipes and then make it my own.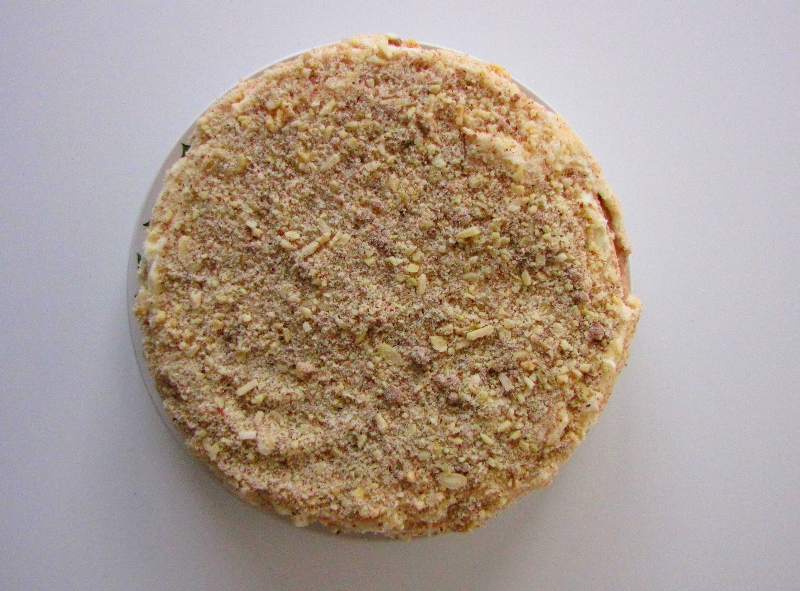 I tend to do this with almost everything that I do…
I started with the recipe that was shared with me from Not Quite Nigella. Her photographs and directions made it sound rather simple even though she has her recipe categorized as hard. My mouth was beginning to water.
Next, I looked at the recipe by Czech in the Kitchen. This version looked taller and more elegant. I added to my notes on the ingredients for this cake. I knew I did not want to make my own caramel, and certainly did not want to boil a tin can for over three hours, so I made up my mind to purchase a nice gourmet quality caramel at the local specialty store. Saving this time was worth it! (I'm still wondering – is it even safe to boil a can for so long?)
Then I stumbled upon the recipe at Jana Ruzena's blog. I liked her ingredient list but she said it takes three days to make this cake. Of course, day one is spent cooking the caramel.
Finally, I studied the recipe at Medoks who boxes and sells the cake which they describe as having wafery layers and crispness. Searching even further I realized that many Eastern European countries have their own variations of the cake and I could spend the next 3 months studying recipes and looking at mouth-watering photographs!
I decided it was time to make my own version of the cake. I did not opt to add coffee or chocolate to my version and as you can see, it turned out quite well.
It's lighter in color than some of the traditional cakes because they use walnuts and I used a blend of ¼ part walnuts, ¼ part hazelnuts and ½ part almonds – and the almonds I had were peeled and blanched. Again, the purpose of making this cake was to use up the leftover Christmas cookie ingredients.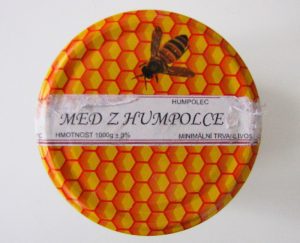 I also had some more wonderful Czech honey all the way from Humpolec which I received last year from my friend Jolana. What a delicious treat this honey has been and as the name of this cake is Medovnik, which literally translates to honey cake, what better way to honor the recipe than to use my beloved Czech honey from Czech forest wildflowers.
The first thing I made was the buttercream frosting, then the condensed milk filling and then the cake. That was the order that felt most natural for me.
Cake Ingredients
½ stick of unsalted butter
¼ cup of honey
½ cup of powdered sugar
1 ½ – 2 cups flour
2 tsp. baking powder
2 eggs
Cake Directions
I say 1 ½ – 2 cups flour because I was using a ¼ cup measuring tool and I just kept scooping and scooping and I lost count. I just added enough until it brought it all together that it looked like a nice cookie dough. Although this is a cake, the dough for the 'cake' is more like cookie dough and the end result is like making 6 biscuits or large cookies so don't let that shock or surprise you as you go into it.
Using a double boiler, I melted the butter on the stove over medium heat, I added the honey, eggs, sugar and baking powder and stirred until everything was melted together and well incorporated.
Then I poured the mix into a bowl and began adding flour a quarter cup scoop at a time until I got the desired consistency of a dough which would form a dough ball.
I split the dough ball into 6 equal little dough balls and I wrapped each in plastic wrap and placed it into the refrigerator.
I preheated the oven to 350 and I prepared a cookie sheet. Then I wondered how I would shape the 'cake', since I did not have a cookie cutter large enough. I ended up removing the bottom of my springform pan and using that as a guide. I pulled out 6 pieces of parchment paper I knew would fit the size of my 'guide' and I took the first dough ball out of the fridge.
I dusted the parchment with some flour and I also dusted my rolling pin. I flattened it with my hand and rolled it to the approx. size of my guide. Then, I placed my guide over the dough and using a sharp knife, I went around until I had cut a perfect circle, my 'cake'.
I put it in the oven, set the timer for 6 minutes and got another piece of parchment, preparing the cake as before. I added the trim from the previous cake to this dough and repeated what I had done with the first cake. By the time that was finished, the timer went off and I placed the baked cake on a cooling rack and the new cake into the oven. I kept repeating the process until all 6 layers were complete.
When each piece came out of the oven, I used a pastry brush to brush it with Czech rum.
I love Czech rum, for its aroma and flavor.
Then I made the condensed milk filling.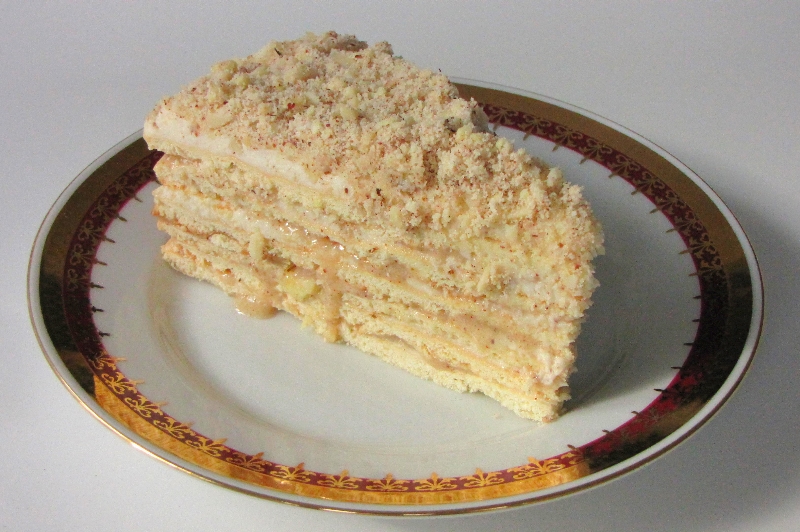 Condensed Milk Filling Ingredients
1 Can Sweetened Condensed Milk
½ cup bottled caramel
¼ cup good honey
¾ to 1 cup roughly chopped nuts
Directions
Pour condensed milk, caramel and honey into a bowl. Add nuts and stir until mixture thickens. Set aside until ready to use.
I used my grandmother Marie's buttercream frosting recipe because it's not as sweet and I realized that all of the caramel, honey and condensed milk would be sweetness overkill if I made any other frosting.
Buttercream Frosting Ingredients
2 sticks unsalted butter
Base

½ – ¾ cup milk
¼ cup sugar
¼ cup flour or cream of wheat
Buttercream Frosting Directions
Make the base. Mix the flour and sugar together in a heavy saucepan with a whisk to break up any lumps, then slowly pour in the milk and cook on medium heat until mixture thickens. Pour into shallow bowl, cover with plastic wrap and place into refrigerator to cool. (My grandmother always put the hot pan straight into the freezer!)
Beat the softened (not melted!) butter until it's smooth and fluffy. As you beat air into it, it will beautifully lighten in color. Once the butter is nice and creamy, drop the base into it one tablespoon at a time blending after each addition to ensure it stays nice and smooth.
Assembly
Starting from the bottom, I laid 1 piece of cake, spread some buttercream on it and then poured some of the condensed milk mixture on top of that, spreading it all the way to the sides. Yes, it will run over the edges and make a mess.
I repeated this process until I had used all of the layers, making sure to have enough of the buttercream frosting to place on top of the cake and around the sides. Then I used approx. 1 cup of ground nuts to stick to the sides of the cake and the rest I sprinkled on top.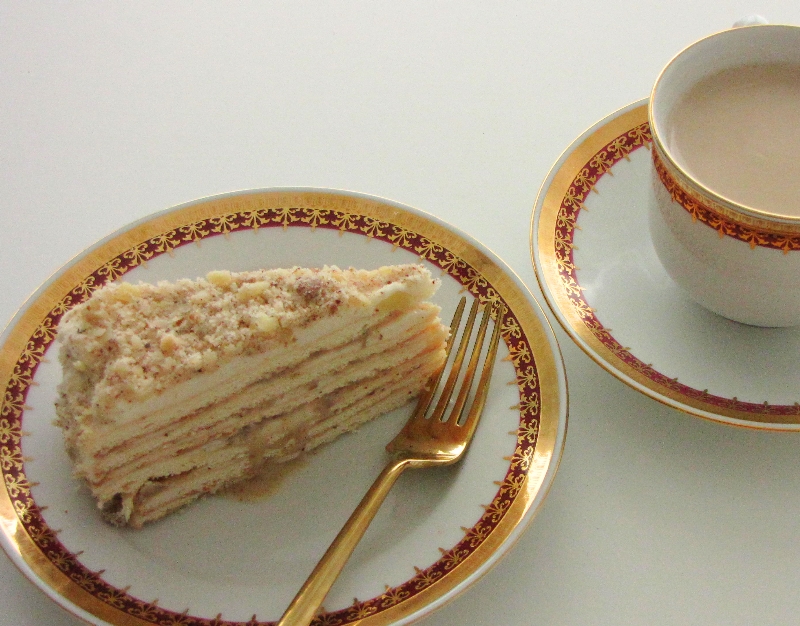 Did I mention it was messy?
Making this cake made me feel like I had three and four year old children in the house again.
Yes. A mess.
How can I best describe this delicious cake?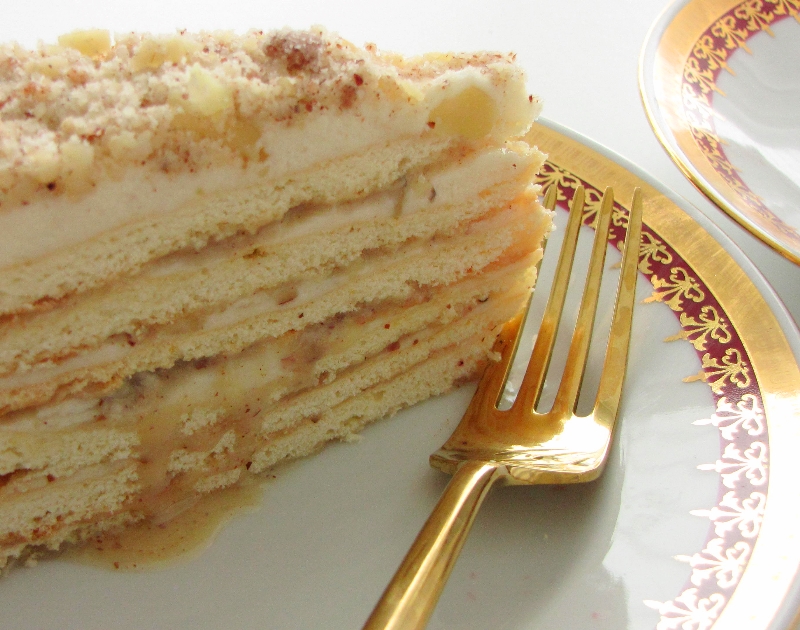 Well, because the cake was more like a large cookie and I used all of the ingredients leftover from making cookies, it tasted like a sweet frosted buttercream and honey cookie-cake combo.
Nonetheless… it was very yummy!
Make sure to allow it to come to room temperature before serving.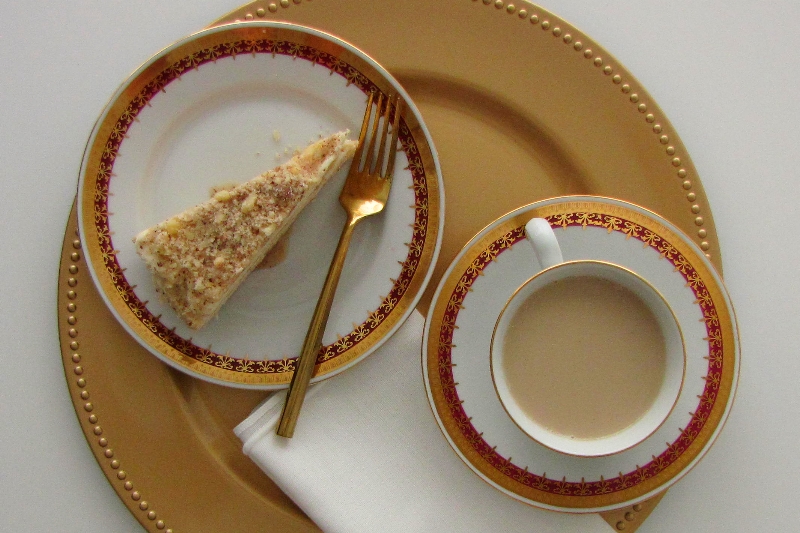 *We wish to thank Victoria Dlabal from our Facebook page for introducing us to this cake.
**Dishes shown are my beautiful Thun porcelain.
Thank you for your support – We appreciate you more than you know!
We know that you could spend hours, days, weeks and months finding some of this information yourselves – but at this website, we curate the best of what we find for you and place it easily and conveniently into one place. Please take a moment today to recognize our efforts and make a donation towards the operational costs of this site – your support keeps the site alive and keeps us searching for the best of our heritage to bring to you.


Remember, we rely solely on your donations to keep the project going.
Thank you in advance!
If you have not already subscribed to get TresBohemes.com delivered to your inbox, please use the form below now so you never miss another post.