Merry Christmas everyone! We have backdated this post so you can see how we spent our Bohemian Christmas Eve. Having Czech roots, but living in the United States, consequently it is sometimes difficult to find a balance between Czech and American custom, but we think we managed it quite well while creating our Bohemian Christmas Eve celebration in the U.S.A.
The holiday really begins when we receive several packages from the Czech Republic. Family and friends send us goodies which we treasure dearly and enjoy.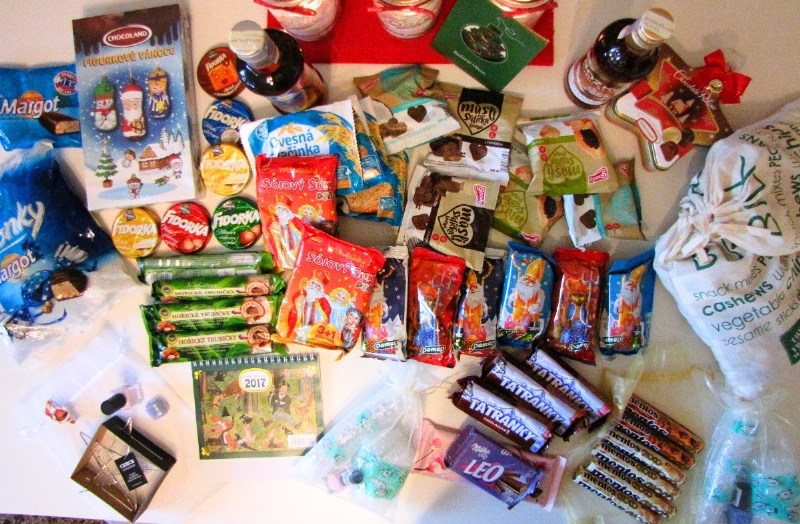 This included Christmas gingerbread which is an absolute favorite.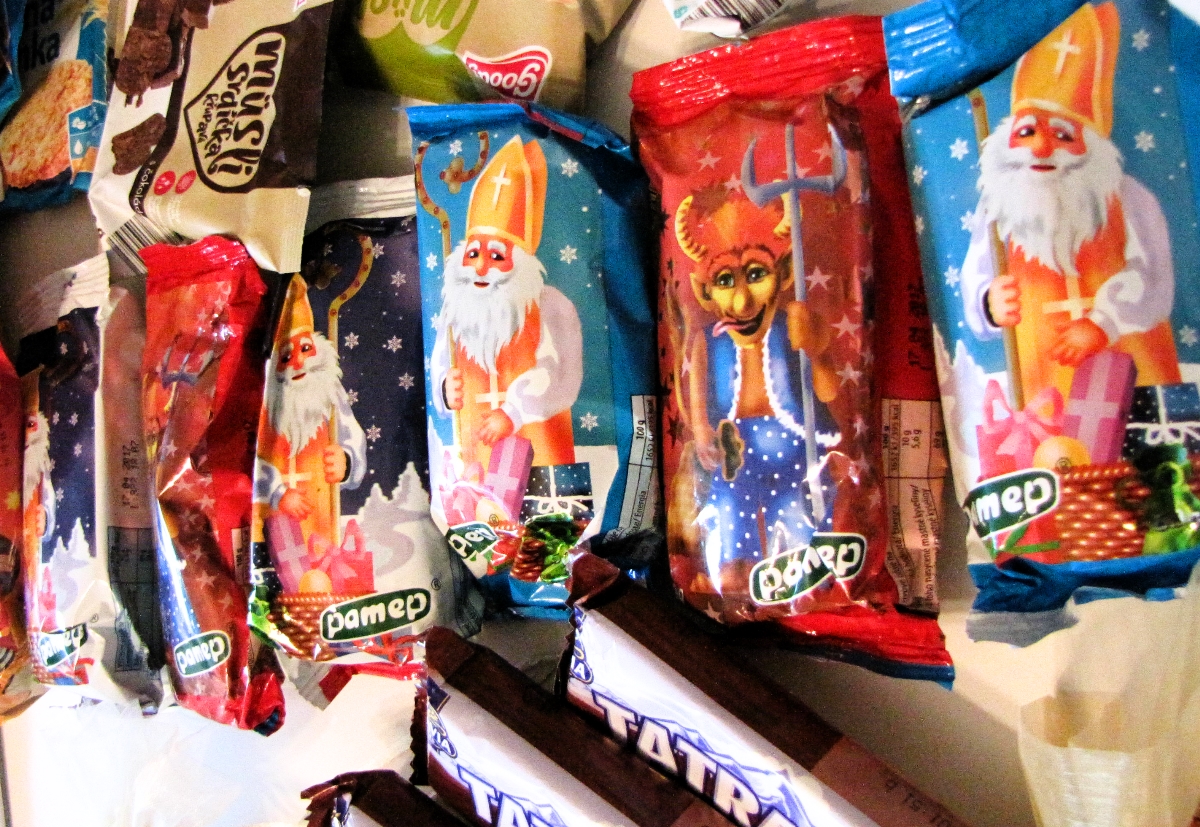 Delicious chocolate wafer treats called Tatranky. (We also buy these for ourselves on Amazon, and suggest you get some too!)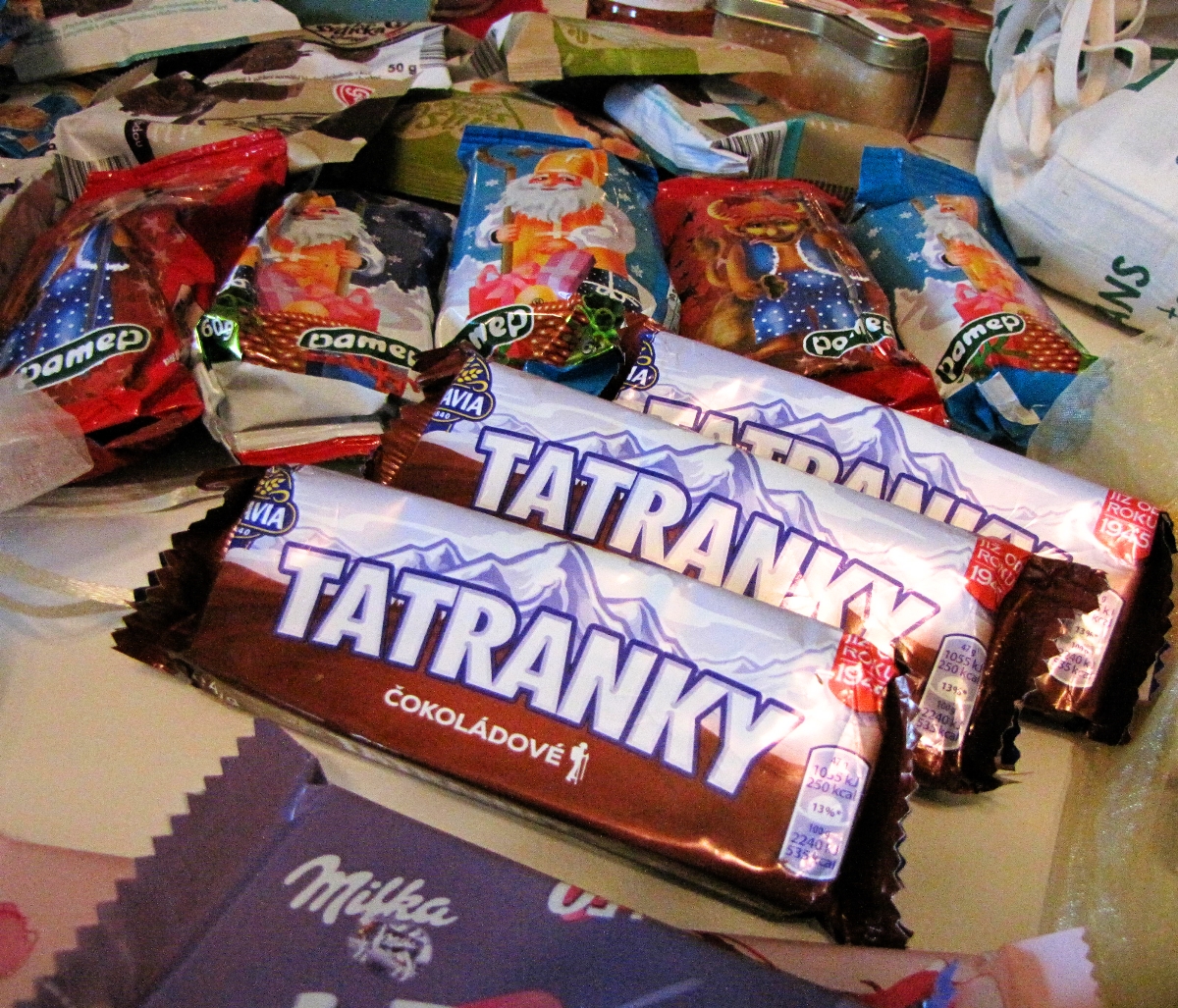 Rummy marzipan Margot candies and more wafers sold under the Fidorka name. (We also buy these for ourselves on Amazon and recommend you do too!)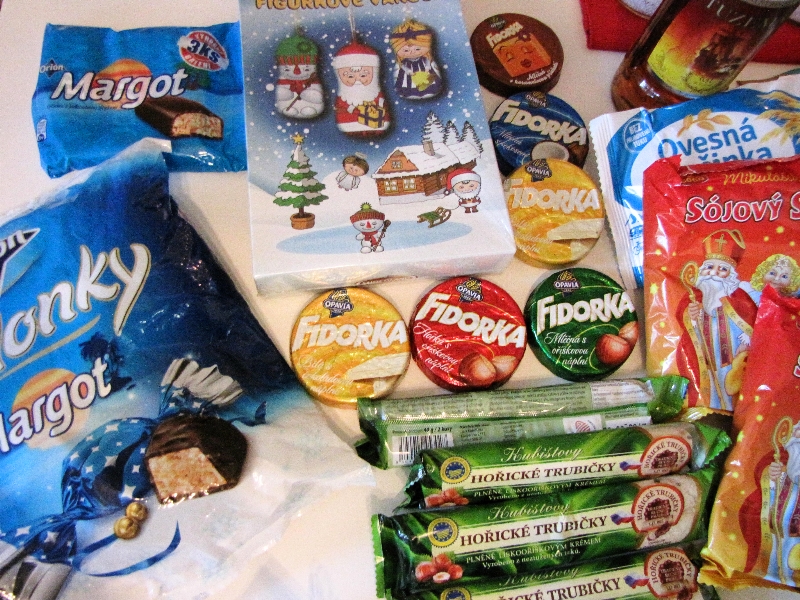 In addition, we love sójový suk. Not sure what it is, but it's delicious nonetheless.
Eating these treats leading up to Christmas really gets us in the mood for the holiday. Of course, the fragrant Czech rum is always a most welcome gift as it is used in hot rum tea, fruits and warming svařák for chilly winter evenings, and in all of our Christmas baking, especially in cookies.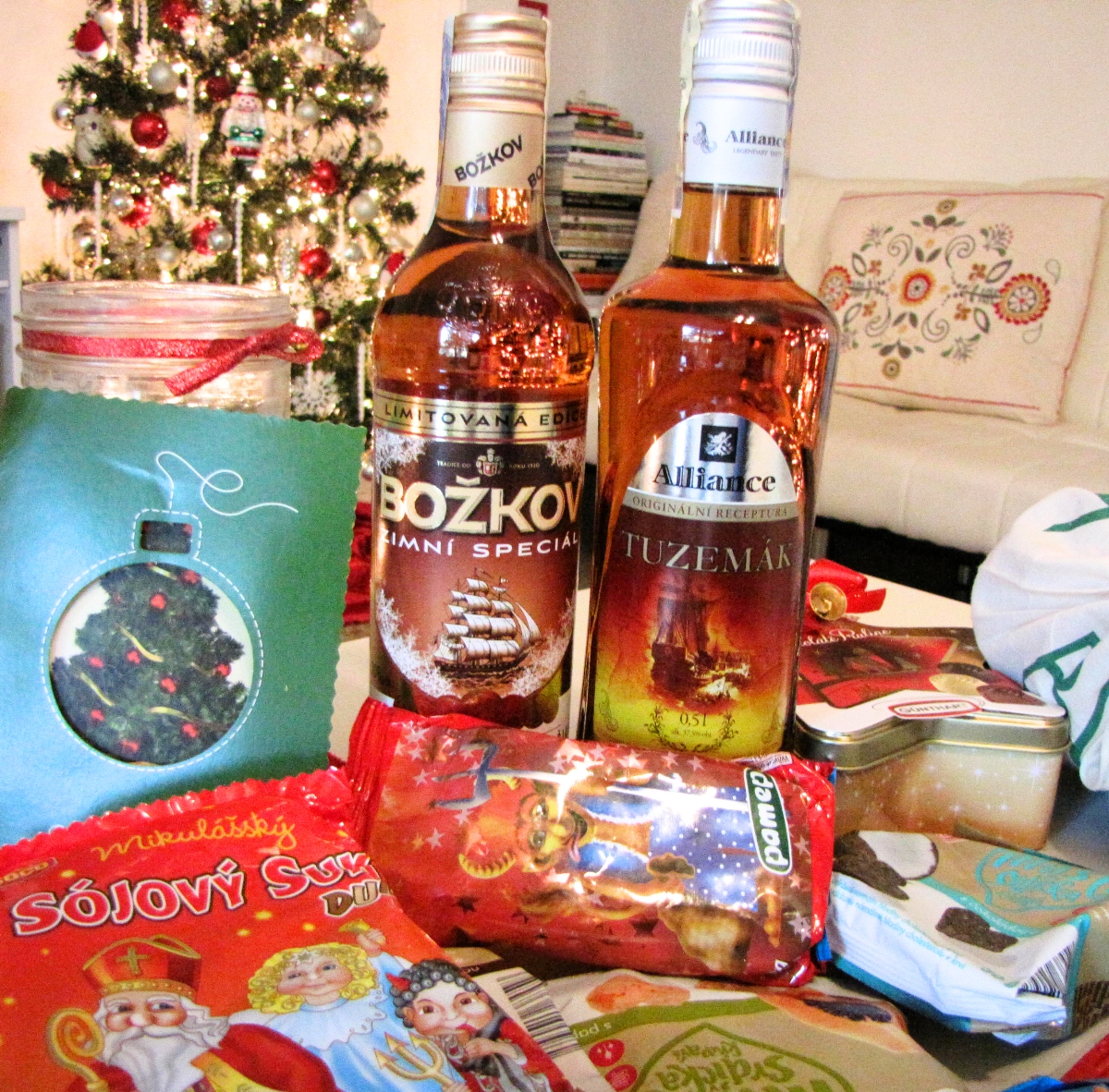 We also receive lovely surprise presents which are unexpected and bring us so much joy, like this Josef Lada calendar from my dear friend Jovanka.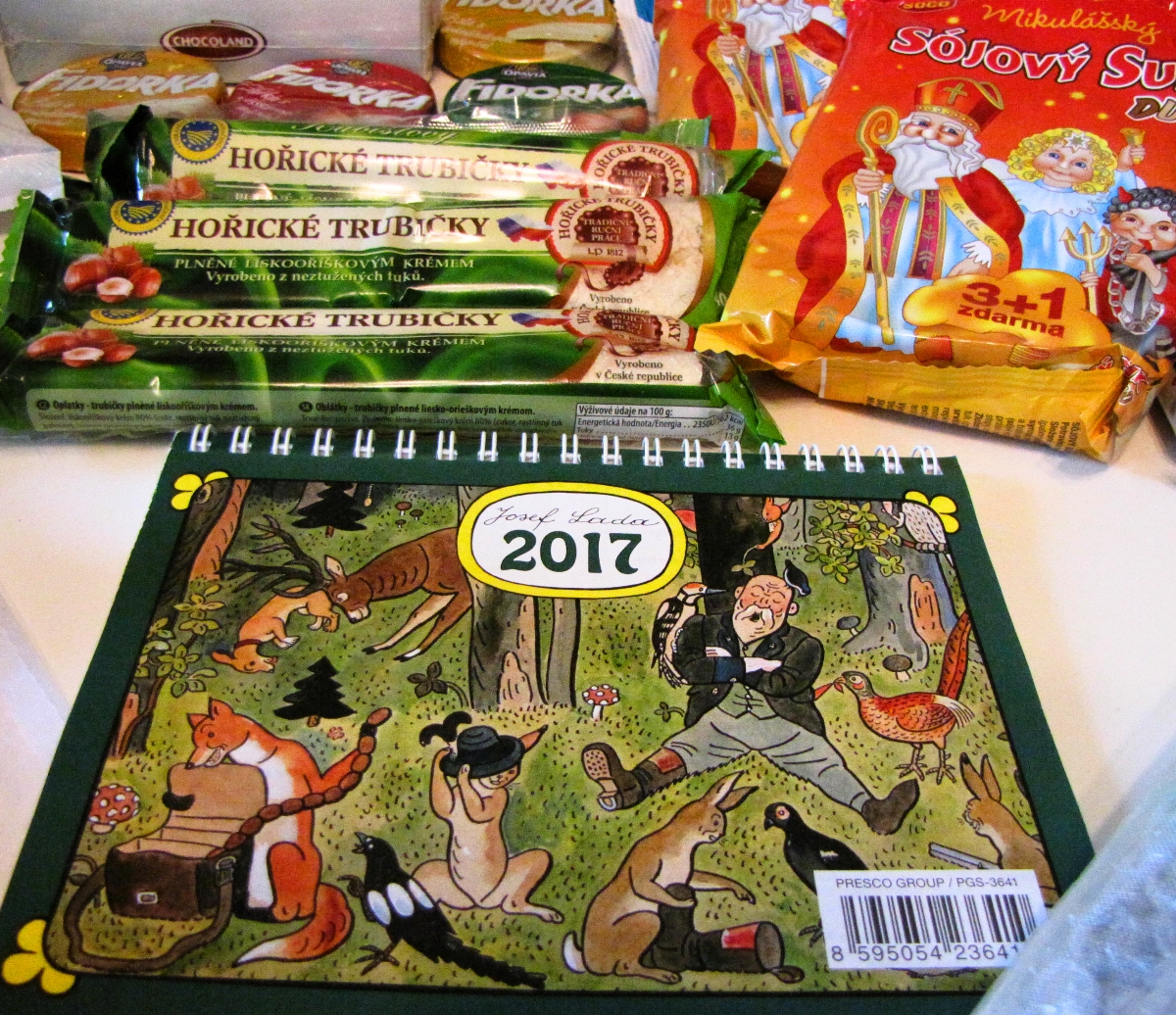 Or this pretty Christmas star from one of Prague's Christmas markets from Petr and Adela.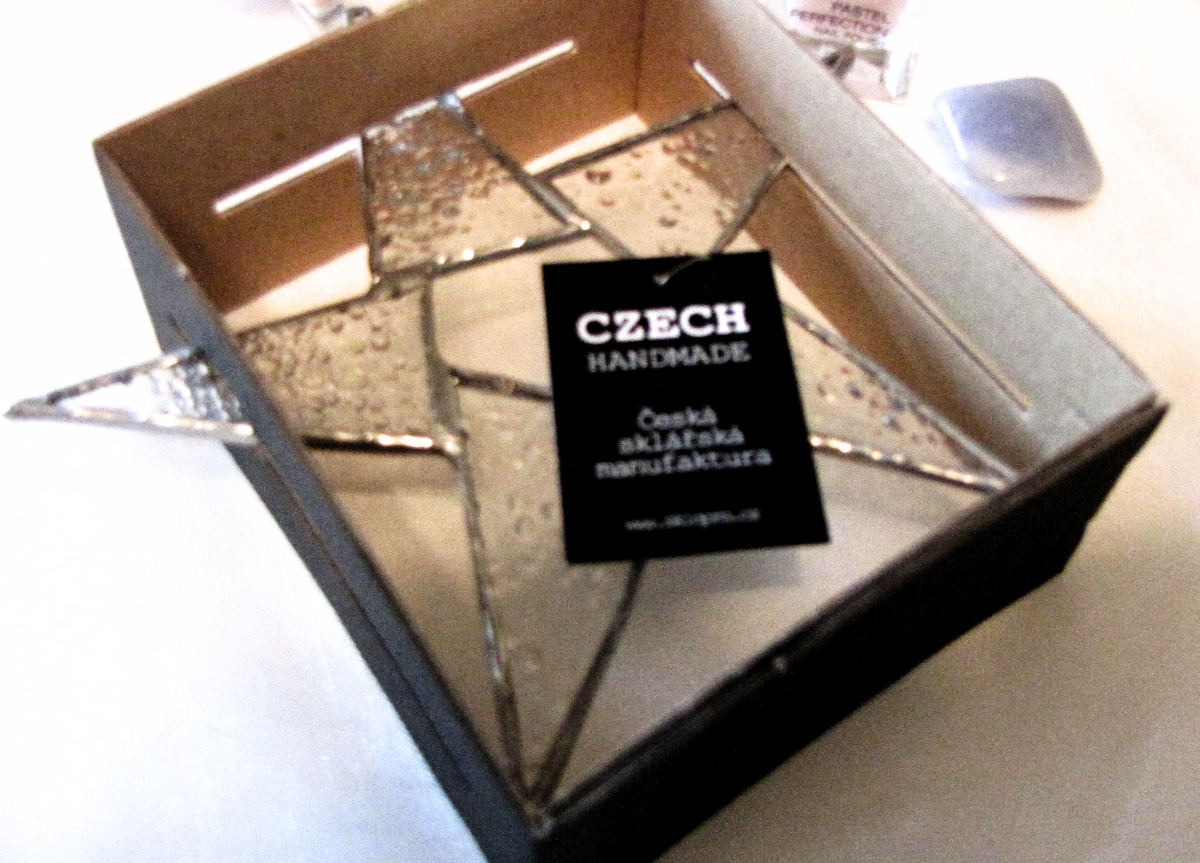 Earlier this year, when my father Milan came to visit, we sent him home with a couple of cotton storage bags from The Fresh Market. Low and behold, to our surprise, the bags arrives with our most favorite snack, Křížaly, or home dried apples.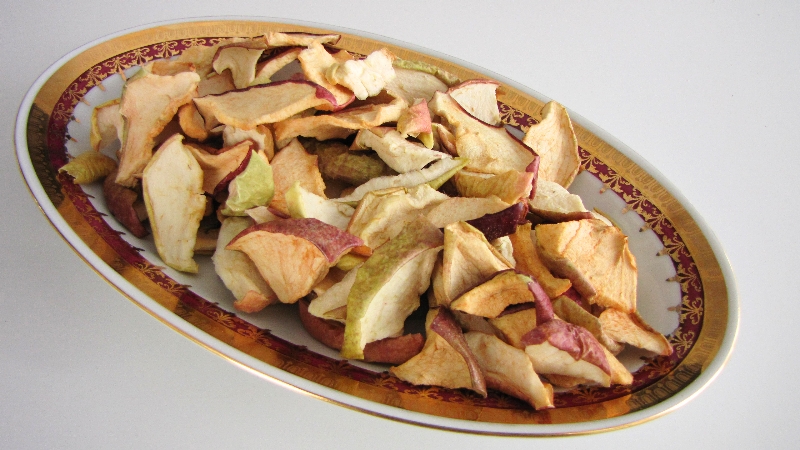 It's a long process to dry them using the old style radiator heaters that are in the apartments of Prague and for months my father has been showing us how he is making them. Each time the girls Skype him, he's happy to show us how he has been busy drying apples. If you have experience, than you how that the fruits shrink when the juice is dried out of them. Filling up these two large bags immediately let us know that each and every day, for months on end, Deda was preparing this most special Christmas gift for us.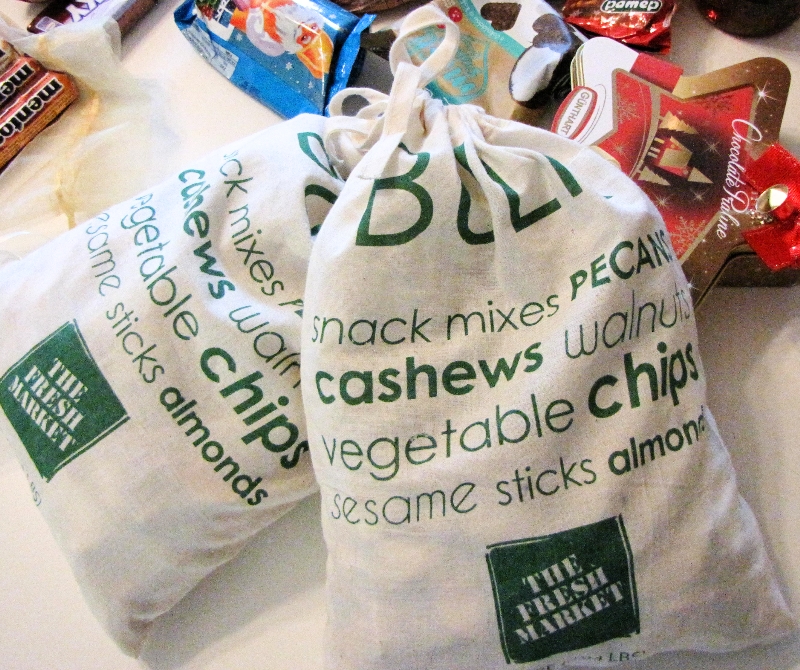 Christmas is about family, and traditions. I remember as a little girl, there was always a special magic around Christmas time that my parents and grandmother worked to create. Whether it was the food, the special touch given to each detail, or just the love of being together, Christmas meant slowing down and enjoying that which matters most, each other.
Of course, that doesn't mean that the surprise gifts stopped coming! We received a special surprise from my brother-in-law Petr and wife Jitka and their sweet daughters Teri and Neli. Such thought went into all of their sweet drawings and little gifts.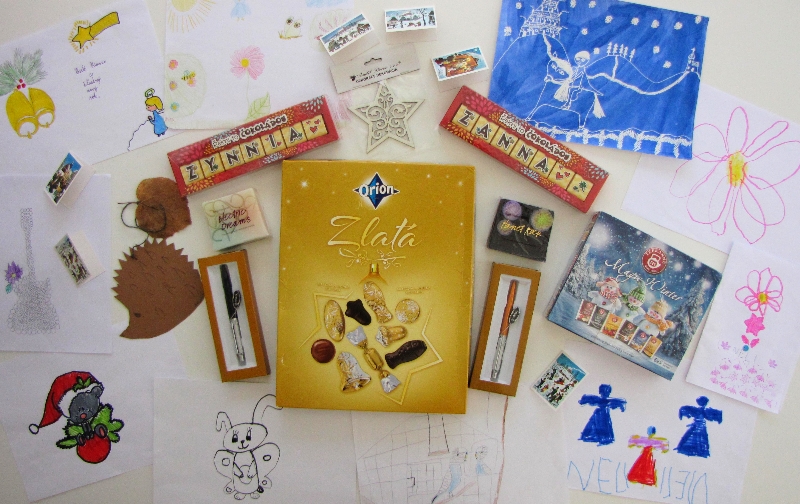 I was very grateful for the real Czech Vánoční kolekce they sent, which is basically a box of specially wrapped candies made for hanging on the tree.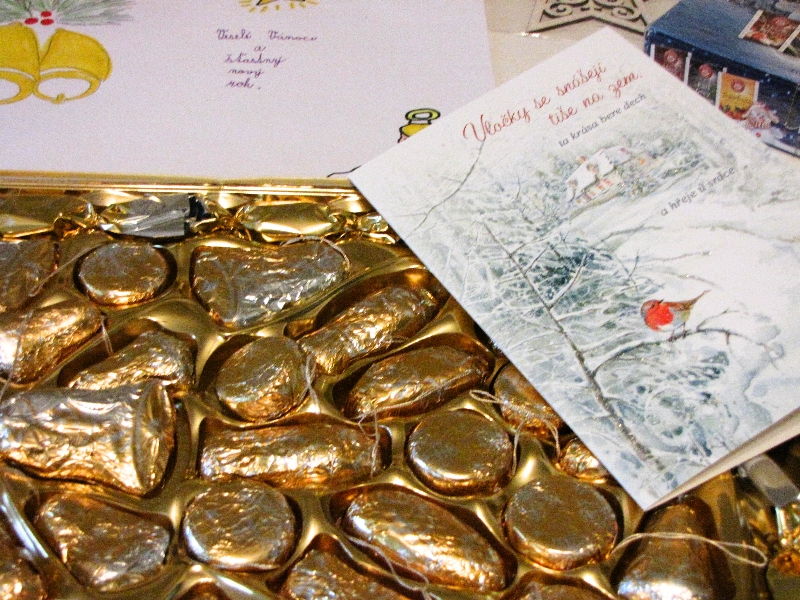 Zanna and Zynnia loved the personalized chocolates with their names, because with such unusual names they rarely have an opportunity to get anything that is well, personalized!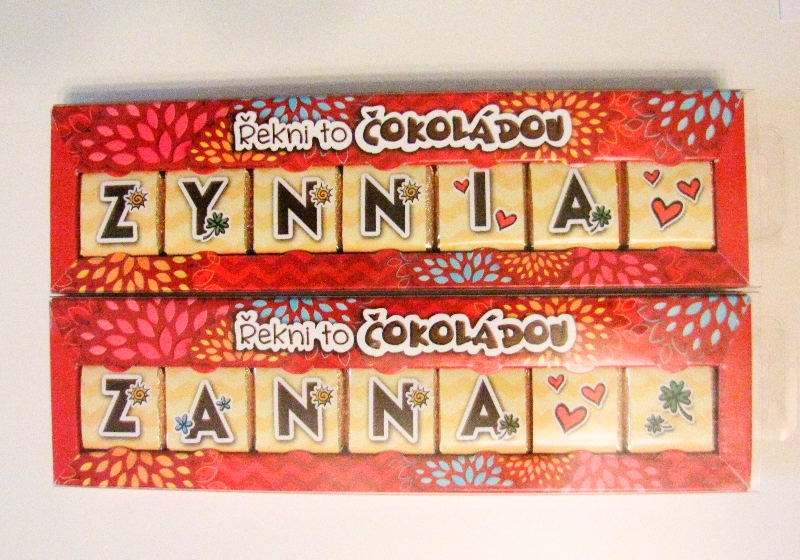 We had guests this year staying with us as we did the previous year. My second cousin Petr, and his girlfriend Adela, came to stay for two weeks. We normally decorate the tree a day or two before Christmas, but this year we decorated the day before they arrived. This is because trimming the tree is something that we reserve only for ourselves.
We begin with what we call a thin tree. The American friends we have tend to gravitate towards very wide and thick trees whereas Czechs prefer trees that look pruned and, well, skinnier. We used to purchase real trees for Christmas, but as they seem to be getting fatter each passing year (and we are not in favor of all of the cutting) we found this tall and thin tree a couple of years ago at Ikea.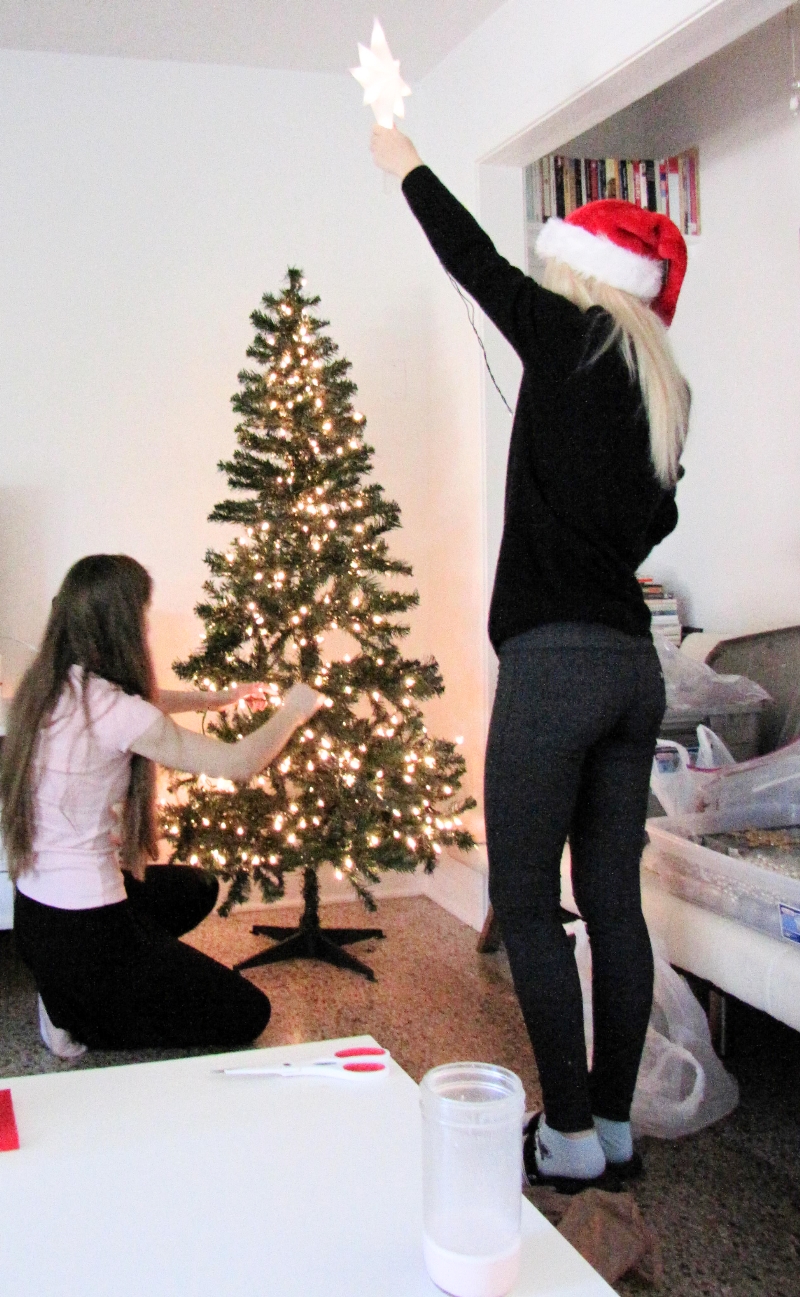 Our trimming, overseen by Zanna, is a process which follows a specific order. First the tree is removed from the box and all of the branches spread out and adjusted. Then the lights are added. We position the tree where it will be and we drape the lights side to side since our tree backs into a corner. We used to go round and round but because we use 6 or 7 strands of lights, side to side makes it easier when it's time to take the tree down.
After the lights are all set, we hang the chain or garland on the tree, once again going side to side and not all the way around. This makes the best use of the garland and also makes for easy take down.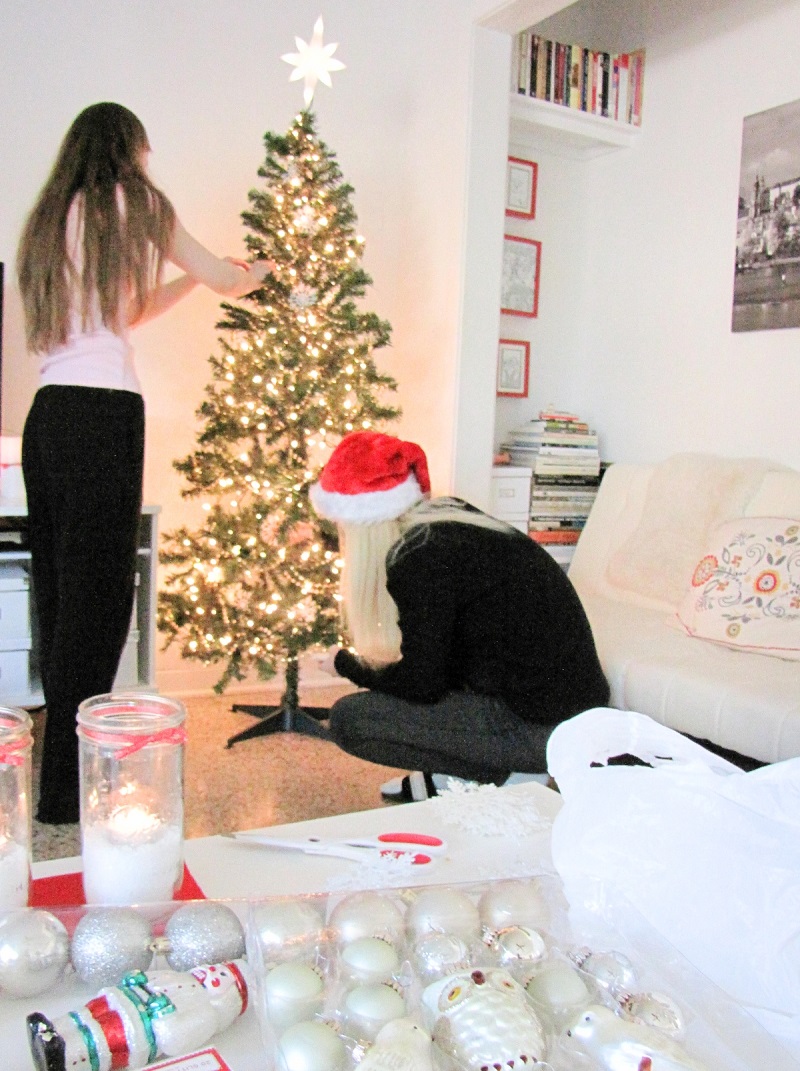 We fill a lot of the gaps with inexpensive white snowflakes which everyone comments make the tree look so rich. I think it's because they reflect the light so well and are a gentle filler.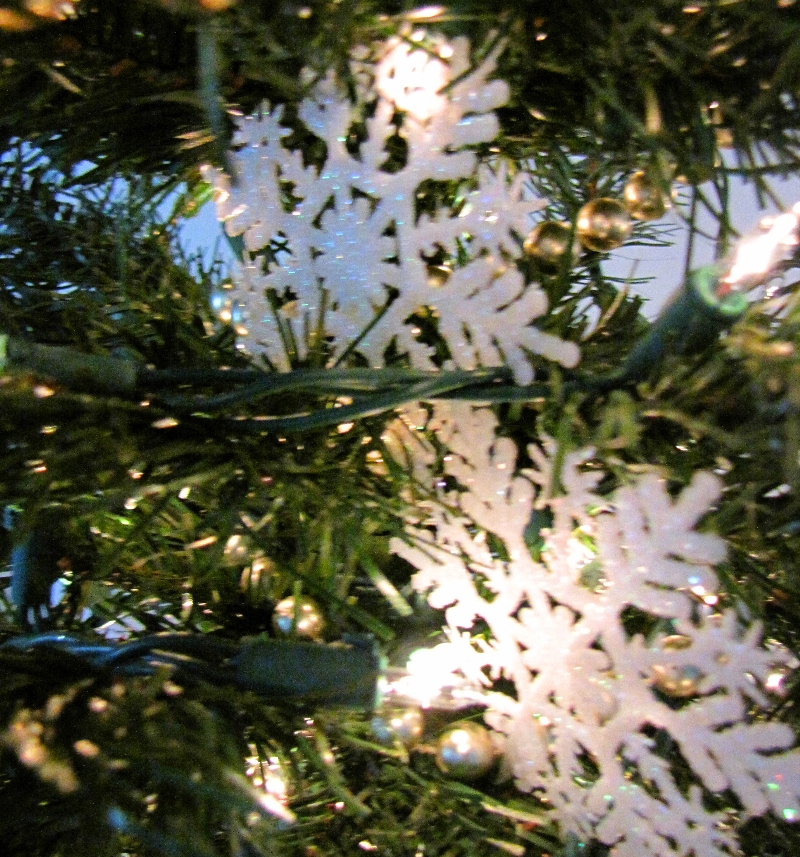 Our ornaments, believe it or not, are an eclectic blend of old and new, costly and inexpensive.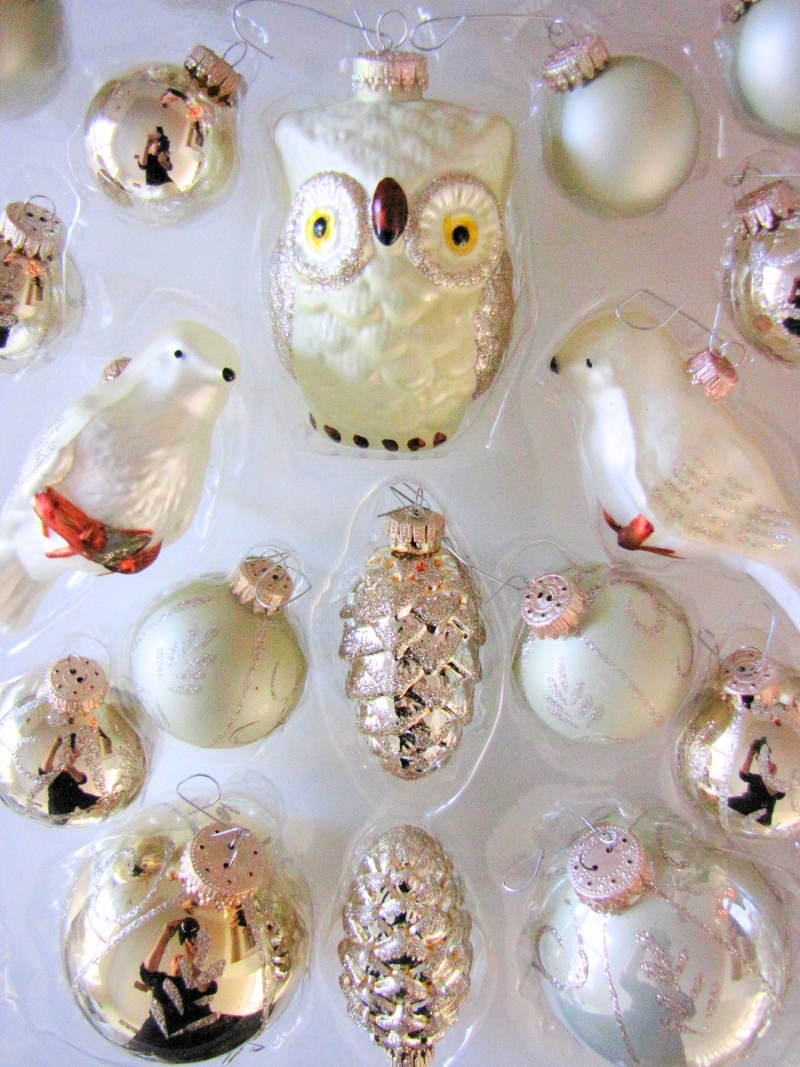 We have fine European hand blown glass ornaments, mixed with Dollar Store balls, mainly because that is the only place we could find the colors we like.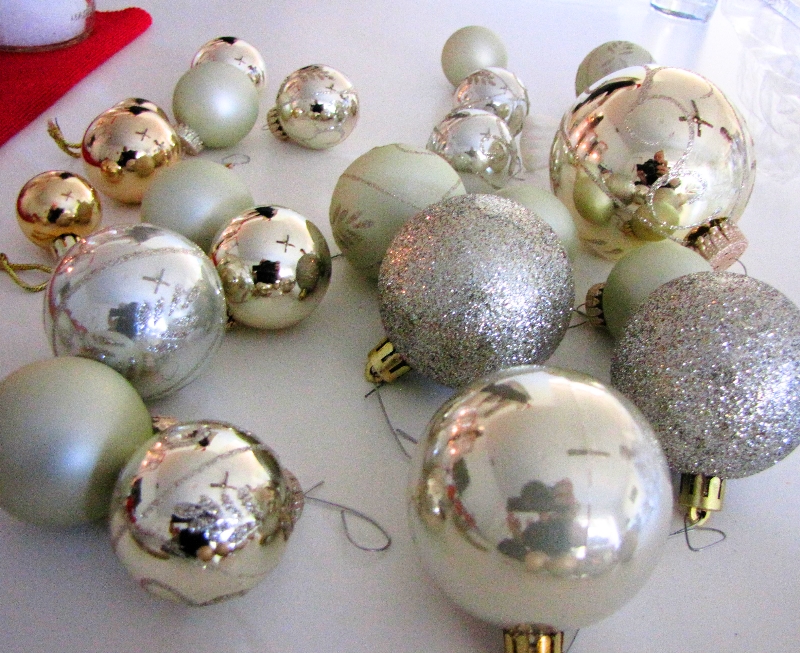 This year, we happened into an estate sale and we found a real treasure, a box of old Czech ornaments. One was missing, but the colors perfectly match our tree, especially with our Bohemian Christmas Eve theme!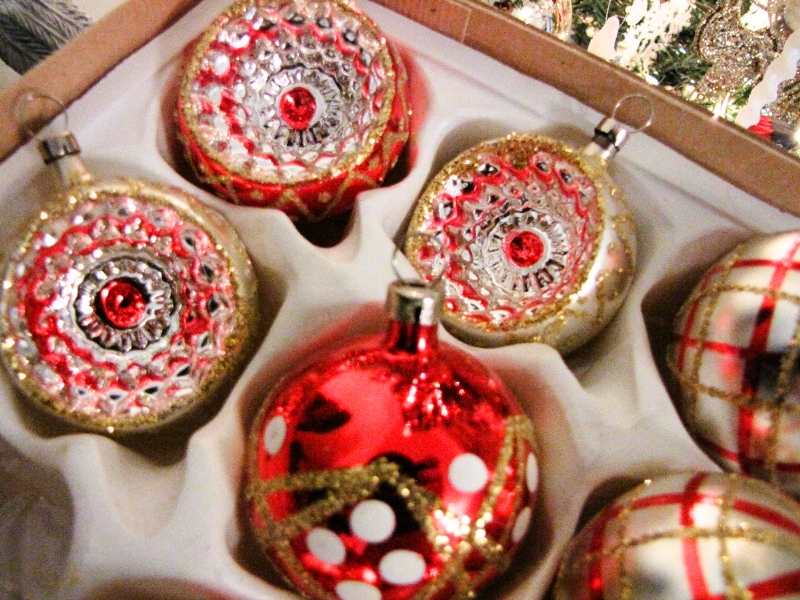 We were surprised when Zachary came home early from work and was able to help us trim the tree!
We also purchased some very pretty hand blown cardinals from Germany which we added to the tree and we found some hand woven gold angels at a church bazaar. Trimming was completed when we hung the icicles, made from the same materials as the snowflakes.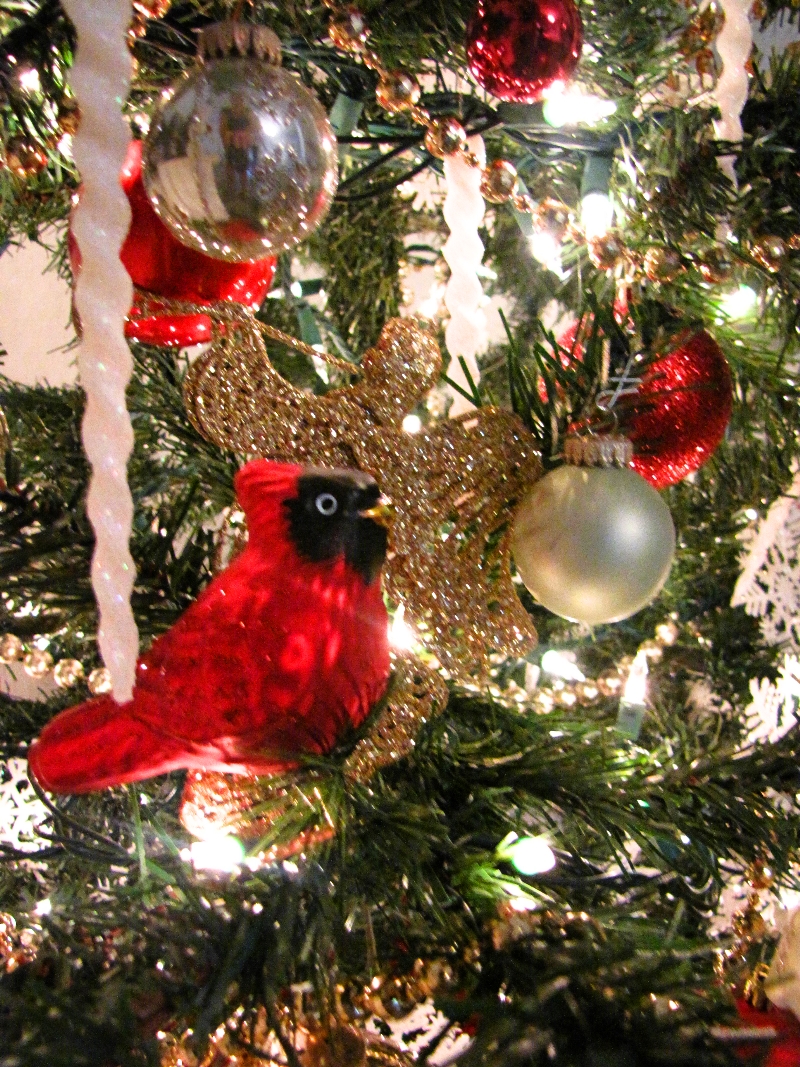 We positioned a Czech doll I've had for over 30 years next to the tree and she inspired a blog post for next year. (Yes, you'll have to wait a whole year for that one!)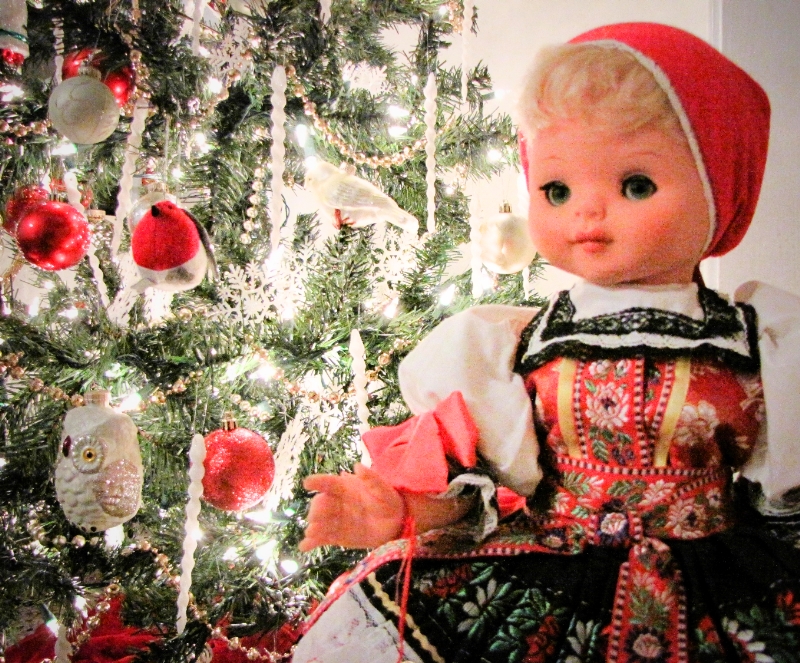 Do you like the way we've dressed our tree?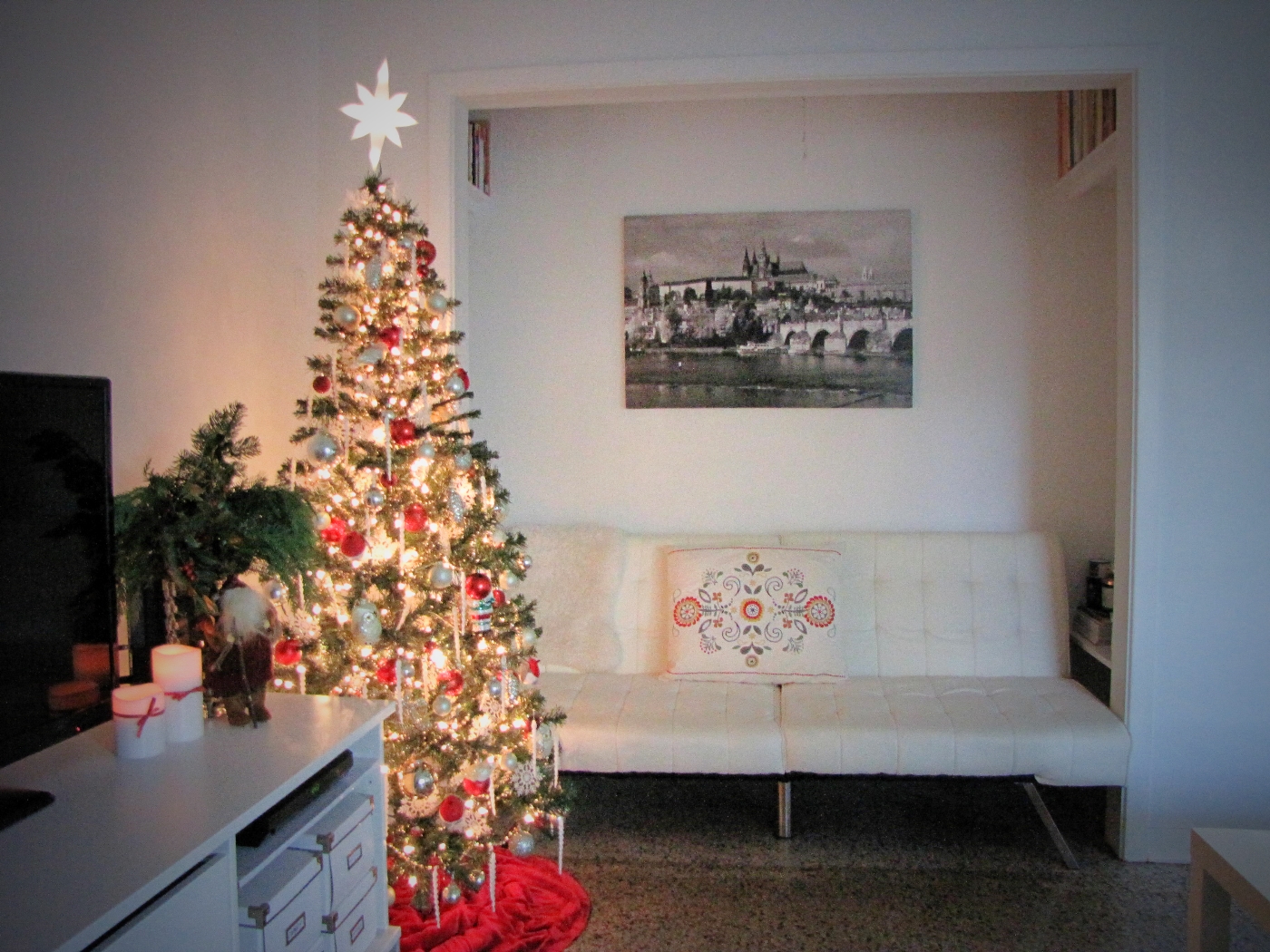 Food preparations began on the 21st with Zanna baking all of her various Christmas cookies. We've shared the recipes for most of them at the 12 Days of Christmas Cookies. This year Zanna skipped the beautiful blue Cibulák or blue onion inspired ones because we were more focused on outings with Petr and Adela.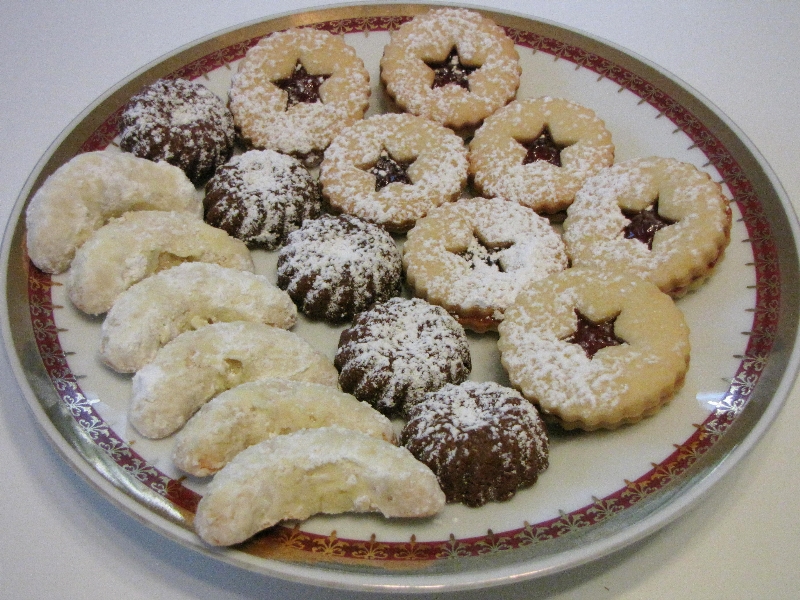 Then, on the 23rd, Zynnia joined in and started making her famous Vánočka, which is a braided bread, baked in the Czech Republic at Christmas time. They are made from a yeasted dough which needs a lot of warmth to rise so she works in our sunny dining room and then pleats the nine braids together.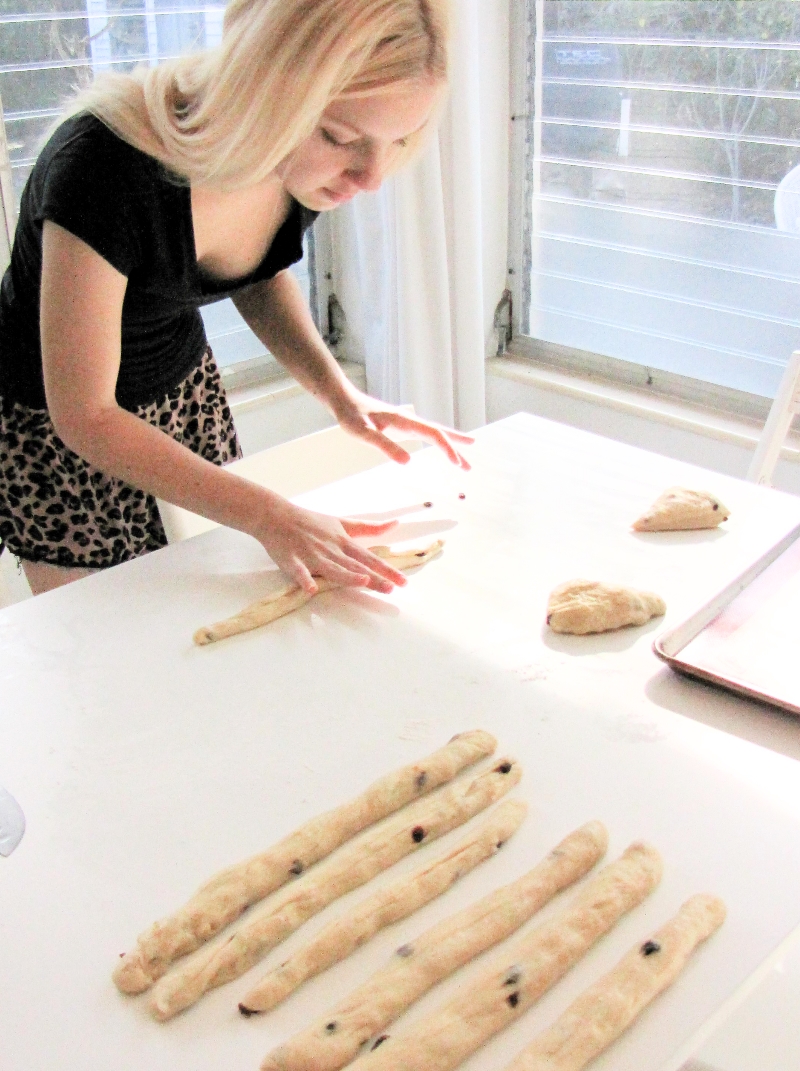 She made a total of 8 of them, continuing her tradition of taking one to the firemen who look forward to it all year as well as some elderly friends who no longer cook or prepare Christmas foods. Zanna also added some of her cookies to the platters. In this way we share a part of our Bohemian Christmas Eve with others.
The day before Christmas Eve, the kitchen was an especially busy place because this year we all decided to make our own special potato salad. Petr made his family recipe with celery root. Zanna made her special recipe with fresh peas and carrots.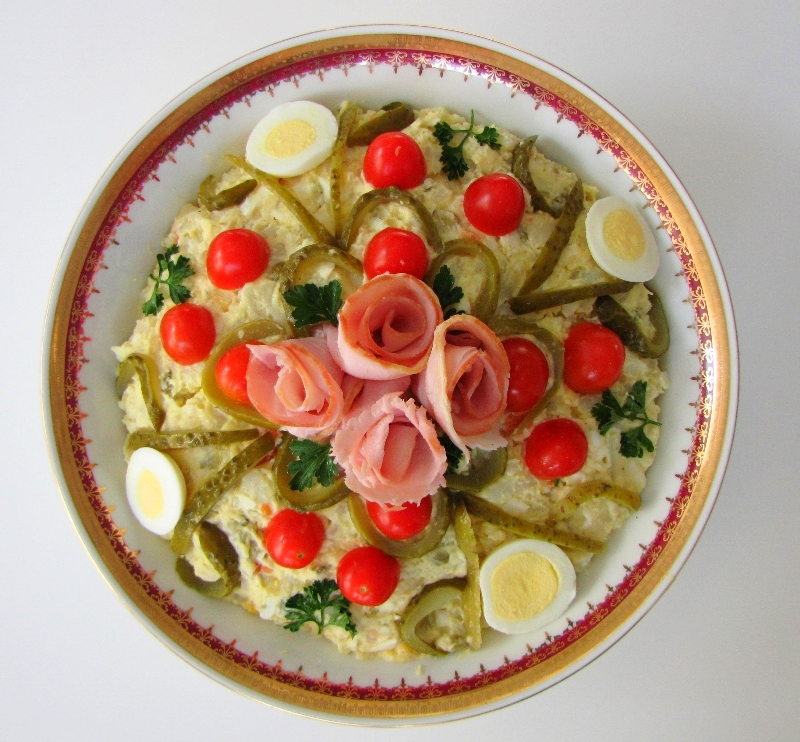 And I made my mother's trusted recipe, the one I grew up on and still prefer after all of these years. I link to the recipe above (my mother's trusted recipe) and there is another variation of a potato salad recipe here.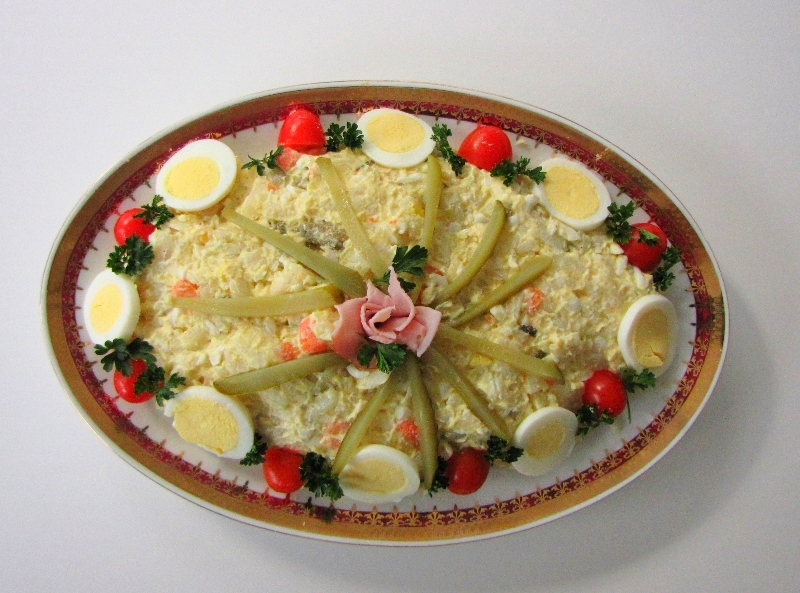 On the day of Christmas Eve, both Zachary and Pavel had to work. It was a gorgeous and unusually warm day, so Petr and Adela went to the beach. The girls and I made minimal amounts of chlebíčky, dressed with potato salad and ham and also with crabmeat and lemon. Chlebíčky are open faced sandwiches set on snack platters that are usually eaten on holidays and at parties.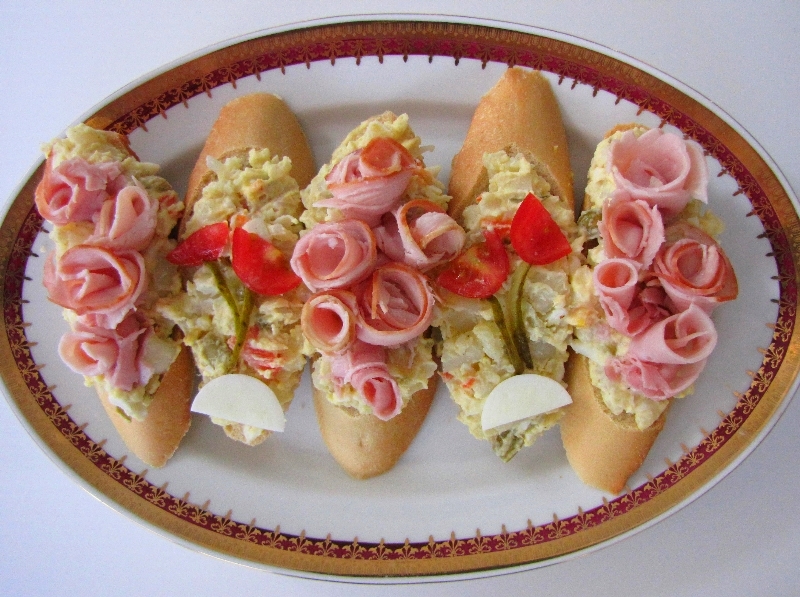 We also wrapped presents and listened to traditional České Vánoční koledy or Czech Christmas carols. It would not be a Bohemian Christmas Eve without the sounds f beautiful Czech carols! We also listened to our American favorites including Burl Ives, Bing Crosby, Elvis and Frank Sinatra. We purchased Czech compact discs when we were last in Prague, but you can also order them on eBay. This year we received so many Christmas cards! We hung them all by the tree!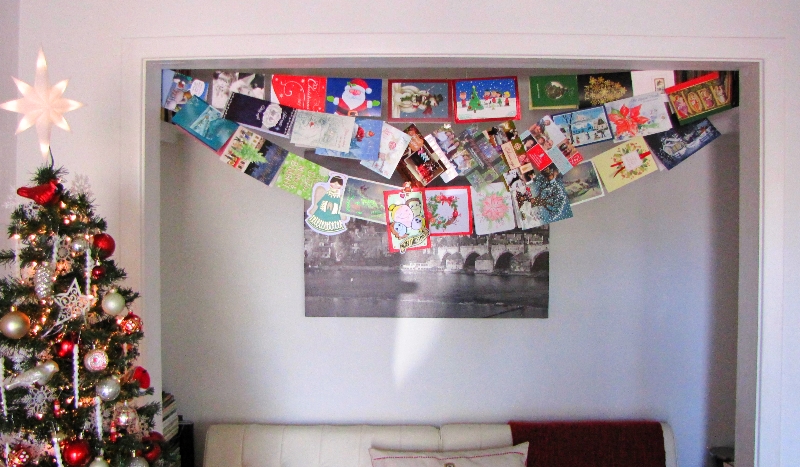 I went to our local fresh seafood market and purchased fish. What a line of European faced people! I wish I had my camera with me. I walked in and received ticket number 32 and they had just called 17. It was nice to see all of those faces, knowing that others were also staying close to tradition. Czechs traditionally eat carp for Christmas but we have always lived by the sea and prefer white ocean fish, so this year I purchased an abundance of both Chilean Sea Bass and Grouper.
Pavel was the first to come over, so we paused to take a photo.
Lucky we did, because later we were all enjoying the fun so much that we forgot to take photos! Of course, his arrival was an excuse to lay out even more food and drink some eggnog!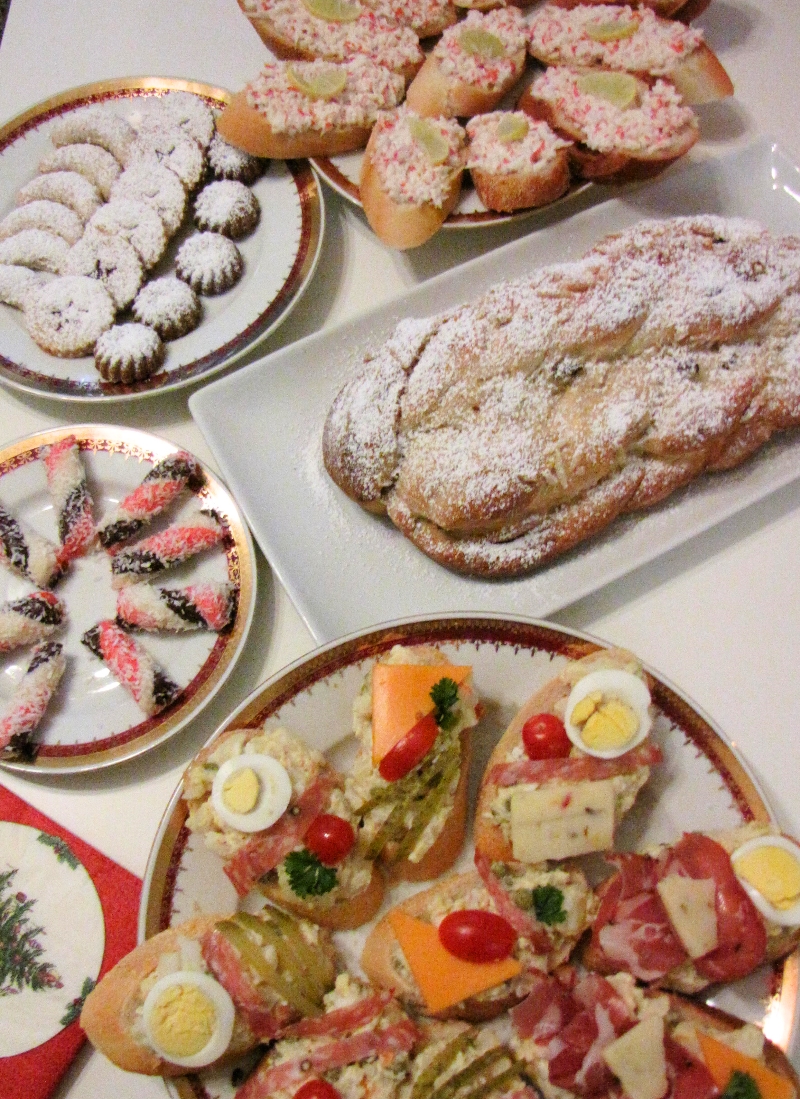 Petr and Adela came back from the beach and after they took their showers and got dressed we informed them that Zachary would be needing a ride from work. We did this because we wanted to set out the presents while they were gone. Traditionally, Ježíšek also known as the Christkind is the traditional Christmas gift-bringer in the Czech Republic. Ježíšek  translates into Little Jesus and it is he who brings the gifts after dinner when the children go out to look for the golden pig. Because we had two visitors from Prague staying with us and two people working for most of the day, we had to improvise.
As soon as they left, we began to put out the presents.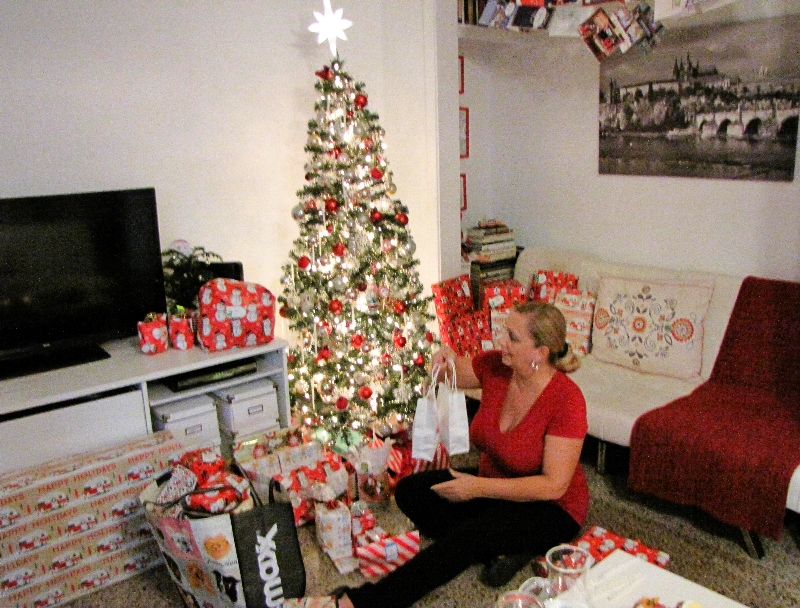 Pavel took some photographs with his phone before they came home. (Santa needs to bring him a better phone that can take higher quality photographs!)
We all arranged all of the presents and replenished the food plates.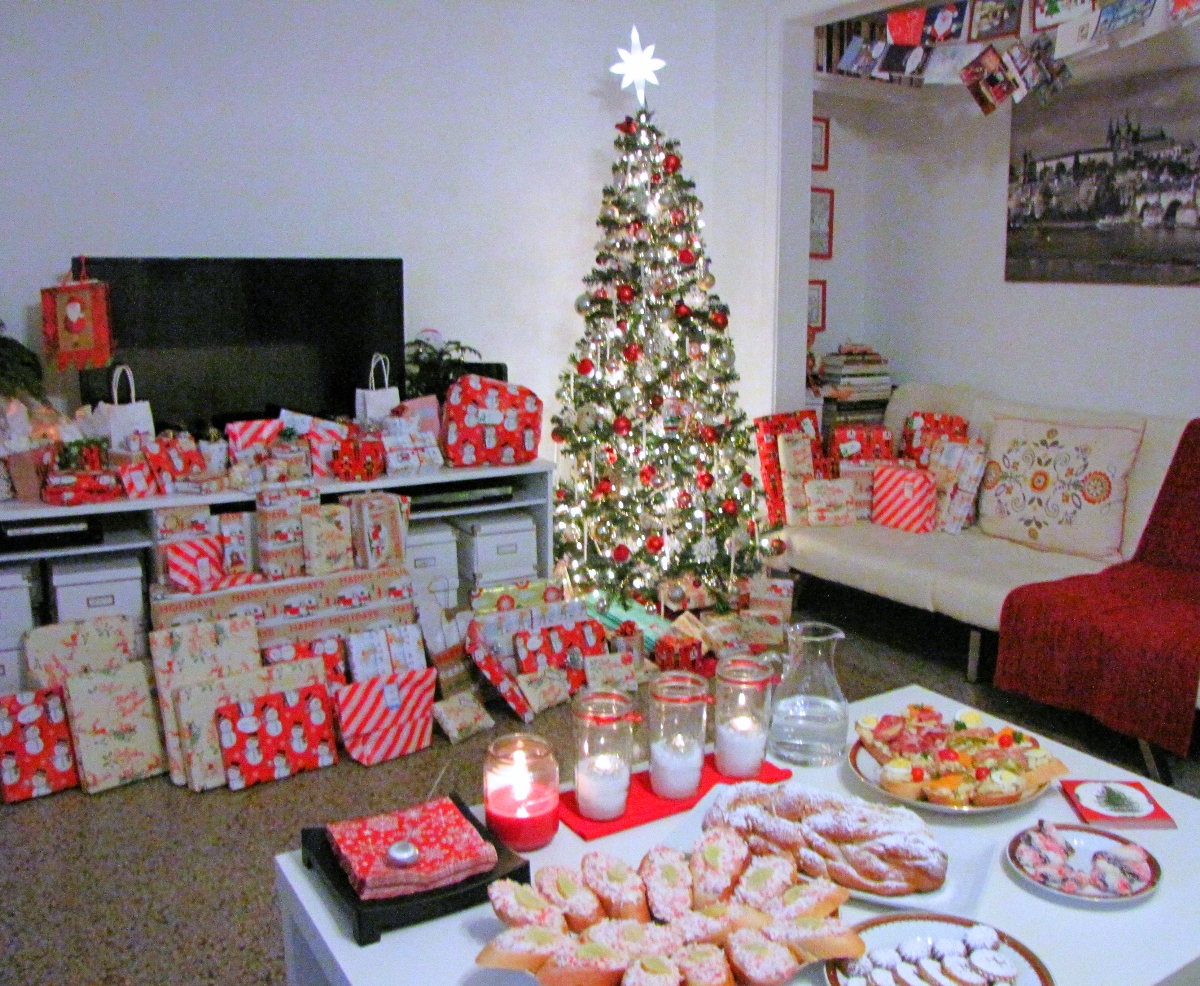 And luckily, Pavel was able to snap a few photos of us as well!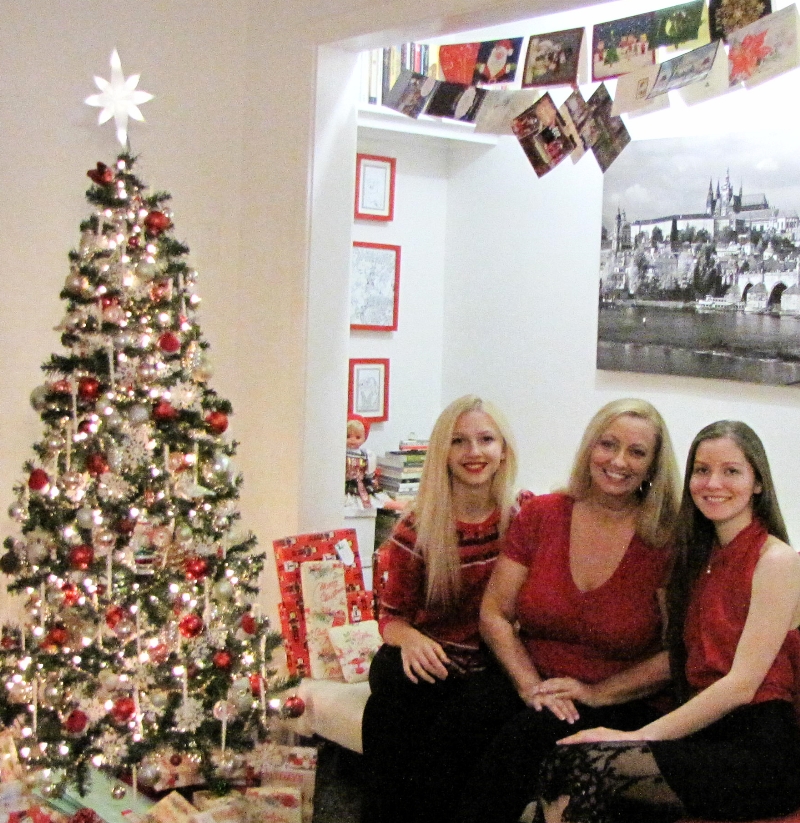 I wish we had better photographs to wish you all a Merry Christmas, but this is all we have for this year. We are sincerely hoping that donations for the site come in for the next year so we can get a better camera because the one we shoot with is from 2006! Donations also help cover the costs of running the site such as paying for the domain name, website hosting, various plug-ins, email programs, research materials and so forth.
Here we are, Zynnia, Kytka and Zanna – the Tres Bohemes – wishing you a very Merry Christmas!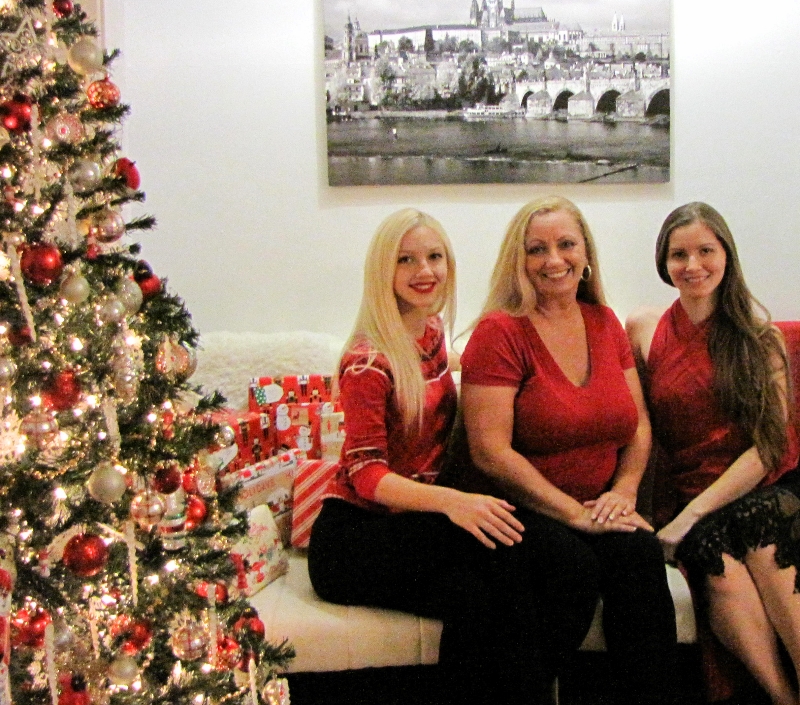 Just before they came in, Zynnia paused and took this photograph. When I look at it now, it seems to be full of Christmas magic. Even though we have no skylights, or any lights for that matter where they appear, these mystical rays came in to illuminate our holiday. Perhaps it's my Babička Marie and other ancestors who have passed coming to join us for our special Bohemian Christmas Eve.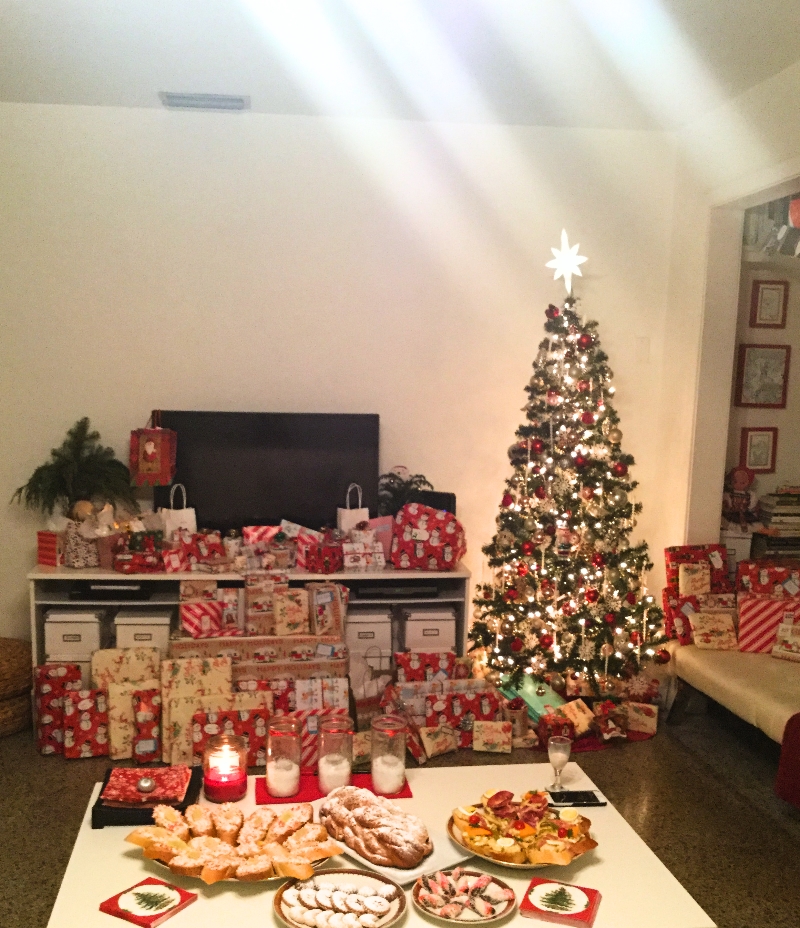 The fish is best when cooked fresh, so when everyone was home and accounted for, Zanna and Pavel began to prepare the fish.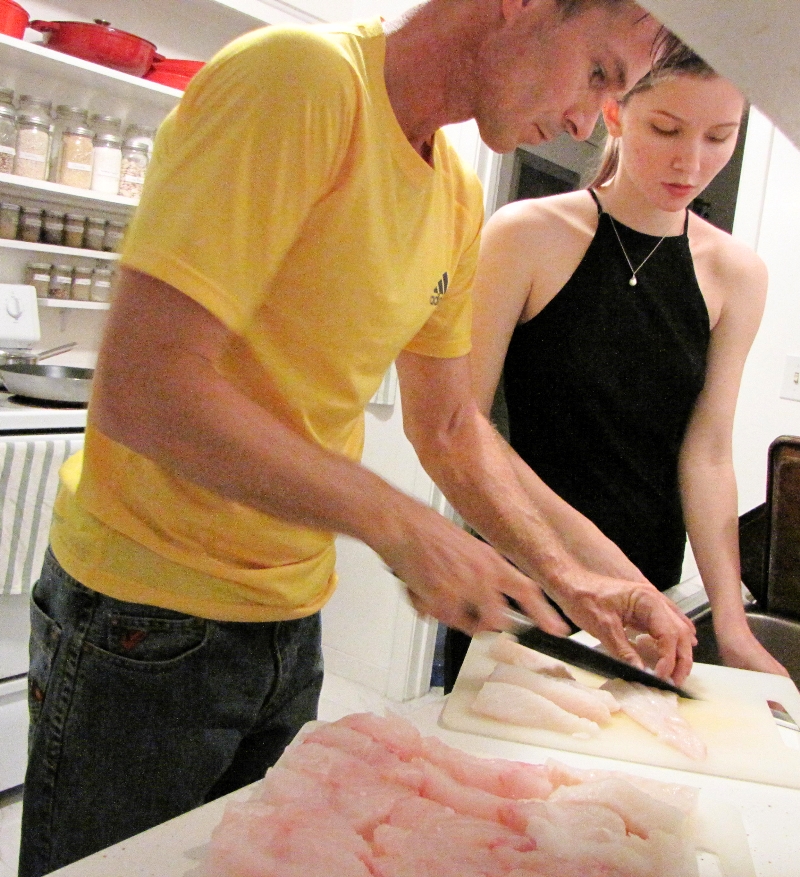 While waiting for the fish to fry, we enjoyed a few of these delicious Kokosový kmen cookies, also known as Coconut logs. We tried the recipe for the first time this year from the Czech Cookbook website and they were a hit!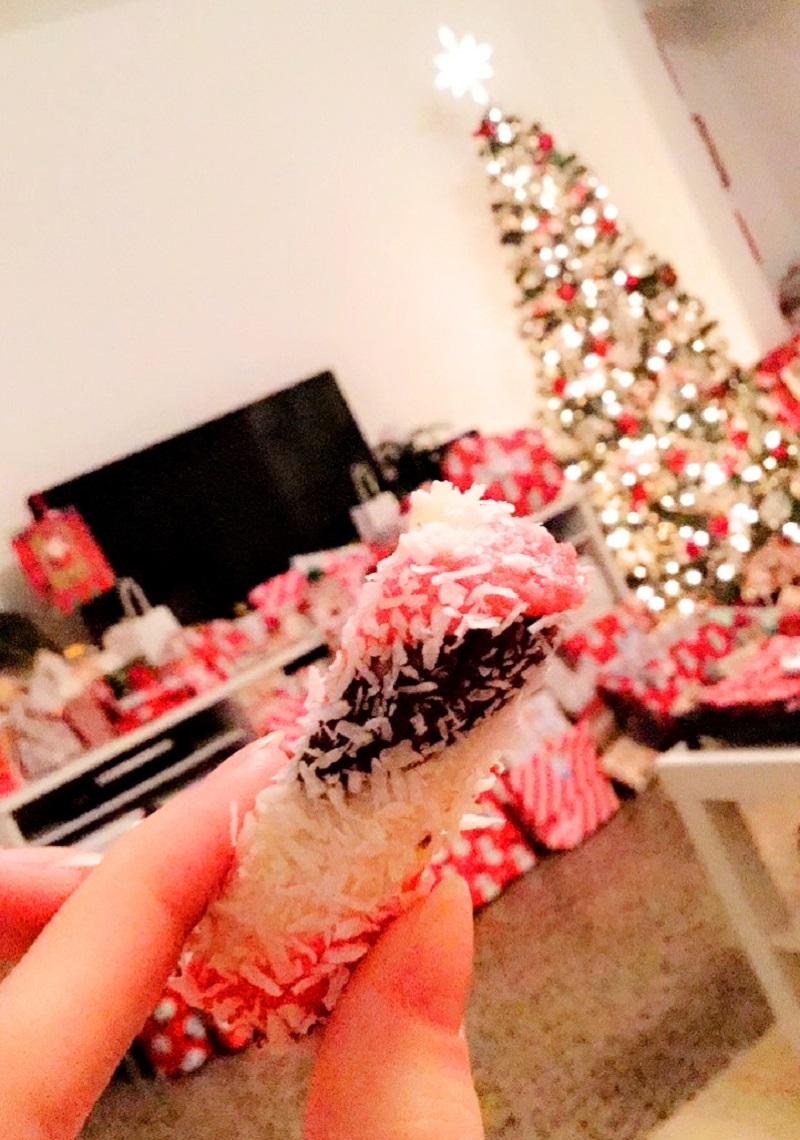 And before we knew it…
It was time for Christmas dinner!
But first, can you believe that Zanna maintained looking so glamorous even while arranging three different potato salads and frying almost 5 pounds of fish?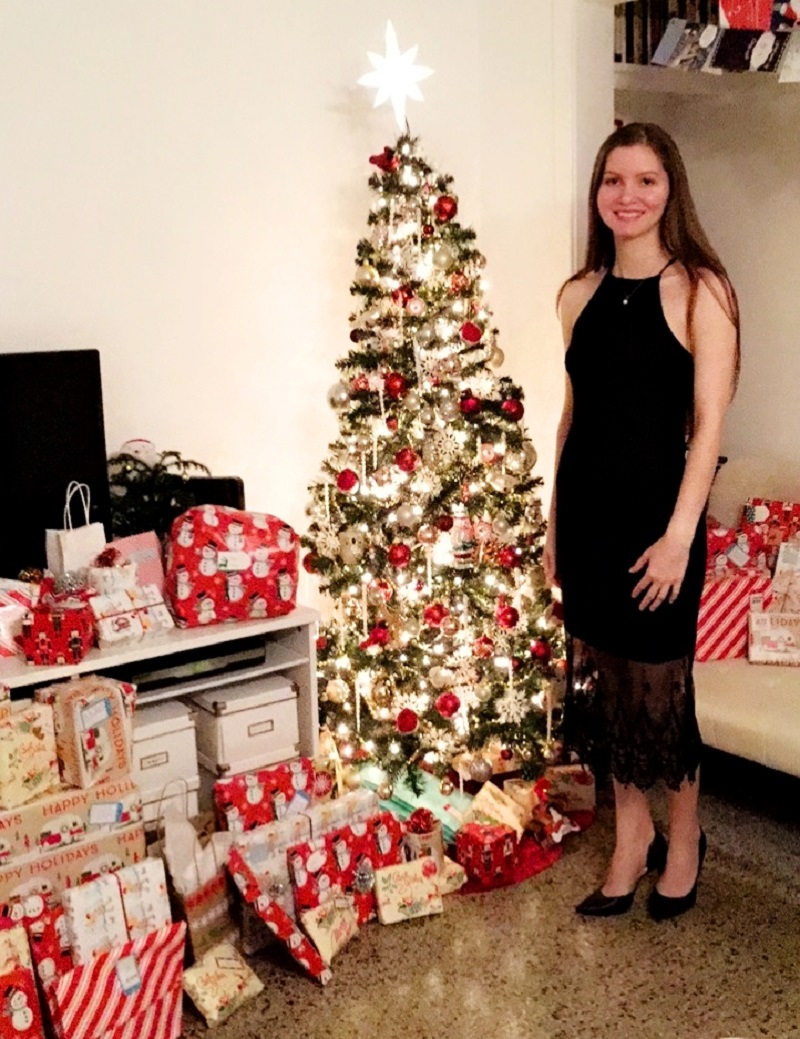 We were all so excited about it being dinner time, we literally forgot to take any photographs of the food. We did manage to crop the one below out of another photo!
And a pretty photograph of Zynnia filling her plate.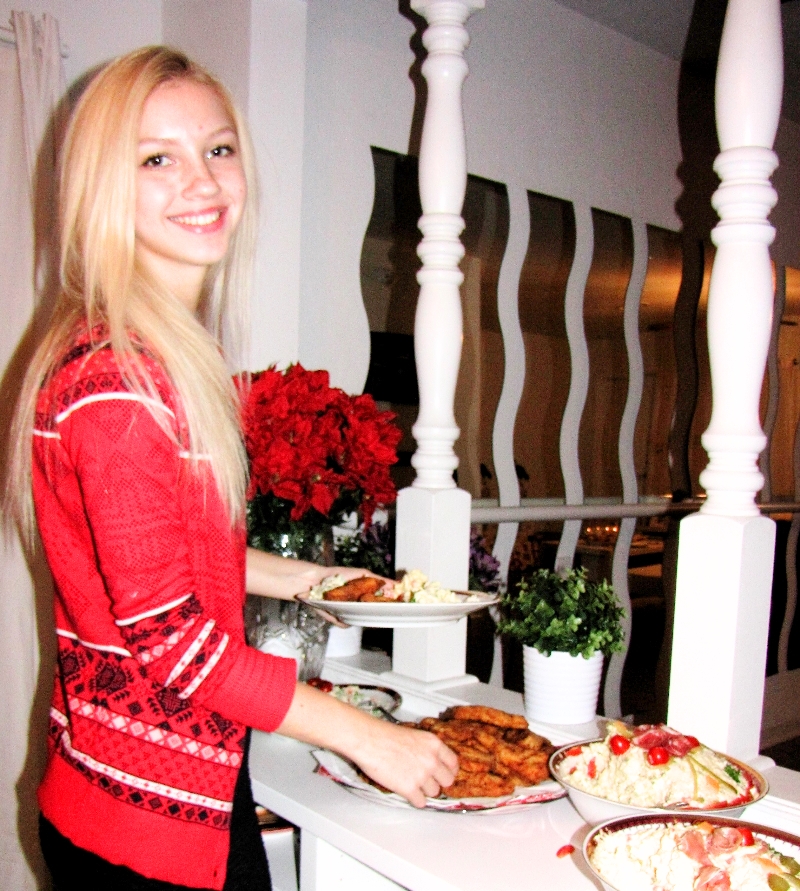 Pavel did manage to get one of the group before we began to eat. There's nothing better than a group of Czechs sitting around the table to make it a real Bohemian Christmas Eve.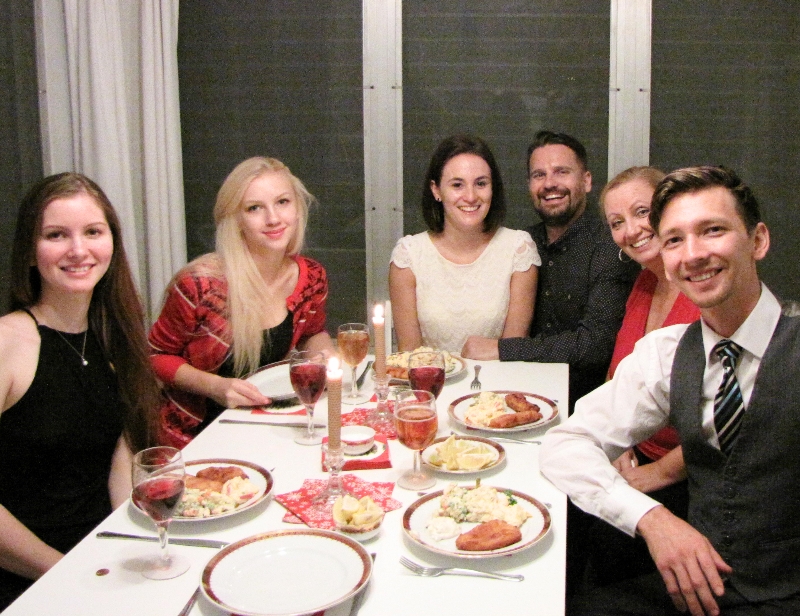 Zynnia snapped a selfie of her and Zachary before they sat down.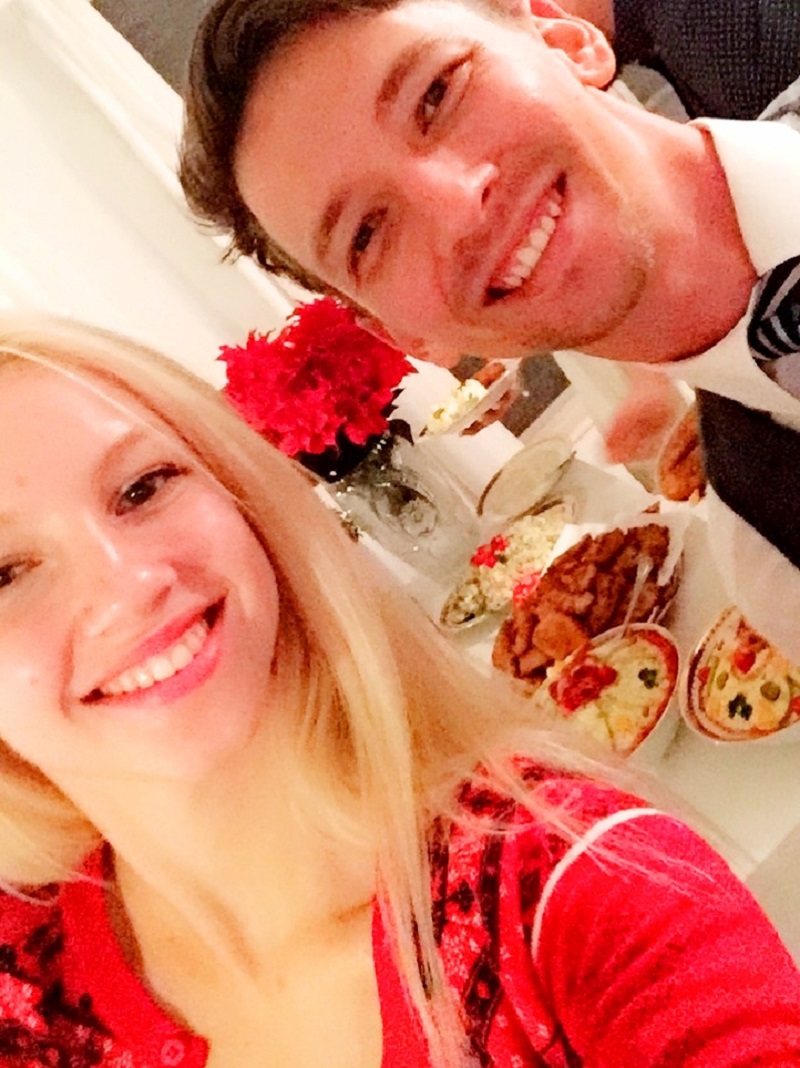 …And someone snapped this one of the table mid-meal as well. The table was made extra warming with the hand rolled beeswax candles we received last year from our friend Jolana.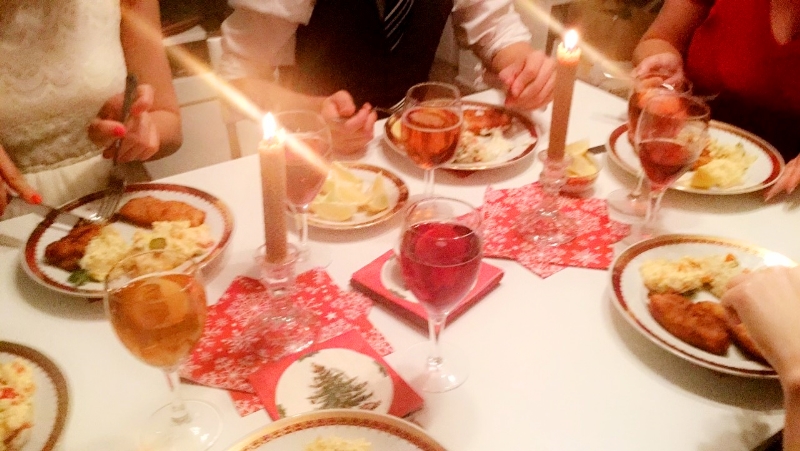 Mmmmm, dobrú chuť!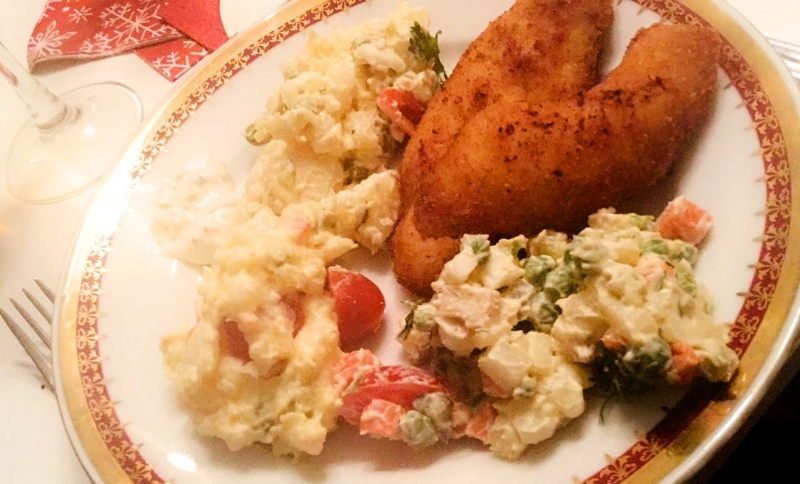 (Note to self for the purpose of manifestation: Sometime in the New Year, I am going to turn the ballet room and dining room into one large room. Here I will place a 16-seat custom table and seat everyone for Christmas properly. Of course, at that time I will also be able to invite more people to come and share this special time with us!)
After dinner, we all moved back into the living room and the exchanging and opening of gifts began.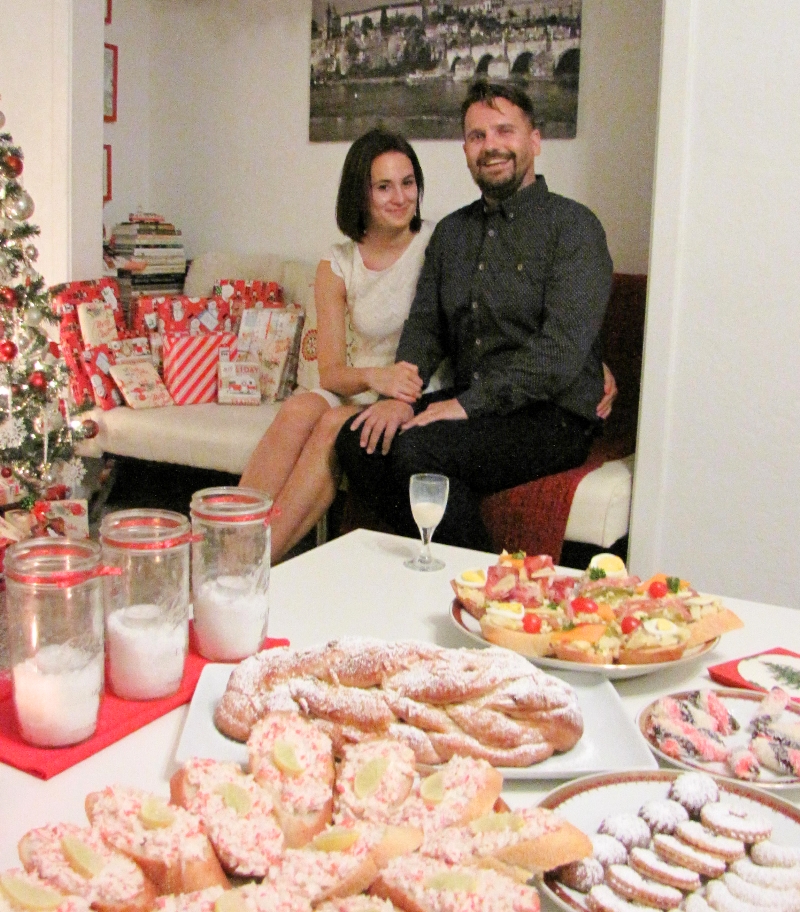 Adela was excited about all of the gifts she received.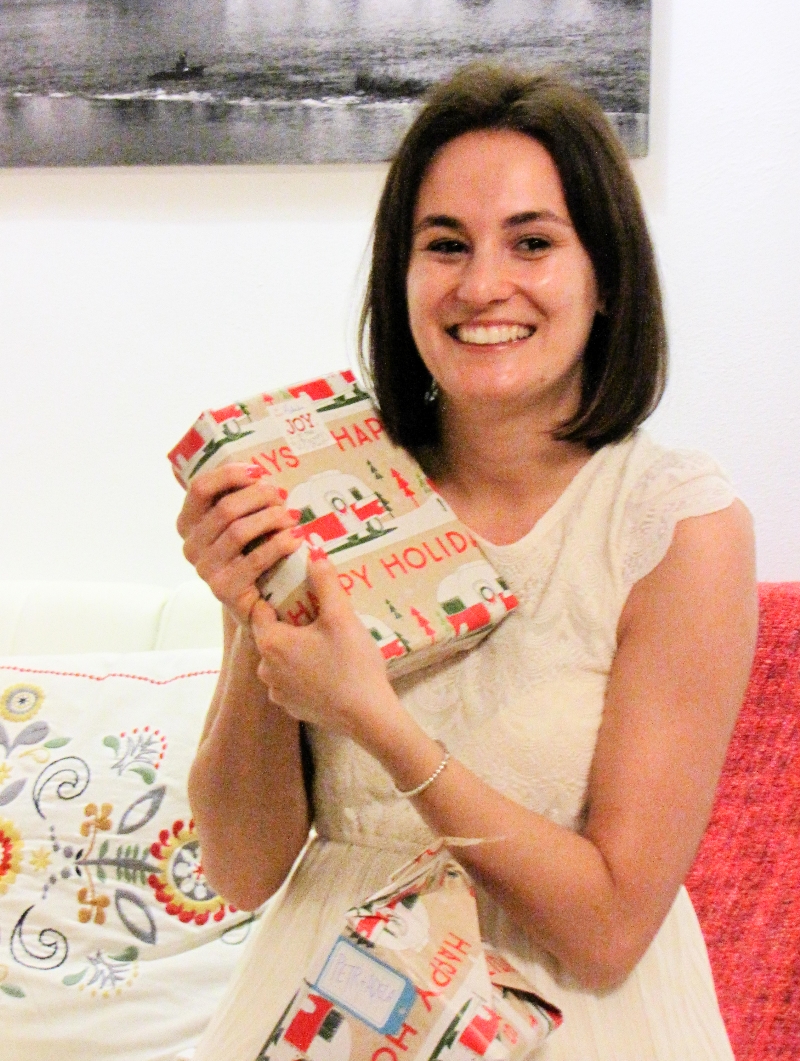 Petr seemed most excited with the various graphic socks, especially the ones that would allow him to "walk on the beach" even when back in Prague.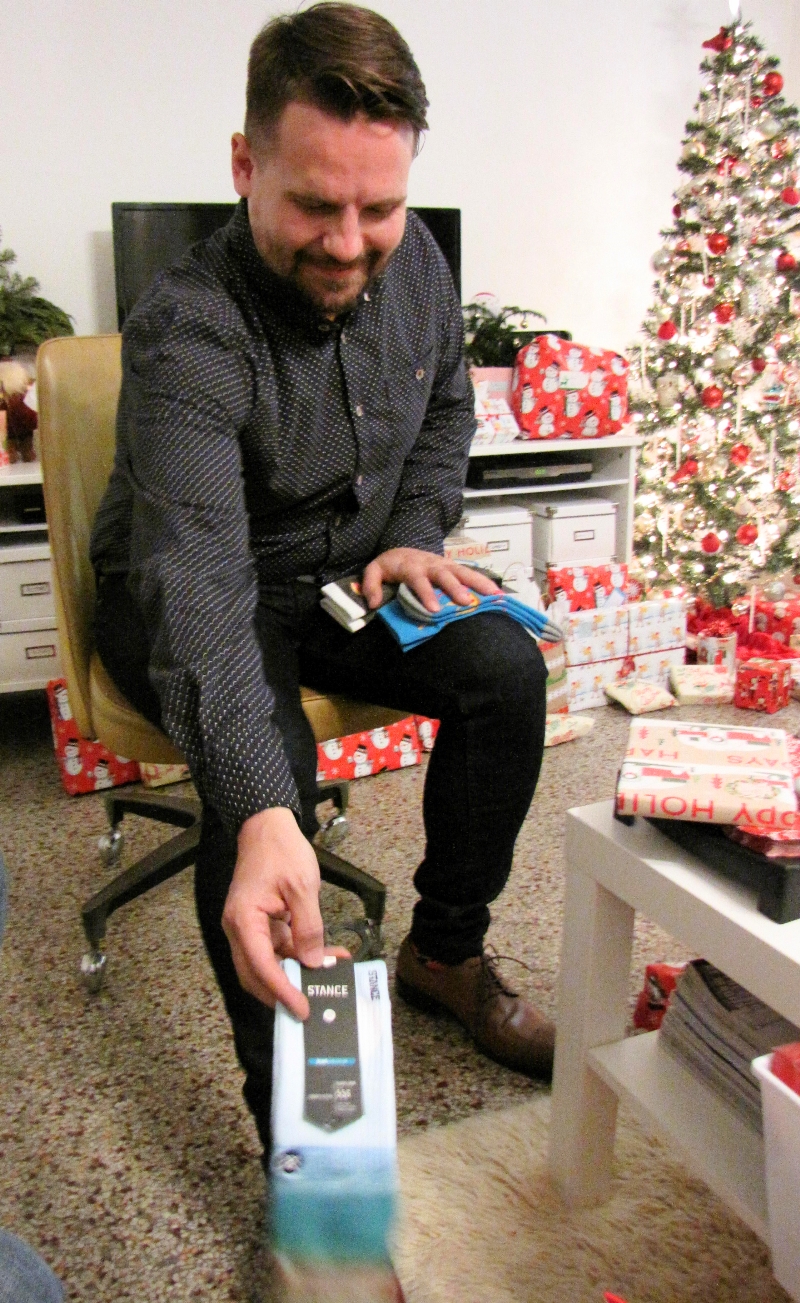 Each time he comes to visit us, he loves to sit in my vintage retro Chromcraft chair and roll from place to place. It was especially funny at Christmas time as the chair assisted him in passing out all of the presents via special delivery by rolling across the whole room!
All of us girls received pretty bracelets.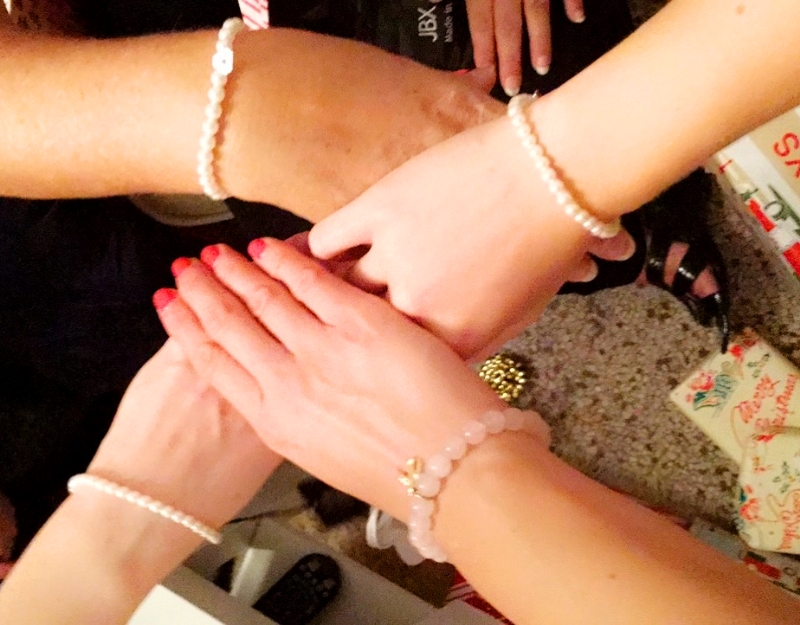 A special moment in our Bohemian Christmas Eve was when Petr and Adela gave Zanna and Zynnia their custom artworks. They are made by a talented graphic artist they work with.
Zanna is shown in Prague, working on TresBohemes.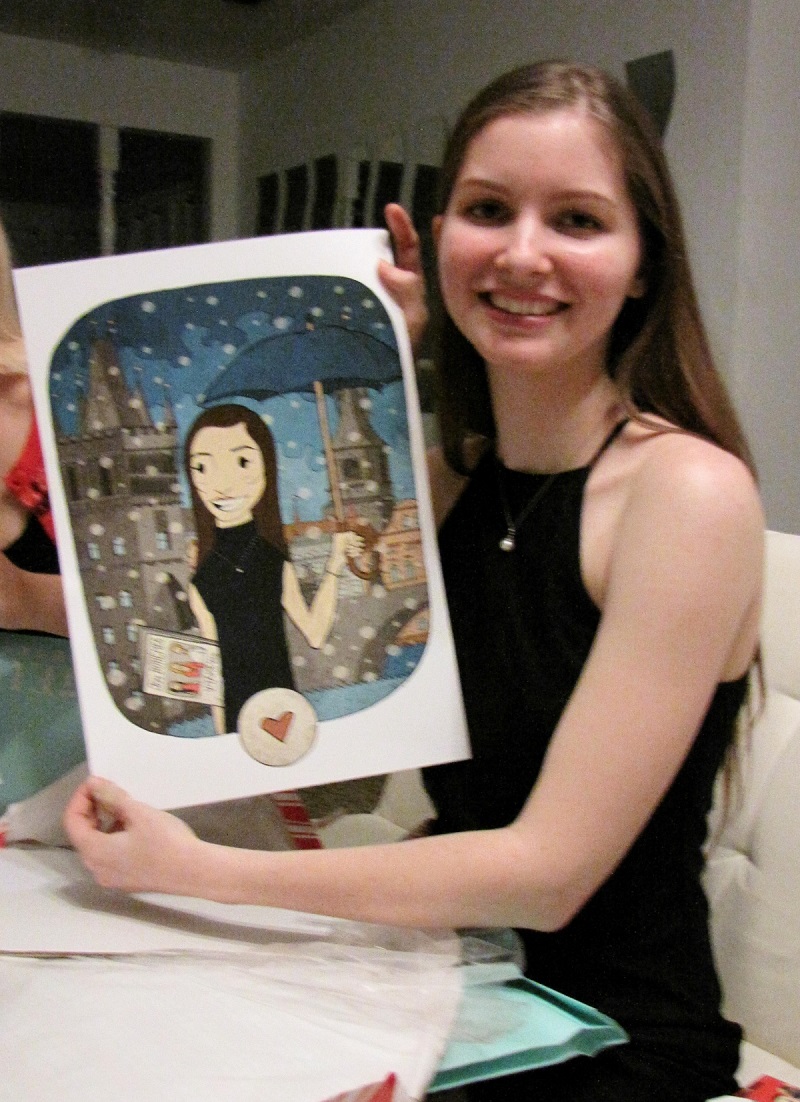 And Zynnia is shown in New York, shopping at her favorite, Tiffany & Co.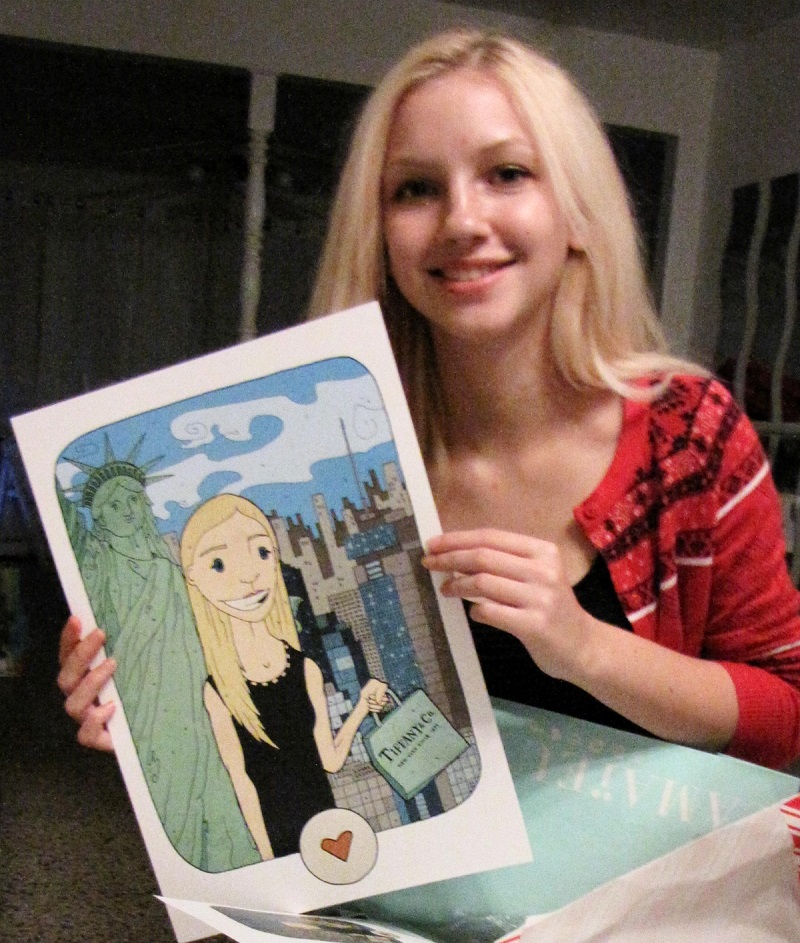 We also all received beautiful homemade and personalized cards from Zachary!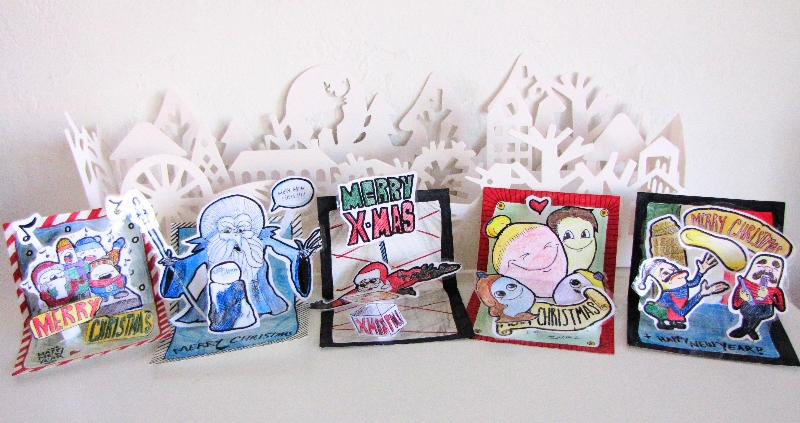 Paper was everywhere, Pavel was relaxing in my massage chair and Zachary succeeding in trying on all of this clothes at once with numerous layers. We laughed until we cried. So much fun was had, we forgot all about the cameras and photographs.
Fortunately, Zack did remind us and took this selfie as we all moved into the living room.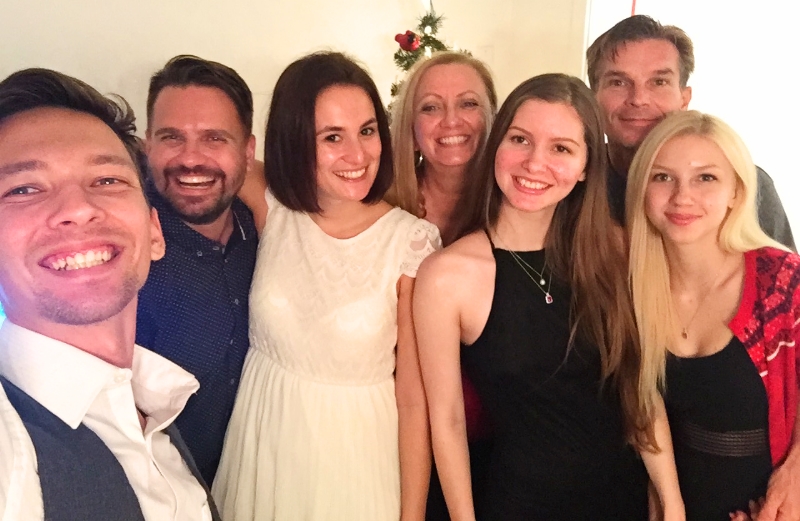 And Petr set up his phone using the self-timer and was able to capture this one group photograph. Now we can all remember this awesome magic moment.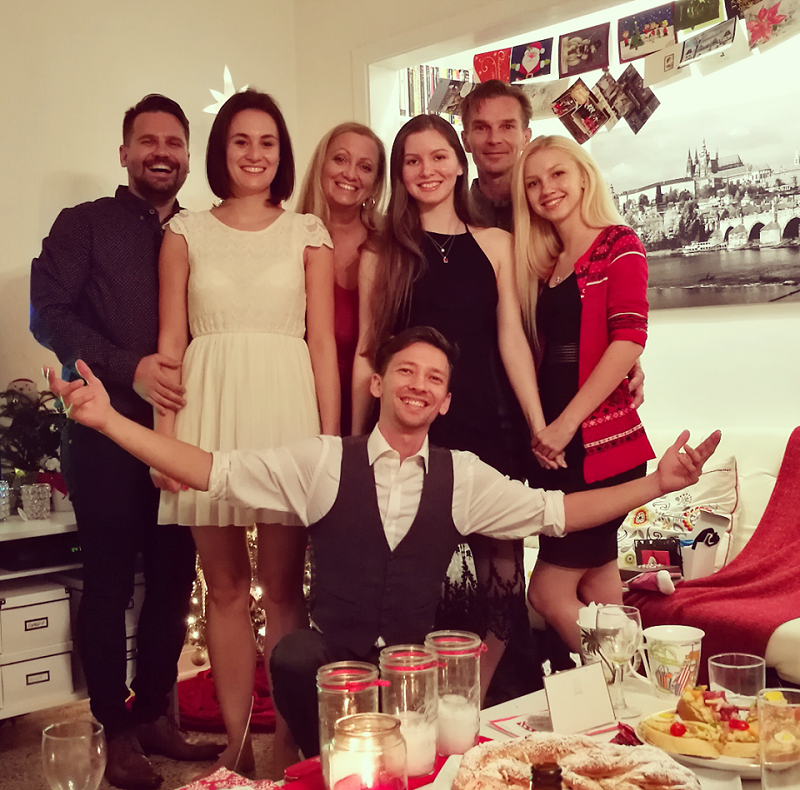 The perfect ending to a perfect Bohemian Christmas Eve.
We wanted to share this because so many times the things we post elicit comments about how perfect everything looks, and how we live some kind of special life. Like everyone else, our life is filled with imperfections, crazy schedules, not everyone agreeing, bad lighting and timing that goes awry. The gift and blessing in it all is that no matter how it happens, we've all learned to let go of any preconceived notions of how it should be and have learned to go with the flow and enjoy what is.  In doing this, we're fully present in each moment and that is truly the best gift of all.
My mother decided to have dinner with my sister and her family and so we didn't see them on Christmas Eve. They have two new puppies and invited us to come share Christmas with them, but we already had plans to have Christmas here and Petr and Adela came all the way from Prague, so it is what it is. My mother came Christmas Day and it was just as special and we were all just as happy! We also Skyped my father, so we were all together, only in a slightly different way. We have to adjust to life, not expect it to bend to our wants or time schedules…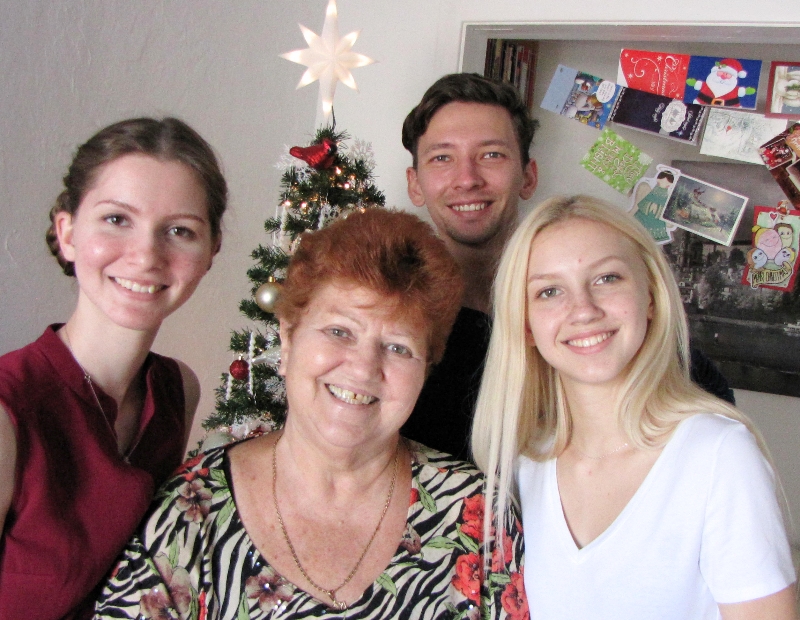 Mom's Christmas Day visit was an excuse for more special visitors, plenty of holiday foods, endless plates of Christmas cookies and there was plenty of love to go around as well!
We sincerely hope that by sharing our imperfectly perfect experience with you, that we help you remember your Czech heritage. Most of all, that you celebrate being with the ones you hold dear and remember to keep those who cannot be with you in your hearts.
Přejeme Vám veselé Vánoce a šťastný nový rok. | We wish you a Merry Christmas and a Happy New Year.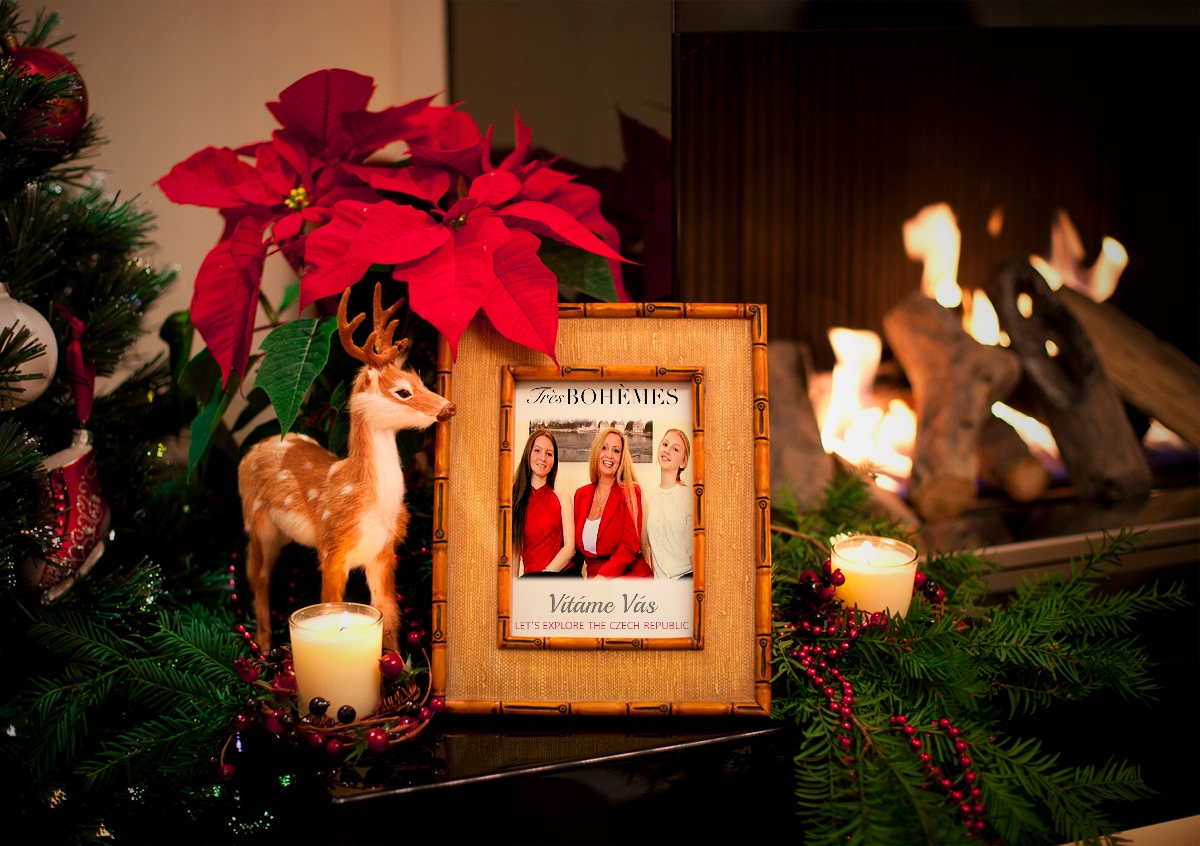 Kytka, Zanna and Zynnia
TresBohemes….
Note: You can find numerous Christmas posts simply by searching the term Christmas in our search box, and also you may enjoy Bohemian Christmas Foods & Czech Traditions, which we shared from our Christmas in 2014. Furthermore, we also have numerous holiday recipes in our recipe archives.
If you have not already subscribed to get TresBohemes.com delivered to your inbox, please use the form below now so you never miss another post.
---
Remember, we rely solely on your donations to keep the project going.
Become a friend and get our lovely Czech postcard pack.