It's true. Most Czechs suffer from mycophagy.
Don't worry… it's the eating of mushrooms, particularly wild mushrooms. ;)
Hunting for mushrooms and mushroom picking could be compared to a national sport in the Czech Republic because the moment you leave the city, you'll see people heading into the woods to hunt for mushrooms. Each time we've been there to visit, we've been invited and each time we've prepared to leave, we've been given the ultimate gift, a bag of home dried forest mushrooms.
In the Czech Republic, the people like to joke that all mushrooms are edible… but some only once. But seriously, distinguishing edible mushroom from inedible or even poisonous ones is an art form of sorts and it's a folk tradition which is passed down from generation to generation. Entire families set out and combine movement with relaxation and they comb the forests for their edible treasures. Big city problems are left behind and the forest heals, recharges batteries and evendelievers some favorite fungi. What can be better than that?
The picking of mushrooms has a very long history in Bohemian lands, and it's regarded as a national passion. The thick forests always provided a secure food source when times were poor and there was no meat on the table – mushrooms provided good substitutes and remember, they've always been free for the picking.
And all Czechs will tell you that mushrooms picked from the forest taste better and once you've tastes them yourself, you'll agree and be converted immediately.
Store bought mushrooms are not even in the same category. They are virtually tasteless and odorless compared the the richness of forest mushrooms. So the next time you visit the Czech Republic, ask your hosts and friends about them and maybe you'll even get invited to go along on a mushroom hunt!
These are a few popular Czech mushrooms…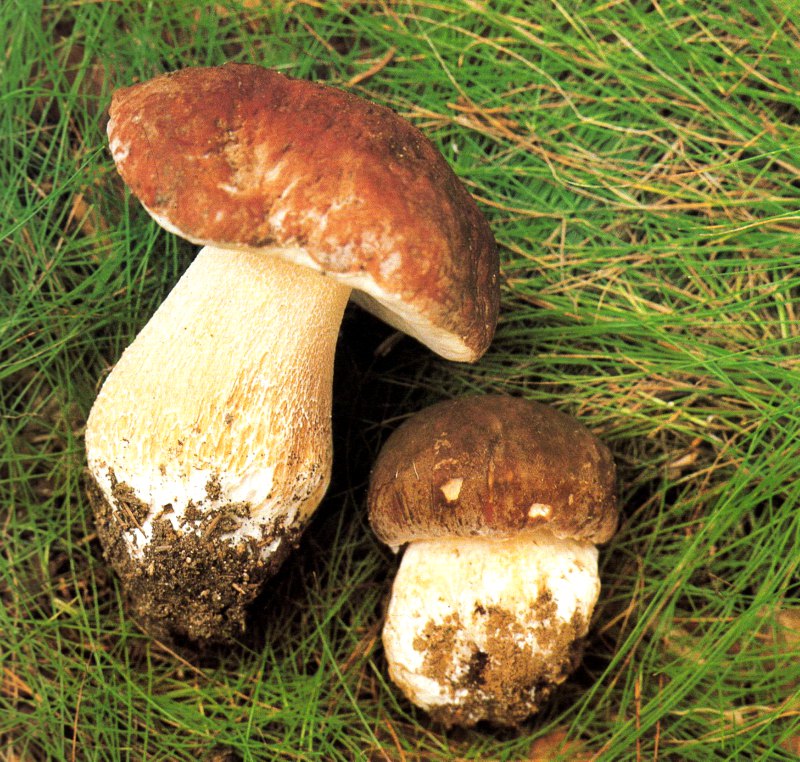 Latin: Boletus edulis
Czech: Hříbek
American: Porchini
The Bolete is a very popular, delicious, meaty mushroom that grows all over the world. It has many names such as king, cep, porcini, steinpilz, penny bun and many others. It is apparently a complex of closely related species with similar looks, habitat, and flavor wherever it is found. It is highly variable in coloration.
B. edulis is considered one of the safest wild mushrooms to pick for the table, as no poisonous species closely resemble it. It is very common in Europe—from northern Scandinavia, south to the extremities of Greece and Italy—and in North America, where its southern range extends as far south as Mexico.
Italian chef and restaurateur Antonio Carluccio has described it as representing "the wild mushroom par excellence", and hails it as the most rewarding of all fungi in the kitchen for its taste and versatility.
The flavour has been described as nutty and slightly meaty, with a smooth, creamy texture, and a distinctive aroma reminiscent of sourdough. In the Czech Republic – this is a favorite mushroom and chefs prepare all kinds of dishes from creamy risotto to pickling them in brine.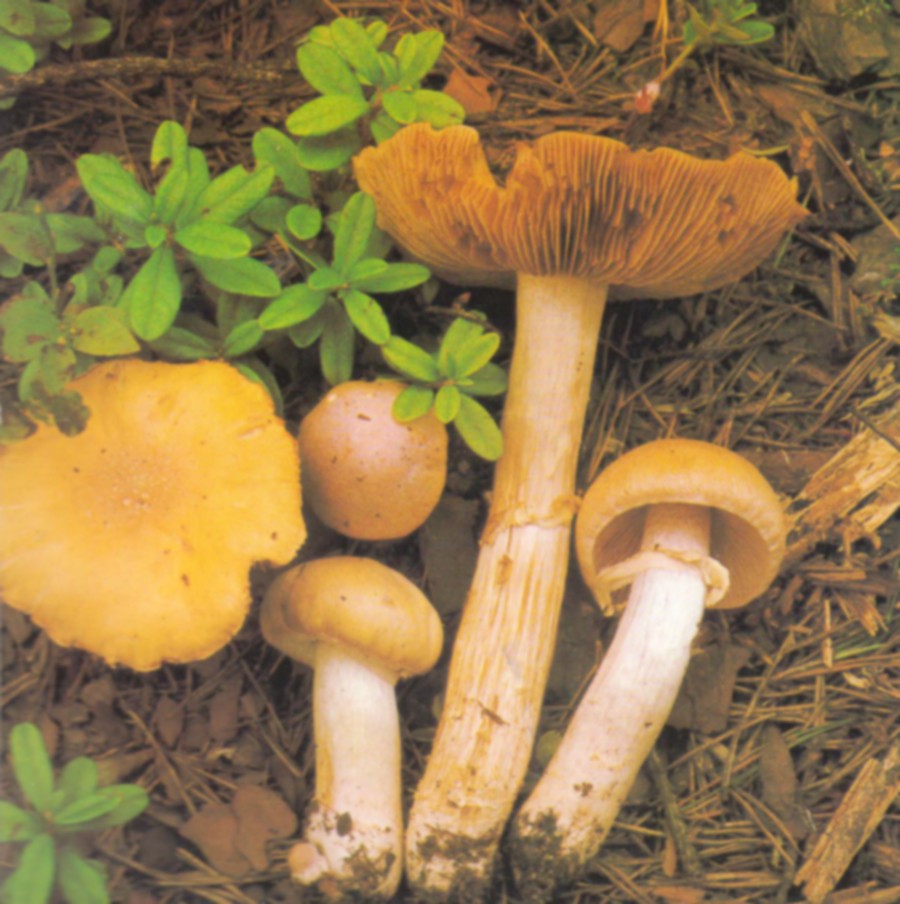 Latin: Rozites Caperata
Czech: Sluka Svarskala
American: Gypsy Mushroom
Apparently, this phenomenal fungus has antiviral properties. From a couple of research scientists at the University of Wisconsin, Curtis Brandt and Frank Piraino:
"…have found that extract from the mushroom prevented herpes simplex virus types 1 and 2 from growing in test tubes and it reduced the severity of herpes-related eye disease in mice. It blocked influenza A, chicken pox and a respiratory virus…. The active part of the mushroom, a compound they call RC-183, has been patented."
Rozites is named in honor of a European mycologist Ernst Roze, who worked in the early 1900's. The specific epithet caperata means wrinkled and older specimens of this mushroom often have a wrinkled cap.
This particular kind of mushrooms likes to grow alone rather than in a cluster, In other words, you may find one here, one there, a few over there and so on. It grows in the northern zones throughout the world. It frequents conifers, but you can also find it among mixed hardwoods such as oak, birch, pine, oak and aspen.
Some years they are very abundant and other years they are quite scarce and this is what they have in common worldwide.
This particular mushroom has a very delicious flavor, kind of spicy, a bit like cinnamon. In a Czech kitchen this mushroom is added to soup and cooked with garlic and scrambled eggs.
Source:  Tom's Fungi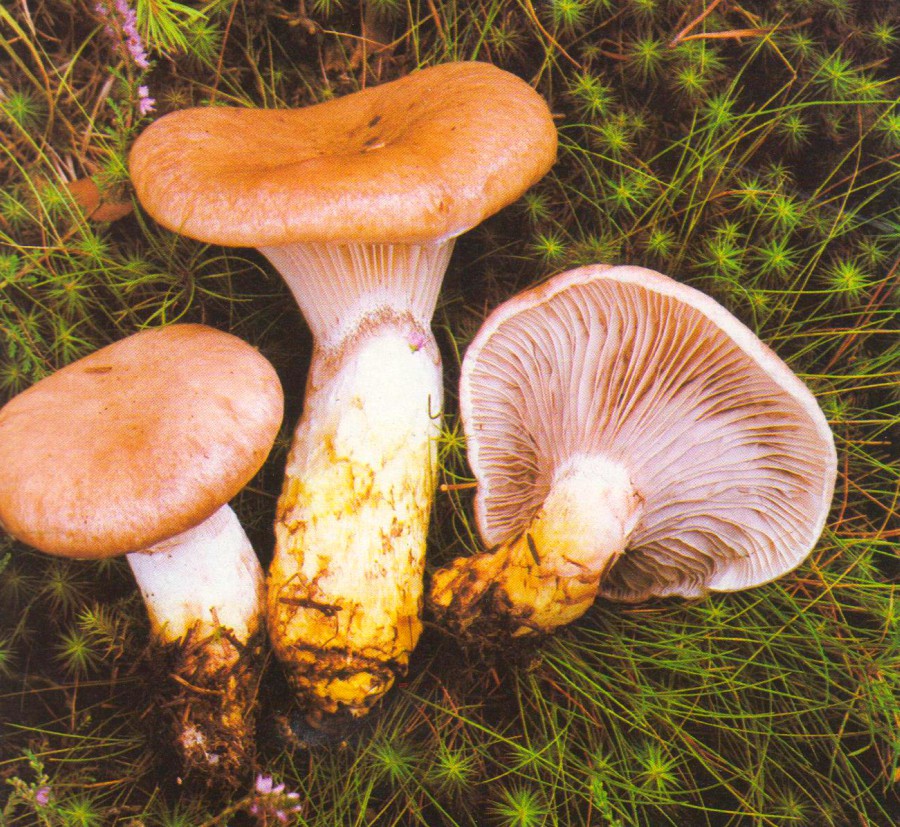 Latin: Leucogomphidius Glutinosus
Czech: Slyzak Mazlavy
American: Slimy Spike Cap
This is a gilled mushroom found in both Europe & North America. Although it does have gills, it is a member of the order Boletales. This, too, is more of a solitary grower. It is rarely clustered, often growing near Sitka spruce in north coastal forests in the USA and near pine, fir and spruce woodlands in Europe. It appears in autumn after the fall rains.
When you find this one, it is initially covered with a slimy veil. It's best to remove this veil immediately. This particular mushroom works best when combined with other mushrooms. In a Czech kitchen this mushroom is when a bit of bitterness is needed in a dish. I works best in soups and stews. It is not recommended to dry this mushroom
Opinions do differ on the suitability of this mushroom for the table. Some guides hold it in high regard, while others view it with caution because worms will rarely eat this mushroom.
Latin: Morchella Esculenta
Czech: Smrz Obecny
American: Morels
This is one of the most readily recognized of all the edible mushrooms and is highly sought after both in the US and in Europe. In North America, it is widely distributed, but especially common in eastern North America and the Midwest.
This delicious fungus fruits under hardwoods during a short period in the spring, depending on the weather, but it is also associated with old orchards, woods, disturbed grounds and burnt areas. They are seen near pine, elm, tulip, sassafras, beech, ash, sycamore, and hickory trees.
They are sometimes found growing solitary, but more often you can find them in groups, on the ground in a variety of habitats.
Czech folklore said that you should always scald this mushroom with hot water before any other use. This is because these contain a gastrointestinal irritant called hydrazine, but parboiling or blanching before consumption does remove it. Stay away from ones that show signs of decay as they may be poisonous. They should also be used sparingly and consuming too many may cause slight visual disturbances.
Labratory tests have shown that these mushrooms have medicinal properties, including anti-tumor effects, immunoregulatory properties, fatigue resistance, and antiviral effects. Extracts made from morels have antioxidant properties.
In a czech kitchen, this tasy mushroom is added to soups, stews and puddings. It can be sauteed on onions, prepared with scrambled eggs, as a filler and stuffing mushroom and on some paprika. These taste greak pickled too. If you wish to dry these, they should be threaded and hung to dry.
Sources: Wikipedia
Exciting Note: We have found that on Amazon, you can get a variety of dried mushrooms including chanterelle, wild porcini, portobello, shiitake, oyster, wood ear, winter truffles, champignon, black trumpet, boletus edulis, cloud ear, morel, boletus aereus, chaga, black trumpets, boletus luteus, paddy straw, candy caps, lobster, cremini, cepes, boletus pinicola and numerous others.
Check out the Mushroom House and Life Gourmet Shop to get your mushrooms!
Go along on a mushroom hunt in this video…
Mushroom Images Source: My copy of Jihočeska Hourbařská Kuchařka (Southern Bohemian Mushroom Cookbook).
If you have not yet subscribed to get TresBohemes.com delivered to your inbox, use the form below now so you never miss another post.
---
Remember, we rely solely on your donations to keep the project going.
Become a friend and get our lovely Czech postcard pack.