There are a couple of rules when making an Easter Lamb or or Velikonoční Beránek as it is called in Czech. The most important is to use a dense cake batter. We recommend a pound cake or dough for bábovka.
Rule number two is to make sure to butter and then either flour or bread crumb the pan so your little friend does not stick and comes easily out of the pan!
Finally, the sky's really the limit when you are decorating your lamb. Some like to frost it in a way to make it look like wood, others like to make a marble (two colored) or chocolate lamb, others use a glaze. People add ribbons and bows, different items for the eyes and so on. We prefer a "naked" lamb with only a light dusting of powdered sugar and a little ribbon tied around the neck.
Obviously, you also need a lamb mold. To make ours, I went to Amazon last week and bought a Nordic Ware Spring Lamb 3-D Cake Mold. I love the size of it, 11.2 x 7.5 x 3.5 inches and with my Prime Membership it was delivered to my door in only two days.
This is the mold we used…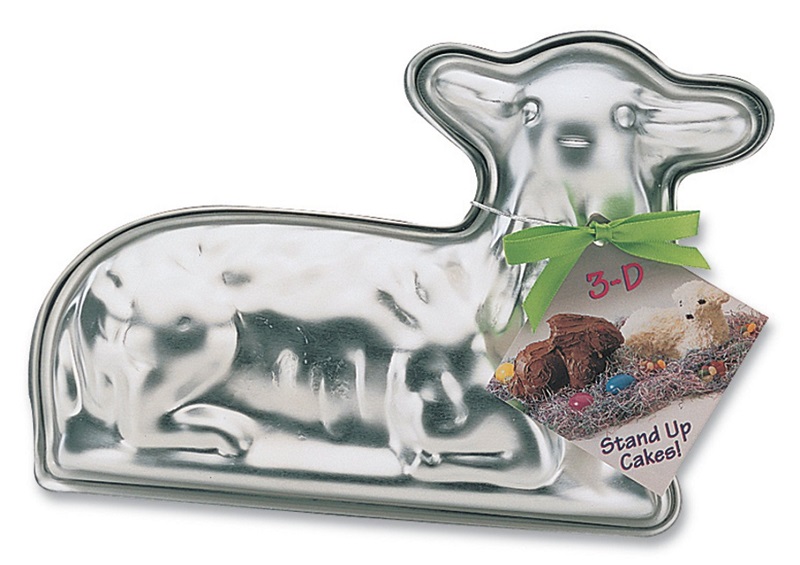 Here is our Easter Lamb Recipe (This recipe makes two lambs)
Ingredients:
6 ounces melted butter
4 eggs, separated
2 1/4 cup sugar
2 cups milk
5 cups flour
2 Tbsp baking powder

1 teaspoon vanilla extract or Czech rum for fragrance
Directions:
Preheat your oven to 350.
Grease and bread crumb or flour your lamb mold.
Separate your eggs into two bowls, a smaller one for the whites and a larger one for the yolks.
Using your electric mixer, beat the yolks with half the sugar until a bright yellow color appears (about 3-4 minutes). Then add the milk and remaining sugar and beat another minute.
Stir in the melted butter and begin to add the flour (sifted is preferred) and the baking powder, all the while mixing. Mix for approx. 3 minutes and set aside.
In the other bowl, use a clean whisk attachment and whip the egg whites until stiff peaks form. Fold into the yellow mixture and pour half of the batter into the face half of the form. (The back side half has a little hole in it for steam to escape. That is the part that should be on top).
Bake for 45 minutes. I bake ours on a cookie sheet, just in case of spillage. I also tie ours shut.
Let mold cool on cake rack for five minutes and carefully remove from mold.
This mold comes in two pieces. You pour the batter into the front piece and put the butt end on top of the front. It's easy to figure out because the backside has two vents. I advise to bake your lamb with a cookie sheet underneath for spillage of batter (though I made 3 and none of them spilled out or over.)
Here is a picture of our little Easter Lamb… I made a little "rip" in her neck when I lifted her, not accounting for the weight of her head. (snap!)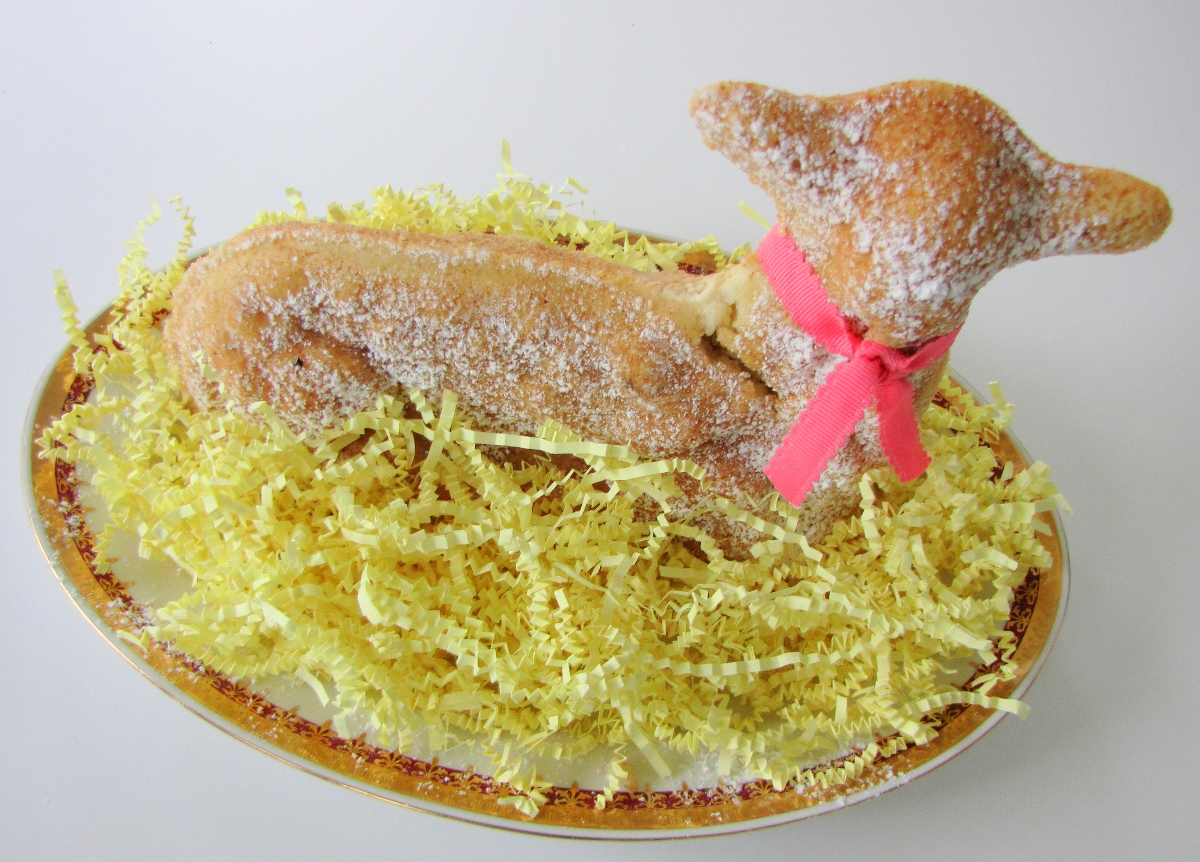 But she's delicious nonetheless.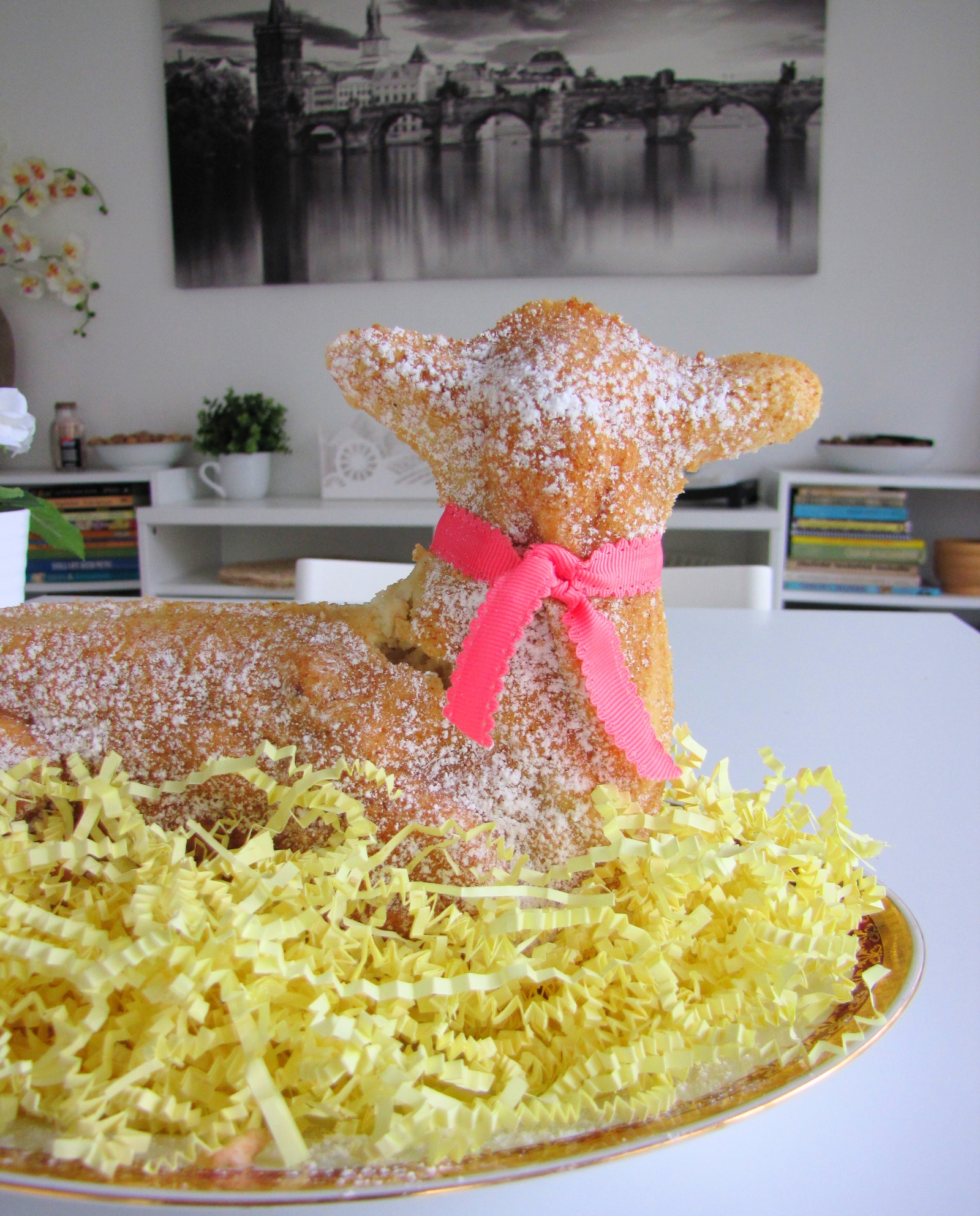 Happy Easter!
Note: You can purchase this exact lamb mold if you click here.
If you have not yet subscribed to get TresBohemes.com delivered to your inbox, use the form below now so you never miss another post.
---
Remember, we rely solely on your donations to keep the project going.
Become a friend today.