Like most other countries we have our own version. Meet the Czech potato pancake or Bramborák or cmunda as it is commonly known. Cooked on lard and flavored with plenty of marjoram, this delicacy is usually made skillet sized to fit the whole plate and served alone and not as a side dish.
A traditional dish which is familiar to most Slavic, Germanic and Hungarian peoples, this dish closely resembles Jewish Latkes.
Known by so many names in the Bohemian region alone, I was amazed when I saw this list of regional names for this tasty and traditional food on Wikipedia:
Bramborka – Podkrkonoší (Náchodsko)
Baba – západní Slovensko (Zemiaková baba)
Báč – okolí Prostějova
Cmonda – Haná
Ertepliak – oblast Spiše – Krompachy
Haruľa – Horehroní (Slovensko)
Hňup – podhůří Beskyd, Novojičínsko
Kramflek – podhůří Orlických hor.
Kramflek Mrzák – severní Horácko, okolí Žďáru nad Sázavou a Nového Města na Moravě
Křapáč – východní Čechy (Letohrad).
Křápanec – východní Čechy (Choceňsko).
Nalešnik – na východě Slovenska (Prešovský kraj); Naleśnik však polsky znamená palačinku, tedy pokrm z mouky, mléka, vody a vajec, bez brambor.
Pampuch – Frenštát pod Radhoštěm, Trojanovice
Placek – okolí Opava
Podlizník – Kysuce
Podplameník – Zázrivá (Orava)
Prskanec – okolí Benešova.
Smrazky – na jih od Chrudimi a v okolí Hlinska (nepoužívá se v jednotném čísle, ale běžně se říká "Dáš si smrazek?").
Stryk – těšínské Slezsko.
Škramplata – z okolí Pardubic.
Toč – Domažlice a okolí
Vošouch – Plzeň a široké okolí: buď normální bramborák, anebo se zapečenými kousky uzeného masa.[zdroj?]
Trinčka-z okolí Příboru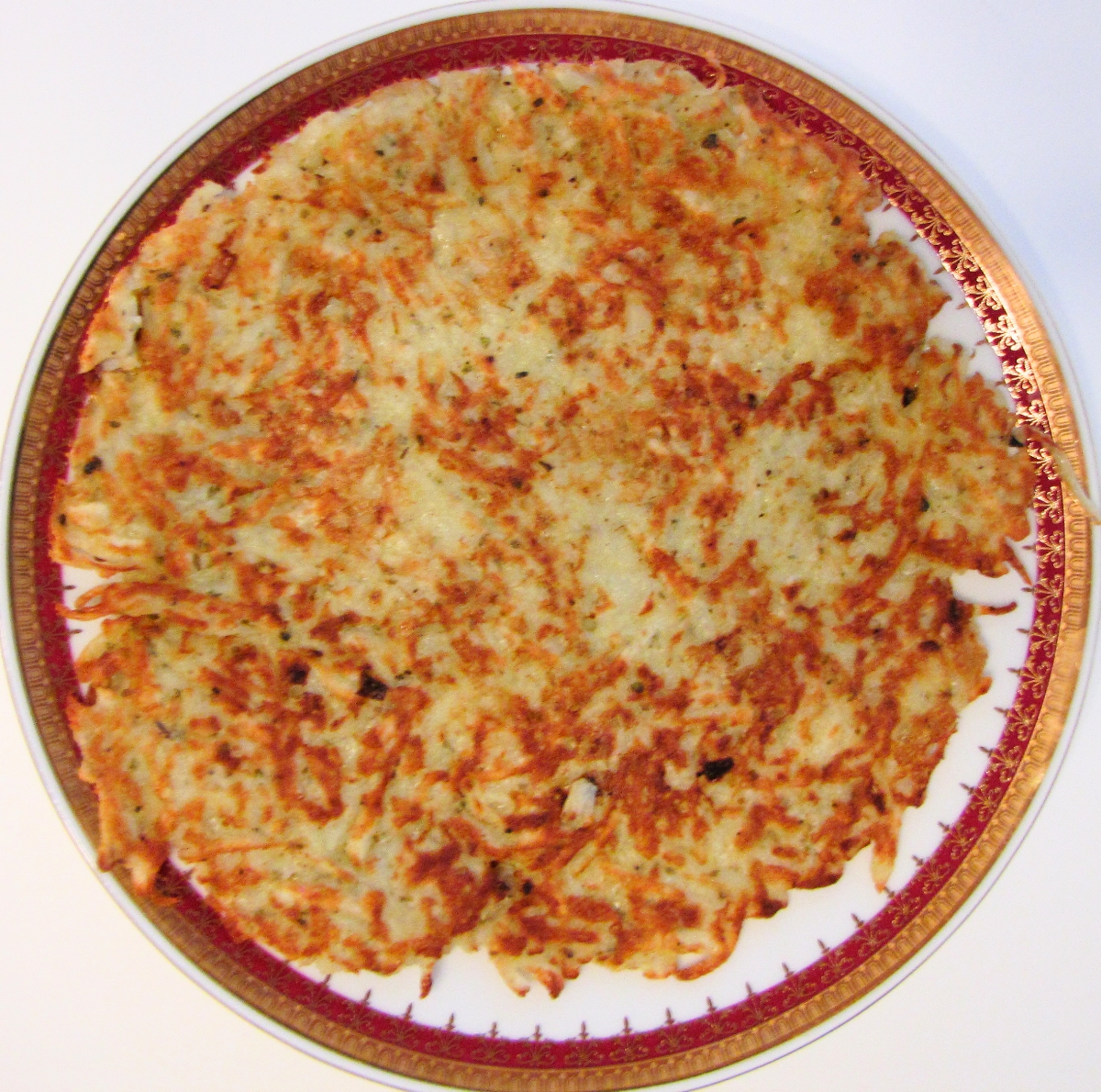 Let it be known that my dad makes the best. And no matter how hard I try, there is something about his making it that makes it at the top of my comfort foods list.
It's an easy recipe with few ingredients. Here is how my father makes it:
Wash, peel and grate 4-5 potatoes. (Sometimes we don't peel them!)
Add egg, salt, pepper, garlic, one small chopped onion and several chopped garlic cloves along with the magic ingredient, marjoram. You can start with 1/2 teaspoon, but we love the flavor and often add more like 1 tablespoon!
Sometimes, if the mixture is very wet, we drain it. Other times we'll be lazy about it and add a little bit of flour. (Little bit = 1 tsp to 1 Tbsp, depending on liquid).
The point is, each potato is different and you never know how starchy or wet they will be, so you have to really have lots of practice to get the perfect one.
For the record – they are ALL perfectly tasty!
Heat lard on medium high and when it's hot, add a enough to press down with a fork to the edges of the pan. We use a non-stick teflon skillet. You want to have a nice solid patty forming, so use the back of your fork to flatten and shape, adding a little more of the grated mixture to make sure you cover the skillet fully.
Fry about 15 minutes or until golden and then flip and repeat on the other side.
All of this takes special Czech talent and practice… ;-)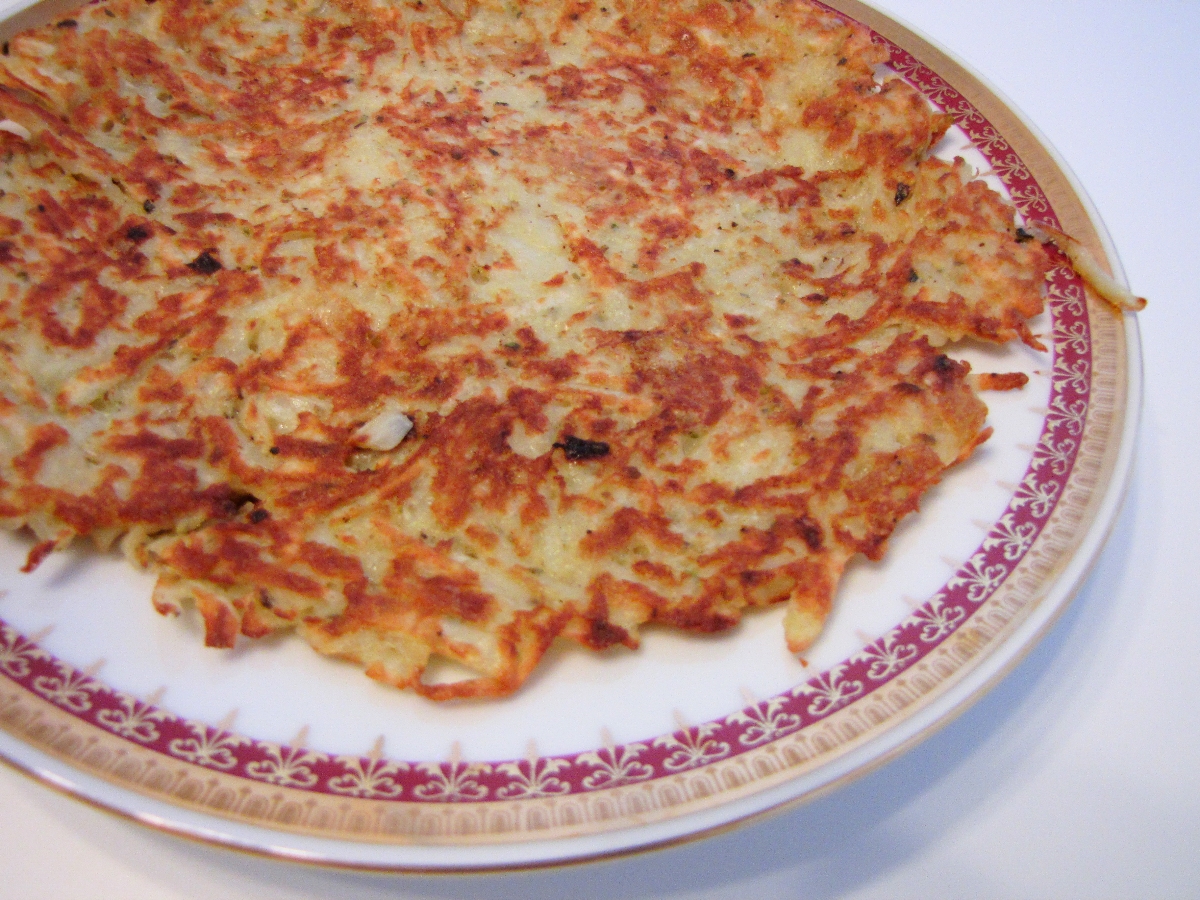 But as you can see, it is worth it.
Dobrou Chut!
If you have not already subscribed to get TresBohemes.com delivered to your inbox, please use the form below now so you never miss another post.
---
Remember, we rely solely on your donations to keep the project going.