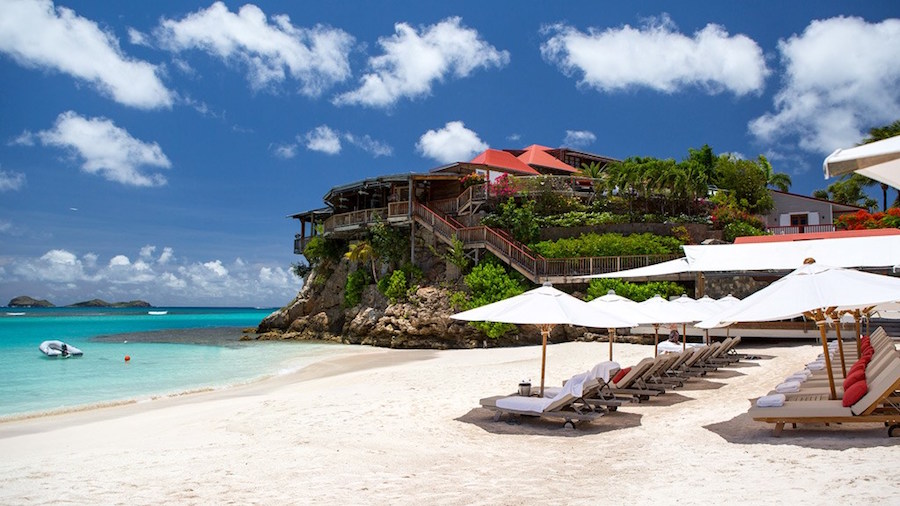 Valentine's Day is a time for romance, and nothing says 'I love you' like a mini vacation to a tropical island. This year, treat your lover and yourself to a weekend retreat at Eden Rock. Eden Rock is a luxury hotel with direct beach access to the beautiful St Jean beach on the sunny island of Saint Barthélemy. The hotel itself is large and though close to everything it seems as though you are a thousand miles from the rest of the world.
A favorite vacation spot for celebrities, there is no doubt this is one of the most beautiful places on earth. You can stay in the main hotel which is situated on a small piece of land surrounded by water, or you can rent out a room, cottage, suite, house, or villa depending on your needs. They offer garden cottages, beach rooms, and a rockstar villa. They even have suites named after icons like 'The Greta Garbo Suite' designed in the 1930's Hollywood style, or 'The Howard Hughes Loft' with 360° view of the bay.
While on vacation here you can spend your day basking in the warm sun on the private beach and swimming in the clear water. At night you can have dinner and champagne at the marvelous On the Rocks restaurant and bar while you watch the sunset. Go shopping at their exclusive boutique edenbeing and pick up some souvenirs or a Valentine's gift for your spouse. They sure prove that they are more than just an island vacation, with an art gallery and a music recording studio you will never run out of things to do and see.
Speaking English and French makes it easy to communicate with the lovely staff who are always there to answer your ever need. Go on an island tour or rent a yacht to see more of this beautiful island. They also have water sports like snorkeling and a deep sea fishing expedition. From everything down to their spa, this resort is the perfect destination for lovers wanting to get away and have a good time, also to learn a new language. So treat yourself and your spouse to this one of a kind vacation spot this Valentine's day!
Check out their website here and follow them on Instagram to see exclusive photos and videos of the accommodations. We've found the best rates through Booking.com.
If you have not already subscribed to get TresBohemes.com delivered to your inbox, please use the form below now so you never miss another post.
---
Remember, we rely solely on your donations to keep the project going.
Become a friend and get our lovely Czech postcard pack.