A very traditional Czech dish that has many varieties is called Jihočeská Kulajda or Southern Bohemian Kulajda. I call it Southern Bohemian Potato Mushroom Soup.
It is basically a potato cream soup as the base and mushrooms or pork and dill or caraway seeds as the filler.
Researching this soup, there are as many versions of it as there are cooks who prepare it. I also looked into all of my cookbooks (the oldest from 1846 and the newest from 2014), and in each one it is made differently.
And I have 32 Czech cookbooks!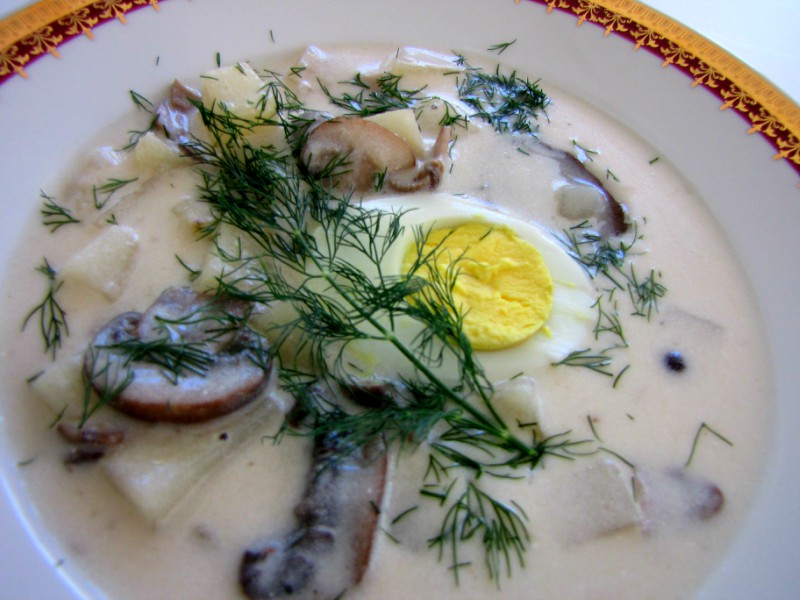 I find that an interesting subject of conversation. Don't you?
Maybe you have to be a foodie…
Anyhow, the French have a version they call Potage Parmentier or Vichyssoise which has leeks, The Scottish add Haddock and onions and call it Cullen Skink, the Irish mix in kale or cabbage and call it Colcannon and in the US, we add clams and call it New England Clam Chowder.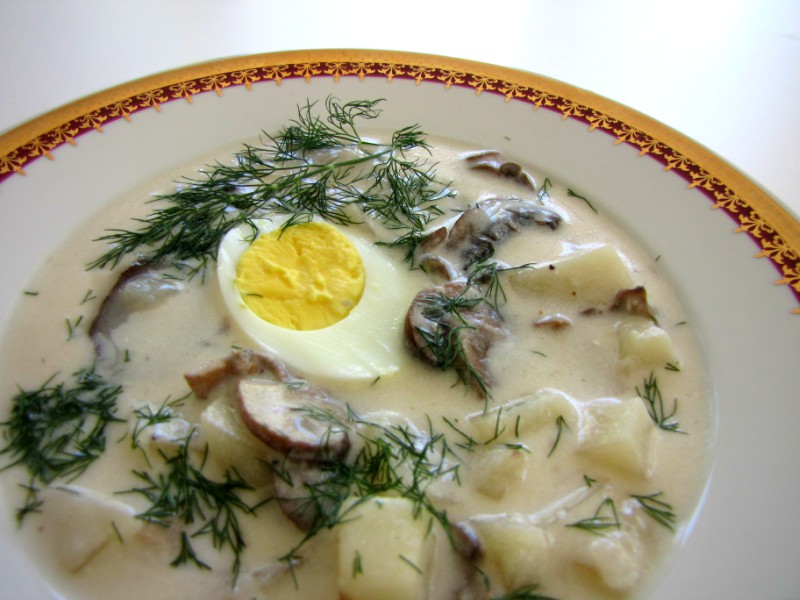 But Czechs are all about their mushrooms or pork, and since this soup has its folk history going back to peasant dishes, we'll use mushrooms, after all, they fill the forests and are free for the picking. It was also made with quail eggs, if you were lucky enough to find them.
Also, traditionally, a sour milk was used, but here in the U.S. and the age of pasteurization, we'll substitute sour cream instead.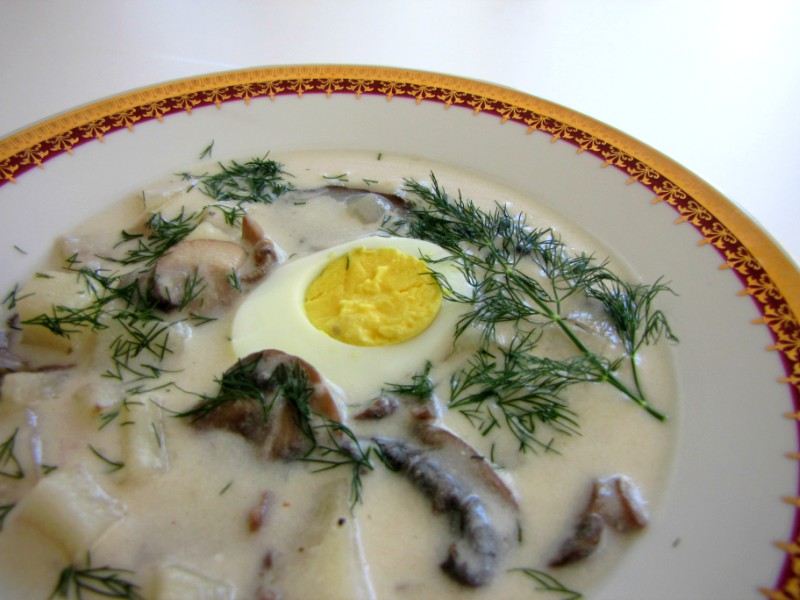 Ingredients
5 large potatoes, peeled and cubed
2 baskets of mixed mushrooms, washed and chopped (I used a mix of chanterelle, oyster, shiitake, portobello and a couple tablespoons of dried Czech mushroom mix – if you use any dried, make sure to soak them in water for at least 30 minutes prior to cooking. Use the deliciously flavoured soaking water.)
3 Tbsp butter
4 cups chicken broth or water
3 bay leaves
5 peppercorns
5 allspice (or 1/2 tsp caraway seeds)
1 cup sour cream
4 Tbsp flour
1/2 bunch of dill (or to taste)
Vinegar to taste
Salt to taste
1/2 hard-boiled egg for each serving.
Directions
Place the butter and the mushrooms into a large pot and saute the mushrooms for abut 5 minutes. Then add the potatoes and the broth (or water). Also add the allspice, peppercorns and bay leaves (you can also add caraway seeds if you like).
Cook on medium heat for 20 minutes or until potatoes are fork tender.
Meanwhile, hard boil your eggs on the side so they will be ready for use when you are ready to serve the soup.
Pull out the bay leaves, peppercorns and allspice.
Add the flour to the sour cream and mix until it makes a nice cream and then add a couple of ladles of the hot soup to temper the cream. Then add it, pouring slowly into the soup.
Chop the dill and stir into the soup just prior to serving and place a 1/2 hard-boiled egg into each serving bowl.
This is a beautiful, hearty and rich soup which tastes wonderful. I serve it with the egg half in one piece, but as people eat, it's best to use the spoon to break the egg into smaller pieces and have one with each bite.
Satisfying, hearty, earthy and homey…
This soup is Southern Bohemian goodness at it's finest.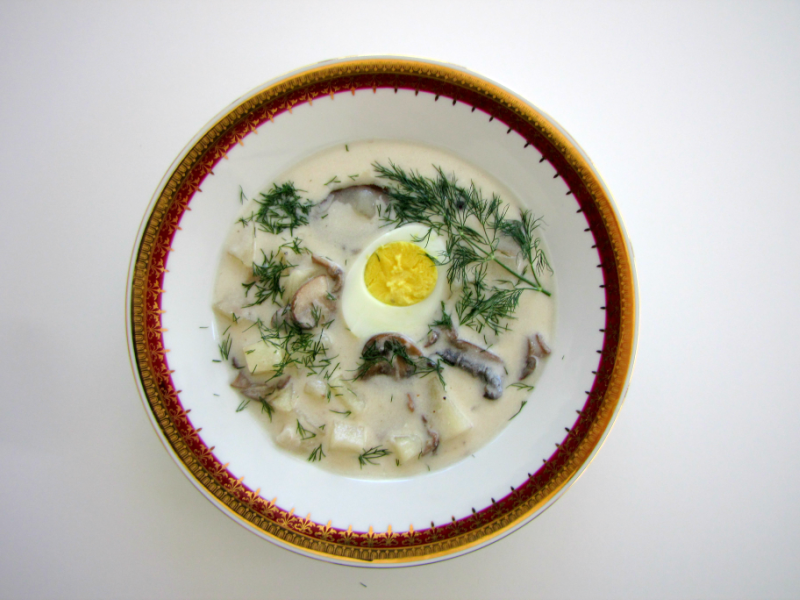 * Serving idea: Use wooden or folk pottery bowl and get a hearty rye bread loaf for pulling apart at the table and eat by candle light, pretending you are back 100+ years.
Dobrou Chut!
Thank you for your support – We appreciate you more than you know!
We know that you could spend hours, days, weeks and months finding some of this information yourselves – but at this website, we curate the best of what we find for you and place it easily and conveniently into one place. Please take a moment today to recognize our efforts and make a donation towards the operational costs of this site – your support keeps the site alive and keeps us searching for the best of our heritage to bring to you.


Remember, we rely solely on your donations to keep the project going.
Thank you in advance!
If you have not already subscribed to get TresBohemes.com delivered to your inbox, please use the form below now so you never miss another post.