Lemonade Joe, or The Horse Opera (Czech: Limonádový Joe or Koňská opera) is a 1964 Czechoslovak musical comedy film, directed by Oldřich Lipský and written by Jiří Brdečka, based on his novel and stage play.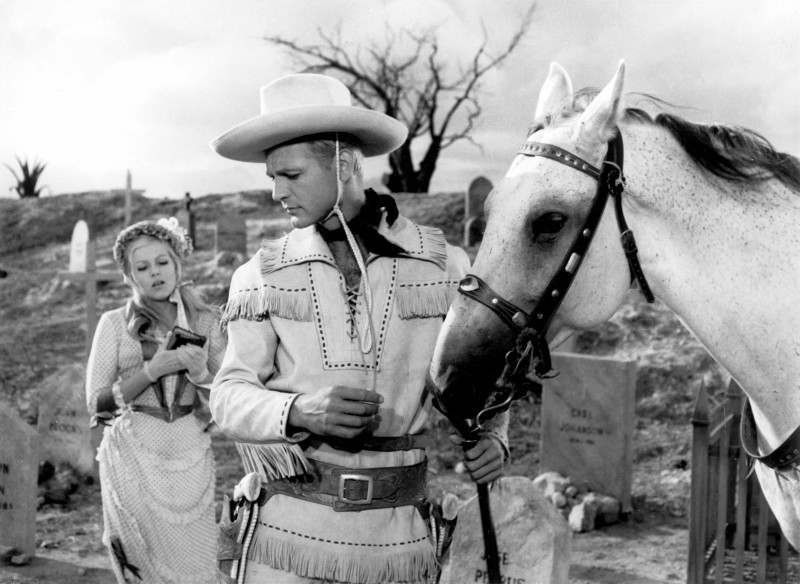 This is a brilliant Czechoslovakian parody filmed in an avant garde style and a terrific example of Czech New Wave. It is positively absurd, fanatical, and a hilarious assault on all conscious thought.
This makes it fantastic and fun.

Think of it as a complete satire and parody of the typical cliché American Western with a funny twist. The entire film centers on a clean-living, soft-drink-selling gunfighter who takes on a town full of whiskey-drinking cowboys.
it's also a satire on American capitalism and cultural imperialism—values embodied by the soft drink Kolaloka, (crazy coke) the name of which is a clear parody of Coca Cola.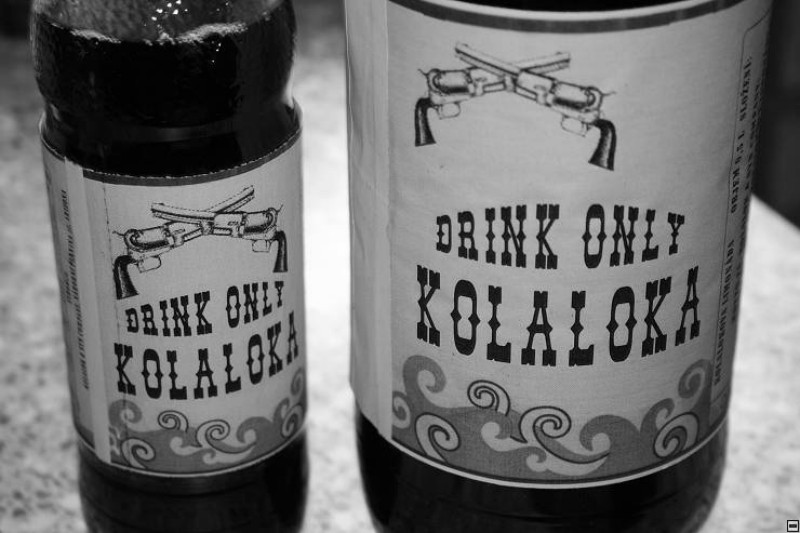 Numerous scholars have commented on the film's multiple layers of thematic parody. The historian Peter Bischoff suggested that, while the film seems to parody the American capitalist system, it also functions as a thinly disguised critique of communism.

The academician Anikó Imre noted that "by ridiculing the racist and sexist framework of the Western genre," Lemonade Joe also implicitly satirizes the rigid ideology of the Soviet government in the 1960s.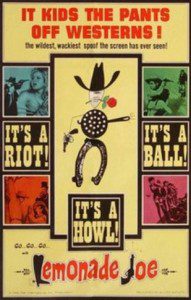 The cultural anthropologist Cynthia Miller concludes that the film "both glorifies and mocks the wonders of capitalist enterprise, and in so doing, creates a meeting ground between Maysian [i.e. Karl May-like] celebration and contemporary Soviet denunciation of all things West."
We thought is was roll over funny and we absolutely loved it.
The director was inspired by silent comedy films and when watching you can see he clearly borrowed numerous silent film effects including film tinting, slow motion, and fast motion.
Brdečka's experience as an animator, often in collaboration with Jiří Trnka, led to several effects and ideas derived from animation being incorporated into the film, including animated smoke rings and dotted lines for bullet paths, freeze frames for dramatic effect, and even a reference to the Acme Corporation from the Looney Tunes cartoons.
In other words – so much is 'said' without even being said and a true movie buff will love it for this aspect especially.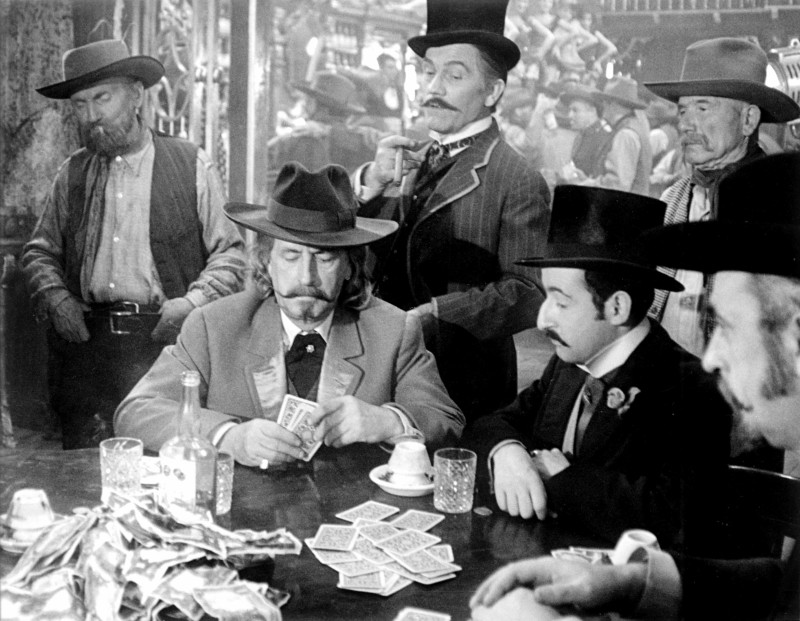 The film includes specific parodic tributes to Western silent film actors such as William S. Hart and Tom Mix, as well as "singing cowboy" stars like Gene Autry, Tex Ritter, and Fred Scott. The film also evokes numerous other films, including Louis Feuillade's silent film serials, the 1911 film Arizona Bill, and the works of John Ford, including My Darling Clementine.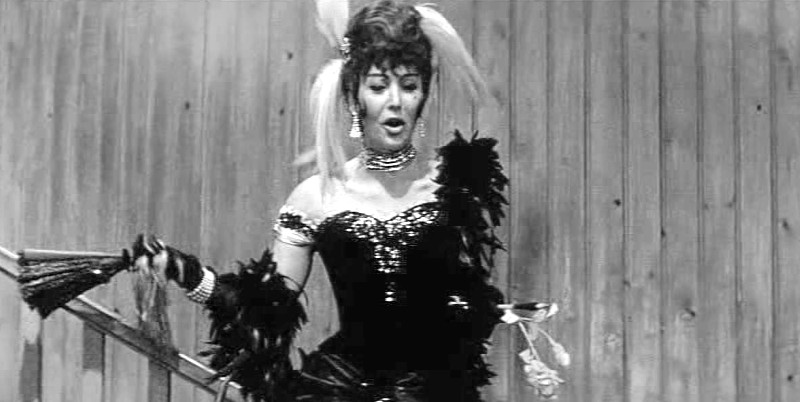 Tornado Lou's character suggests Marlene Dietrich's character in another classic Western film, Destry Rides Again, and Hogofogo is likely modeled on John Carradine's character in the 1939 film, Stagecoach.

The set is pretty awesome considering it's Barrandov studios which constructed the Stetson City facades.
The location shooting was done near Karlštejn Castle, in a rocky landscape that had been nicknamed "Amerika" since the nineteenth century for its similarity to the American West. We wrote a post about Big Amerika and Little America here – and it's a must read.
They even used an authentic Smith and Wesson gun, used as a prop by Joe. It was borrowed from a local museum and restored especially for the film.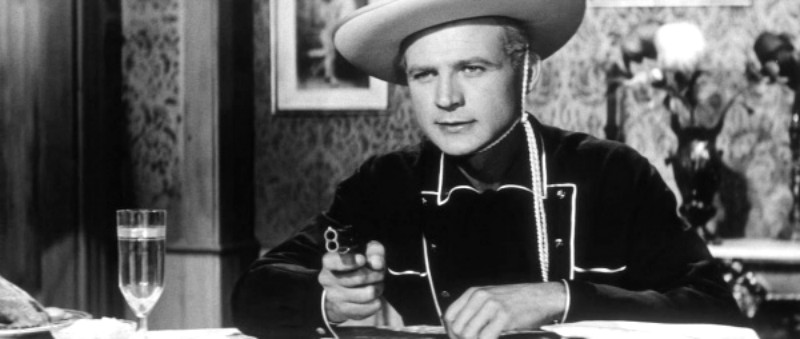 Stories about the American frontier, such as those by Karl May and Jack London, had long been widely read in Central Europe. American Western films had been popular in Czech theatres throughout the history of the First Republic of Czechoslovakia, from its founding in 1918 until the German occupation of Czechoslovakia in 1939.  Then, during the occupation and throughout Joseph Stalin's control of the Soviet Union, Westerns were completely banned.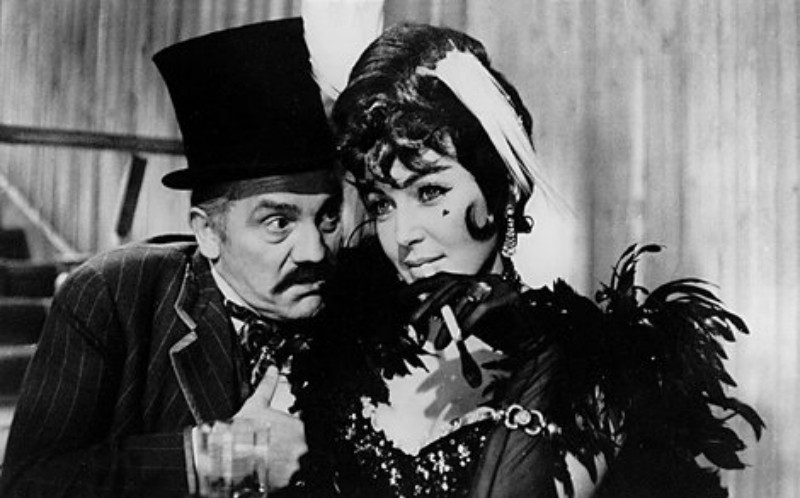 But, in the early 1960s, during Nikita Khrushchev's De-Stalinization of the Soviet Union, Westerns began to reappear in Czechoslovakia (yay!), with films such as High Noon, The Big Country, and The Magnificent Seven being screened in theatres.
A special bonus is to listen to the voices of two of Czech Republic's most beloved singers, Karel Gott and Waldemar Matuska. Matuska also has a part in the film, playing the character Banjo Kid.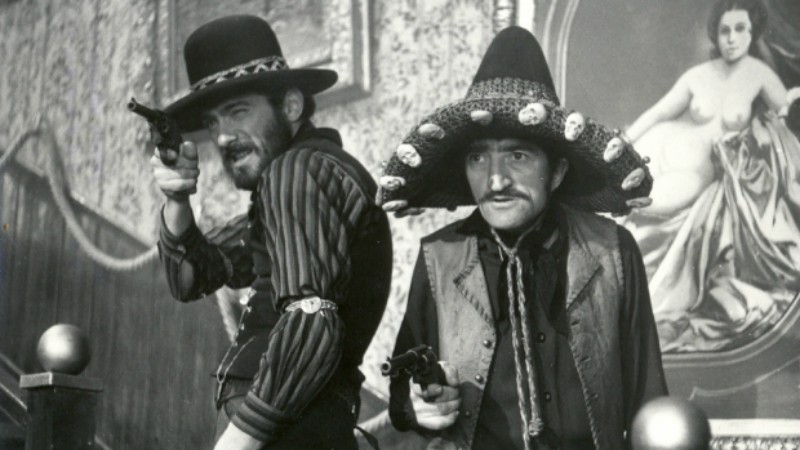 In then called Czechoslovakia, it was the best-selling film of the 1960s.
Try to pick up a copy on Amazon.
Drink the KolaLoka and get this movie… it's like something you've never seen before.

One hint – the colored filter over the film making it a very 60's looking pop-art vision is stressful for the eyes.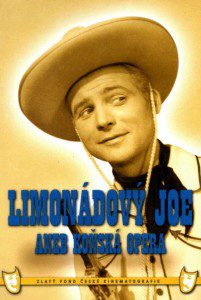 We adjusted our TV setting to color saturation = 0 and watched in black and white and it was much better (and easier on the eyes) though the color effects are cool.
Maybe watch it twice?
However you decide you watch, just make sure you do. This is the kind of movie to get the whole family together, make a huge bowl of popcorn and settle in for a night of laughter and fun.
Genre: Action/Adventure Running
Time: 99 minutes
Release Date: November 25, 1967
Finally, the music in this is just the best.
Example – this song….
Listen to the words and read the lyrics below, they do not mean anything in Czech or in English!
Sou fár, tu jú aj mej
for-tu-náj mí tu sej.
mu-ča-čí-ta mia kára verá
an maj dej sej áj
Tú jú, aj mej sou fár
mí tu sej, on ví stár.
An maj vej djú aj sej tu maj valí
dú aj lej sou gej.
Tú jú, aj mej sou fár
mí tu sej, on ví stár.
An maj vej djú aj sej tu maj valí
dú aj lej sou gej
Gud-báj, gud-báj, gud-báj….
LOL… lots of fun folks!
Karel Gott did a great job with made up lyrics and it was a popular hit with the people.
Can you believe he rides an actual horse onto the stage?
And before I go, here is an animated short by Jiří Trnka called Arie Prerie or The Song of the Prairie…
Didi you know Limonadovy Joe (Lemonade Joe, 1964), was created as a riotous musical parody of the earlier puppet Western parody Arie Prérie (Song of the Prairie, 1949).
Adios for now…
Sources: IMDb, Wikipedia and an awesome review at Movie Habit.
Thank you in advance for your support…
We know that you could spend hours, days, weeks and months finding some of this information yourselves – but at this website, we curate the best of what we find for you and place it easily and conveniently into one place. Please take a moment today to recognize our efforts and make a donation towards the operational costs of this site – your support keeps the site alive and keeps us searching for the best of our heritage to bring to you.


Remember, we rely solely on your donations to keep the project going.
We appreciate you more than you know!
If you have not already subscribed to get TresBohemes.com delivered to your inbox, please use the form below now so you never miss another post.